A quality ping pong table cover can truly help extend the life of your table, especially if it is weather/water resistant. Ping pong tables face moisture and harsh weather, and are prone to scratches, nicks, and warping, so it's best to find a suitable product for your precious purchase.
With so many options in the market, finding the most suitable product can be confusing. But JOOLA ping pong table cover works for both outdoor and indoor tables. It is one of the most popular products in this category, so we wanted to see what the hype is about.
Dive in to see if this is the product you are looking for.
JOOLA Ping Pong Table Cover Specifications
Our Rating: 4.2/5
Price: $$
Size: 10 x 6 feet (Length x Width)
Material: Polyester
Weight: 4.25 lbs.
Included Accessories: Drawstring Carrying Bag
Warranty: 1 Year Manufacturer's Warranty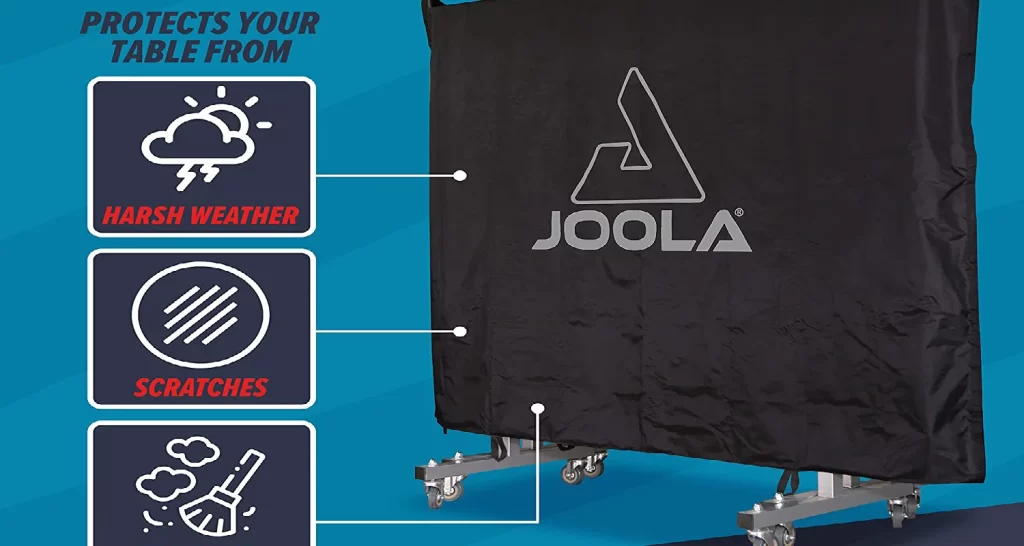 What to Expect
We used the JOOLA ping pong table cover both indoors and outdoors and noted some key takeaways. We will share our experience with the cover. Here are some of the key features of this cover and what you might expect when you buy this product.
Good for All Sizes and Dimensions
The cover features a unique hook-and-loop design. With JOOLA ping pong table cover, you get adjustable buckles and straps, which you can use to secure the cover on any table size or dimension. For a 6 x 5 table, it even works in the storage position.
Easy Setup and Storage
It takes seconds to set up this cover as it has a Velcro buckle strap system. If you want further adjustments, you can use the hooks and loops to secure the cover. JOOLA ping pong table cover comes with a drawstring bag that you can use to conveniently store the cover as well.
Waterproof Material
This cover is made of polyester so it will protect your table from rain or spilled water. The material also features a PVC coating which further makes it waterproof. If you are planning to use the JOOLA ping pong table cover outdoors on an outdoor table in the rain for a short time, you will not be disappointed.
Pros
Quick and Convenient Setup
JOOLA ping pong table cover is designed to fit securely on a table due to its hook-and-loop fastener edges. Use the buckles and straps to further secure the cover on the table. The material is super lightweight as well, so you wouldn't have problems setting up or taking down the cover.
Fits Both Folded and Flat 6 x 5 Tables
If you have a foldable table, you might need a cover that fits your table in a storage position as well. Luckily, the JOOLA ping pong table cover does that job due to several hooks and adjusters on it. You can conveniently use it on an upright 6 x 5 table.
Suitable for Regulation-sized Table
Most table covers in the market are suited to only 6 x 5 tables only, but the JOOLA ping pong table cover doesn't only cover the surface, but also partially covers the edges of a regulation-sized ping pong table in playing position.
Protects Table Against Weather Damage
This waterproof, PVC-coated cover comes with a heat-sealed design, protecting your table from moisture or excessive heat. This feature also protects your table from scratches and dust, saving it from possible damage. The buckles will firmly hold down the cover in strong wind.
Affordable Price Tag
Most heavy-duty, weather-resistant covers in the market are really expensive, but JOOLA ping pong table cover comes with an affordable price tag. We can safely say that its price justifies the quality and performance.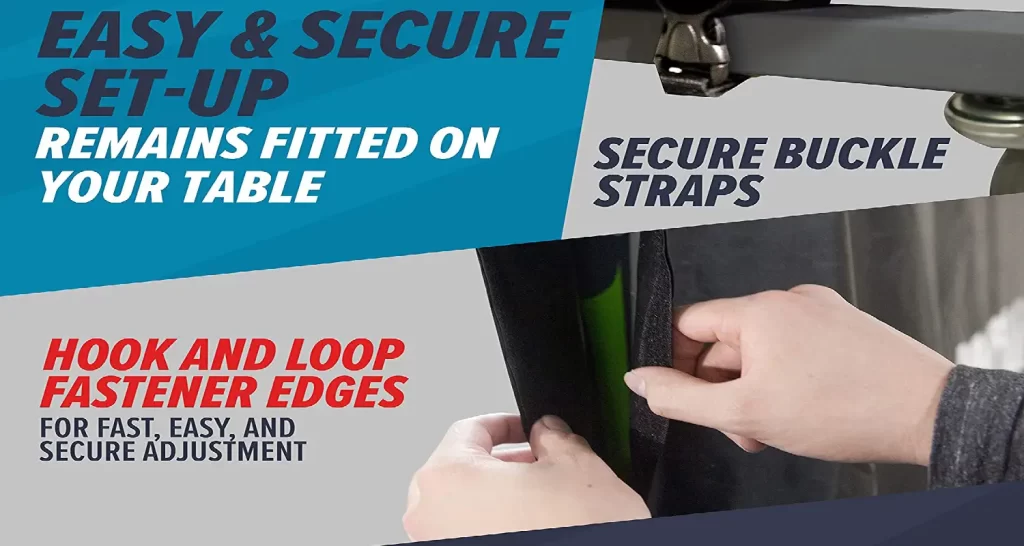 Cons
Doesn't Fit Regulation-sized Table in Upright Position
If you want a cover that fits your regulation-sized 9 x 5 feet table in an upright position, then JOOLA ping pong table cover is not for you! It can only work for a 6 x 5 feet table in the storage position.
Not Durable Enough
Coming from JOOLA, we expected this cover to be durable and long-lasting. The cover, however, started ripping and shredding after 3 months of use. It also gets caught in the edges when you try to take it off.
Expect things to be even worse if you're using it on an outdoor table. Yes, the JOOLA ping pong table cover is marketed as suitable for outdoor use. But it doesn't survive harsh weather for long.
It started ripping after two months of outdoor use and even started melting due to harsh sunlight. Although the material itself is waterproof, we noticed water sipping through the seams.
Doesn't Last a Long Time
We mentioned that this cover is affordable when compared to other products in the market. However, we were disappointed to find out JOOLA ping pong table cover is not a long-term investment. The cover barely lasts 9 months if used indoors and can survive outdoors for 3 months only.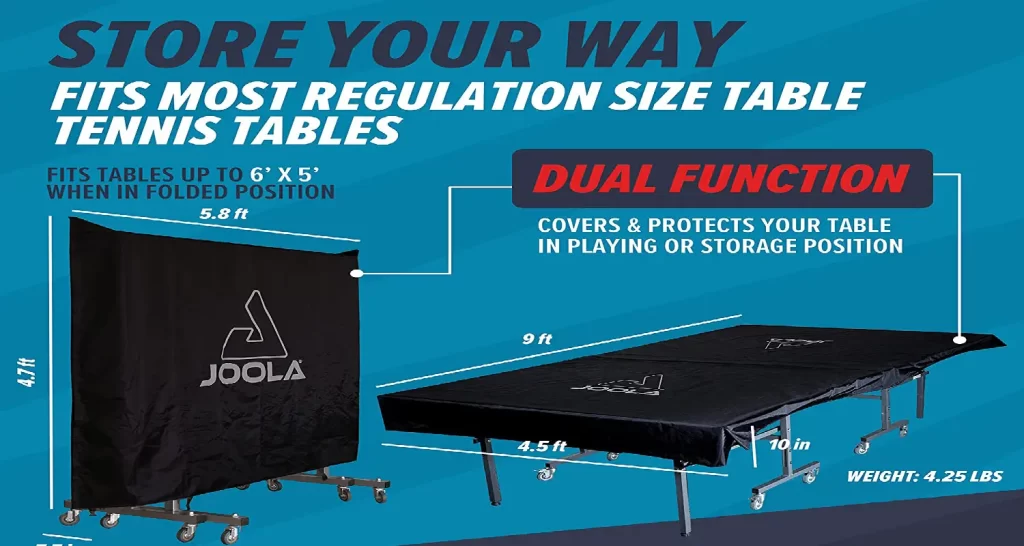 Our Rating: 4.2/5
JOOLA ping pong table cover is ideal for an indoor table and would give it maximum protection, although not for very long. But hey, at least you're not spending a fortune on it. So, it's pretty much a "you get what you pay for" kind of scenario.
Other than that, though, it's incredibly convenient to set up and store. Most importantly, the hoop-and-loop Velcro design we though was particularly very handy.
You can use it outdoors as well, but again, don't expect it to survive the harsh weather for very long. All in all, if you want an affordable short-term solution, this is pretty much a perfect table cover for you.
FAQ
Does this cover fit a regulation-sized table?
Yes, if you have a 9 x 5 table in a playing position, this cover will fit perfectly. It has lots of straps and hooks, so you don't have to worry about securing it to the table.
However, if your table is foldable and you need a cover that would work for an upright regulation-sized table as well, then JOOLA ping pong table cover is not for you.
Can I wash the JOOLA ping pong table cover?
This cover is too big to fit standard washing machines. We suspect that the material might rip if you deal with the cover too harshly. To save your cover from ripping, we recommend a light hand wash without bleach.
Does the cover have buckles?
Yes, the JOOLA ping pong table cover has buckles with long straps to secure it on the table. It also has Velcro hook-and-loop fastener edges that you can use to further adjust the cover.
Does this cover work for outdoor tables?
Although the JOOLA ping pong table cover is marketed as a dual-function product that works both indoors and outdoors, it doesn't really work outdoors.
If you have an outdoor ping pong table that needs a cover all the time, then look for better-quality, high-end covers. This product might be good for occasional use but doesn't last a long time when used outdoors.
Conclusion
JOOLA ping pong table cover is no doubt a good quality cover, but you need to be wary of the material and misleading marketing. The cover doesn't have a good material so wouldn't last long in an outdoor environment.
Also, if you have a foldable 9 x 5 table, do not buy this cover as it doesn't fit the table in an upright position. If want a long-term investment, we recommend looking for a high-end product that lasts long.
Overall, it boils down to your usage.
We recommend doing thorough research before settling for this cover and being mindful of your usage and table size. JOOLA has excellent customer service, and this product has a one-year manufacturing warranty, so you can buy this product if it suits your purpose.
If you aren't satisfied with the quality, you can consult with JOOLA, and they will surely be of great help and will exchange the product during the warranty period.