If you are obsessed with table tennis then you must also be cautious about protecting your table from weather, dust and scratches.
A ping pong table cover is what you need to make sure you can prolong the life of your table and enjoy this amusing sport for a long time.
When opting for a table tennis cover it is always preferred to go for the one that works well both outdoors and indoors. BEILLER ping pong table cover is one of the best choices for you when it comes to that. It is suitable for every location and multiple climates.
Let's see what it has in store for you.
BEILLER Ping Pong Table Cover Specifications
Our Rating: 4.7/5.0
Price: $$
Type: Indoors and Outdoors
Color: Black
Brand: BEILLER
Dimensions LxWxH: 65 x 28 x 73 inches
Weight: 2.55 lbs
Water Resistance Level: Waterproof
Strap Type: Drawstring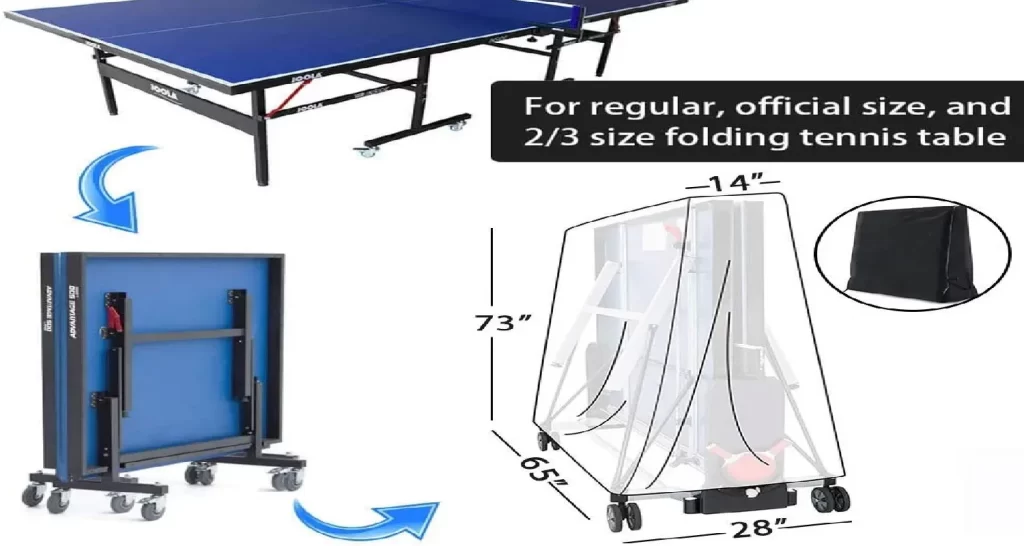 What to Expect?
BEILLER is a famous table tennis manufacturing company that specializes in producing top-notch ping pong table covers. This renowned brand is known to provide quality products to meet the majority of its customer's needs while keeping within an affordable price range.
Here is what you can expect when you purchase this product.
Suitable for Most Tables
The BEILLER ping pong table cover is suitable for almost any ping pong table. It fits perfectly and covers not just the table but its legs as well. Simply put, you can expect it to fit your table tennis table like a glove. You'll want to measure your table's dimensions before purchasing, though.
Convenient Setup and Storage
Not only is this convenient to carry and set up but also easy to store as it comes with a storage bag. Moreover, it is specifically designed with a drawcord at the bottom and a strap at both ends to secure the cover tightly from all sides.
Waterproof and Sturdy Material
Coated with 100% waterproof PVC coating, the BEILLER ping pong table cover is thick enough to be an appropriate protector for the table. It guards the ping pong table against scratches, dust, and water, holding it up in all sorts of weather like snow, rain, wind, or sunshine. It's great for outdoor tables like the JOOLA NOVA DX.
It comes with 420D waterproof oxford fabric that is sturdy enough to withstand strong winds and extreme weather conditions.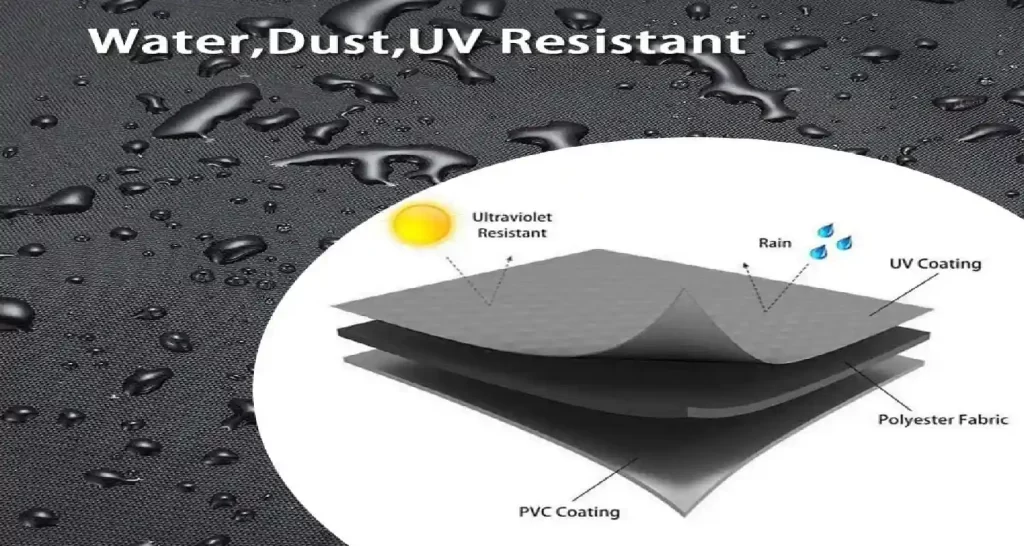 Pros
All-Weather Protection
One of the major pros of getting the BEILLER ping pong table cover is its waterproof material. As mentioned above, it comes with a waterproof PVC coating that prevents the table from any water-related damage.
If you already have a table outdoors, you must get a waterproof cover to keep it safe from rain, storms and dust. Its water-resistant material is safe to keep the table tennis table fully dry and prevent soaking.
Durable
You wouldn't want to spend money on a table cover that tears up or falls apart after days. No one wants that. BEILLER ensures that this is never the case with their products. The same goes for tables – getting picking the right one (including tournament-ready tables) is essential.
This table tennis cover is specifically designed with durable materials and is double-threaded to ensure that it is not easily torn apart. Hence, once you purchase this, it will stay with you for a long time.
Flexible to Fit
The most important thing when buying a table cover is its size. BEILLER ping pong table cover is crafted in a way to fit almost all sized tables. Its dimensions are such that they fit the whole table from head to toe in the storage position.
Quick and Easy Installation
Another major benefit of spending your money on the BEILLER ping pong table cover is its convenience for installation. It comes with drawcords and straps, making it feasible to easily install and remove the cover as needed.
So, you won't have to spend a lot of time on it before or after playing table tennis.
Perfect for Both Outdoors and Indoors
Its premium quality fabric ensures that BEILLER ping pong table cover is perfect for both outdoor and indoor environments. Its 420D oxford fabric is strong enough to withstand the wind and its waterproof coating ensures that the table is protected even when it is pouring hard.
Easy to Store and Carry
Lastly, the BEILLER ping pong table cover is exceptionally convenient to store. You wouldn't have to worry about where to store it and how to carry it because it comes with a storage bag that makes it all very easy.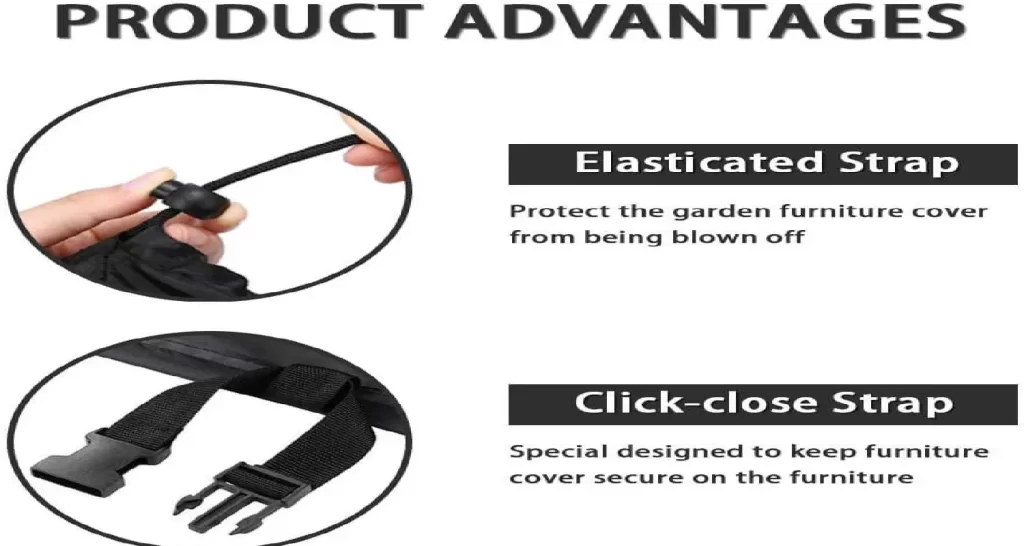 Cons
Heavy
The BEILLER ping pong table cover can be a little heavy for people to hold and install. It weighs roughly 2.55 lbs. So, you might need a buddy to easily and efficiently put it on and off the table.
Fits in Storage Position Only
If you are looking for a cover that fits the table in the playing position, then this BEILLER ping pong table cover is going to disappoint you. It works best for 6 x 5 tables but only in the storage position.
Our Rating: 4.7/5.0
Overall, the BILLER ping pong table cover is highly recommended for professional as well as casual use. It is specifically designed for table tennis players who need it for both indoor and outdoor locations.
With convenient storage and installation accessories, you can easily install, remove, store, and even carry the cover from one place to another without any hassle. The only problem is that it only fits in a folded position, making us rate it as 4.7.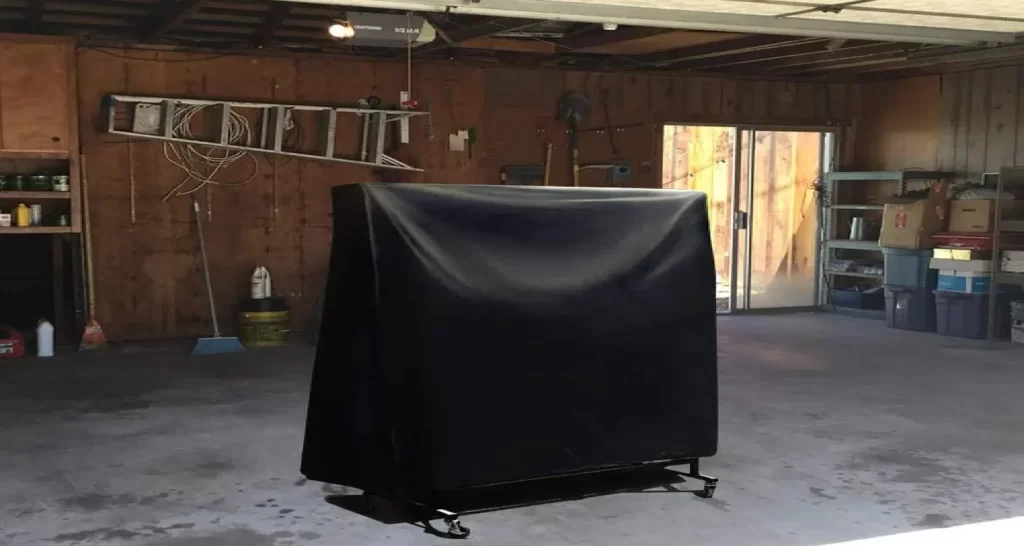 FAQs
Is It Necessary to Get a Table Tennis Table Cover?
It is not necessary, but it is better to get a table tennis cover to increase the table's shelf life and protect it from harsh weather conditions, especially if you are playing outdoors.
Table tennis tables are prone to scratches, scrapes and damage from dust which can be avoided using a sturdy table tennis cover like BEILLER's.
Can I Wash This Cover?
Yes, you can wash the BEILLER ping pong table cover. However, it might be difficult to wash it in a washing machine because of its huge size. It is better to wash it gently without harsh chemicals like bleach.
Does the Cover Stay Put?
Yes, the BEILLER ping pong table cover stays secure on the table even outside in the strong winds. It comes with a drawcord at the bottom and straps at both ends to fix the cover around the table tightly.
Conclusion
All in all, the BEILLER ping pong table cover is a recommended product for protecting your table. You will find the product durable for a long period with guaranteed strength. It is not a product that would tear off after one usage.
We have used this cover for both indoor and outdoor table tennis tables and it is safe to say that it can survive in all kinds of weather. However, the cover fits best in the folding position and is not the top option if you are looking to cover a table in a playing position.