JOOLA Nova DX is one of the affordable options for outdoor table tennis exploits. The idea was to put together a fun recreational time under the open sky and make a table that can last all the tough weather conditions.
We take a look at all that JOOLA Nova DX has to offer and whether it can be an ideal option for you to purchase.
JOOLA Nova DX Table Specifications
Our Rating: 4.9/5
Price: $$
Size: Regulation (9 feet x 5 feet)
Assembly Time: 20 minutes
Weight: 144 lbs / 65.3 kgs
Tabletop Thickness: 6 mm aluminum plastic top (all-weather proofing)
What to Expect?
JOOLA Nova DX is a fantastic table that is ideal for outdoor play, in particular.
It has everything you could want from an outdoor table; however, we have organized all the features here, to help you decide whether it is a good idea to buy it or not! As for us, it sits among the best of ping pong tables.
All-Weather Table Surface
The table has a warping-resistant surface and is very much ideal for outdoor play. Made from a durable 6mm thick aluminum plastic composite surface, it is resistant to chipping, as well, meaning it will last a long time!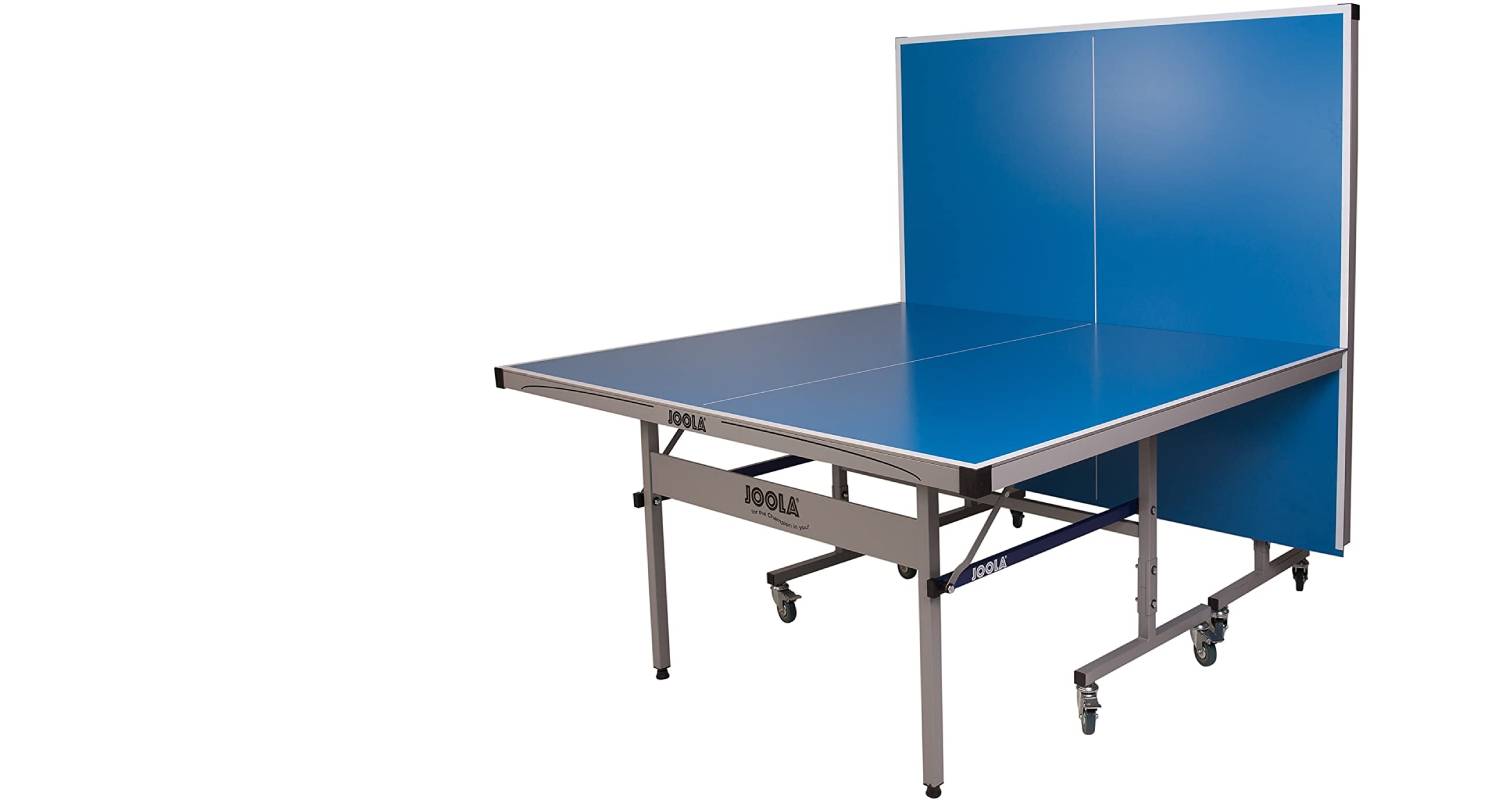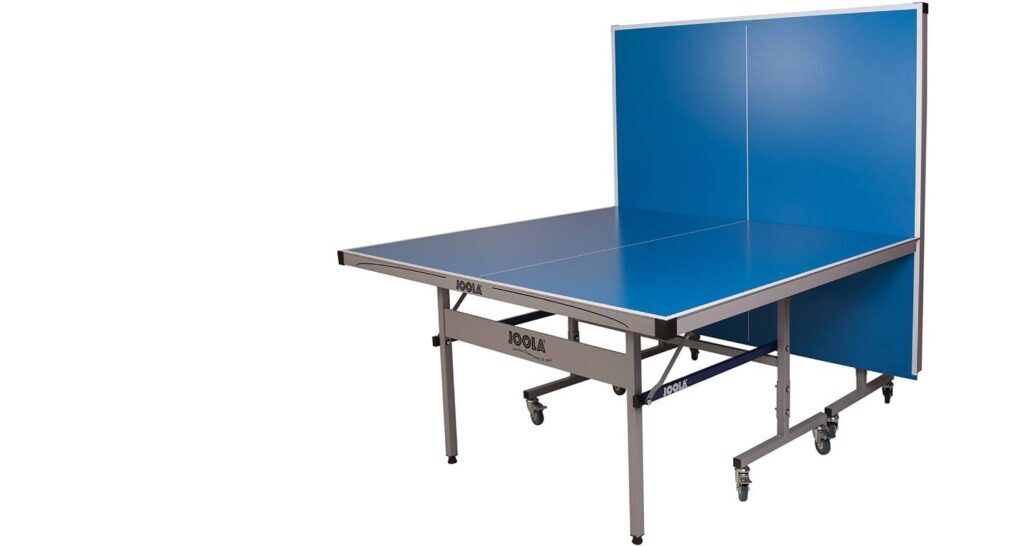 Strong Undercarriage
Table top of the JOOLA Nova DX is supported by a strong undercarriage. The undercarriage is significant addition due to the harsh conditions of the outdoors. To ensure that it lasts almost any kind of weather, they have made it powder-coated and dust-resistant with 30mm x 30mm dimensions.
Two-Piece Design
JOOLA Outdoor Table Tennis Table is created with a two-piece design.
This means that it basically has two halves placed on separate 4-wheeling transportation systems. It also makes storage so much easier, as well as, transportation of the table from one destination to another.
Playback Position
You can also use the table to play solo by converting it into a playback position. It is a fantastic feature that can be used to increase your skills and get the knocking practice out of the way before you take on your friends!
This shows great engineering on the part of JOOLA as they made it a two-piece design and solved two issues with it.
Net and Post Set
JOOLA Nova DX comes with a net and post set included that features the traditional screw design and net-tensioning system. It makes the assembly of the net easy and you can do it within seconds.
In addition to the familiarity of the assembly, the net and post set is also weatherproof and matches the rest of the weather-resistant features of the table!
Adjustable Leg Levelers
One of the major problems playing outdoor has to be an uneven surface. That is the biggest problem and it has been addressed in the JOOLA Nova DX which has leg-levelers to adjust to the uneven ground by being adjustable. It is a lovely feature and we cannot thank JOOLA enough for it.
Automatic Anti-Tilt Locking Device
It comes with double automatic anti-tilt locking devices which help in keeping the table secure and folded. This also makes it easy to transport and stops it from opening unintendedly. The unlocking is also fairly easy and all you have to do is press the lever, it will automatically unfold.
Pros
Weather-Resistant Thick Table Top:
The table has a very decent table top that is 6mm in thickness.
This is considered to be the normal table thickness for outdoor tables and it offers consistency in bounce, as well. To add to the consistency, the table top is weather-resistant, made from aluminum and plastic composition, which does not let the surface warp under any circumstances.
Durable Undercarriage
The table has a durable undercarriage that will not only last you a very long time, but it will do so by staying in top-class shape and form.
JOOLA has managed to achieve this by providing a powder coat that keeps moisture out and prevents rusting. Providing a durable undercarriage is important, as it ensures the longevity of a table.
One-Year Warranty
JOOLA is one of the best-selling brands in the world when it comes to table tennis. The example of their quality products can be observed in all of its glory as they include a one-year warranty on the purchase of JOOLA Nova DX.
This covers manufacturing faults and other potential problems.
Height Adjusters
All of the JOOLA Nova DX's legs have height adjusters which allow for top-quality play with equally high quality balls, providing an even surface. These adjusters can help, greatly, as you can set them as per your preference and the unevenness of the surface. You do not have to worry about finding the ideal location to place the table, you can play anywhere!
Easy Assembly
Unlike other tables, the assembly of the JOOLA Nova DX is a piece of cake. It comes preassembled 95% and you only need fifteen minutes to set it up and start playing. The net and stand also come with the classic screw system, which is weather-proof and you can set it up, very quickly.
Cons
Questionable Weather-Proofing:
Some people have reported that the claims made by JOOLA over the weather-proofing are not ideal. There are certain problems when it comes to weather-proofing, for example, people advise keeping the table under a sheet when not in use and trying to avoid it from being in rain.
Poor Wheels
People report that the wheels tend to be "really poor". They are not ideal for transportation over a slightly rough terrain. Some customers have reported these wheels to be broken.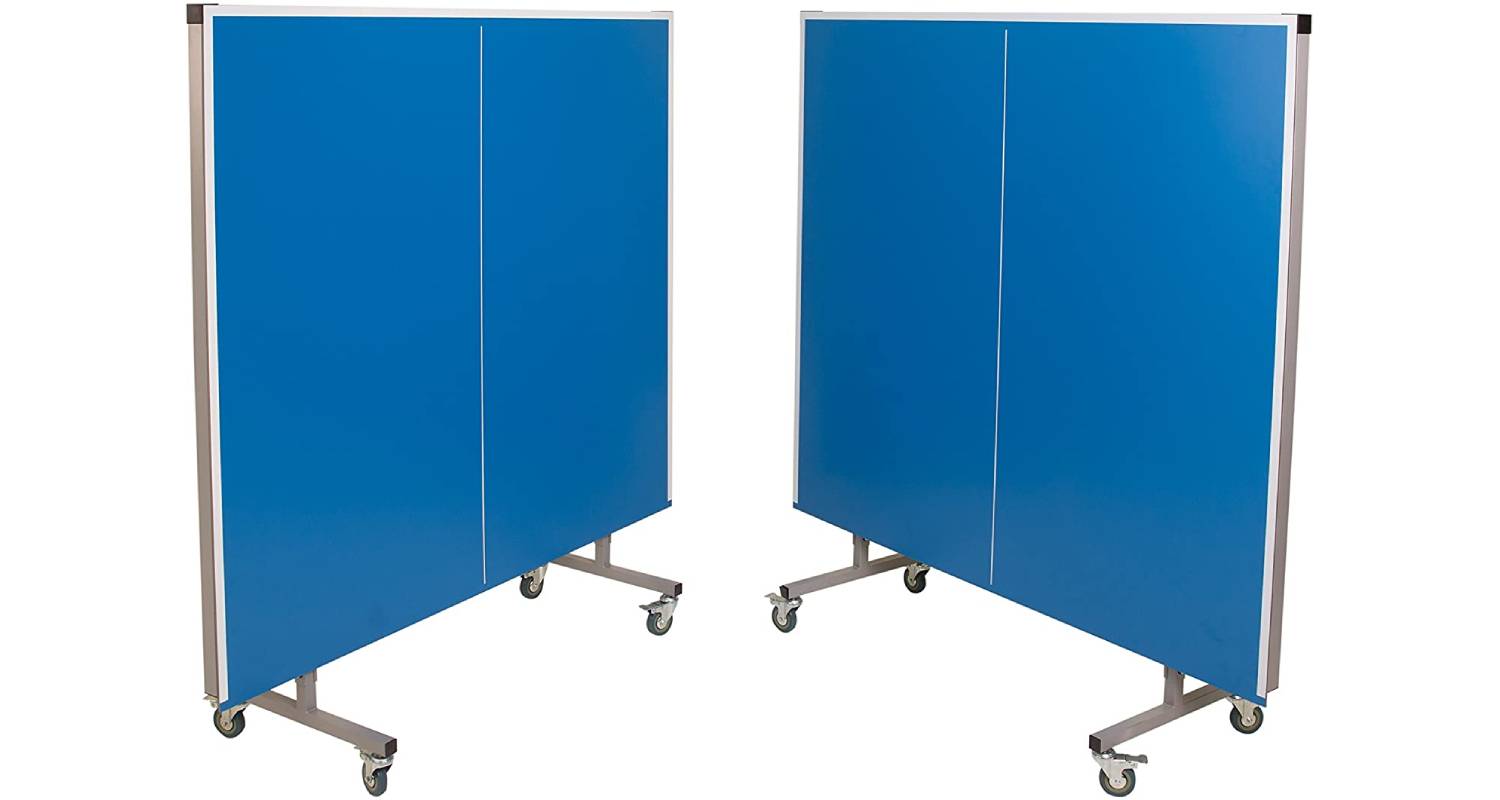 We suggest ordering replacement wheels, in case they break. JOOLA is a reliable company and they have a decent customer and after-sales service.
Thin Surface
A table thickness of 6mm is considered to be fine for recreational purposes, especially, for outdoor usage. However, it seems to be a little too thin, particularly, if you are used to playing on professional-level tables. It is more than fine for fun purposes, so this can vary from person to person.
Our Rating: 4.9/5
JOOLA Nova DX is not all bad news by any means, though. There are some manufacturing issues, but it plays out well. We like the durability and the fact that JOOLA spent so much time and effort in making sure that they can deliver a quality table for outdoor usage.
It is also not that heavy, so you can bring it in, as well. It is truly for multi-usage. We do recommend covering it when it is not in use. In addition to all that, it also makes for a great value of money because it does not cost a lot.
Frequently Asked Questions
We answer some questions that are mostly commonly asked about JOOLA Nova DX, for your convenience.
How to assemble Joola Nova DX?
The assembly of the JOOLA Nova DX is extremely easy, by the way. It comes preassembled 95%, and it will only require 15 minutes to set it up, in full. You will have to fit in a few bolts and follow the manual.
Once all of this is done, you are ready to play within minutes! We love this feature, as many other tables tend to take even hours to set up.
Is there any difference between JOOLA Nova DX and JOOLA Nova Pro Plus?
Yes. The Nova DX is the standard model, and it is perfect for recreational purposes. However, the Nova Pro Plus is considered to be an extravagant purchase and is larger than the Nova DX. It comes with bigger wheels and bigger size, as well. Both the tables are made with the purpose of playing table tennis, recreationally.
How easy is it to store the JOOLA Nova DX table?
If you buy the JOOLA Nova DX, you have to consider how easy/difficult it would be to store it. Not to worry, as storage of the Nova DX is an easy task.
It comes with a two-piece design that divides the table into two-halves and allows you to store it with convenience, anywhere. At the same time, it also does not weigh a lot, so you can put it away with ease.
Conclusion
Conclusively, the table is a good buy especially at the price it comes. It has lots of different features for adapting to the harsh outdoor conditions and all kinds of weather conditions. We like the table top, despite it being a little too thin, it does offer immense protection against the weather.
There are some problems, though. JOOLA Nova is a good investment, but it is not great for professional players. If you are used to high-end indoor tables, then this will seem like a table for beginners and kids. Apart from that, there are some questions over some difficulty customers had in storing the table.
The surface can warp, though, depending upon the conditions. So, we stress the importance of getting a good cover and taking care of your table as much as possible. All in all, it compares quite well with other tables of similar specifications, so we suggest splashing the cash.