Do you also love table tennis and looking for a perfect table that can withstand the rigors of tough weather or other elements while providing a top-notch playing experience?
If so, then JOOLA United Pro outdoor table tennis table may be what you exactly need. With its incredibly smooth playing surface, strong construction, and weatherproof features, this table is the finest choice for players of all levels.
In this article, we'll take a closer look at its remarkable features as well as the downsides of this table. So, stay tuned till the end to discover everything JOOLA United Pro outdoor table tennis table has to offer and elevate your game to the next level.
Buy JOOLA United Pro Ping Pong Table
JOOLA United Pro Ping Pong Table Specifications
Our Rating: 4.8/5
Price: $$$
Style: Outdoor
Size: 108in x 60in x 30in
Assembly Time: 15 mins
Material: Aluminum
Weight: 166 pounds
Table Top Thickness: 6 mm
Color: Blue
Warranty: 1 year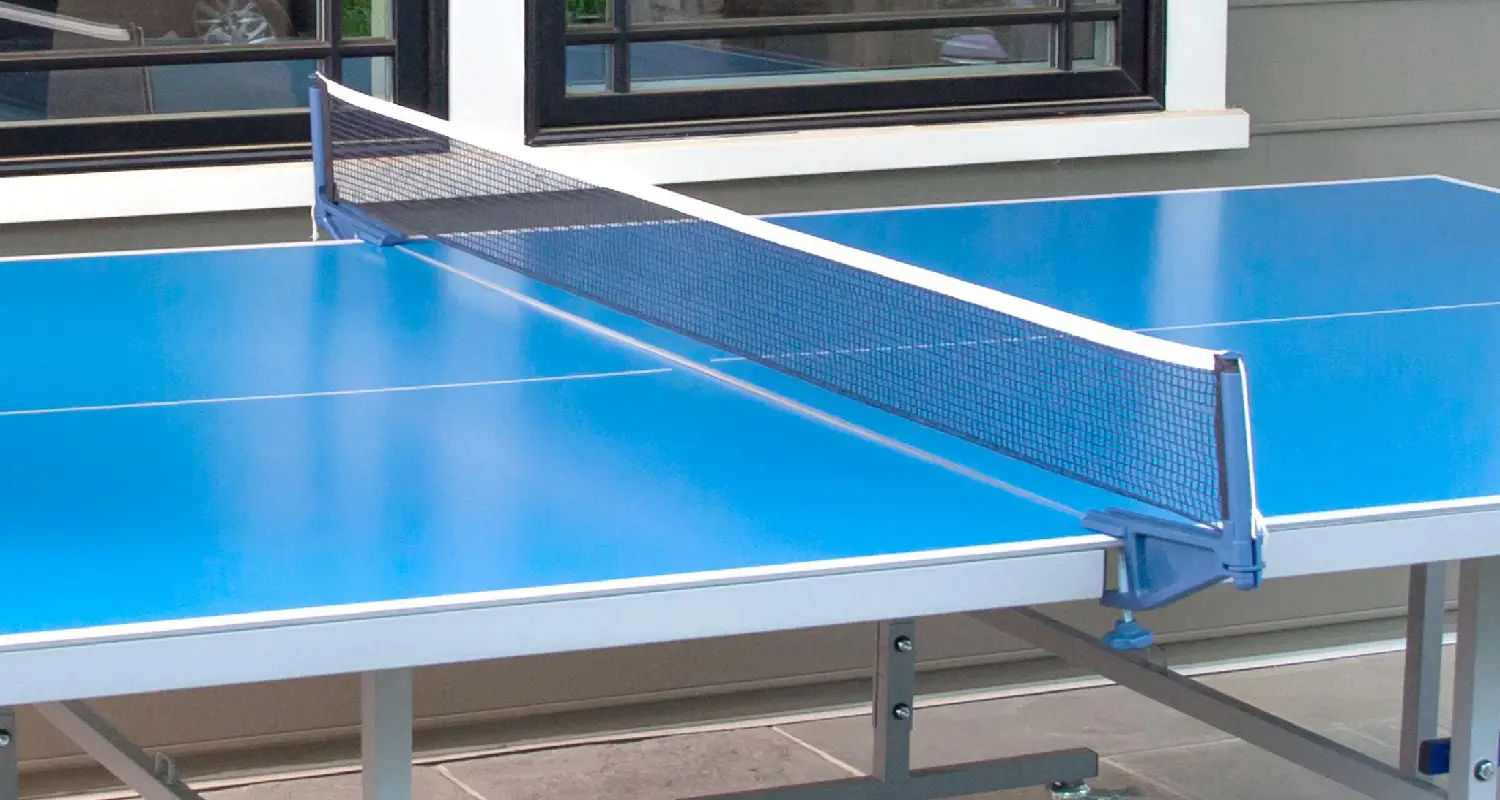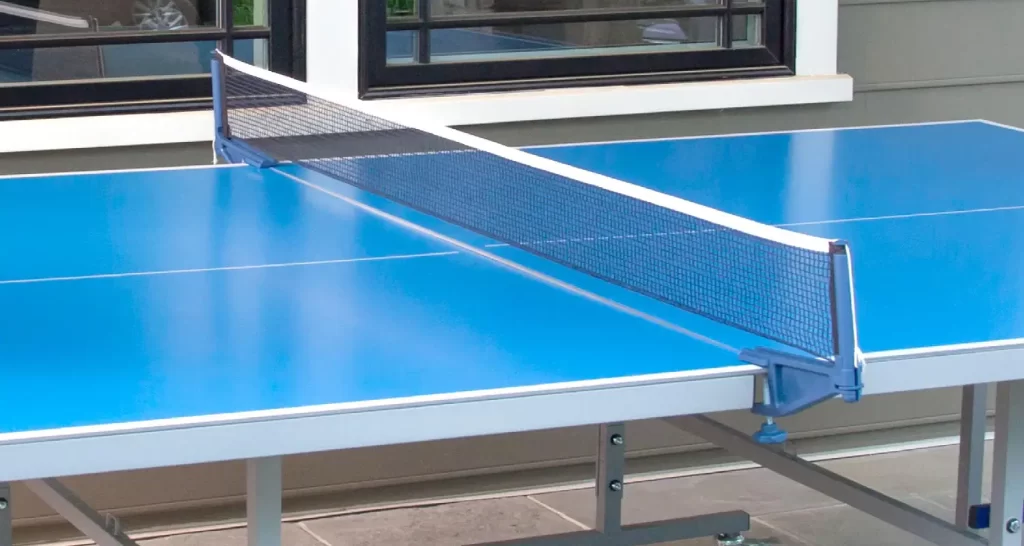 What to Expect
After reviewing tons of testimonials and doing in-depth research about JOOLA United Pro outdoor table tennis table, we are confident in claiming that this table is worth stealing all the spotlight with its impressive features and great quality.
You can expect endless hours of competition and thrill, but how? Read on to know.
Durable Construction
JOOLA United Pro table tennis table holds the iron man strength. It is constructed with a powder-coated steel undercarriage that provides the utmost stability during your matches, even in windy conditions.
Since the frame is built with a blend of weather-resistant materials, it provides full-fledged resistance from rust and corrosion and withstands rain, sun, and wind.
With such strong composition, this Joola table tennis table maintains its appearance and top-tier functionality for years to come.
Adjustable Legs
JOOLA United Pro ping pong table comes with adjustable legs that play a crucial role for players having a height difference and keeping it perfectly stable on uneven surfaces.
You can easily adjust the legs using a locking mechanism to raise and lower the table to the desired height. Moreover, it is equipped with an anti-tilting device which adds an extra layer of stability to the table during gameplay.
Aluminum Top
This table tennis table comes with a 6mm aluminum-plastic composite tabletop, which is designed to provide a consistent bounce and perfect spin for players of all levels resulting in more challenging and exciting gameplay.
The best thing about aluminum plastic composite is that it is scratch resistant and highly durable, making this table the best lifetime investment for every player.
Locking Casters
When it comes to an outdoor table tennis table, maneuverability is the top factor you need to consider. Therefore, locking casters do wonders for the players who often need to move the table from one location to another.
You can lock it to hinder any movement during the play. Once you are done playing, you can simply unlock the casters and store them in the desired location.
1 Year Warranty
In addition to these spectacular features, JOOLA United Pro outside table tennis table comes with a 1-year manufacturer's warranty. These 12 months are a testament to its durability and quality.
The warranty assures the customers that they have invested in the right place and are committed to providing them with premium quality tables.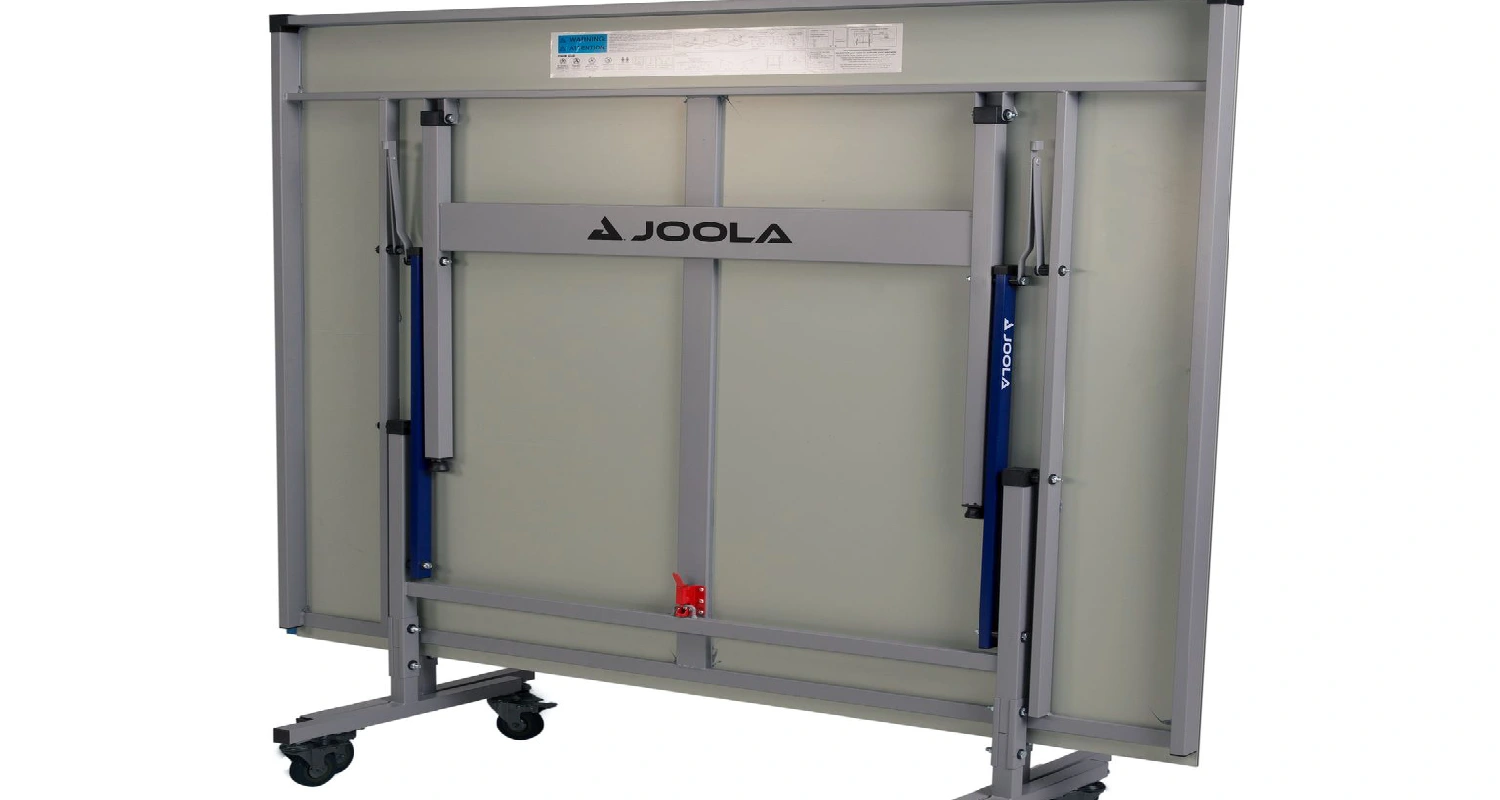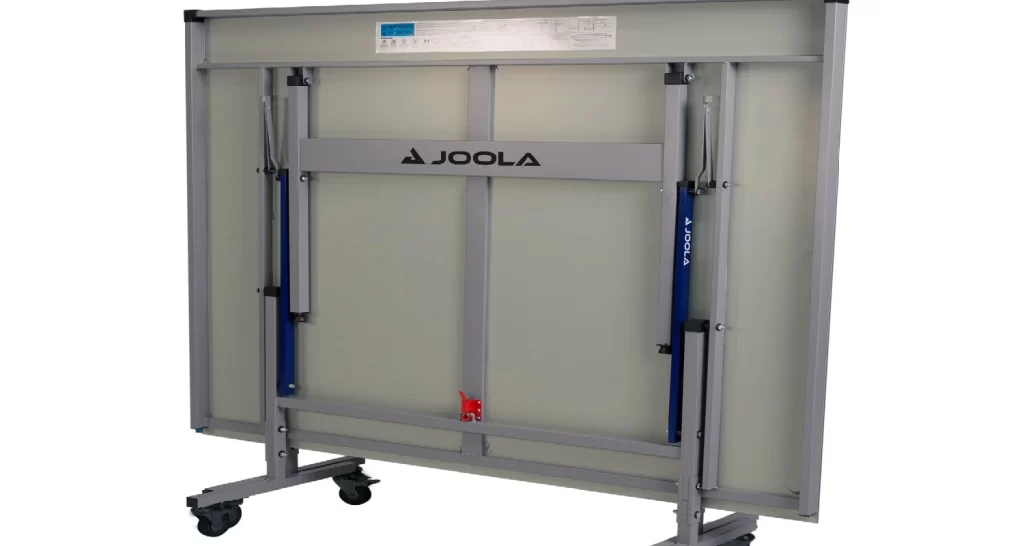 Pros
Spending on a high-quality ping pong table is quite an investment. Here are a few notable pros that investment will get you if you pick the JOOLA United Pro.
Appealing Aesthetics
One of the most loved features of the JOOLA United Pro table tennis table is its sleek and modern design, which features a sophisticated look that enhances the aesthetics of any outdoor space.
The table's minimalistic design and fine lines make it an appealing addition to any deck, backyard, or patio while providing a top-class playing surface for table tennis lovers.
Weatherproof Net Set with Adjustable Posts
JOOLA United Pro outside table tennis table comes with a weatherproof net set made with high-quality material to resist degradation from sun, rain, wind, and rust, ensuring that the net lasts for years without getting weary.
The best thing is that the net posts are adjustable, which allows players to personalize the tension and height of the mesh according to their preferences.
Easy Storage
One of the key aspects of JOOLA United Pro is its super convenient and space-saving design. It comprises a user-friendly folding mechanism that allows you to fold the table easily when not in use.
After folding, you can roll away the table on its four sturdy wheels designed to tackle the bumps of uneven terrains. This compact design and easy maneuverability make this table a great option for those who are die-hard table tennis fans but have limited space.
Regulation Size
JOOLA United Pro outside table tennis table is designed to meet all the regulation size standards making it an ideal option for intense practice. This means that the table caters realistic and authentic playing experience allowing players to practice under similar parameters as on professional tables.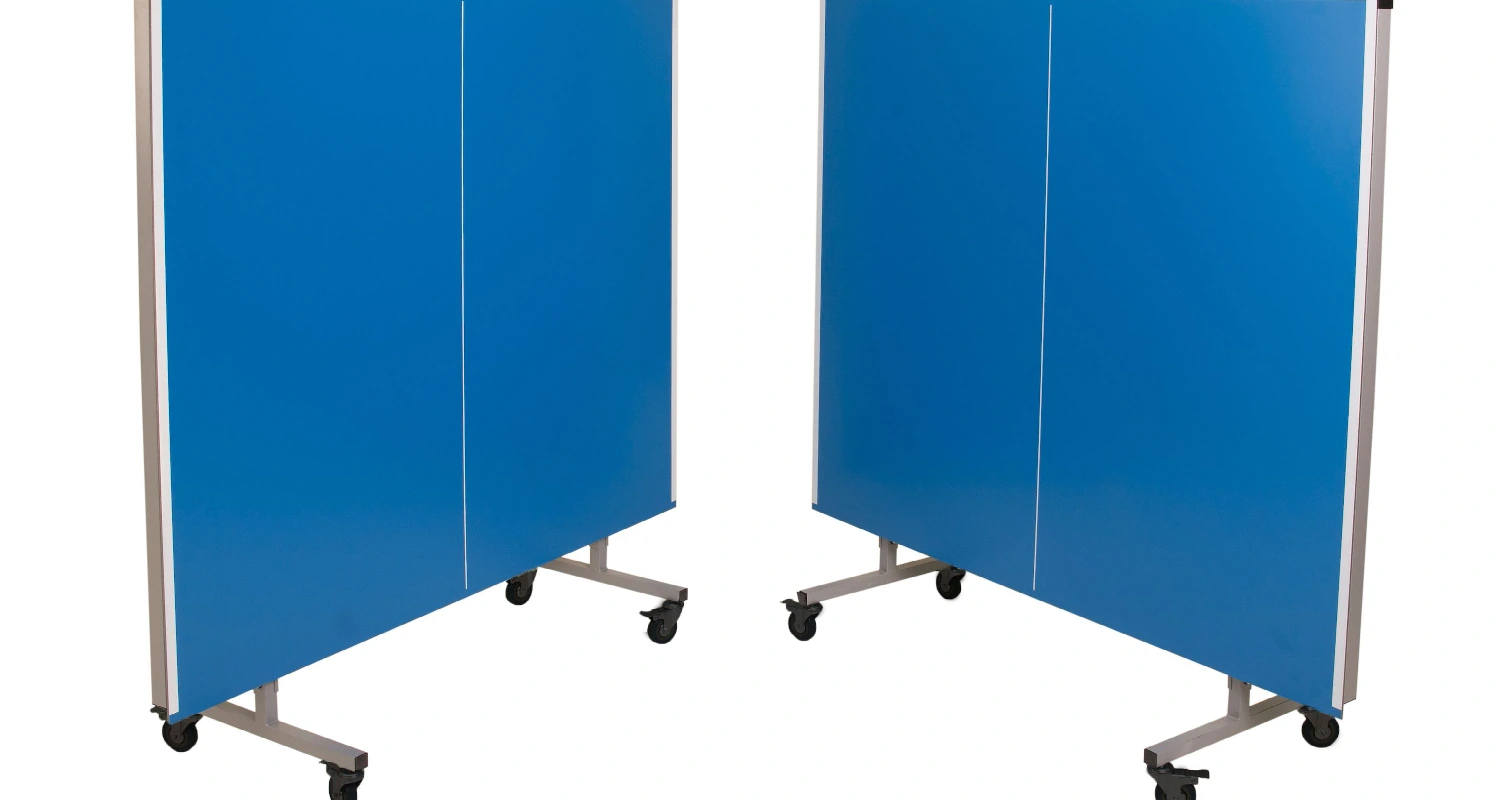 Cons
Nonetheless, there are a few things that you might dislike about the JOOLA United Pro. Here are a few that we weren't a fan of.
Assembly Process
The assembly process of this table is expected to be time-consuming and might require many people to put the table together. This time-consuming process might bring inconvenience to those looking for a quick and easy setup.
Some customers have reported that the assembly guidelines could be more detailed as it might take several hours to assemble the table properly.
Warping
Few customers showed their concerns with the table warping over time. It mostly happens when you leave the table exposed to direct sunlight for long periods. Remember that even weather-resistant tables require proper care; otherwise, they lose their strength and get weary before time.
Weight
JOOLA United Pro is a little heavier than others weighing over 160 pounds and can be difficult to move without assistance. This can bring inconvenience to those who often need to move the table from one place to another.
Our Rating: 4.8/5
The reason behind JOOLA United Pro outdoor having these great ratings is its remarkable features and the value the brand provides to its customers. Its top-ranking features include adjustable legs, scratch-resistant surface, durability, and top-tier aesthetics.
Moreover, it comes with a 1-year warranty, and thanks to the premium materials used in its construction, it requires no serious maintenance for a long time.
Whether you are a casual player or seeking to appear in tournaments, give JOOLA United Pro a go for its excellent playing experience and superior quality and hone your skills effectively.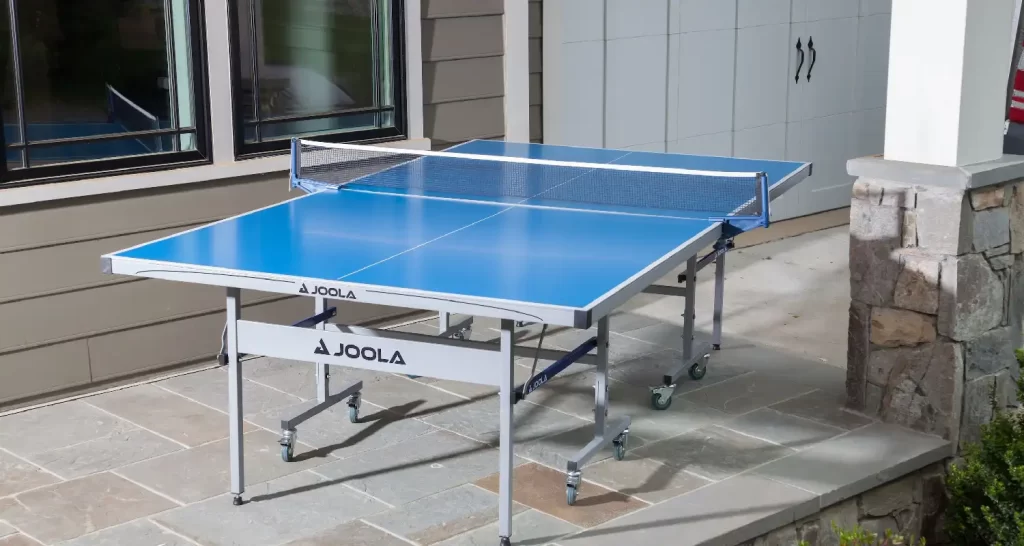 Frequently Asked Questions (FAQs)
How long does it take to set up the Joola United Pro?
The assembly process of the table can take from 15 minutes to several hours and may require 2-3 persons to put it together. Make sure to follow all the instructions carefully and seek help if needed to ensure that the table is set up correctly.
Can I fold it to enjoy individual playback mode?
Yes. JOOLA United Pro can be easily folded up for individual playback mode. These features work great for those who want to improve their skills while practicing alone.
Does the table require any maintenance or upkeep over time?
While this table is designed to withstand the rigors of outdoor weather conditions, it is highly recommended to cover the table or store it when not used to increase its lifespan.
Moreover, regular cleaning and maintenance of the net set and playing surface can ensure optimal performance.
Conclusion
Summing up, JOOLA United Pro outdoor table tennis table is a top-quality, reliable, and heavy-duty choice for all table tennis enthusiasts. It comes with a range of wonderful features that cater a convenient yet thrilling gameplay for people of all skill levels.
The assembly process may be a bit time-consuming because of its heavy weight. However, all these minor drawbacks are outweighed by the table's overall performance, outstanding quality, and the value it provides for money.
It is important to conduct thorough research and consider your intended use and playing experience before purchasing any table. By doing so, you can make an informed decision that meets your needs without stressing out your budget.