The Kettler Champ 5.0 Outdoor Ping Pong Table is perhaps one of the best tables for outdoor play in the market. We like the table and it is also loved by many users around the world, especially the US.
For this reason, we have decided to provide a detailed review on the Kettler Champ 5.0, so that we can help you make up your mind, whether this is a table worth buying or not.
Kettler Champ 5.0 Table Specifications
Our Rating: 4.8/5
Price: $$$$
Size: Regulation (9 feet x 5 feet)
Assembly Time: 2 hours (at least 2 people needed)
Weight: 200 lbs / 90 kgs
Table Top Thickness: 22mm (waterproof aluminum top)
What to Expect
We are not overselling the Kettler Champ 5.0 after that kind of an introduction! It is truly the most complete outdoor table we have reviewed, so far. Here are some of its features: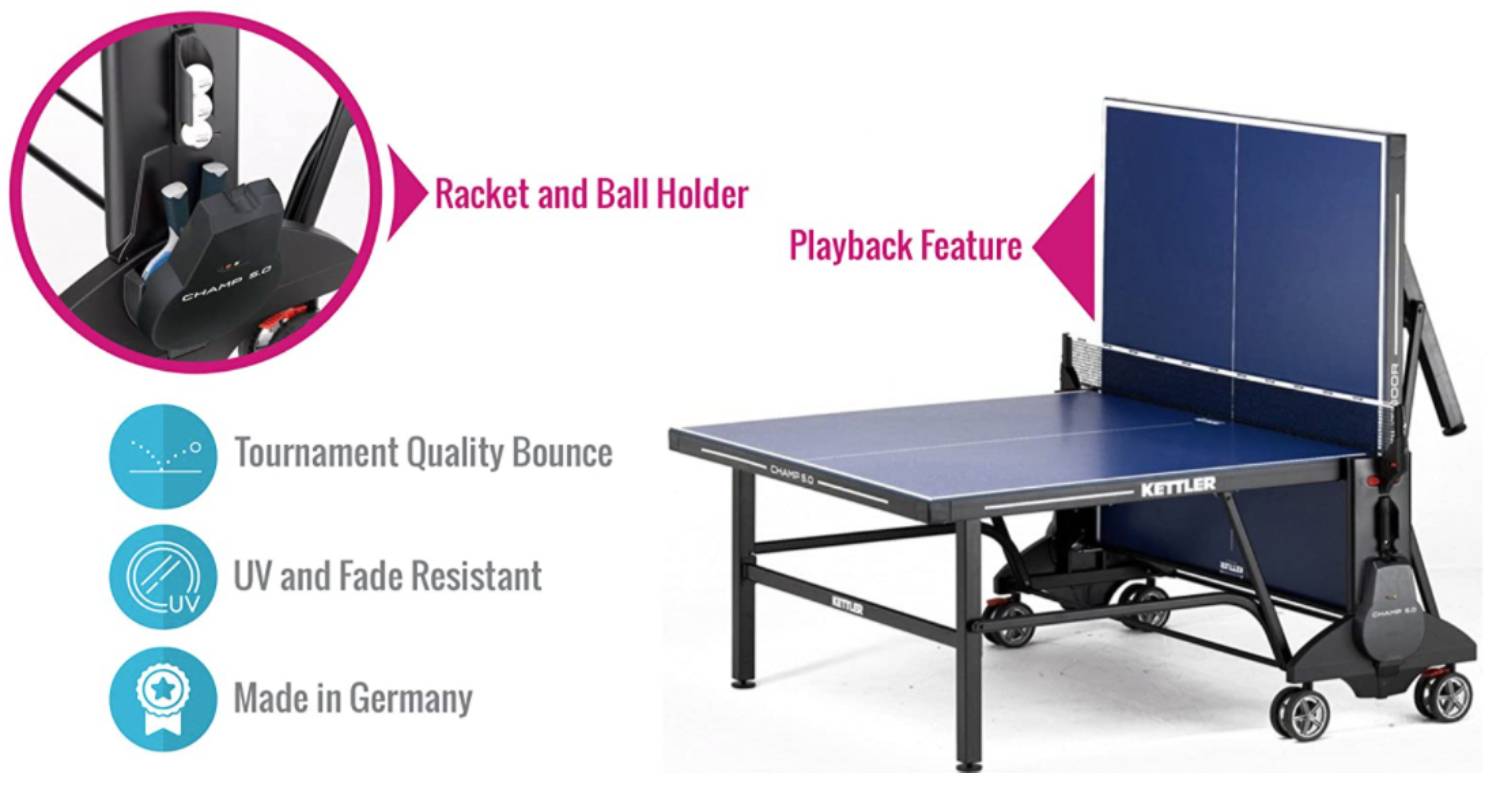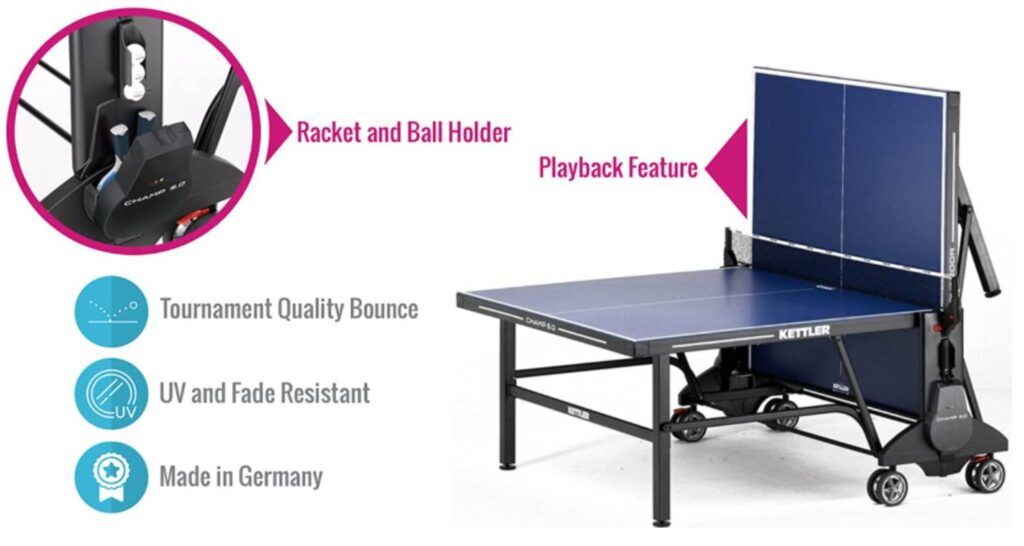 Safety-Fold Mechanism
It is accompanied by the option of playback as the table can be adjusted in solo player mode. This feature is patented by Kettler and it is known as the Safety-Fold mechanism, to allow you to experience gapless solo play and practice or master shots for better preparation in taking on your friends and family!
Storage Position
We love the Kettler Champ 5.0's storage position. It folds up in an upright position supported by wheels underneath. This is a compact and convenient way of putting your table away when not in use. The best part is, you do not have to take off the net, it stays attached to the table!
Racquet and Ball Holder
The table also has a holder that allows carrying multiple ping pong balls and paddles. You do not have to make space for your paddle, you can put them away with the table.
Floor Levelers
To provide you with the optimal height adjustment, there are floor levelers with each leg. They allow for smooth play on all kinds of uneven surfaces.
All in One
The Kettler Champ 5.0 comes in an all-in-one bundle. This bundle includes paddles, balls, a self-attached net, and, of course, a cover for the storage of the table. You do not have to shop around, just order the table and have all accessories sent with the table.
Dual Lock Safety
The safety for storage is supported with a double lock. This ensures that the unintended opening of the table is not something to worry about.
Pros
Consistent Bounce
Most of the outdoor tables do not have a consistent bounce due to the thin table tops they have. These table tops are made of different materials as compared to the indoor table tops, which is why they are a lot less in thickness.
However, when it comes to the Kettler Champ 5.0, it has an aluminum compound table top that is 22mm thick. This makes it great for volleying with all kinds of balls like the Nittaku Premium.
The table top is not only completely waterproof, it is also highly durable. The durability of the table top is thanks to a double layer coating beneath the table top, made of aluminum board and chipboard. These qualities along with a very thick table top, make the Kettler Champ 5.0 a very attractive option!
The Complete Bundle
Most people are infuriated when they order a table for recreational purposes and it is not accompanied by a paddle and balls.
You do not have to worry about this because the Kettler Champ 5.0 comes with two paddles and six balls. The paddles are the Kettler Halo 5.0 and two 6-packs of 3-star rated balls!
In addition to the playing accessories, the table also has a cover that comes with the purchase. You can also find an attached holder that helps keep the paddles and the balls. It also has a net that automatically attaches to the surface and remains there even when the table is folded.
Weatherproof Frame
The makers of the Kettler Champ 5.0 did not only spend ages making a solid table top. They also created a very strong weatherproof frame to support the table top, with a honeycomb aluminum panel. The frame is supported by 2-inch-thick corrosion-resistant legs.
It will not only stay on its feet during transportation but also during intense rallies, no matter what the surface
Easy Storage And Transportation
The biggest reason for buying the Kettler Champ 5.0 is the ease with which you can move the table around without any worry. This is thanks to the way it can be folded up, within seconds and the support of the wheels. You can put it away almost anywhere and not have to worry about the unintended opening.
Playback
We love the playback feature, especially because it is without any gaps between the two pieces of the table, when in playback position. You can play as much as you want, thanks to this feature, even if your friends are not in the mood! Practice makes perfect, so there is no reason to skip playing ping pong with the Kettler Champ 5.0.
Floor Levelers and Swivel Wheels
The Kettler Champ 5.0 comes with floor levelers that can be adjusted according to the unevenness of the surface. It also has four swivel wheels with safety breaks, to ensure that the table remains in one place and does not slide off any slope.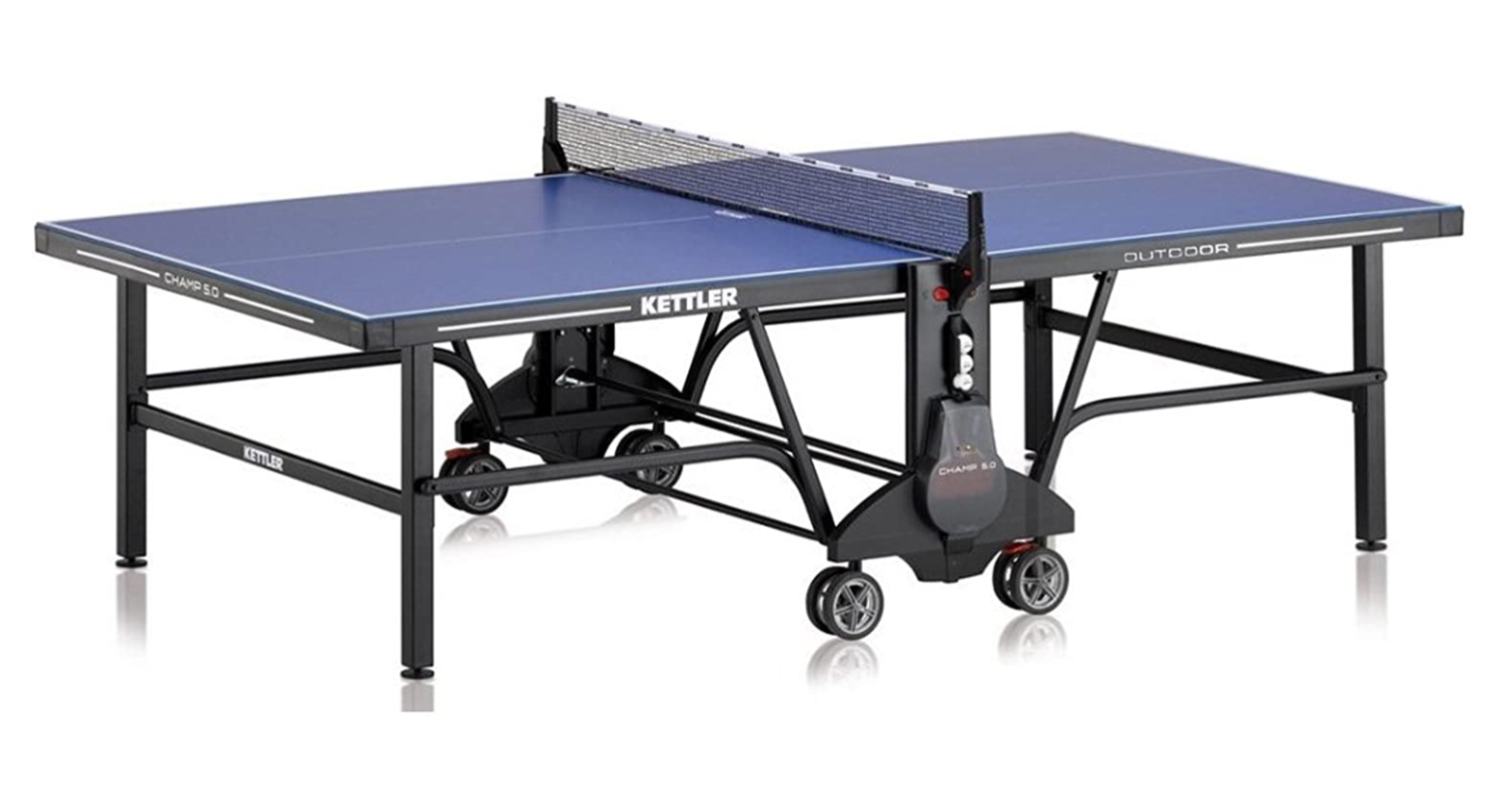 Cons
Assembly Time
One of the biggest issues of the Kettler Champ 5.0 is the time it requires to be set up before you can play. Unlike many other tables that offer QuickPlay option, this one requires two people to set it up. It can almost a couple of hours to set up, but once you are done, you will have one of the best tables to play on!
Expensive
The Kettler Champ 5.0 is quite expensive. For good reason, though, considering it covers all the bases and does so effectively. Even then, some people may feel priced out of a purchase because Kettler tables tend to be more expensive as compared to other tables with similar specifications.
2-Person Need for Folding
This is one of the bare few flaws within the table. You cannot fold it on your own, you will require the help of an additional person to fold it because of the Safety Lock mechanism that it comes with.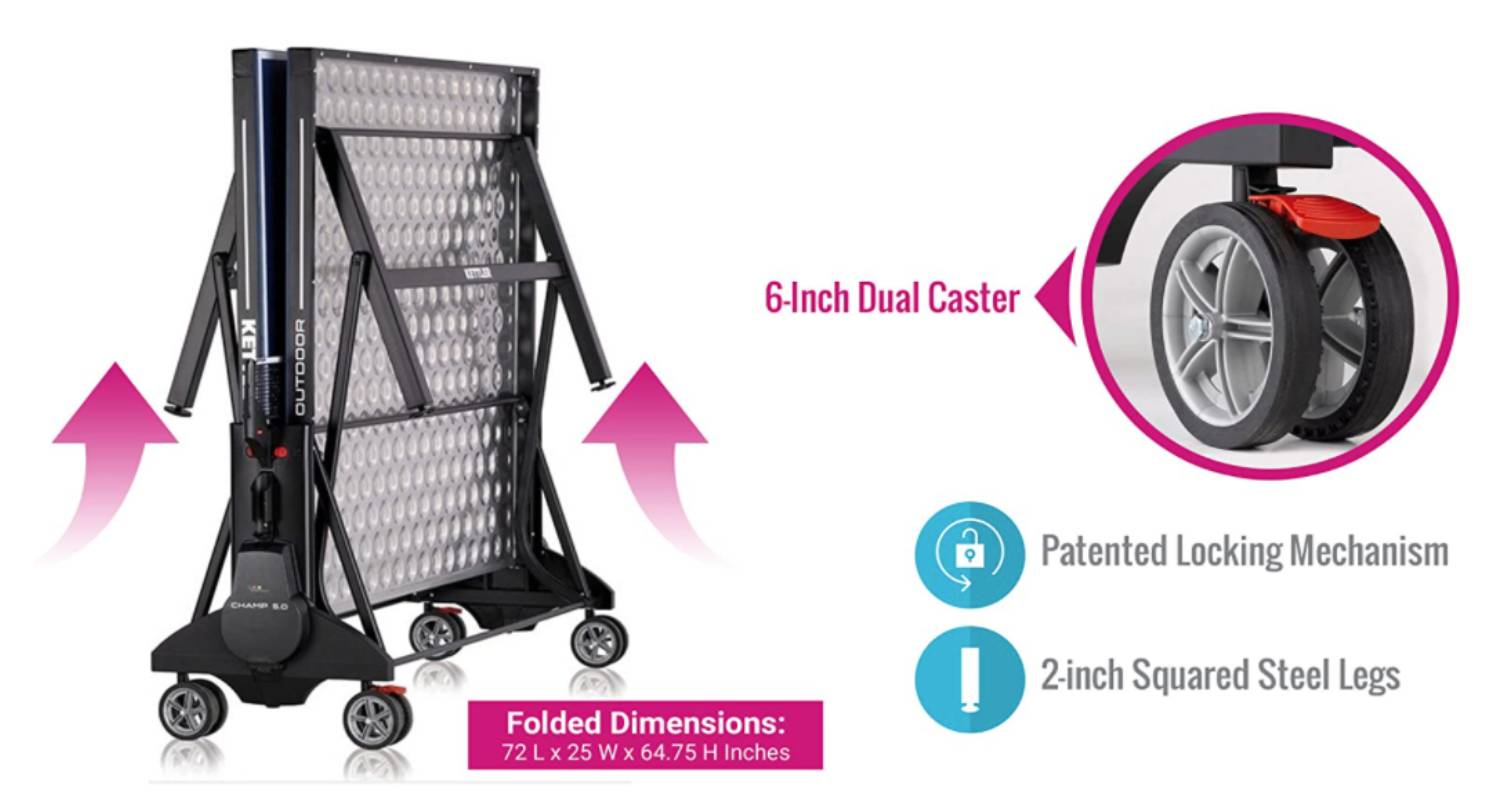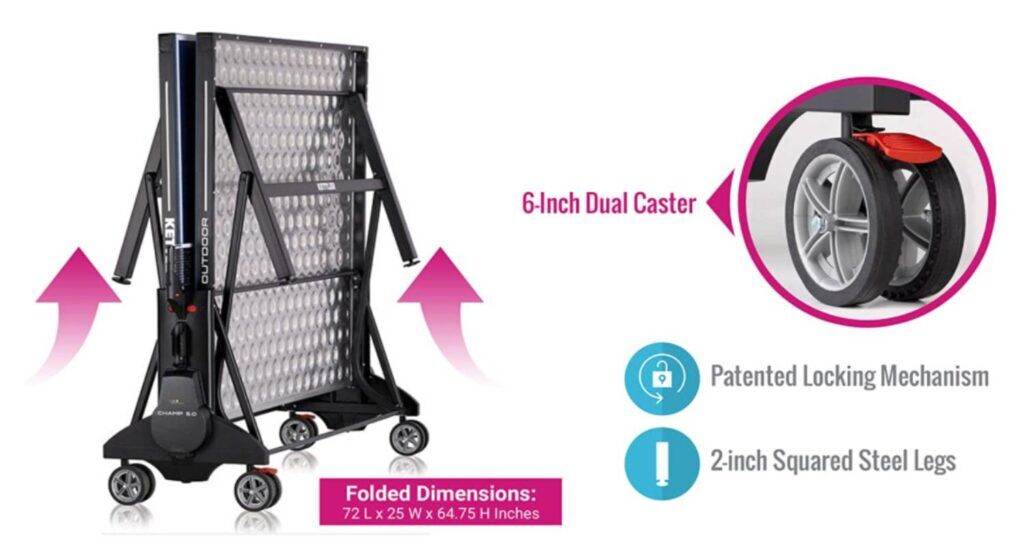 Our Rating: 4.8/5
We think the Kettler Champ 5.0 is perhaps one of the most complete outdoor tables in the market. It does not have any kind of engineering faults, and most of the drawbacks we listed are regarding the setup the of the table or how expensive it is.
These are a few limitations, but if you want a quality table, you will have to spend big.
If you do opt for the Kettler Champ 5.0, it will be a quality purchase. There are simply too many accessories and conveniences to overlook and that is why we rate it so highly!
Frequently Asked Questions
How to Assemble Kettler Champ 5.0?
Kettler Champ 5.0 takes a few hours to set up before you can start playing. You will require the help of another person to set it up and for your convenience, we have the following two methods:
You can either go through this manual.
If you are more of a video person then you can see this.
Assembling the table will require you to have some basic knowledge of using tools and hardware. You will have to work with numerous bolts, nuts, washers.
The process is made up of a 20-step routine that you will have to go through to set it up. However, once it is done, you will have an amazing table to play on.
How Do You Open the Kettler Champ 5.0?
Opening the Kettler Champ 5.0 is not a tough task. It is supported by a dual locking system, so you will have to open locks on both sides.
The locks are labeled "1" and "2" on the side of the table and you can click it and then fold the table or unfold it. Opening the table is a lot easier than folding, as for folding you may require the help of another person.
Conclusion
In our opinion, if you want a table for outdoor playing purposes, then for this price, there is no table better in the market.
Kettler is a trusted German brand and has made a name for themselves by providing top quality products and the Champ 5.0 is no different. There are many reasons to buy it and the price tag should not put you off, especially, if you want a quality table.
The table is extremely durable, but it also requires a lot of looking after; we suggest using the cover that you get with the table when you put it away in storage.
Table tops are prone to warping so make sure you cover them properly and store them in a proper place. The Kettler Champ 5.0 comes with a pair of good paddles and 3-star balls, as well, it is a no-brainer, you should be all over it!