When looking for the best ping pong net, it's best to opt for a product that works both indoors and outdoors. We have reviewed one such product here, which is suitable for every location and climate, and that too without costing you a fortune.
Kettler indoor/outdoor table tennis net is among the best-reviewed nets in the market right now. A bad net can ruin your gaming experience even if you have the best ping pong table or paddles. Let's see if this net is any good.
Kettler Indoor/Outdoor Table Tennis Net Product Specifications
Our Rating: 4.4/5.0
Price: $$
Type: Indoors and Outdoors
Weight: 0.15 Pounds
Dimensions: 70 x 9 x 6 inches
Material: Nylon, Mesh
Warranty Time: 1 Year on Residential Use
Accessories: Tension Adjuster tabs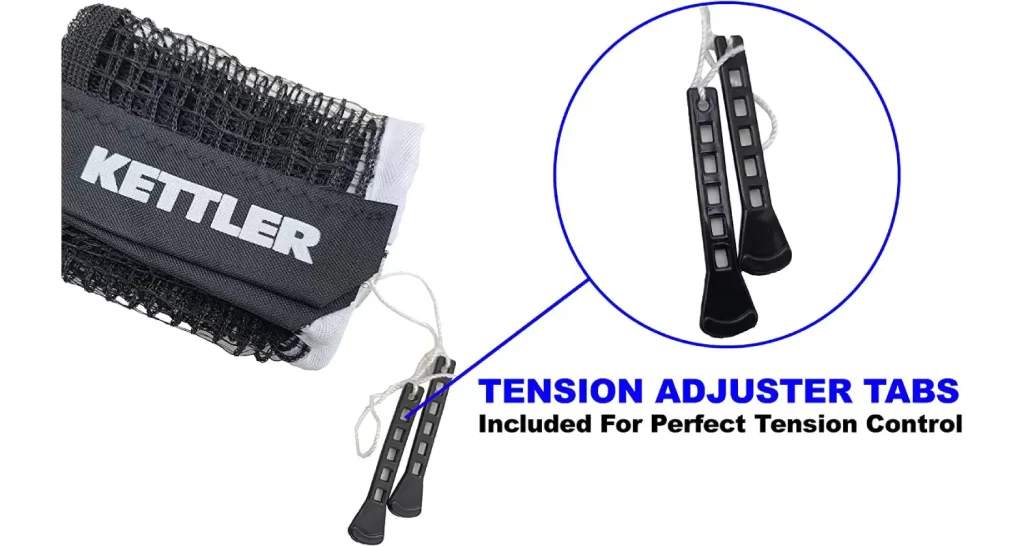 What to Expect?
Kettler is a well-known Table Tennis manufacturing brand that specializes in ping pong tables and other equipment. This company is known for delivering quality at a good price, so we expect the Kettler indoor/outdoor table tennis net to be worth its price.
The product description states that this net is almost 70 inches long, which means that it would fit a regulation-sized table. It is also covered by a 1-year manufacturer warranty, only for residential use though.
Warranty can also be a testament to quality. Let's see if this net meets our expectations.
Construction
Made of multi-string nylon webbing, this is a highly flexible net. It features metal rods on each end that secure it in place.
The sides have loops with a string attached to an adjustable plastic clip, which you can use to tighten the net and firmly secure it on the table. This is a stretchable and extendable net which means you can use it on various sizes of tables.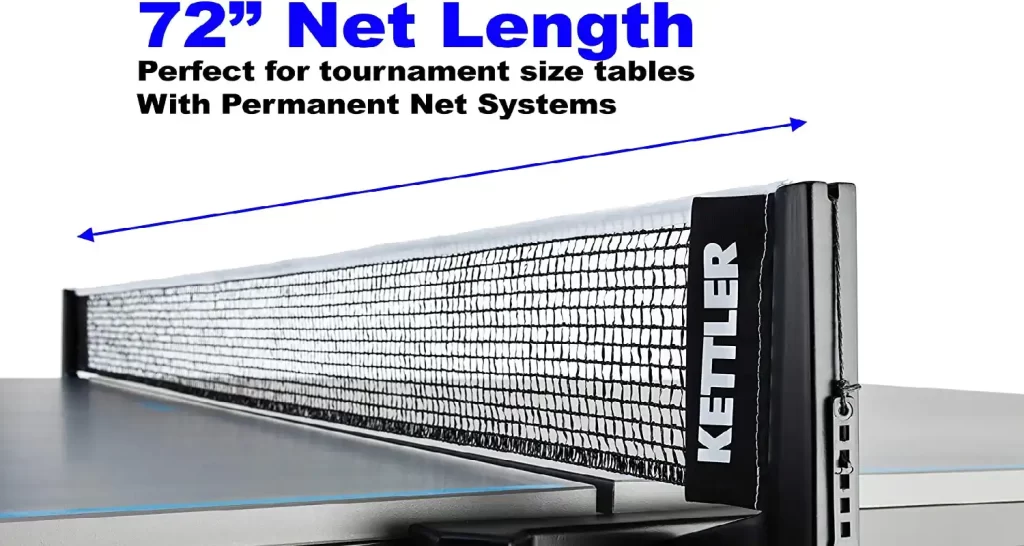 Pros
Flexible with Ideal Tension
Although Kettler indoor/outdoor table tennis net comes at an affordable price, in terms of performance, it is on par with other high-end products in the market. The net is highly flexible but will not sag if you set it up correctly.
You can achieve the ideal amount of tension with the tension adjusters and also by altering the net length according to your need.
Suitable for both Indoor and Outdoor Environments
Most customers have said that this net can survive extreme outdoor conditions. Be it sunshine, rain, or snow, you can set it up on an outdoor table without worrying.
Since you can use the Kettler indoor/outdoor table tennis net anywhere you like, we think that is it worth the price.
Affordable Price Tag
After doing a thorough market search, we concluded that this net is among the most affordable products around. You may find other products from high-rated companies such as JOOLA or Butterfly under $30, but they would usually be suitable for indoor use only.
Quick and Easy Installation
Kettler indoor/outdoor table tennis net is fairly easy to install and take down. If you already have a post set, it will take you just a matter of seconds to set up or uninstall.
The added tension adjusters further make it easy to manage the net tension so that it doesn't sag.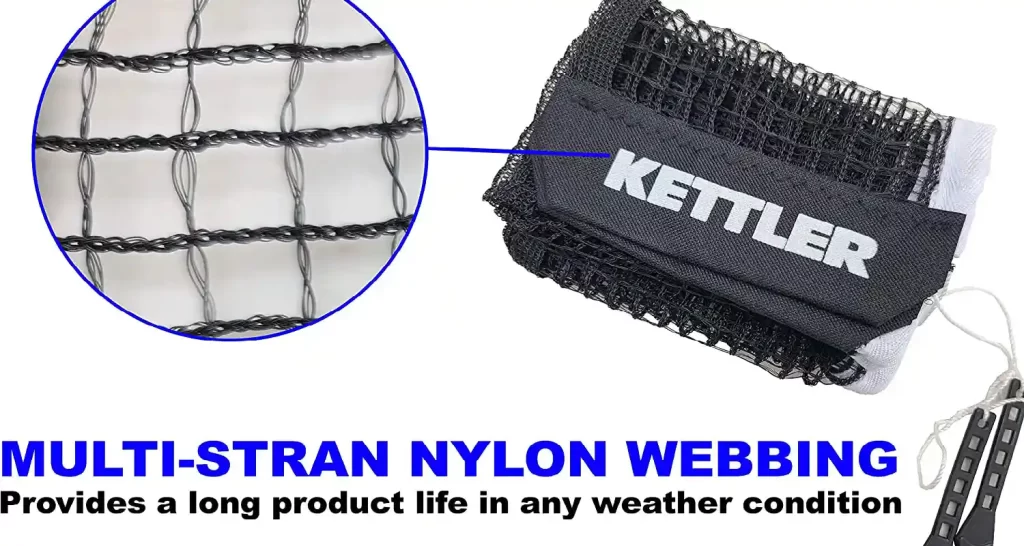 Cons
Not Enough Accessories are Included
Net posts are not included in this package and if you don't already have a set, you will need to buy them separately. To hold the net to the posts, you need metal pins.
Unfortunately, the net doesn't have the required metal pins included. You will have to pay around $18 to buy a set of pins.
The Kettler indoor/outdoor table tennis net doesn't come with an instruction manual so you might have to search the internet if you do not know how to install the net.
Wears Out
Although the net survives harsh weather, some customers have reported that if it stays out for too long, the mesh begins to wear out. The string that is used to tie the net also reportedly starts to tear if left out for a long time.
This is primarily because the material is not that durable. So, even though the description says that you can use the net outdoors, placing it in harsh weather climates for a long time might cost you.
Complaints About Quality Control
Many customers have reported complaints regarding quality control. One common complaint is that even though the description of the net says that two tension adjusters are included, most customers didn't get even one.
Another problem is that, unlike the description, Kettler indoor/outdoor table tennis net is made in China, not in Germany.
Not a Competition-grade Product
ITTF has laid down some instructions for the right net suited to serious competitions, such as parameters for height and color. Kettler indoor/outdoor table tennis net is not on the list of ITTF-approved table tennis nets.
If you are looking for a competition-grade product, then this one is not for you.
Doesn't Fit Regulation-sized Tables
We measured the net and unfortunately, it is 66'', not 72'' as stated in the description. While it might fit small tables, if you need a net for a regulation-sized 9 x 5 feet table, this is not the product for you.
Our Rating: 4.4/5.0
Overall, the Kettler indoor/outdoor table tennis net is good for recreational use and for players who need an affordable product that they could use both indoors and outdoors.
With a convenient installation process, you can seamlessly adjust the net height and tension. This net can be used anywhere you like but might get damaged if you place it outdoors for a very long time.
We have also seen some complaints by customers about the quality control, so we recommend that you do your research before getting this product.
Conclusion
Kettler indoor/outdoor table tennis net is a good quality, affordable product, most suited to beginners and recreational players. You can use it both outdoors and indoors, and it is fairly easy to install and uninstall.
It only comes with tension adjusters, and you will have to buy a post set and metal pins separately. Overall, even though it is a good quality product at a good price, we do not recommend it for serious players, as it is not ITTF-approved and doesn't fit regulation-sized tables.