When we talk about some of the best nets for table tennis, we have to include the Butterfly Europa net and post set. It is a top-tier product that is mostly used in ITTF-level tournaments all around the world.
Let us take a detailed look at all that we know about the Butterfly Europa and all that you need to know before you invest in buying it.
Butterfly Europa Net Specifications
Our Rating: 4.6/5
Price: $$$$
Type: Clamp and screw
Color: Black and white
Weight: 1 pound (0.45 kgs)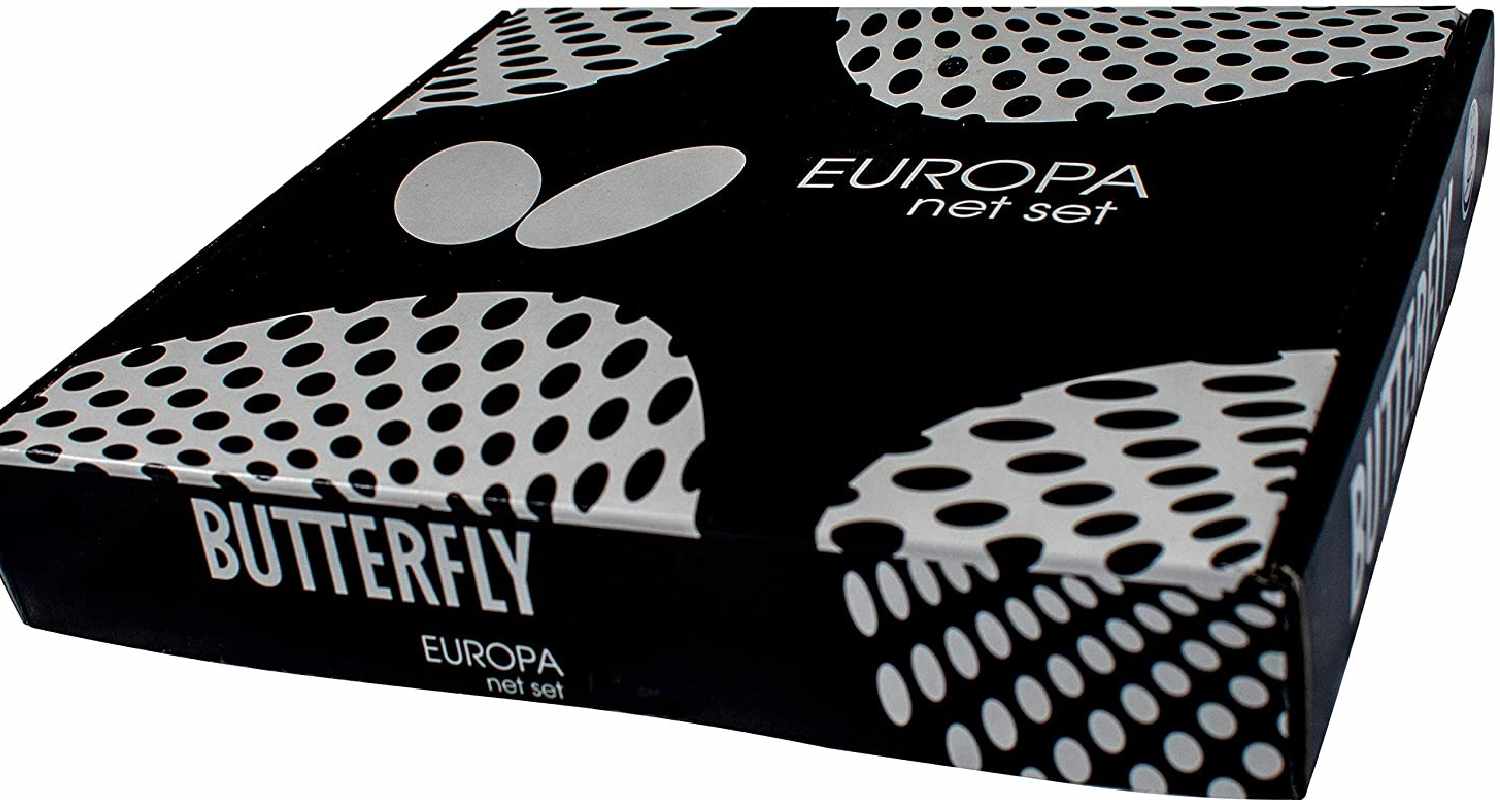 What to Expect
If you are interested in purchasing this top tier net and post set, it is crucial to know what you can expect from it.
ITTF Approved
It happens very rarely that products get the seal of approval from ITTF. Yes, many products claim to be ITTF approved, but what makes a product ITTF approved is when it gets used in ITTF tournaments. This net and post set has been used in most of the major ITTF tournaments around the world.
High Quality Manufacturing
You can be sure to expect the best from a Butterfly product; however, the Butterfly Europa is another fantastic example of high-quality manufacturing. There is a ring chain included which allows for adjustment of net tension and in addition to the ring chain, there are adjustable screws that calibrate with the net.
From the intricate details of the net to the sturdy design of the post, it is a fantastic product and it is made for the very highest level. This means you can certainly experience the best level of play and have no complaints regarding the height or adjustment of the net.
Beautiful Packaging
The Butterfly Europa comes in nice compact packaging. This makes the product a better buying choice because everyone wants to pay over the odds for a nice package.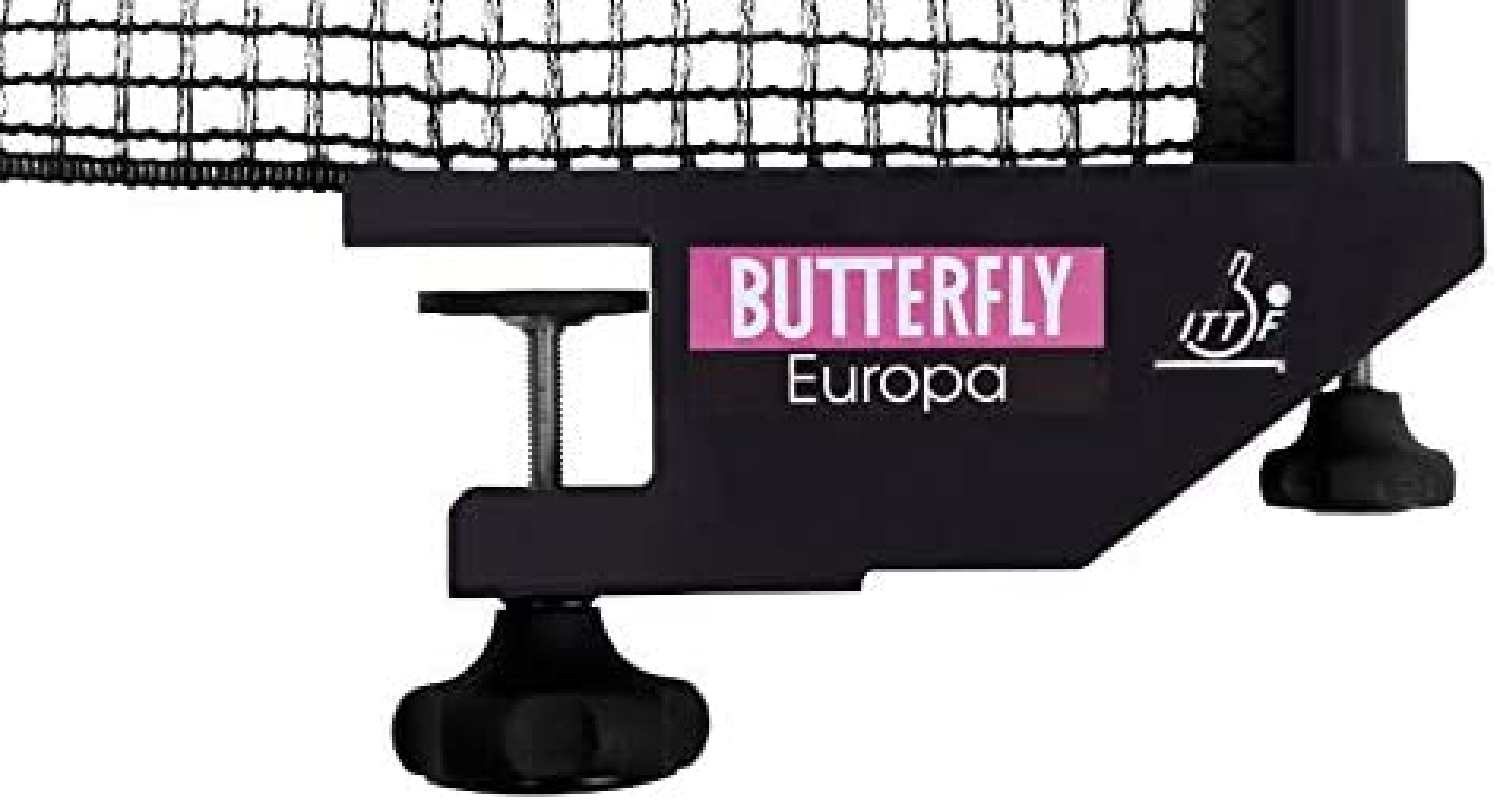 Pros
These are some reasons due to which you should invest in the Butterfly Europa Net and Post Set.
Adjustable Screw
Adjustable screws are added in the Butterfly Europa Post and Net Set, which makes it very easy to calibrate net heights. You can set up the net at a height that you want and that can give you a customized experience, rather than having one height for all.
Sometimes, particularly during recreational play, you want the net height lowered so that you can play faster and have more fun. This way, you do not have to worry about the ball getting stuck, each time you want a powerful smash to go over.
Multi-Usage Clamps
The clamps included in the Butterfly Europa are extraordinary. They not only hold the net in place, like any other clamp but are also felt-tipped and to secure the brackets that allow for greater convenience.
Ring Chain
It also comes with a ring chain that helps keep the net in place. This is just one of the many reasons why Butterfly deserves the plaudits they get. They have put so much effort into the creation of this beauty, that these small "pros" are simply engineering clauses that help make this wonderful net and post set.
Used By Pros
The Butterfly Europa Net and Post Set has been used by professionals all around the world. It is made for the very top pros and it gives you the best playing experience, as well. There are fewer options better than the Europa.
Rubber Padded Brackets
The brackets used in the Butterfly Europa are rubber-padded. This ensures that the net and post set will not leave any scratches on the table surface.
Cons
As a force of habit, we have to include the downsides of buying each product, too. In this case, there aren't many, but even then, we have to include something!
Quite Expensive
Compared to the rest of the net and post sets, the Butterfly Europa costs an arm and a leg. The price is the only sticking point, in an otherwise, perfect net and post set.
Complicated Set-Up
The set-up of the Butterfly Europa is quite complicated. This can be a sticking point for people who are looking for a simple post and net set, that can be set up within a few seconds. That is not the case when it comes to the Butterfly Europa Net and Post Set, as it needs to be fixed up and it takes quite a bit of time to do so.
1.5 Inch Table
The Europa is made only for the tables that have a thickness of 1.5 inches. This makes it a slightly limited option for people as not everyone has a table of that much thickness, around.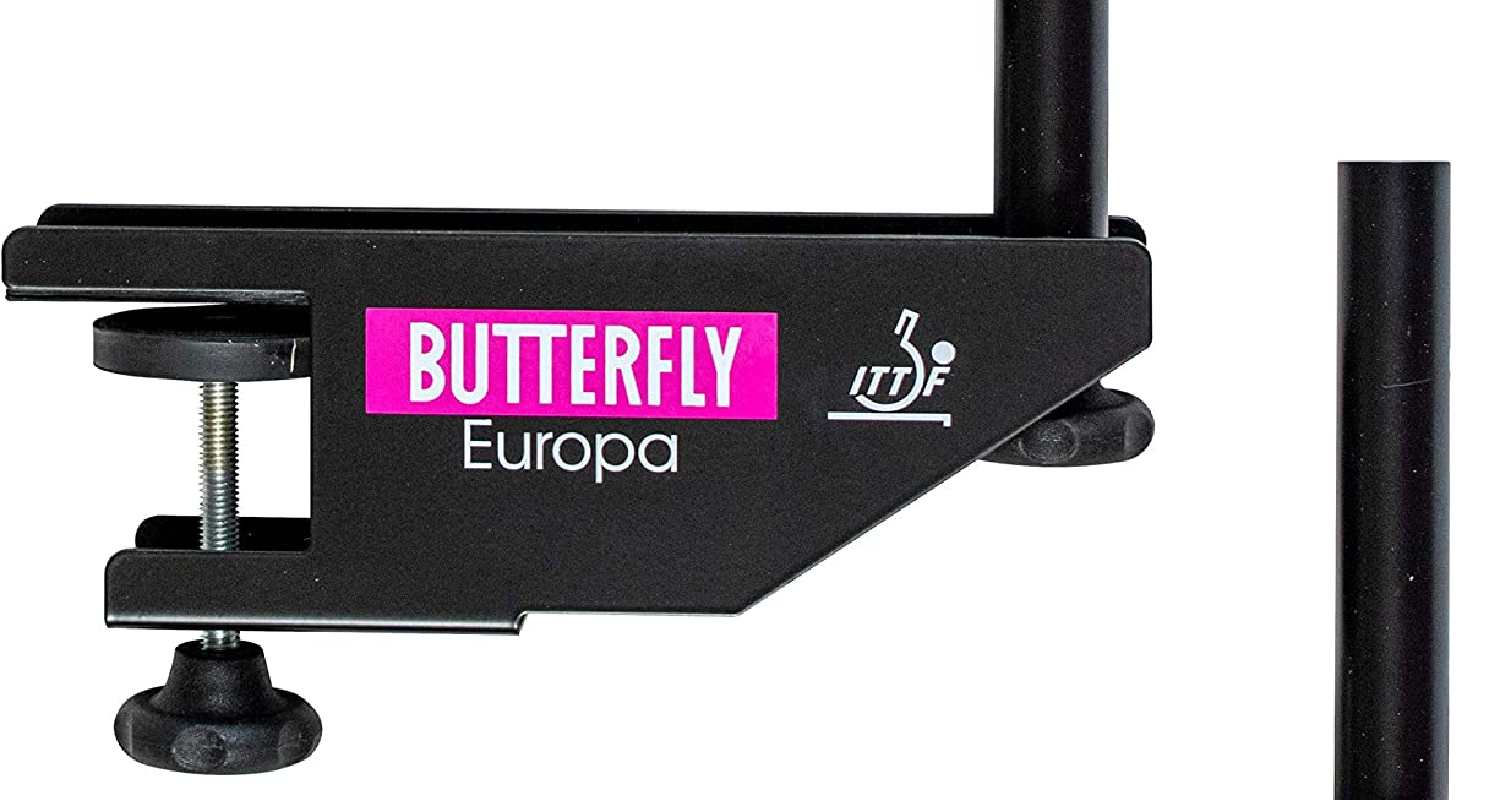 Our Rating: 4.6/5
According to our rating, 4.6 probably sounds a bit harsh. This should be taken with a pinch of salt, though, because the Europa is simply the best. However, we have to take into account affordability, access, and ease of use, and when we consider everything, then that justifies the rating.
It is still the best net and post set available in the market. It has an international pedigree and it has been used in most tournaments worldwide. All in all, we love the Europa and we believe it is head and shoulders above any other net and post set in the world.
Frequently Asked Questions
How do you set up the Butterfly Europa Net and Post Set?
The Butterfly Europa uses a clamp and screw set up, that can be done within a few minutes if you have any previous experience.
Conclusion
All things considered, if you have enough money to invest on a net and post set, you should be going all out for the Butterfly Europa. It is made for premium play and there are so many reasons for buying it. If you want a 10/10 playing experience, buying it is a straightforward decision.
Yes, there are questions over its set-up, but if you have even slight experience of setting up the screw and clamp, then you should be fine. Even if you don't have much experience, a simple YouTube video should be helpful enough!