While indoor tables can be placed outside temporarily, they are designed for indoors and may not hold up outside. If you want a recreational ping pong table for playing outdoors, one that promises both quality and playability, then Kettler Eden would be one of the best options available on the market.
This table is suitable for outdoor recreational purposes and can be installed in residential areas, schools, parks, and camps. It promises durability with a 10 year warranty; and it is one of the most high-rated outdoor tables right now.
Let's dive into the specifications and see what the hype is all about.
Kettler Eden Product Specifications
Price: $$$
Rating: 4.8/5.0
Type: Outdoors
Weight: 280 Pounds/127 kgs (approximately)
Dimensions (after setup): 108 x 60 x 30 inches (length x width x height)
Thickness: 10mm
Top Material: Melamine
Base Material: Steel
Accessories: Fixed Net and Post Set, Nuts and Bolts
Assembly Time: 10-20 minutes
Warranty: 10 Years for the Top and 3 Years for Remaining Components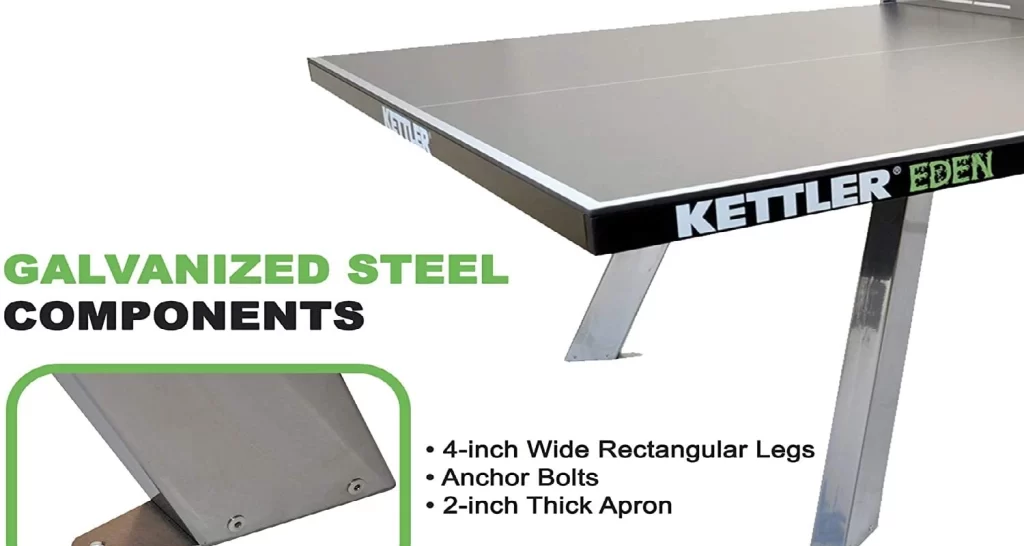 What to Expect?
Outdoor ping pong tables are designed to be more sturdy so that they can withstand harsh weather conditions including sunlight, humidity, strong wind, and even rain and snow.
When it comes to longevity, they must be on par with concrete ones. Moreover, as they promise quality and a sturdy construction, they are also more expensive than indoor tables.
Since this is a commercial-grade, high-end outdoor table, we expect the table to deliver quality, performance, durability, and that ability to sustain damage from harsh climate. We also expect this table tennis table to not fade to warp after being outside for a long time.
Let's see if this table meets our expectations.
Construction
Kettler Eden is a tournament-size table with a length of 9 feet. The 100% weatherproof melamine top is supported by robust 4-inch galvanized steel legs, which are protected and supported by 2-inch steel aprons.
Most outdoor ping pong tables use a melamine top as it is not only weatherproof but also gives a good bounce. Galvanized steel is rust proof too, further promising weather-resistance.
The whole table has a chrome look with a powder coat finish. It comes with anchor bolts and a permanent net and post system. 4mm thick permanent steel net and posts are also made of galvanized steel with a powder coat finish so that they match the table.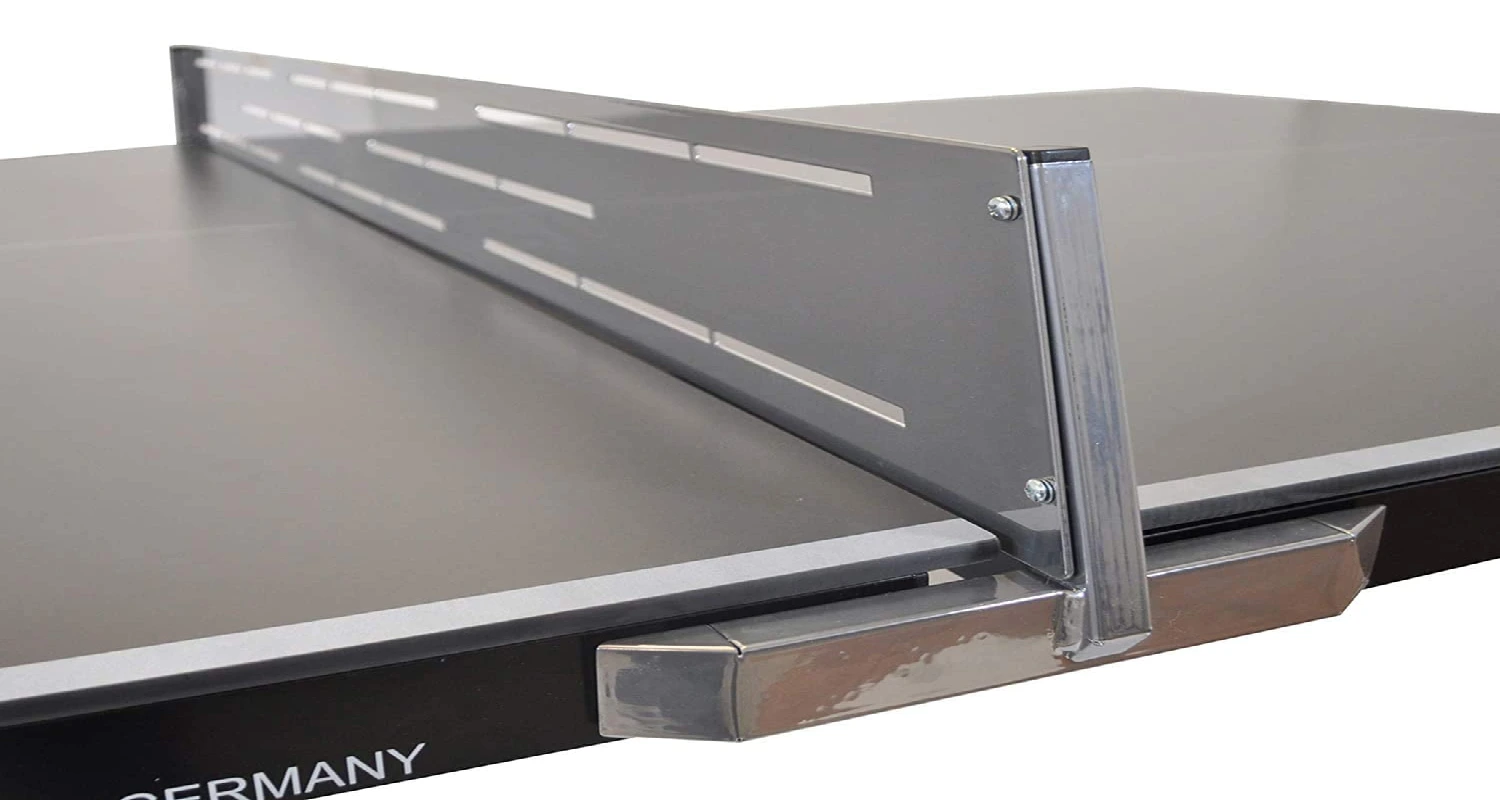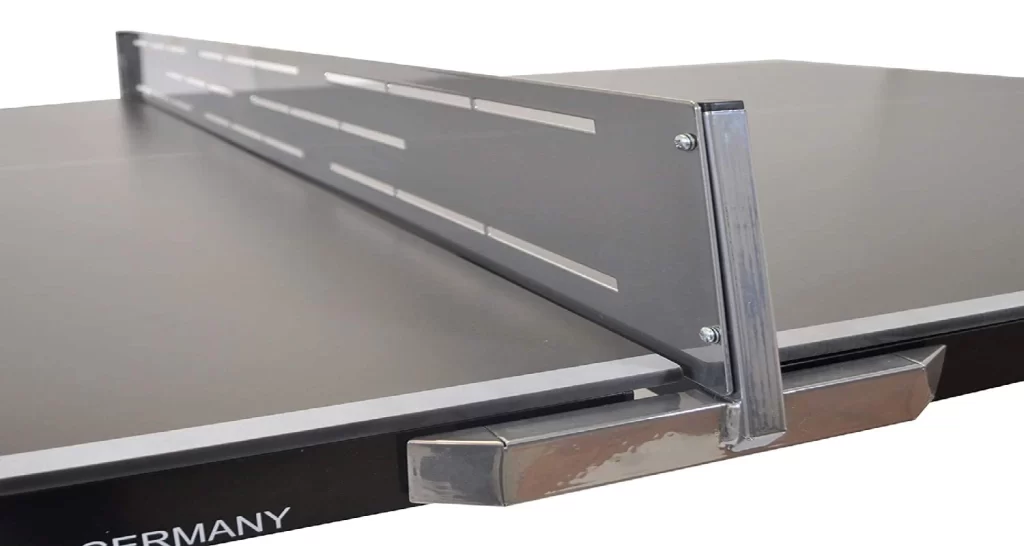 Pros
Assembly
This table tennis table has a fairly simple assembly system and can be assembled in less than an hour. There are no wheels, or any flimsy moving parts and you only have to attach the legs and anchor the table.
16 bolts are provided to attach the legs to the frame. You will need a hand to adjust the top in place. The table also comes with anchor bolts to keep it steady.
Great Playability
Kettler Eden has the ideal thickness of 10mm, considered best in terms of quality and performance. A 10mm table top is the most suitable thickness for that perfect and consistent bounce.
The top's anti-glare coating further adds to its playability and responds well to spin.
This is marketed as a stationary table which is required for a good feel and stability and it delivers. Its heavy weight together with robust and sturdy legs add into the table's consistency and stability.
Perfect for Outdoors
This commercial-grade table is excellent for outdoor recreational use. It can be fixed in schools, parks, apartment complexes, or even resorts where it would be in play position at all times.
Due to the already added anchor bolts and permanent net and posts system, you can start playing in seconds, without worrying about assembly.
Benefits of a Concrete Table
Kettler Eden is a fully stationary table. Due to its heavy weight, sturdy design, and anchor feet, it gives you all the benefits of a high-quality concrete table.
Additionally, as this is weatherproof, just like a concrete table, you don't have to worry about the harsh weather destroying the table.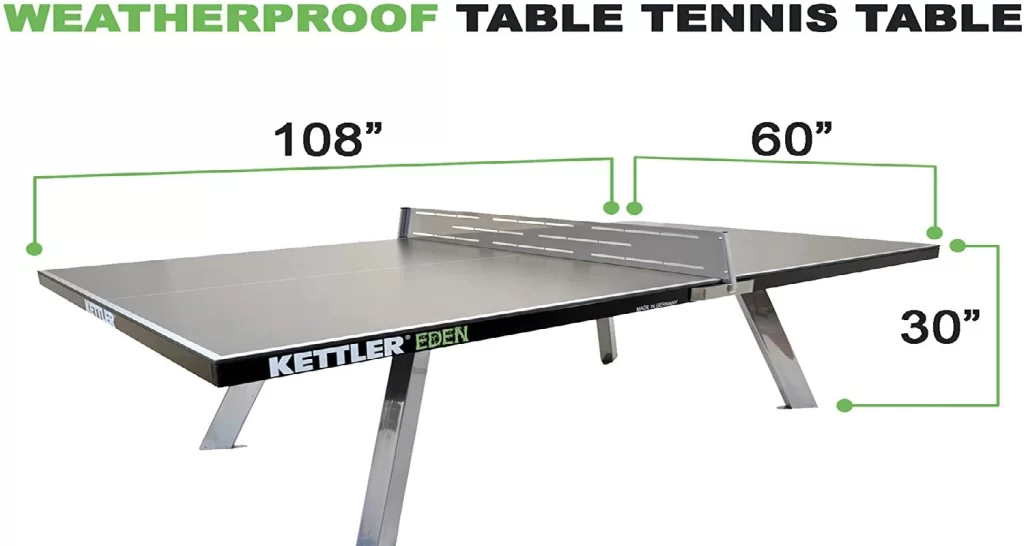 Cons
Low Portability
Kettler Eden is designed for the outdoors so it is heavy and therefore less portable. It does not fold so it is not maneuverable, and requires at least two people to assemble as all parts.
Additionally, since the ping pong table doesn't fold, it doesn't offer the playback option. Moving this is difficult but not impossible, as 4 adults can lift and move the table from one place to another.
If you want to keep your table covered, you can get covers that will protect that table.
No Corner Protection
Unlike other heavy-duty outdoor tables, such as Cornillieau 250S, this table tennis table does not come with corner protectors.
The 2-inch steel apron doesn't offer the necessary protection as kids or adults might get injuries after accidentally hitting the table.
Fixed Metal Net: Not Everyone's Cup of Tea
Although it depends on personal preference, a fixed net has a different feel than that of a traditional mesh net. If you are someone who enjoys the mesh net, you might have to buy a separate net and post system.
Our Rating: 4.8/5
If you want a sturdy ping pong table that can be fixed down for many people to use, Kettler Eden would be your ideal choice. The table, from top to frame to the fixed net and posts, features excellent quality and permanence.
This is a high-end, heavy-duty table, made to last. Melamine top with anti-glare coating gives excellent bounce and anchor bolts give the much needed stability.
The table's long and comprehensive warranty further adds to its credibility, and it will surely last for decades.
Conclusion
Kettler Eden features an industrial style and strength, making it an excellent table for outdoors. Its sturdy frame and top give durability, stability, and consistency. At $2,199, it is a bit expensive, but we consider it a great value for money.
This is ideal for parks and playgrounds as it is fully stationary. If you are looking for a light-weight foldable table, then this is not for you.
The ping pong table doesn't come with corner protectors, so if you have raging kids ready to band their heads on the table, you might give it a second thought.