If you are looking for a holy grail outdoor ping pong table, then we have one of the best options for you.
The Cornilleau 600X ping pong table features state-of-the-art craftsmanship and optimal ease of use. It is one of its kind tables that is easily foldable yet heavy duty as it features the fastest and safest folding mechanism.
Thanks to superior construction and ease of use, it is one of the most durable tables and is hard to find fault – except when it comes to price or long assembly time.
Cornilleau 600X Product Specifications
Price: $$$
Rating: 4.9/5.0
Type: Outdoors
Color: Black/Blue
Weight: 77 Pounds/70 kgs (approximately)
Dimensions (after setup): 108 x 60 x 30 inches (length x width x height)
Thickness: 7mm
Top Material: Resin Laminate
Base Material: Steel
Accessories: Retractable Net and Post Set, Nuts and Bolts
Assembly Time: 2 to 2 ½ hours
Warranty: 10 Years
Adjustable leg pad: 3D adjustable / diam.104 mm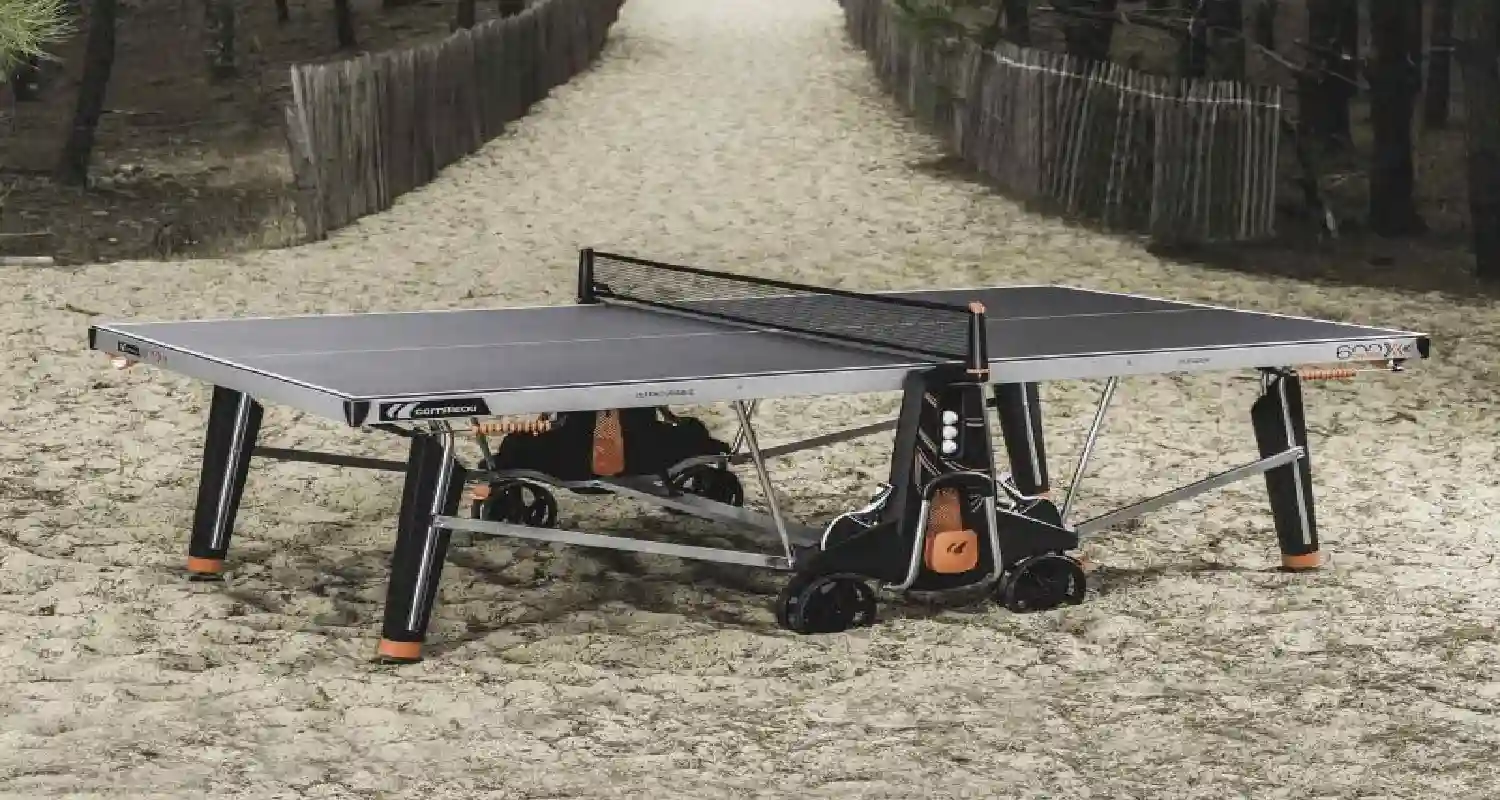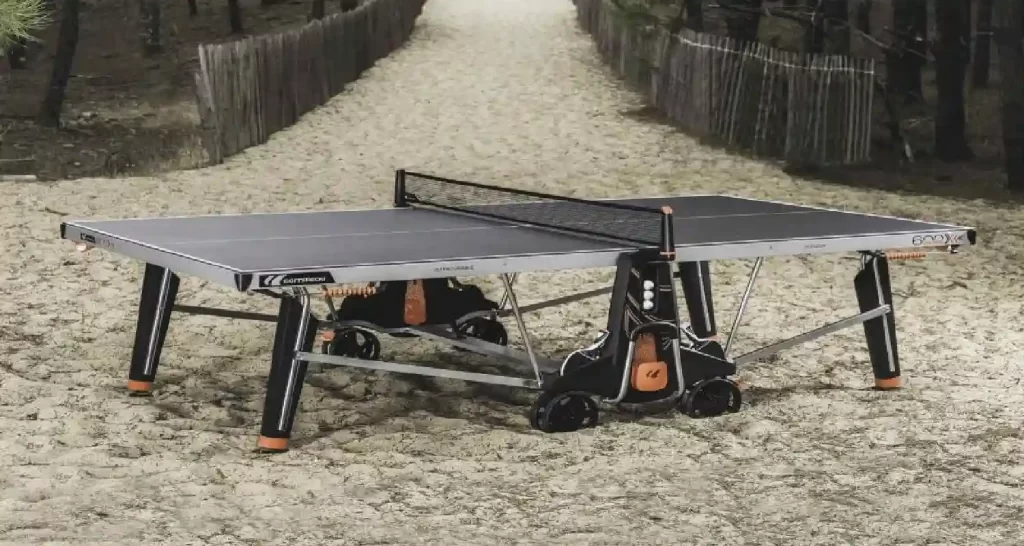 What to Expect?
Cornilleau is one of the most well-known brands when it comes to ping pong tables. It is highly unlikely that you haven't seen their tables in schools, patios, game rooms, parks, hotel resorts, or apartment complexes.
It is a French ping pong table manufacturer and has been making tables for over 45 years. Cornilleau has many outdoor models, but the 600X is their most popular one. This outdoor ping pong table promises ease of use and optimal comfort.
It also seems to be sturdy and reliable with a warranty of ten years. We expect it to really have the qualities which set it apart from the competition. Let's see in this Cornilleau 600x outdoor review what the hype is about!
Construction
The 7 mm thick outdoor playing surface of Cornilleau is weatherproof, and no amount of offense, violence, or harsh weather can pose much damage to it, which explains the 10 year warranty time. It has the ideal tournament-playing size.
The legs have steel inserts and adjustable feet so that you can adjust each section of the table individually. The improved leveling system also helps in storage. Top notch wheels also scream quality and two of these have breaks so that the table can be locked.
The height and tension of the retractable adjustable net can also be adjusted. And net posts set into place automatically when the table is folded, so that there is no flailing net while you are carrying the table for storage.
Accessories like bottle holders, point counters and ball dispensers make it easy to keep track of your score during the game eliminating the hassle of manually collecting balls from a separate container.
Just take a new ball from dispenser and continue playing!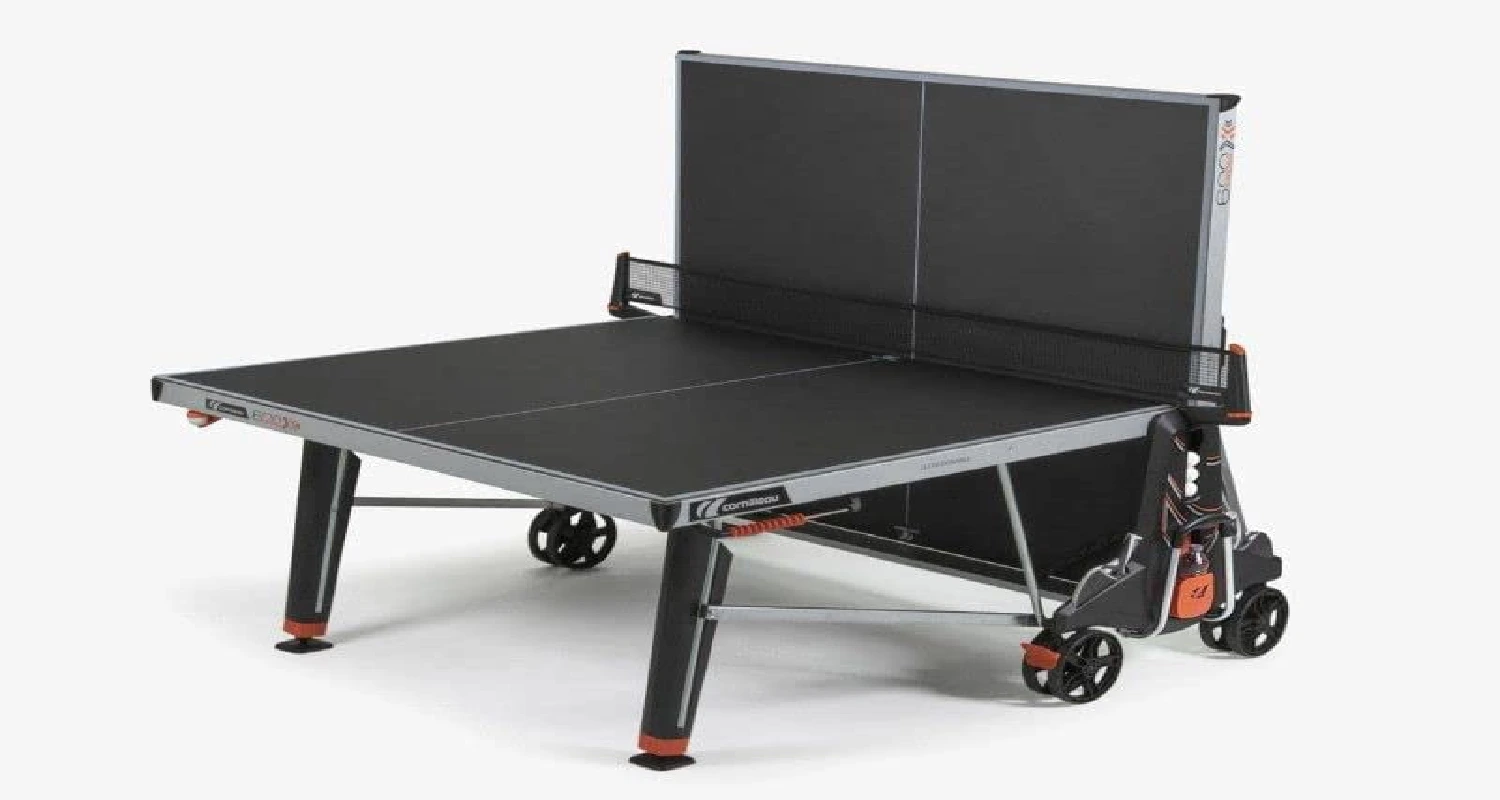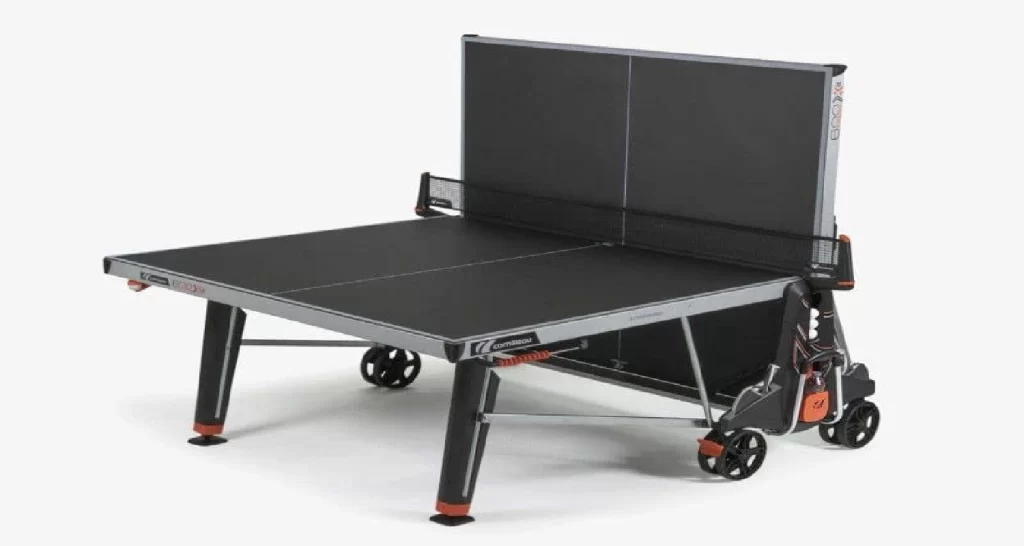 Pros
Excellent Craftsmanship
When it comes to the structure, this most unique aspect of Cornilleau's outdoor tables is its legs. They do not just support the heavy playing surface but also add to the table's visual appeal. The 600X frame is constructed with Aluzinc- a highly corrosion resistant alloy that guarantees extreme sturdiness.
Cornilleau tables having 600mm frame height can be leveled, as outdoor conditions do not always offer a flat ground and you might encounter dirt, raised ground or even stones. With the levelers, the height of each section can ideally be adjusted the way you want.
Sun's glare can be annoying when you play outdoors with an uncoated table. To solve this problem, Cornilleau 600X outdoor ping pong table has a matt playing surface with an anti-glare and anti corrosion coating. Which doesn't just help with glare; but also assists with ball adherence and helps produce excellent bounce.
Cornilleau ping pong table's surface is 100% waterproof and even if your ping pong table has had to deal with heavy rain, extreme heat, major paddle impacts, hail, or snow, simply wipe it off and you are ready to play.
Safety Features
Cornilleau 600X outdoor ping pong table features a DSI locking system which is considered the best in the ping pong industry. There are sixteen locking points and the table can be fully locked in both storage and playing positions.
Another safety feature is the corner protection pads so that in case kids bang their heads, they stay safe.
Storage and Portability
The Cornilleau 600X outdoor ping pong table has four sets of double wheels which easily help move the table. The wheels can easily glide over uneven surfaces such as rocks or dirt. There is also a handle between the wheels which helps you handle and lift the table.
The double wheels and the foldability make storage simple and easy. The net also retracts and adjusts between the two panels when the ping pong table is folded, so that it can fit into tight places.
Accessories and Additional Features
Cornilleau 600X outdoor ping pong table has multiple features including bottle holders which create optimal ease of use. There is a bat storage compartment below the net on each side of the table in which you can store 4 paddles and 8 balls.
At each end of the table, right below, there are ball dispensers so that, during the game, you won't have to run after your table tennis ball. There are also cup holders at each side of the table and point counters as well. The table allows you to fold away cup holders when not in use.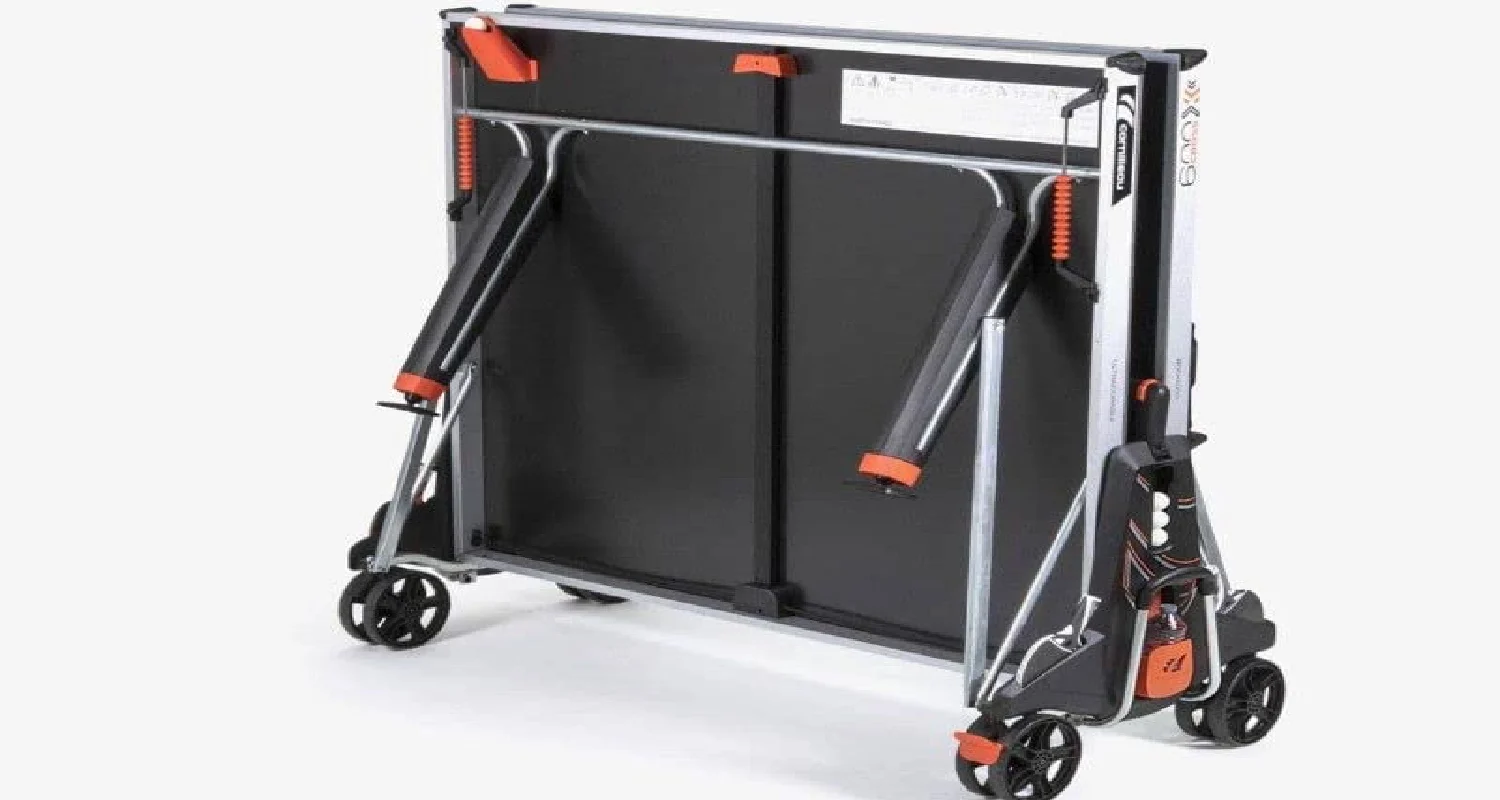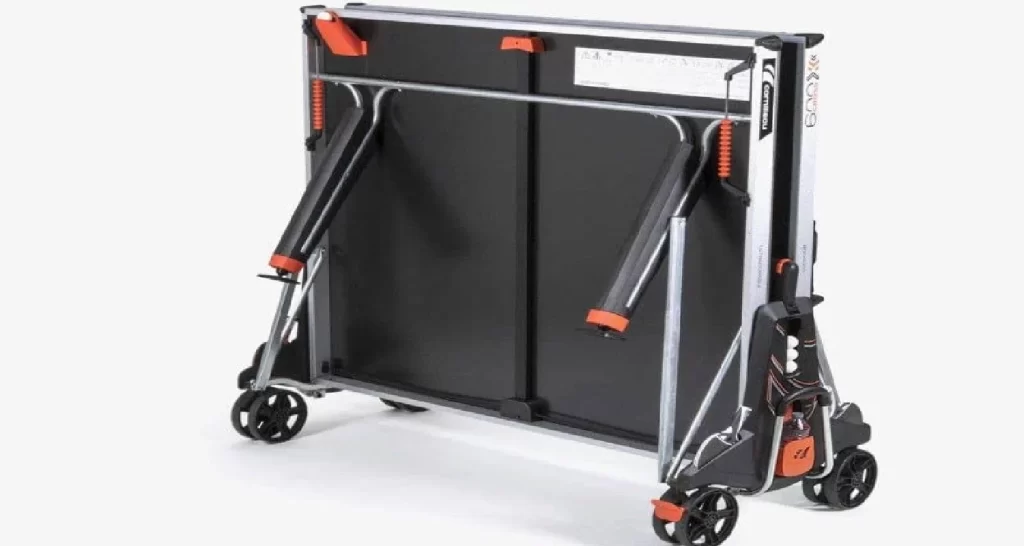 Cons
Price Range
We are all praises for Cornilleau 600x outdoor ping pong table, and there is nothing quite like this one on the market. However, at $1,999 the table is fairly expensive. Cornilleau has other models which have similar features.
One key difference between the 600X outdoor ping pong table and the other versions, which have lower prices, is the table top thickness. If a 5mm thickness is suitable for you then we recommend the Cornilleau 250S which might not be as sturdy but has all the features that the 600X has.
Long Assembly Time
Unlike most of other tables, Cornilleau 600x outdoor ping pong table requires assembly and can take 2 to 2 ½ hours to assemble, which is a long time. If you are fidgety and struggle with instructions then you will need professionals' help to assemble this table.
If not, then you will need a socket wrench and a helpful YouTube video to assemble the table.
Our Rating: 4.9/5
The Cornilleau 600X outdoor ping pong table has exceptional quality and performance when compared to the competition. It also comes with convenient portability and compact storage. It's corner protection pads add more to the safety and minimize the risk of injuries during fierce gameplay. The table is made of the highest quality materials.
It goes through a thorough quality control process resulting in an exceptionally reliable and durable product that can withstand even heavy rain and steals the show.
Cornilleau's outdoor tables are expensive, but the advanced features and technology might overshadow this problem. Additionally, even though the table takes a long time to assemble, if you follow proper instructions, it is easy to put together. It's compact technology folding system is truly a life saver and make its storage easier than ever.
Conclusion
Supreme quality, additional accessories such as point counters and ball dispensers, and easy storage make Cornilleau 600X one of the best ping pong tables in the market. Cornilleau 600x outdoor table boasts the best innovations without compromising safety, quality, or ease of use.
With a well-designed frame, strong legs, and a well-built playing surface, Cornilleau 600x outdoor ping pong table is both durable and reliable. It sure won't budge during an offensive game or harsh weather and produces perfect spin response.
This outdoor ping pong table can surely satisfy even the most choosy players. Its aesthetically pleasing and decent framework makes it a perfect corporate events table that stands out.