Ping pong is no doubt a super fun and exciting game that provides privilege to people of all ages to enjoy the game. However, if you truly want to experience the thrill of the game, you'll need the right equipment; that all starts with a great ping-pong table.
So, if you are roaming around in the market looking for a top table tennis table designed to provide hours of fun without any glitches, then look no further than the Killerspin ping pong table.
In this article, we have come up with a detailed review of the MYT7 Killerspin ping pong table, covering everything from its spectacular features and benefits to its limitations and drawbacks. Stay stick to us till the end so you can decide whether it is the right fit for you.
Buy MYT7 Killerspin Ping Pong Table
MYT7 Killerspin Ping Pong Table Specifications
Our Rating: 4.1/5
Price: $$$
Style: MYT7
Size: Regulation (9 feet x 5 feet)
Assembly Time: 15 minutes
Material: Wood
Weight: 170 lbs
Table Top Thickness: 4mm
Color: Blackstorm
Warranty: 1 year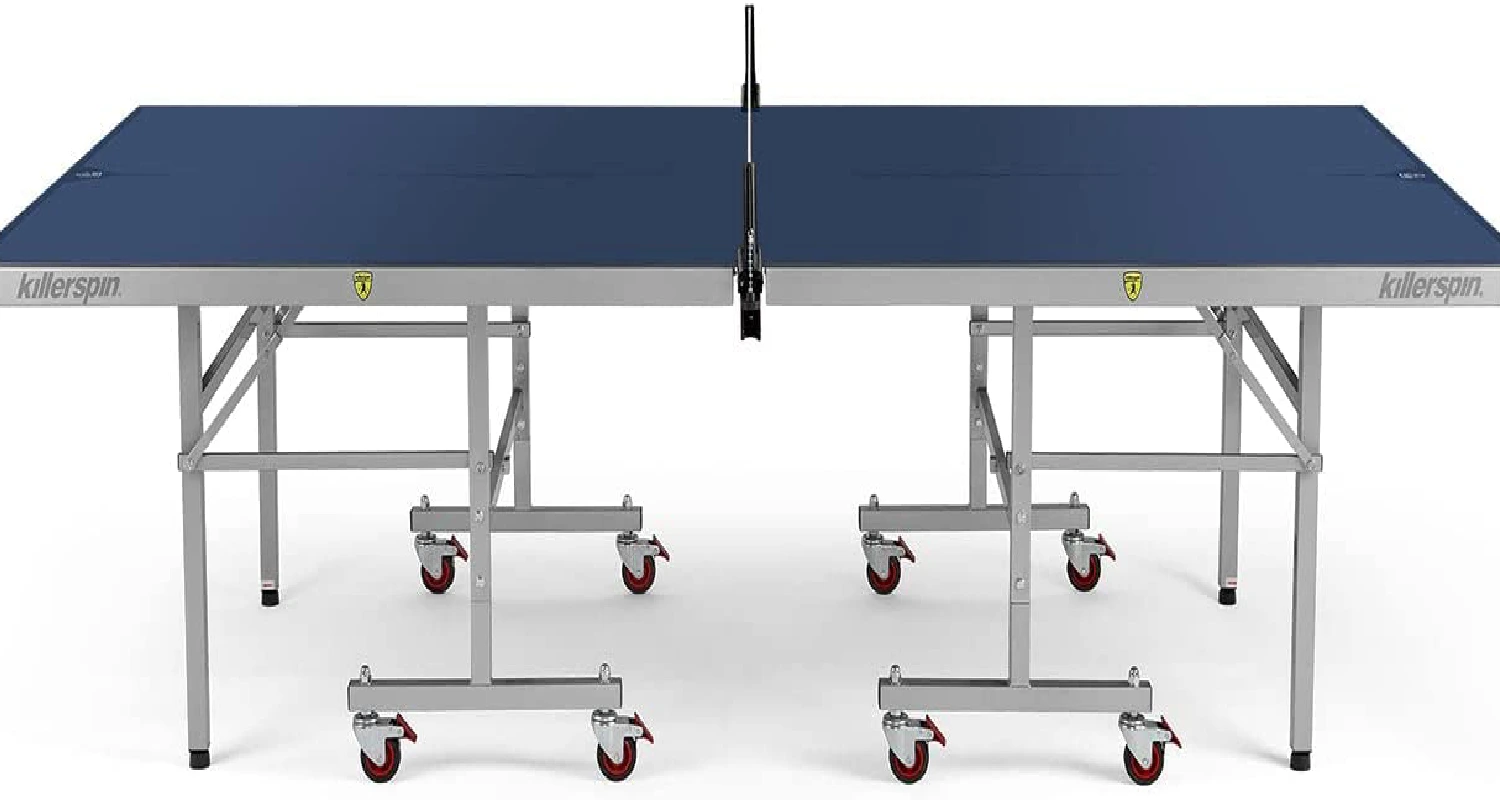 What to Expect
With our personal experience and observation regarding the Killerspin ping pong table, we have noted a few takeaways about its splendid features that we want to share with you. Let's see what they are!
Durable And Sophisticated Design
Killerspin ping pong table MYT7 is constructed with a heavy-duty steel frame featuring top-tier durability during the game, optimum stability, and control. The tabletop surface is made up of premium quality MDF ensuring excellent ball response and consistent bounce.
Then comes its sleek and contemporary design with an intense black frame and Top that gives a powerful feel during the game.
Fantastic Outdoor Play
One of the most outstanding features of the MYT7 Killerspin ping pong table is its top-tier aluminum plastic top with 100% water resistance, making it a fantastic option for outdoor spaces where they are highly exposed to several elements.
This rugged yet smooth surface can endure warps caused by moisture, temperature changes, or humidity, catering to a smooth playing experience. Furthermore, this feature allows you to enjoy the true thrill of indoor play even outside without affecting the intensity of your hits.
Solo Playback Mode
MYT7 is one of those few table tennis tables that allows you to enjoy ping pong alone without any playing partner. It works brilliantly for those who want to practice their shots and improve their techniques before trying them on anyone else.
Moreover, it gives you the privilege to take your good time to focus on your techniques, correct any flaws in your performance, and develop new strategies to level up your game.
Easy Assembly
The assembly process is incredibly hassle-free and requires minimal steps. Since this table has clear guidelines with all the essential hardware and tools, you can assemble it in only 15-30 minutes.
Its safety locking mechanism ensures that tables don't open or close accidentally, ensuring complete safety during gameplay.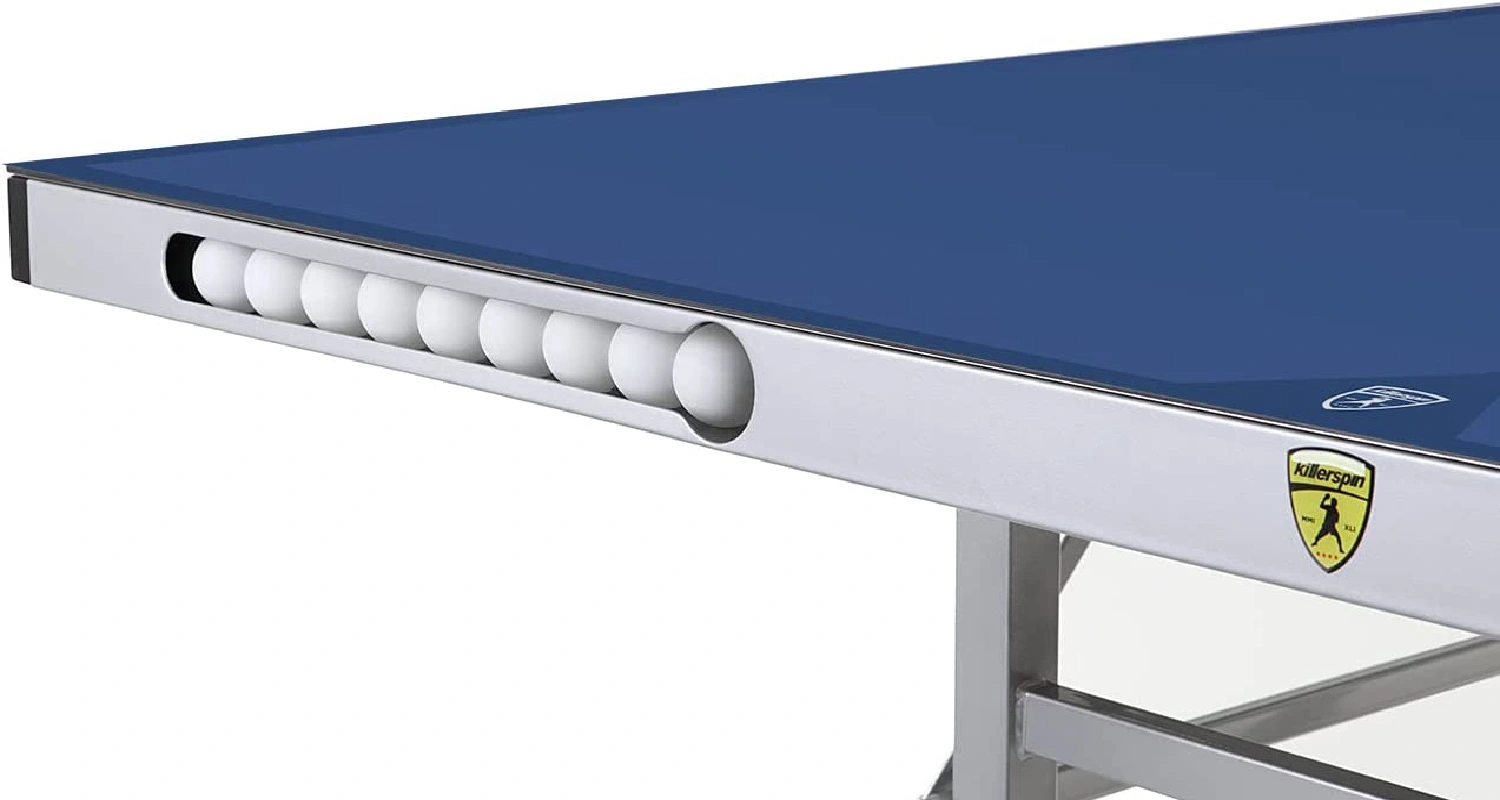 Pros
Professional Grade Playing Surface
One of the standout features of the MYT7 black storm ping pong table is its professional-grade playing surface. The surface is constructed from premium quality MDF known for its unbeatable durability and consistency.
Its scratch-resistant coating assists the table in preventing bending and warping, while mimicking the playing experience of a professional-grade table.
Adjustable Feet
Another key feature of the Killerspin ping pong table is its adjustable feet that allow it to stay leveled even on uneven surfaces providing a consistent playing experience.
Since it is specifically designed for outdoor surfaces, its feet can be adjusted according to the level of the table to ensure fair gameplay while reducing the risk of injury.
Clip-On Net and Post System
Clip on net and post system is a highly functional feature of MYT7 Killerspin ping pong table catering to easy setup. This brilliant feature lets you easily attach and remove the nets and posts without additional tools or hardware.
The net is made up of premium quality weather-resistant materials that ensure it remains in its place during the play without getting weary of repeated use.
Highly Portable
Featuring eight durable caster wheels, a ping pong table has never been this easy to maneuver from one location to another without struggling. Moreover, it is composed of safety latches that lock up each half of the table in an upright position preventing any accidental falls and damages.
On Top of that, it has storage pockets at each end, allowing instant access to ping pong balls and paddles.
ITTF Approved
MYT7 Killerspin ping pong table is International Table Tennis Federation approved, which means it meets all the standards set by ITTF for global tournaments.
Killerspin is one of those few brands that have passed rigorous testing and certification, making it a perfect option for professional and amateur players.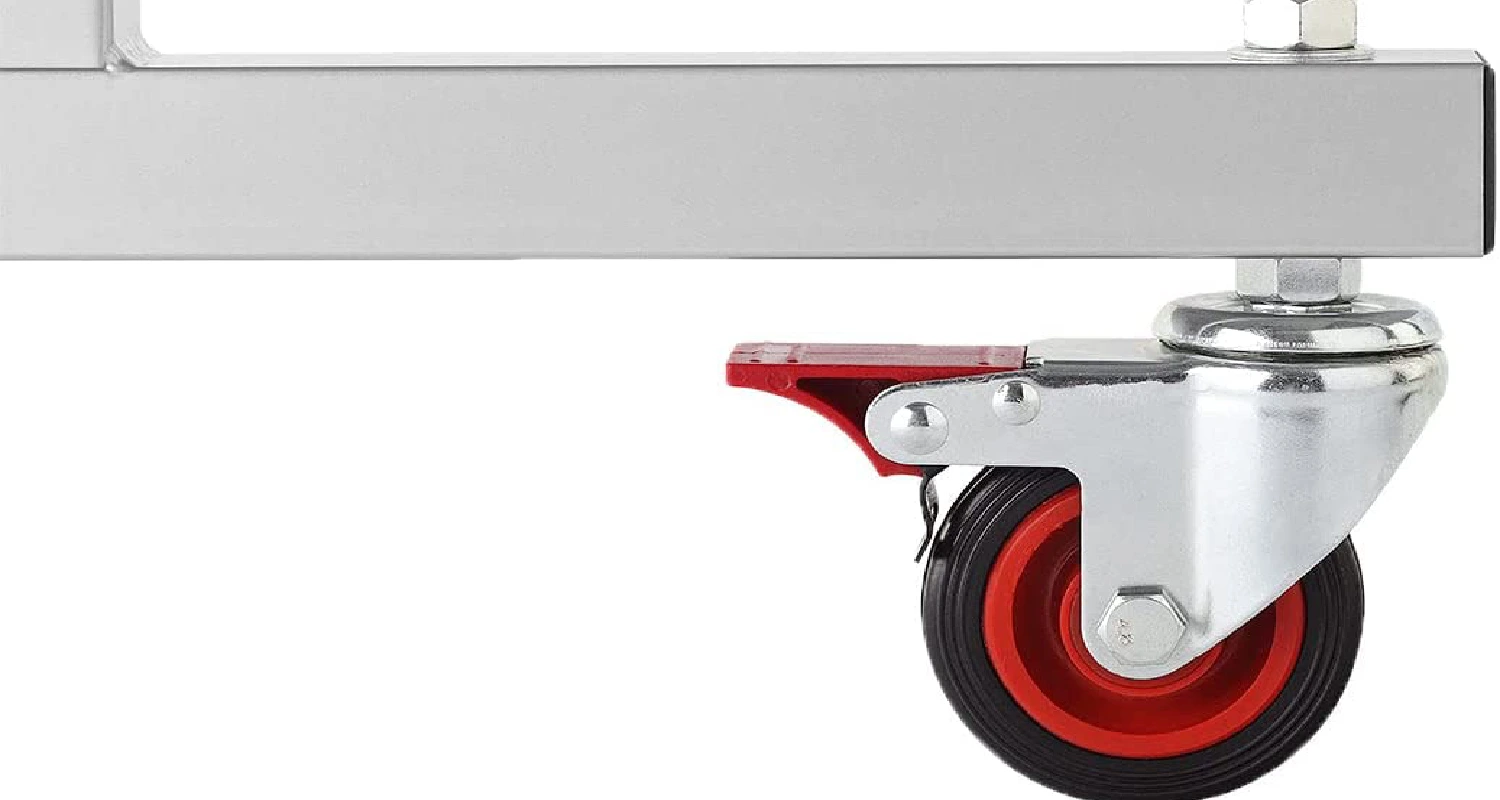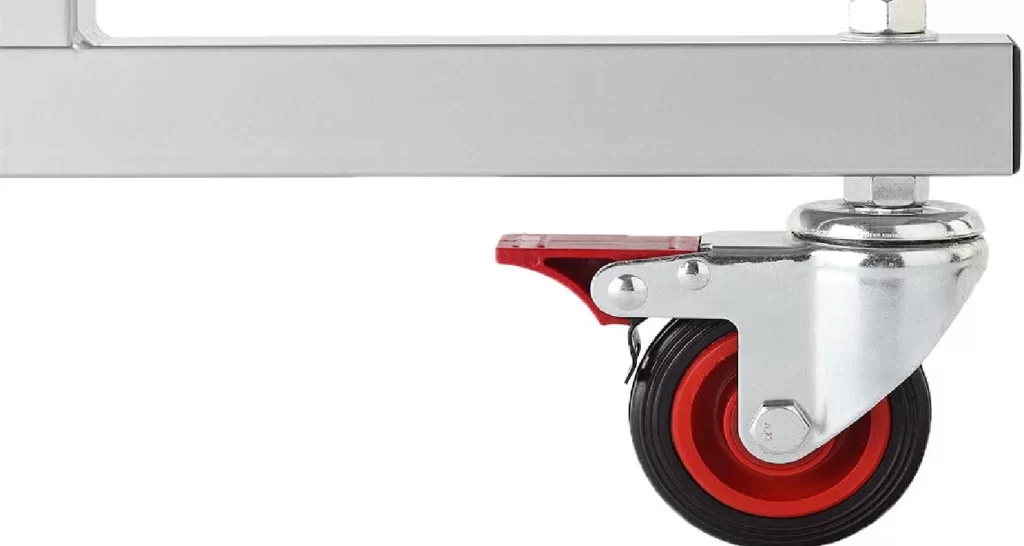 Cons
Expensive
Compared to other ping pong tables in the market, we found the MYT7 Killerspin ping pong table to be a bit more expensive, which made it out of the range of many serious buyers.
However, this table offers many outstanding features that do justice to its prices, such as its durable construction and smooth playing surface. Make sure to consider your needs and budget before investing in any table to get an ideal one for your home or office.
Heavyweight
The weight of this table is relatively higher than other ping pong tables as it is designed and constructed using heavy materials to make it suitable for outdoor play.
Thanks to its folding mechanism and storage wheels, the table has become easy to maneuver and store.
Limited Color Options
No doubt, the MYT7 Killerspin ping pong table comes with an eye-catching and sophisticated design, and it comes in a limited number of color options. This might not match the style preferences of all ping pong enthusiasts and the decor of your house.
Our Rating: 4.1/5
Killerspin ping pong table MYT7 is one of the top-notch tables with tons of impressive features such as elegant design, sturdy construction, and smooth surface that can elevate your performance to the next level.
Its solo play mode, clip post, net system, and 8 caster wheels make it an ideal option for professional players. Overall, it is a solid choice for people looking for a state-of-the-art table that can withstand frequent use while providing an excellent playing experience.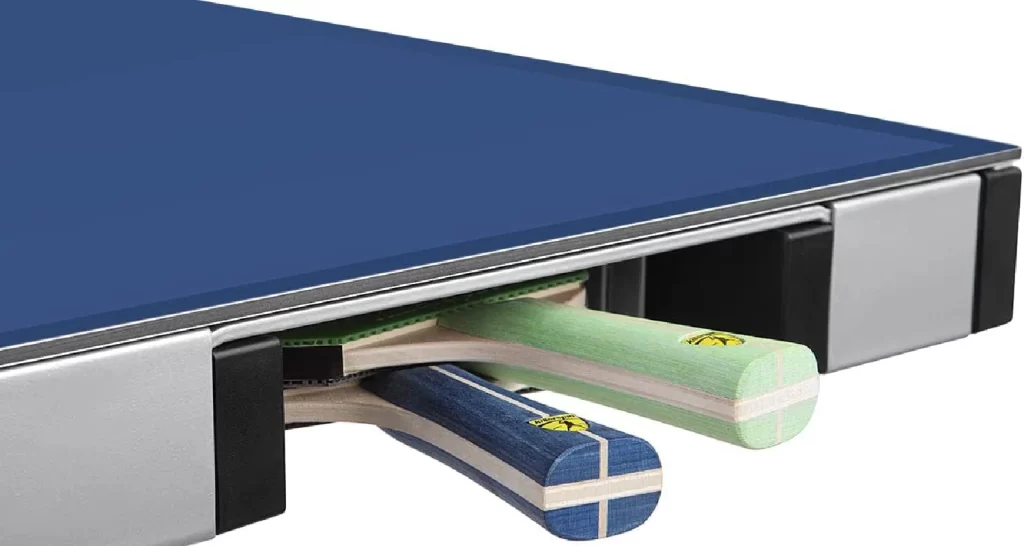 Frequently Asked Questions (FAQs)
What is the Warranty on Killerspin Ping Pong Tables?
Killerspin offers a full-fledged one-year warranty covering workmanship and materials defects. However, the damages caused by improper assembly or misuse are not entertained by the company.
How to Assemble Myt7 Killerspin Ping Pong Tables?
To assemble this table, you only need to attach caster wheels to each table half. Once attached, join the halves with bolts and metal brace, and attach the net posts and leveling feet. Make sure to have at least two people to make assembly hassle-free and time-saving.
How is Killerspin Myt7 Different from Other Killerspin Models?
Killerspin MYT7 is considered on the top of the list of all Killerspin table tennis tables because of its sturdy construction, thick playing surface, and exquisite design. However, the table is expensive as compared to others.
Conclusion
Killerspin ping pong tables are an ideal option for those who are looking for professional-grade tables to elevate their experience. They are a perfect combination of durability, style, and quality, ensuring unbeatable performance in the league.
The MYT7 Killerspin ping pong table stands out for its robust build-up, thick playing surface, and elegant design. It might be expensive; however, it offers a wide range of features and benefits that perfectly justify its cost.
It is recommended that you do detailed research on other options as well so that you can be sure of your needs and make an informed deci