The Killerspin Revolution SVR is truly a revolutionary table in the field of table tennis. No table on our list can be considered an "alternative" to this beauty.
It is one of a kind and the Killerspin Revolution SVR is the perfect amalgam of beauty and substance. We love it and that is why we have prepared a detailed review for the SVR.
Killerspin Revolution SVR Table Specifications
Our Rating: 4.8/5
Price: $$$$
Size: Regulation (9 feet x 5 feet)
Assembly Time: 0 minutes
Weight: 420 lbs / 190 kgs
Table Top Thickness: 25 mm thick MDF (Medium Density Fiberboard) table top
What to Expect
You can expect a lot and you still won't be disappointed. The Killerspin Revolution SVR is perhaps one of the best modern ping pong tables ever made.
It has so many fantastic features and while it will probably cost you an arm and a leg, it will be a pretty decent investment and one for the ages.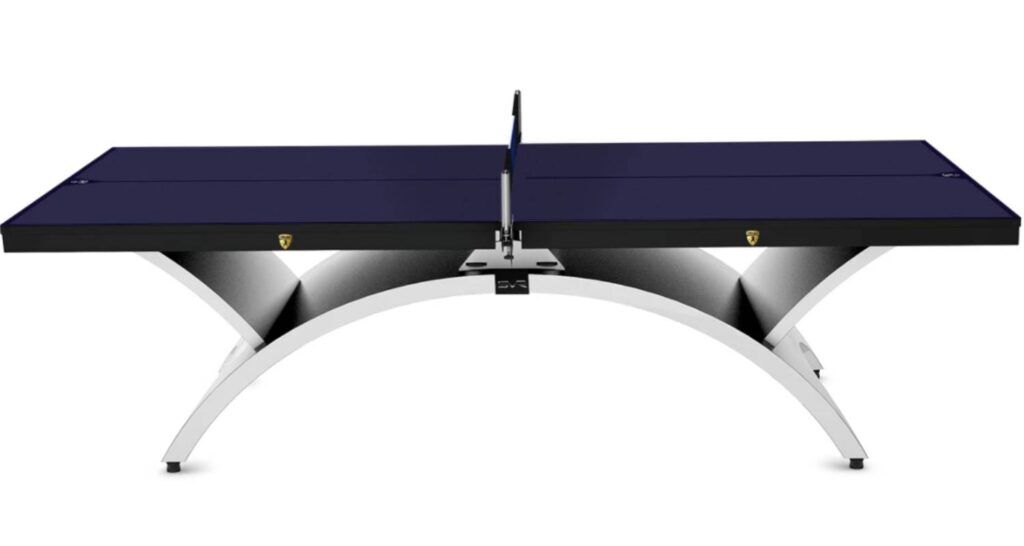 Sleek, Elegant and Drop-Dead Gorgeous
These are some words you may not associate with a table. However, let the Killerspin Revolution SVR change your mind because it will own the room and give a completely new look.
The expertly crafted SVR comes with an arched steel base with glossy Alubond aluminum paneling, an engineered wooden tabletop with an anti-glare finish.
Truly High-End
If you are obsessed with buying high-end ping pong products, you might already be familiar with Killerspin.
Killerspin only markets to the high-end consumers of ping pong and the Revolution SVR is truly one of their best products. It is not only made with the highest quality products, but it also is extremely expensive, appealing only to people who live, breathe, and sleep ping pong.
Tournament-Grade Table
The Killerspin Revolution SVR is designed to meet the most pedantic competition standards.
This is a professional competition-grade table, meaning it can be used in any tournament-space, or any table-tennis club, as well.
It brings tournament-level quality to everyday play, in your office or home. It has a one-inch-thick tabletop, which is tournament-grade, with an ample side skirt to provide excellent bounce, supported with a steel base to ensure stability during high-intensity sessions with friends and family.
Apex Net and Post Set
It comes with the premium Apex net and post set, which is a lot like the proverbial cherry on the top. The included Apex net post set offers precise tension and height adjustments, which are engineered to provide top-quality play. It is accompanied by the purchase of the Killerspin Revolution SVR table.
MDF Tabletop
The Killerspin Revolution SVR has a 25mm thick medium density fiberboard table top. This not only ensures consistent bounce but can also be created in a one-of-a-kind design as the table top is customizable in some versions.
The finish of the table is anti-glare, meaning no matter what kind of lighting system you have in your office or home, there will be no glare off the table top.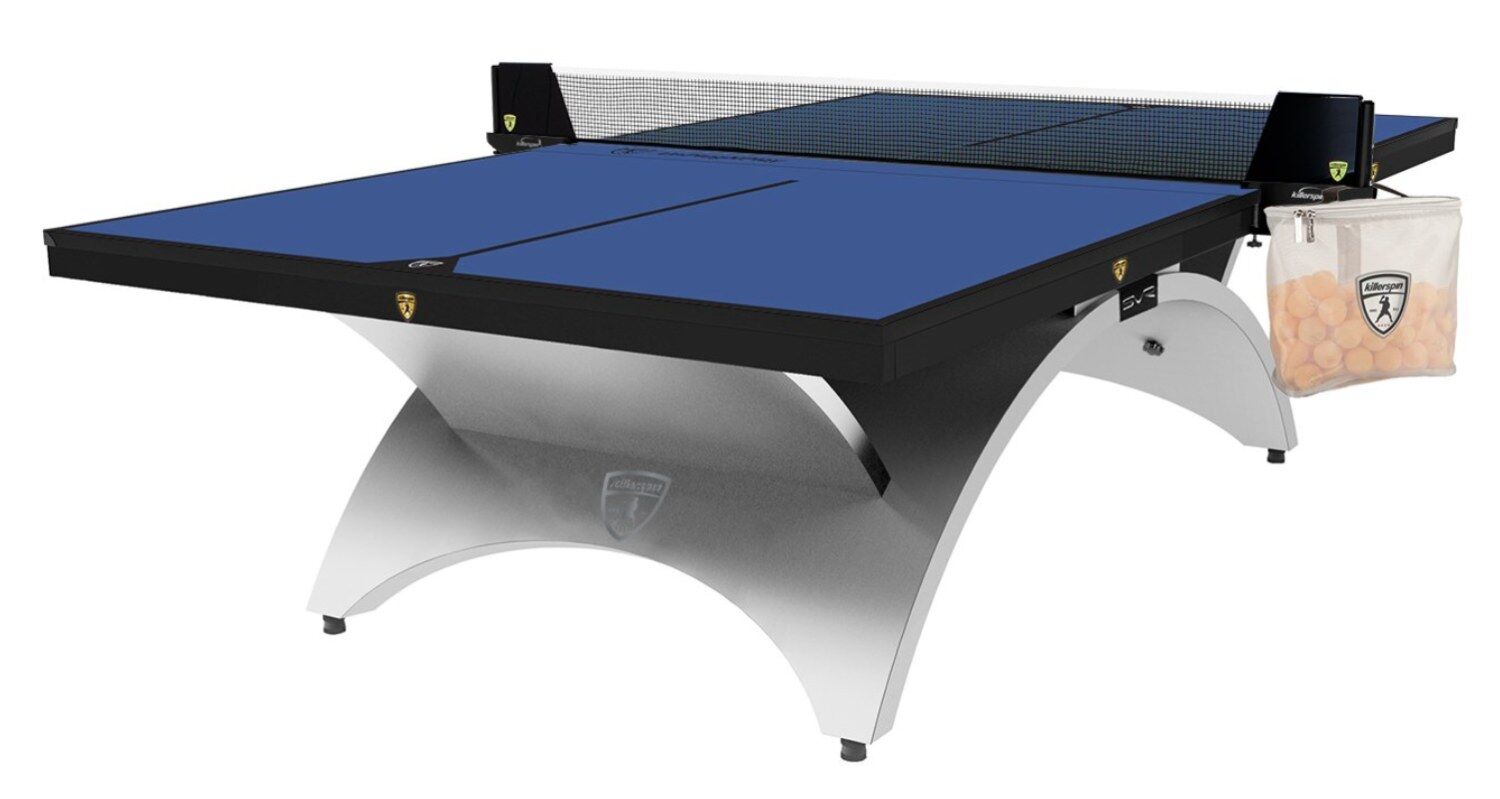 Pros
Competition-Level
Most people seem to think that the Revolution SVR may not be accompanied by competition level specifications.
That is certainly not the case as the Revolution SVR was developed on the specifications of ITTF standards, although, the design and colors might go against the rulebook. That is why we say that it is for pros who are looking for style.
Dream Table Top
The Revolution SVR has one of the best table tops we have ever seen. It is the perfect example of mixing substance and style, as it can be customized for an extra fee, but that means you can get a table that no one else has!
In addition to the design, it has an anti-glare finishing which is a top-class feature, meaning no excuses regarding light. And remember, there's a big difference between tops from ready-made tables versus conversion tops for pool tables and other surfaces. This is the former.
The table top is 1-inch thick, which is 25mm thickness. This is thanks to a medium-density fiberboard, that offers insanely consistent bounce and covers all the technical features, too. It is the perfect table top placed on one of the best-looking tables ever made.
Adjustable Feet
The table is created with adjustable feet as support.
This means that you can place the table with a height that is convenient and comfortable for you. Most indoor tables do not have such features, as this is primarily a feature for placing the table on an uneven surface, however, this option allows for a luxurious indoor option.
Robust Steel Base
The exceptional table top is supported by one of the most robust steel bases we have seen in the engineering of any table.
This is to help the wonderful structure and to back it up with the essentials, in the perfect way. In addition to all of this, the table has a heavy-duty construction thanks to an aluminum-plated base.
This base was created in such a way, that the table cannot be folded so it is sturdier than the ones that can fold. Allowing for a strong base means that the table will not move no matter how intense the rally is.
Cons
Worth a King's Ransom
Possibly even more. Killerspin products like the JET 800 tend to be expensive, so this is hardly a surprise.
However, it does mean that many players are usually priced out of even considering this as an option.
It is worth it, though.
However, many people might disagree as other tables serve the purpose, but the argument by Killerspin usually is, do they look as good? The answer is no, however, it depends on the preference of the consumer, whether they think it is a good idea to break the bank (or two) on the Revolution SVR.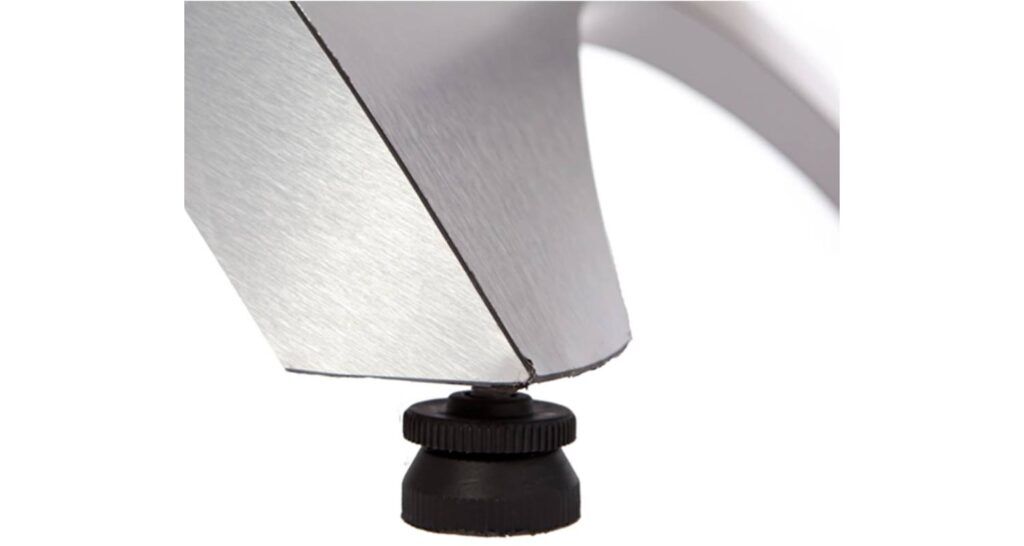 Incredibly Heavy
The Revolution SVR is as heavy as it gets. It weighs approximately 420lbs, which is nearly 200 kgs! This means that there is a good chance that once you place the table, you might not think of moving it anytime soon.
Being heavy means that the table is made of some top-quality materials, and that is certainly the truth, but weighing that much, surely is a drawback, in an otherwise complete table.
Transportation is a Problem
The Killerspin Revolution SVR does not have wheels. It also does not fold up.
This means that there are very limited ways of moving it around because it weighs 190 kgs! The argument in this case by Killerspin is that you do not have to move it! It should remain where it is, and considering how beautiful it is, you should only buy it, if you plan on keeping it in your game room. Like we said earlier, it is a unique table.
Our Rating: 4.8/5
If you can afford it and you have space in your home or office, we really cannot think of a good reason to not buy it. Buying the Revolution SVR means getting the perfect table created on tournament-level quality and it is a glorious piece of art that belongs at the very top.
The Revolution SVR offers consistent bounce, and other luxurious quirks, and is supported by strong steel bases to ensure that your investment is a good one. It is accompanied by the Apex net post, which is a fantastic addition to your Revolution SVR.
Frequently Asked Questions
How to Assemble the Killerspin Revolution SVR?
The Killerspin Revolution SVR comes almost completely assembled. It has a two-piece design and it can be set-up in a breeze. If you are meticulous in your approach, then there is an app you can download BILT Instructions, which is an official app of Killerspin to help you assemble your Revolution SVR.
What is the size and weight of the Revolution SVR?
The size of the Revolution SVR is the standard size of the ping pong table, 9 ft x 5 ft. As for the height of the table, it can be adjusted as per convenience. The weight of the Revolution SVR stands at a mammoth weight of 420lbs (190 kgs). Fair to say, it is quite a heavy table!
How to clean the Revolution SVR?
The Revolution SVR requires a lot of looking after. If you are to spend an extortionate amount on buying the Revolution SVR, you might as well look after it.
The way of cleaning it is similar to other tables, just be careful of not getting the tabletop wet, and avoid using harsh cleaners. We suggest cleaning the ping pong balls too before you play on the surface, to avoid dust particles ruining your table top.
Conclusion
Conclusively, the Revolution SVR is a thing of beauty. It not only plays out extremely well but it also has a top-drawer look which is not only unique but also beautiful.
The Revolution SVR is a dream table for ping pong enthusiasts, and it was made by Killerspin for the high-end consumers.
If you can afford it, you can definitely find space to place the table. It is heavy and transportation is not a feature of the Revolution SVR because it is supposed to be placed once and forever. Rest assured, the table will lift the room and give you an extra reason to keep playing the beautiful game.