If you are looking for a high quality tournament-grade indoor ping pong table, on a budget, then we have the right one for you. JOOLA Tour 2500 combines the best of both worlds; it is USATT approved table and can be used for light training by aspiring professionals or for recreational purposes.
The table tennis table is one of the most high-performance indoor tables and promises quick assembly. It has also been a favorite among novice players and professionals alike. It comes with an adjustable net and post set that is also approved by USATT.
Let's see the specifications to assess if it is worth the attention.
Joola Tour 2500 Product Specifications
Price: $$$
Rating: 4.9/5.0
Type: Indoors
Color: Dark Blue
Weight: 250 lbs /70 kgs (approximately)
Dimensions (after setup): 108 x 60 x 30 inches (length x width x height)
Surface Thickness: 25mm
Top Material: MDF
Base Material: Metal
Accessories: Net and Post Set, Nuts and Bolts
Assembly Time: 10 to 15 minutes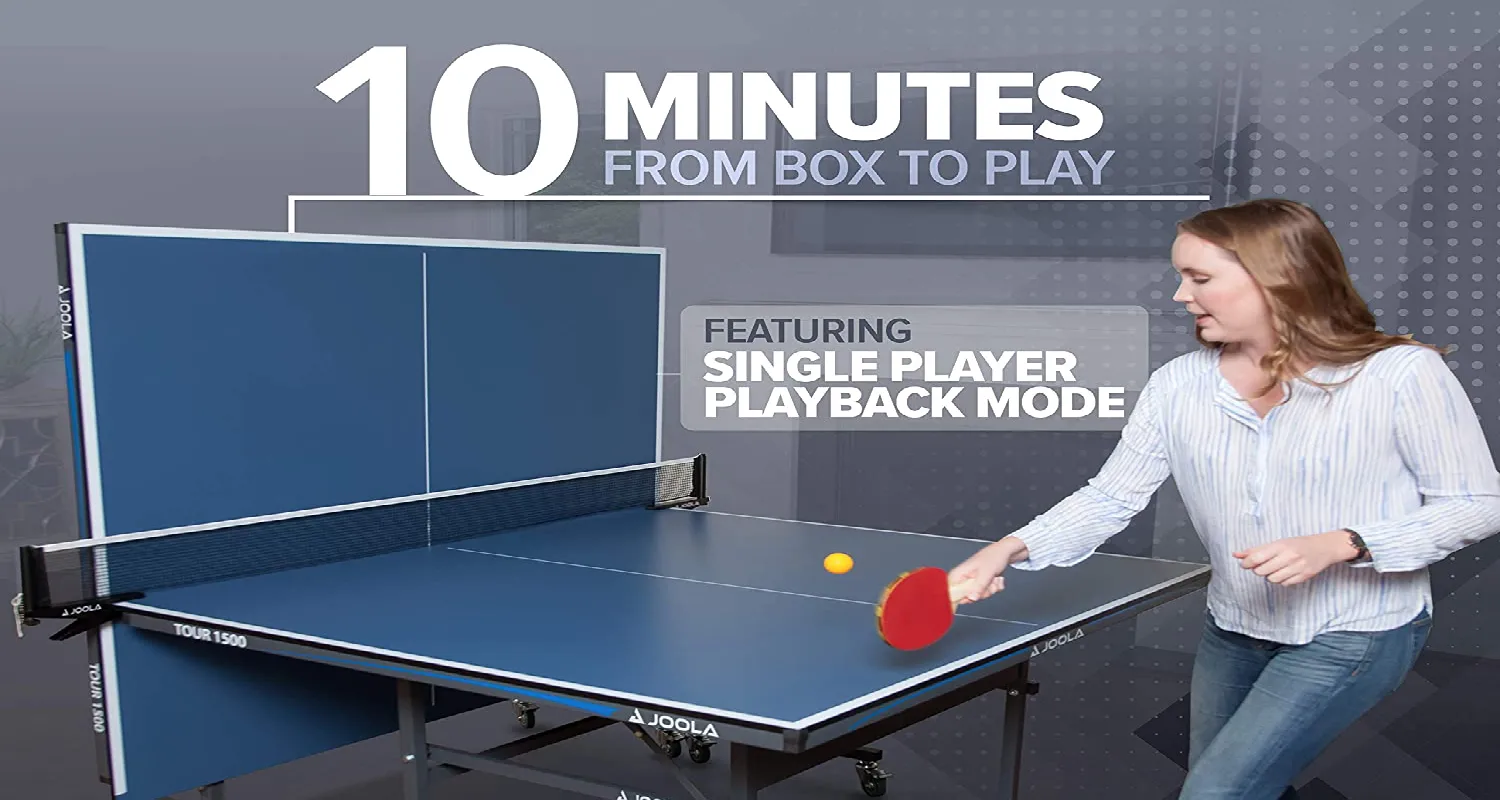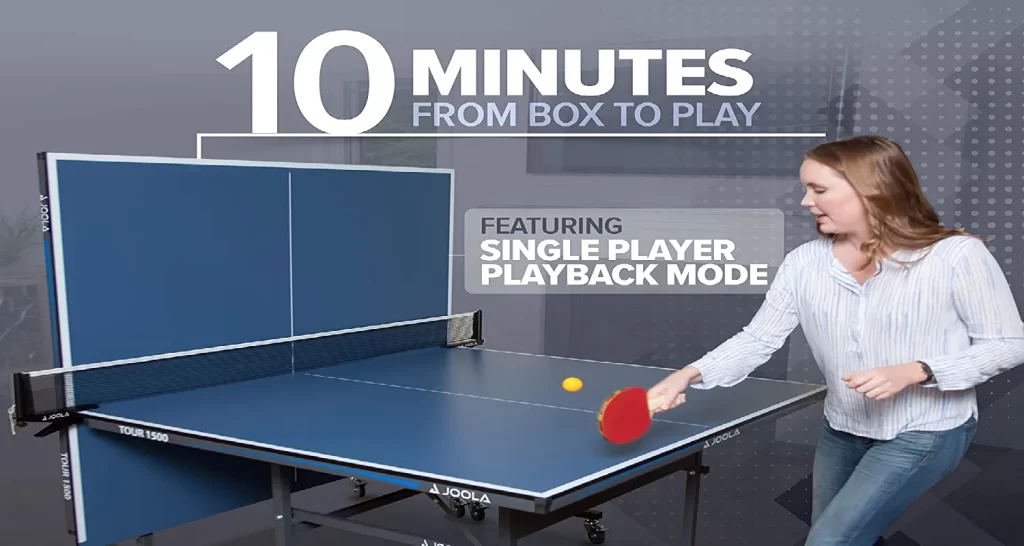 What to Expect?
JOOLA is one of the most well-known table tennis equipment brands and you have likely seen their ping pong paddles or tables around a lot. They are the official sponsor the US Open and US National and are a household name.
JOOLA Tour 2500 is also one of their most famous products and has garnered fanatics ratings. As it is popular among professional players and amateurs alike, we expect quality, durability, and great playability.
Construction
The Joola Tour 2500 ping pong tables are built to last and that is apparent from their heavyweight. At 250 lbs, the table has a 1-inch thick playing surface, supported by a 2×2-inches steel frame and an undercarriage which is also 2×2-inches.
The thickness of the frame keeps the steady so that it won't budge even during an offensive game. The heavy weight helps protect the table from damage and increases its lifespan.
The 1-inch MDF (medium-density fiberboard) top is premium quality table thickness and promises excellent performance. It has multiple coats of polyurethane paint which makes the playing surface resistant to damage and warping–and increases playability. It produces a consistent ball bounce and responds well to spin.
One of the most appealing features of this regulation size table tennis table is the foldability and how it has been made as two separate halves–which are put together to make a full table.
Each of the two halves has a dual under carriage system which, along with 4-inch lockable caster wheels, eases transportation and can be stored without any hassle. Moreover, this regulation size table comes with optimal storage dimensions of 62in x 22in x 67in that fit perfectly in standard-size rooms.
It is a perfect table for honing your skills and making your weekend thrilling and fun.
Pros
Convenient Storage
Although the tables are heavy, some features make folding and unfolding them quite easy. Each standalone half has a built in trundle system that makes compact storage and transport convenient. With the help of this undercarriage and wheels, each side of the table rolls smoothly and is stored separately.
Another great thing is the auto-folding legs. To fold this ping pong table, just disengage the safety locks on each side and push the top up. The table legs will automatically set into position.
Great Value for Money
JOOLA Tour 2500 retails at $1000 currently. This is the maximum price and with a discount or sales, you might get it for $900 or less. It has great quality, excellent playability, premium table top and benefits that are worth the price. Many retailers offer the latest table revision with improved features such as black wheels and a new Joola logo at a bit extra price. So, if you can afford it, you always have this golden chance of customizing your table.
Although it's not marketed as a professional table tennis table, it offers similar features on a budget. At this rate, it is almost impossible to find an indoor table like this.
Playback Mode
Since this regulation size ping pong table comes into two separate stand alone halves, it supports playback mode. Simply fold up one table half and play against it to practice. The wheels and auto-folding table legs with double anti tilting device for added safety and make the process of switching into playback mode (and back to normal) very convenient. Even if it is one half only, the surface provides consistent bounce and quality gameplay.
Preassembled
JOOLA Tour 2500 is very heavy and the process of assembly can be difficult. JOOLA surely made things easy by making this table 95% preassembled.
Just attach the legs to the frame by sliding them in and tightening some bolts and you are ready to play. The whole process takes less than fifteen minutes and you don't require any special tools or professionals' help.
Additional Features
Various other features make this table worth the money and hype. The legs have adjustable height levelers due to which the height of the table can be accommodated for extra stability.
Joola Tour 2500 table tennis table also comes with a USATT approved clamp-on competition net set which is adjustable on the table top in terms of height and tension. Caster wheels can lock the table into both playing and storage positions to help avoid accidents and increase playability.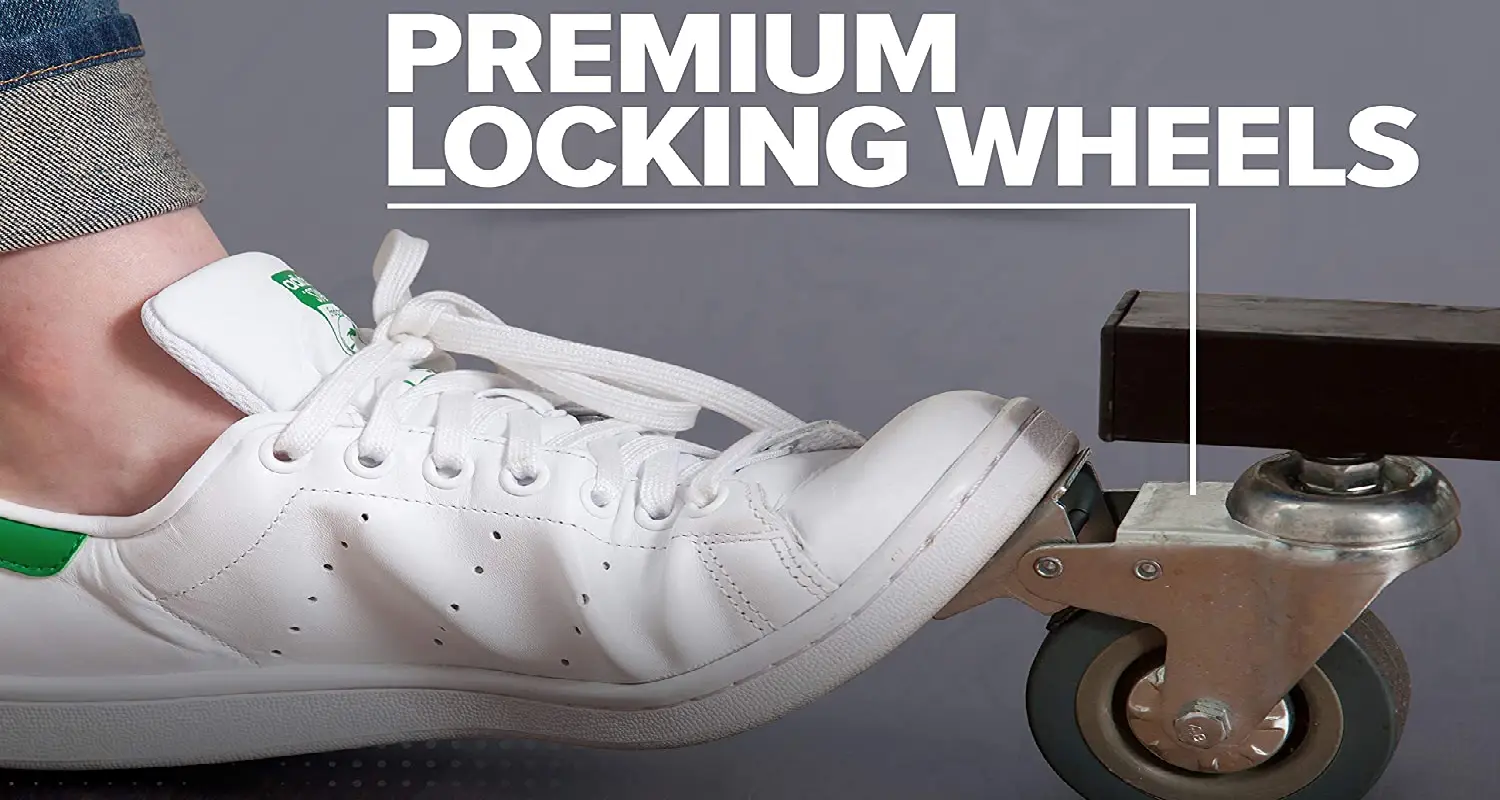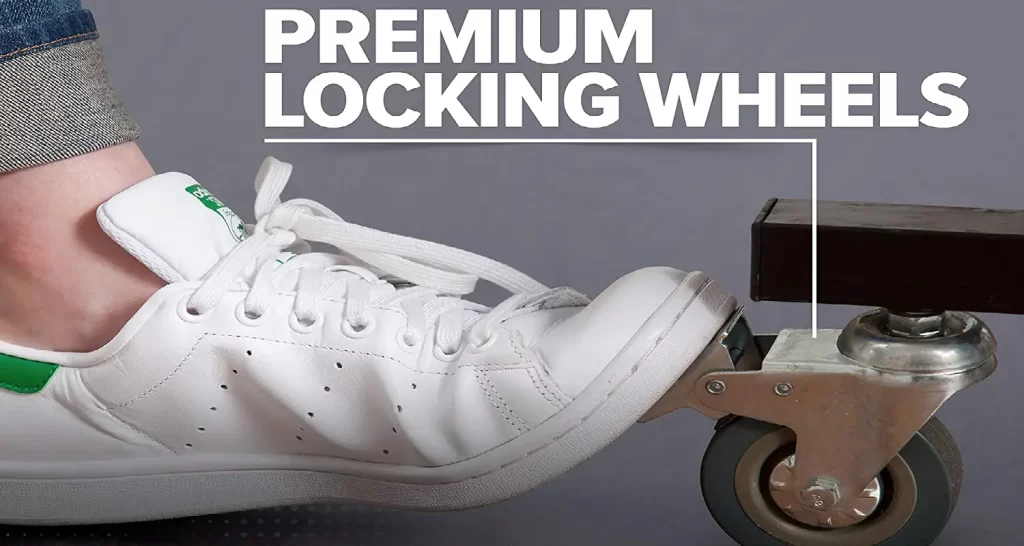 Cons
Heavy Weight
The biggest, and maybe the only, downfall of JOOLA Tour 2500 is its weight. It doesn't just cause problems with assembly, movement, and storage, but also with shipping. With that being said, paying extra for assembly service is not recommended.
Although it comes 95% preassembled, it is very difficult to put the two separate table halves together due to the weight, and you will need two adults' help.
As it is a very heavy table tennis table and can get scratches or breakage during shipping. No matter how properly package dimensions of the table are taken care of, if it is thrown around carelessly it can get serious damage. JOOLA offers excellent customer care service so this can be fixed.
Low Portability
The weight causes another problem: low portability. Although each half can be maneuvered alone, it is still very difficult to assemble, disassemble, and move.
JOOLA has made dual safety locking devices to hold all parts in place when you move the table, but you still need at least 2 people to move each half.
Our Rating: 4.9/5
It will not wrong to call JOOLA Tour 2500 a latest table version as it is a marvel of great engineering and the latest technology. The table has an excellent quality, superb playability, optimal table top and a very durable frame–and that too on a budget, makes it a great choice.
Although it does not match high-grade official ping pong tables, it does share similarities with them as the table surface is 1-inch thick and USATT approved. The dual undercarriage system makes the table super easy to maneuver across most surfaces.
If you are looking for a ping pong table that provides an authentic professional feel without poking a hole in your pocket, then this one is the best table tennis table for you.
In case you are looking for a recreational table tennis table that is heavy-duty, we would recommend this table tennis table.
Conclusion
JOOLA Tour 2500 is an excellent option for mid-level players looking forward to practicing on a well-priced table that offers quality and playability. It would be difficult to find a better indoor table with similar features at this affordable price.
Although this ping pong table is heavy and difficult to maneuver, its price-performance ratio and sturdiness make it unmatched.