Table tennis is not just a sport; it's a lifestyle that helps you stay active while spending quality time with your friends and family. And, if you are serious about the sport, a good quality table tennis table can make all the difference in your game.
That's where STIGA ST4100 ping pong table comes in. This state-of-the-art table is designed with serious players in mind featuring a robust and durable construction to withstand intense rallies.
Its perfect tabletop thickness and outstanding features make it a must-have table for ping-pong lovers.
In this article, we'll provide you with an extensive review of the STIGA ST4100 table tennis table, highlighting all of its spectacular features along with the drawbacks it may have. Keep reading to explore everything this table offers and learn how it can take your game to the next level.
Buy STIGA ST4100 Ping Pong Table Now
STIGA ST4100 Ping Pong Table Specifications
Our Rating: 4.9/5
Price: $$$
Size: 108 in. L x 60 in. W x 30 in. H.
Assembly Time: 30 minutes
Material: Medium-density fiberboard
Weight: 311 lbs
Table Top Thickness: 25mm
Warranty: 1 year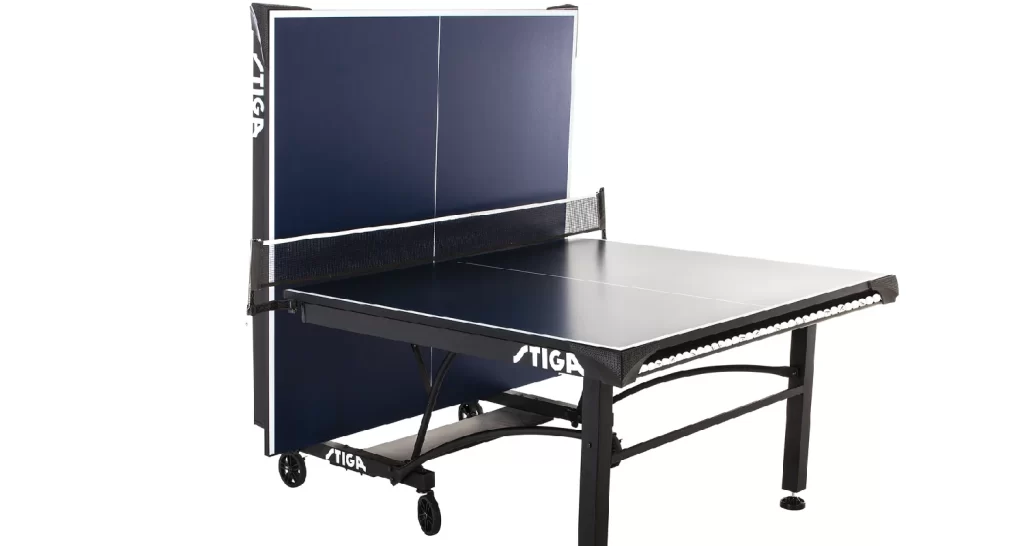 What To Expect
After doing extensive research and reviewing numerous customer reviews, we can confidently conclude that STIGA ST4100 is worth all the hype.
With its convenient features and superior quality, it can be the best investment for both professional and recreational players. Read on to know why it is worth your consideration.
Quick Play Chassis
The quick-play chassis of the STIGA ST4100 table tennis table is designed for fast and effortless assembly. It comprises pre-assembled parts that can be conveniently attached and detached from the table, saving time and effort during setup.
Moreover, it is made of premium quality steel, which provides durability and stability so you can start playing without getting distracted by a wobbly and unstable table.
Playback Position
The best thing about the STIGA ST4100 ping pong table is that it is divided into two independent halves, making it convenient to store and set up the table. On top of that, it allows you to practice solo by folding one half of the table into the playback position.
This feature works great in honing your skills and warming up before a match putting your mind and body in perfect sync before a game.
Adjustable Levelers
Adjustable levelers on this table optimize your playing conditions regardless of the surface type. Be it a sloppy backyard or uneven ground, these levelers will keep the table stable and prevent shaking during intense matches.
Moreover, you can adjust the height of each leg to ensure that the table is perfectly leveled, catering a fair and consistent gameplay.
Heavy Duty Steel Frame
STIGA ST4100 is constructed with a heavy-duty steel frame to provide optimal stability and long hours of fun, and intense gameplay without collapsing or losing shape.
Steel frame imparts incredible durability to the table and makes it resistant to everyday wear and tear, ensuring it can handle those fierce battles for many years.
Ideal Table Top Thickness
STIGA ST4100 boasts 25mm tabletop thickness and is manufactured with high-quality MDF (medium-density board), ensuring a reliable and consistent bounce during gameplay. With this superior tabletop, you can expect top-notch performance to elevate your game to the next level.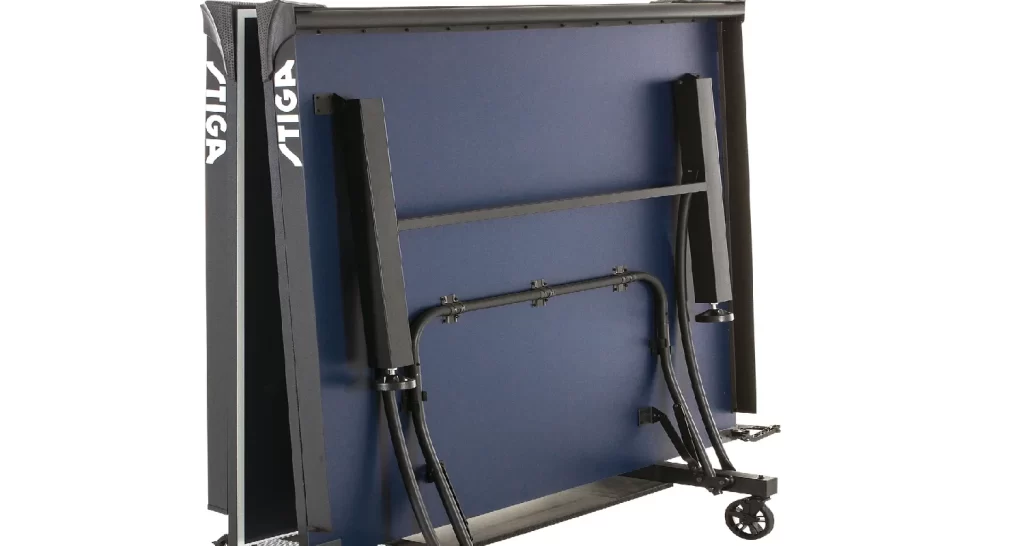 Pros
Upgraded Net and Post System
STIGA ST4100 ping pong table comprises a pivoted 72″ cotton blend net that caters to easy setup and removing the net without struggling.
Moreover, it comes with a tension adjustment post system, ensuring that the net is at the perfect height and tension. This way, you can focus on your game without having to deal with sagging or the net falling down.
Tournament Grade Playability
STIGA ST4100 features a sturdy frame and exceptional playing surface to provide a powerful and consistent bounce during the gameplay. If you are a professional player, you can expect the same level of gameplay as you would in a professional tournament to compete at a higher level and hone your skills.
Compact Storage
This STIGA table can be folded in halves and easily maneuvered with its powerful wheels enhancing its portability. It can be stored conveniently without taking up too much space. This space-saving design works great for people with limited spaces in their homes, apartments, or offices without compromising performance.
Weather Resistant
Owing to its weather-resistant surface and powder-coated steel frame, STIGA ST4100 ping pong table is built to endure weather elements that may cause damage to the other table tennis tables.
Its water-resistant surface prevents water from seeping into the table. On the other hand, powder coated frame protects against rust, making it a great choice for both indoor and outdoor use.
Modern and Sleek Design
STIGA ST4100 is not only functional but also boasts a contemporary and elegant design that adds a sophisticated look to any indoor space. Its sleek finish, bold colors, and fine lines make it a visually appealing furniture staple that can complement any home decor.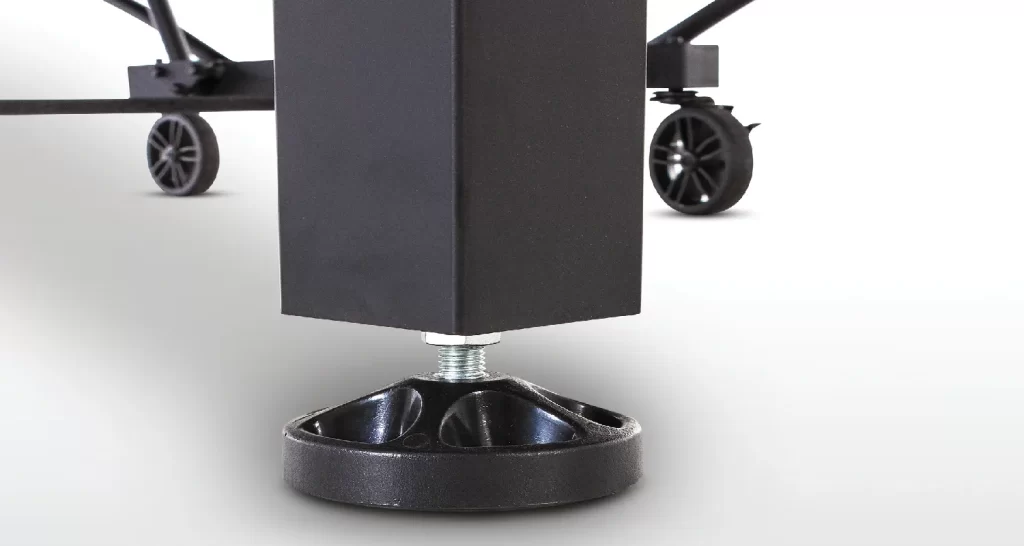 Cons
Assembly
Some customers reported its assembly a bit tricky and time-consuming, especially if you are not experienced in such DIY projects. Seeking help from the instructions book alone can cost you significant time to put the table together.
Price
Being a professional-grade table tennis table, STIGA ST4100 table tennis table comes with a higher price tag than other models in the market. It means it may not be an affordable option for everyone, and it is recommended for serious players the most.
Heavy and Difficult to Move
STIGA ST4100 table tennis table is made up of high-quality materials that impart top-notch durability and stability to the table. Therefore, the table can be quite heavy, up to 300 lbs, and challenging to move or relocate once it's been set up.
Our Rating: 4.9/5
The reason why STIGA ST4100 ping pong table has these excellent ratings is because of its outstanding features, exceptional build quality, durability, and the overall value the brand offers to the customers.
Its water-resistant playing surface and powder-coated steel frame make it able to withstand the elements, proving it to be suitable for both indoor and outdoor use. Its elegant design makes it a great addition to any room or office.
Overall, the STIGA ST4100 table tennis table offers exceptional value for its price and is a great choice for those looking for a premium quality table tennis table that offers both style and functionality.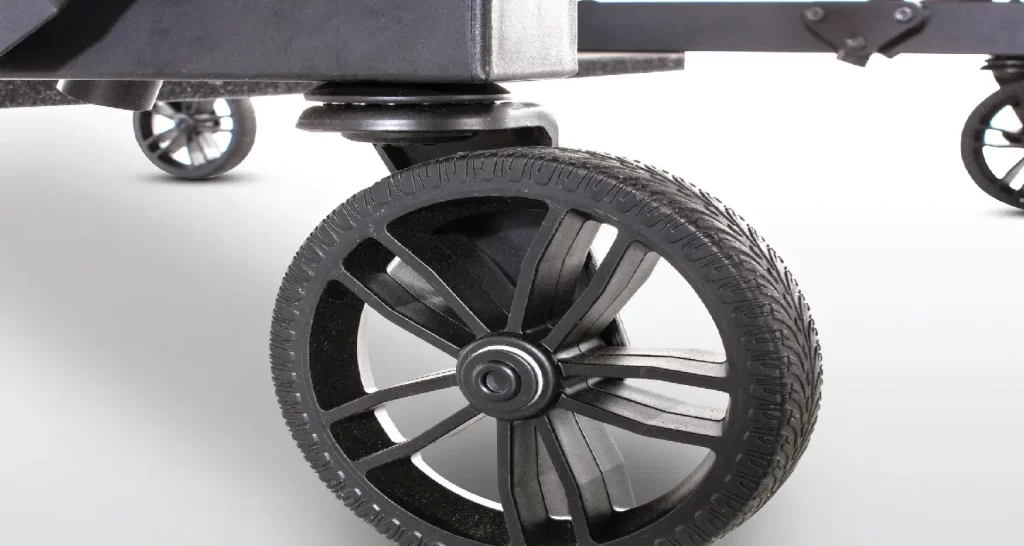 Frequently Asked Questions (FAQs)
How long can it take to assemble a STIGA ST4100 table tennis table?
The time required for putting this table together can vary from 30 minutes to 2-4 hours, depending upon the experience of the person assembling it. Ensure to follow all the instructions carefully and seek help from an experienced person to set up the table correctly.
Can STIGA ST4100 be used outdoors?
Yes, STIGA ST4100 is made up of weather-resistant materials to endure the elements like wind, rain, and UV rays. However, overexposure to the elements can damage its playing surface and reduce its life span. Ensure you bring it inside when not in use to keep it safe and running for a long time.
How can I clean and maintain the STIGA ST4100 ping pong table?
To keep the table in good condition, it is recommended that you clean it with a mild cleaning solution and a soft cloth. Avoid using abrasive materials or harsh chemicals likely to damage its playing surface.
Keep checking the table for any signs of wear and tear and get it repaired as soon as possible to avoid further damage.
Conclusion
STIGA ST4100 ping pong table is a marvelous option for both beginners and professionals looking for a heavy-duty table that drives performance.
Its regulation size and tournament-level specifications, sturdy construction, and elegant design make it an outstanding option for competitive play. It may be more expensive than some other models in the market, but the value it provides is much more than the price tag.
The table might not be an affordable option for everyone's budget. Therefore, it is important to do thorough research to ensure if you really need it or else you can go with any other STIGA ping pong table.