The STIGA Space Saver table is one of the best compact midsize tables around. It faces tough competition in the market from other ping pong products including the JOOLA Midsize table.
However, we have heard some great things about the STIGA Space Saver, and for that reason, we have reviewed all the good and bad about it, to help you decide.
STIGA Space Saver Table Specifications
Our Rating: 4.2/5
Price: $
Size: Mini (5.8 feet x 3.375 feet)
Assembly Time: 0 minutes
Weight: 79 lbs / 35.8 kgs
Table Top Thickness: 15.8 mm
What to Expect in the STIGA Space Saver
The STIGA Space Saver has many fantastic features due to which it has such a high rating. It has many features that make it a favorite among users. We take a look at some of the exclusive features you get if you invest in a STIGA Space Saver.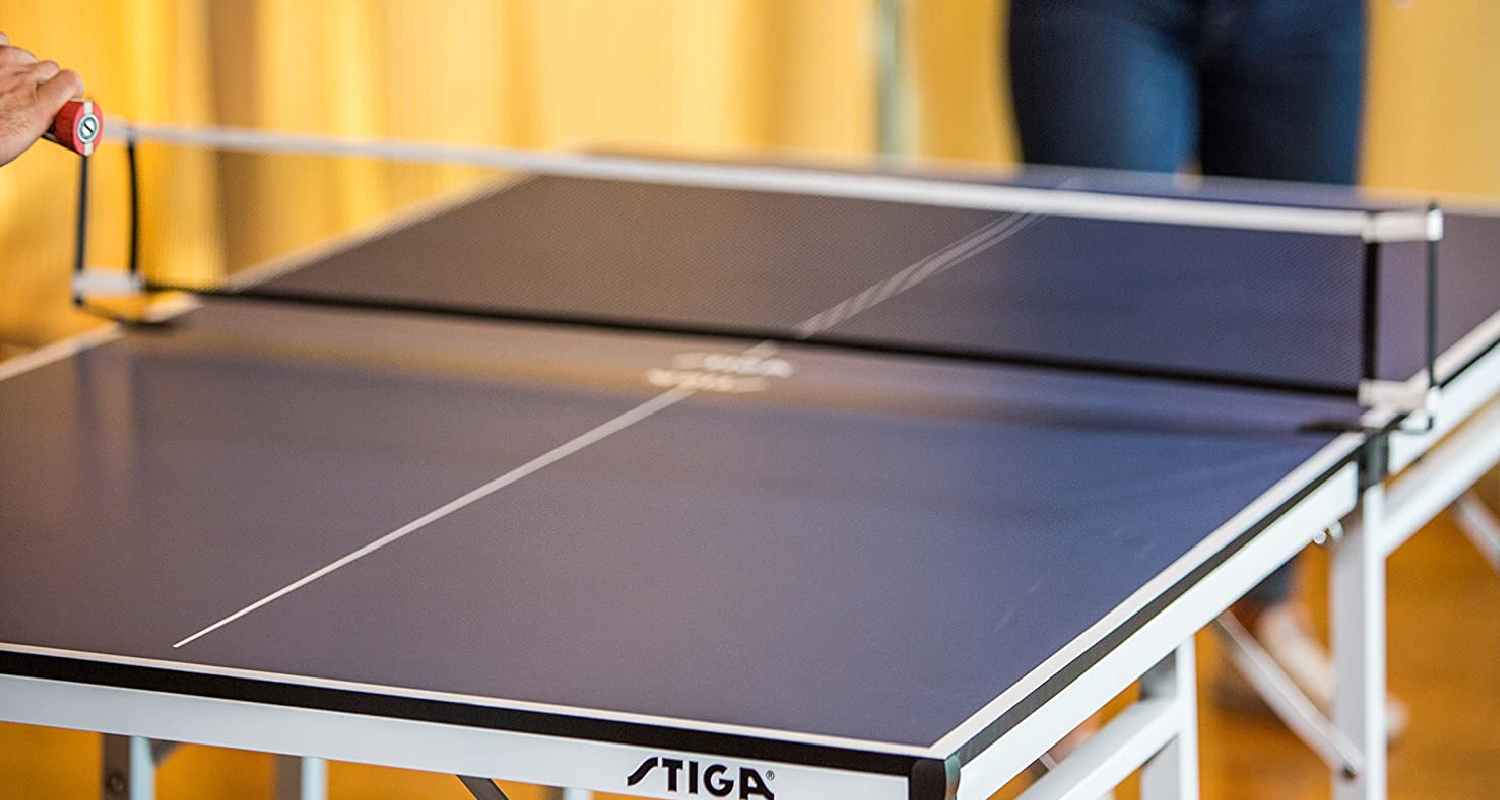 Unique Woodgrain Design
As the table is also smaller in size when compared to the actual ITTF (International Table Tennis Federation) approved size, STIGA decided to experiment with the colors, as well. They add a woodgrain design for the table top that looks so beautiful and vibrant. You can put it anywhere in your apartment or room and it will add to the look because unlike the blue and green of table tennis, this has a woodgrain design.
Multi-Usage
The STIGA Space Saver can be used for many different things thanks to its independent halves. You can use the table as a centerpiece at a party and place things on it. This makes the STIGA Space Saver a very handy option in your house, as you can use it for more things than just a game of ping pong.
QuickPlay Design
STIGA has the QuickPlay design that it often includes in tables. They included it in the STIGA Space Saver and that makes the table a time saver, as well. All you have to do is unpack, unfold, and play! You will need to set up the net, which will take a few seconds, and then you can start playing.
Compact Storage
Thanks to its small size, the STIGA Space Saver offers compact storage. It is a space saver when open and in play, as well as, when in a storage position. You can easily tuck it away under your bed or behind the dresser because this is a handy table.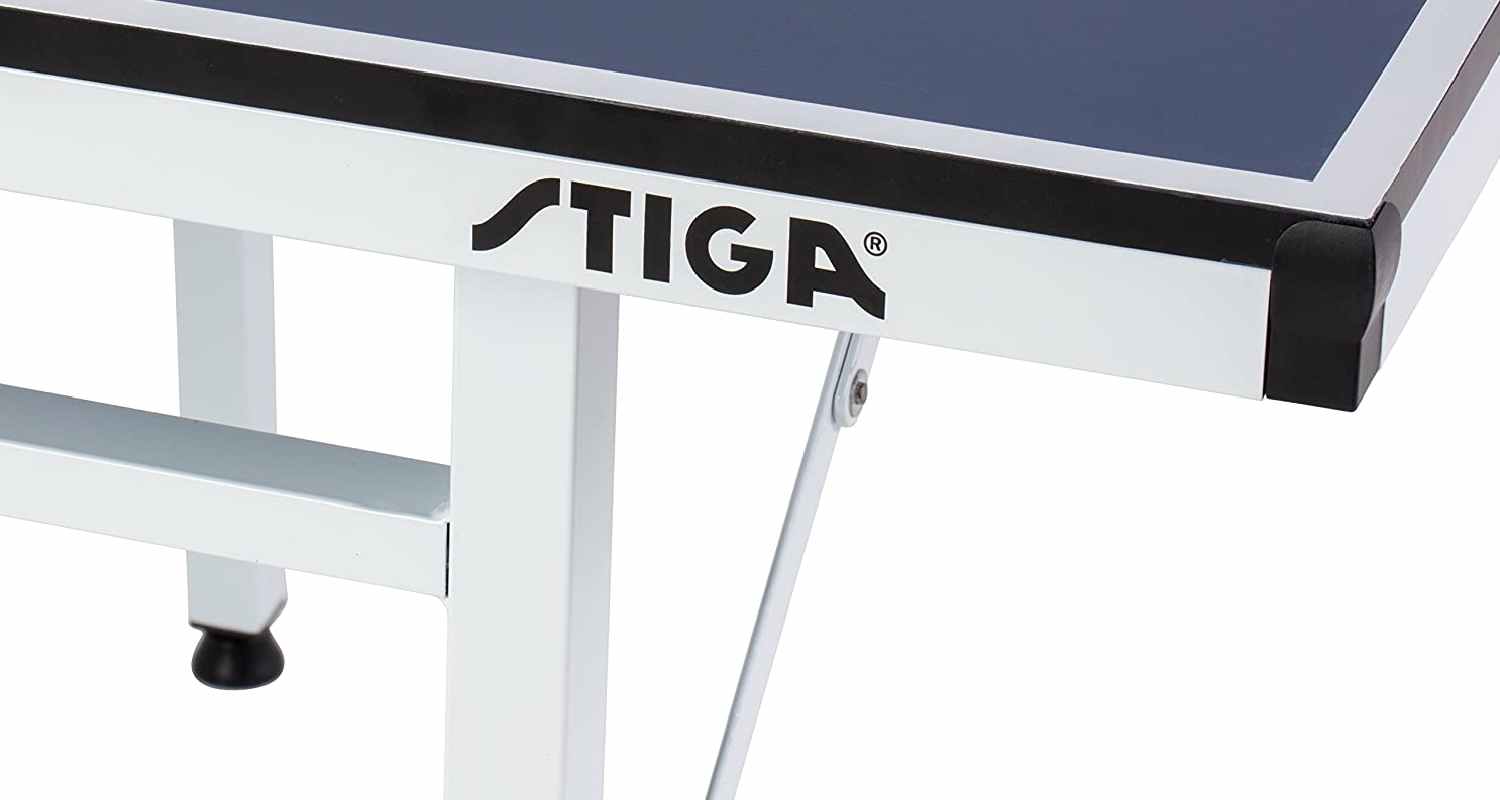 Foot Levelers
The STIGA Space Saver has foot levelers to ensure stability and a better experience during intense rallies. These foot levelers help keep the table still, even though, the table is lightweight.
Small but Mighty
The STIGA Space Saver is compact, however, do not let the size fool you! It is a fantastically engineered table that makes for a durable companion. It is built to last and it is slightly bigger than other midsize tables, as well.
Pros
Thick MDF Table Top
The STIGA Space Saver's best feature has to be its surprisingly thick table top.
We do not see midsize tables having such thick table tops and it was a surprise to find out after such consistent bounce that the table top was almost 16mm thick! You can be sure to expect a highly-consistent bounce, thanks to the medium density fiberboard attached to the table top.
Not to mention the fantastic design of the table. It is wooden themed, woodgrain being the official term, and it looks fantastic! We love the table top and it is one of the major reasons why we believe you should buy the STIGA Space Saver!
Truly a Space Saver
STIGA does not lie when they say that the this table is a space saver. It has independent halves and can be stored almost anywhere. Compact, swift, and easy storage is the biggest reason why the STIGA Space Saver table tennis table is such a favorite of everyone.
The table divides into two pieces of 2.95 ft x 1.68 ft. These are quite small sizes for independent halves and you can put them away almost anywhere in storage.
Stable Frame and Supporting Legs
Again, this was a pleasant surprise. We did not expect a table that was this cheap, to have such a strong frame and legs that support the frame. It is also painted with powder coating which not only adds to the style but also avoids potential rusting.
The frame is supported by 1.25-inch-thick legs that have height adjusters attached to add an extra feature. There are rubber covers on the end too which avoid any potential scratches. Not to mention the 1.25-inch steel apron supporting the table frame for adequate support.
100% Preassembled
The table comes completely preassembled, thanks to the QuickPlay feature. This means that you do not have to worry about setting up the table once you receive it. All you have to do is unpack, unfold, and play.
Net and Post Included
Purchasing the STIGA Space Saver through Amazon means that you get a net and post set with the table. This is another feature that we love. The net is heavy-duty 38.5-inch but it is slightly tough to adjust.
Highly Affordable
For a table that comes with so many features, one would expect the STIGA Space Saver to cost a lot more.
However, it is quite cheap and you do not have to worry about breaking the bank on this table. It is an absolute must-have for everyone that loves table tennis, yet does not have enough space in their apartment.
Easy Mobility
Mobility is a piece of cake as the table is very lightweight. It weighs less than 40 kgs and the independent halves weigh a lot less on their own, as well. This makes transportation and mobility around home very easy.
Customers' Favorite
We are not the only ones singing the praises of STIGA Space Saver.
It has fantastic reviews on Amazon and everyone seems to think it is a lovely investment. For a midsize table, this one is a winner.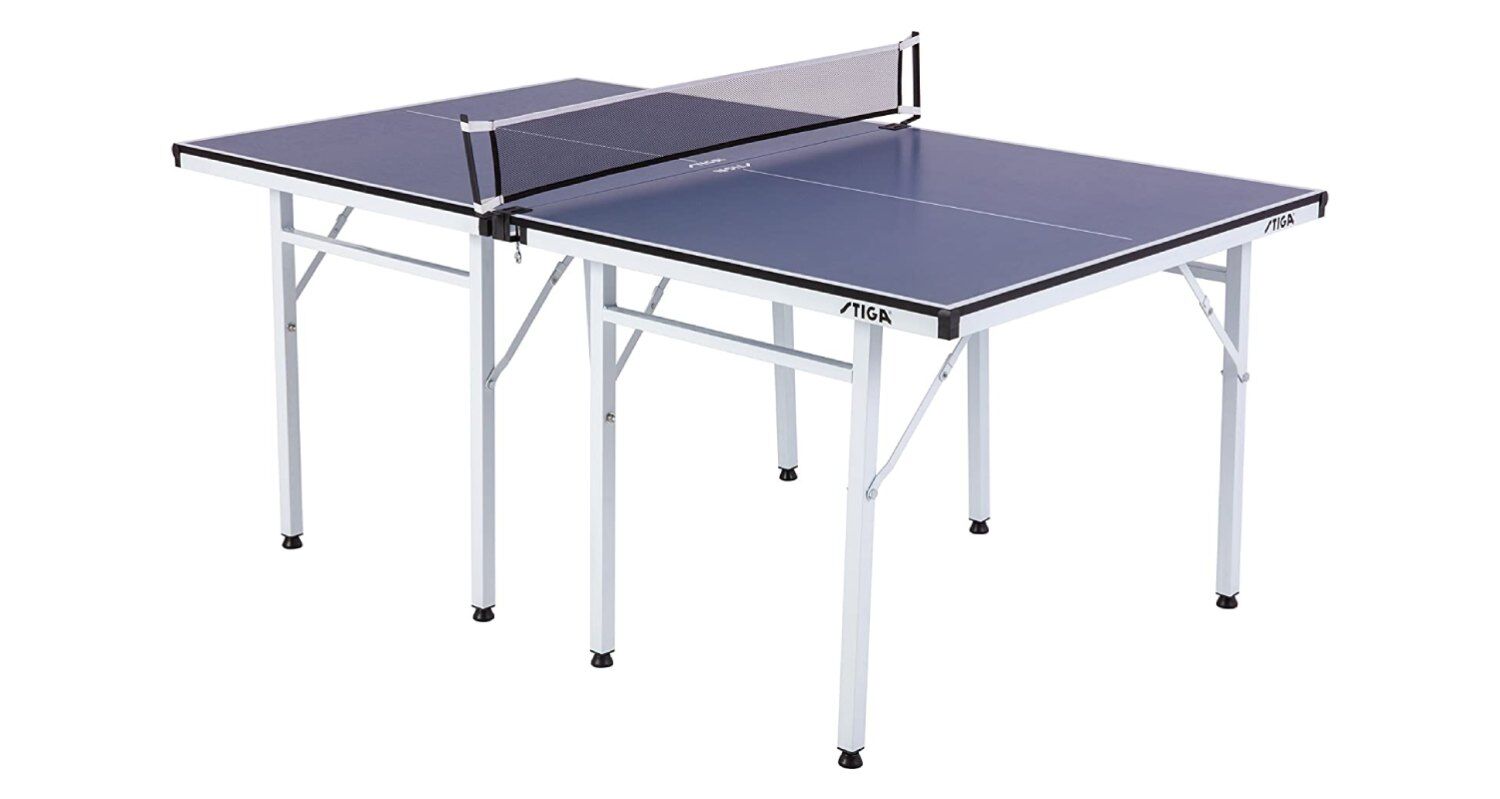 Cons
No Option For Playback
The playback option is not common for most midsize tables. Maybe the fact that the STIGA Space Saver had almost all other features, we also expected it to have the solo playback option. However, that was not the case.
Mid-Size
If you are used to playing on a full-size table, you will struggle on the STIGA Space Saver. It is considered to be midsize and that is not ITTF approved. Midsize tables are usually used for recreational purposes, only.
No Paddles and Balls
People expect the tables for recreational purposes to be accompanied by paddles and ping pong balls. However, the STIGA Space Saver comes without the paddles and balls. You will need to purchase them, separately.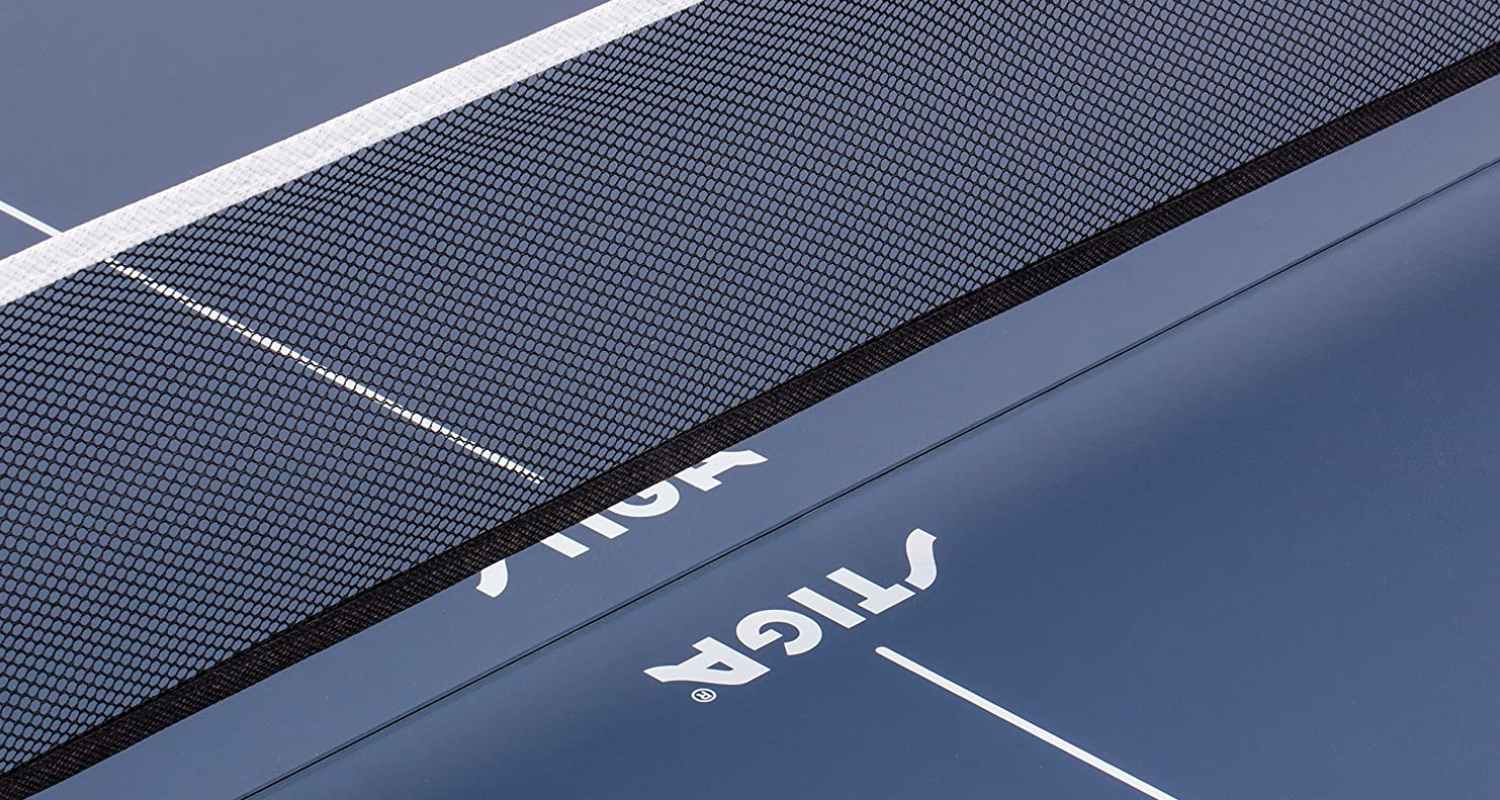 Our Rating: 4.2/5
If it was not obvious already from our review, then we can say it clearly, this table is worth its price. The STIGA Space Saver is the perfect table for small spaces and it has surprisingly great features to accompany its tiny size.
We love the many features it comes with and the fantastic woodgrain design makes it an absolute must-have for your parties!
People living in apartments can satisfy their need of playing ping pong by investing in the STIGA Space Saver. Storage is made a lot easier thanks to its independent halves and small size. Not to mention that it is highly affordable!
Frequently Asked Questions
Is the STIGA Space Saver waterproof?
The STIGA Space Saver is many things but it is certainly not waterproof. It has a thick MDF table top that is one of its best features and we would suggest keeping it far away from water.
Can the STIGA Space Saver be used outdoors?
The table is not waterproof, neither does it have aluminum in its composition. It has a medium-density fiberboard as its table top and that is not ideal for outdoor conditions. We suggest using the STIGA Space Saver indoors, as it is meant to be used.
Conclusion
If you are on a limited budget and you still want to purchase a ping pong table, this is your answer.
Similarly, if you have less space at home or your office, and you are looking to add a sports-related activity, then we suggest buying the STIGA Space Saver. If you want a midsize table for any such purposes, as well as, playing ping pong, then this is your table!
We love the features it comes with. It has a thick medium density fiberboard which is used as its table top, and it is almost 16mm thick! That is a fantastic feature because it allows for a consistent bounce, which you do not expect from a midsize table that is primarily made for recreational purposes only.
In addition to the fantastic table top, it also has levelers to help with the stability of the table. It is compact and easy to store, not to mention the lightweight of the table that allows ease of portability around your house. For its price, STIGA Space Saver offers so much!