STIGA XTR is one of the best multi-purpose ping pong tables in the world. It is primarily made for outdoor usage; however, it fares well enough if you want to play indoors, too.
We like to call the STIGA XTR a hybrid because it can be used anywhere, and it certainly makes a great impression on experts, who seem to love it!
STIGA XTR Indoor/Outdoor Table Specifications
Our Rating: 4.5/5
Price: $$
Size: Regulation (9 feet x 5 feet)
Assembly Time: 15 minutes
Weight: 166 lbs / 75 kgs
Table Top Thickness: 6mm aluminum composite with 1.5" tubular steel apron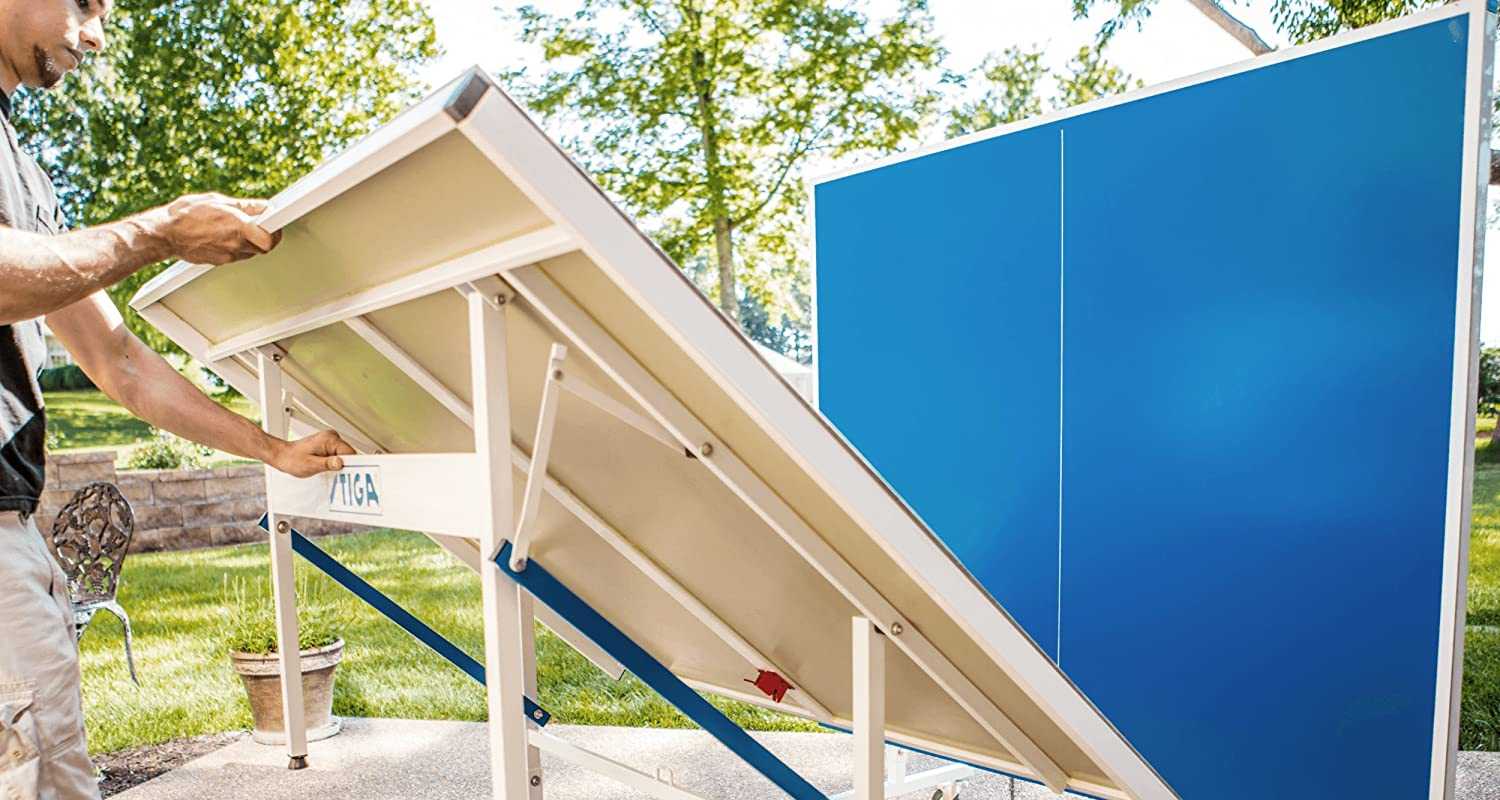 What to Expect
You get a lot of things for very little if you buy the STIGA XTR. The first thing you will notice is that you are now the owner of a table that is called the XTR, there is certainly something very cool about the name. Apart from that, you get all of these features with it.
Ultimate Hybrid
The STIGA XTR is the ultimate hybrid, similar to the Cornilleau 250S. You can either put it in your garage, lawn, deck, or terrace, it will give you the optimum playing experience. This is done thanks to exquisite engineering which allows the table to function under all kinds of extreme conditions outside.
Ideal Thickness
6mm might not seem much considering most of the indoor tables have a table thickness of more than 19mm. However, outdoor tables ideally tend to have a table top thickness between 5mm to 7mm. It is also supported by a 1.5" tubular steel apron that helps a lot with the bounce.
95% Preassembled
The table comes 95% preassembled, which means you do not have to worry about setting up the whole thing once it reaches. It will take you approximately ten to fifteen minutes to set up the table, and you can start playing once it is done.
Convenient Storage
The STIGA XTR folds up fairly easily. It has two tables that fold up in much smaller dimensions that you can put away almost anywhere for storage. This compact storage position is helped with the wheels and you can store them in any garage or storeroom.
Play-back Feature
The STIGA XTR also comes with the play-back feature and you can shift from two-player mode to solo play, very quickly. It comes with many different features, for example, the board for playback can roll away from the table for variety.
All-Weather Durable Frame
The STIGA outdoor table tennis tables need to be built in such a way that they can stand the test of time, as well as, all kinds of extreme weather. Keeping this in mind, the STIGA XTR was built with a strong undercarriage with 1.25" welded steel legs, which keep everything strong. In addition to this, the legs tend to open automatically when you open the table.
The strong frame is helped with lockable four-inch wheels that can keep the table intact and allows for transportation, too. It also comes with adjustable height levelers that can help in keeping the table level over any kind of uneven surface.
Pros
Solid Table Top
Like we discussed above, the table top might not compare well enough with indoor tables, but it is ideal for outdoor tables.
6mm aluminum and plastic top supported by a 1.5" tubular steel apron gives very consistent bounce and offers elite gameplay. It is also ideal to withstand all kinds of weather extremities.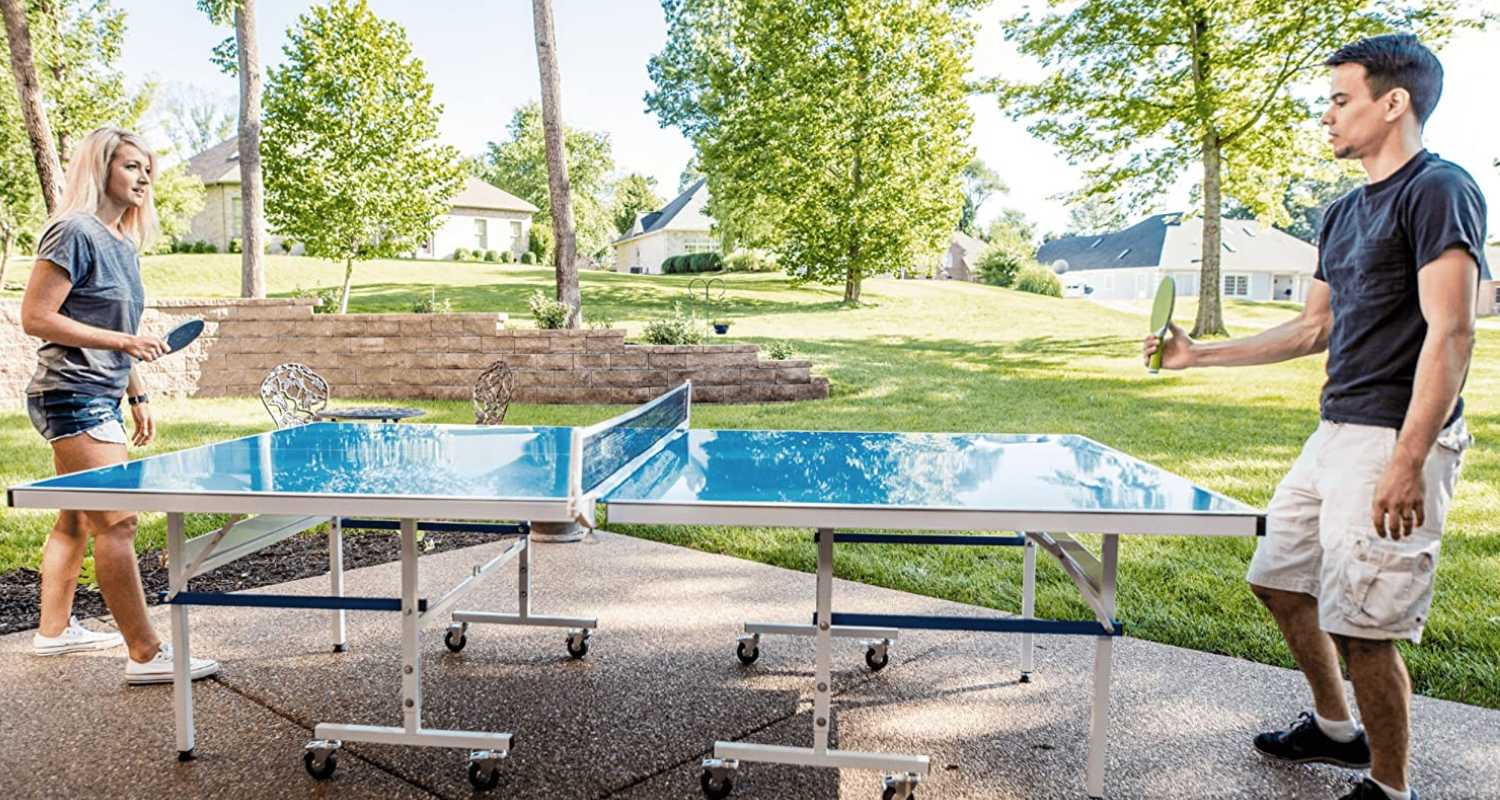 QuickPlay
The QuickPlay feature of the STIGA XTR is a fantastic one. That ensures the table is sent preassembled 95% and you can set up the rest within fifteen minutes and get ready for playing mode as soon as possible. We love the QuickPlay feature!
Strong & Durable Undercarriage
The table is supported by a very strong undercarriage which has a weatherproof frame that is not only dust resistant but the legs also have height adjusters that ensure a level playing surface.
Playback Mode
The playback mode is one of the most important features, we believe. It helps in improving some individual skills and that is why we believe it should be a part of every table.
We are glad it is a part of the STIGA XTR and it comes with plenty of new and improved features!
Net & Post Set
The STIGA XTR table is accompanied by a 72" net and post set, that you will not have to buy independently. It comes with the purchase and it means you can set it up with the table and start playing, thanks to the QuickPlay feature.
Affordable Price
With all of these features, one would think that the table will cost a lot.
That is certainly not the case as the STIGA XTR comes at an affordable price that compares competitively with other products with similar features. It also comes with a one-year warranty from STIGA, that covers almost any potential manufacturing errors that your product may have.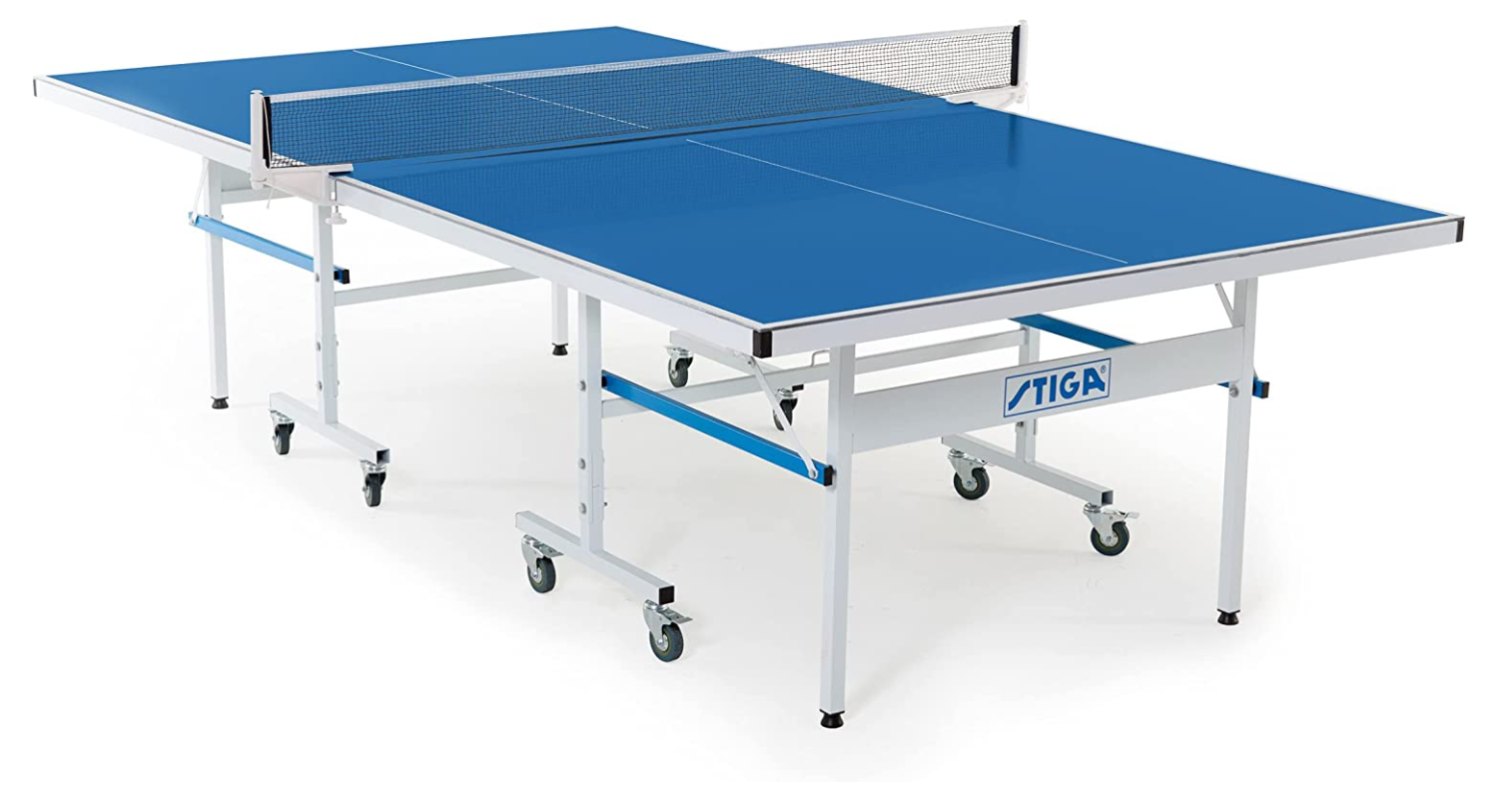 Cons
Table Top not Thick enough
The table top compares well with other outdoor tables, but not very well with the indoor ones. The bounce is consistent but the 6mm can put off a lot of potential buyers.
Plus, it does not compare toe-to-toe with other tables which tend to offer a thicker table top.
Quite Heavy
Most people love that their table is heavy. However, outdoor tables tend to be more for recreational purposes rather than professional and heavy tables are a strong trait of professional tables.
That is why the STIGA XTR might not have the ideal weight because it is quite heavy. Weighing more than 75 kgs, it can be a bit of a nightmare to move around the house.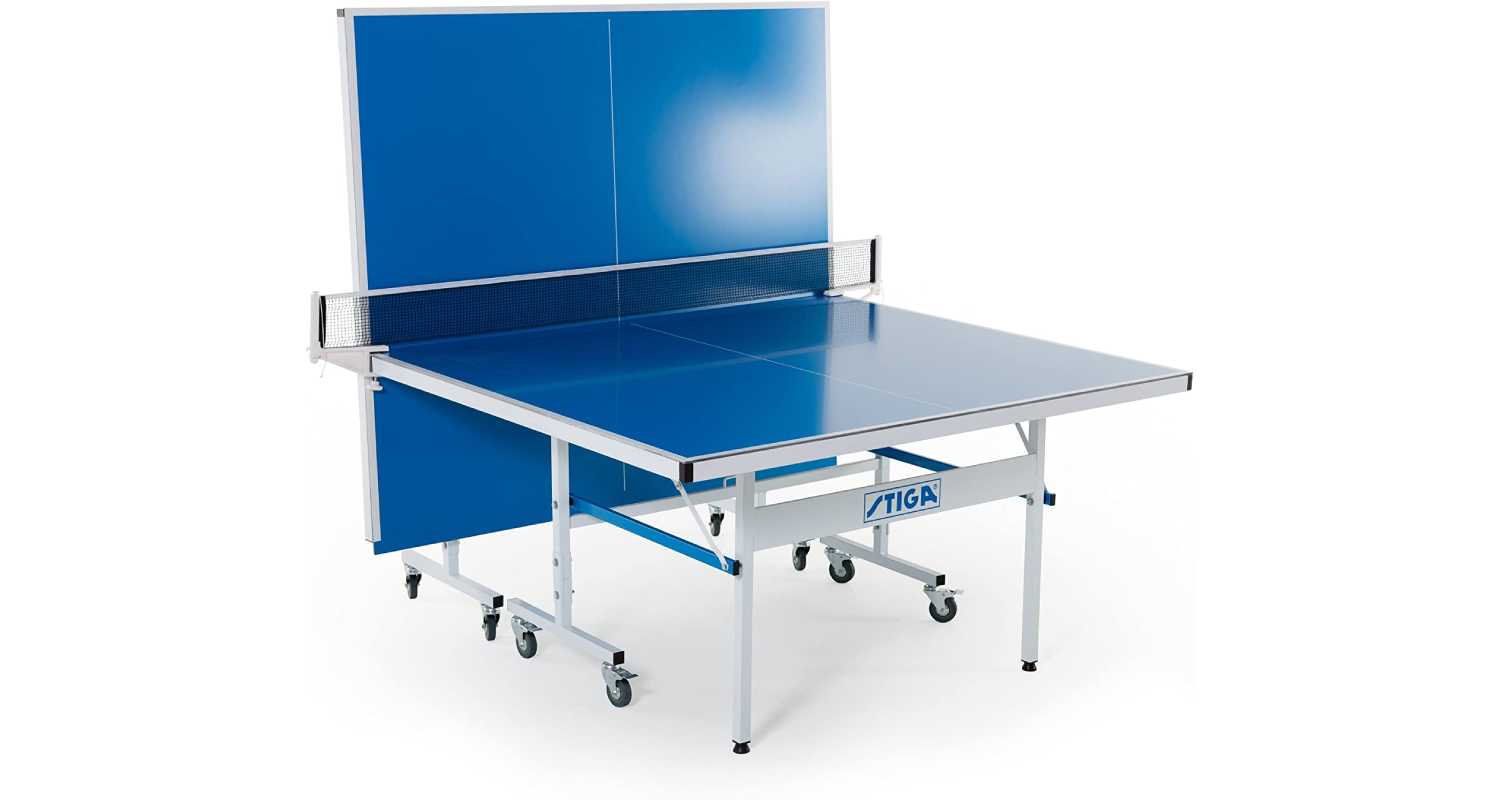 Comes without a Cover
It goes without saying that your outdoor tables require a lot of attention and care.
For that purpose, it is important to invest in a cover, which will protect the table top, but the STIGA XTR comes without one. This is a drawback, but one that most people could overlook considering it is comparatively cheaper. We suggest investing in a cover for your table, as soon as possible, though!
Questionable Table Surface
The thickness of the XTR is a problem, but some buyers have also reported a warped surface, upon delivery. Of course, this is a problem that can be fixed under the year warranty of the XTR, but it leaves a bad taste for people who expect top-quality from STIGA.
Our Rating: 4.5/5
The STIGA XTR is a good investment, especially at the price that it comes. We love the many features of the hybrid, especially the strong undercarriage and the convenience with which it folds.
The playback feature is another positive in the list of good things to say, and we believe it is a good buy for semi-serious and recreational purposes.
However, the table top does not offer consistent bounce due to a slightly thinner surface. That is why, it makes a good investment for recreational purposes, but not so much if you are used to playing on professional tables.
Other tables in the market tend to perform better with their table tops, but we still love the STIGA XTR and it can be a good investment if you look after it!
Frequently Asked Questions
Where is the STIGA XTR Indoor/Outdoor Table Tennis Table made?
STIGA is a Swedish company that is considered a European manufacturer. Their products are made in different locations around the world; however, the tables are made in three factories located in three separate locations.
As STIGA has a lot of demand worldwide, they operate with three different factories. For their demand in the North American market, they have a factory in Mexico. For their market in Europe, their German factory makes the products, and to cater to the demands of the Asian market, they have a factory in China.
How to Assemble the STIGA XTR Table Tennis Table?
The STIGA XTR comes 95% preassembled, which means you only have to set up the rest of the table without doing anything too difficult. It has self-opening steel legs and the rest is done with ease.
Conclusion
STIGA is a respected brand in the world of table tennis. Their products are incredibly well-manufactured and are sturdy enough to last a long time. This is why it was hardly surprising to come across another brilliantly engineered table by STIGA.
It is inexpensive considering how well the frame was made and the small additions like setting it up during play and the adjustable feet, which can help you play on uneven surfaces. The STIGA XTR is your ideal partner for outdoor play, as well as, indoor play. It makes for a good purchase.
There are some problems, though, which make the buyer think twice. People are not exactly convinced with the thickness of the table top, despite it being backed with a 1.5" tubular steel apron.
This is understandable, as indoor tables tend to be more than 20mm in thickness. However, when compared to some of the other high-end outdoor tables, the XTR performs poorly, as the Kettler Outdoor tables tend to have much better and consistent bounce.