Ideal outdoor recreational table tennis balls ought to have two defining characteristics: They should be a bit heavier to resist water and wind and must be affordable so that you don't have to worry about losing or breaking them.
During our search, we came across the ones by STIGA outdoor ping pong balls. These are a bit heavier than regulation-sized balls. Made of ABS material, these promise wind and water resistance. Let's see if they deliver.
STIGA Outdoor Ping Pong Balls Specifications
Overview
Our Rating: 3.9/5
Price: $$$
Weight: 3g
Diameter: 40mm
Color: Multi
Play Ratings (out of 10)
Roundness: 9
Speed: 7
Consistency: 6
Hardness: 9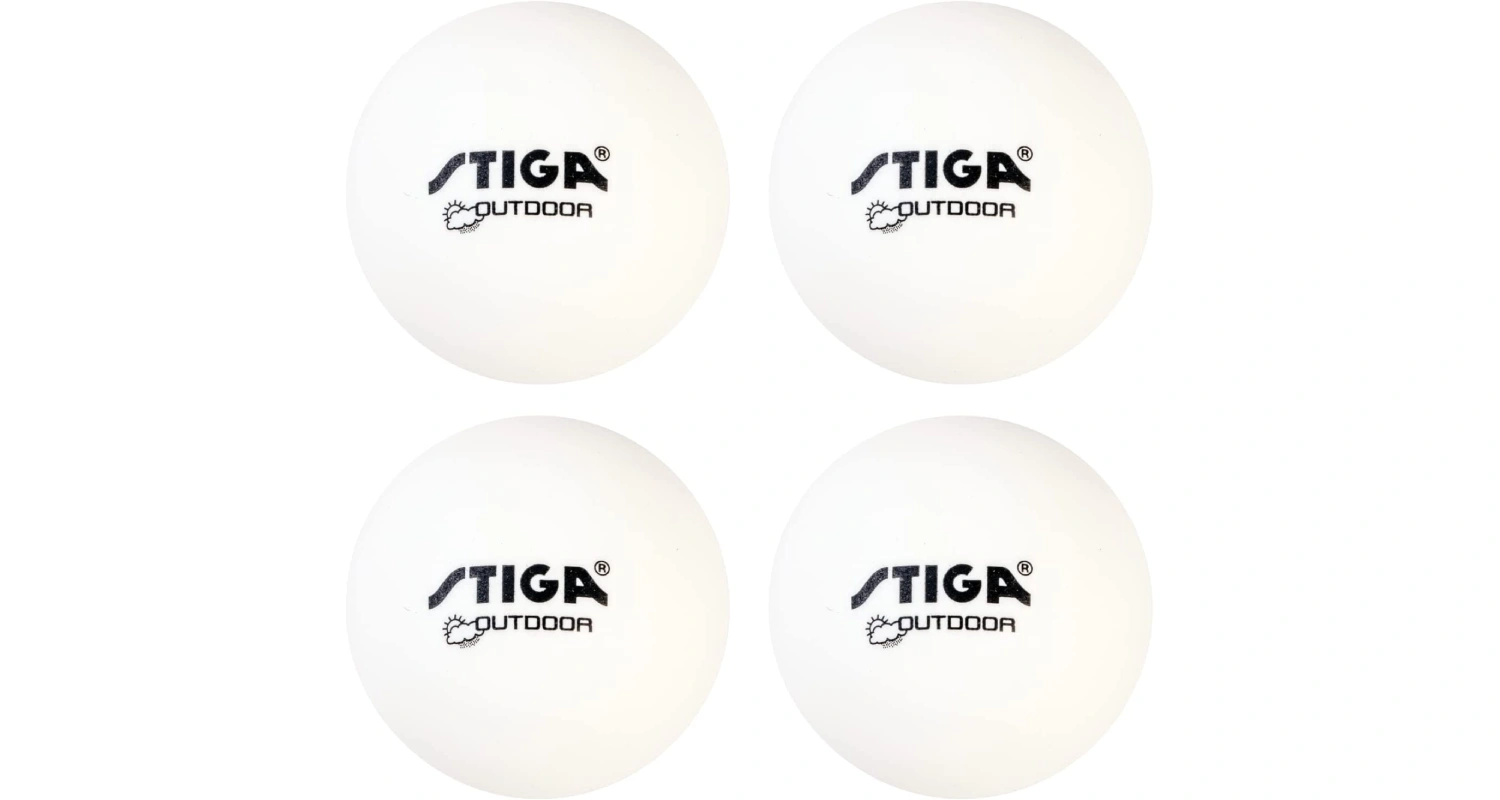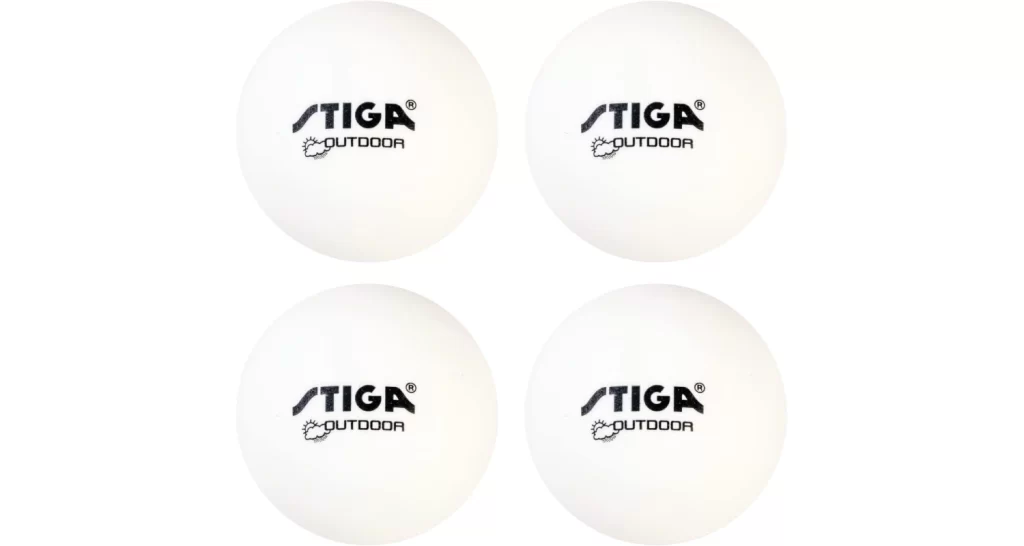 What to Expect?
STIGA Sports is a well-known company that has been producing table tennis products since 1944. They create products for all levels and are well-known for catering to customers with lower budgets. We expect these balls to live up to STIGA's reputation.
Outdoor balls must be round, consistent, and well-built without the veering effect. Since STIGA outdoor ping pong balls are marketed as best for recreational games, we expect them to be affordable yet sturdy. They also pair well with mid-level paddles like the Raptor. Let's see if these balls meet expectations.
Construction
STIGA outdoor ping pong balls are made of ABS (Acrylonitrile butadiene styrene) plastic. Companies started manufacturing this material for ping pong balls in 2017. Compared to regular poly balls, ABS adds roundness and durability and is also considered more environmentally friendly.
At 3g, these balls are heavier than the standard size of 2.6-2.7g. This is due to the thick walls which make the ball resistant to both wind and water, ideal for outdoor play.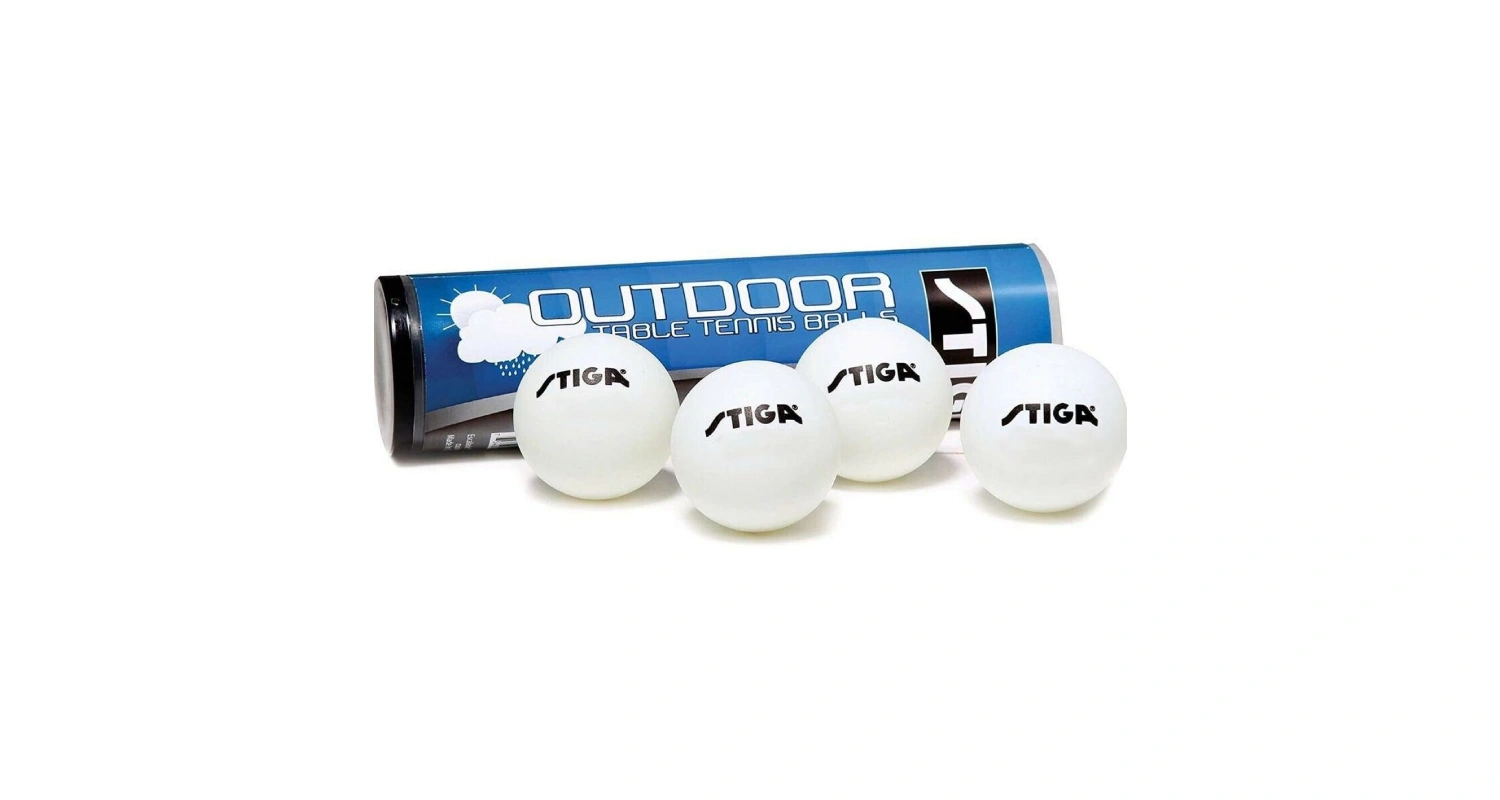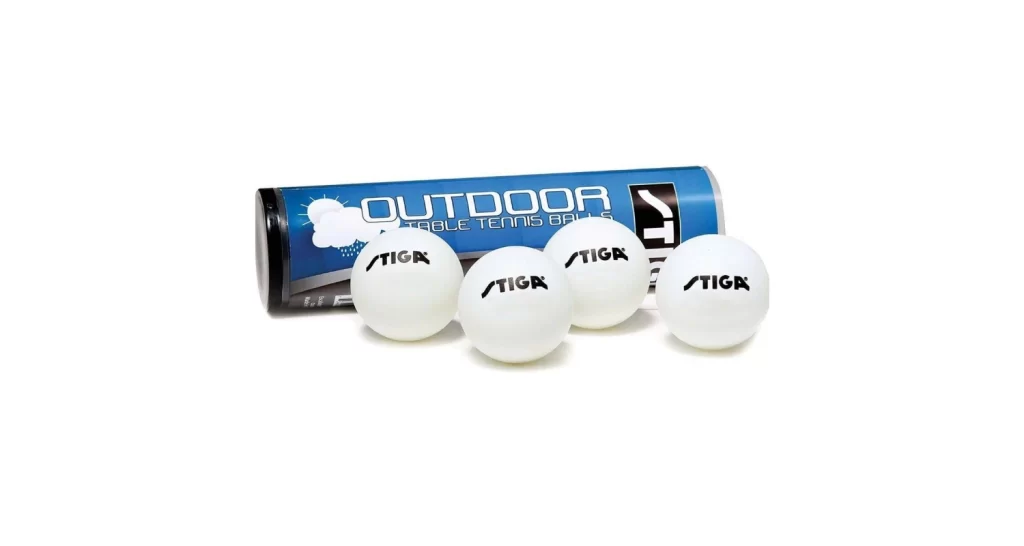 Pros
Good for Training Outdoors
ABS balls display a massive amount of spin when compared to plastic balls. They are bouncier and more consistent too. If you are planning to use this material for recreational games, then STIGA Outdoor table tennis balls are perfect for you.
They have an increased dwell time and do not veer at all. If you are a beginner, with consistent play, you can develop your technique with these effortlessly. These are also good for playing with robots.
Some people do not like white table tennis balls as they are less visible, especially indoors. These come in multi colors, so that you have greater visibility, especially in a fast-paced game. Color also helps when you are playing in a windy space as it becomes easier to follow the ball.
Best for Outdoor Games
STIGA outdoor ping pong balls are slightly heavier than indoor balls with a water-resistant material. Traditional ping pong balls are very light and flimsy, which makes it impossible to play outdoors.
These balls will not change their path even in a moderately strong wind so you don't have to worry about the ball flying off. These are excellent for outdoor games in schools, resorts, parks, and recreation centers.
When it comes to regular indoor balls, slightest change in temperature, breeze, and the level of humidity can affect the ball's rigidity and performance. But not with these, as STIGA has specifically designed these for outdoor use so you will get a consistent performance in each environment.
Affordability
STIGA outdoor table tennis balls is surprisingly affordable for its performance. We consider it an ideal choice for those who are looking for a training ball for recreational purposes that must be suited to the outdoor environment.
If you compare it to other balls such as the ones by Nittaku or Butterfly these are considerably lesser in price.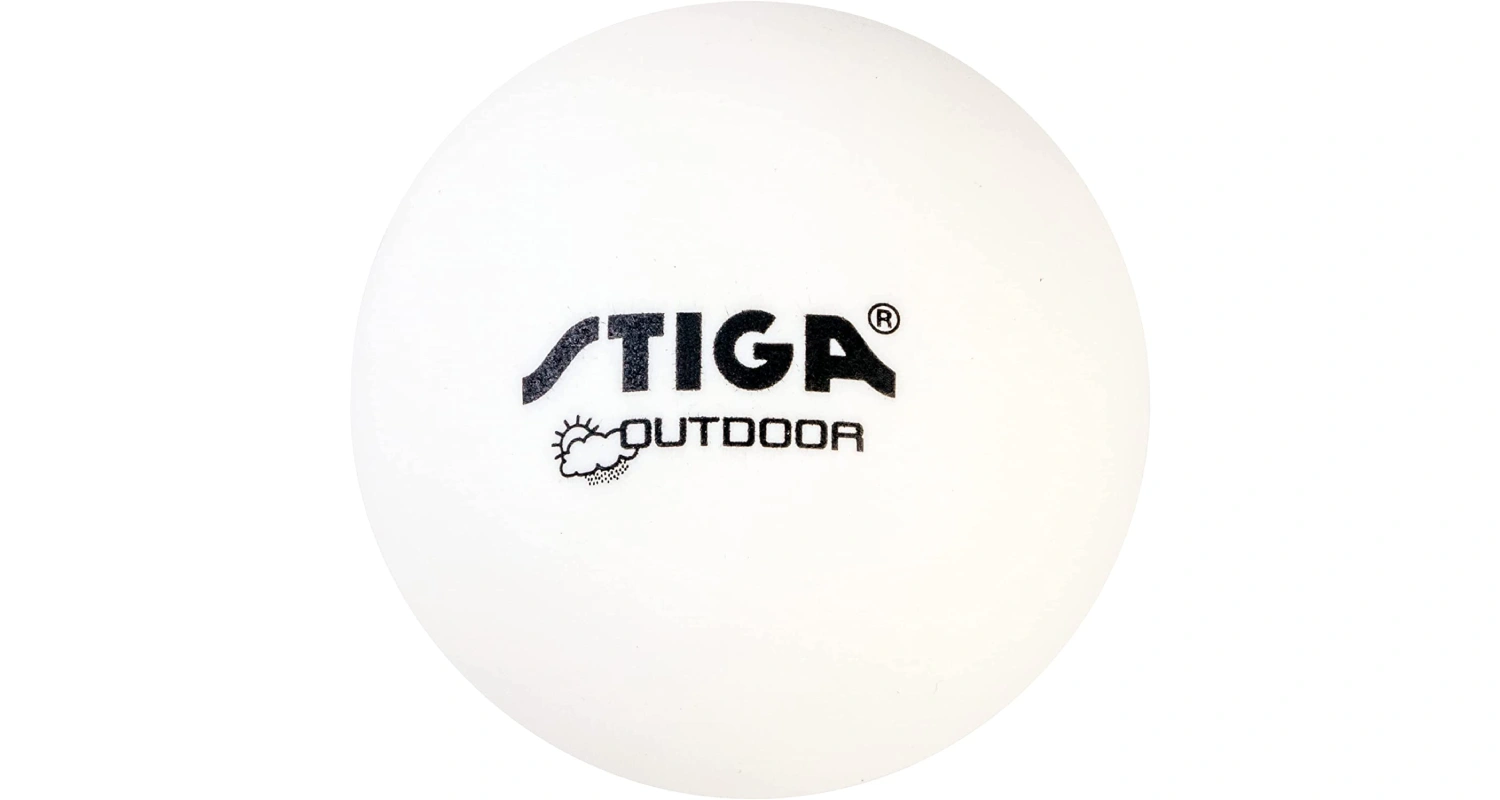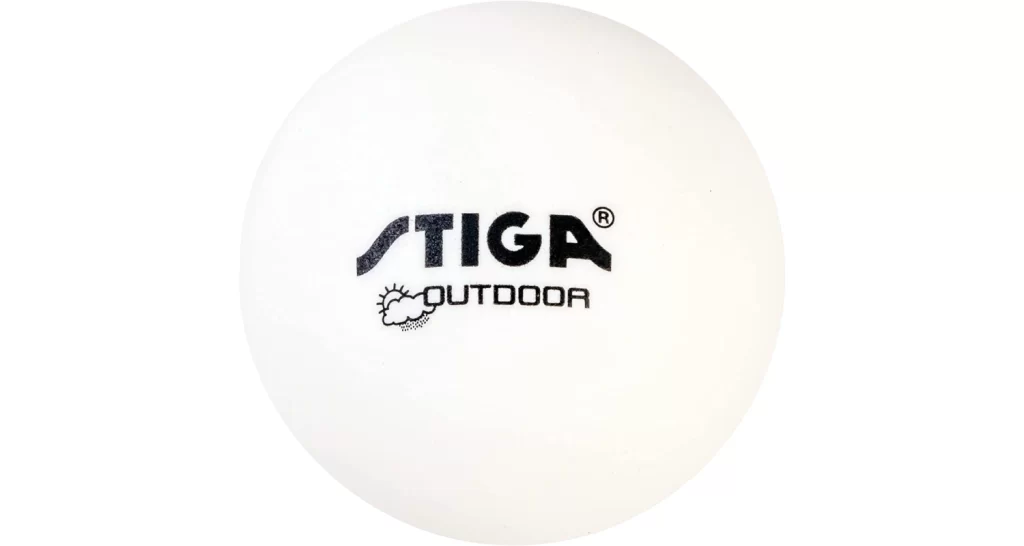 Cons
Not Tournament-level
STIGA Outdoor table tennis balls are not regulation-sized, which means that they do not conform to the ITTF standards of size and dimensions in various aspects. This means that you cannot use them for serious games or tournaments.
If you are a serious player looking forward to training for tournaments, then using these balls for training can put you off track. You are bound to use heavier balls in competitions, which have different bounce and spin abilities.
As a serious player, you should look for tournament-level balls that have ITTF-regulated size and dimensions.
Curved Trajectory
STIGA outdoor ping pong balls have a highly curved trajectory which can be overwhelming to some players.
This also means that they have an unpredictable trajectory and each shot makes you feel as if you have to be quick on your feet to be able to hit the ball. Since these table tennis balls are a lot more bouncier than plastic ones, they are less controllable.
Less Durable
STIGA Outdoor table tennis balls have very thick walls, so they are prone to breakage and dents even after a few games. They also have very visible seams, with a very hard surface, which makes them further vulnerable to damage.
You can play as many as 3 games in an offensive environment before they either break or crack. Heavyweight further contributes to damage as the ball takes a harder hit with each strike.
Inconsistent Quality
Some customers have reported receiving different packages from STIGA instead of what they ordered. Multiple customers have complained that they received regular indoor balls that were flimsy. Make sure your balls have the "outdoor" logo on them before opening the seal.
Our Rating: 3.9/5
STIGA Outdoor Ping Pong balls are ideal for those looking for a ball for outdoor recreational games. These have a better performance outdoors than regular plastic balls, as they are wind and water resistant. They are also highly affordable, consistent, and best for training for beginners.
We wouldn't recommend these to any serious players as these are not ITTF-approved and do not have the standard weight or size. They are also less durable and are prone to damage, so we would recommend you do your research before getting these.
Conclusion
STIGA Outdoor Ping Pong balls offer excellent performance for their price. We only recommend these balls for recreational players who want to play outdoors. You should try these balls if you are not interested in competing or want to play on a recreational level.
If you are on the hunt for the best outdoor ping pong balls, then you should definitely give these a try.