Ping pong tables are heavy, take a lot of space, and are bound to burn your pockets. If you want a foldable regulation-sized table for recreational purposes—without poking a hole in your pocket—JOOLA has come to the rescue.
The JOOLA Indoor 15mm Ping Pong Table features a foldable, light-weight design. The table is perfect for indoor spaces, such as the living room, game room, or garage. It is considered great value for money too and has been a top seller for a long time.
Let's dive into the specifications and see of it really delivers what it promises.
Joola Indoor Product Specifications
Price: $$$
Rating: 4.50/5.0
Type: Indoors
Weight: 137 Pounds/62 kgs
Dimensions (after setup): 108 x 60 x 30 inches (length x width x height)
Thickness: 15mm
Top Material: MDF Wood
Base Material: Alloy/Steel
Color: Deep Blue with Black Apron
Accessories: Net and Post set, Nuts, Bolts, and Bolt Plate
Assembly Time: 10-20 minutes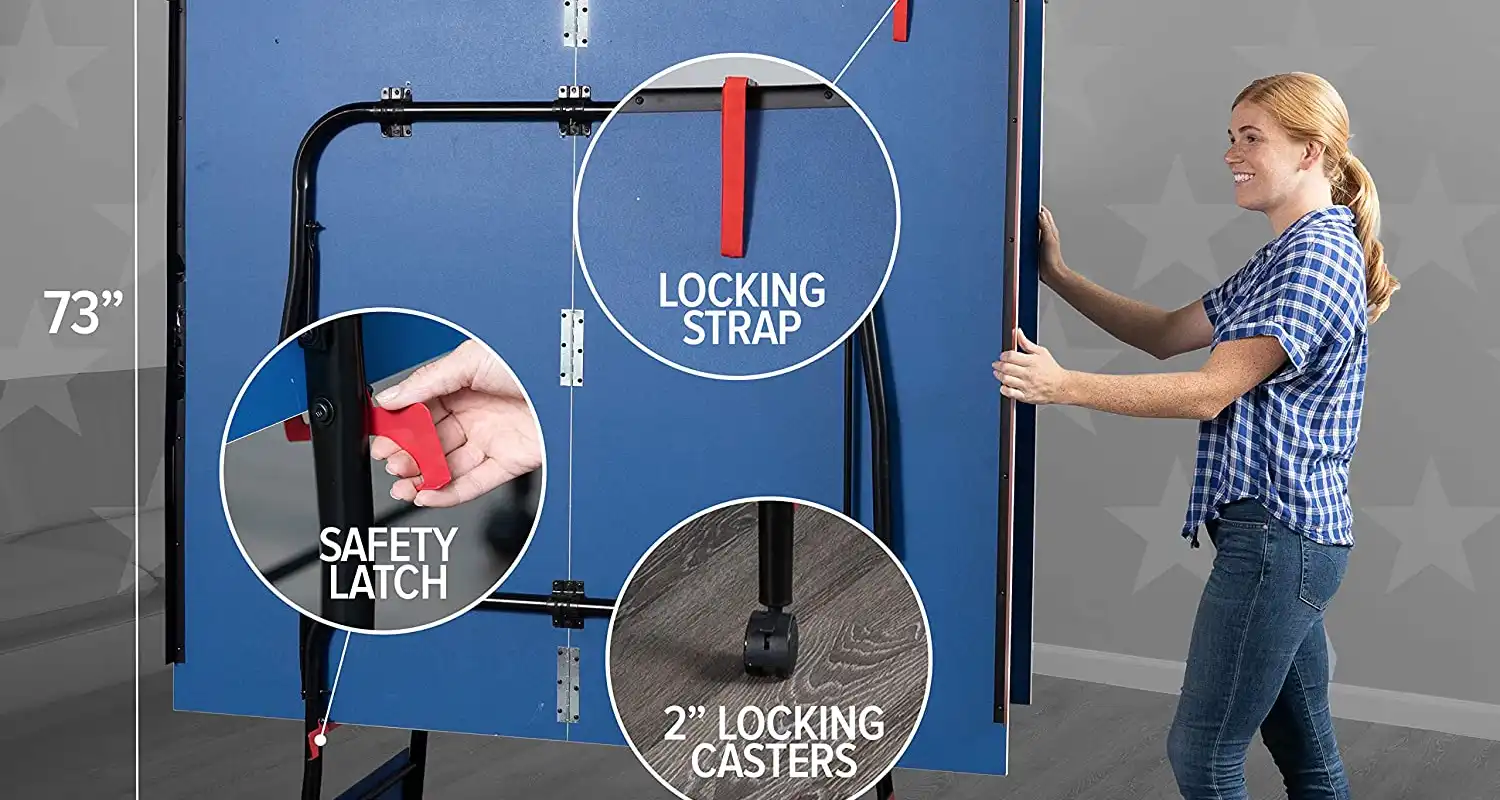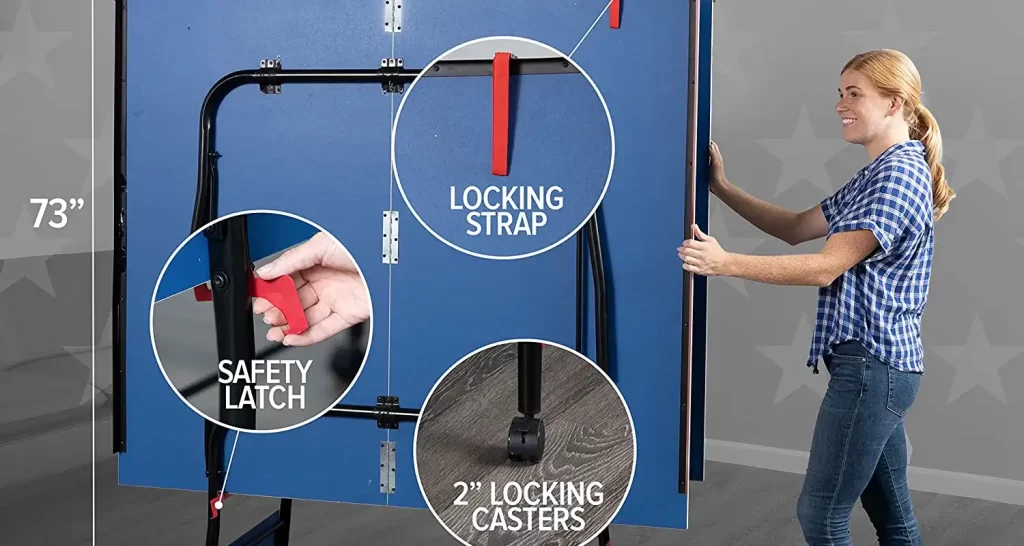 What to Expect?
JOOLA has been making table tennis equipment since the 50's and has sponsored world tournaments too. The table is expected to offer excellent quality and feel at a good price.
This is an entry level table, so, we expect attention to detail and services that make it easy to assemble and use. We also expect quick storage and easy assembly—since this is supposed to be designed for everyday use.
Let's dive into the table's construction and see if it meets our expectations.
Construction
JOOLA Inside features a sleek design that is sure to brighten your indoor space. The table is also well-made and, considering the price, it's also very sturdy.
With a 15mm wood surface, the table is durable, even though it doesn't offer a professional feel, which can only be expected from a 22mm table.
The MDF surface sits on 1.5 inches thick legs, which are adjustable. It comes in two halves with each half having four caster wheels. These wheels can be locked to provide stability during play or storage.
The built-in steel undercarriage further eases mobility and storage. The undercarriage is powdered to protect from rust. The table also features corner protectors.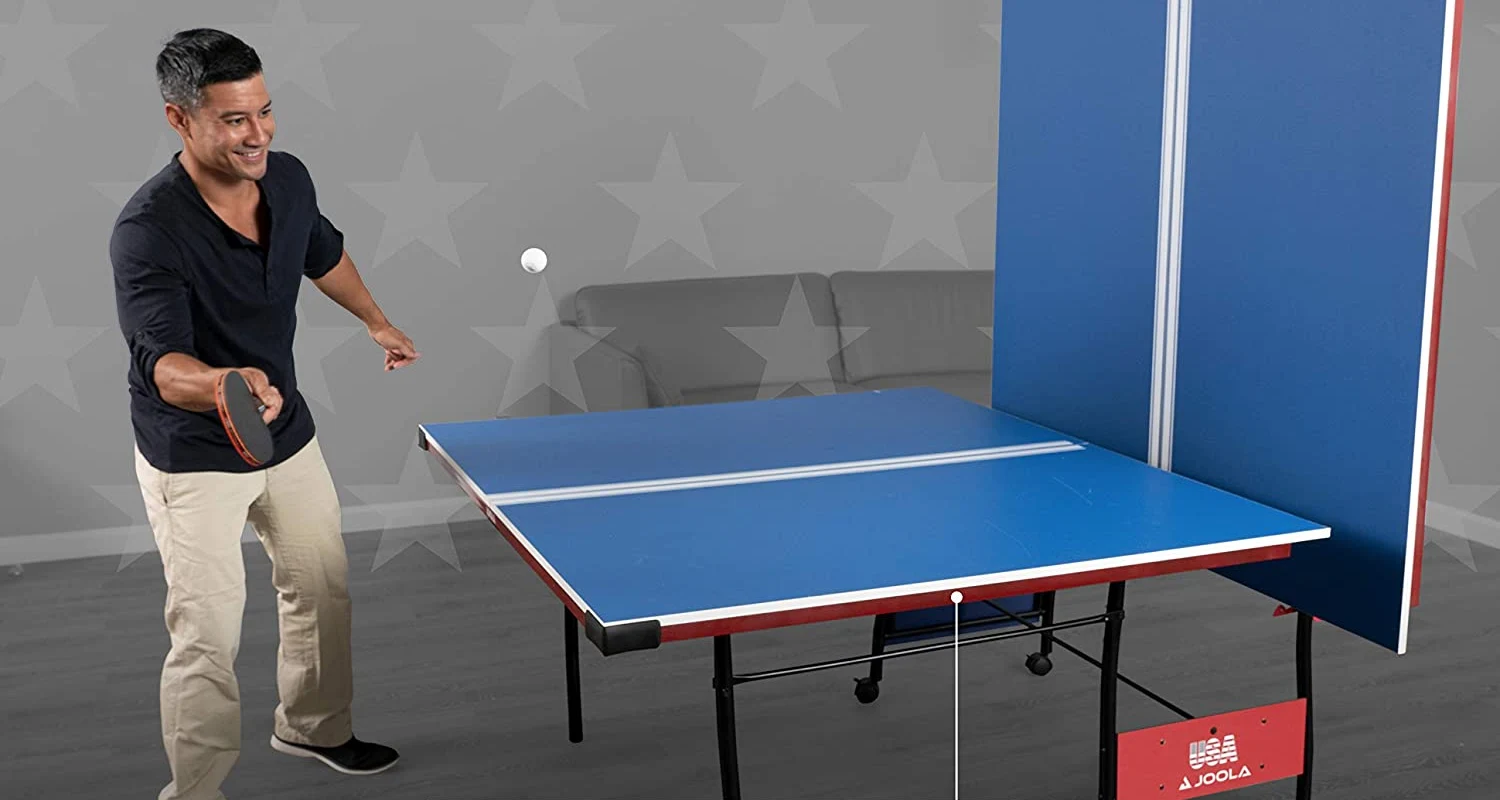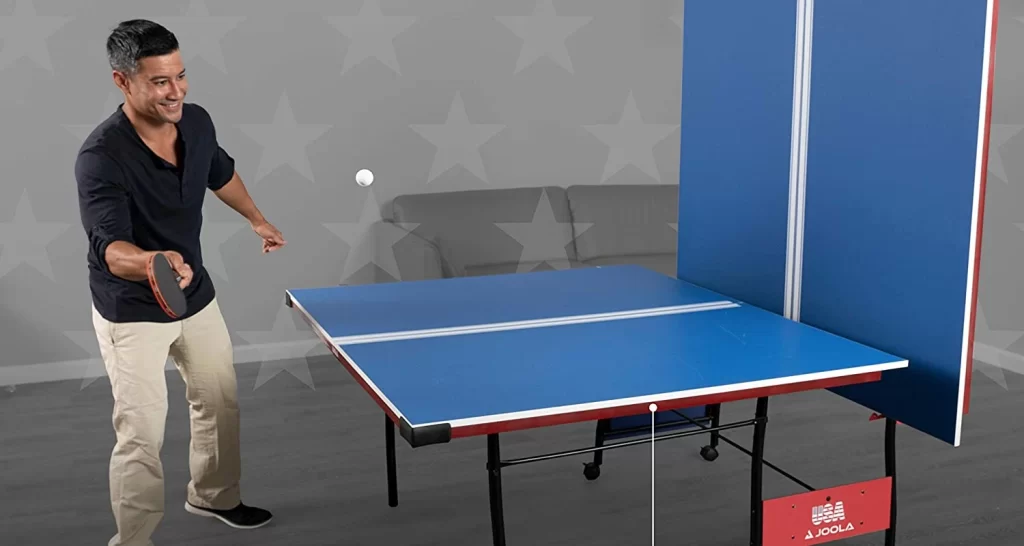 Pros
Value for Money
Considering the table's features and performance, it is indeed great value for money. The table is well-built and has appealing features. The table is also perfect for those with space limitations, since it can be easily folded and stored.
Although thinner than tournament-grade tables, the surface produces a consistent and even bounce, bound to give a satisfying playing experience.
If you take care of this table, it is built to last, as the quality and materials are good—even though not top-notch.
Light Weight
At 137 pounds, JOOLA Inside is lighter than most tables available in the market. This, along with the foldable halves, adds to the table's appeal. Its light weight—aided by caster wheels— eases mobility and storage.
Solo Playback Mode
Foldable halves do not just provide compact storage and convenient mobility, they also enable solo playback mode. This means that you can raise one half of the table, while leaving the other half flat to play yourself without a partner.
The table can be converted into solo mode in less than 30 seconds, and without any hassle.
Top Seller
JOOLA Inside has been a top seller. On Amazon, the table has an average rating of 4.7/5.
This speaks a lot about the table quality and customer satisfaction. No wonder JOOLA had to come up with the 18mm and 22mm variants, which are considered professional grade.
Easy and Quick Assembly
The JOOLA inside comes 99% pre-assembled. You only have to attach the legs with 8 bolts, adjust the levelers, clamp on the net and you are good to go. The net and post system makes the setup fairly easy too.
Overall, it takes only 10 to 20 minutes to assemble the table.
Great After-sales Service
JOOLA offers a one-year warranty on this table, which says a lot about customer satisfaction being the prime concern for the company.
Since JOOLA is a well-reputed brand, we expect good after-sales service, and it delivers. Additionally, in case your table is delivered damaged, JOOLA can compensate too.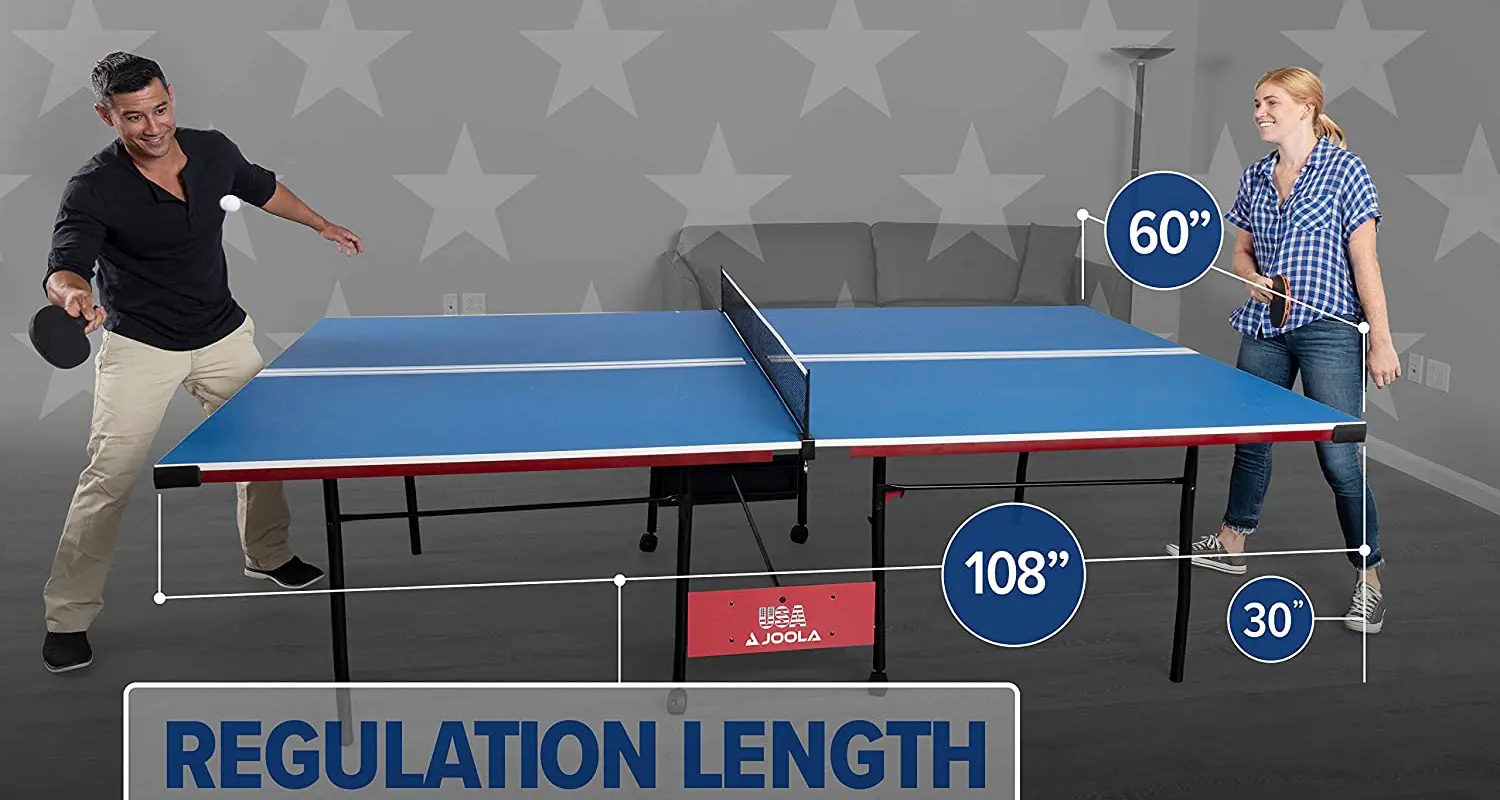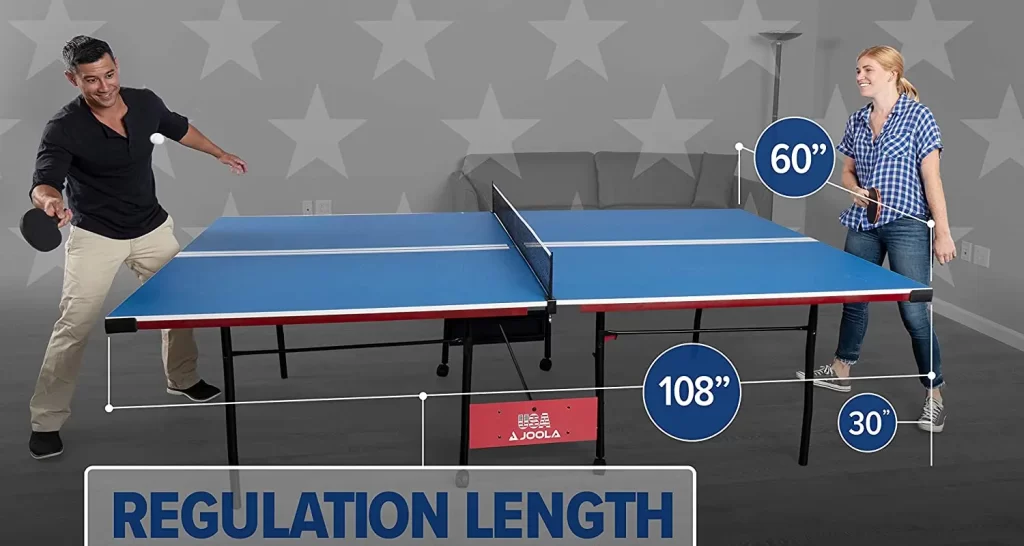 Cons
NOT a Tournament-grade Table!
Although this table is regulation sized, it doesn't offer tournament-grade performance. The thickness of 15mm is not suitable for professional play.
This table is designed for families or friends and is therefore not suitable for serious players. In case you are looking for something serious, you should go for the 22 mm version.
Weak Frame
The material used in the table is not high-quality. In case you fail to take care of the table well, the frame can get damaged over time. This table isn't designed to be used in offensive environments, so it cannot withstand much damage.
Susceptible to Warping
JOOLA Inside is meant to be used indoors, which means it is not designed to tolerate heat or humidity. Some customers have pointed out that when stored in an area with high heat or humidity, the table has warped.
Our Rating: 4.5/5
If you are looking for a recreational ping pong table on a budget, JOOLA Inside would be one of our top recommendations. It offers a hassle-free setup, is lightweight and considered great value for money.
Foldable design also makes it very compact, easy to store, and convenient to move.
Conclusion
Even though JOOLA Inside 15 doesn't feature excellent material, its most appealing feature is a good price performance ratio.
This table was designed to provide a decent and functional playing experience—and it delivers! If you store the table in a cool, dry place and take proper care of it, it will last a while and won't budge.
If you compare this table with other indoor table tennis tables, whether it's in terms of price, performance, or customer satisfaction, it will be clear that for entry-level, this table is the best.
However, if you are a serious player and want to train on a tournament-grade table, then this one is not for you. JOOLA Inside is for recreational purposes solely.