In today's fast-paced world, where we are surrounded by technology and constantly glued to the screens, it is important to slow down, unplug the screens and engage ourselves in physical activities.
And what can be a better way to do that than by installing a ping pong setup in your garage? This sport is not only a great workout but also promotes healthy competition and social interaction. However, finding the right ping-pong table is no easy feat. Outside of purchasing a custom ping pong table, there's plenty of sturdy, garage-ready tables for table tennis play.
There are a lot of elements you need to consider, such as size, material, features, etcetera. Fret not; we have compiled a list of some of the best ping pong tables for the garage to help you get through this process smoothly.
These tables are carefully selected based on affordability, ease of assembly, and durability to ensure you make the right choice. So, without wasting any time, let's get straight into it.
Our List of Best Ping Pong Tables for the Garage
Our compilation of the best ping pong tables for the garage includes a mix of top-tier, high-end models and excellent value options.
Our Rating: 4.5/5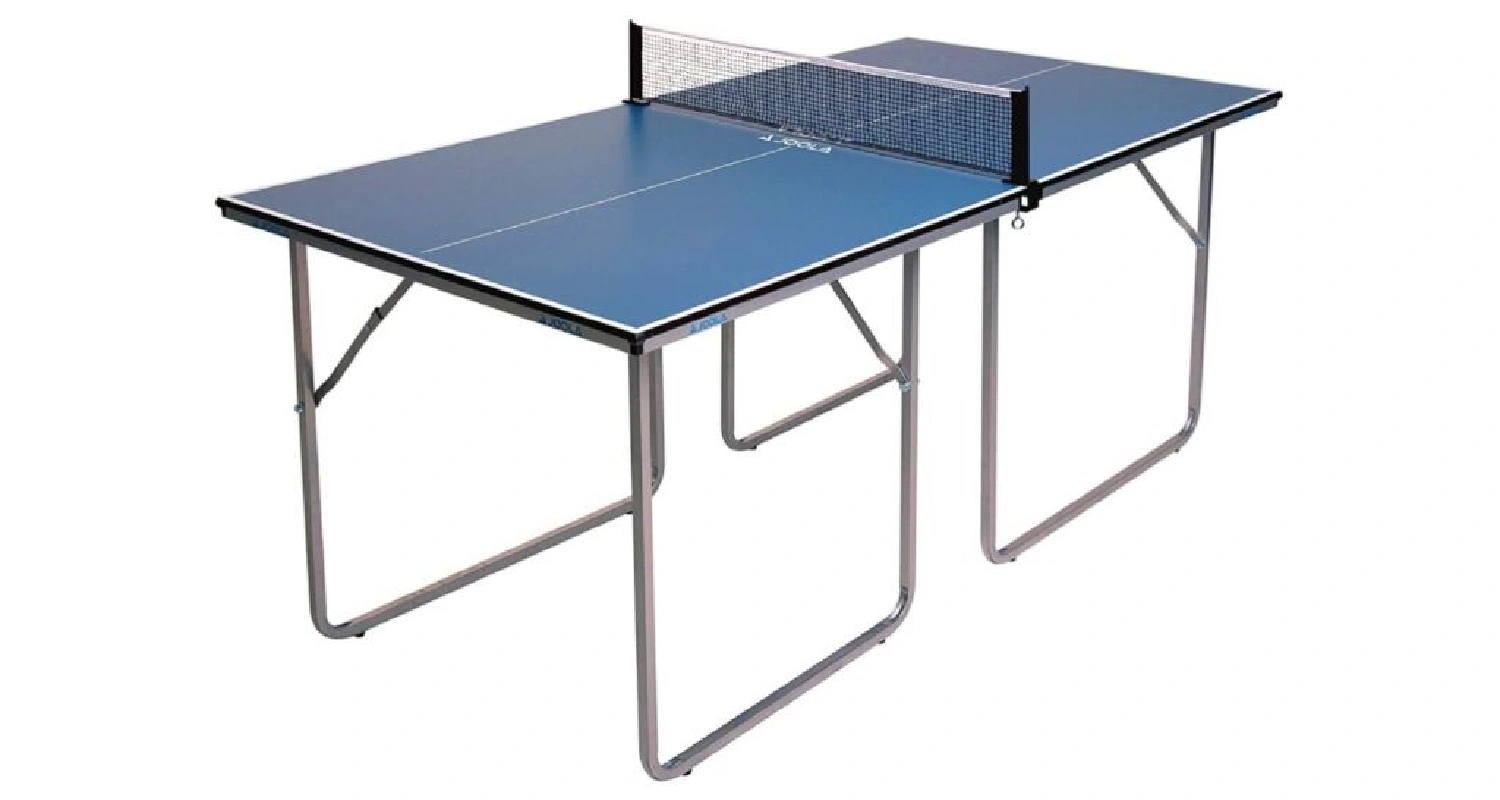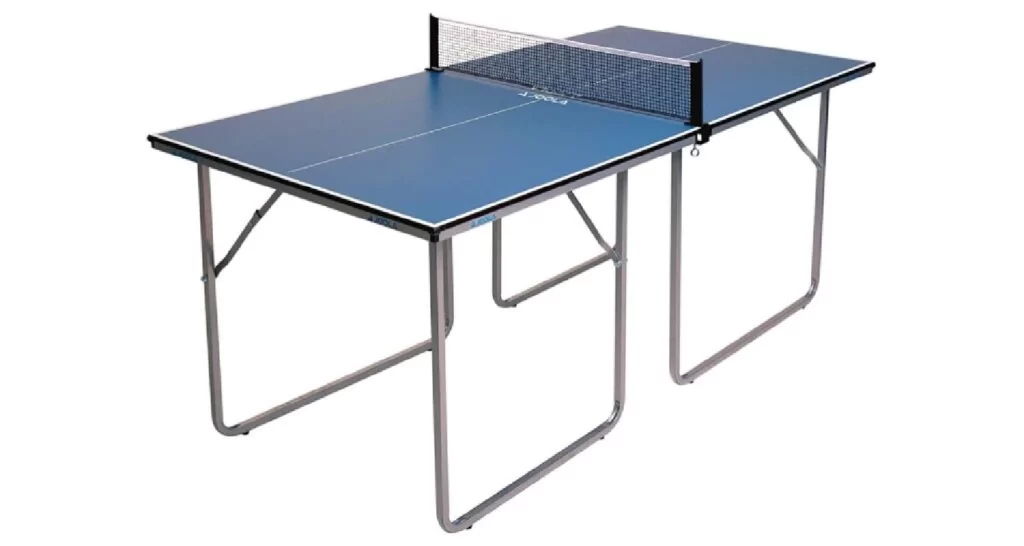 Check Price
Pro-Spin midsize ping pong table is an ideal table tennis table for the garage, designed with convenience and versatility in mind. Measuring around 71 inches long and 30 inches wide, this table makes a perfect choice for those who have compact space but want to enjoy table tennis to its fullest.
This table is constructed with a sturdy aluminum frame and a smooth, durable playing surface to ensure consistent bounce. One of the best things about pro spin midsize ping pong tables is that it is a breeze to assemble, and their foldable design will make their storage quick and hassle-free.
With clear guidelines and all the tools included, you will have the table ready right out of the box in no time. Moreover, the table is backed up by robust components, including rubber corner guards that protect the table from damage. It means you can enjoy ping pong on the patio or backyard without worrying about damaging the table.
Pro-Spin Midsize ping pong table has a net and post set that is easy to set up and take down, making it a great choice for players of all skill levels. The biggest flex of this top-tier ping pong table is the affordable price, making it a reliable option for beginners and kids who want to get into table tennis without breaking the bank.
Our Rating: 4.8/5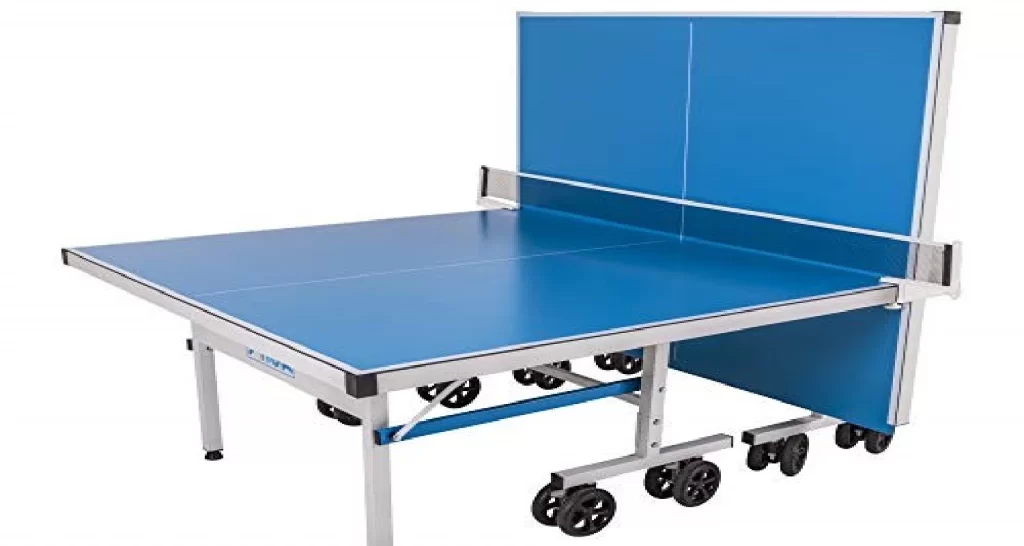 Check Price
STIGA XTR Series is an ultimate hybrid table tennis table for the garage and works great for those looking for a table that can be used both indoors and outdoors.
Equipped with unique features, including ideal thickness, solid tabletop, and hassle-free assembly, this table is a true embodiment of convenience and works great for those who want to set up the table and start playing in a matter of minutes.
This table comes 95% pre-assembled to make it easy to set it up in just a few minutes. The Stiga XTR series boasts a heavy-duty all-weather frame that can withstand the toughest weather conditions, making it an optimal choice for outdoor use.
Its super strong and rock-solid undercarriage offers excellent stability and support during gameplay. The most significant thing about STIGA XTR is that it offers great value at an incredibly reasonable price, making it the favorite table of all the players.
Combining its excellent playability, convenient storage, affordability, and superior quality, this table deserves to be a top contender in the market.
Our Rating: 4.7/5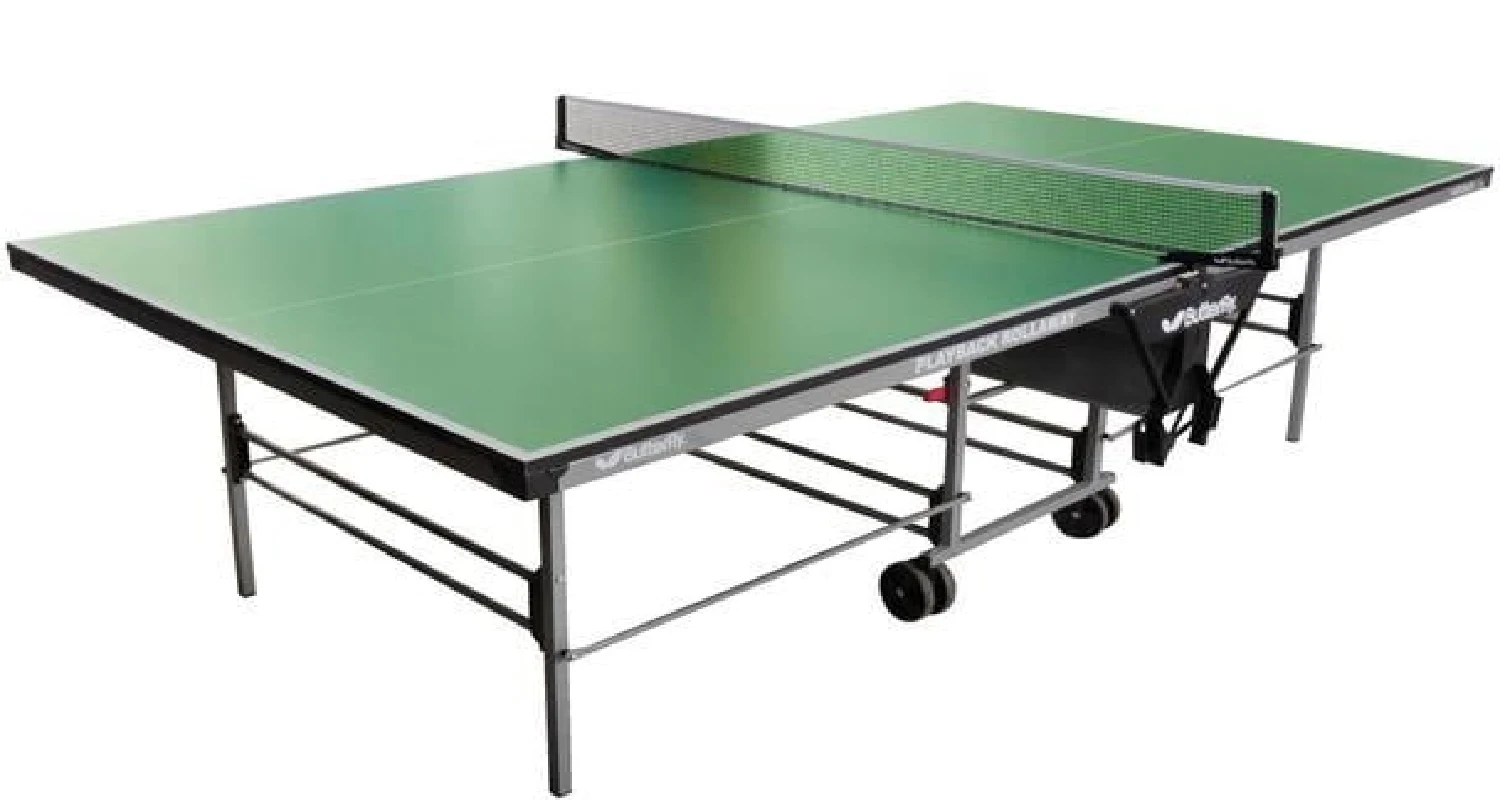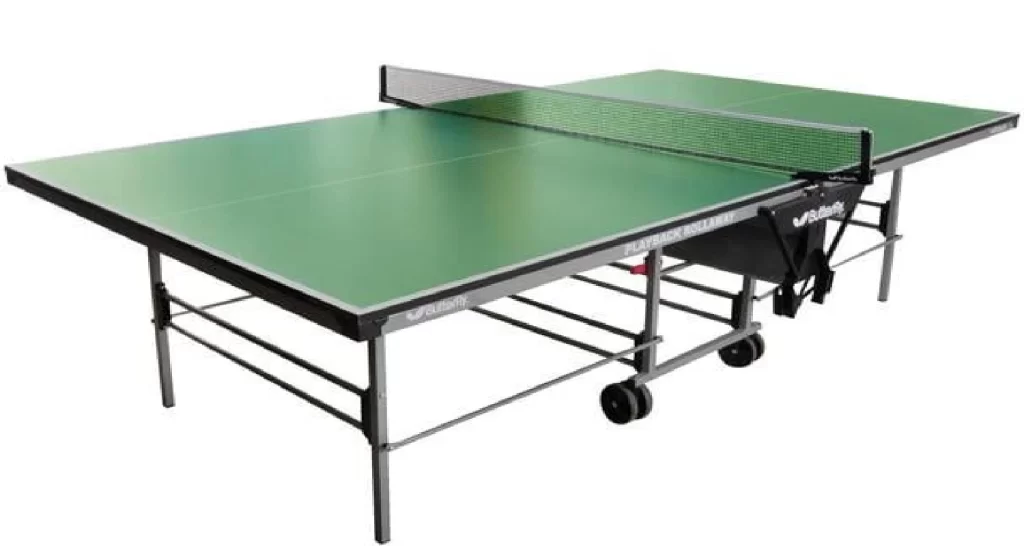 Check Price
Butterfly Playback Rollaway is an all-time favorite table tennis table for garage for players of all skill levels. Featuring the same synthetic laminate top as the outdoor home rollaway, this table can endure double wear and tear as a regular outdoor home ping pong table.
One of the standout features of this table is the safety levers on each half of the table to ensure the player's safety. It has indented legs from ends and sides that provide great stability and prevent accidental injuries during gameplay.
This table offers single-player mode by folding the table in the playback position so you can practice solo efficiently. Moreover, it has built-in ball and paddle holders on each side to make it convenient and ensure your equipment is nearby.
Despite having robust steel construction, the table is surprisingly lightweight, making it easy to maneuver. A special thing about Butterfly Playback Rollaway Outdoor is that it offers a 3-year warranty on the frame and 10 years on the tabletop, which screams its credibility and heavy-duty construction.
With its incredible outdoor durability, generous warranty, and convenient features, the Butterfly rollaway table tennis table is the finest choice for anyone looking for a reliable and long-lasting table tennis table for the garage.
Our Rating: 4.1/5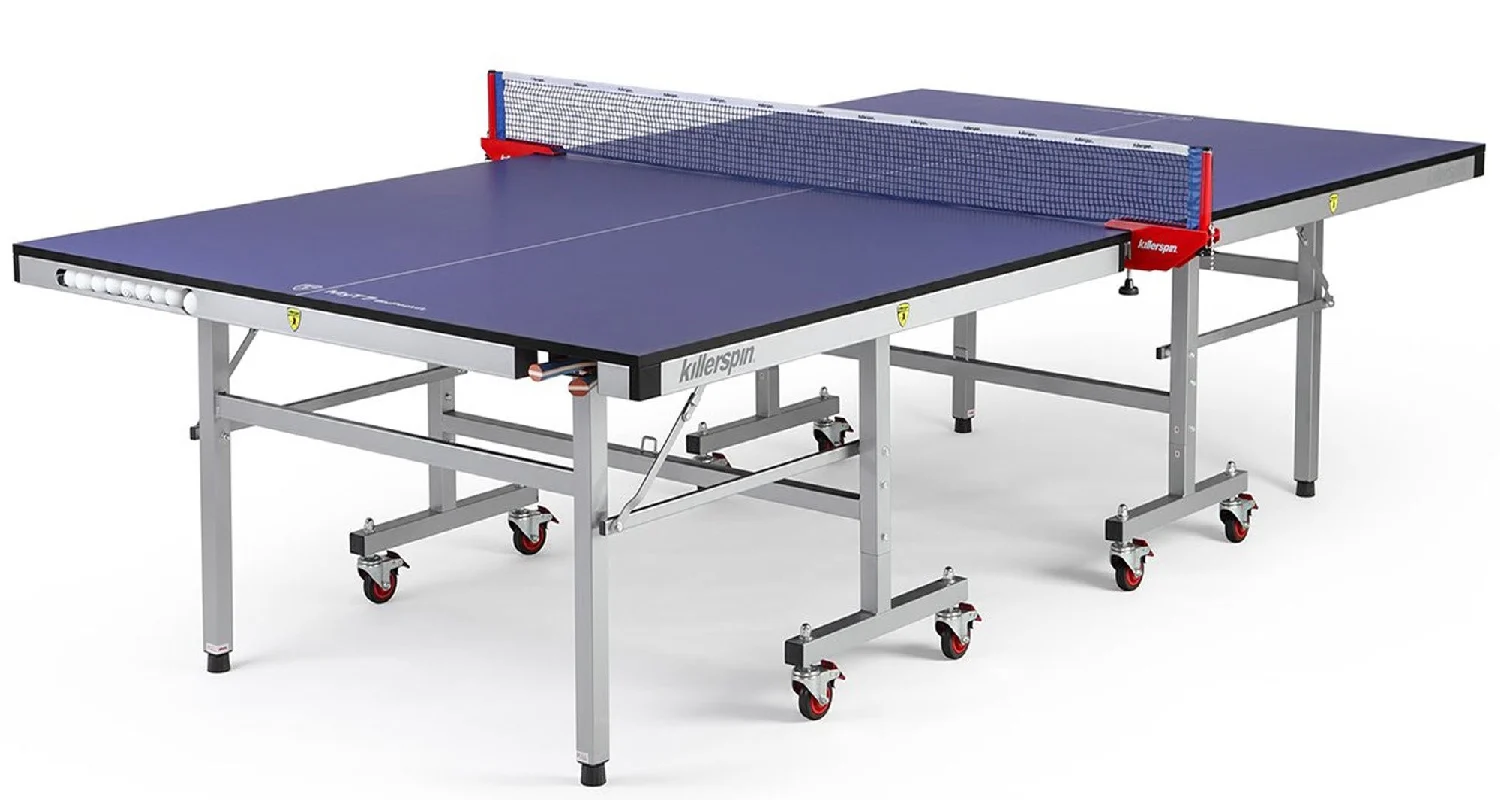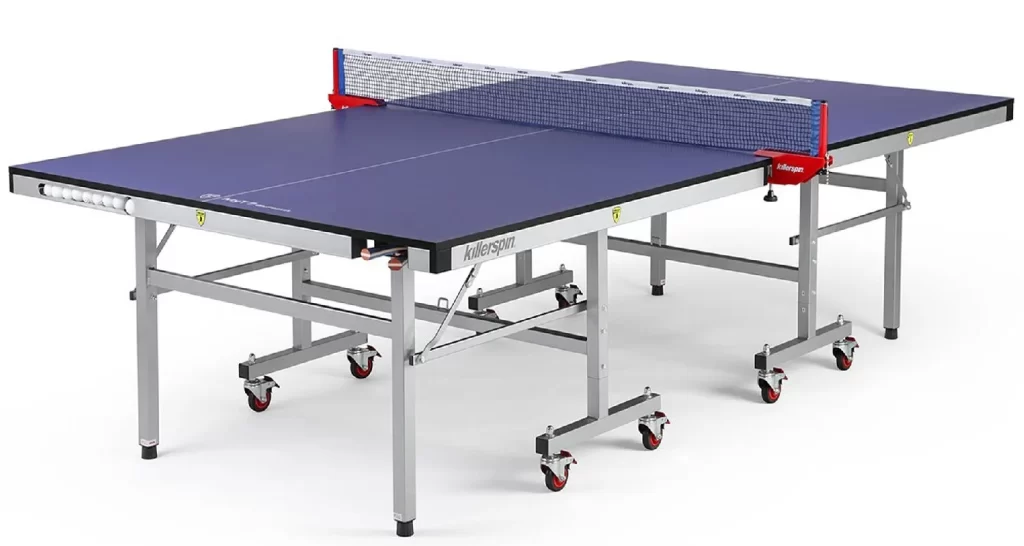 Check Price
The MYT7 Killerspin ping pong table is included in the list of the best ping pong tables for the garage for several reasons. This high-end, professional table tennis table is designed to provide a superior playing experience. With a sophisticated design and utmost durability, Killerspin makes a great choice for indoor and outdoor play.
This table tennis table is made up of weather resistant MDF that makes it able to endure weather elements while providing a consistent playing surface. It comes with adjustable feet, which ensures that the table can be leveled on any surface, no matter how uneven they are, without affecting the quality of the gameplay.
On top of that, the MYT7 Killerspin ping pong table is the king of portability. Thanks to its built-in wheels, it can be moved around easily, making it an excellent choice for anyone looking for a professional-grade table tennis experience but doesn't have a dedicated playing space.
Furthermore, the MYT7 Killerspin ping pong table is International Table Tennis Federation-approved. This means it meets all the standards set by ITTF for global tournaments, making it a perfect option for professional and amateur players.
Our Rating: 4.8/5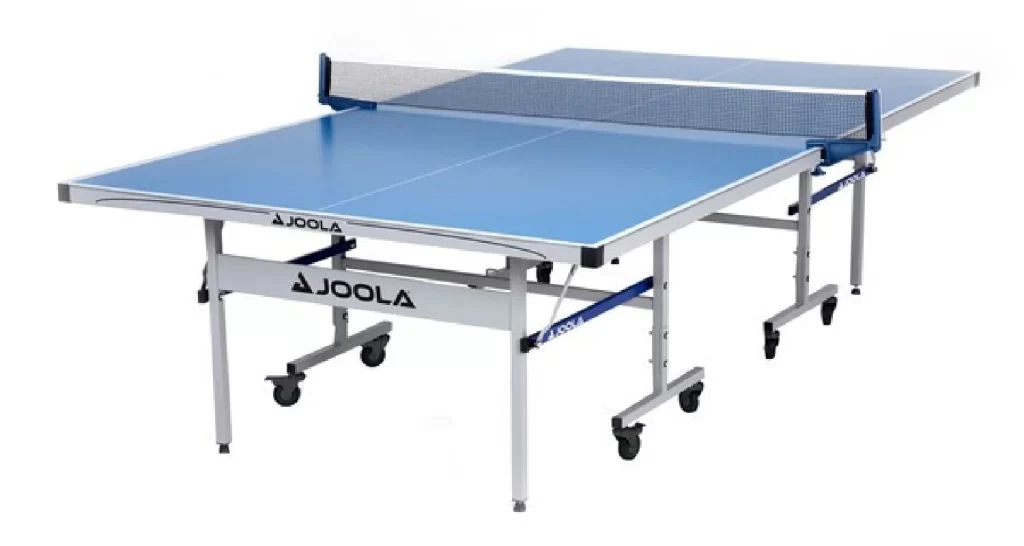 Check Price
The JOOLA brand is well-known for its high quality tables.
JOOLA United Pro Outdoor table tennis table is a heavyweight performer in the world of ping pong and serves as an excellent choice for your backyard, deck, or garage. Its adjustable legs and durable construction allows for effortless customization to suit the height of the players.
Its weather-resistant aluminum top is designed to withstand elements making it a perfect choice for indoor and outdoor use. JOOLA United Pro offers a 1-year warranty, ensuring table strength and quality. In addition to a sturdy framework, it boasts appealing aesthetics that will impart a unique and sophisticated look to your garage.
Since the JOOLA United Pro table tennis table is designed for easy storage, its foldable design allows you to store it when not in use. Additionally, the table perfectly meets all the regulation size standards of a ping pong table to provide you with an authentic and realistic playing experience at home.
Our Rating: 4.9/5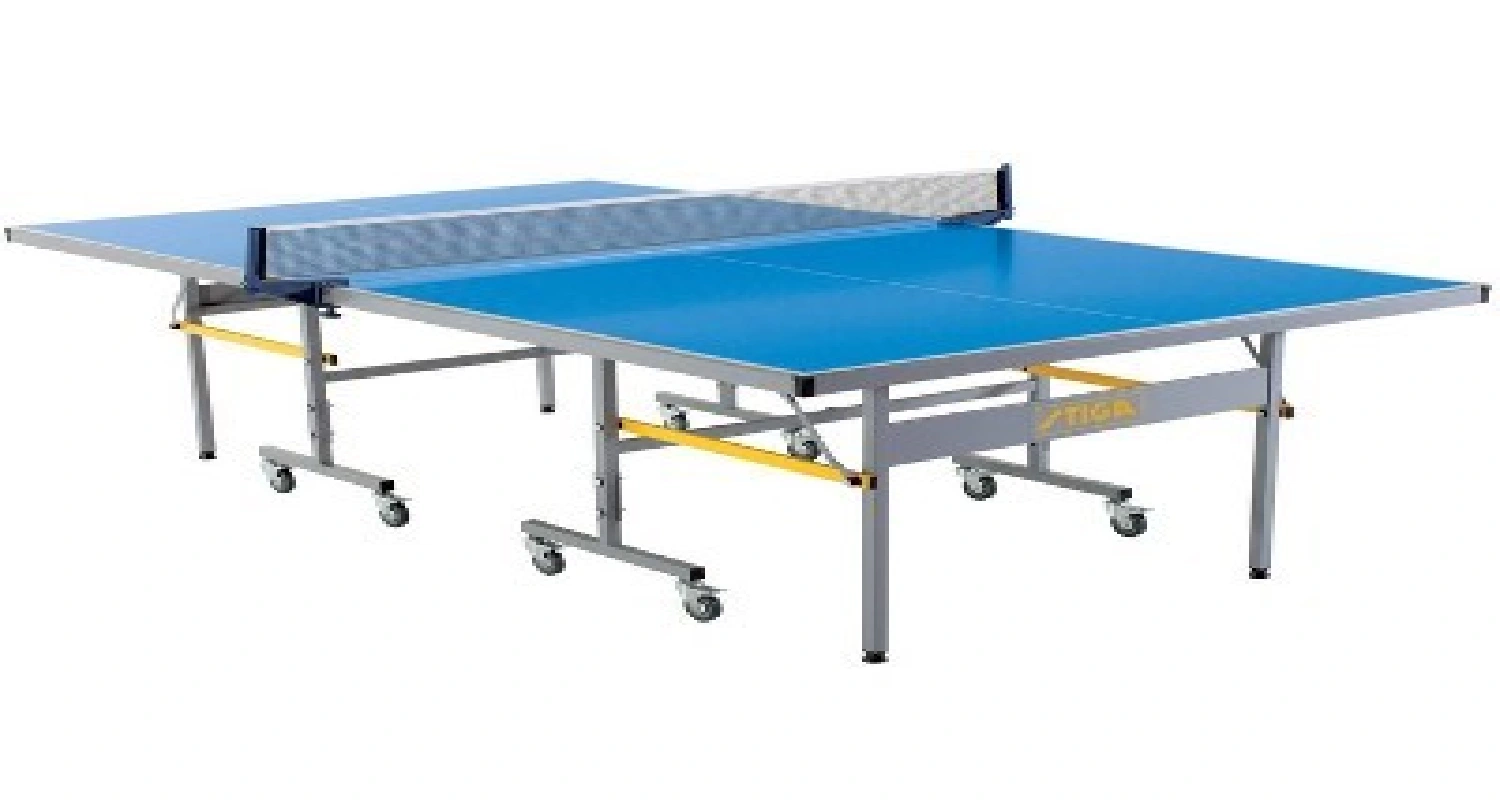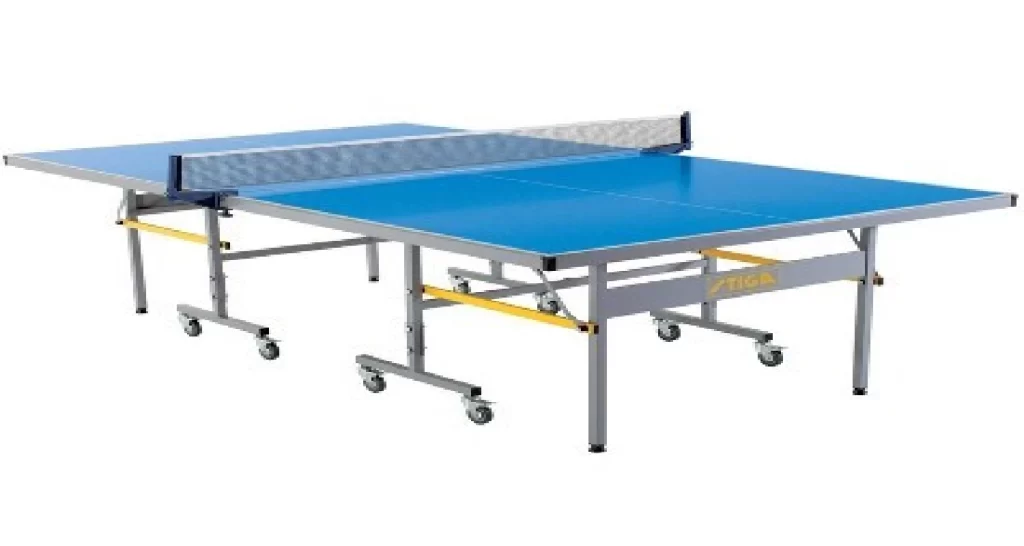 Check Price
When it comes to the best table tennis tables for the garage, STIGA Vapor indoor/outdoor table tennis table deserves to be on the top. Ensuring endless hours of fun and entertainment, this versatile ping pong table is a perfect addition to any garage or patio to transform your outdoor space into a ping pong paradise.
Its aluminum composite top offers matchless playability with all-weather performance so that you can enjoy a game anytime, anywhere. Crafted with long-lasting enjoyment and durability in mind, the STIGA Vapor table tennis table is designed to withstand the toughest elements for years to come.
Furthermore, its 10-minute quick-play design comes 95% pre-assembled, providing a quick and easy setup right out of the box. Plus, the table effortlessly folds into an ultra-compact storage position in seconds, making it a breeze to store when not in use.
Our Rating: 4.8/5.0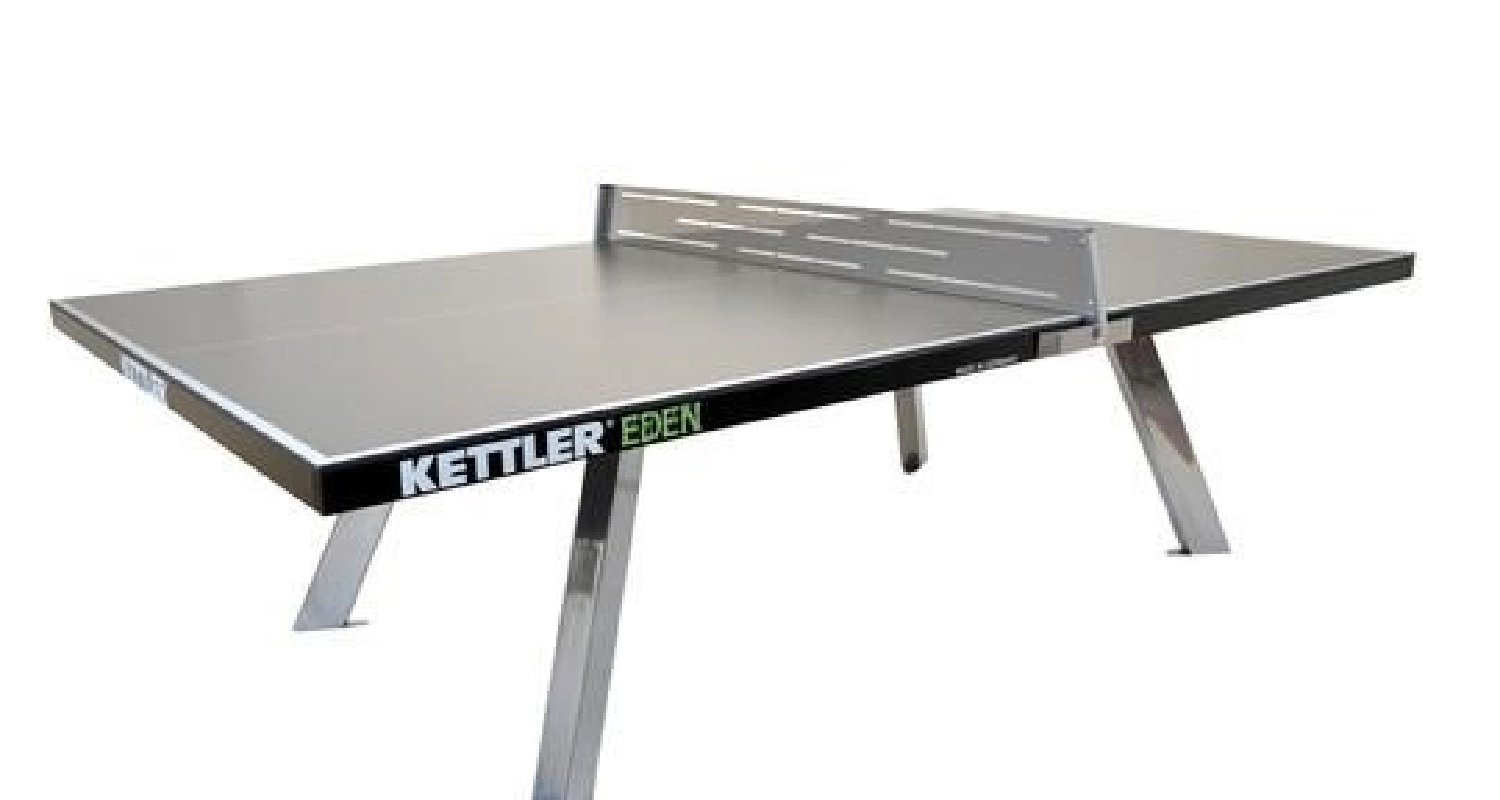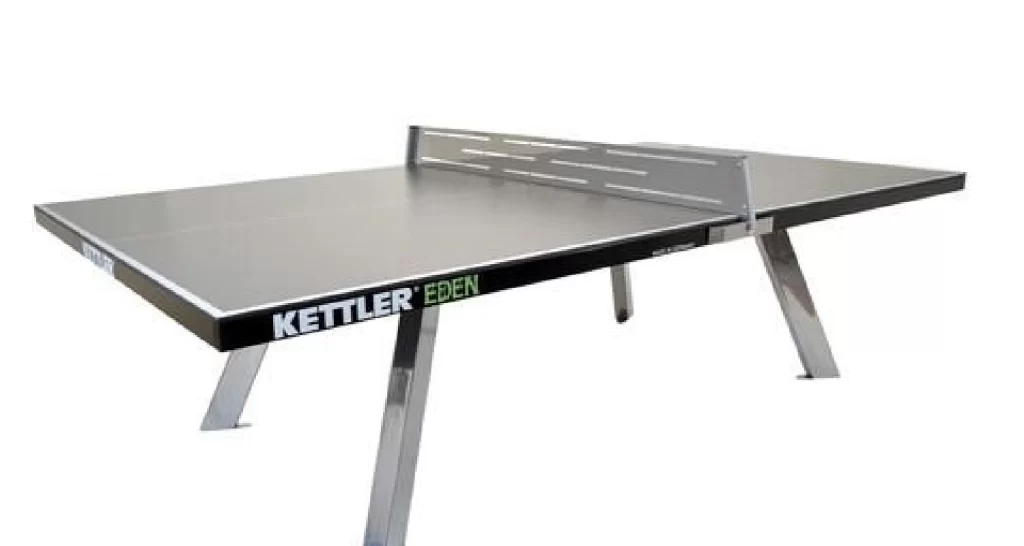 Check Price
When it comes to finding the best ping pong tables for the garage, Kettler Eden Outdoor ping pong table is a top contender. Its unique design and heavy-duty construction make it an excellent fit for any outdoor space, including your garage, backyard, patio, or poolside area.
Unlike many outdoor table tennis tables, it is not made with a simple surface coating to resist elements. Instead, it is built with a solid concrete playing surface that is weather resistant, so you won't have to worry about it getting damaged if left outside in the rain.
The galvanized steel legs are the pride of the Kettler Eden Outdoor table, which provides a solid base for the table while ensuring stability on uneven surfaces. Thankfully, it's easy to assemble and makes you say goodbye to the long hours you would have to spend figuring out how to put any other table together.
Once set up, it provides excellent playability and uniform bounce making it a great value for the money.
Our Rating: 4.7/5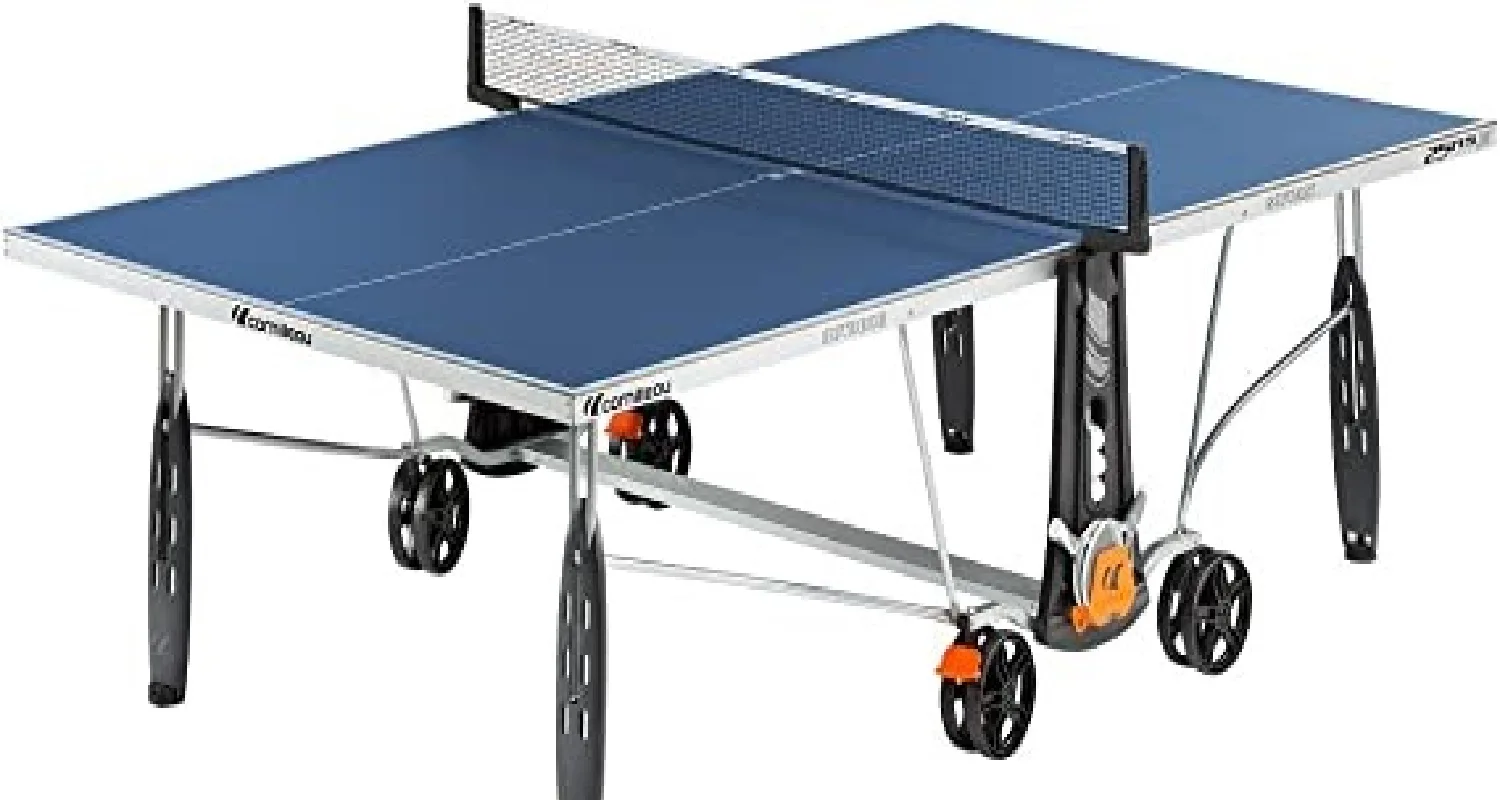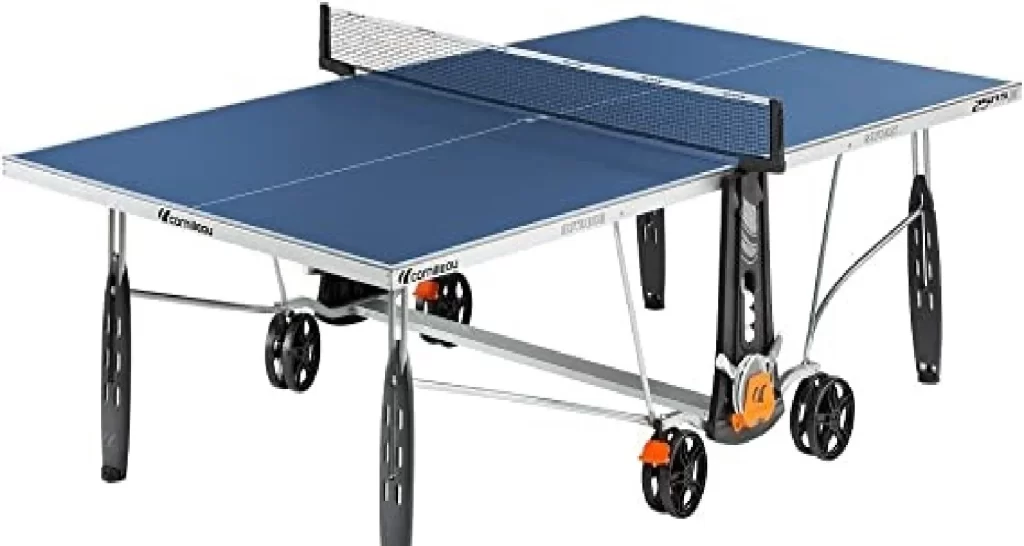 Check Price
If you are looking for a top of line table tennis table for the garage, then Cornilleau Sport 250S Crossover Outdoor ping pong table is truly a masterpiece in this regard. Its spectacular features and top-notch construction is what sets it apart from other tables in the market.
One of the most significant features of this table is its 5 mm thick laminate table top that is weather resistant and can handle even the toughest outdoor conditions making it an ideal option for garage use.
The supremacy of its rust-proof frame has a separate fan base. It is made up of a strong mixture of aluminum and zinc alloy, called aluzinc, which ensures long-lasting durability.
Thanks to its easy folding mechanism, it can be folded in seconds, even by kids. Moreover, the table comes with 16 automatic locking points along with 4 double wheels under each leg to ensure your safety and provides a consistent playing experience even on bumpy roads.
The biggest perk of Cornilleau Sport 250S Crossover Outdoor table tennis table is that you can store the table without removing the net and post set, which saves your time and makes setting up and putting away the table without any hassle.
Our Rating: 4.9/5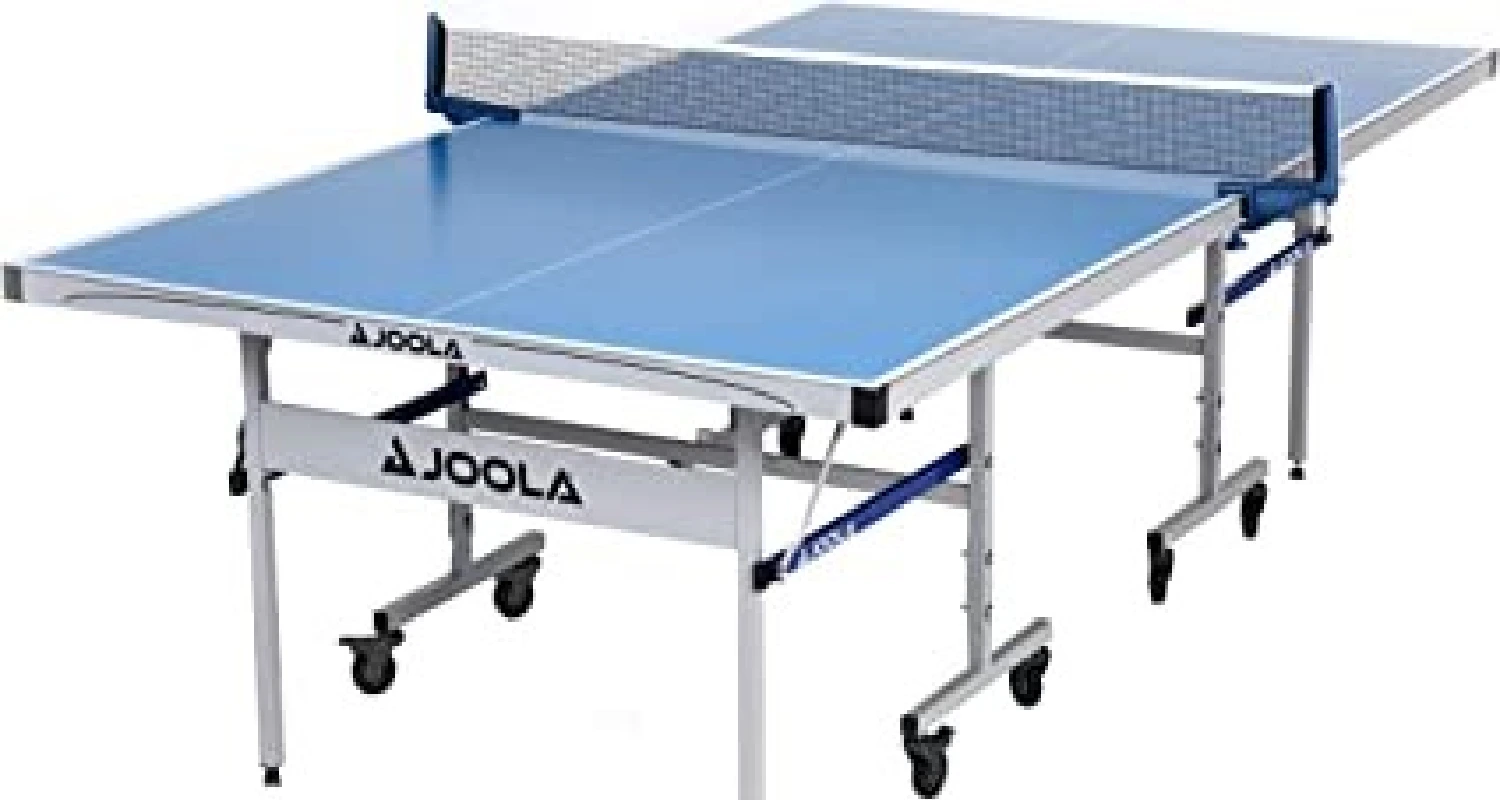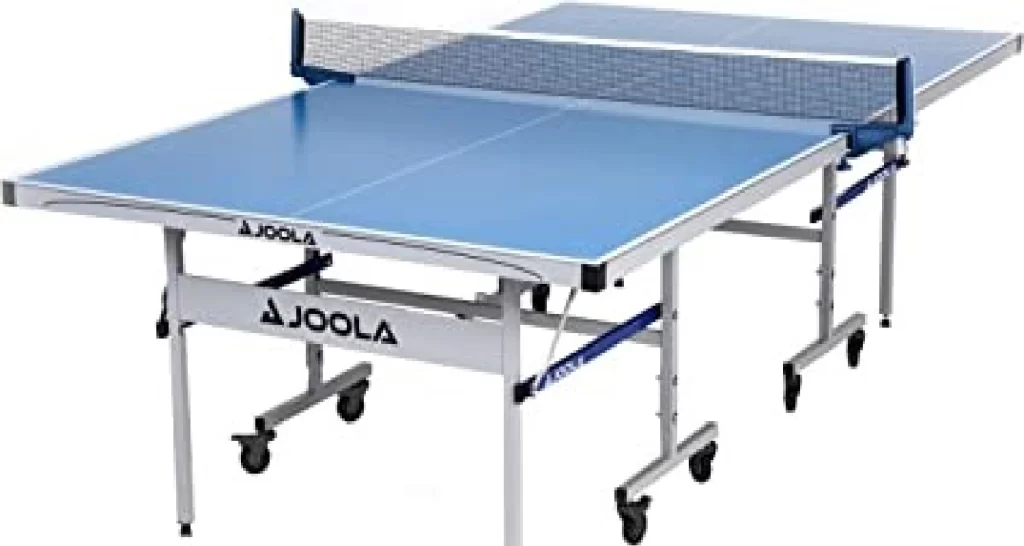 Check Price
JOOLA NOVA DX outdoor table tennis table is an impressive beast that can survive unpredictable weather elements in your garage like a pro. With its sleek design and top-of-the-line features, JOOLA NOVA DX is ideal for players looking for a serious upgrade.
This table boasts a composite aluminum top that guarantees high-end performance providing utmost control of your shots. The table comes with adjustable legs that make it a child's play to customize the height of the table to meet your needs.
Not to mention, JOOLA NOVA DX offers two color options, blue and gray, to add a vibrant, serene, and neutral touch to your outdoor space. The table is designed with convenience in mind and folds effortlessly into ultra-compact storage positions in seconds when not in use.
Its built-in net and post set ensures you won't have to fumble around with clumsy attachments to cater to a seamless and professional experience.
Our Rating: 4.8/5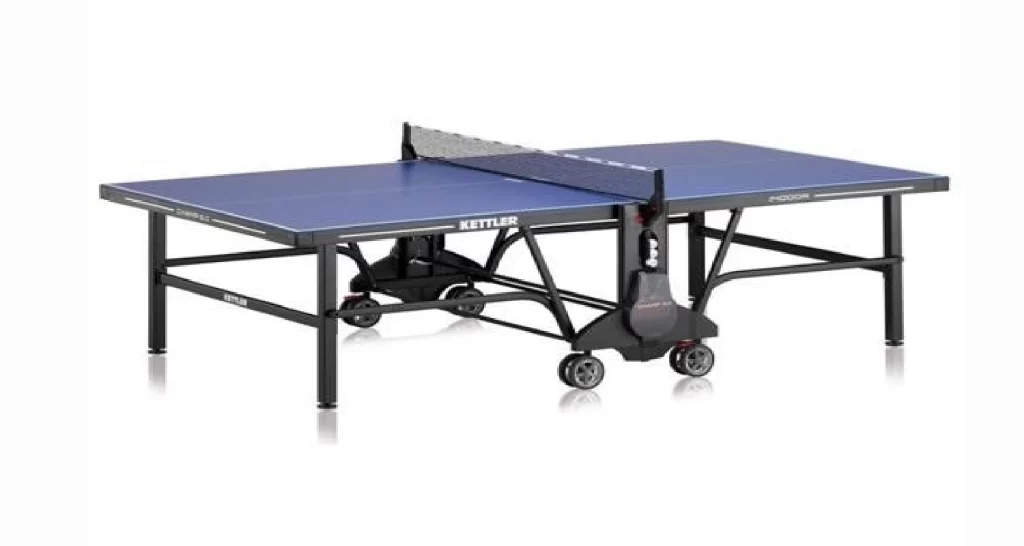 Kettler Champ 5.0 is an outstanding addition to any space, with its promising features that make it stand out as a top choice in the best ping pong tables for the garage. One of its most renowned features is its safe fold mechanism that eliminates the hassle of pulling and pushing the table, especially when encountering bad weather.
Its dual lock safety feature ensures the table stays securely locked in both playing and storage positions. With its 22mm thick aluminum table top, this table provides a consistent bounce allowing for professional-grade gameplay.
Furthermore, it comes with a weatherproof frame accompanied by 2 inches-thick corrosion-resistant legs; it would not be wrong to call it an iron man of the ping pong world. Keeping a long story short, Kettler Champ 5.0 is a complete package that any professional or recreational player dreams of.
This golden package includes swivel wheels and floor levelers that make it easy to maneuver, an adjustable post net system, and 1-year long warranty. Overall, Kettler Champ 5.0 is like a dream come true for those looking for the best ping pong tables for the garage.
Frequently Asked Questions (FAQs)
What should I look for when selecting a ping pong table for my garage?
When looking for the best ping pong tables for the garage, always consider the size, thickness, humidity, and ease of maneuverability. Ensure that the frame is robust enough to handle the rigors of outdoors and that the table top is smooth enough to provide consistent gameplay without getting affected by elements.
Additional features such as playback mode and adjustable legs are a plus point. However, your budget and personal preferences should still be a priority.
Can I use an indoor table tennis table for my garage?
Yes, you can use indoor table tennis tables for your garage but make sure it is for a short period. Ensure that it is not exposed to direct sunlight and is protected from other elements, such as rain.
You will be obliged to give extra care to the table. Therefore, we recommend you go for the table designed to be used outdoors in the first place to avoid any inconveniences.
How do I maintain my ping pong table?
Try your best to keep your ping pong table clean and away from moisture as much as you can. Cover it when not in use and store the table in a climate-controlled area if possible. Avoid leaving the table in sunlight and keep checking the bolts and screws regularly to ensure they are tightly secured.
How much space do I need to accommodate a table tennis table in my garage?
A standard size ping pong table of about 9 by 5 feet requires plenty of space for you to play table tennis comfortably without making you feel congested. Therefore, you'll need at least this much space for the table to function efficiently.
However, if you want to move around the table and have room for the spectators, then more space would be required.