Conversion tops are an ideal choice for modern living as they save space and feature a quick setup. Harvil's conversion top is one such setup that can help you convert any existing table top into a properly functioning ping pong table.
This conversion top promises a high-quality setup that would create an uncluttered area for you to play, without sacrificing any additional space.
This is designed to not cause damage to your existing table, while setup or during the game. It comes with a complete setup manual and accessories and is therefore fairly easy to install.
Conversion tops are an efficient and practical way to amp up your gaming room and this one promises quality and ease. Let's dive into its specifications to know more about it in order to help you decide if this is ideal for you or not.
Harvil's Conversion Top Specifications
Our Rating: 4.8/5.0
Price: $$$
Type: Indoors
Weight: 101.38 pounds
Dimensions (after setup): 108 x 60 inches (length x width)
Material: Fiber Wood + EVA foam padding on the underside
Color: Blue
Warranty Time: 90 days
Accessories: Complete accessories including net and metal posts
What to Expect?
Harvil is a famous, US based company known for manufacturing game tables including air hockey, football, shuffleboard and ping pong tables. Keeping in line with Harvil's good reputation, we expect this product to be of good quality with ease of use.
Your playability must not be affected and it must give you the same experience as a standard ping pong table. Let's see if Harvil's table tennis conversion top ticks all boxes.
Elite Construction
Harvil's Conversion Top features good workmanship. It is sturdy, well-build and well-painted. It is good in terms of appearance as well, and would light up your garage or any empty space.
This table top is made of dense fiber wood featuring EVA foam padding (located at 8 different places) which prevents skidding and sliding, protecting your existing tables from chipping and scratches. Its available in a cool blue color with a white logo.
Sponge rubber strips cover the already bent edges which saves your furniture from damage and protects you from getting an injury. It is also multifunctional and can be used as a dining surface or for other games such as cards or chess.
Business Integrity
A surprising element about Harvil is the fact that this conversion top comes with a net and metal posts, something which most conversion tops lack. The company also offers a full refund in case you are not satisfied with the product, which says a lot about company integrity.
You will be reimbursed in case you find any defected, damaged or missing part. Assembly is also offered by the company with an additional fee, with free repair of damage during the 90-day warranty period.
Storage
Conversion tops are much lighter than regular tables and can be folded in half. There are some standard tables available in the market that can also be folded and stored. However, they still take a lot of additional space to be set up.
Harvil's conversion top comes in two halves and can be stored easily, since setting it up and putting it away doesn't require much hassle.
Who is this for?
Harvil's conversion top is for any user who is looking forward to a versatile, space-saving conversion top that doesn't require additional space to be assembled. You must have the dimensions of your existing table with you while purchasing this top.
It's also important to know that this top is heavy and cannot be assembled alone. Since it requires at least two adults to set it up, it is for people who have help available to them. Additionally, this top is suitable for not only training but also competitive matches.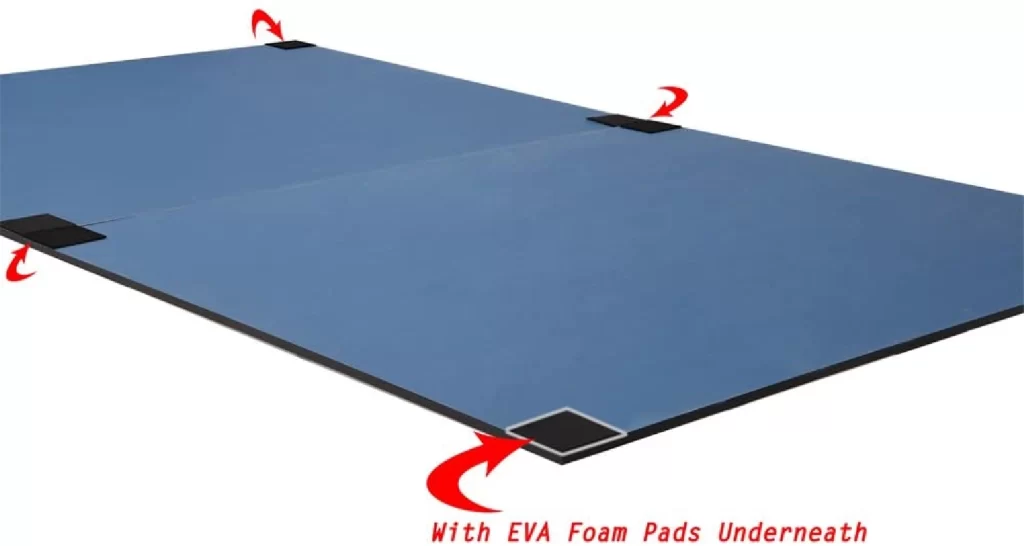 Pros
Durable and Sturdy
Harvil's conversion top is designed to offer multiple uses, which means you can eat, work and play on it at the same time. Dense wood fiber is sturdy enough to withstand moisture and sustain damage.
Moreover, this material is easy to clean as well, which means water and a soft fabric will do the trick without damaging the surface.
Affordable
Although it's not cheap, Harvil's conversion top is relatively affordable. Even if you have been looking for a standard ping-pong table, buying this conversion top instead will save you a lot of money since it's way cheaper than a full fledged ping pong table.
Bounce
A very distinctive feature of this top is the gratifying bounce it provides at every hit. The bounce that Harvil's conversion top produces is on par with high-end ITTF ping-pong tables. Moreover, it provides consistent and even bounce.
Stability
Harvil's Conversion Top is not only sturdy, durable and easy to maintain, it is also stable. This means that when fixed on the table, it wouldn't budge even if you put your hands on it.
Each padding piece is approximately 3.4 inches thick, making it steady, thus suitable for an offensive play.
Easy Assembly
The setup comes with a manual and you can assemble it with a buddy in 10 minutes. The manual is easy to understand so it would be a quick setup if followed properly.
Since it's complete with all the additional accessories, following the manual will set it up without any hassle. All you need are paddles and ping-pong ball and you are good to play.
Cons
Heavy Weight
Harvil's Conversion Top weighs 101.38 pounds which is approximately 46 pounds. This makes it heavier than most conversion tops available in the market, which means that it is not portable and impossible to be installed by one person.
Therefore, even if assembling and setting up is easy, due to its heavy weight, this top requires two to three people to set up and store every time you use it.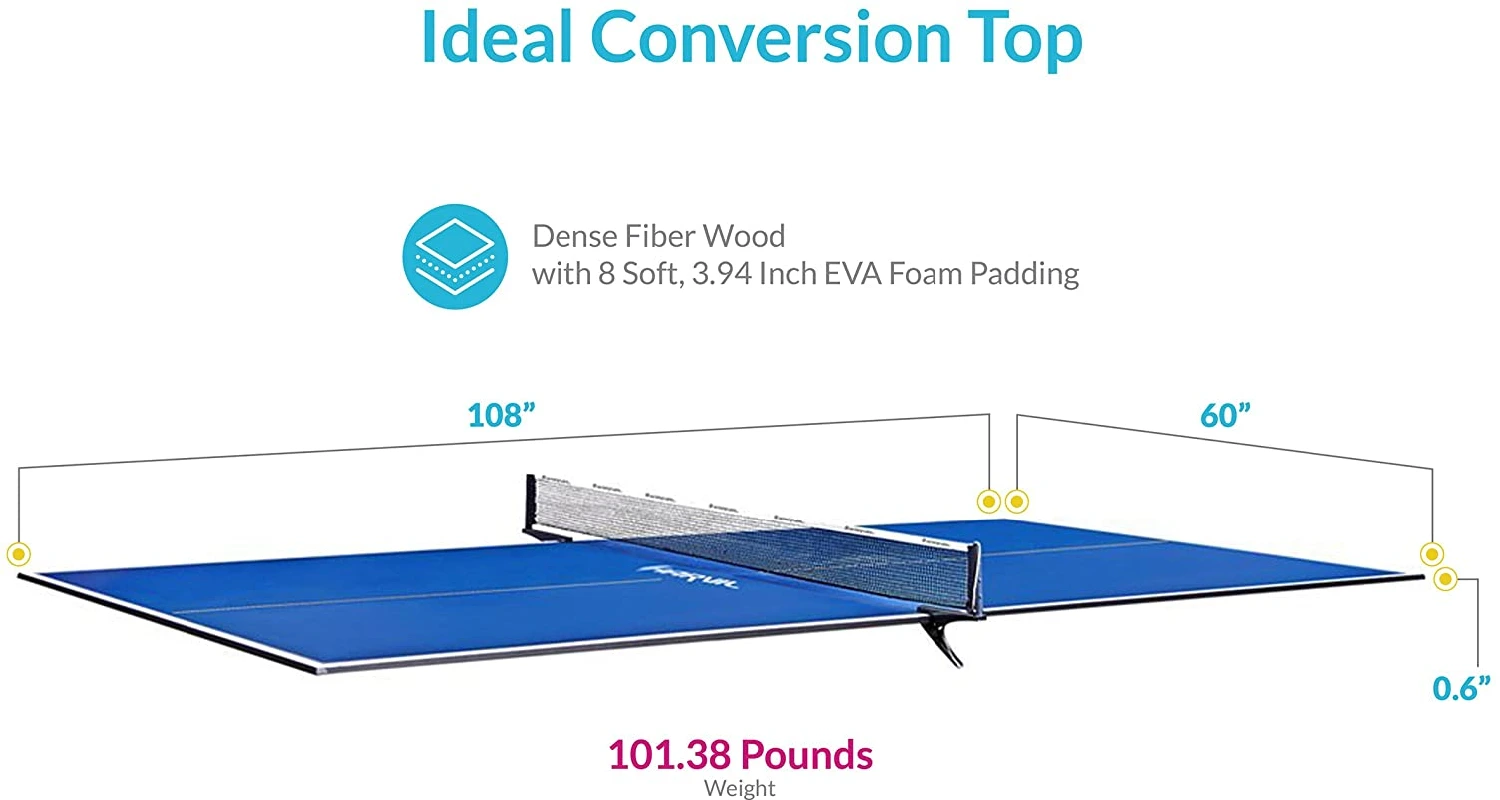 Our Rating: 4.8/5.0
If you are looking for a US manufactured, high-quality conversion top that is versatile and multifunctional, we highly recommend Harvil's Conversion Top. No additional space is required to set it up, and assembling/storing it is very easy.
It is an elite construction, that is not only good in terms of appearance but also durable and easy to clean. Elegant cool blue color is bound to revamp your space. Additionally, it can be assembled very easily and on any surface that matches its dimensions.
It also produces a satisfying, professional ping pong table worthy bounce. This table top is affordable and comes with all the important accessories. The only downside is its heavy weight, which makes setting up and storage challenging.
Conclusion
Conclusively, Harvil's Conversion Top is an ideal choice for users who want to use their conversion top for different surfaces and various occasions. It comes with a manual and has complete accessories so that you can quickly set it up and are ready to play.
This top is high-quality in a good price and will sustain damage and moisture. It is easy to clean and maintain as well. One drawback is the fact that it weighs more than most tops available in the market so you might need help setting it up.
Overall, we highly recommend this top due to its good quality, affordable price, ease of use and convenient maintenance.