Ping pong is a sport that blends strategy, precision, and athleticism, creating a powerful fusion that has become a lifelong passion for millions worldwide. With many options flooding the market, it can be awfully exhausting to filter out the right table that perfectly suits your needs.
You can rely on the Kettler ping-pong tables that scream elegance, performance, and durability.
These tables provide unparalleled bounce consistency and classy designs that fit your recreational spaces or competitive arena seamlessly. But, again, you'll need a good amount of research to get your hands on an ideal Kettler table tennis table.
Fret not; we've done the review job for you. We have carefully curated a list of top Kettler tables at a decent price, ensuring that when you play your next game, it's nothing short of perfect. Let's get straight into it.
KETTLER Cabo Outdoor Table Tennis Table – Best Outdoor table
Our Rating: 4.2/5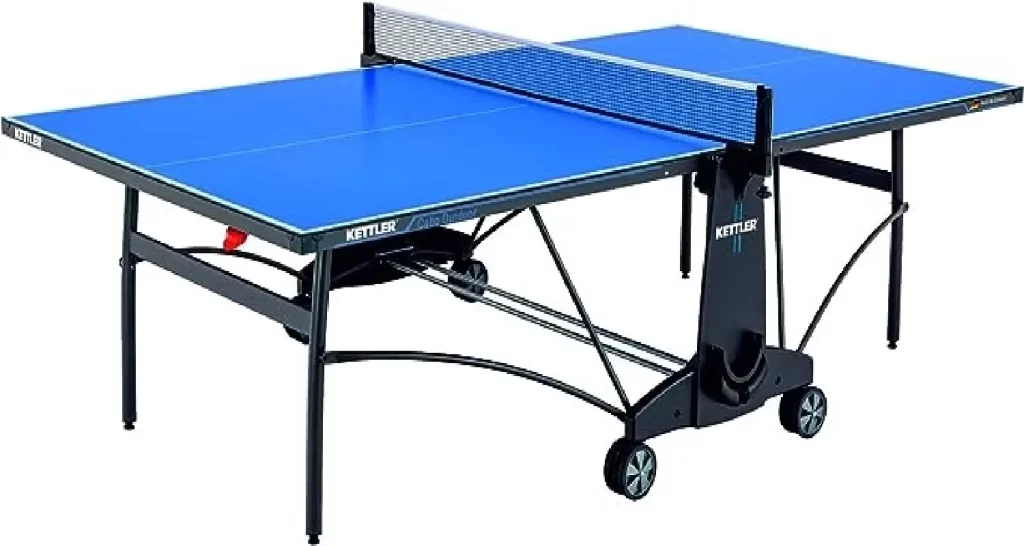 Kettler Cabo outdoor table tennis table is a stylish combination of design and functionality, perfect for ping pong lovers seeking to level up their outdoor table tennis skills.
The Kett-Tec5 weatherproof table top offers ideal ping pong ball bounce making this Kettler outdoor table stand up to varying weather conditions, making it durable for years to come. It works great to play with friends and family outside the house.
Moreover, its unique features, like dual locking systems and Smooth Trax, elevates its functionality and make it easy to open and close the table sides. Its leg-integrated floor levelers help to stand them stable on uneven surfaces, and the built-in storage compartment ensures that your paddles and balls are always within reach.
Made in Germany, this tournament-size table tennis table offers an incredible ten-year warranty at a decent price.
It comes with a 2-player set with items including 2 Halo outdoor table tennis paddles, six balls, and a heavy-duty protective cover. This quickly accessible stock assists you in saving your visit to the store and gets you started right away.
Our Rating: 4.8/5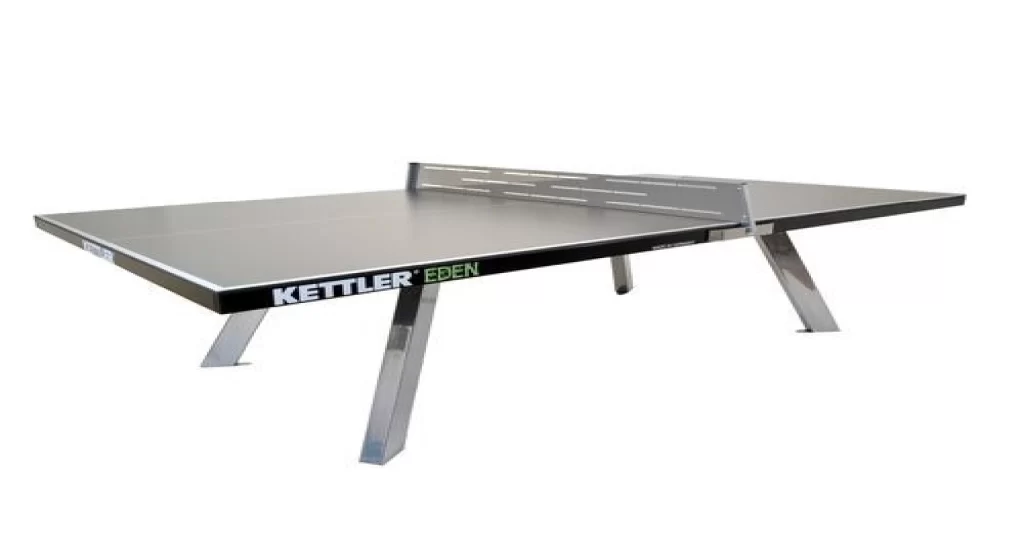 Meticulously crafted with top-notch materials, Kettler Eden outdoor table tennis table is a robust masterpiece ideal for homes, parks, game rooms, and hospitality purposes.
It is equipped with a Kett-tec10 composite playing surface featuring 10mm melamine and an exceptionally weatherproof anti-glare coating that promises authentic ball rebound, elevating your gameplay experience.
What sets this Kettler outdoor table tennis table apart is its dual functionality as it quickly transforms from a fierce match setting to a dining table with its net removed.
The 2 inches galvanized tubular steel frame and 4 inches rectangular legs with powder coat finish impart a sophisticated look to the table and ensures that the table stays steadfast against outdoor elements.
Its price might feel a bit higher, but its spectacular features and performance do justice to the price. You must keep your eyes on discount offers to save shipping charges and get this fantastic table at the best possible price.
KETTLER Outdoor 10 Table Tennis Table – Best Value
Our Rating: 4.8/5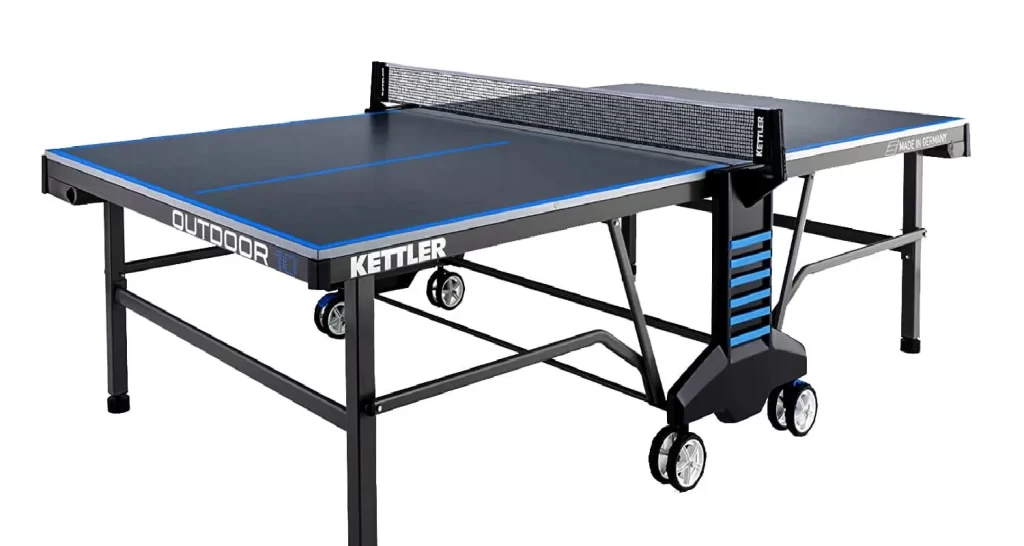 Kettler Outdoor 10 table tennis table is built to assist professional players and combat outdoor conditions.
The table boasts a climate-proof Kett-Tec8 true bounce playfield tabletop and provides consistent gameplay. Its centerfold safety design with a permanent post-net system guarantees utmost stability minimizing the hassle of setting up.
Supported by a heavy-duty, powder-coated undercarriage, Kettler table tennis tables promise long-lasting durability.
The table allows you to practice solo with its playback mode and come with compact storage and leg levelers to bring ease and efficiency to your gameplay. Instead of a 2 player set, it provides stock for four players, including four ping pong rackets and 12 balls.
KETTLER Junior Mid-Sized Collapsible Indoor Table Tennis Table- Budget Friendly
Our Rating: 4/5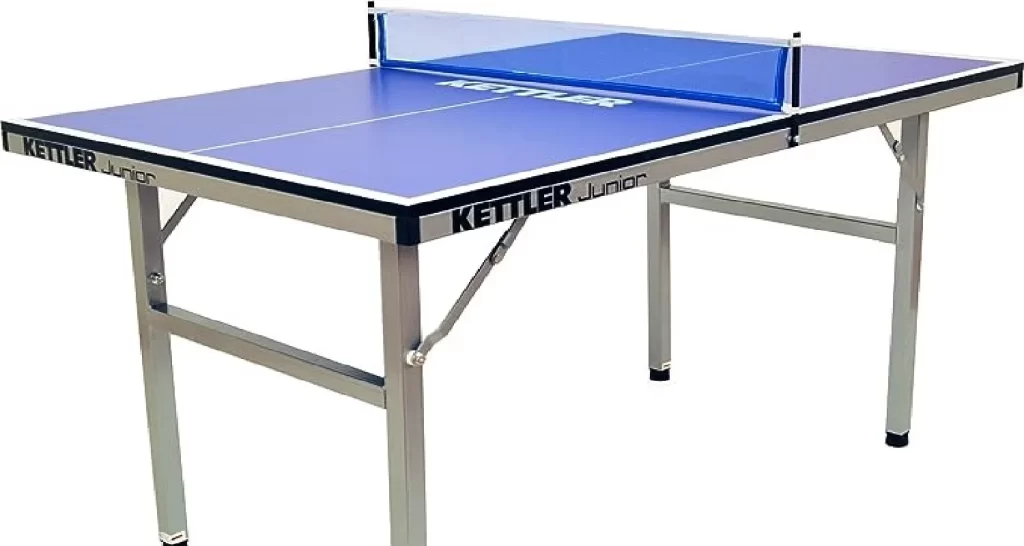 Regarding young ping pong enthusiasts and close spaces, Kettler Junior mid-size table tennis table is the finest option you can opt for. Weighing 48 pounds and measuring 50″ L x 30″ W x 27″ H, this table tennis table is designed to fit in compact spaces comfortably.
Thanks to its 15mm thick, robust playing surface, the Kettler ping pong table offers an immersive playing experience despite its small size. Another noticeable feature of junior Kettler tables is their adjustable floor levelers that cater to a level playing surface for fierce matches.
Plus, their foldable legs allow you to close it when done, promising easy portability and efficient storage, making it an excellent option for any indoor recreational area. The best thing? It comes at a very reasonable price.
KETTLER Indoor 10 Table Tennis Table- Best Indoor table
Our Rating: 3.9/5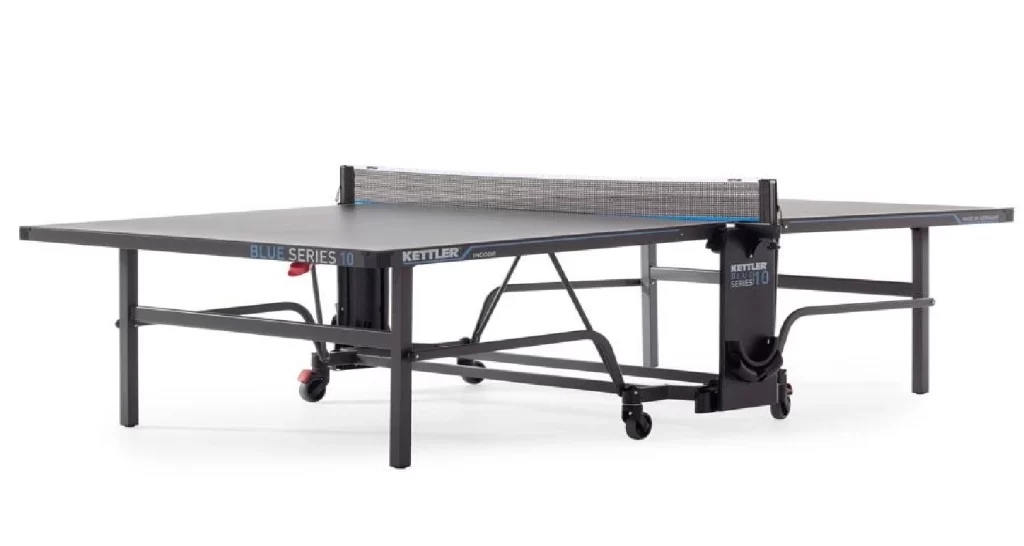 Kettler Indoor 10 table tennis table is a superior table boasting a scratch and fade-resistant playing surface with anti-glare finishing.
Its 1.75 inches steel apron and 2 inches square steel legs provide exceptional support, and the unique dual locking system ensures a convenient one-handed operation. A smooth track trax system makes it easy to open and close the table halves, and 5.5 inches of off-road tread wheels provide super smooth maneuverability.
The Kettler Indoor 10 regulation size table comes with ten years top and three years frame residential warranties. Other features include self-opening legs, a permanent net system, patented ball dispensers, storage compartments, and many more at a competitive price.
If you're looking for the perfect indoor Kettler tables for your game room or family gathering, this table can be the best deal.
Frequently Asked Questions FAQs
Where are Kettler table tennis tables made?
Kettler tables are made in Germany, having a strong and long-lasting reputation for producing top-tier outdoor and indoor sports equipment. Their stock is renowned for their exceptional quality, precision, and durability showing the top-class German craftsmanship and engineering.
How much does a Kettler ping pong table weigh?
Kettler offers a multitude of ping pong tables, and so their weights can vary based on their model, materials, and features incorporated into them. Generally, the weight of Kettler tables can range from 100-200 pounds as their outdoor weatherproof models are supposed to be heavier for their heavy-duty construction, durability, and stability.