Have you ever been in an intense ping pong match and you are about to win, but in no time, the game gets interrupted by the sudden rain or gusts of wind ruining all the fun?
That makes sense because standard table tennis tables are not designed to withstand the unpredictable nature and deal with elements. However, what if you could place ping pong outdoors without worrying about variable weather conditions?
Outdoor ping pong tables are specifically designed for this purpose and offer incredible durability against irregular weather conditions all year round while ensuring optimal gameplay. But, with a myriad of options available, choosing the right table that suits you the best can be a daunting process.
Fret not, we have done the heavy lifting and have compiled some of the best outdoor ping pong tables reviews that will help you to choose the ideal option for you. Let's dive in!
Our Rating: 4.9/5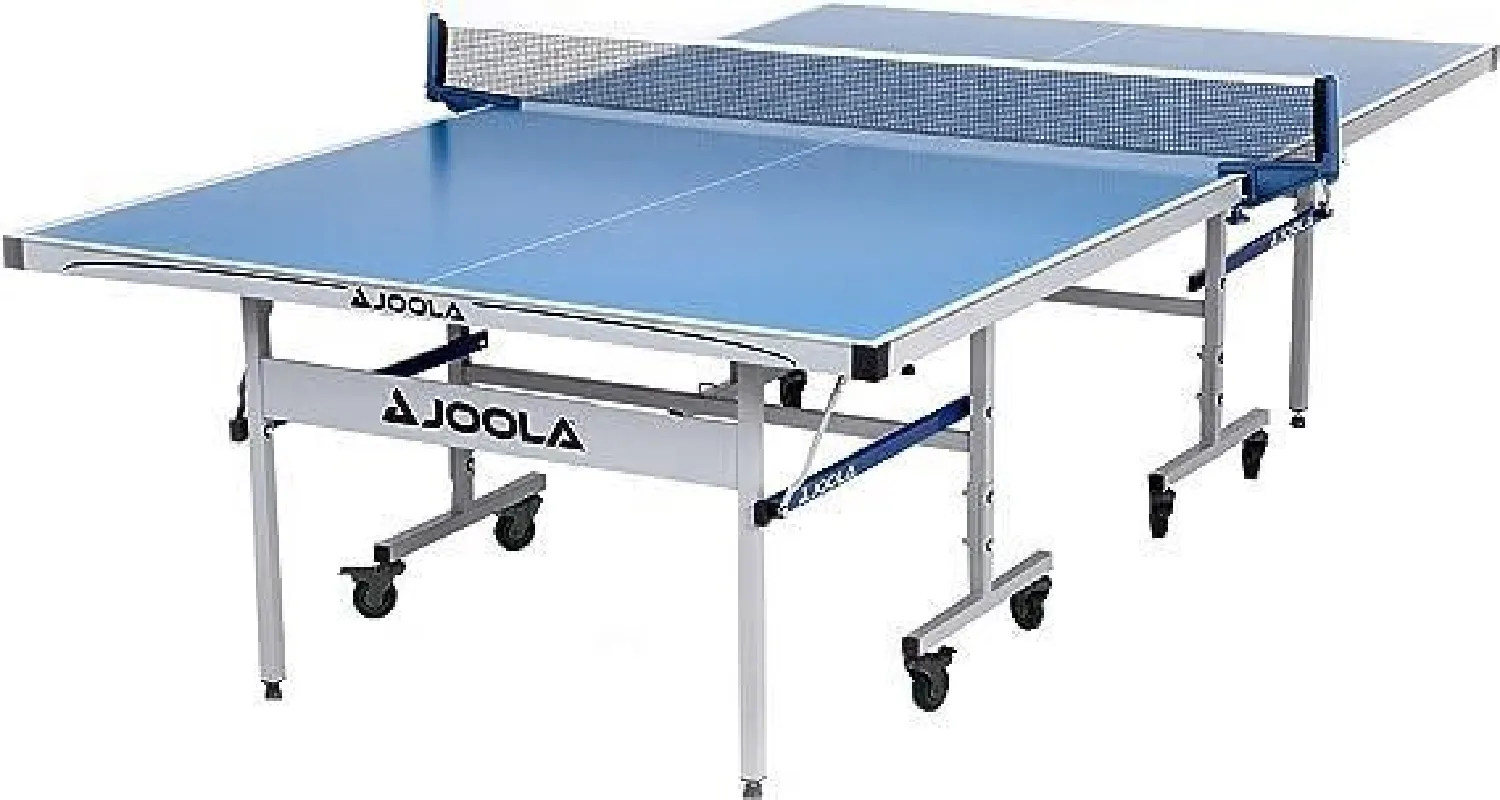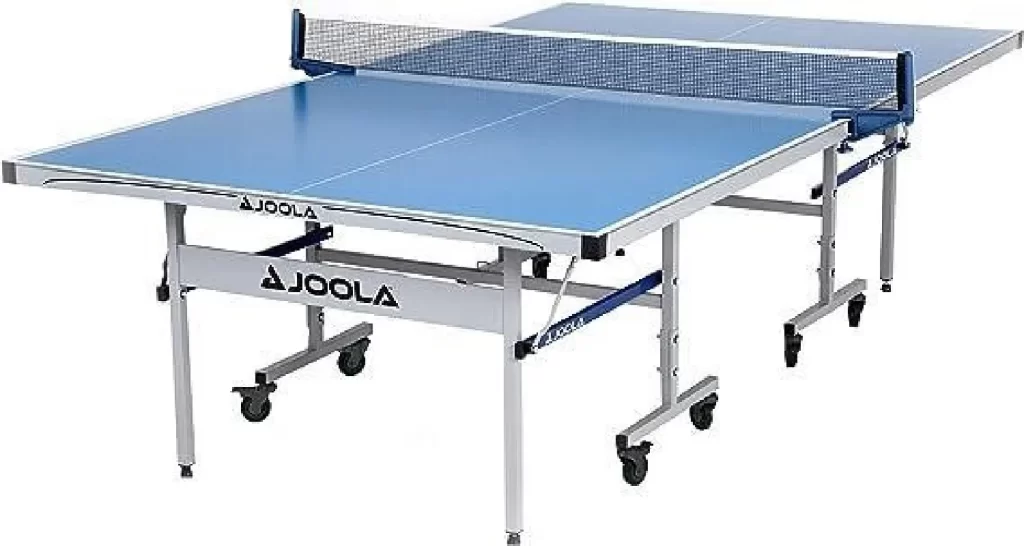 JOOLA NOVA DX is one of the top outdoor table tennis tables perfectly tailored for those seeking both durability and versatility. Specifically designed for both indoor and outdoor use, this table is made to withstand inconsistent weather conditions all year round.
The playing surface is crafted with a robust 6mm thick aluminum composite, ensuring resistance from chipping and warping.
Moreover, it is supported by a 30mm x 30mm rust-resistant, powder-coated undercarriage and weatherproof net post set, which promises durability and optimal performance.
Apart from the sturdy construction, the outdoor ping pong table is the epitome of design and functionality. JOOLA NOVA comes with two table halves, with each part sitting on a four-double wheels trolley system, making it a breeze to maneuver.
Its solo playback mode is ideal for solo players, allowing for optimum practice sessions without any partner. Regarding setup, the table comes 95% preassembled, requiring merely 15 minutes to get the game started.
For those concerned about its outdoor stability, its heavy-duty 3-inch caster wheels, adjustable leg levelers, and automatic anti-tilt locking devices which is an important feature for outdoor tables, guarantee secure gameplay and compact storage.
It is half the price of more expensive models but provides superior playability.
Our Rating: 4.9/5.0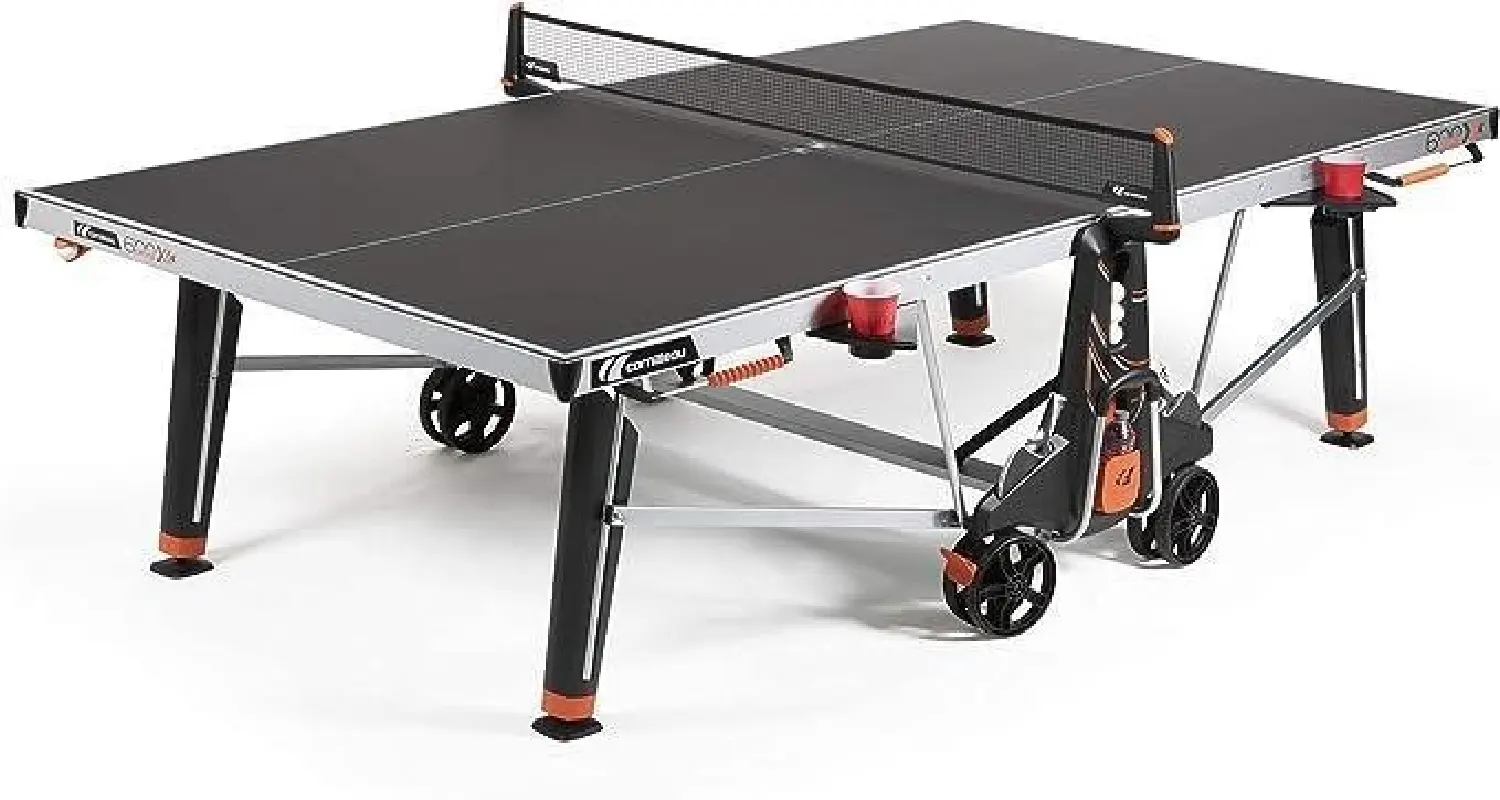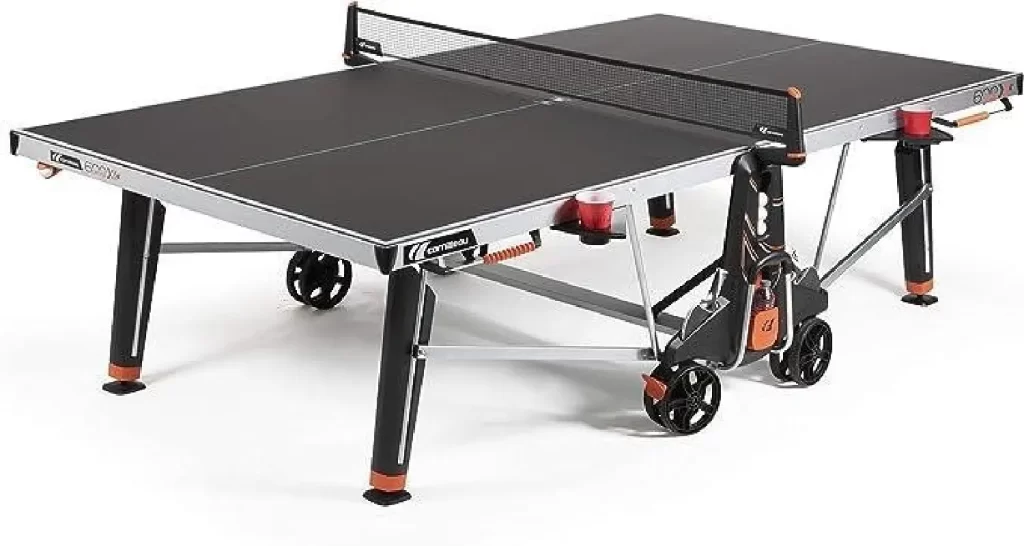 Elevating the standards of outdoor table tennis tables, Cornilleau 600X sets a new benchmark, offering an exquisite blend of aesthetics and durability. Its 7mm black resin laminate, anti-glare playing surface, and scratch-resistant steel frame capture attention at first glance and provide top-notch performance. However, there's more than meets the eye.
Featuring 120 x 80mm sturdy tapered legs and 3D adjustable feet, this outdoor ping pong table stands firm on rough or uneven surfaces, keeping the game smooth and uninterrupted. Thanks to its four sets of large 200mm double wheels equipped with brakes, the table ensures effortless transportation from one place to another.
Furthermore, the gameplay is further elevated with ABS retractable net and post set, which allow you to customize the tension and height of the net based on your preference.
It also comes with solo playback mode and provides many perks such as corner protection pads, bat and ball storage, cup holders, point scorers, ball dispensers, and much more, making your life easy and doubling the fun.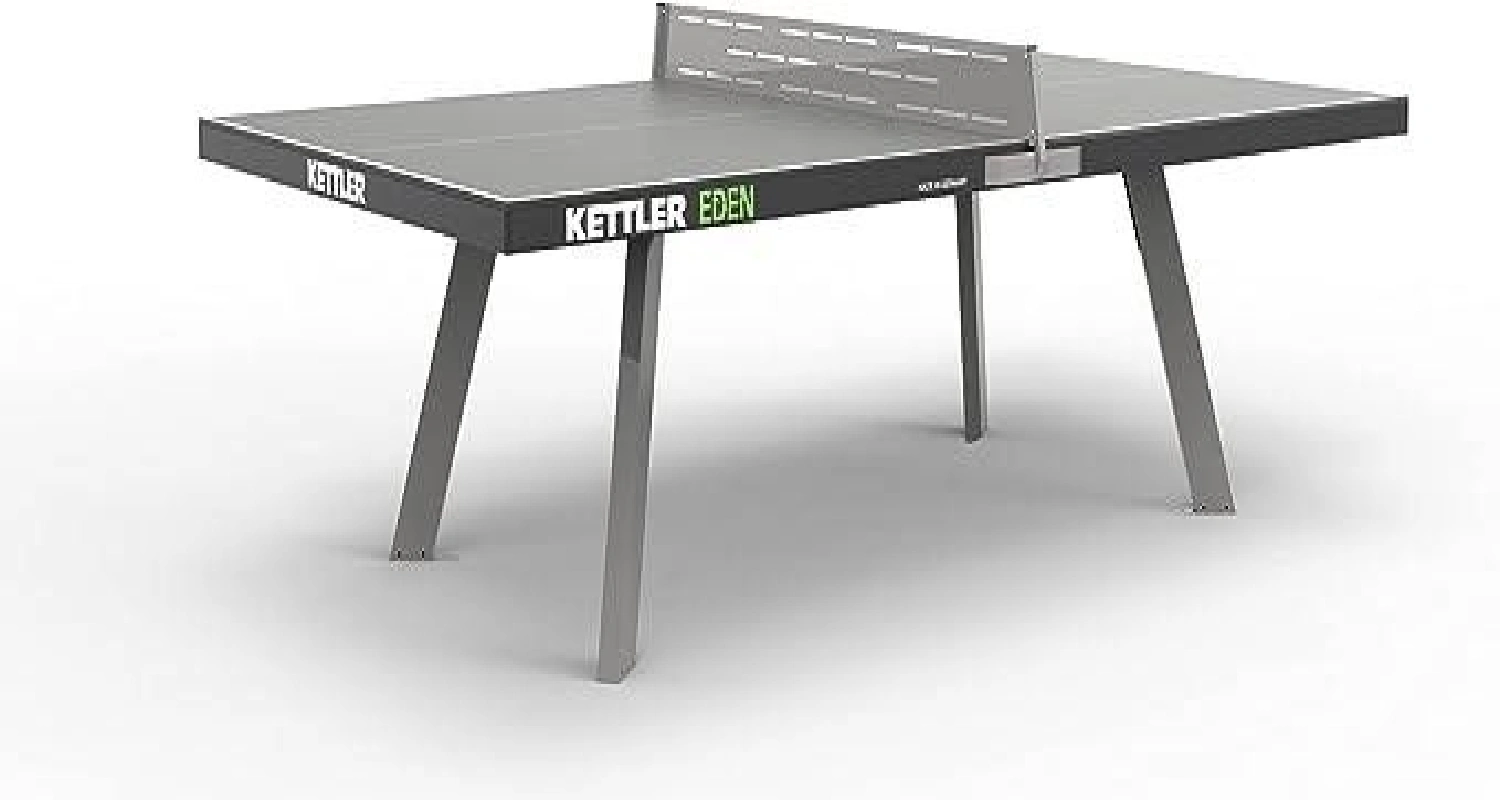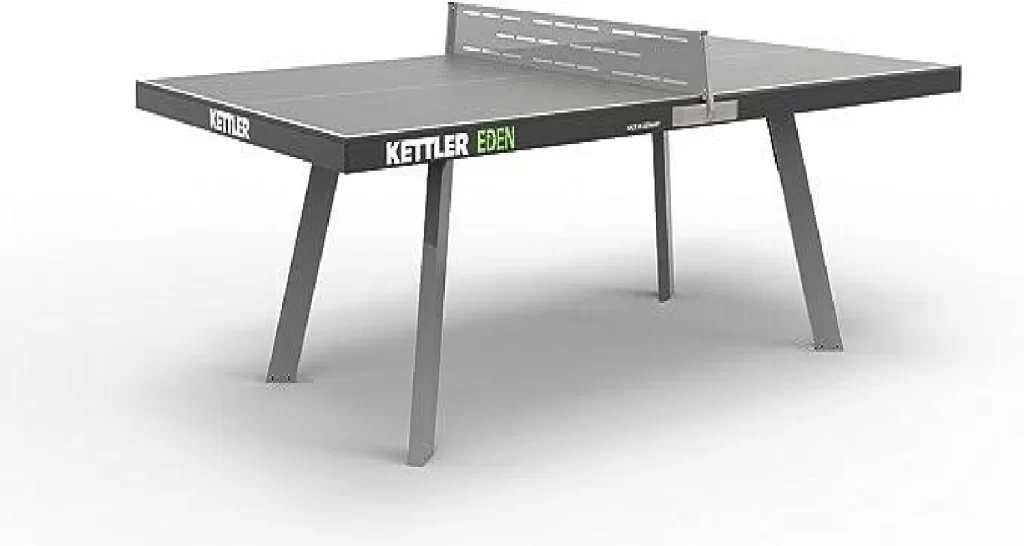 Our Rating: 4.8/5.0
When it comes to the best outdoor ping pong tables, the Kettler Eden table deserves to be on the front page. This heavy-duty table tennis table is meticulously crafted in Germany. It is the finest blend of strength and sophistication, making it an ideal option for parks, homes, and recreational centers.
Featuring a KETT-TEC10 composite top, the table combats elements and guarantees true and consistent bounce.
The table's unparalleled performance is further enhanced by its anti-glare surface, and scratch and fade-resistant finish, boasting fully integrated play lines. Apart from its seamless playing surface, the table's undercarriage steals the show.
It is constructed with commercial-grade, 2.4-inch-wide rectangular steel tubes, which offer top-tier support to the entire structure. Adding to the convenience, this outdoor ping pong table comes with a fixed net system of galvanized steel that eliminates the hassle of fixing it every time you play.
If you are skeptical about performance, you can rest assured that the table's fully stationary design with a Ground Anchor Kit guarantees ultimate performance in all conditions.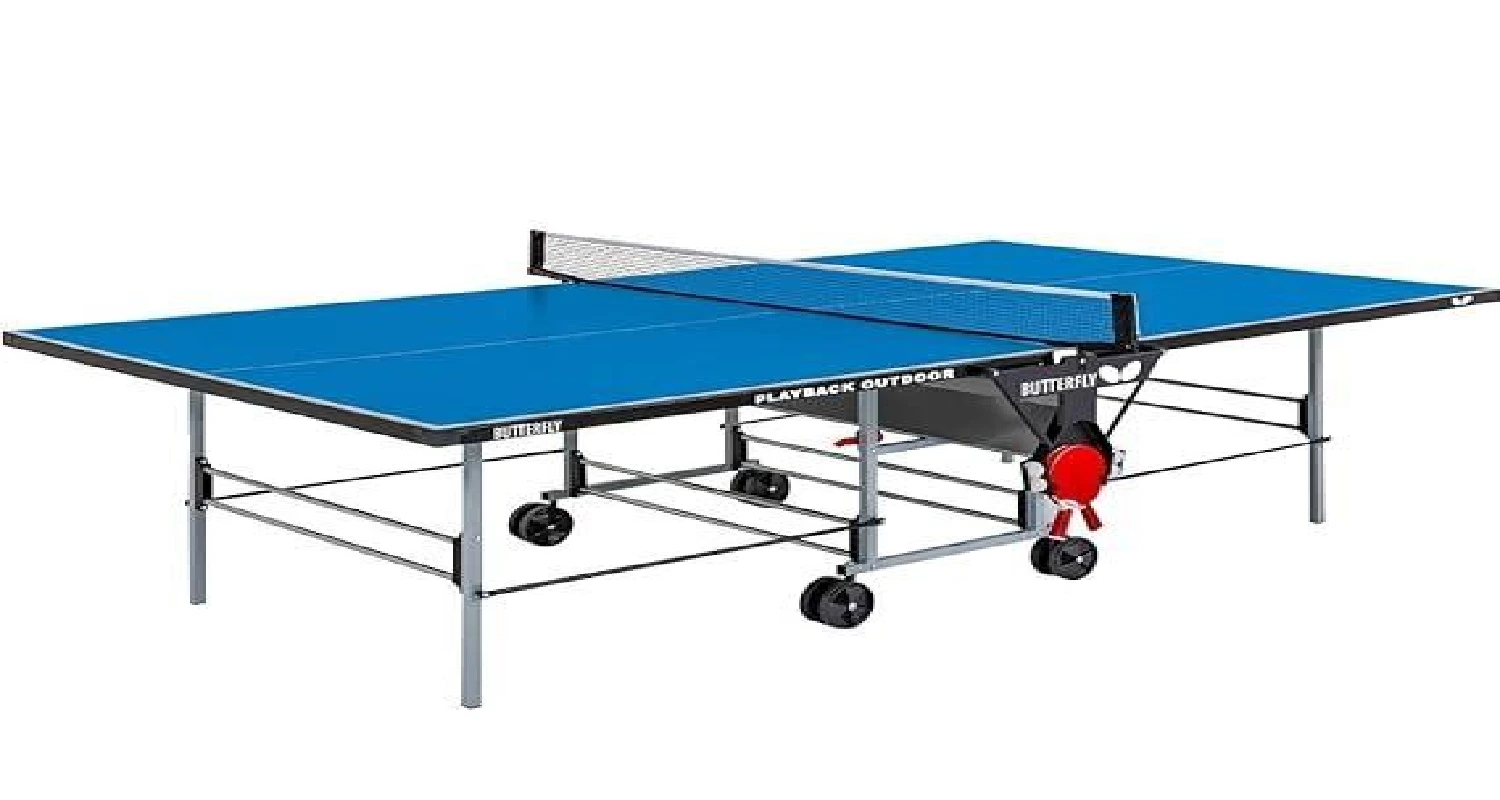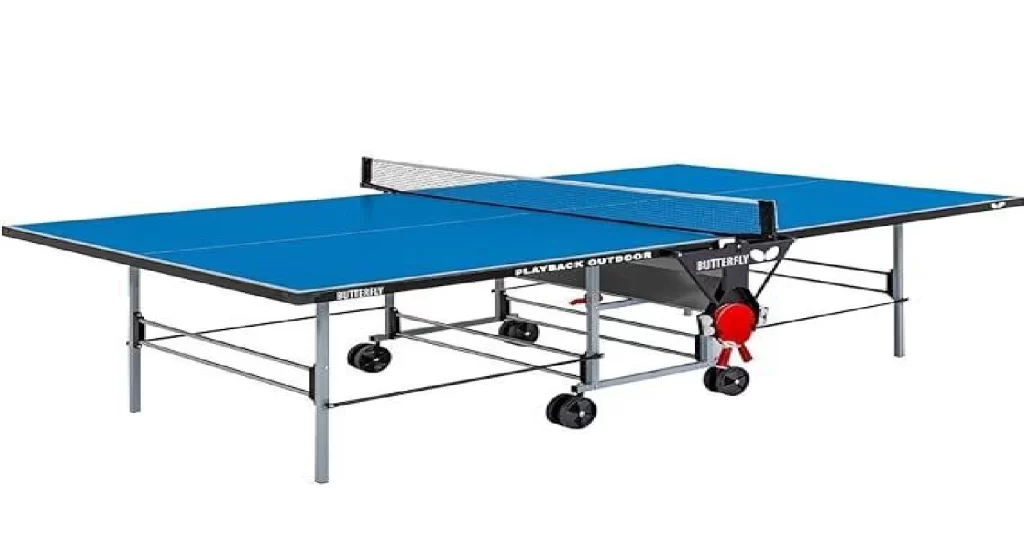 Our Rating: 4.7/5
Butterfly Playback Rollaway is a heavy-duty outdoor ping pong table with all the features tailored for ping pong players of all levels.
Crafted for outdoors, it comes with a regulation-sized 9×5 synthetic laminate playing surface that can withstand extended exposure to the elements, along with a rust-resistant, sturdy frame ensuring long-lasting durability.
One of its most important features is the 5-piece fold and roll design, which makes it super convenient to move the table to your desired location, making it an ideal choice for garage setups.
The outdoor table has a racket and ping pong ball holders on each side designed to accommodate two paddles and four balls, ensuring the equipment is always within your reach.
Moreover, the table is backed up by a 3-year warranty period on the frame and 10-year warranty period on the playing surface, which adds to its credibility. However, Butterfly rollaway outdoor tables lack the support of adjustable feet, which might pose challenges on uneven surfaces.
Considering all its important features, this table is a complete package for outdoor use that promises longevity and performance.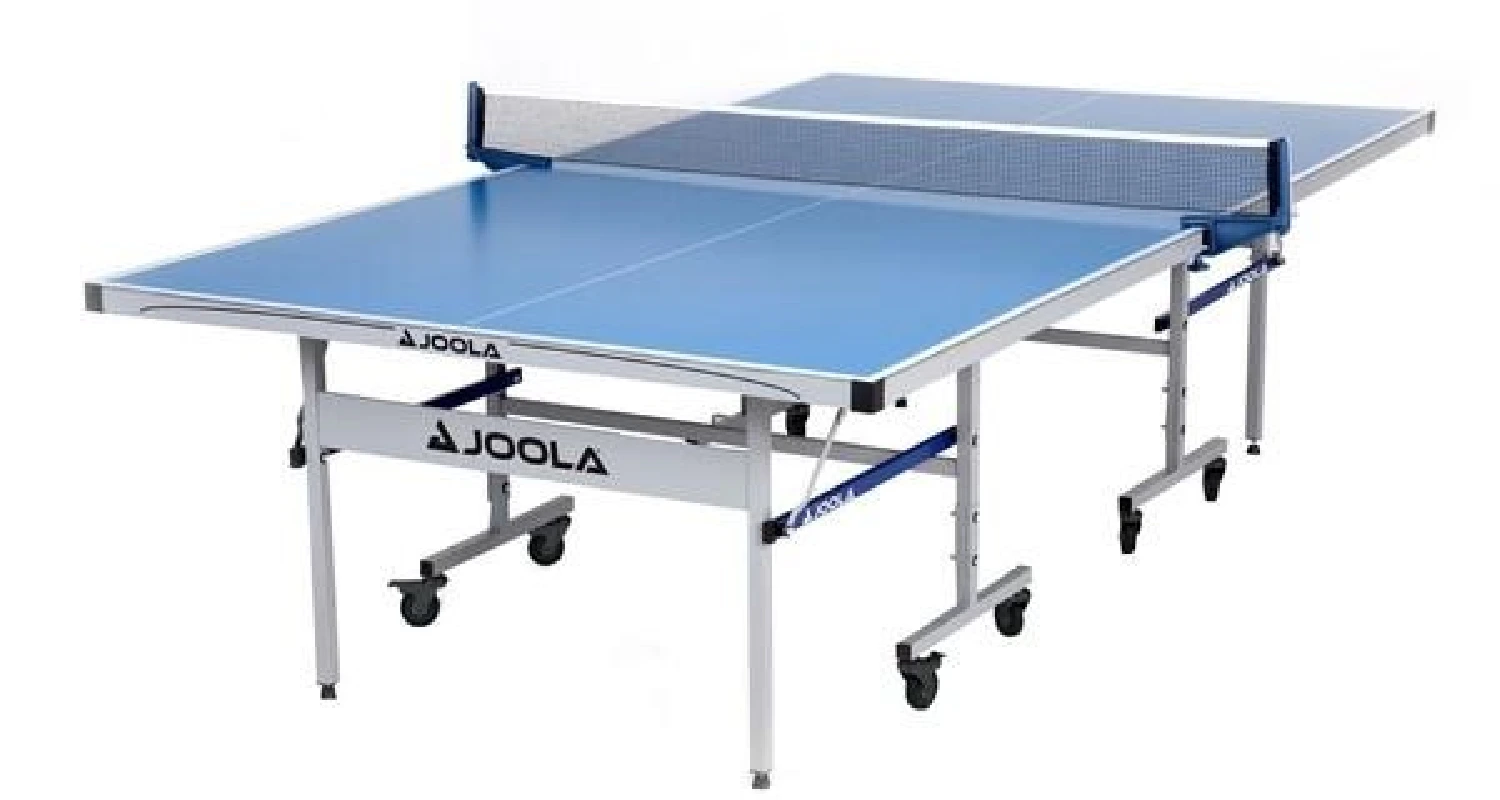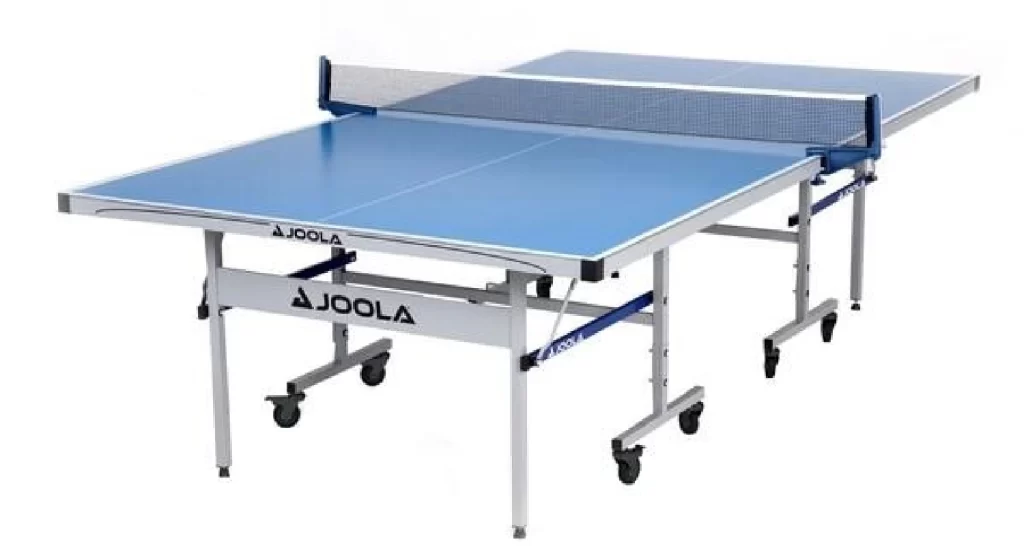 Our Rating: 4.8/5
If you are also a table tennis enthusiast seeking a versatile and reliable option to lean on, the JOOLA United Pro outdoor ping pong table might be the right option for you. Equipped with a 6mm plastic aluminum composite surface, this outdoor table is not just equipment but a commitment to unparalleled quality.
Moreover, its robust construction provides ultimate protection from warping and chipping of the table, promising smooth and consistent ping pong ball bounce even after using it for a long time outdoors.
Its 30mm x 30mm rust-resistant, powder-coated steel undercarriage, and adjustable leg levelers offer great structural support, ensuring a balanced playing surface even on irregular surfaces.
Since safety is paramount for the JOOLA United Pro outdoor ping pong table, it is bolstered by 3-inch locking casters and double anti-titling devices. It makes sure to avoid any accidental tilts and shifts of the table that could interrupt the game, causing potential harm to the player.
The whole table weighs over 160 pounds, which might be inconvenient for frequent movers. However, for those seeking professional gameplay experience, prioritizing durability, or planning to enjoy table tennis outdoors, this ping-pong table is the right purchase.
STIGA Vapor Outdoor/Indoor Table Tennis Table – Budget Friendly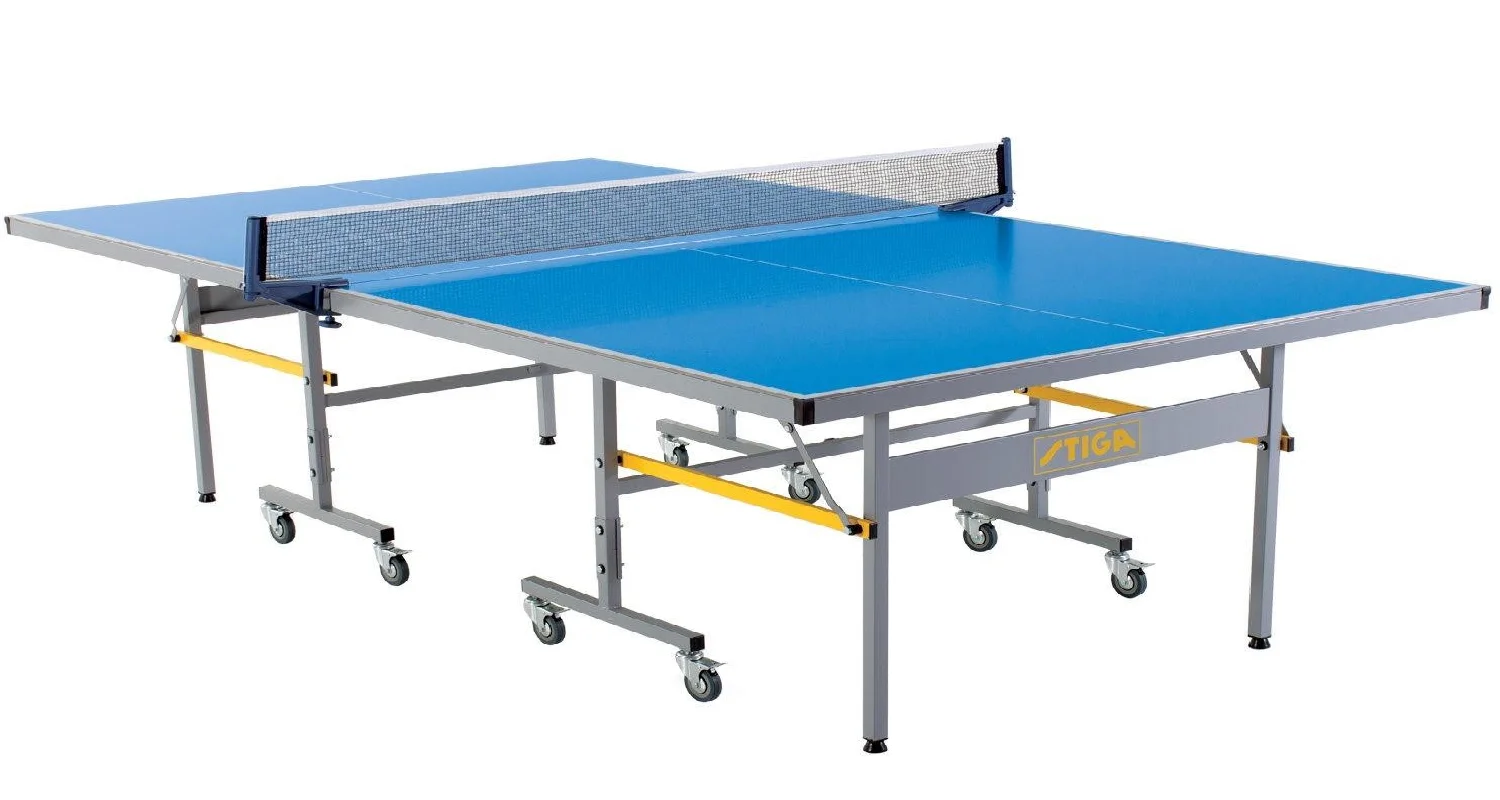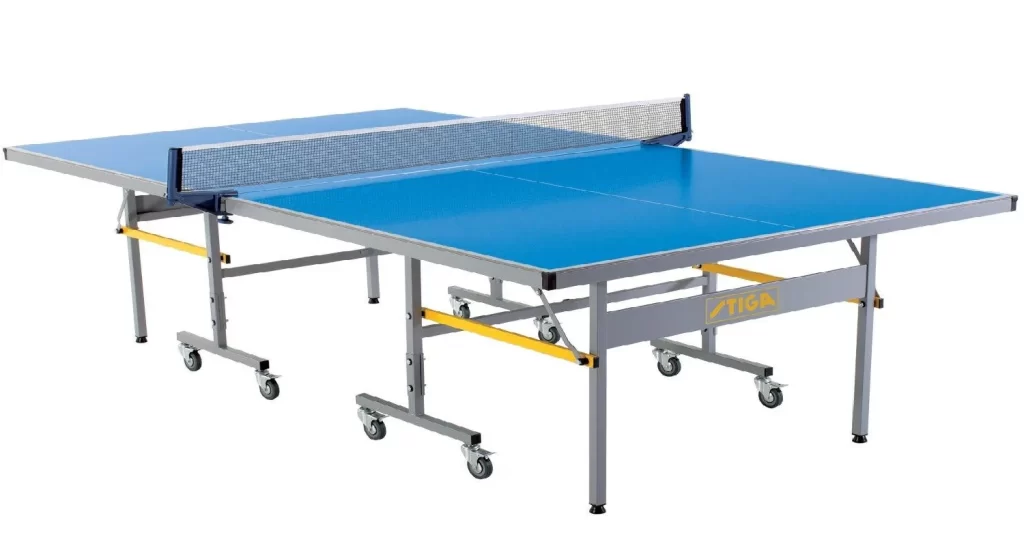 Our Rating: 4.8/5
Stiga Vapor is one of the best outdoor table tennis tables to transform your garage into a ping pong haven. Its 6mm all-weather-resistant composite surface with a 1.5″ tubular steel apron provides the best bounce without any distortion.
The best part is that it comes 95% preassembled, which means you'll only need around 10-15 minutes to set it up and Voila! The ping pong table will be ready to play.
With its self-opening legs coupled with a security latch, you can effortlessly fold the table halves when not in use and store them in a compact space in just a few seconds without taking up more space.
Based on the versatility of its features, the STIGA Vapor outdoor ping pong table comes at an appropriate price than other models, allowing you to get a tournament-grade experience without breaking the bank.
Our Rating: 4.8/5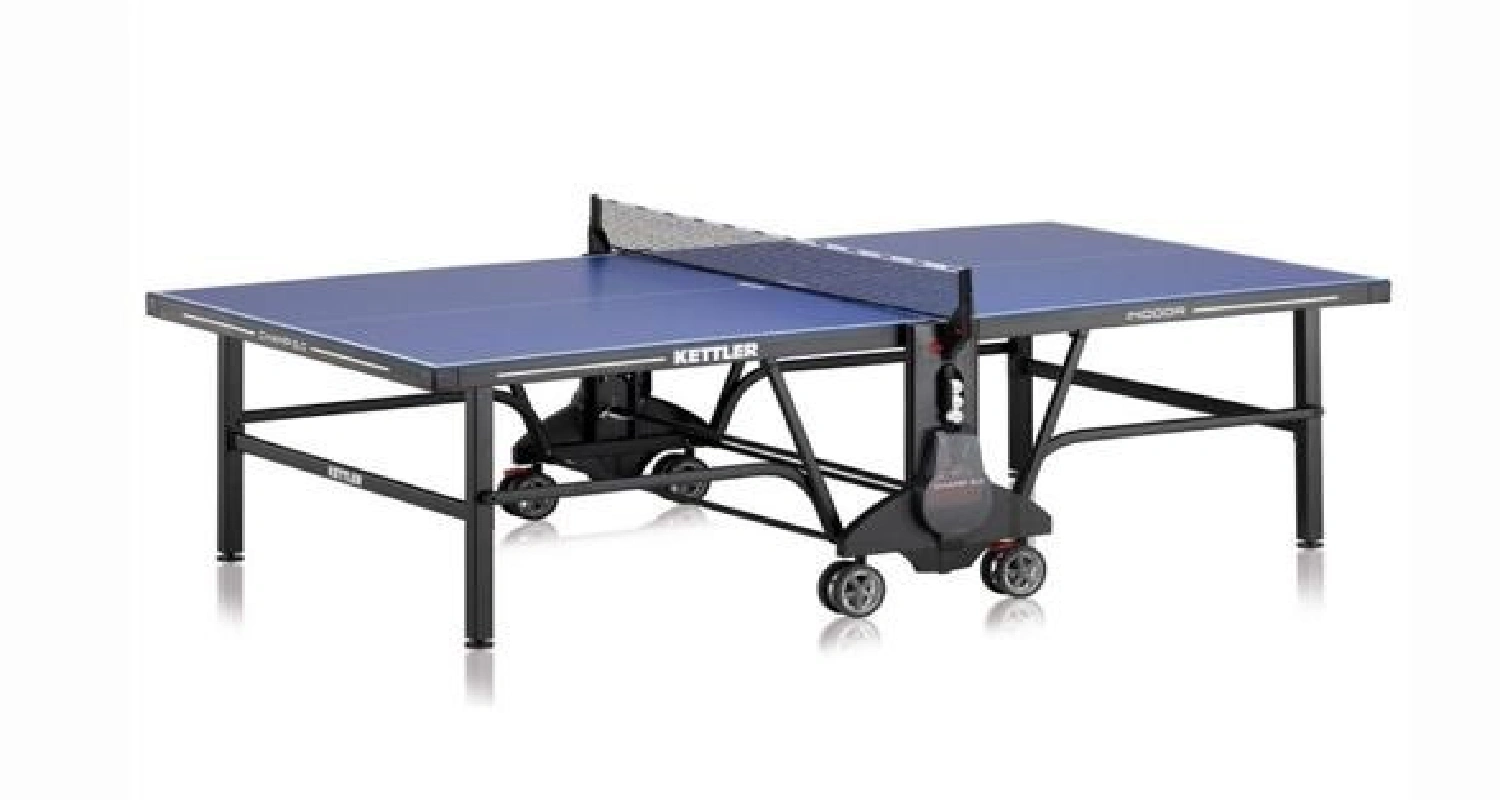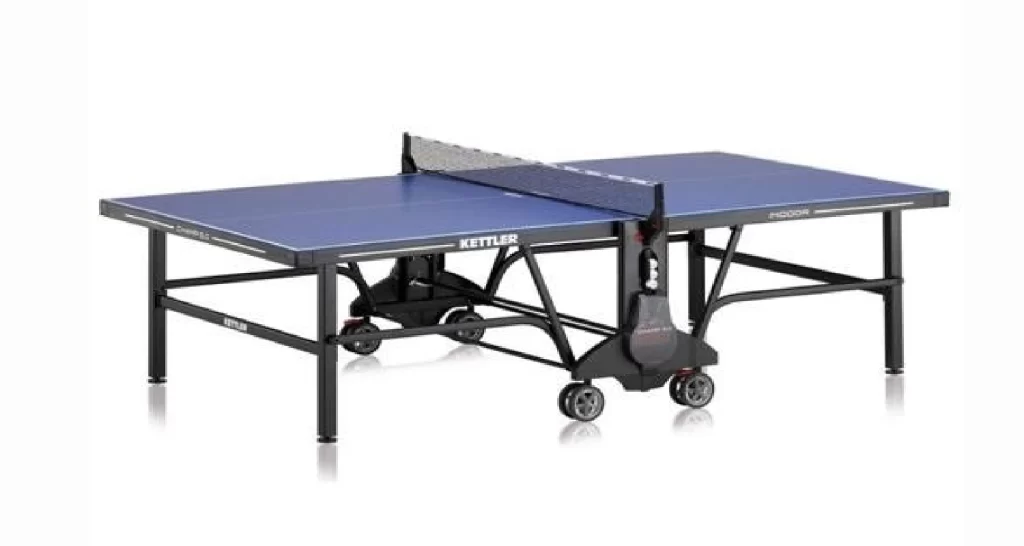 Kettler Champ 5.0 is the name of the revolution and set new standards for the best outdoor table tennis tables. Made in Germany, this ping pong table boasts an exclusive waterproof design featuring ALU-TEC Climate Control.
It is a patented technology that is incredibly resilient to adverse weather conditions and harsh sun rays, keeping the table safe for you in the long run. However, it is always recommended to keep it covered in such conditions.
The table comprises 2 inches of powder-coated galvanized steel legs that prevent corrosion and provide ultimate stability. If you like to practice alone, its solo playback mode comes in handy.
Lastly, its 1-year commercial and 5-year residential warranty period ensures that you are making a risk-free, premium choice for your outdoor spaces.
Kettler Champ 5.0 outdoor tables are expensive models; however, the price truly justifies its outstanding features, making it a worthwhile investment in the long run.
Our Rating: 4.7/5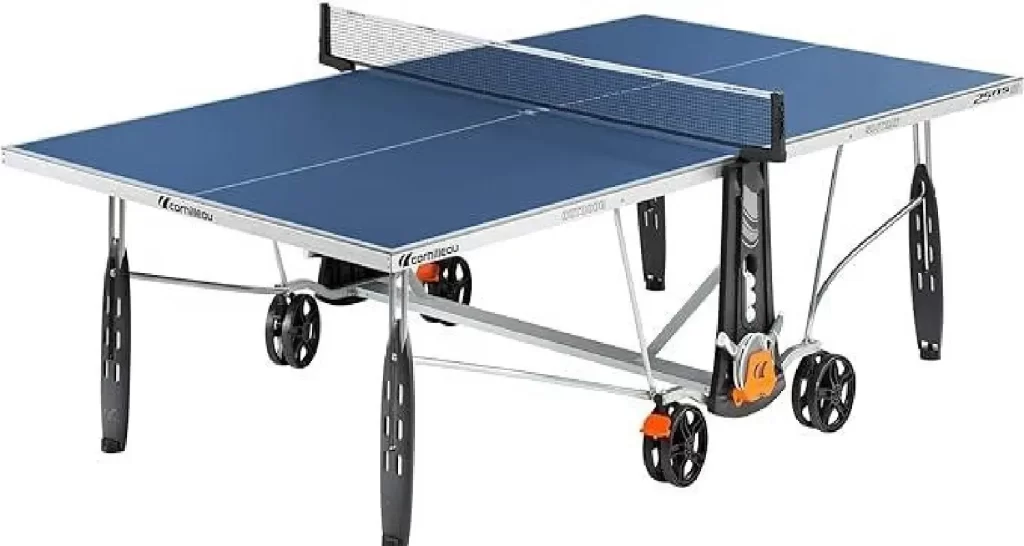 Cornilleau 250S Crossover is a top-notch outdoor ping pong table built for lasting fun. Its 5mm anti glare surface cuts down the glare, allowing you to play comfortably even in a strong, bright light.
Adjustable legs and a galvanized steel frame impart flexibility and stability to the table. Its 70mm height adjusters provide a level playing surface even on uneven terrain, and giant 8-inch double wheels facilitate easy maneuverability.
However, there's a catch: Considerable assembly is required for this table which is time-consuming. It might take you 2-3 hours to put it together. But once set, you're all set for playing table tennis on this beast of a table.
KETTLER Cabo Outdoor Table Tennis Table – For Beginners
Our Rating: 4.5/5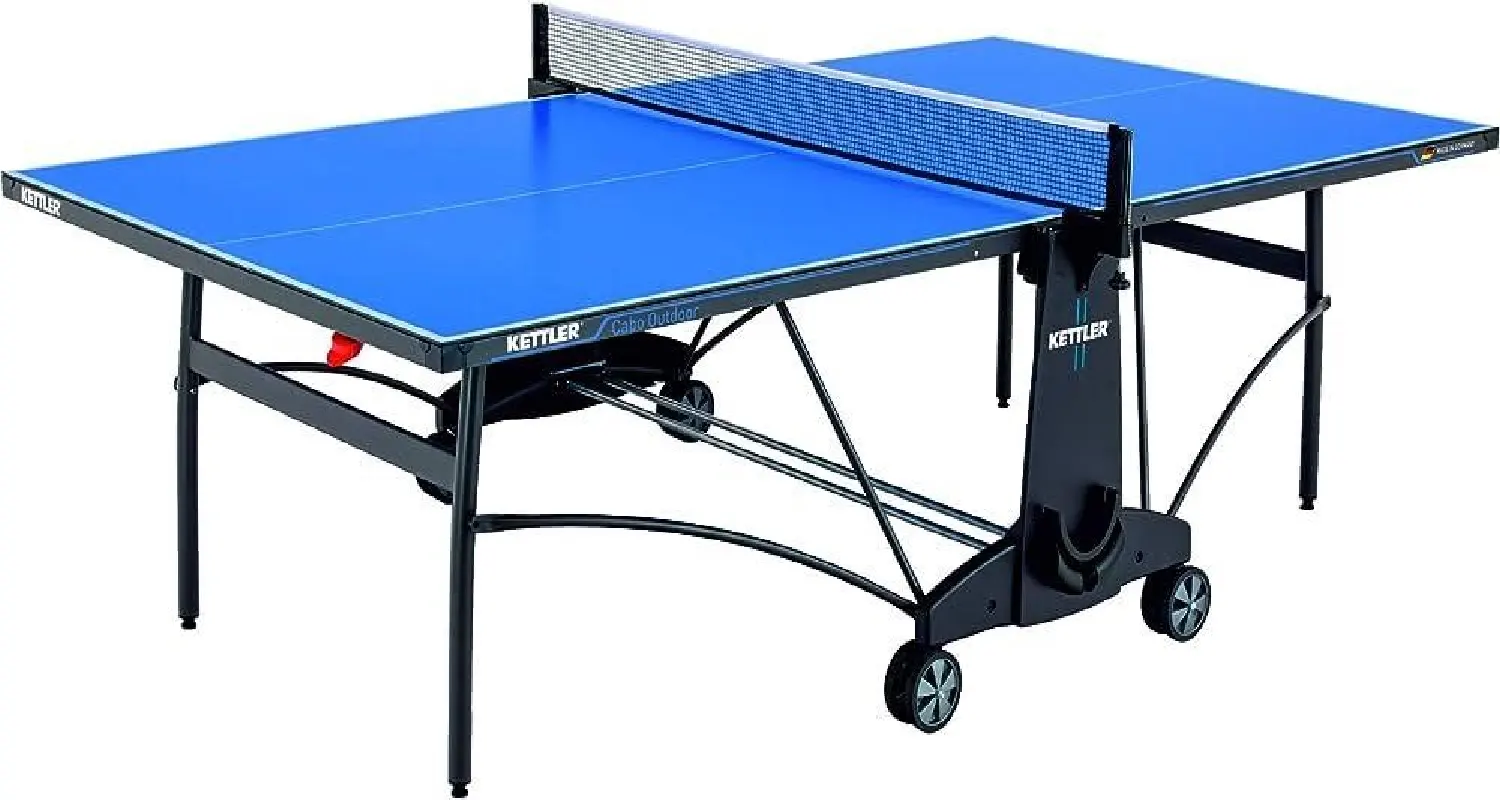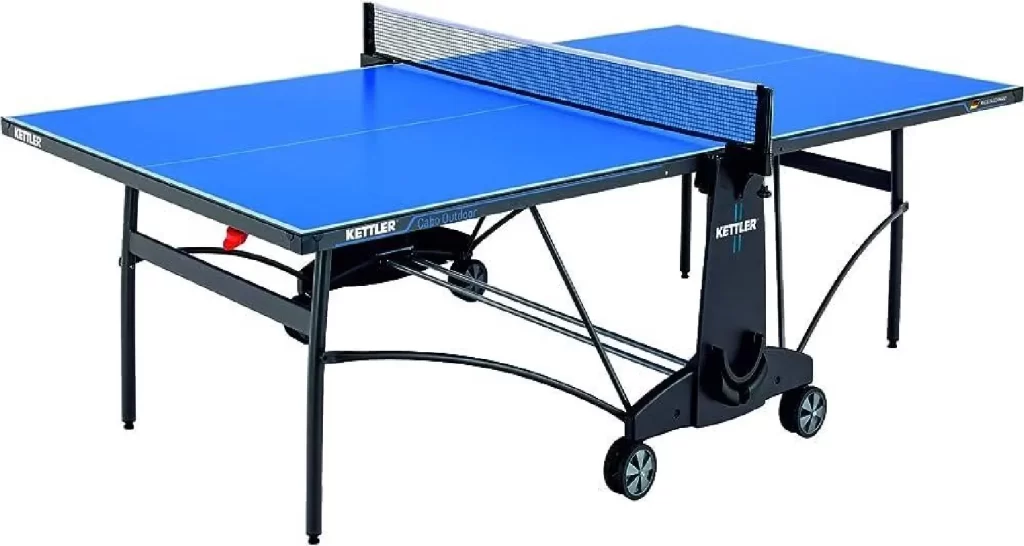 Stuck in a myriad of professional-grade outdoor tables? Your hunt might end at the Kettler Cabo outdoor table tennis table. This high-end table tennis table is an exquisite fusion of sleek design and German engineering, perfectly tailored for avid ping pong aficionados.
With a weatherproof KETT-TEC5 proprietary composite top-to-one-piece centerfold design, this regulation-size table provides effortless setup and compact storage with maximum durability.
Furthermore, this outdoor ping pong table comes with all essential accessories, including six balls, two Halo racquets, and a premium cover. You'll love its one-hand opening mechanism that will make your life easy by making opening and closing the table an effortless task.
DLS- dual locking system ensures the table remains fixed in its place during fierce matches, and space-saving design makes it a perfect partner for picnic spots, allowing you to enjoy table tennis outdoors.
KETTLER Outdoor 10 Table Tennis Table – For Professionals
Our Rating: 4.8/5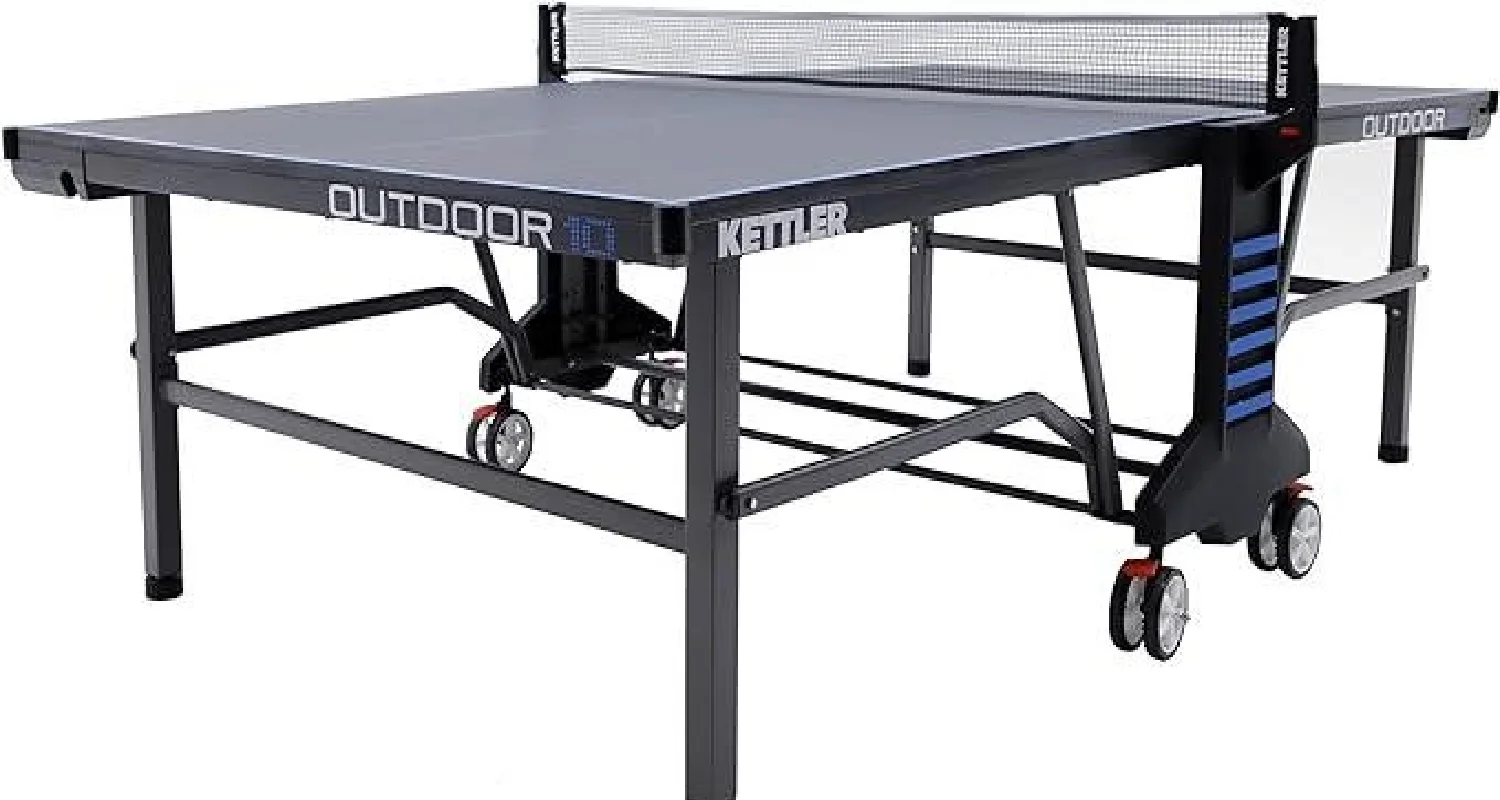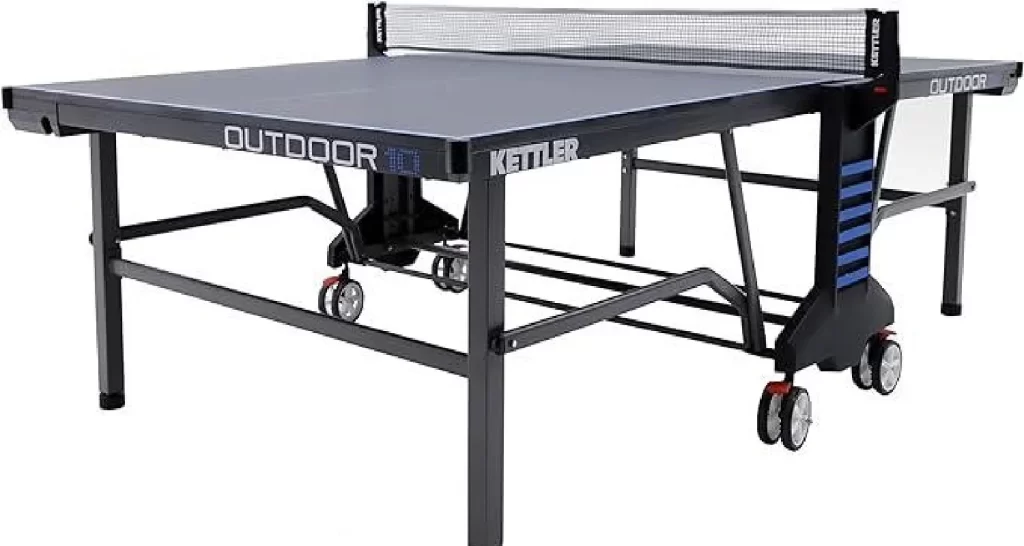 A premium outdoor table tennis table that exudes quality in every facet. Constructed with a state-of-the-art weatherproof melamine playing surface, this outdoor table takes weather resistance to the next level.
Beyond structural strength, Kettler Outdoor provides superior playability with an outstanding ball bounce. Its assembly takes around 90-120 minutes, and the safety-first design offers a soft touch edge protector that prevents accidental injuries.
Thanks to its giant swiveling double wheels, you can effortlessly move Kettler outdoor tables on multiple terrains. While the hefty price tag of the table might raise eyebrows, its bundle of accessories, including 12 balls, four ping pong paddles, a cover, and unmatched features, justify the investment in every way.
Frequently Asked Questions (FAQs)
What makes outdoor table tennis tables different from indoor tables?
Outdoor ping pong tables are specifically designed to withstand elements such as rain, sunlight, humidity, etc. They are made up of weatherproof and durable materials such as resin laminate or aluminum composite table top and rust-resistant frames that safeguard them from damage outdoors.
On the other hand, indoor table tennis tables prioritize performance over durability. Indoor tables can't combat elements, and their design focuses more on providing optimal performance and smooth playing experience than durability.
Can I use outdoor ping pong tables indoors?
Unlike indoor models, outdoor table tennis tables offer versatility as you can place them outside to your desired location when the weather is good and bring them inside whenever you want or for storage.
However, remember that the bounce produced by outdoor tables might be different from indoor tables because of their weather-resistant construction and surrounding elements.
Is it important to cover an outdoor ping pong table when not in use?
It's true that outdoor tables can endure variable weather conditions all year round; however, even top outdoor ping pong tables are recommended to be covered. A cover will protect the table from sunlight, dirt, and rain, keeping the table safe and enhancing its lifespan.
Are outdoor ping pong tables good?
Outdoor ping pong tables are designed with durability and resilience as a priority, catering to external weather conditions. They are constructed with different materials and might not provide as good performance as indoor ones. The right wheel size also adds great value to the credibility of the outdoor table.
In terms of durability, versatility, and recreation, outdoor tables are excellent choices. Whether it's an indoor or outdoor table, it is recommended that you read the buyer's guide to get all the pros and cons of a table before making any final purchase.