Finding a table tennis robot under the $1000 mark that offers excellent performance might seem too good to be true.
However, you can get the best of both worlds with Paddle Palace A32W Pro. The most outstanding feature of this robot is two throw wheels, which is almost impossible at this price range.
This is not a programmable robot. With the latest high-tech options in the market, this robot might seem outdated but it delivers well for the price. Let's look into the specifications to see what else this robot can offer.
Paddle Palace A32W Pro Specifications
Our Rating: 3.8/5
Price: $$$
Weight: 34.8 Pounds
Warranty: 1 Year
Controls: Control Box
Max Ball Speed: 90 mph
Frequency: Up to 85 Balls per minute
Ball Capacity: 100 Balls
Adjustable Height: No
Oscillation: Yes (Controlled and Random)
Size: 40.2 x 15.8 x inches (L x W x D)
Weight: 24 lbs.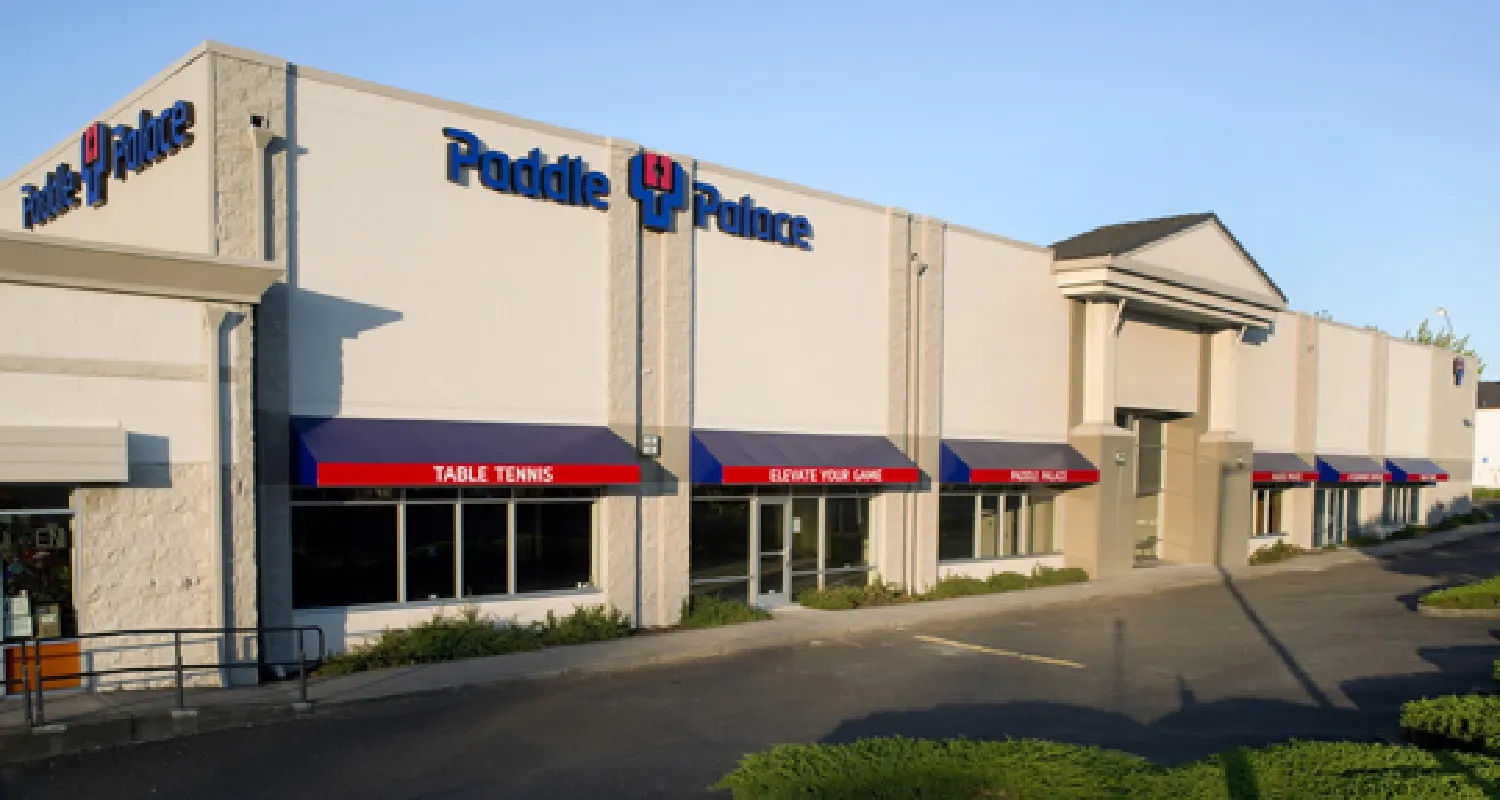 What to Expect?
Paddle Palace is a US-based company that distributes major table tennis brands. This company is known for its premium service. Like most Paddle Palace equipment, we also expect that this robot delivers exceptional performance.
Customization
Modern table tennis robots aren't just ball launchers, they are programmable devices that you can customize according to your need.
With most high-end table tennis robots, you can set the speed, spin, and placement of each ball, and can even create personalized drills. We also expect some level of customization with Paddle Palace A32W Pro.
Oscillation
There are three basic kinds of oscillation: random (R), controlled (C), and programmable (P). The most ideal is programmable oscillation as it lets you choose ball frequency and speed as you want and you can program personalized sequences and choose where the ball lands.
Since programmable oscillation is the most optimum kind and many modern robots feature this, we expect this robot to have Programmable oscillation, or at least Random and Controlled oscillation which also gives you a great range of ball placement.
Construction
Paddle Palace A32W Pro has two throw wheels which are controlled by two independent motors. This feature allows a range of speed and spin variety. It also comes with a ball catch system, which can be activated with a catch net that comes with the robot.
The robot is supported by tripod legs with caster locks. You can control the robot by adjusting the wheels, which is done by rotating the motor or knobs, and with a control box that has buttons and a digital meter. The control system is set on the player's end of the table for convenience.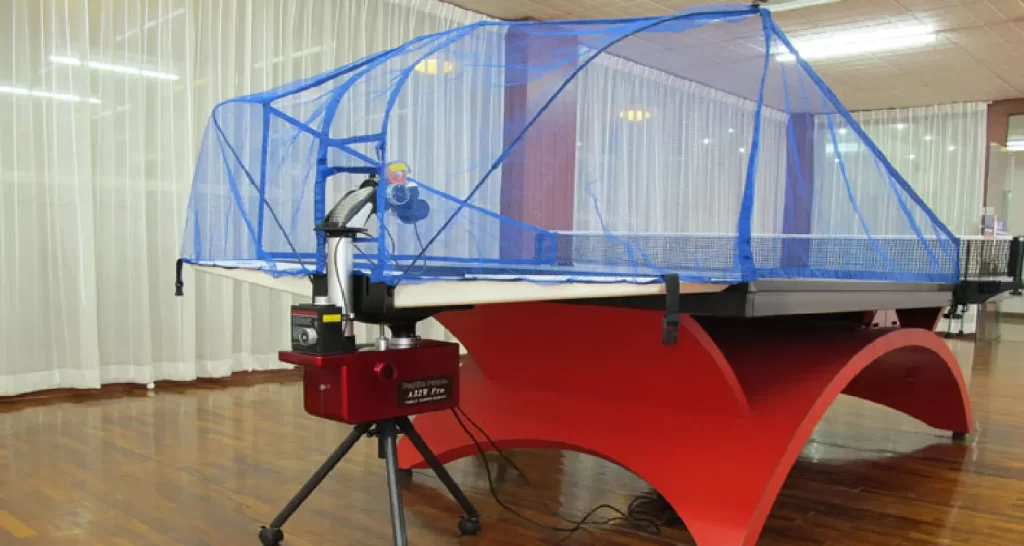 Pros
Versatile Speed and Spin Capabilities
Paddle Palace A32W Pro comes with two throw wheels, which means you have two independent systems launching balls. This increases speed and spin versatility, as you have a great range of options when it comes to spin and can choose each throw with varying speeds.
With this table tennis robot, you can experience shots with varying ranges of spin including medium to heavy topspin, backspin, and even no spin.
No Assembly Required
With the A32W Pro, you do not need to spend your precious time setting up or taking down your robot, as it comes pre-assembled. Just take it out of the box, choose your settings, and you are ready to play in minutes.
Multiple Oscillation Options
Paddle Palace A32W Pro comes with Random and Controlled Oscillation options, which gives you a lot of control over where you want the ball to land. Controlled oscillations allow you to set the angle's width as well as have the robot alternatively strike only the two broadest places in the angle range.
The robot strikes both the narrowest and inner angles when using Random Oscillations. Where the ball lands using Random Oscillation depends on the frequency and speed settings you have selected, along with your table dimensions.
Value for Money
We consider this robot to be a true value for money as it offers all basic features at an affordable price. It also comes with a 1-year warranty on parts and service, which makes this robot a worthwhile purchase.
Overall, the A32W Pro is very durable and high-quality when it comes to construction and you will not experience any jams as long as you take care of the robot. We think that at this price, this robot is truly a catch.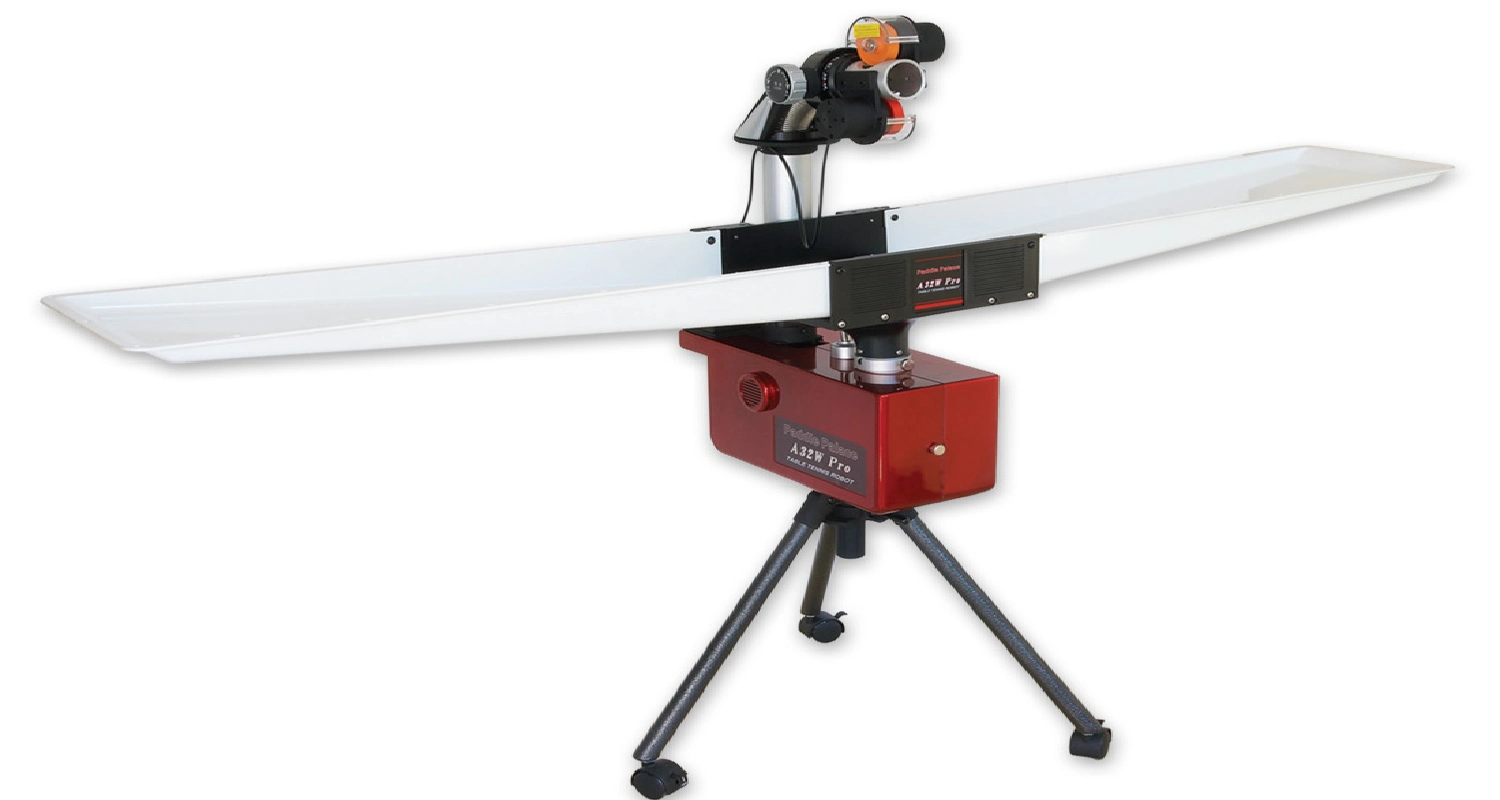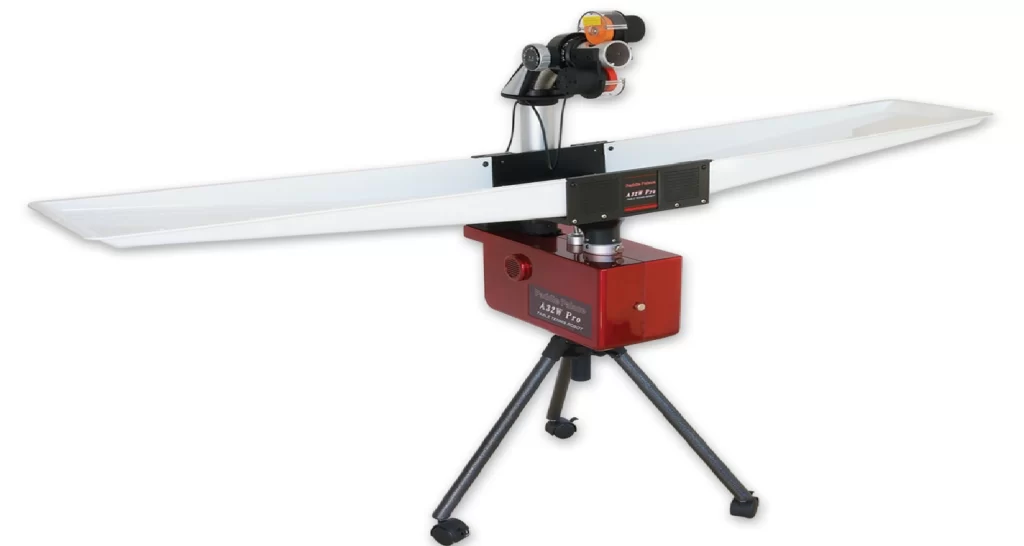 Cons
Lack of Customizable Drills
Paddle Palace A32W Pro doesn't allow you to customize drills. Most modern robots are highly programmable and you can set speed, spin, and even ball placement on each ball.
Although two wheels do allow a varying range of speed and spin as you can set each wheel on a different setting, it is not nearly the same as a completely programmable robot-like Paddle Palace H2W Touch Pro.
Outdated Controls
In a world where robots are controlled via Bluetooth with an app, the A32W Pro comes with a control box. This doesn't only seem outdated but also deprives the user of many features. Controlling a robot with a smartphone or a tablet helps you design and save drills.
Due to both flexibility and customization, you can have varying spin types in consecutive shots in the same drill. We think that the absence of Bluetooth controls was among the major drawbacks of this robot.
Our Rating: 3.8/5
Although it is sold at a very low price, the Paddle Palace A32W Pro table tennis robot includes several advanced table tennis robot capabilities. It has two throw wheels that are driven by two separate motors, which is unique compared to other robots in this price range.
Before you get this, here are some things to consider: This robot is not programmable and you cannot pre-design or save your favorite drill. It is also controlled via a control box. If you are looking for a high-end futuristic robot, then this one is not for you.
Conclusion
Paddle Palace A32W Pro is a very affordable robot that can be the ultimate choice for serious table tennis players who just want to experiment with a mechanical playing partner.
It performs the basics of a ball launcher, although it's not programmable. You get two throw wheels, allowing you a variety of spin options, and a ball recycling system with a collection net. Overall, we consider this robot a worthwhile purchase.