Searching for the right table tennis robot that ticks all the boxes and can create complex training drills? You might have crossed paths with Power Pong Alpha. This robot promises an authentic training experience and is among the most high-rated robots in the market.
Power Pong released four new robots in 2021, named Omega, Delta, Beta, and Alpha, with Alpha being the cheapest. Like other high-end robots, it can create spin combinations, allows customizable drills, and comes with a 3-year warranty but at a much lesser price.
Different settings on this robot promise you a realistic playing experience, very close to a human playing partner.
Power Pong Alpha Specifications
Our Rating: 4.7/5
Price: $$$$
Weight: 24 Pounds
Color: Black
Material: Plastic
Warranty: 3 Years
Controls: Control Box, Connects Via Cable and Bluetooth
Speed: 1 to 19
Frequency: Up to 6 Balls per drill and 5 to 100 balls per minute
Ball Capacity: 100 Balls
Adjustable Height: Yes
Oscillation: Yes
Size: 62 x 33.75 x 63 inches (L x W x D)
Weight: 24 lbs.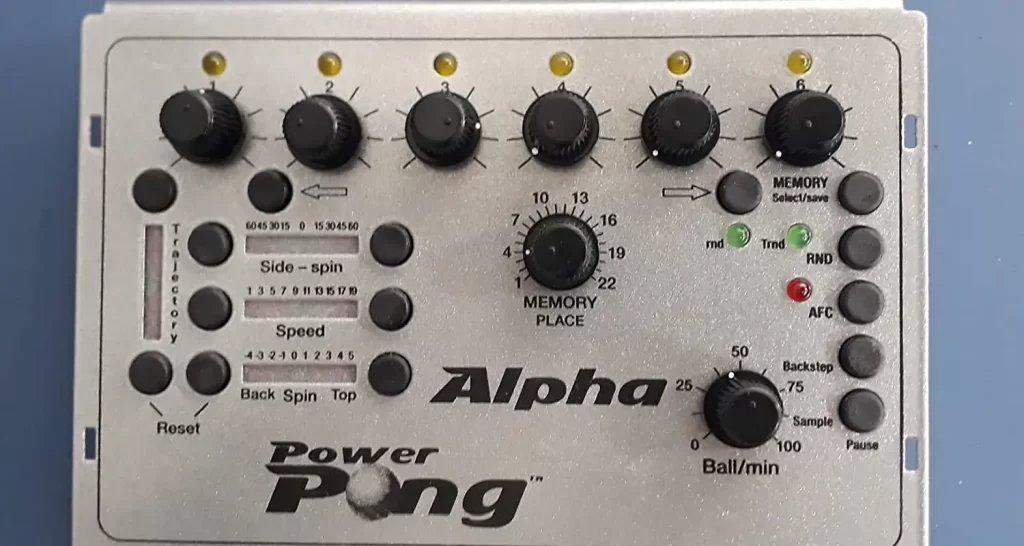 What to Expect?
Power Pong is a table tennis robot company operated by USATT certified national coach and hall of fame Attila Malek. Modern robots are equipped with several features these days and have unlimited possibilities, and we expect this one to be on par with its competitors.
Construction
Power Pong Alpha is an updated version of the Power Pong 2001. The main unit of the Power Pong Alpha has upgraded electronics, better than its predecessor, for example, the thick parallel cord has been swapped out for a tiny cable.
Power Pong Alpha has a 3-wheel, 4-inches foam design that helps with various spin combinations. You can control it with both a Bluetooth phone app and physical control box.
It comes with a catch net as well so that your play is not interrupted. There are 12 pre-programmed drills that you can use to practice, though can also save up to 22 drills in the robot's memory.
The robot comes with a small remote that you can keep in your pocket to control, stop, start, and change ball frequency. You also get 100 Power Pong 3-star balls and a carrying bag. This robot also features a silent mode: When the ball delivery stops, there is no noise of fans or motors.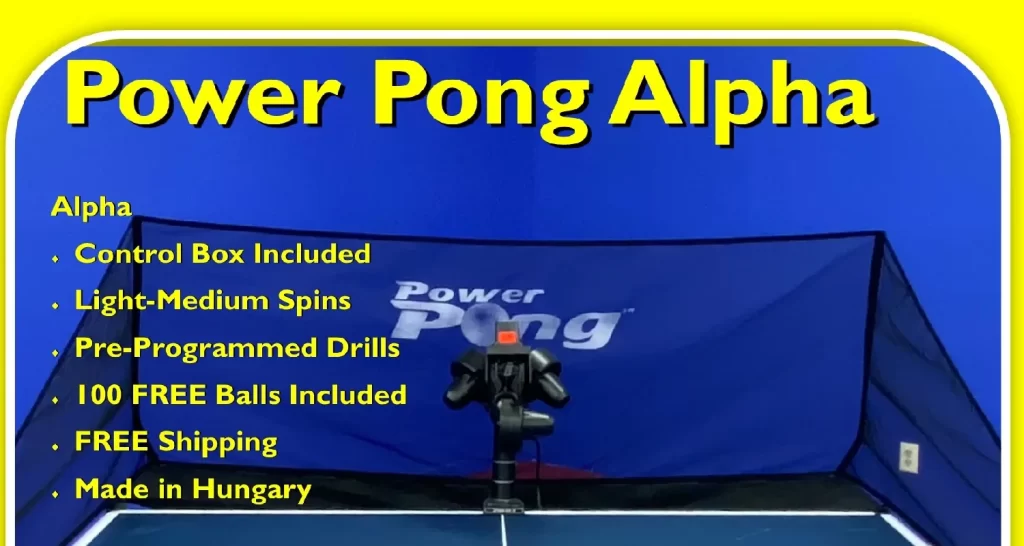 Pros
Unlimited Spin Possibilities
You can generate all forms of spin, from topspin to backspin, with Power Pong Alpha. The robot also allows you to control the extent of spin you want to apply, on a range from 1 to 10. The three-head design on these robots enables a precise and adjustable ball throw.
If you don't want to play a spin-oriented game, this robot has a 'fireballs' setting where it throws balls without spin. There are not many robots in the market that offer this function. You can also experience a less automatic game with the RND (random) mode.
Company Credibility
As mentioned earlier, all Power Pong Robots come with excellent warranty coverage. You get a 3-year warranty on both parts and labor. The company also offers a 1-day repair service where they fix and send robots back within 24 hours.
You can also return the robots within 10 days if you are not satisfied, without presenting any evidence to your claims. Additionally, if any part of the robot breaks down, you can purchase it within 5 years.
Excellent consumer service speaks a lot about company integrity, which adds several points to this robot.
Bluetooth and Additional Features
One characteristic that makes Power Pong Alpha stand out is the latest Bluetooth technology. You no longer have to rely on the control box and can control the robot via an app on your phone, which is compatible with both android and iOS.
Not only does the app offer several additional features, but it is also much easier to control the robot using the app. Moreover, you can customize each ball's speed, spin, and placement using up to 12 balls, creating personalized drills with the help of the app.
You can save and search balls using the app's labeling and tagging system as well.
Value for Money
Power Pong Alpha ping pong robot offers some of the features that products double their price have and for that, we consider it a great value for money. You can control the spin, speed, trajectory, and placement of each ball, without poking a hole in your market.
Other high-end robots in the market cost almost twice as much as this one and offer similar features. Moreover, excellent customer service also makes this robot worth the price tag.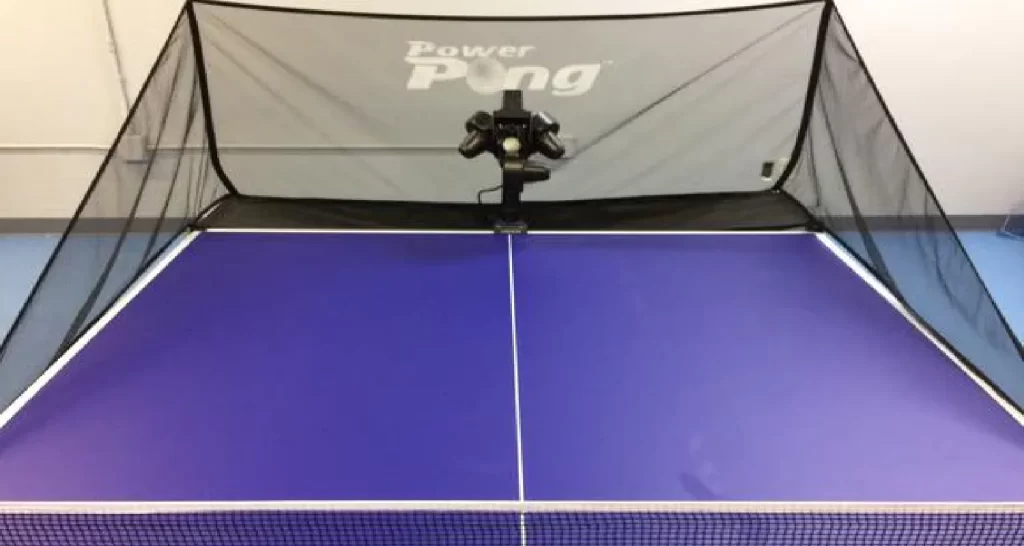 Cons
Fewer Memory Slots and Balls per Drill
Power Pong Alpha offers only 12 slots for saving drills, which is a lesser amount when compared to other high-end robots. Moreover, it can only have a drill of 6 balls maximum, which is slightly disappointing as there are many robots in the market that offer up to 12 balls per drill.
Another problem is that if you want a hurricane spin, this robot might not be suitable for you as it is designed to produce less spin.
Our Rating: 4.7/5
Overall, the Power Pong Alpha is among our favorite table tennis robots. It offers a ton of great features, and the fact that they are all easily customizable is a major plus. With it, there are practically endless chances for training.
We consider this robot a true value for money as it has features that are usually offered by very expensive robots. The only problems were a smaller number of memory slots, balls per minute, and less spin.
Conclusion
Power Pong Alpha has many features that make it a great choice as a companion for any dedicated table tennis player who wants to improve their play and compete at a higher level.
In addition to offering better products, Power Pong also offers superior service and an excellent warranty, exhibiting a real concern for both the company's reputation and their customers' contentment with both Power Pong products and their entire Power Pong expertise.
We recommend this for serious players looking forward to investing in a high-end robot, without breaking their bank.