Adding a high-quality table tennis robot can help you improve your game big time. Modern robots are not just ball launchers, you can program each shot the way you want and can have control over the right amount of speed and spin.
Power Pong Omega w/Tablet is a modern, fully programmed, 3-headed robot that can definitely up your game to new levels. It shares similar features with its predecessor, Power Pong 5000, but this model replaced the earlier physical control panel with Bluetooth control.
You can fully program your robot by using the tablet it comes with.
Power Pong Omega Specifications
Our Rating: 4.2/5
Price: $$$$
Weight: 20.2 lbs.
Color: Black
Material: Plastic
Warranty: Three Years + 5 Years Parts Guarantee
Controls: Bluetooth via a Supplied Table or any other Device
Max Ball Speed: 25
Frequency: 5 to 120 Balls Per Minute
Ball Capacity: 150 Balls
Adjustable Height: Yes
Oscillation: Yes
Size: 31 x 9.5 x 12.75 inches (L x W x D)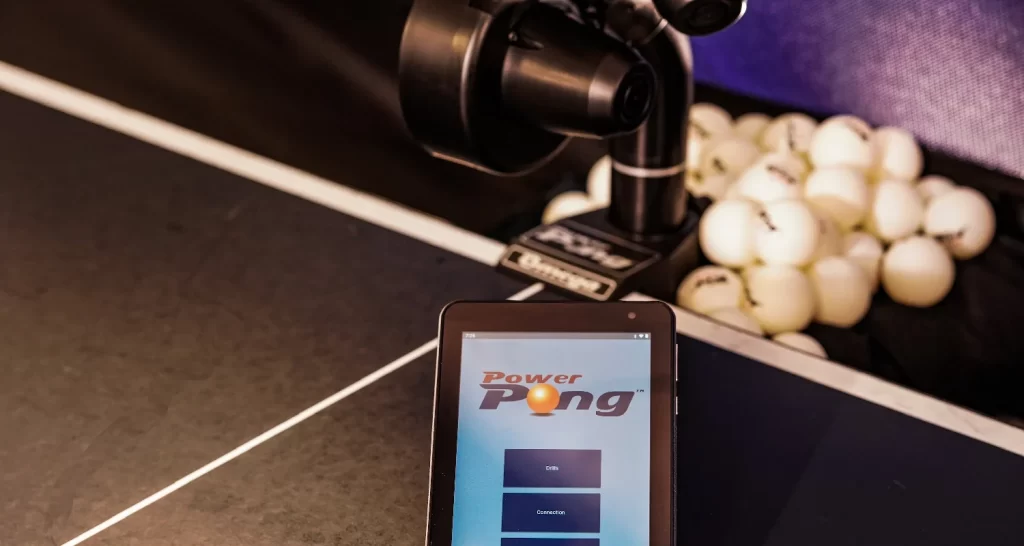 What to Expect?
Power Pong Omega w/Tablet is a high-end table tennis robot so we expect it to be fully programmable and lasting, with an easy installation and takedown process. As this is a new model, we expect this robot to have additional features and a modern user interface.
Construction
Power Pong Omega features 3 four-inch foam wheels. The speed, spin, and direction of the wheels are relative to each other with forward and backward spinning. You can set the robot on a slip-on metal bracket that is detachable from the controller.
This robot comes with 100 Nittaku J-Top Balls, a carrying bag, remote control, an Android tablet, ball recycling net and attachment. This robot can have programmed and random oscillation due to the deflector plate that allows quick left or right movement.
One additional feature that we really liked on the tablet is the mirror feature that you can use to copy drills for left and right-handed players, allowing you to create a quick change.
The supplied tablet has virtually unlimited memory as it comes with 6GB storage that can be extended with a Micro SD card.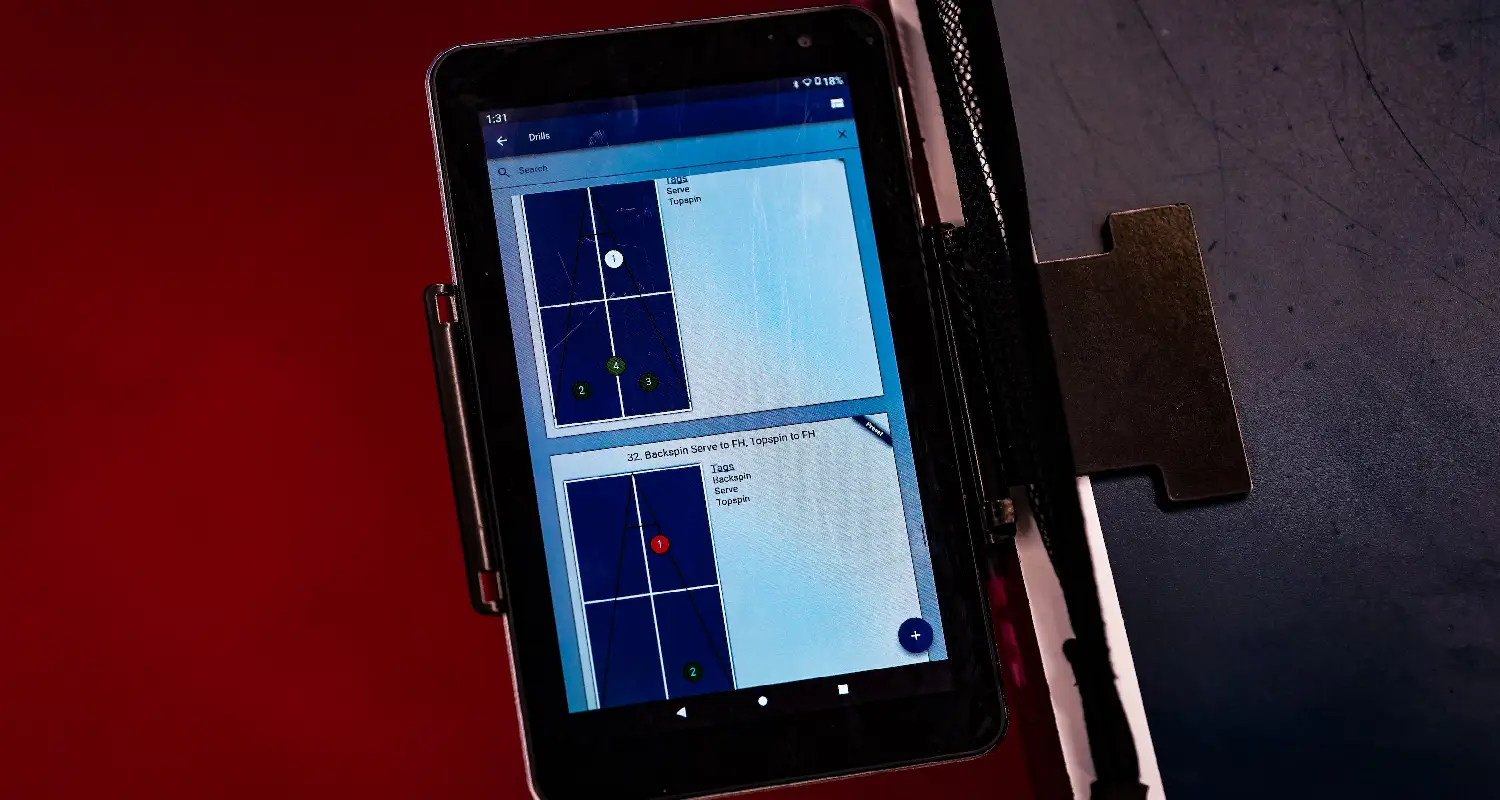 Pros
Excellent Spin Capabilities with Various Options
Since Power Pong Omega is highly programmable, you can change the speed, placement, or trajectory of a ball to set up the kind of spin you want. This robot can produce all kinds of spin variations and levels as well, similar to the Alpha version.
You can practice with heavy to light backspin, fast or low topspin, and customize the robot's spin capabilities the way you like. We were really impressed by these features as you can make the robot launch balls almost exactly the way you want. You can also produce no-spin balls.
Tablet Control
Power Pong Omega is truly advanced when it comes to useability as it comes with a tablet on which an app runs it. This tablet makes things much easier than a box control as you can access the tablet easily and create and save drills with great convenience.
The app is also more customizable and you can easily visualize the drill you want to set up. You can also share the drills you have saved with other Power Pong users. You also use the remote option if you want an easy way to just start and stop the robot.
Pre-saved and Customizable Drills
There are 40 pre-saved drills in the app already, you just have to choose a drill, set the duration, and you are ready to play. These drills are designed by U.S. coach Samsom Dubina and come with a video from the coach, which are very helpful as these serve as a visual guide on how each drill should be played.
Although Power Pong Omega comes with several already installed drills, you can fully customize your own drills and save them for future use. You can choose the ball frequency, speed, spin, and placement of each ball. The mirror option also lets you completely flip the drill as well.
For example, if the drill was 1 forehand and 3 backhands you can change it to 3 forehands and 1 backhand.
Consistency and Reliability
With Power Pong Omega, you have a sturdy, well-made table tennis robot that is made to last long.
You get a continuous and consistent ball feeding and it is highly unlikely for the robot to jam. With a catch net and tray, you can play for at least 10 to 15 minutes before you have to pick up any balls. these features further add to the selling points of the robot.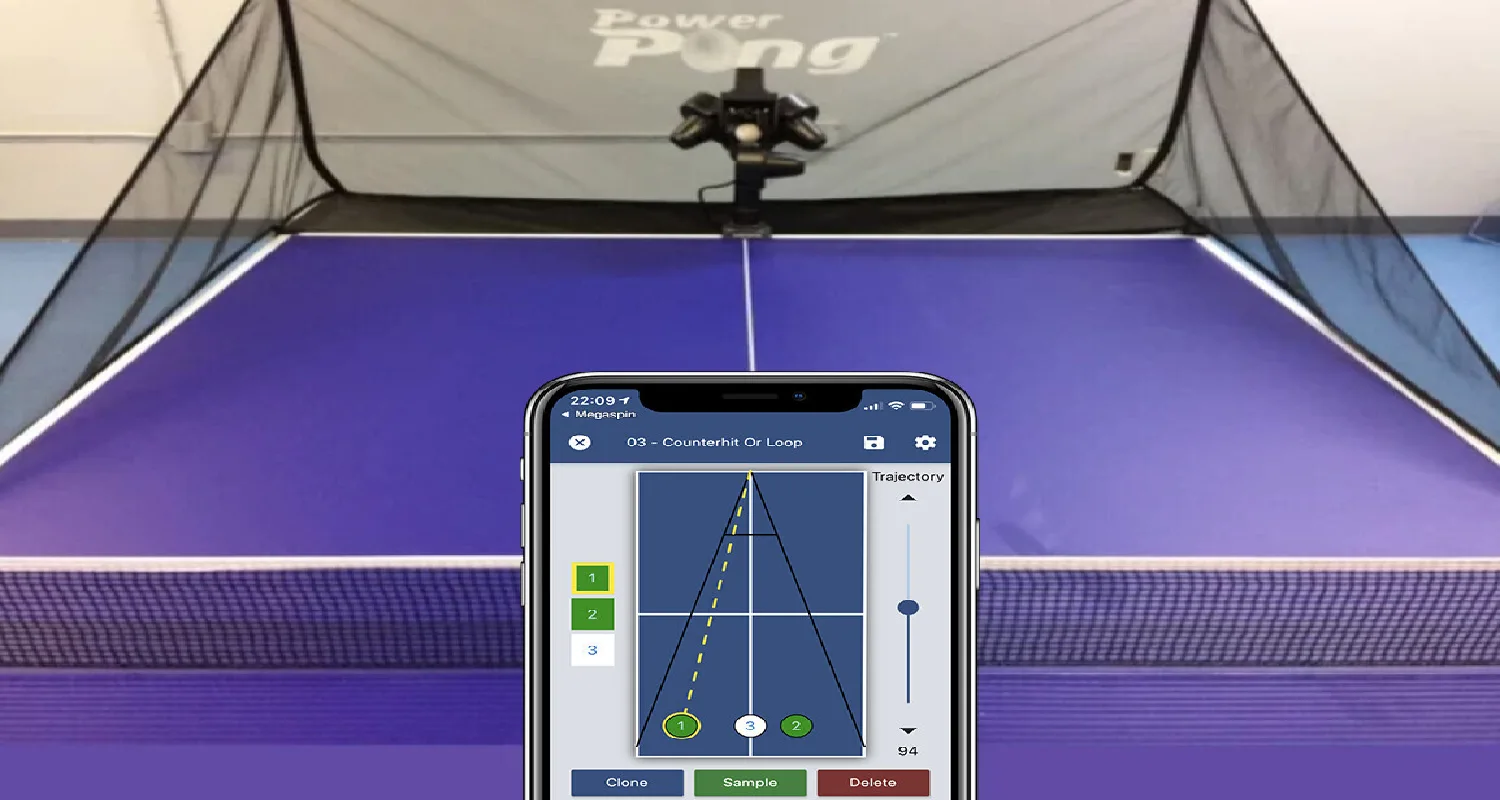 Cons
High Price Point
Power Pong Omega w/Table carries a hefty price. If a fully programmable robot is not your preference, you can find robots half or even 1/3rd of this one's price.
Only serious players or table tennis enthusiasts can spend a fortune on buying a table tennis robot, so if you are an intermediate or recreational player, we wouldn't recommend this robot to you. We also think that you can have better alternatives at this price.
Our Rating: 4.2/5
Power Pong Omega w/Tablet is a programmable table tennis robot, suited to serious players who want to train using customizable drills. This robot is incredibly high-performing and ticks all boxes when it comes to premium quality.
You also get several features that make it stand out among the rest such as customizable drills and Bluetooth control. This robot is highly reliable and consistent as well. Although we are having a hard time justifying the price, we still think that this robot can be a great investment for some.
Conclusion
If you are looking for an advanced table tennis robot, Power Pong Omega would be among our list of top table tennis robots. You can create drills by choosing each ball to have different capabilities in terms of speed, spin, and placement, which gives you a realistic training experience.
You also get an extensive warranty including a fix or replace service. However, being a premium robot, this is very expensive, and we recommend you do your research before settling for this one.