Table tennis robots can be a great investment if you are interested in taking your game to the next level. One of the best options for an amateur has to be the Practice Partner Table Tennis Robot. It is an incredible robot that offers a wide range of functions that can be quite beneficial if you plan on improving your table tennis skills.
We like the Practice Partner Table Tennis Robot for a variety of reasons. For instance, it is a genuinely good piece of engineering that is adequate for both amateurs and professionals. The compact-sized robot can appear small at first glance, but doesn't undermine its durability based only on size.
Product Specifications
Our Rating: 4.3/5
Price: $
Size: 31.5 x 21.5 x 58.5 cm
Weight: 14.99 lbs / 6.8 kgs

Control: Remote
Ball Capacity: 120
Frequency: 25 – 80 balls/minute
Ball Size: 40 and 40+
Speed Settings: 1-9
Oscillation Settings: 1/4, 1/2, 3/4, full table coverage
What to Expect?
There are so many great things to expect from the Practice Partner Table Tennis Robot. Let us dive in and see all that it has to offer.
Spin Variety
The Practice Partner Table Tennis Robot has a vast array of spins to choose from. Unlike simpler robots that simply throw the ball back at you, you can play with a multitude of spins to keep you on your guessing. From topspin, backspin, left sidespin, right sidespin to a mixture of spins, are all available to help you.
Ball Feed Unit
A lot of work has been done in the manufacturing of this brilliant robot. This is majorly evident once you use it, and one of the best features of the Practice Partner Table Tennis Robot is the unit that pumps out the ball. This unit is made of alloy and resistant rubber that helps in the accuracy of placing the ball and focuses on improving the direction.
Perfect Oscillation
Fewer robots have better oscillation on offer than the Practice Partner. The oscillation covers a very large area, which puts the users in very intense footwork. This is a big advantage as you can improve your footwork, and as any trainer will tell you, the footwork is the most important part of table tennis.
High Quality Construction
Most people are quite reluctant to spend big on a robot that belongs to a lesser-known company. Their fears are normally worth listening to, but there is nothing to dislike about the Practice Partner when it comes to quality. The quality of Practice Partner 20 is higher than expected in terms of material, construction, functionality, and stability of the chosen mode.
Balls Fed 'Down'
A major design advantage in the Practice Partner has to be the fact that you feed the balls downwards, rather than upwards. This makes a big difference as the ball can come out at a higher speed when compared to other robots.
Very few parts are used in the construction of the Practice Partner, this, in turn, makes the robot a very useful robot that will rarely malfunction.
Upgrade on Speed
The Practice Partner 20 is a major upgrade on its predecessor the Practice Partner 15. One of the major upgrades has been in the speed department, which ends up creating a challenging difference for players. You can adjust the speed and spin towards a slightly uncomfortable level, as that will allow you to get better.
Pros
Here are a few reasons why we recommend purchasing the Practice Partner 20:
Quick Assembly
The Practice Partner is fast and simple to put together and stands right on the table top. Once you receive the package, you can have it set up and perched on top of your table within a few minutes. For someone impatient like me, this is such a fantastic reason to buy!
Portable
The Practice Partner weighs just 15 pounds, making it portable and easy to move around the house. You also do not have to worry about getting it connected with your table, as the assembly is quick. For something that weighs only 15 pounds, you also do not have any issues in packing it away in storage, when it is not in usage.
Simple Controls
Are you also technologically challenged? Not to worry as Practice Partner 20 is a lifesaver! It has an easy-to-use control box that you can understand after one-time usage. The simple controls of the Practice Partner allow for quicker adjustment, as well.
Fine-tune Your Training
Balls can be programmed to land in one or two places on the table, or they can also be controlled to oscillate. This also allows you to change the oscillation settings that can make the robot more unpredictable. The oscillation may be set to approximately: ¼ table, ½ table, ¾ table, or the full table.
There is also the addition of the pause button that can help you to catch your breath, mid-rally. This is something you cannot do with a real-life table tennis partner. You can also adjust the trajectory to simulate a low serve or high return.
1 Year Warranty
The Practice Partner comes with a year-long warranty. Although the robot is not as costly as the other high-end options, it still is a bargain and a difference-maker as people might consider purchasing it.
It gets better for the residents of the United Kingdom, as they are entitled to free delivery on their purchase of the Practice Partner. This is a major advantage of paying over the odds for this brilliant robot.
Cons
Spin Not Adjustable
Despite a wide variety of features, the spin is not adjustable, making it a rare handicap of the Practice Partner 20. While the manufacturers may argue that the idea was to create the robot for beginners and amateurs, I disagree because young players should be given the exposure of playing spin early on.
Manual is in Chinese
Practice Partner 20 is made in China. This means that the entire manual is in Chinese and does not come with pictures. People who have little to no experience of setting up a robot, tend to struggle with the set-up of the Practice Partner 20.
No Training Routines
Unlike the other expensive options on the list, the Practice Partner 20 does not come with any pre-programmed drills, and there is no option to add some on your own. This is a disadvantage if you are looking to play on a consistent level and make the game unexpectedly difficult for yourself.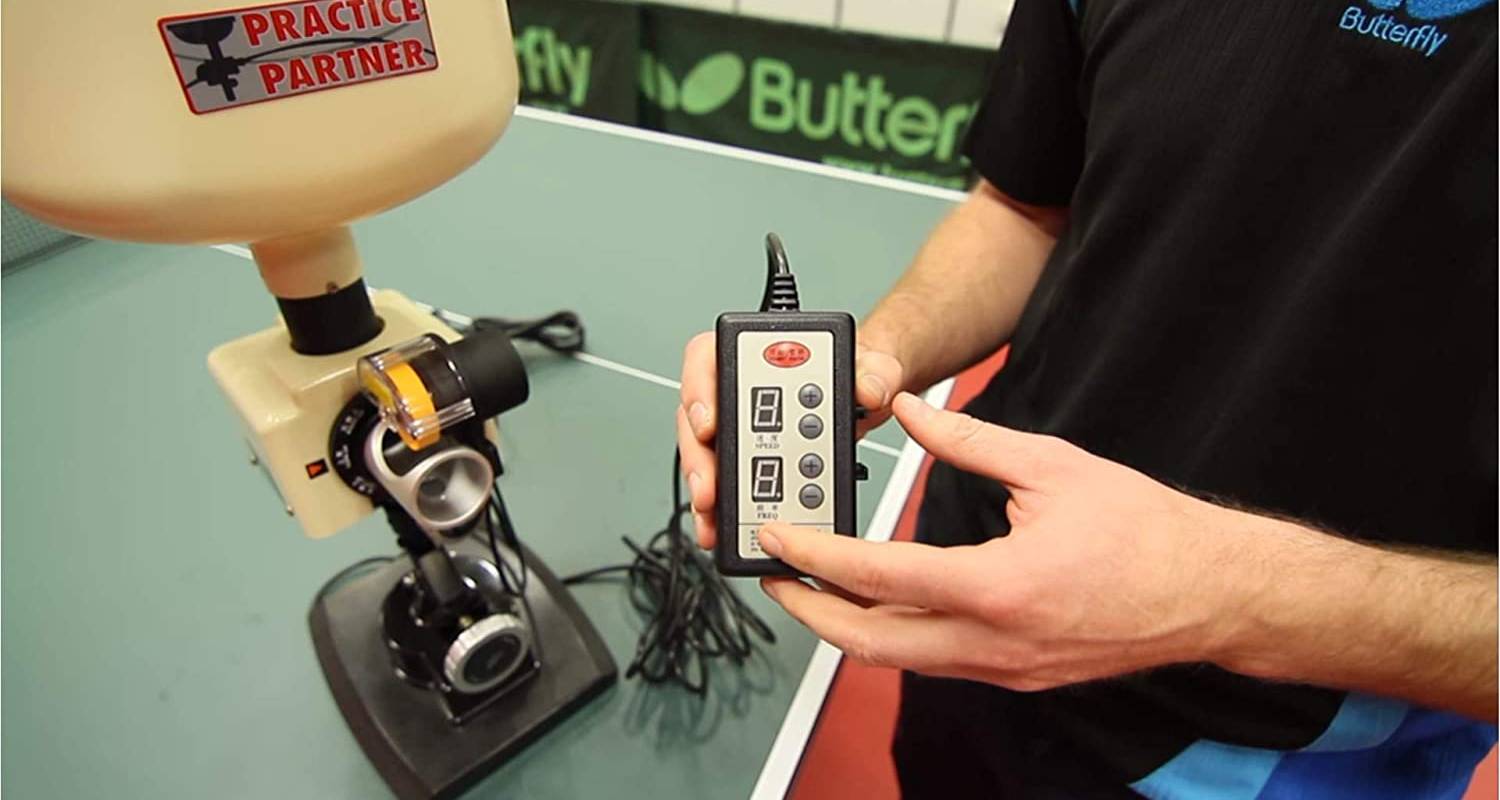 Our Rating: 4.3/5
The Practice Partner package is designed for enthusiastic recreational and/or club players who want to improve their game in between training sessions and competitions.
Despite its low price, this machine works admirably and can fire alternate shots to your forehand and backhand. You can configure topspin, backspin, sidespin, or no spin at all, as well as the shot frequency (up to 80 balls per minute).
We like the Practice Partner, particularly due to its price. It is not as expensive as the other 'top' robots and it is certainly a great option for amateurs and beginners. The limitations only arise if you think of the Practice Partner as a robot made for professionals, but it simply is not.
Our team noticed that some of the reviews mentioned the spin to be a little higher than what beginners are used to, but this is a nice way of preparing the young lot to be better!
Frequently Asked Questions
When was the Practice Partner 20 Released?
The Practice Partner 20 was released in the June of 2018.
Who is the Manufacturer of the Practice Partner 20?
Bowmar Sports – DROPSHIP manufactured the Practice Partner 20 and it is an upgrade on the Practice Partner 15.
What are the Three Screws and a Long, Grey, Plastic Piece for?
The long grey plastic object is called the Poke Bar. It keeps the table tennis balls flowing into the ball feed hole by stirring them in the ball hopper.
Second, your robot should have had two short-shaft thumbscrews and one with a slightly longer shaft. The longer one is used for attaching the Poke Bar and the smaller ones are used for attaching the ball hopper to the vertical feed.
Conclusion
The Practice Partner 20 Robot is appropriate for players of all skill levels because it generates topspin, backspin, and sidespin with up to 8 different spin variants. The ball feeding machine is made of an alloy with resistant rubber, which stabilizes the orientation of the balls.
Yet, there are a few limitations. It is not a cheap option, so research before you invest. Secondly, it can be a little too easy for the professional level players, so if you are a pro looking to invest in this, then it might not be a sensible idea.
There is a lot to appreciate about the Practice Partner 20, from changing up the game with a wide range of features to ensuring that you don't waste time fetching the balls, as it has large storage. It is a long-lasting product, and if you have any problems, you can still use the one-year warranty that comes with it.
Now you know pretty much everything that you should about the Practice Partner table tennis robot. So, you can now go ahead and make an informed decision.