If you are having a hard time finalizing the purchase of a table tennis robot due to a variety of settings, you should seriously consider going through this article about the ZXMOTO Table Tennis Robot.
It is one of the best table tennis robots and one of the better choices available. If you stick with us for the next few minutes, we'll explain why the ZXMOTO Table Tennis Robot is worth your money.
Product Specifications
Our Rating: 3.9/5
Price: $$$
Weight: 19.6 lbs (8.89 kgs)
Controls: Wireless remote control and digital display
Random Mode: Yes
Number of Spins: 9
Ball Size: 40 and 40+
Oscillation: Programmable
Assemble Location: Clip on table
What to Expect?
The ZXMOTO Table Tennis Robot comes packed with numerous features that you simply cannot ignore. We take a closer look at these features.
Adjustable Jump Ball
This is another superb additional feature of the ZXMOTO. As per your convenience, you can make sure that the ball either bounces once, as in a rally, or it bounces twice, one in each court to mimic a serve.
Few robots have this feature as it can help you return serves and can also help you get in the mood for hard-hitting rallies. So, if you do not have a partner to practice with, you can surely use the ZXMOTO to mimic a partner and improve your game, considerably.
Rotational Heads
You also have the option of using rotational heads in your practice time. These rotational heads are insanely accurate and if used to good effect, can improve your game dramatically. They come with a list of options from "flop shot", "attack the ball", and "two jumps", etc.
All of these options can help you if you are looking to come up against various types of plays in table tennis. As you start to play more and more table tennis and your level improves, you realize that every player has a skill set packed with several variations.
That means you come up against players that have more than one way of countering your advances, and the ZXMOTO can help you deal with such opponents.
Ball Frequency
You can also adjust the frequency of the ball on the ZXMOTO Table Tennis Robot. This means you can adjust where the ball shoots from the robot, from left to right, and also change the speed of how fast it shoots. You can either make it go fast or slow, depending upon your preference and skill level.
You may create a different spin to the ball coming from the robot which will help you practice how to return different types of spins in table tennis.
Controller
The controller of the ZXMOTO Table Tennis Robot has operating buttons which will allow you for better operation of the various functions of the machine. These are full of simple instructions and anyone can adjust them according to their needs.
You do not need ultimate skills and a lot of knowledge about technical stuff to get the ZXMOTO running and operating. The ease with which you can maneuver is an excellent reason why people feel comfortable spending money on this robot.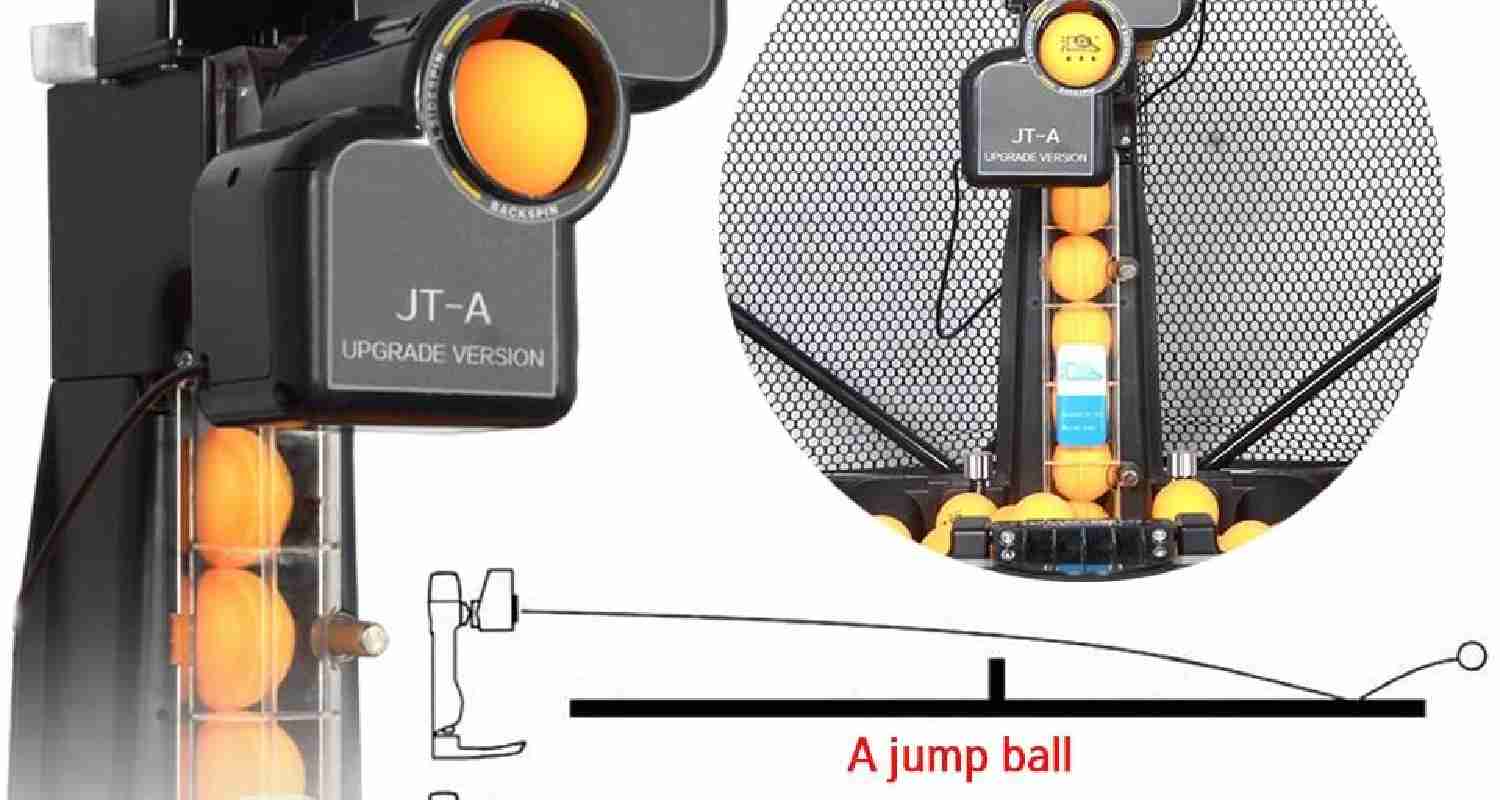 Pros
Free Stuff
Are you also a fan of free stuff? I mean, who isn't?
If you order the ZXMOTO Table Tennis Robot, you get a ball net free with it. The free stuff does not end there, as you get a control box to control the operations of your robot and the power supply, as well.
In addition to all of this, you get a ball ruler, two serving wheels, and a user manual that will help you get started with your robot.
Irregular Landing Spot
If you truly want to take your game to the next level, then you can use the irregular random landing spot option on the ZXMOTO. The robot will select at random one of the many preset sequences and then alter the serving order for a new sequence.
This random selection can provide a countless number of unique serving sequences.
This is a fantastic method to keep the game interesting and avoid becoming accustomed to the same routine. It makes training more realistic and competitive, which improves your game in the long term.
Oscillation Options
You can adjust the position of the rotating ball on the ZXMOTO Table Tennis Robot at your convenience. This can help you hugely as it makes the training sequences a lot more unpredictable.
Using random oscillations, the robot strikes both the inner and outer angles. The frequency and speed settings you select influence where the ball lands with random oscillation.
Affordable
All things considered, the ZXMOTO Table Tennis Robot is not expensive. This makes it a class option because people do not like to pay over the odds for brands that are not well-known.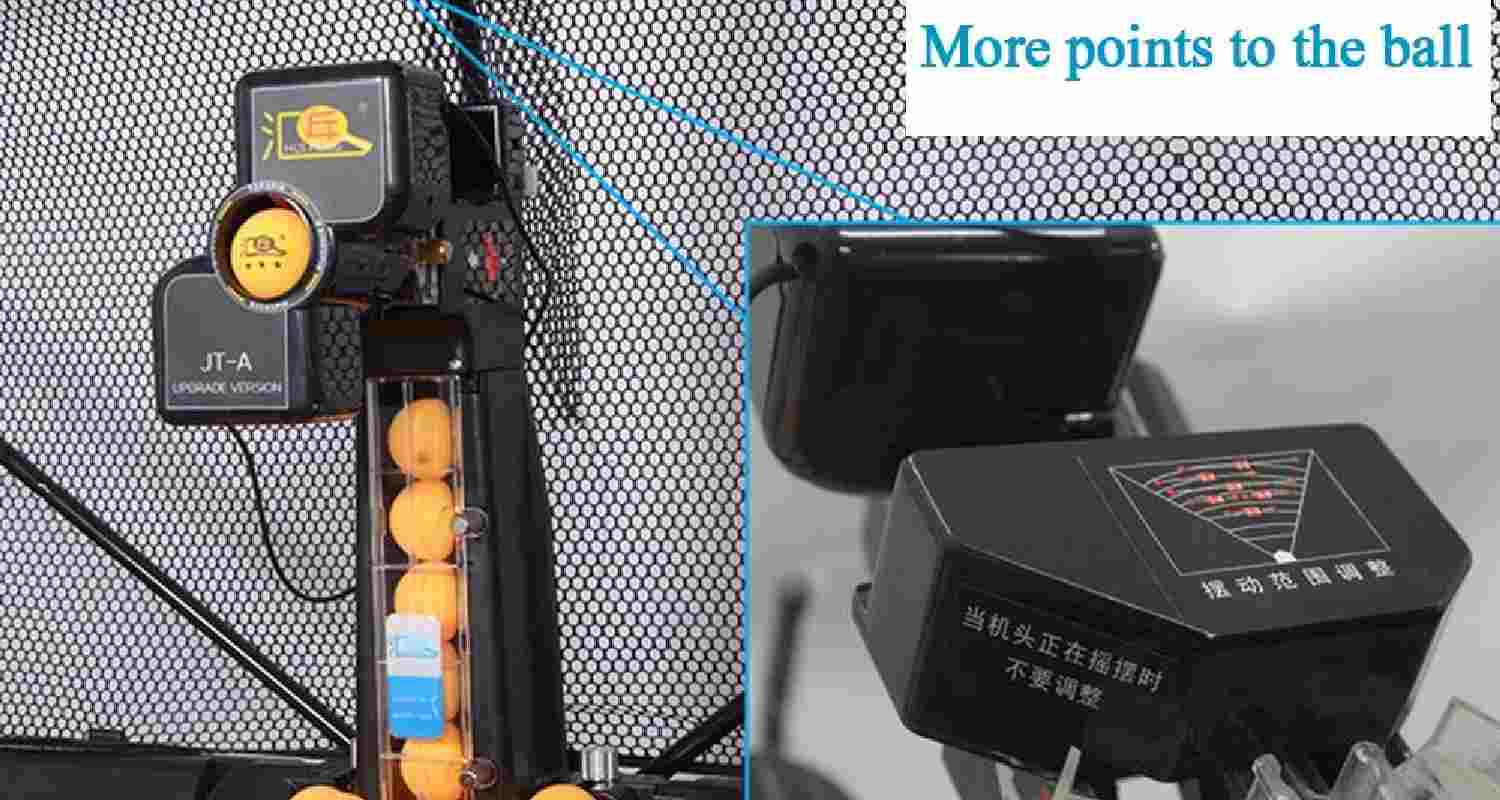 Cons
Inconsistent Manufacturing
Cases of inconsistent manufacturing have emerged regarding the ZXMOTO Table Tennis Robot.
The mount point for one of the brackets to hold up the net is usually installed backward making it impossible to properly set up half of the catching net. Secondly, another issue is with the plastic molded tray that fed the balls into the feeding tube as it does not fit right.
People have reported that it creates an area behind the spinning feeding wheel where the balls would jam. Changing the size of the balls does not help, either.
Poor Instruction Manual
The instructions are indecipherable on the ZXMOTO Table Tennis Robot. This has been reported by many customers and they do not feel comfortable spending a large amount of money on a table tennis robot that is harder to set up because of a lack of instructions.
It also feels careless on the part of the company because they have put in the required effort in the manufacturing but struggled to improve the tiny connecting parts like the manuals.
Poor Customer Support
People are normally skeptical about spending money on products belonging to companies that are not well-known. This is what we can see from ZXMOTO as most of the bad reviews regarding ZXMOTO products have been regarding their terrible customer service, which offers no help, whatsoever.
For a company that exports all over the world, they also do not have a lot of options for reaching out to customer support and different languages, either.
Tough Assembly
The assembly procedure of the ZXMOTO Table Tennis Robot is incredibly difficult. This is partly due to the manual which is not very explanatory, and the other reason is that it is a Chinese machine, which can be tough to set up if you do not have experience of doing so, before.
Our Rating: 3.9/5
We like the ZXMOTO Table Tennis Robot, and there is a lot to fancy about it, but at the same time, it is understandable why it does not rank so highly in our rating.
The customer support issues are not something that can be excused, and if someone is paying money for a product, they do want a decent post-buying experience, as well. If ZXMOTO can improve its customer support and sort out the minor flaws in the robot, it can be ranked even higher.
However; all the bad things on one side, we have to remember that it comes packed with some superb training options that can truly take your game to the next level. All in all, for that kind of price, it is a no-brainer!
Affordability, playing options and, of course, the year-long warranty is all attractive reasons for purchasing it.
Frequently Asked Questions
How can I get my ZXMOTO Table Tennis Robot repaired?
While the customer service of ZXMOTO is not ideal, if you are still under warranty, you can email them to let them know about the problem. They take some time but will sort out the issue.
How long is the warranty on the ZXMOTO Table Tennis Robot?
This is the warranty policy of the ZXMOTO Table Tennis Robot:
"12-months accessory warranty, within 12-months, if there is any quality problem in the normal operation and use, we can help to resolve these issues.
But if it is man-made improper operation, it is not covered by the warranty, thank you for your understanding."
Conclusion
ZXMOTO is an excellent example of fantastic Chinese products that are widely available all over the world. We believe that it has a plethora of settings and choices for varied stroke play and serve return options that can help you improve your game.
Our team thinks it is a reliable option to consider since it has a dependable mechanical construction that provides a high level of consistency and dependability.
The ZXMOTO has a couple of flaws. The apparent one is that the setup and operating instructions are in Chinese, which is a problem for people who do not speak or understand Chinese.
It does, however, randomize shots, making it one of the finest alternatives for professional players, since few robots priced at that level have such a diverse set of characteristics.