The Palio Expert 2 Table Tennis Bat is one of the best all-rounder paddles available in the market. It is widely considered a favorite for beginners, and this is for good reason.
Cost-effective, quality, and simply a jack of all trades, the Palio Expert 2 is a great option to have! We take a look at it, in great detail.
Palio Expert 2 Paddle Specifications
Our Rating: 4.3/5
Grip Type: Shakehand
Price: $
Weight: 7.04 oz / 199 g
Play Rating
Speed: 6.0/10
Spin: 8.5/10
Control: 9.7/10
Durability: 7.5/10
Materials
Rubbers: Palio CJ8000 rubbers x2
Plies: Wood
Sponge: 1.88mm
What to Expect
If you purchase the Palio Expert 2, you can expect a paddle purely made for beginners. It is highly recommended by the Internet, and by us, to invest in it, if you are truly a beginner. Here, we take a closer look at its features.
CJ8000 Rubber
The rubber on the Palio Expert 2 is CJ8000. Both sides are covered with the same rubber and that is a rubber of high quality. CJ8000 is tacky enough, meaning that it will suck the ball in, just enough, to allow you the generation of spin.
CJ8000 rubber is approved by ITTF making it good enough for tournament usage. Although, we doubt people would play using this rubber, as it is ideal for beginners, not so much for pros. In addition to the CJ8000, there is also a thick layering of sponge underneath the rubber. It is just under 2mm in thickness, and that makes it quite thick, allowing for better control.
Insanely Good Control
For a beginner, it is incredibly important to buy a paddle that offers a wide range of control over all kinds of shots. This is significant, as it will allow you to play all kinds of shots, and once you get used to the basics, you can take the next step of playing aggressive ping pong. The Palio Expert 2 Table Tennis Bat comes with a lot of control over your shots.
It does not matter if you are up against a player with incredible skills, your Palio table tennis bat will give you a good chance and offer you lots of controlled shots. It slows down the game to your convenience.
Shakehand Flared Handle
The handle of the Palio Expert 2 Table Tennis Bat is designed in a way to maximize comfort and control. It is flared from the bottom, meaning it will not slip out of your hand, no matter how intense the rally is.
The grip is shakehand and not penhold. This, too, makes sense given the fact that most beginners have a shakehand grip rather than a penhold grip.
Free Case
Despite how affordably priced the Palio Expert 2 is, it is also accompanied by a free case. We recommend using the case to ensure the longevity of the rubber and the paddle, itself. Like we mentioned before, the rubber is quite tacky, which means even dust tends to stick on the surface. This could be harmful to your paddle and a case can help in keeping the dust away.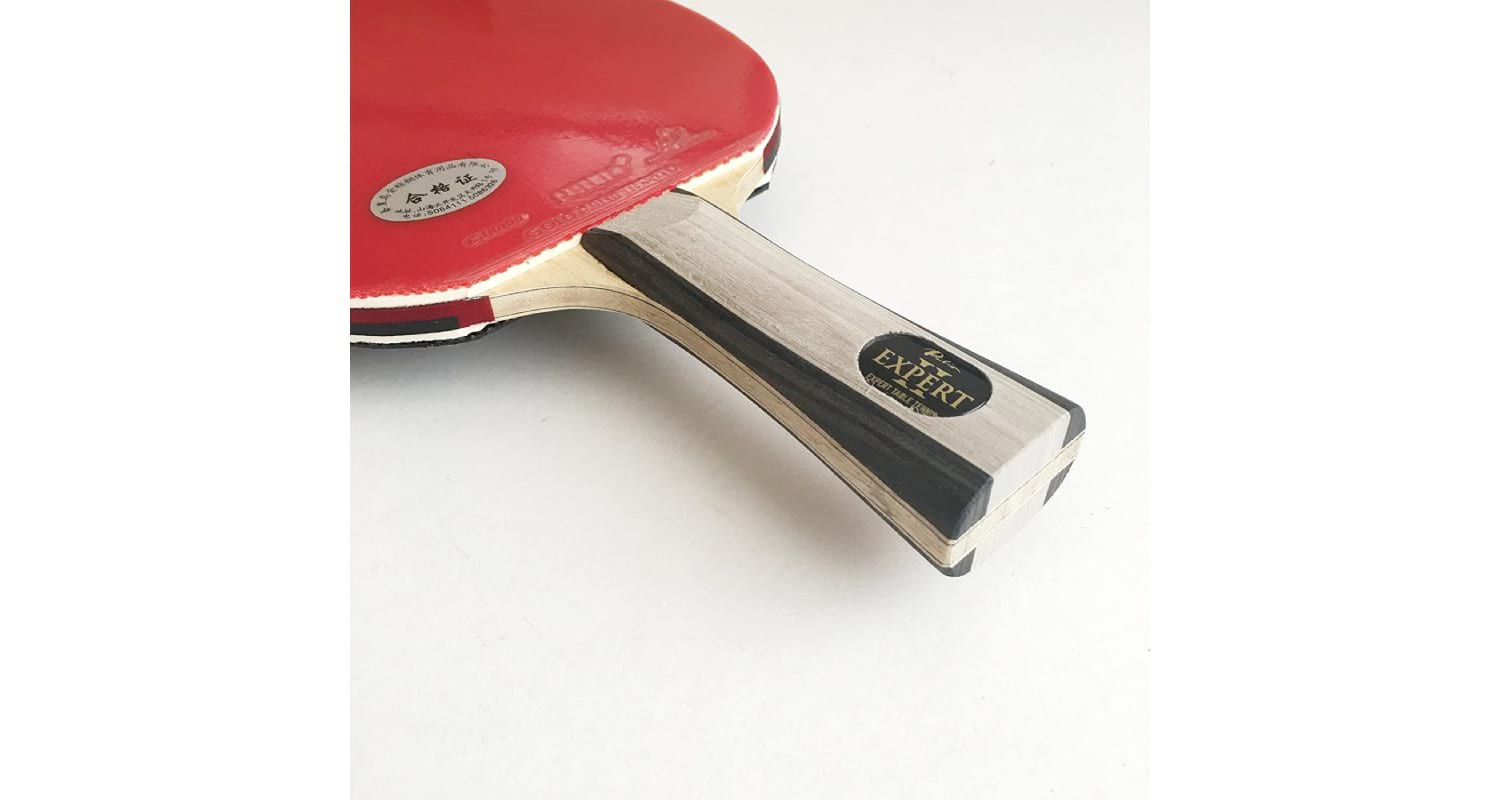 Pros
Affordable
The Palio Expert 2 is also one of the most moderately priced paddles in the market. It's in a similar price range to the Gambler paddle. You can find cheaper paddles, no doubt, but we cannot guarantee the same quality on those paddles.
Other models that have the same features as the Palio Expert 2 Table Tennis Bat, can cost a lot more. This makes the Palio Expert 2 an option for everyone in the market.
Highly Rated
It is always important to read up on a product before buying. We found some amazing reviews on the Palio Expert 2 Table Tennis Bat and it seems to have little to no bad reviews. This makes the Palio Expert 2 a decent option. People seem to love the control it offers, the most.
ITTF Approved
It is rare to buy a paddle this cheap and to see it being approved by ITTF. The good news, though, is that the Palio Expert 2 is approved by the biggest table tennis authority, the International Table Tennis Federation. We always maintain purchasing paddles that have the stamp of approval of ITTF because it helps you in the longer run.
Free Case
In most situations, you buy a paddle and you have to buy a case in addition to your purchase. It is not compulsory, but it is highly recommended because the paddles tend to deteriorate in quality, especially, in the presence of dust. The Palio Expert 2 saves you the hassle of looking for a cheap case because it comes with one!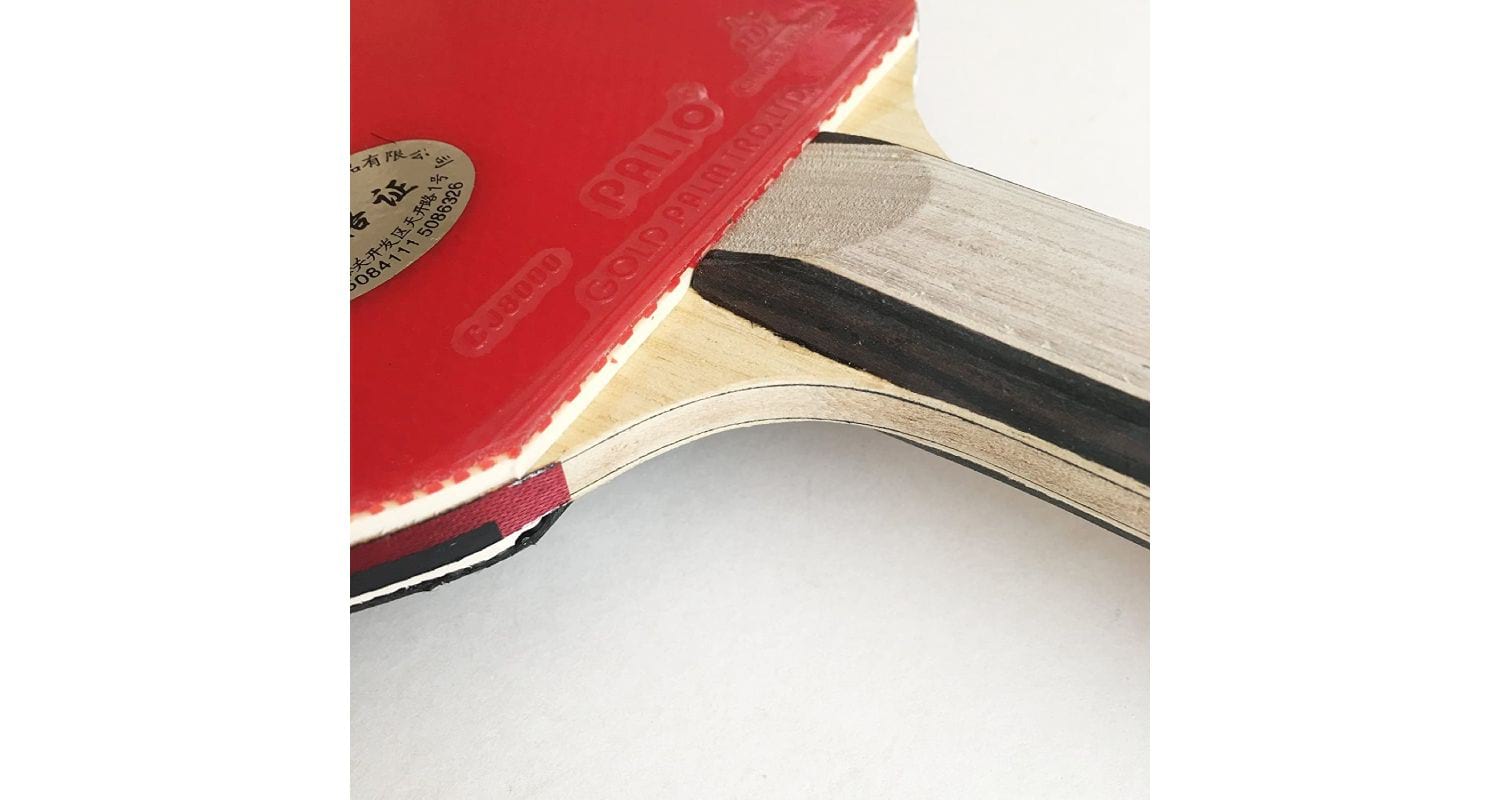 Cons
Plays Out Slow
While it is recommended for beginners to play with a paddle that offers higher control and lesser speed, some might disagree. If you have an aggressive playing style and you want others to start with this mindset, then maybe the Palio ping pong paddle is not the best of options. It tends to slow down the game, quite a bit, and if you are a quick learner, you might be looking to upgrade fairly quickly!
Quite Heavy
This is a genuine concern as the Palio Expert 2 Table Tennis Bat weighs nearly 200 grams! This is quite heavy compared to some of the other options that we have played with. We believe that this is done on purpose to ensure higher control, but playing with such a heavy paddle may not be everyone's cup of tea.
Rubber Coming Off
Some customers have reported the rubber coming off fairly easily. It is not a huge issue, and it is expected too, considering the Palio Expert 2 costs fairly less. If you experience this problem, we suggest gluing it back on.
Our Rating: 4.2/5
Ratings can be misleading. For a beginner, the Palio Expert 2 is a 10/10, however, for even an intermediate level player, a Palio Expert 2 will not be a good purchase. However, all things considered, we rate the Palio Expert 2 as high as 8 because it is quite cheap, and you get a lot of good things.
Frequently Asked Questions
Can I buy the CJ8000 rubber to replace the one on my Palio Expert 2?
Yes, if you feel that the rubber on your Palio Expert 2 Table Tennis Bat has run its race, you can buy the same rubber from virtually anywhere.
What glue should I use to stick the rubber on the Palio Expert 2?
There are lots of options available if you are looking for glue. It is, of course, important to use table tennis glue, firstly. Secondly, we recommend using the Butterfly Free Chack, as it is quite sticky.
Conclusion
One of the few shortcomings of the Palio Expert 2 Table Tennis Bat, are perhaps regarding its name. It is certainly not made for "experts", and it appeals to beginners. Apart from that, there is hardly anything wrong with the paddle. It is a good option for defensive players and beginners can get used to knocking around by practicing with the Palio Expert 2.
Palio Expert 2 Table Tennis Bat is a solid purchase, especially, considering the fact that it costs peanuts. It has a nice shakehand flared grip that keeps the paddle in your hand, no matter what. Players with a penhold grip might suffer, but then again, beginners are rarely penholders. All in all, it is the complete article for beginners.