Bars with ping pong tables in the US are the unique and most fun way to catch up with your friends and play together.
With the rise in popularity of social entertainment in the United States, bars with ping pong tables have become a thrilling and trendy option to enjoy your favorite food and drinks while having an electrifying competition on professional-grade table tennis tables.
In this article, we are going to explore six bars with ping pong tables in the United States, ranging from contemporary hotspots in big cities to comfortable and relaxing outdoor venues.
So, gather your friends, grab your ping pong paddles, and get ready to dive into the exciting world of ping pong bars.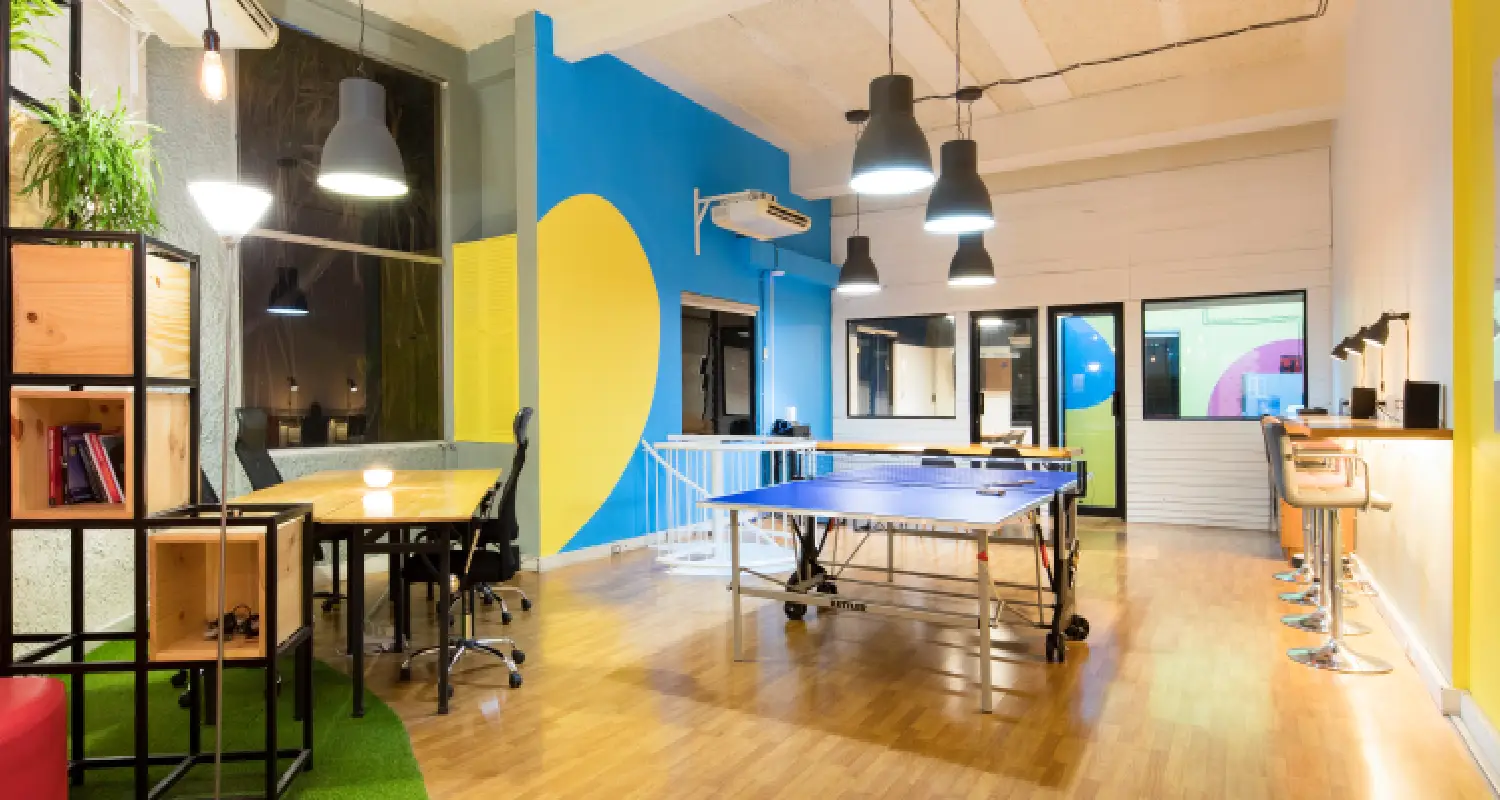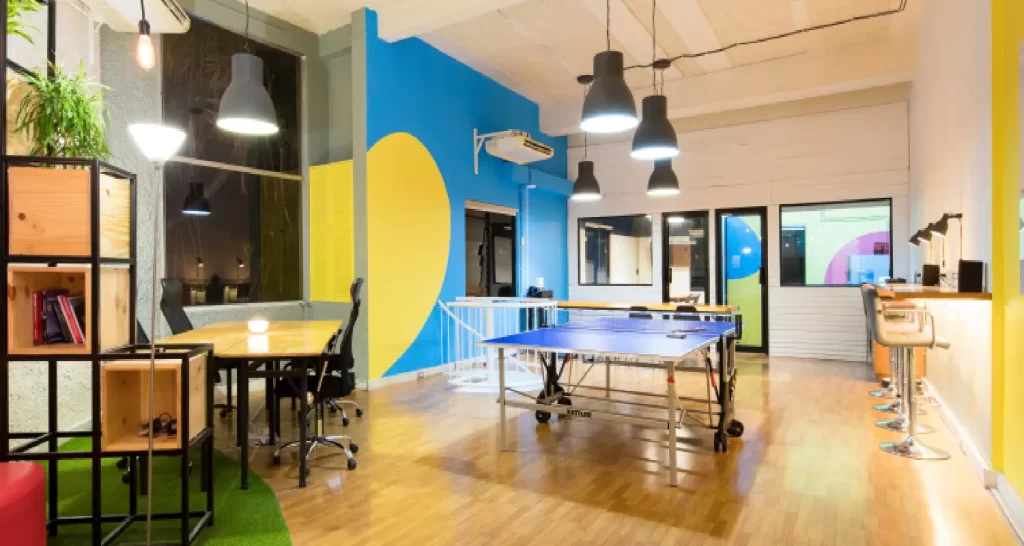 Destination Bars with Ping Pong Tables in the US – Nationwide
Spin Ping Pong Bar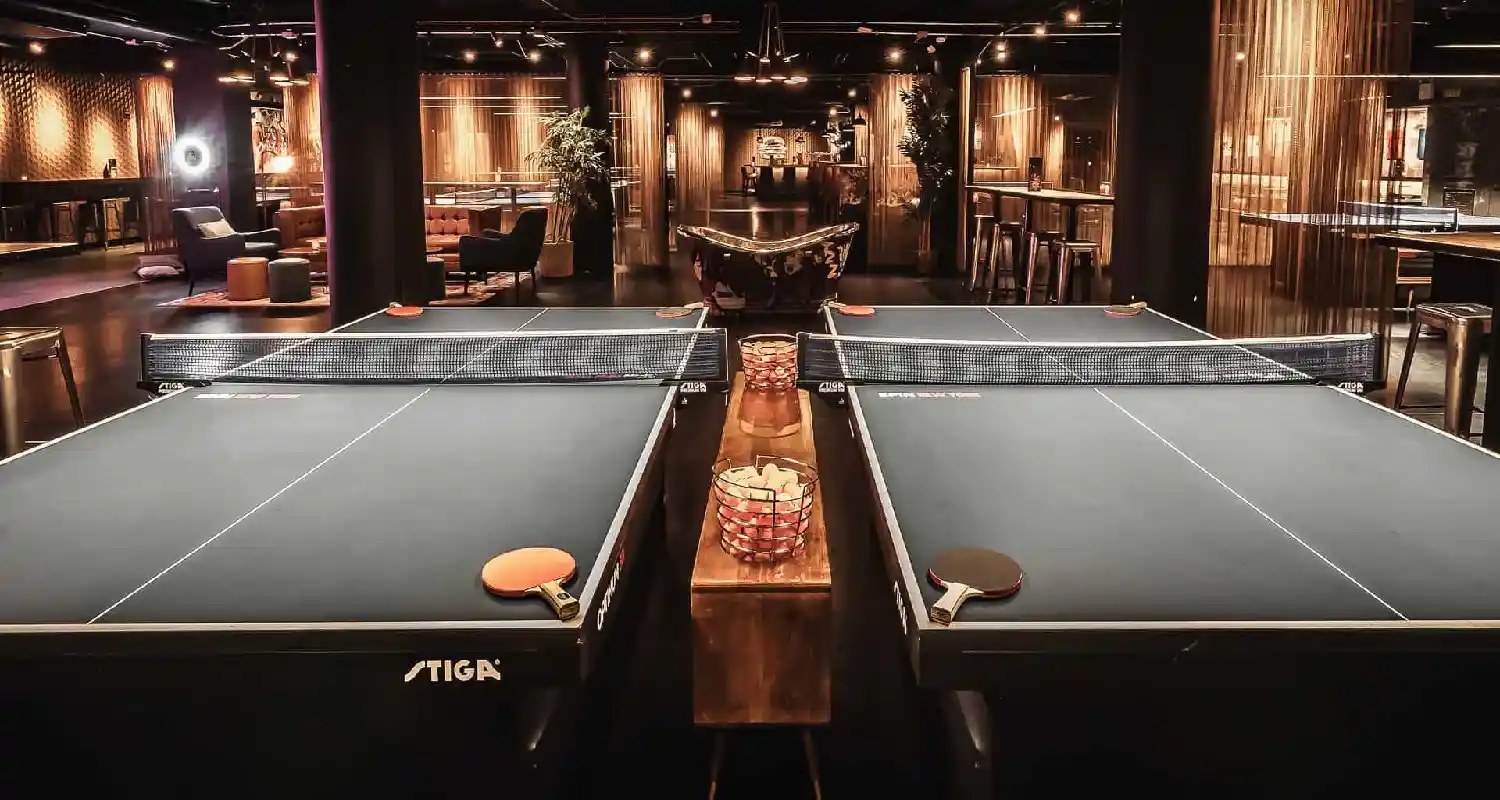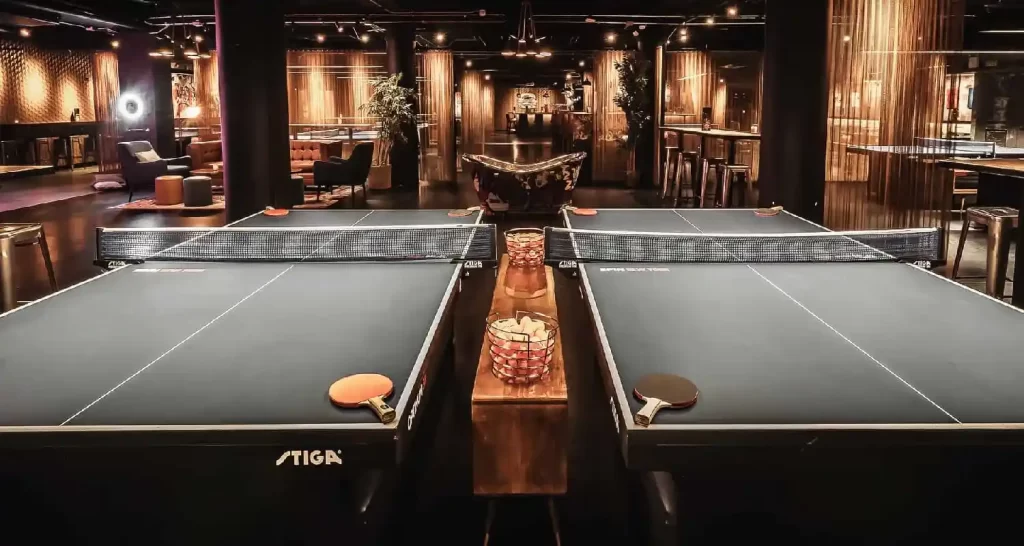 Spin is a renowned ping pong bar that has gained its reputation for professional-grade table tennis tables and a trendy and cozy atmosphere.
This one of the top-class bars with ping pong tables is spread in all the major cities of the US, including New York, Los Angeles, Toronto, Chicago, San Francisco, and so on, making it a go-to destination for corporate events, social gatherings, and everything in between.
They strive to bring perfection in creating an inclusive atmosphere that embraces diversity. The club offers ideal lighting, roomy floors, and top-tier ping pong tables with free table tennis balls and paddles.
No membership is required to be a part of the fun; however, they offer some awesome membership programs with crazy discounts and a lot of perks.
Ace Bounce Ping Pong Bar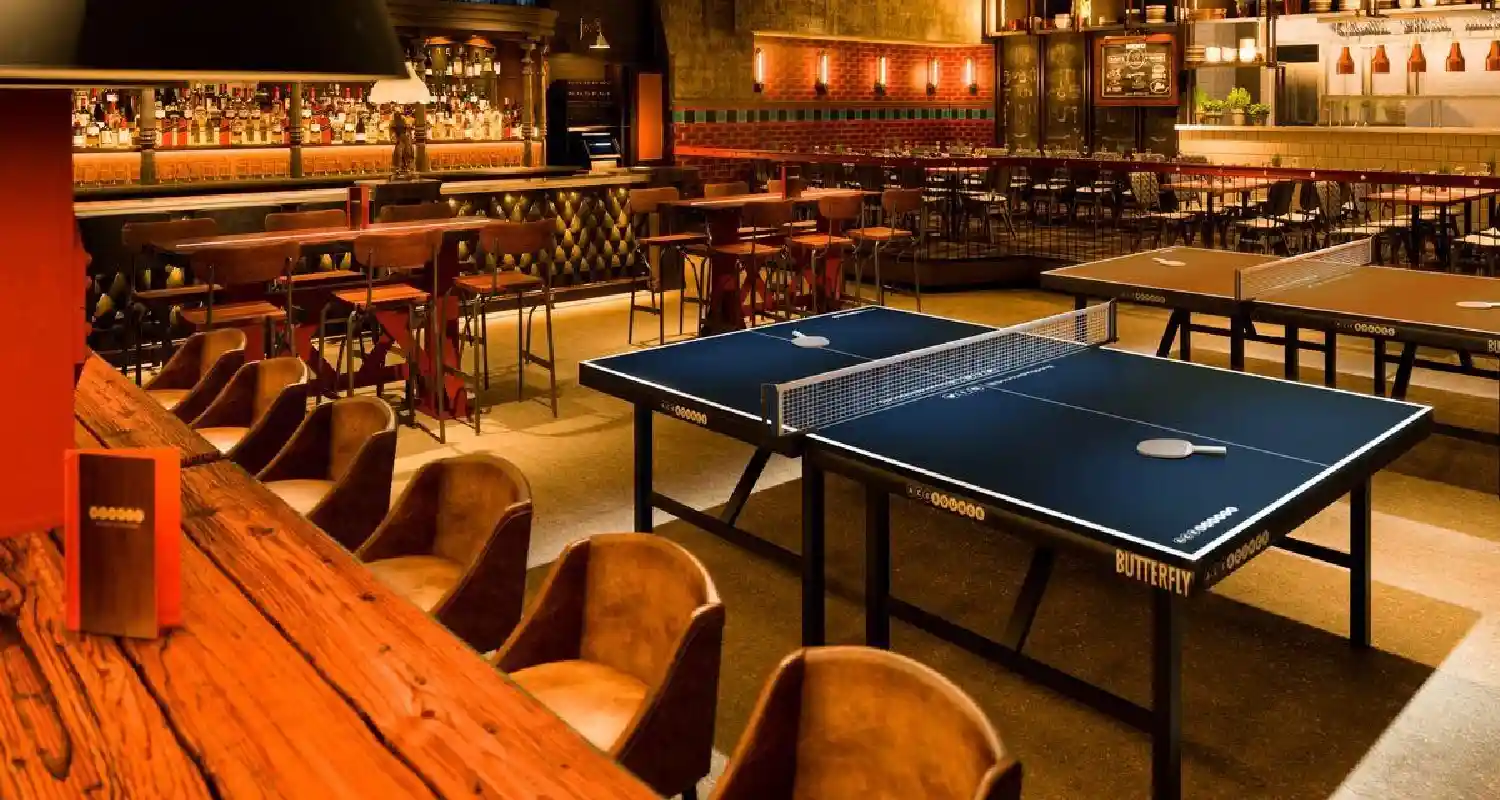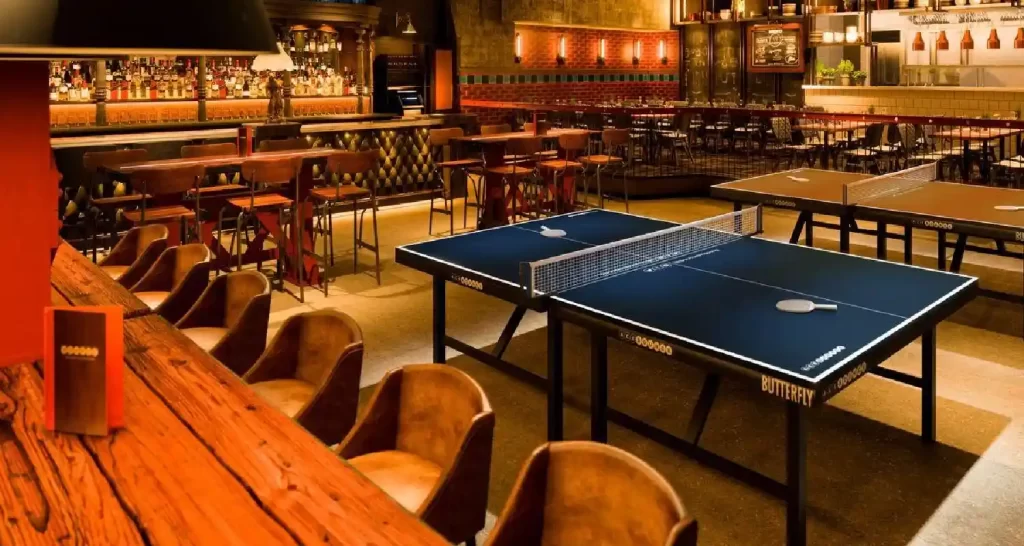 Located in the heart of the US, Chicago, and San Francisco, this bar with ping pong tables is a perfect destination for those looking for good food, drinks, and entertainment, all under the same roof.
Ace Bounce is loved for its dynamic atmosphere, incorporated with colorful lights and funky artwork that make you feel the energy the moment you enter. With a diverse menu offering creative and finger-licking-good dishes, this full-service restaurant will satisfy your appetite in the most fun ways.
They are equipped with professional-grade table tennis tables and high-quality equipment to give you a whole tournament vibe while standing in the restaurant. They also offer private event space that you can reserve for birthday parties, corporate events, and other occasions.
Smash ATX Ping Pong Bar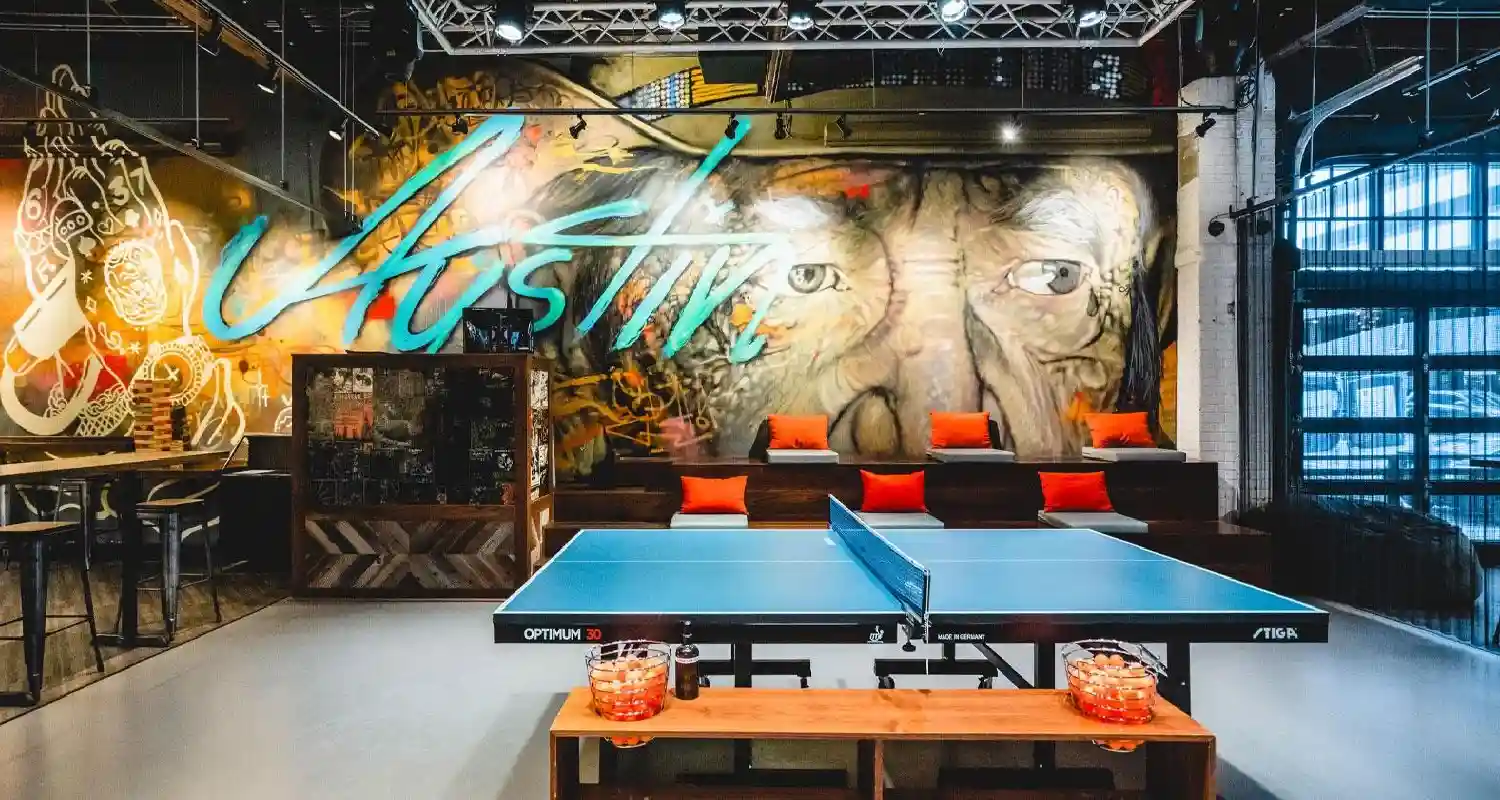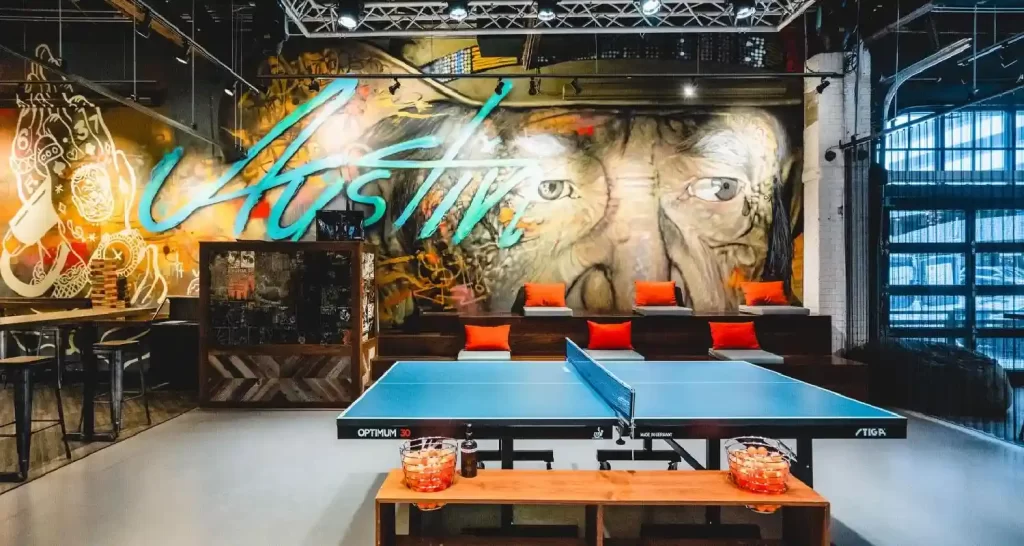 Introducing Smash ATX, the ultimate destination for all ping pong lovers in Austin, Texas. This animated bar with ping pong tables features superior quality tables, friendly and comfortable ambiance along with walls painted with creative artwork, making it a perfect option for players of all levels.
The moment you step into Smash ATX, you will be greeted with the crisp sound of the ball hitting and bouncing, blended with cheers from spectators and players alike. The venue boasts a sleek and contemporary design and is equipped with large windows and high ceilings that allow plenty of natural light to enter the rooms.
Smash ATX provides professional-grade tables of regulation size and premium quality to ensure a smooth and consistent playing experience. With its welcoming atmosphere and tempting menu, Smash ATX is a must-visit place for those who love ping pong and want a timeless, fun, and social experience with friends.
Pips and Bounce Ping Pong Bar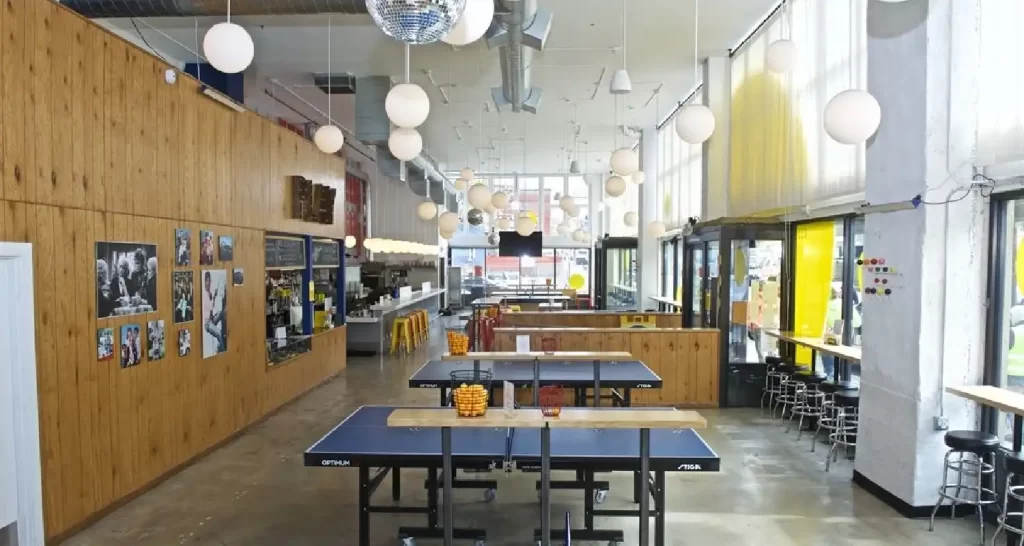 Featuring a sleek and modern interior, this unique bar will surely bring a smile to your face transporting you to a world of fun and excitement. With the facility of the retro basement, Pips and Bounce provide you with timeless fun without chasing down those pesky balls.
The bar switches to the party mode on Fridays and Saturdays themed blacklight fun. With the blacklights turned high and normal lights turned low, you'll feel like you are playing in outer space among the cosmos.
But the fun doesn't end here. Mondays and Tuesdays are all about private events that you can reserve in their retro basement, which makes it an unforgettable experience for visitors. Combining vintage decors, premium ping pong tables, delicious snacks, and various drinks, your guests will surely have a blast.
Ace, Eat, Serve Ping Pong Bar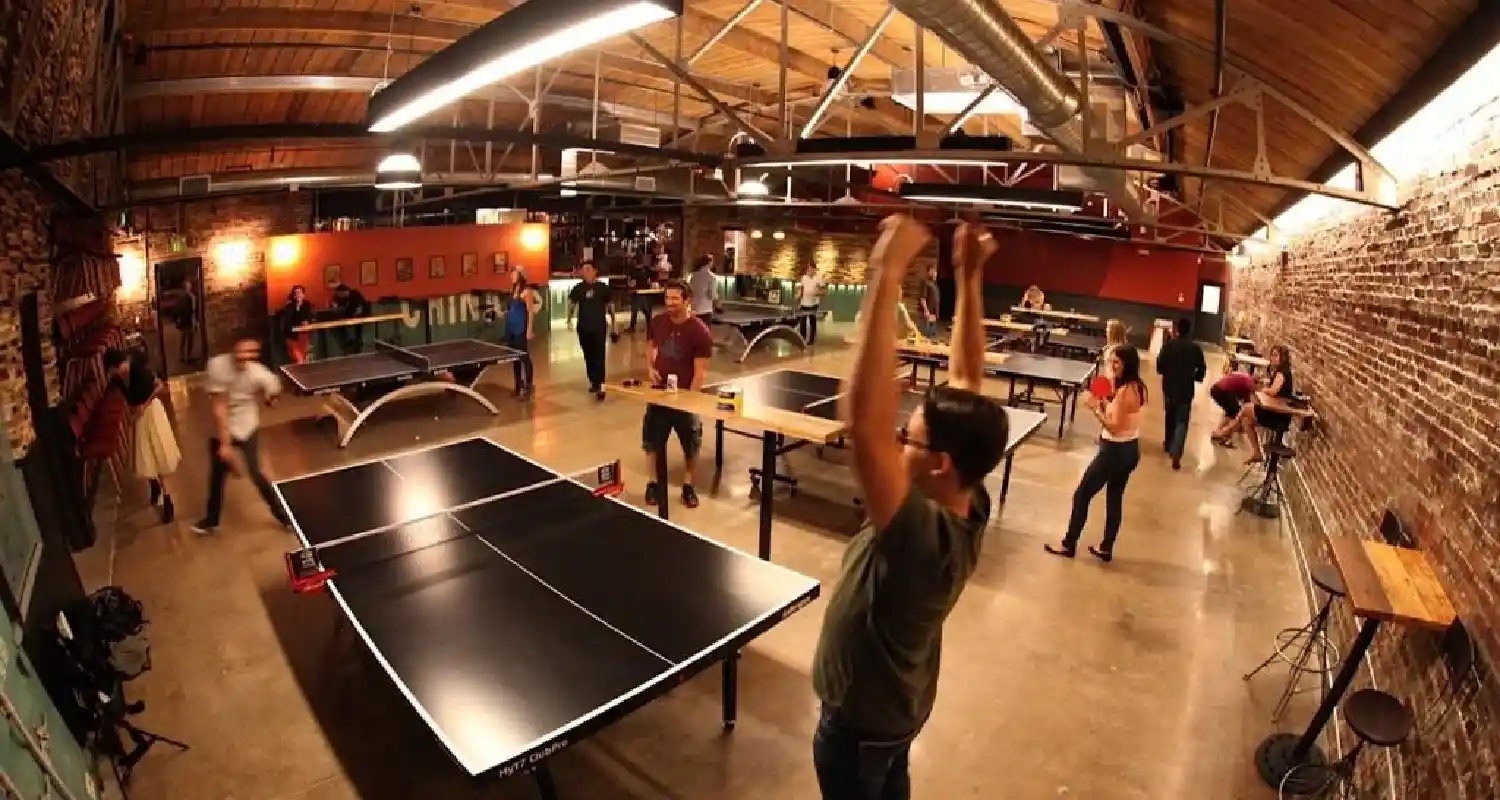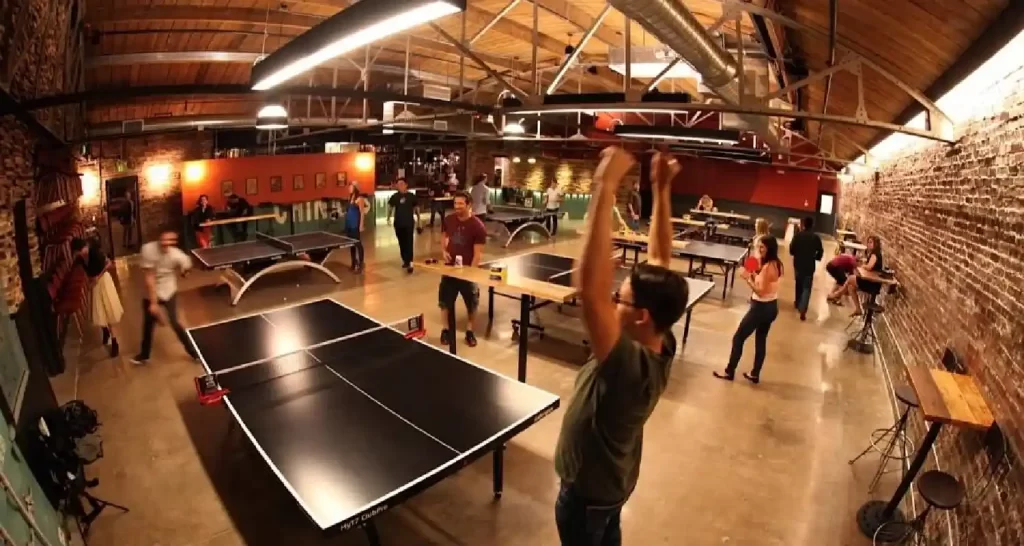 Equipped with 10 high-grade ping pong tables, Ace Eat Serve is an irresistible place for table tennis enthusiasts and foodies alike. The bar is incorporated with funky and vibrant decor that creates a fun and animated atmosphere for a perfect night out with friends.
On the other hand, if you prefer outdoor spaces more, this restaurant offers spacious outdoor seating accompanied by a patio with a fireplace. This cozy and inviting ambiance is perfect for savoring Asian-inspired food with crafted beverages while enjoying the outdoors.
Since they host regular ping pong events and tournaments, they give their customers a golden opportunity to test their skills and socialize.
Comet Ping Pong Bar and Restaurant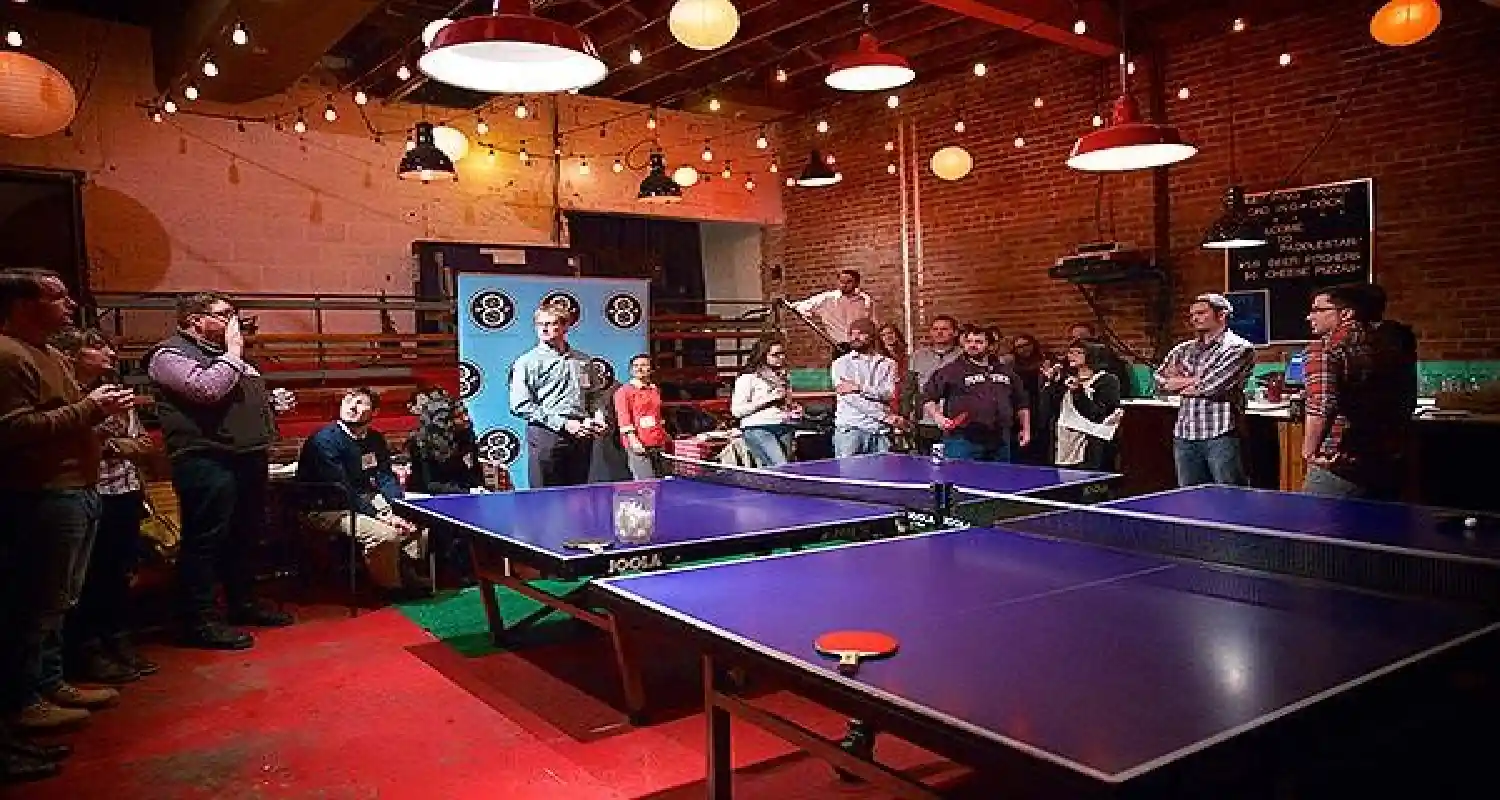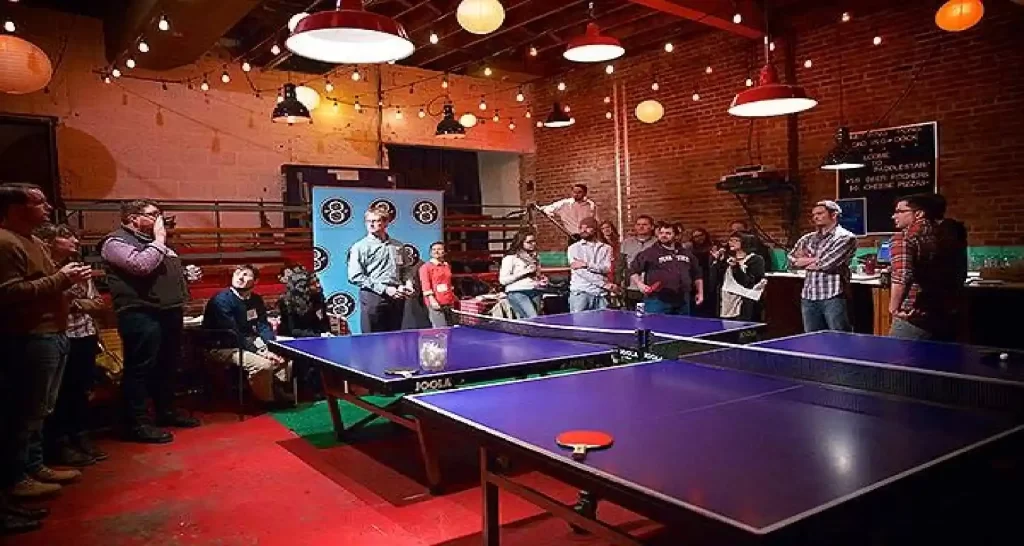 Comet is one of the largest bars with ping pong tables and has gained a huge fanbase for its exciting features. With several ping pong tables to play for free; this is a perfect place for table tennis lovers looking for heavenly food taste and friendly competitions at the same place.
Its high-spirited retro ambiance adds to the excitement and provides a lively environment perfect for a reunion with friends after a long time. Pizza is the highlight of the menu that is high in demand and a perfect fuel for long ping pong leagues.
Comet ping pong also hosts live music events adding more to the already electric vibe of the venue. On top of that, the bar offers a variety of beverages, including craft cocktails to quench your thirst after a fiery match.
Conclusion
Hopefully, this article has given you a good understanding of some of the best bars with ping pong tables in the US.
Whether you are a ping pong enthusiast or just want to spend a stimulating hang out with your long-distance friends, these bars provide an excellent opportunity to enjoy food, drinks, and company while having hours of fun with ping pong.
The bars mentioned above are a few of the best places to play ping pong in the United States.
If you are seeking more options in the plate or didn't find the exact options you were looking for, be sure to check out our ping pong directory. Here you will encounter detailed reviews of the finest ping pong bars all around the globe.