Sanwei ABS Pro 3-Star balls are another top-quality balls when it comes to ping pong. It costs less compared to the other top tier options, but it is by no means a "cheap" alternative.
It has a great resume, and we will explore how good this ball can be as an option for you!
Sanwei ABS Pro 3-Star Balls Specifications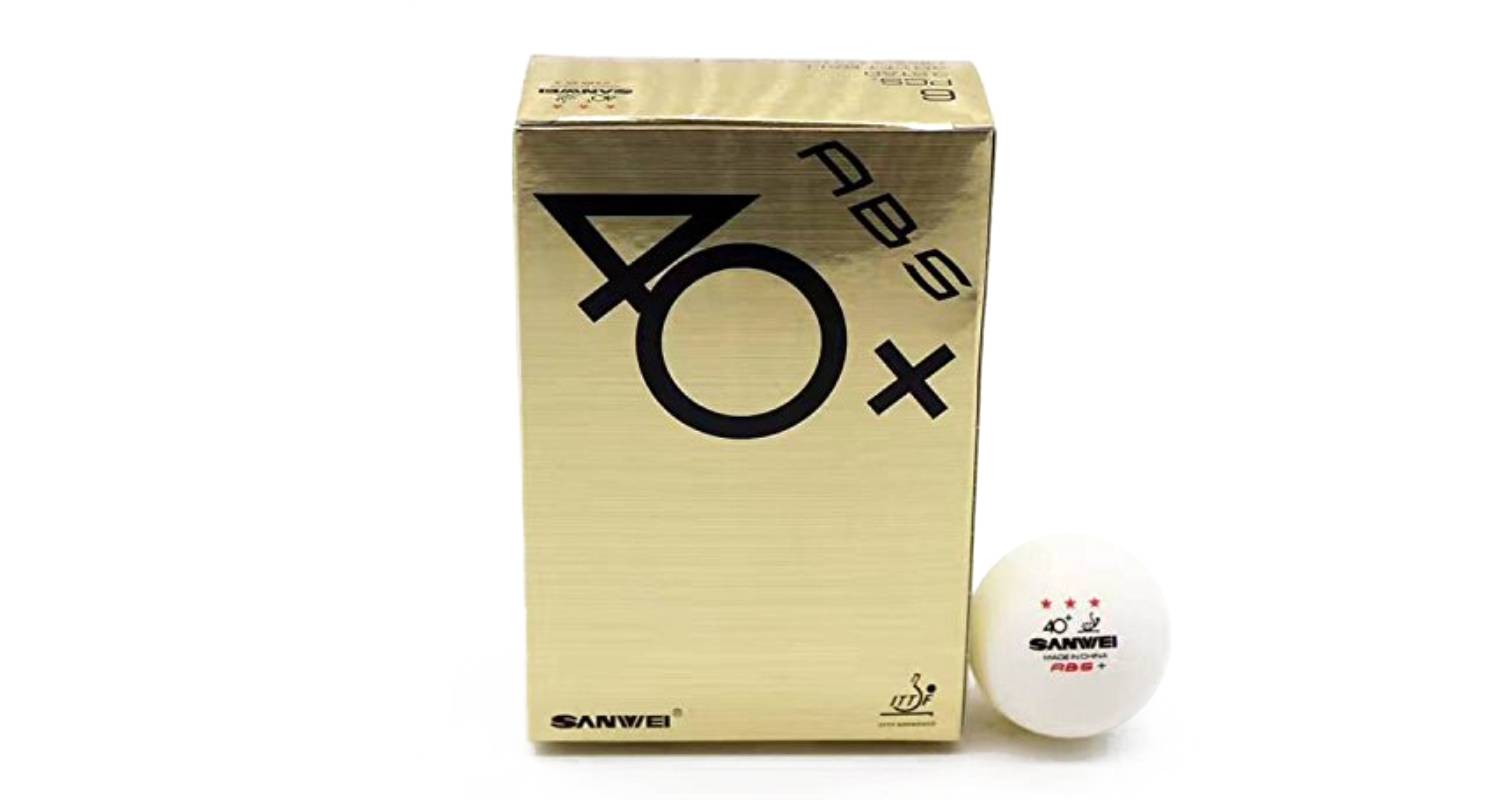 Our Rating: 4.5/5
Play Ratings
Roundness: 9.5 (perfect round shape)
Speed: 8.8 (plays out fast enough)
Consistency: 9.2 (highly consistent bounce)
Hardness: 8.0 (medium hard)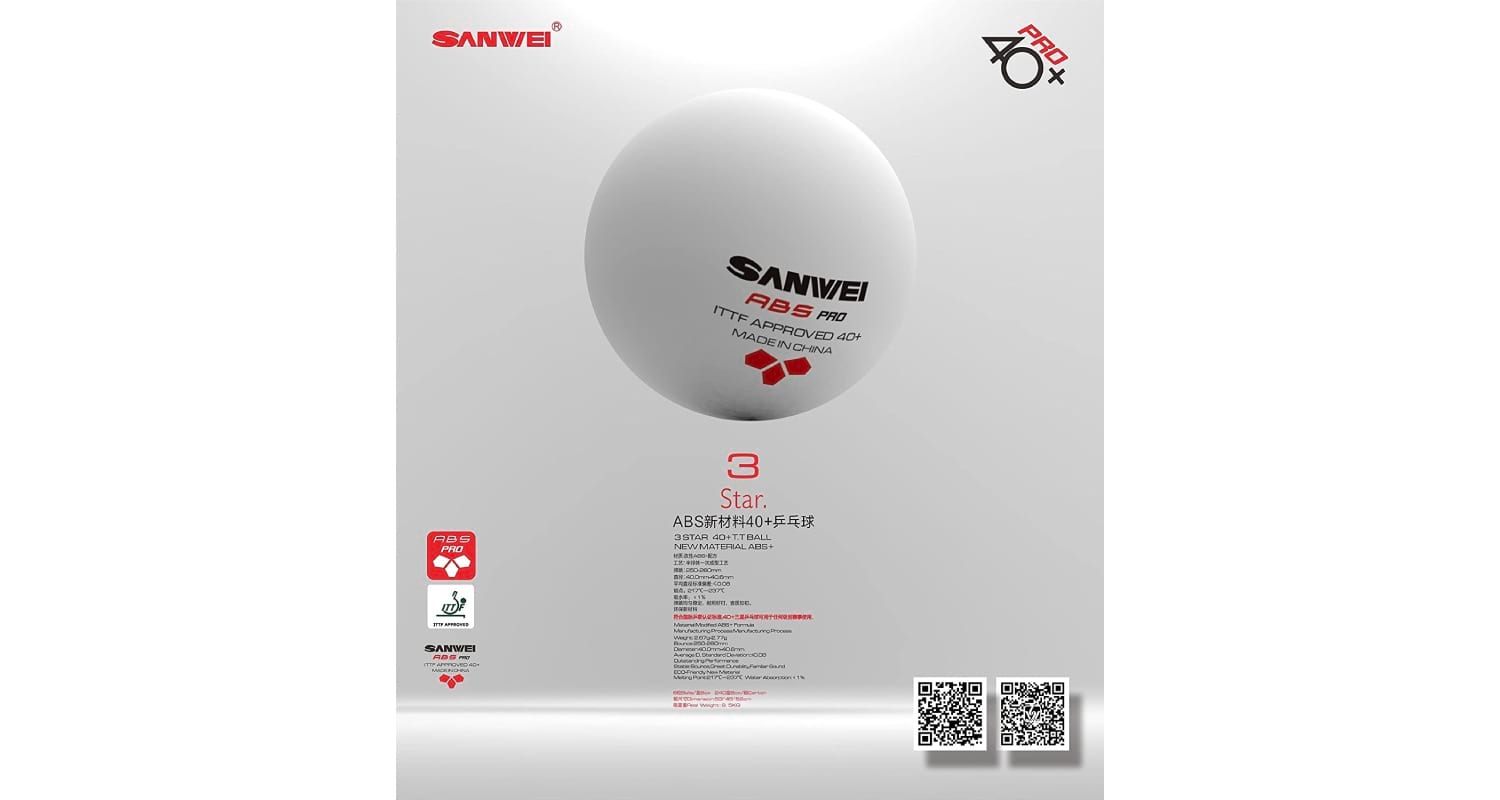 What to Expect
The Sanwei ABS Pro 3-Star balls 40+ compares superbly with the likes of Nittaku Premium, XuShaoFa, DHS D40+, etc. This is a major compliment when you consider the prices of the aforementioned balls and the ratings they have gotten!
White Color
The Sanwei ABS 40+ gives off a no-messing-around vibe. That is complemented by its color, as it comes only in the egg-shell white color. No time for being fancy, just doing its job and that is being consistent and an amazing option for ping pong at all levels.
ABS With Seam
It is made with ABS plastic, which is highly useful for the construction of ping pong balls post-celluloid era. It is largely similar to the celluloid balls in its feel and the sound it produces when coming in contact with the paddles and table tops. The ball is seamed and follows the traditional design.
Used In ITTF Tournaments
Like we mentioned before, the Sanwei ABS Pro 3-Star balls 40+ has a fantastic resume. It has featured as the official ping pong ball in many international-scale International Table Tennis Federation tournaments. This includes the World Championship of Ping Pong in 2019, Senior & Junior English national championships, British League, County Championships & Cadet & National Junior League.
In addition to these tournaments, it has also remained the official Table Tennis ball of England for 2018 to 2019 and 2019 to 2020 seasons.
High Performance
It comes as no surprise that the Sanwei ABS 40+ offers a high-level of performance. The playability of the Sanwei ABS 40+ is simply fantastic, as it offers a highly consistent bounce, accompanied by speed and spin. It is also very durable; some believe it is more durable than the Nittaku Premium.
Pros
Great Consistency
We cannot stress how much we like the consistency of the Sanwei ABS Pro 3-Star balls 40+. No matter what shot you play; looping, driving, chopping, blocking, it performs similarly. This is not something that we have observed in other balls and it is a huge plus!
Fantastic Bounce
Fantastic, incredible, great, it just does not begin to describe this bounce. It compares with Nittaku Premium, some of us were convinced that it had a better bounce. It seems to have a consistent bounce in all sorts of situations, with spin, with speed.
Highly Affordable
Value for money would be an understatement. The Sanwei ABS 40+ are not affordable, they are a steal at the price they come. If you are clever about your business, you could get an even better deal on these balls. Stay on the lookout, you cannot find better quality at this price.
Solid, Consistent Construction
The construction of these ping pong balls is simply incredible. I have rarely seen all of the ping pong balls in a batch perform at the same level. It is very rare to find an odd piece out in the Sanwei ABS 40+, and almost all of them are top-quality.
Thanks to the ABS construction, these balls are made to be solid. They can take a beating, they can survive rallies, and that makes them very durable.
Perfectly Spherical
The shape of the Sanwei ABS 40+ is perfectly round. To get that kind of a shape for a ball that has a seam is a big task, and requires a lot of good manufacturing. This shows, Sanwei manufacturers were not messing around, they did make one of the closest balls to celluloid balls.
Superb Sound
The sound of the Sanwei ABS Pro 3-Star balls 40+ is super similar to the old celluloid balls. It makes for a fantastic ping pong session, making a lovely sound off the paddle and the table!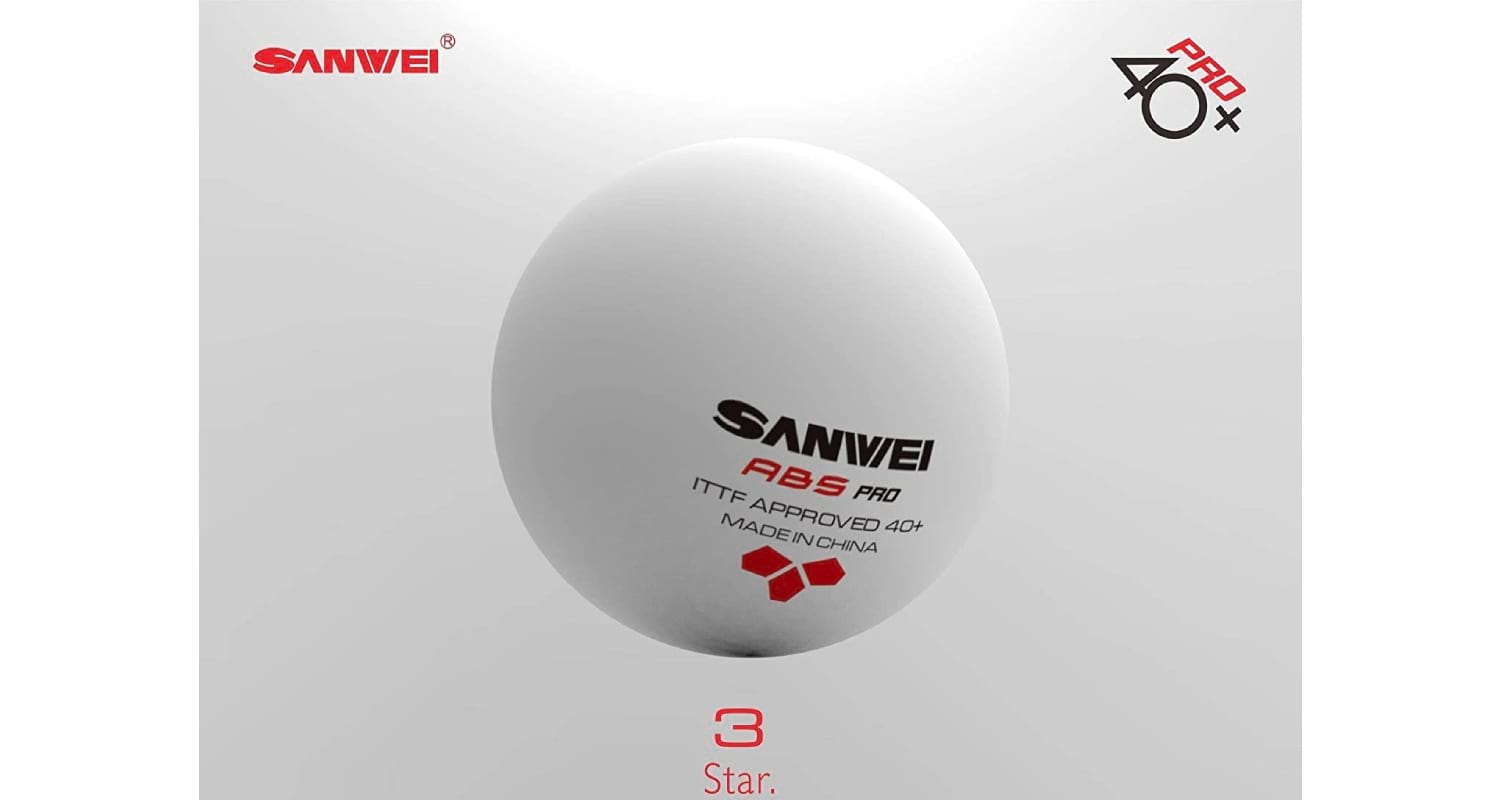 Cons
Slightly Heavy
Compared to the other balls that we have reviewed; the Sanwei ABS Pro 3-Star balls 40+ seems slightly heavier. Remember, this is something that regular players can only feel, it should be more than fine for amateurs and recreational purposes. Sanwei t is just a little heavy, but again, some people think of it, as an advantage, so it is down to preference.
Powder
The Sanwei ABS Pro 3-Star balls do leave a lot of powder behind. We suggest giving them a good wash before you start playing. It is gone after about ten to fifteen minutes of play but it can leave spots on your paddle and table.
Our Rating: 4.5/5
If not for the powder bit, the Sanwei ping pong balls would have probably gotten the maximum rating. However, it is only behind the Nittaku Premium, and that should say a lot about how much we like this ball! It is much more affordable, arguably has better playability and sounds better, too!
There are a few questions over its durability, but they can be ruled out as manufacturing faults, but the problem with powder is a serious issue. Hopefully, Sanwei can upgrade on it, address these issues, and make the complete table tennis ball in the near future!
Conclusion
At the end of the day, there is not a lot you can say about a ball that has been approved by ITTF. It has been the official ball for many international tournaments around the world, most of them, recent. It is more than a fine option for recreational purposes, and it is a very decent option for professionals looking for an affordable option, too.
So, now you know everything that you needed to know to make an informed decision about choosing the Sanwei ABS Pro 3-Star balls. Considering the info that we put together, we can conclude that there cannot be a lot of complaints with Sanwei, maybe except, they can make a new ball or make these in orange? Either way, it is a highly-affordable ball, and it has some great features!