XuShaoFa 40+ is another top-tier ping pong ball. Most critics tend to rate it high on their lists of favorite balls, and we are not any different, in this regard.
The biggest compliment we can pay the XuShaoFa 40+ is that it compares against the Nittaku Premium 40+!
XuShaoFa 40+ Balls Specifications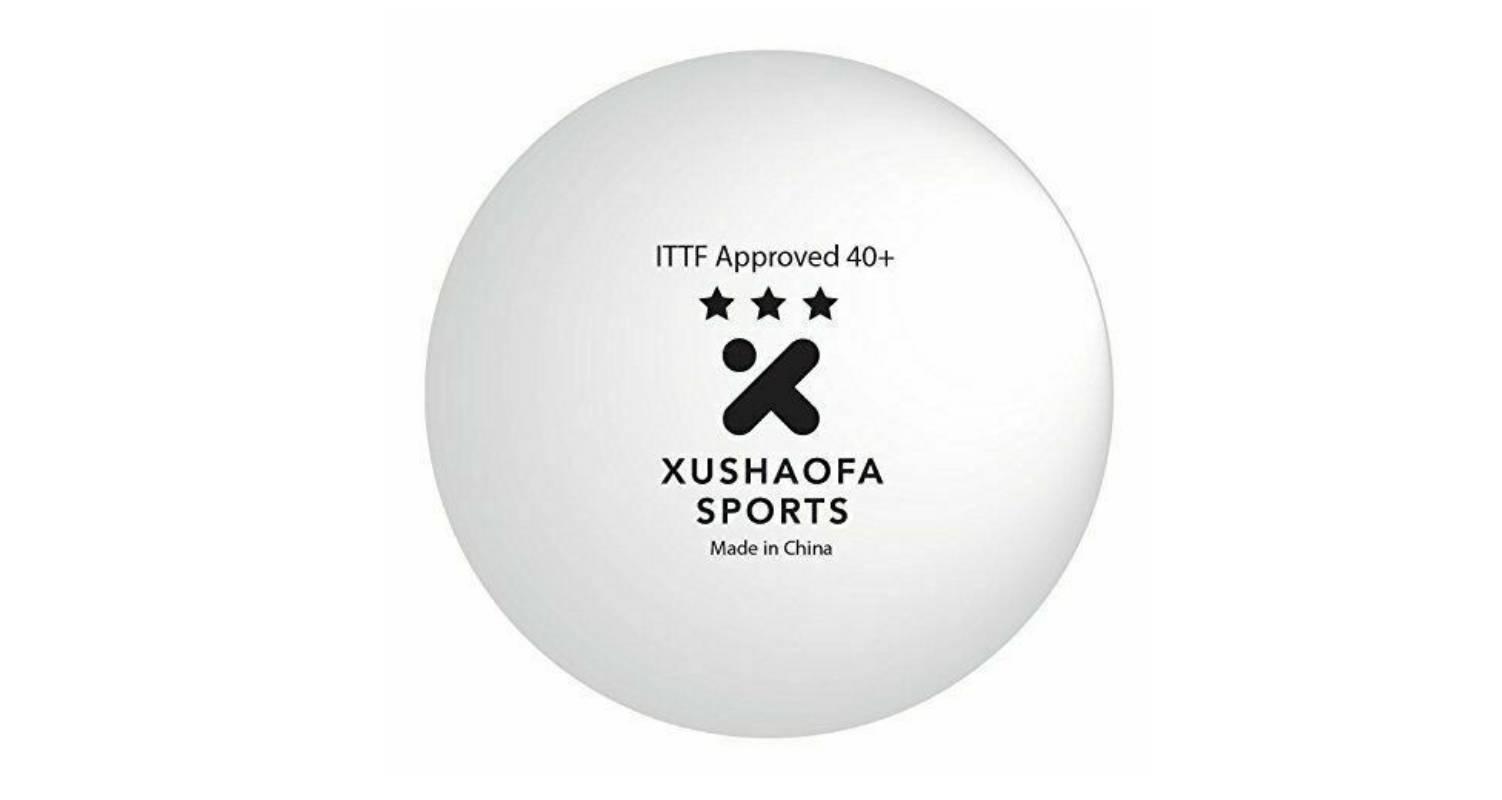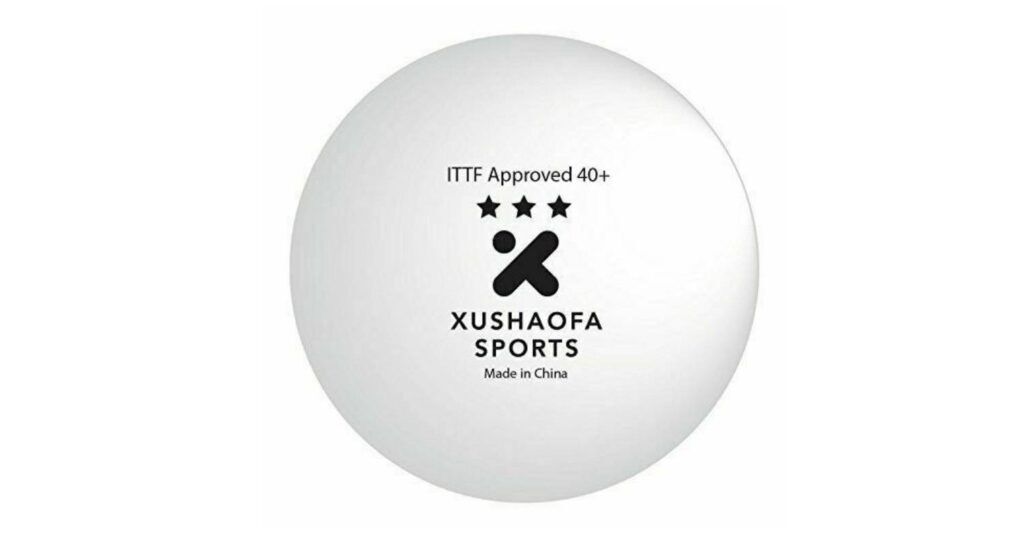 Our Rating: 4.5/5
Play Ratings
Roundness: 8.8 (decent round shape)
Speed: 8.5 (plays out quite fast)
Consistency: 8.7 (highly consistent bounce)
Hardness: 8.8 (medium hard)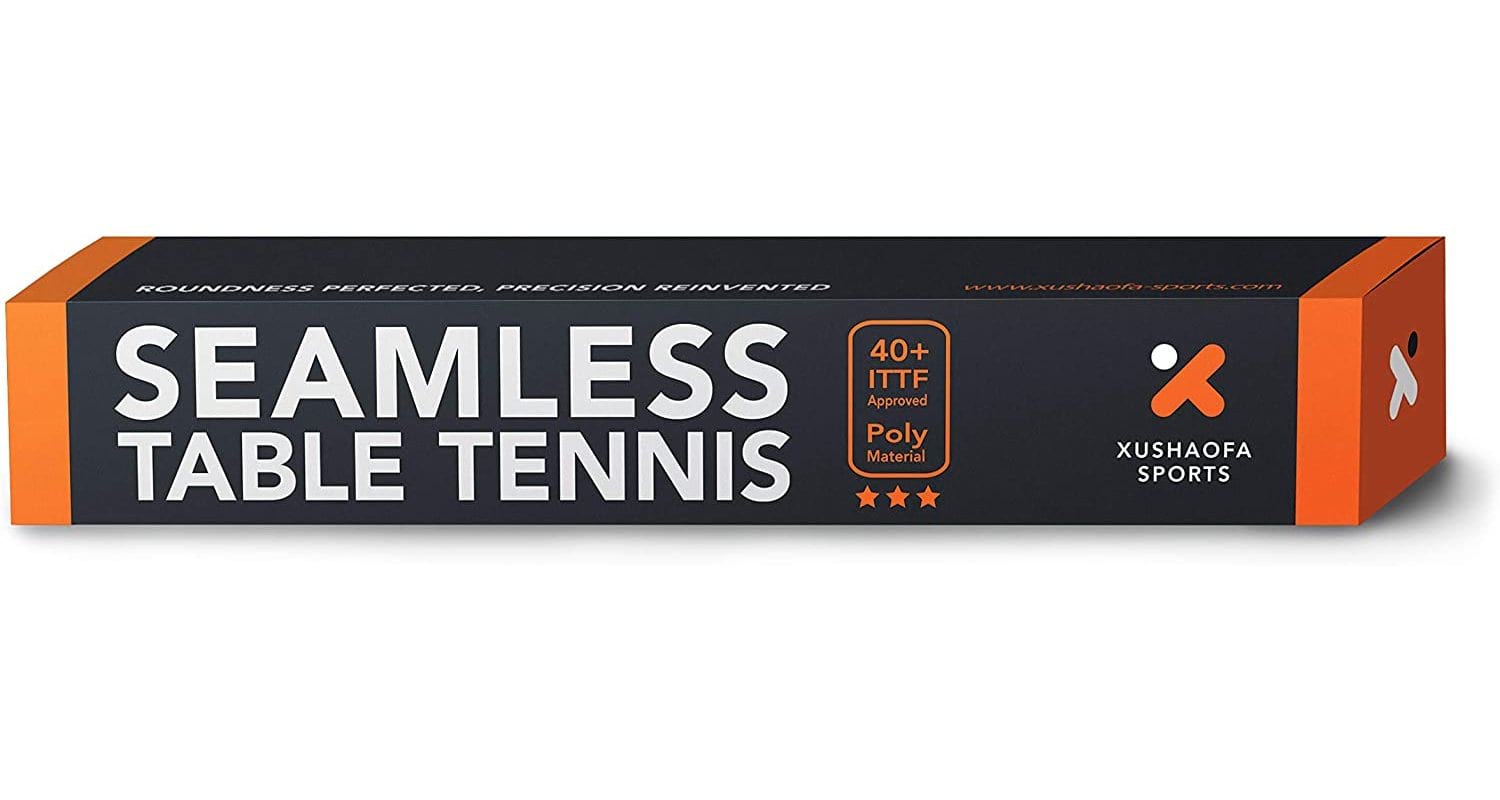 What to Expect
You can expect top-quality play from the XuShaoFa, it has several fantastic features, and we will look at all the reasons to consider it as your next ball for practice!
ITTF and USATT Approved
The XuShaoFa's consistency, speed, and durability make it one of the best options for ping pong balls in the market.
That is why, it comes as no surprise that the two biggest regulatory bodies, International Table Tennis Federation and the United States Table Tennis Association, both approve it for tournament play, globally and domestically.
Seamless Experience
You can truly expect a seamless experience with the XuShaoFa 40+. It is unlike any other ping pong ball in the market, as it comes with a seamless design. This is considered to be better than the seamed balls, which tend to have a "weak spot" because of the seam.
That is not the case with the XuShaoFa 40+ as it is purely seamless. It is a unique product and one you have to try before you can have an opinion on it.
Manufactured by Exclusive Technology
The XuShaoFa 40+ is manufactured by revolutionary cutting-edge technology. Their seamless balls are produced thanks to the fusion of the latest technology, which allows the balls to be created without a soft spot and does not involve any parts to be fused.
This not only allows the ball to deliver consistent bounce but also offers a lot more clean and accurate bounce along with a predictable trajectory.
Poly-Material Construction
The construction of the XuShaoFa ping pong ball is done with the finest poly-material.
It is a proprietary poly plastic material rather than the traditional celluloid material. This not only makes the XuShaoFa 40+ balls more durable and long-lasting but also a lot safer as compared to the celluloid material which is prone to catching fire.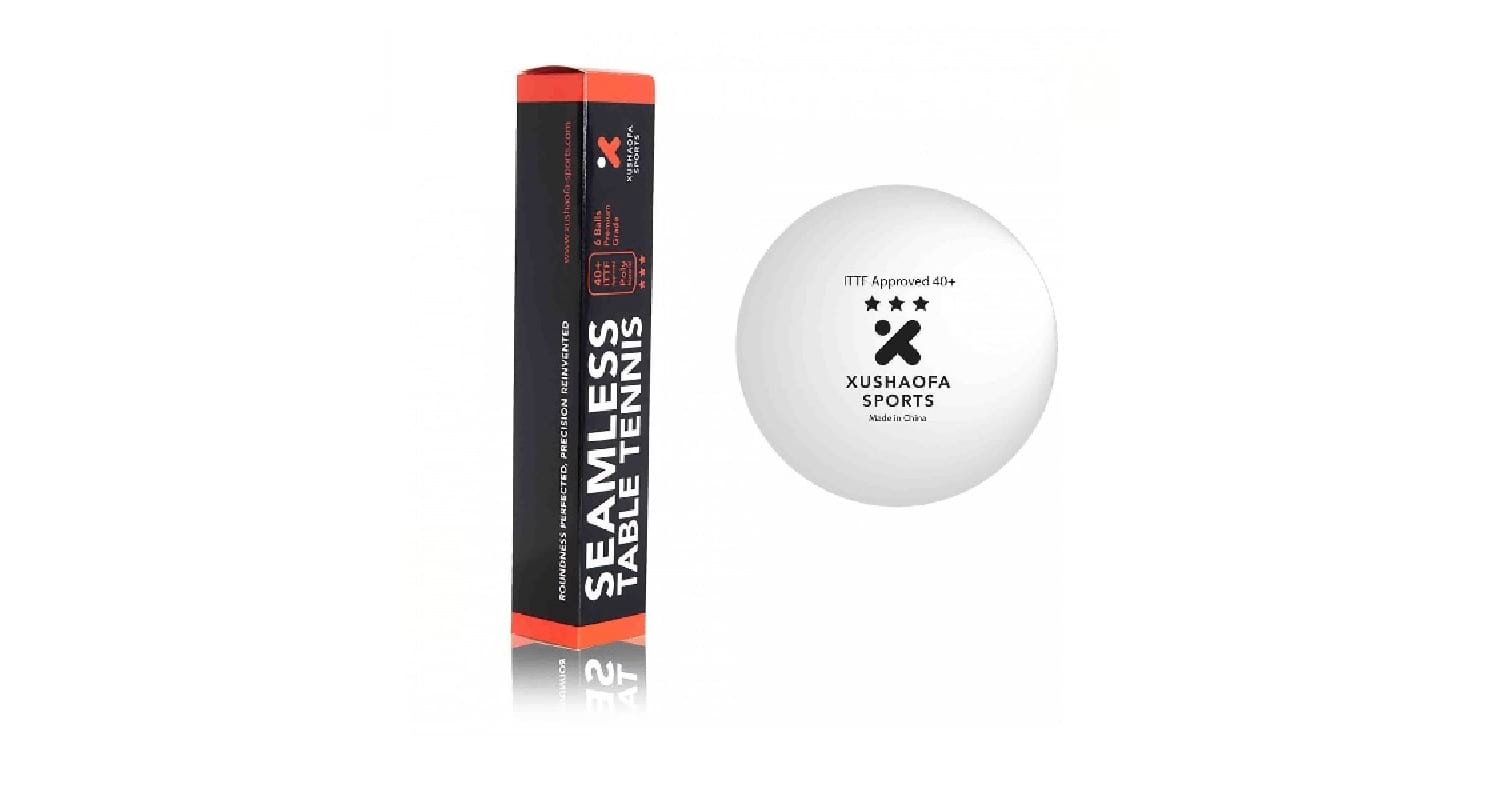 Pros
3 Star Balls
Stars are a measure of how good the ball is. XuShaoFa 40+ is rated rightfully at 3 stars and showcases that it is only a consistent ball, but also offers all of the qualities you would expect from a top-quality ball.
Seamless
XuShaoFa 40+ is one of the only top-class 3-star balls that is constructed without a seam. This means that it comes without a line dividing the two sides of the ball and the construction was done without fusing two parts of the ball. The belief is that a seamless ball does not have any soft spots which could affect the game.
This is because seamed balls are considered to have a soft spot on the seam. After all, that is the point where the fusion between the two parts, takes place. Seamless balls tend to play out faster, as well.
Affordable
For the quality, XuShaoFa ping pong balls offer, they are quite affordable, too. They compare quite closely to the Nittaku Premium 40+, yet, they are far cheaper. This makes the XuShaoFa 40+ a much more realistic and affordable option for players and they are a quality alternative to the Nittaku Premium 40+.
Fantastic In-Game Play
You get a very quality in-game playing experience with the XuShaoFa 40+. This is thanks to their consistent bounce, durability, and increased stiffness which brings longevity.
Easy to Clean
The XuShaoFa table tennis balls are made of poly-plastic material. This makes them a lot easier to clean as you can get the dust off by following a routine cleaning process.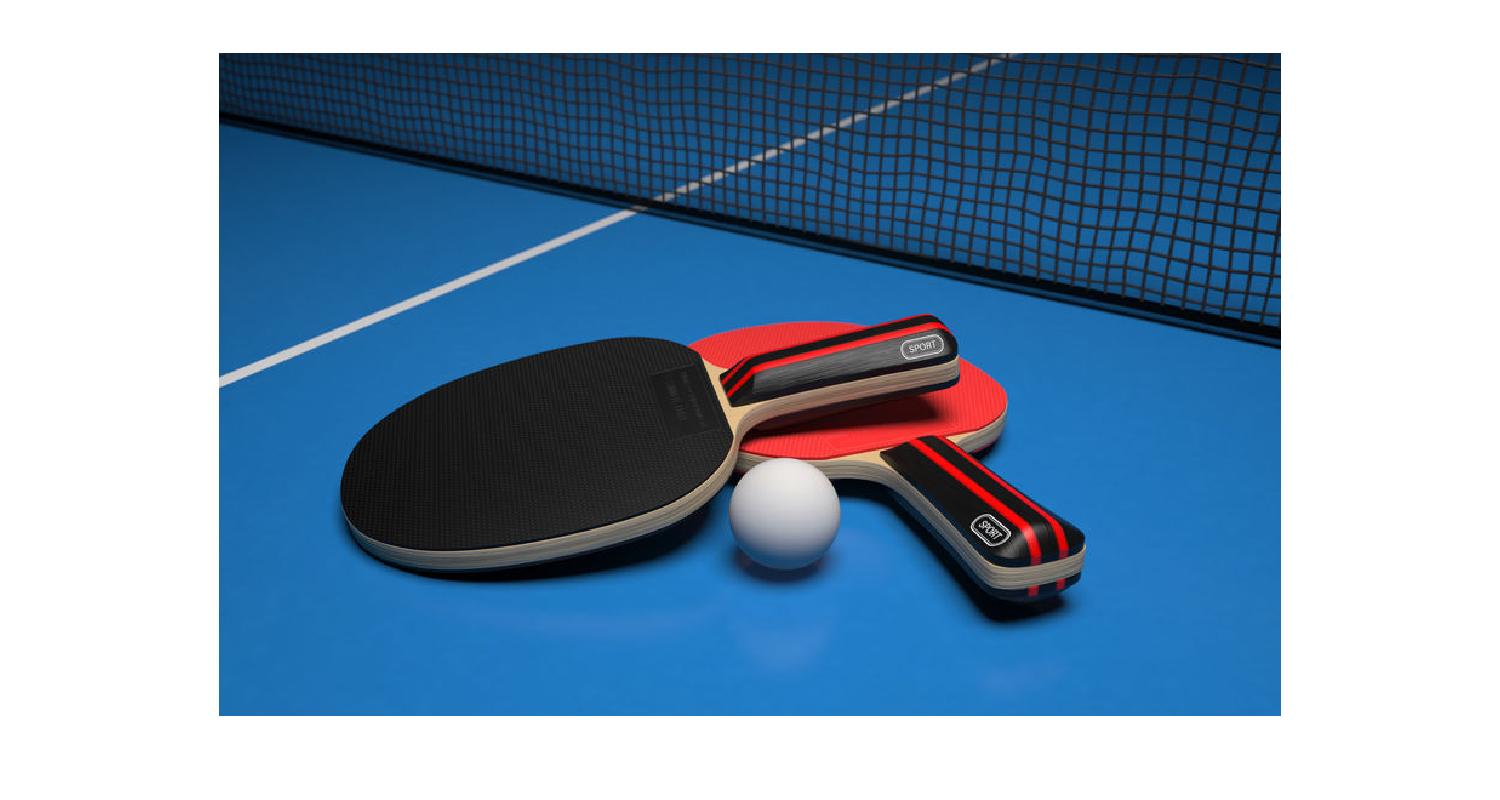 Cons
Improvement in New Technology
We love the revolutionary technology that is required in the manufacturing of XuShaoFa ping pong balls. However, that technology needs to be improved, for them to be compared to the best ping pong balls around, like the Nittaku Premium 40+.
Non-Existent Spin
In our experience, the XuShaoFa 40+ does not spin a lot. This came as a surprise considering we heard so many good things about the ball. However, this is still a major problem and one that can be improved in future versions of the XuShaoFa table tennis balls.
Deflate Easily
Some users have complained that the XuShaoFa balls seem to deflate very easily. This can be a cause for concern and a small proportion of users have reported this to be true. Some say that hard-hitting rallies can result in deflation.
Our Rating: 4.5/5
The XuShaoFa ping pong balls are simply too good for practice. They are used in ITTF tournaments, domestically and internationally, and for very good reason! The XuShaoFa 40+ plays out superbly during rallies and that is one of the major reasons why we rate it so highly!
There are a few concerns, with the lack of spin and some users reporting breakages. However, as far as the ball breaking is concerned, it is a common manufacturing fault in some batches. The lack of spin can be an issue, but again, it is down to the preference of the user!
Conclusion
In summary, XuShaoFa 40+ is a terrific investment. It is not only affordable but is also a good option for all levels of play. We suggest getting the XuShaoFa ping pong balls and making a habit of using them, especially, if you are setting out to expand your game and play professionally.
This is because, thanks to its seamless design, the ball performs incredibly well. It offers consistency in bounce; it is durable and lasts a long time, as well. Made from poly-plastic materials, it is easier to clean, as well. We love it, and we suggest buying it in bulk so that you can train with a top-quality ball, which is the best way of improving your game!
Now that you know everything needed to make an informed decision about opting for the XuShaofa 40+ table tennis balls, do let us know about your experience with these balls in the comment section.