Butterfly Timo Boll ALC, as the name suggests, is a personal favorite of three-time European champion Timo Boll. This is a well-known European inspired blade that collaborated with Butterfly's specialists to create this beast.
The blade is even faster than any previous ALC models and it surely is a must-have weapon. To fit Timo Boll's dynamic style, the blade has a higher speed and creates a lot of topspin.
The ALC blade provides an exceptional combination of speed, strong spin, and control. Timo Boll's blade and Butterfly Tenergy rubbers helped him win all three of his titles at the 2008 European Championships.
Timo Boll ALC Specifications
Our Rating: 4.45/5.0
Price: $$$
Plies: 7 (5 wood and 2 ALC)
Weight: 3.3 oz (86 grams)
Thickness: 5.7mm
Speed: 8.8/10
Control: 8.7/10
Consistency: 9.0/10
Our Rating: 8.9/10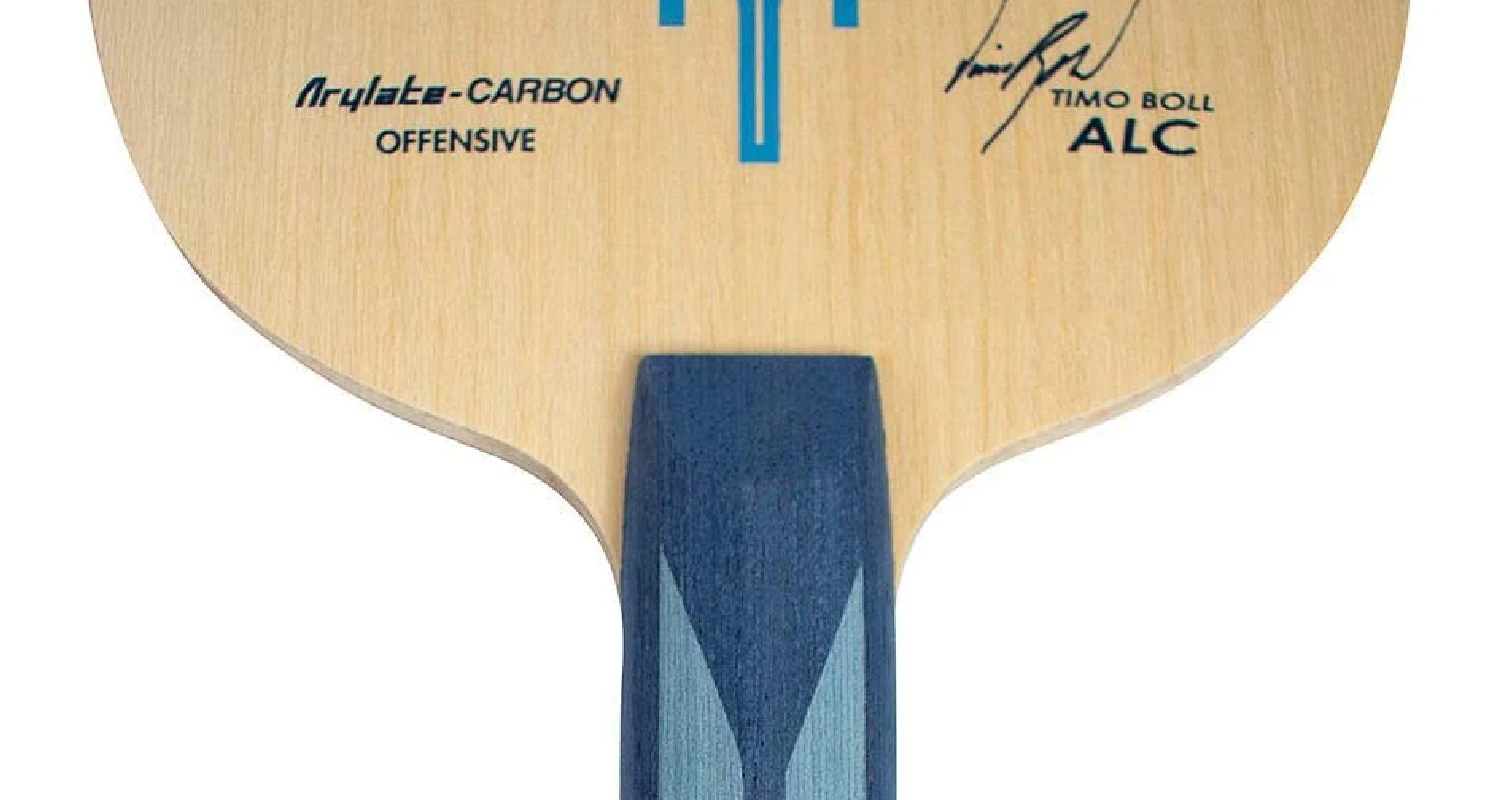 What to Expect?
You can have high hopes from this beautiful blade and it will deliver! Butterfly rarely, if ever, disappoints, and this is the cream of their production.
Top of the Line Construction
The Butterfly Timo Boll ALC as mentioned has 7 plies, which are made up of two layers of arylate carbon, two layers of koto, two plies of limba, and a ply of kiri. The arylate-carbon is extremely lightweight and fast, while the layers of wood help with sensation.
Perfect Balance
In blades, speed and control are indirectly proportional. In simpler words, a greater speed rating equals a lower control rating, and vice versa. What's wonderful about the TBALC is that, although having a speed rating of 4 out of 5, the design still has a control rating of 4 out of 5.
This is because arylate carbon inserts are placed between each layer of wood. These layers soften the blade and provide a touch of responsiveness, cradling the table tennis ball gently at impact to lower speed and extend dwell.
Because of this fraction of a second difference, an experienced player may acquire a better feel for the ball before firing it back at the opponent.
Highly Consistent
Do two identical blades of the same brand and model function in the same way? This has been a source of concern among consumers in the past since some of the market's younger companies used flawed quality control procedures, resulting in some of their blades performing better than others.
However, this does not appear to be an issue with the Butterfly brand. Butterfly, one of the top table tennis equipment firms on the market, is recognized for its world-class designs, which are produced to exact specifications under tight and stringent manufacturing supervision.
Pros
Genuine Speed
While it does not have the greatest speed rating of the other Butterfly blades, such as the ZLC, it is far from disappointing. The TBALC's speed rating is more than enough for most professional players to maintain high-speed, attacking tournament play.
The strong and rigid layers of the blade provide the majority of its speed. In fact, the arylate carbon dampens the velocity since it has a rubbery feel that is more suited to spin and control. Even so, the pace isn't much slowed, and the TBALC may still be useful for high-flying, aggressive games.
Decent Spin Ability
Timo Boll ALC's topspin ability is extremely exceptional. It has a high throw angle and a long dwell period. It lets you to almost simply lift a hefty backspin ball, especially with Tenergy 05 rubber support.
You truly get the best of both worlds if you combine the TBALC with the Tenergy 05, as you can generate lots of power and speed along with high amounts of spin to keep your opponent on the backfoot.
Variety of Grip Styles
Another reason to like the TBALC is that it comes in a number of grip types, allowing it to be utilized by a wide range of players. The blade is available with a flared, straight, or anatomical handle, so you can be sure to find the ideal grip to fit your style and comfort.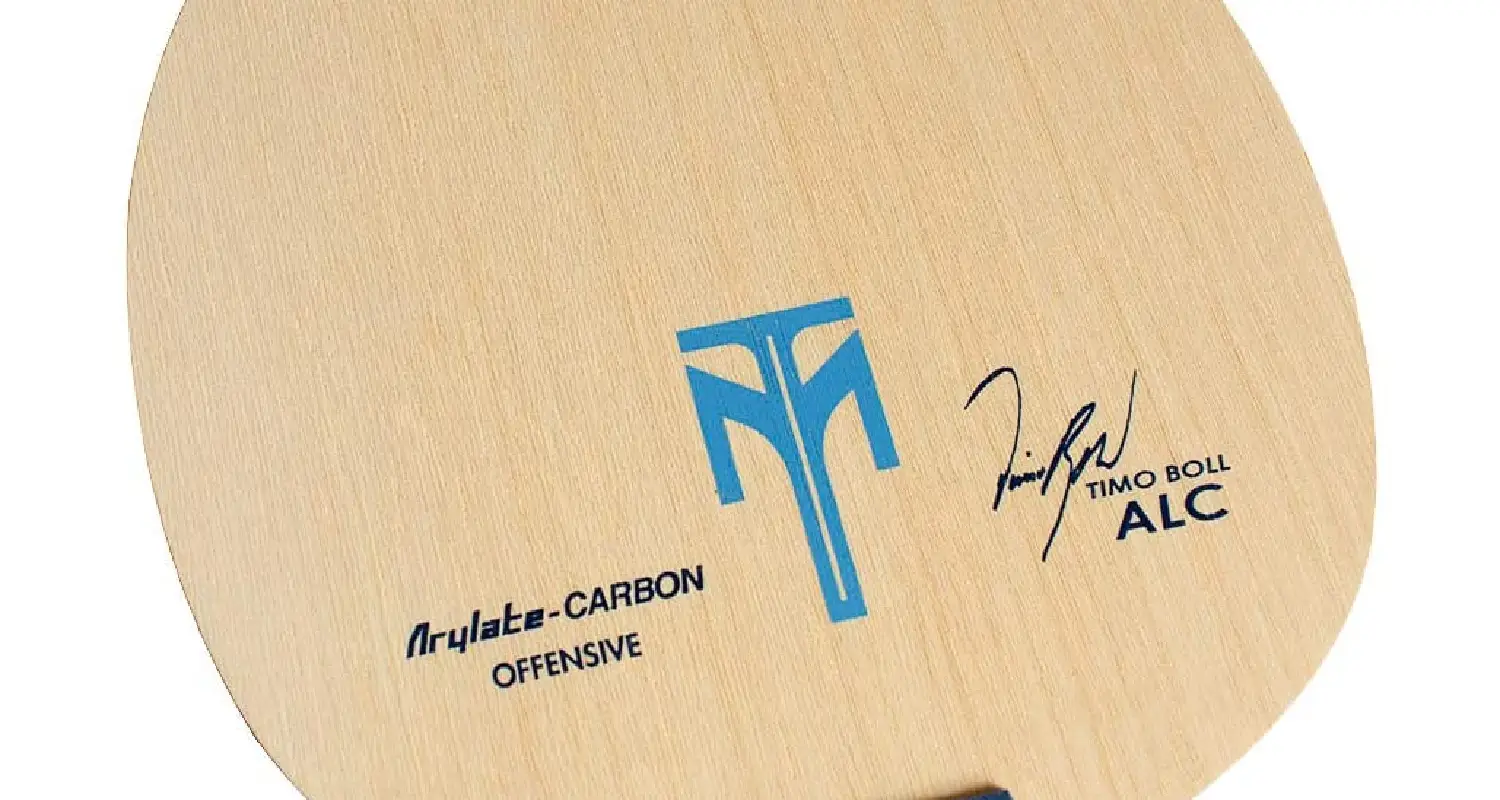 Cons
Low Stiffness
Unlike most of the other blades the TBALC is not very stiff and that means you get to feel the vibrations in your hand. This can be an issue if you are not a "feel"-y player as you might struggle to get used to this feeling.
Expensive
It is pretty expensive, despite the brand name and Timo Boll's stamp of approval. This can be a major limitation as many people are priced out of buying it.
Our Rating: 4.5/5.0
The Timo Bolls feature excellent handles or grips and fit nicely in the hand. The thickness of the blades is also ideal. They are also thick enough to dampen vibration but not so thin that you can't tell the sweet spot is constant across the head.
Thinner blades are more aerodynamic, sit better in the hand, and perform better when near to the table.
In a nutshell, we would suggest going for the Timo Boll Spirit first (cheaper), followed by a Timo Boll ALC (looks better and if you want the quickest Boll blade), and Iolite if you want the fastest but with a relatively poor feel.
Although the Timo Boll Spirit vs. ALC debate is largely about price and weight, we believe the Boll ALC finish is worth the extra $20. When you run your fingertips across the blades, the ALC seems to have a smoother surface, which is worth the price.
Conclusion
Our Butterfly Timo Boll ALC review took all of the elements into account, and we came to the conclusion that it is undoubtedly a worthwhile purchase for players with the appropriate degree of ability and knowledge.
This powerful attacking blade has better speed while yet maintaining a high degree of control, which is unusual for carbon blades.
Regardless of how the company was able to create such an ideal marriage, we are blown away by the TBALC's performance and heartily suggest it to professional players who want to feel what it's like to dominate a playing area straight away.