Butterfly 401 Table Tennis Racket is one of the greatest paddles ever made. Almost every player, be it pro or amateur has used this paddle and for good reason, because it is the complete article.
The shake-hand styled paddle is the ideal choice of weapon for beginners, in particular, and we advise everyone amateur player to start playing with this.
Butterfly 401 Paddle Specifications
Our Rating: 4.5/5
Grip Type: Shakehand flared
Price: $$
Play Rating
Speed: 7.5/10
Spin: 6.2/10
Control: 9.5/10
Durability: 6.5/10
Materials
Weight: 5.81 oz / 165g
Rubbers: Red and black Yuki 2.1mm rubber
Plies: 5 plywood blades
Sponge: 2.1mm sponge layer
What to Expect?
There are many basic features in this Butterfly ping pong paddle. Most of these are more than good enough for people starting as ping pong players. We take a look at some of these, so you know what you are buying.
Ergonomic Grip
The handle of the Butterfly 401 Table Tennis Racket is perfect as it is the ideal blend of comfort with style. It is rounded and flared that offers a superior grip that remains perfect no matter how long your rally is. Coming with a multi-color, it does not only serve the purpose but also serves the looks!
Five Plywood Blade
Accompanied with a five-plywood blade, the Butterfly 401 is bound to generate enough power for all levels of play. It does not matter if you are an amateur or a professional, the 401 is good enough for all. Though, it is preferred for beginners given the fact that the power generation is not overwhelming.
Yuki Rubbers & Sponge
Manufacturing of the 401 was done with Yuki rubbers, which are ITTF approved. These are on both sides of the paddle and are considered to be tacky allowing greater grip, which ultimately results in the generation of spin, as well. Again, the spin is not that high, as we rated it 80 out of 100, but it is more than enough for anyone starting.
There is a 2.1mm sponge that connects the rubbers with the woodwork, and it is also of high quality. Most professionals believe that this much thickness allows for lesser control and greater spin, however, we think that the Butterfly 401 is a decent enough option for beginners.
Racket Case
In addition to the quality product that the Butterfly 401 Table Tennis Racket is, it also is accompanied by a racket case that allows you to keep your paddle protected from dust. The case is not of great value, but it is still better than nothing and comes in addition to the paddle, making it a bargain.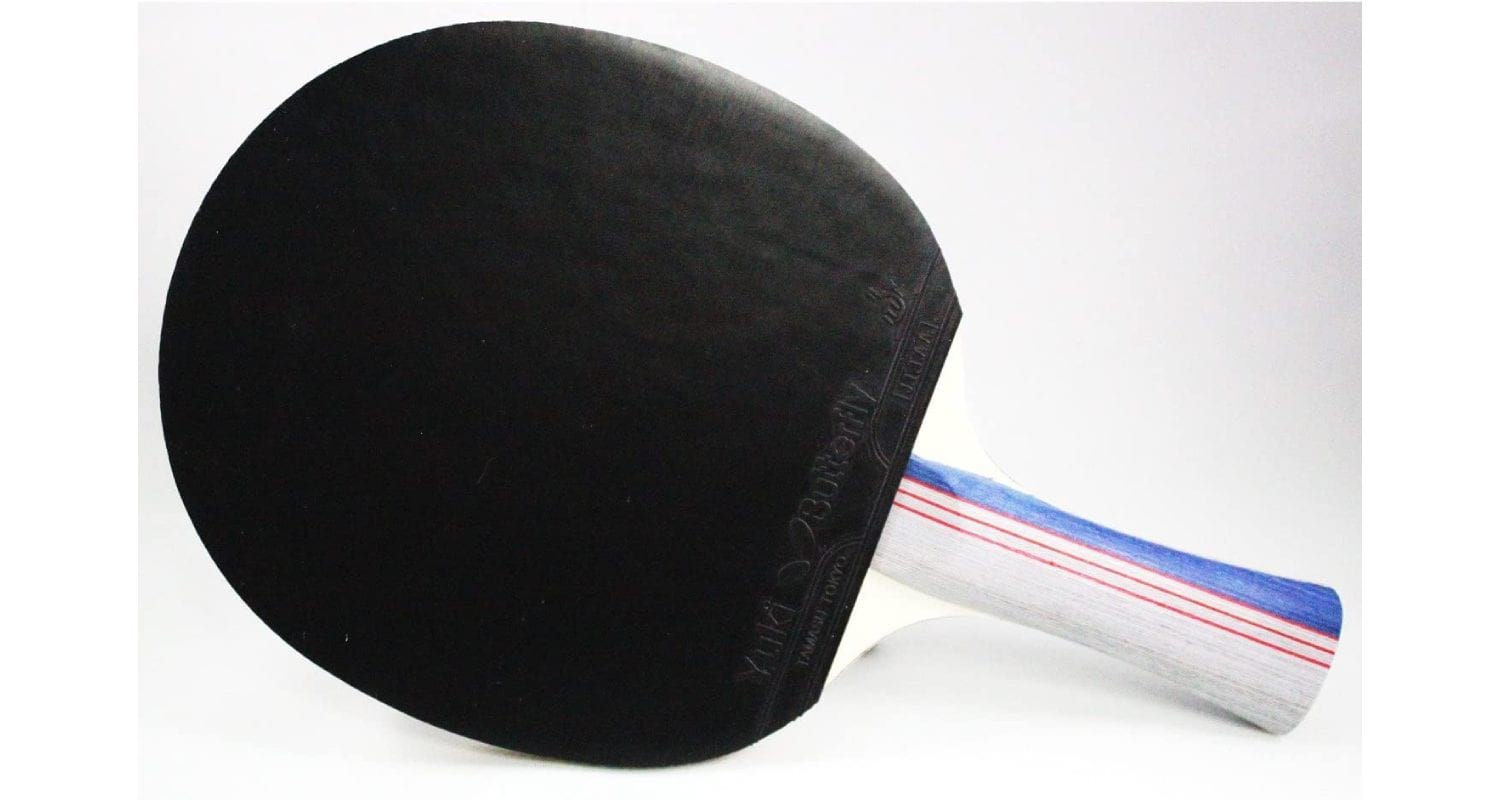 Pros
ITTF Approved
You can easily start playing with a variety of different paddles, especially, early on in your career. This is not advised because it will harm your game, in the long run. That is why, we suggest buying paddles that are ITTF approved and used by professionals, allowing you to get used to quality products that are of tournament grade.
For this reason, the Butterfly 401 is perfect because it has the stamp of approval of ITTF. It can be used in official tournaments, although, there are much better paddles available that the professionals use.
Thick Sponge
The thickness of the sponge makes it a useful extension of the arm, as you can use this paddle to generate lots of spin and power. We like the quality of the sponge as it holds the rubber firmly with the woodwork.
The people at Butterfly have put a lot of work into the creation of this paddle and it is famous for all the right reasons!
Tacky Rubbers
The tacky rubbers are one of the biggest reasons behind our purchase of the Butterfly 401 Table Tennis Racket. These produce high levels of spin and we like the springy feel we can get thanks to the performance of the rubbers and the sponge. The rubber is made of Yuki material and it also has the stamp of approval of ITTF.
Case Included
As mentioned before, this Butterfly table tennis bat comes with a case. This gives us another reason to invest in the 401 as you get a free case if you buy the 401. It is better than nothing and offers a lot of protection against dust and other harmful elements.
Decent Ratings
Butterfly 401 Table Tennis Racket has a lot of good ratings from all of its users. It is not a flashy and high-end product. You are getting exactly what you are thinking of buying with the 401, and you will not be disappointed!
Cons
Hard to Maintain
Unlike other paddles, the 401 requires a lot of looking after. Careless owners have reported the paddle becoming stinky; however, we can confirm that this is not a fault in the manufacturing, rather it is down to the limitation of the owners. It also loses spin if it is not cleaned regularly.
Slightly Short Handle
The handle of the Butterfly 401 Table Tennis Racket is quite comfortable. However, we believe that it is important to remember that it can be slightly short, and this can be a cause of inconvenience for players with larger hands. It is not too short, though.
Our Rating: 4.5/5
Butterfly has always been one of the best manufacturers when it comes to table tennis. The 401 is perhaps one of their finest products. Our entire team has owned a 401, at one time or another and we believe it is the perfect paddle for beginners.
Butterfly 401 Table Tennis Racket is also more than enough for players that want to play leisurely, only. Even for serious play, it is not too shabby considering that it is ITTF approved. The control is a little less, as one would ideally prefer from a beginner-level paddle but once you get used to it, there is hardly a paddle better at this level.
For something that costs around $30, and has a free case that comes with it, you will not find a better option. The handle is quite ideal unless of course, you have giant hands. The grip is smooth, and we love it!
Frequently Asked Questions
Where is the Butterfly 401 manufactured?
Butterfly is a Japanese company, however, the 401 is manufactured in China. The rubber is made in Japan.
Are the pimples facing inwards on both sides of the Butterfly 401?
Yes, the pimples are facing inwards on both sides of the Butterfly 401. This means that apart from the color difference, there will not be a difference in the shot played.
Is the Butterfly 401 heavy?
The Butterfly 401 weighs around 5.81 oz (165g). It is not too heavy, not too light.
Conclusion
If you are on a tight budget and you need a quality and reliable product, then we suggest buying the 401. It is not pricey, and it comes with a cover that will protect your paddle. The 401 has great reviews and people seem to love it, no matter what the level of playing is.
For people who are looking to start their careers, we suggest buying the Butterfly 401 Table Tennis Racket and starting your ping pong adventures with this paddle. The grip is quite decent, we love the power and spin generation, which can help you go a little aggressive, early on. It is an ideal all-round paddle that has been used by many professionals, too.