Gambler Custom Professional is one of the best budget options that allow you to play at the highest level.
There is so much to like about the Gambler Custom Professional, from its price to its specifications. It is an incredibly well-established paddle and it has garnered a lot of interest and decent reviews for some time, now.
Gambler Custom Specifications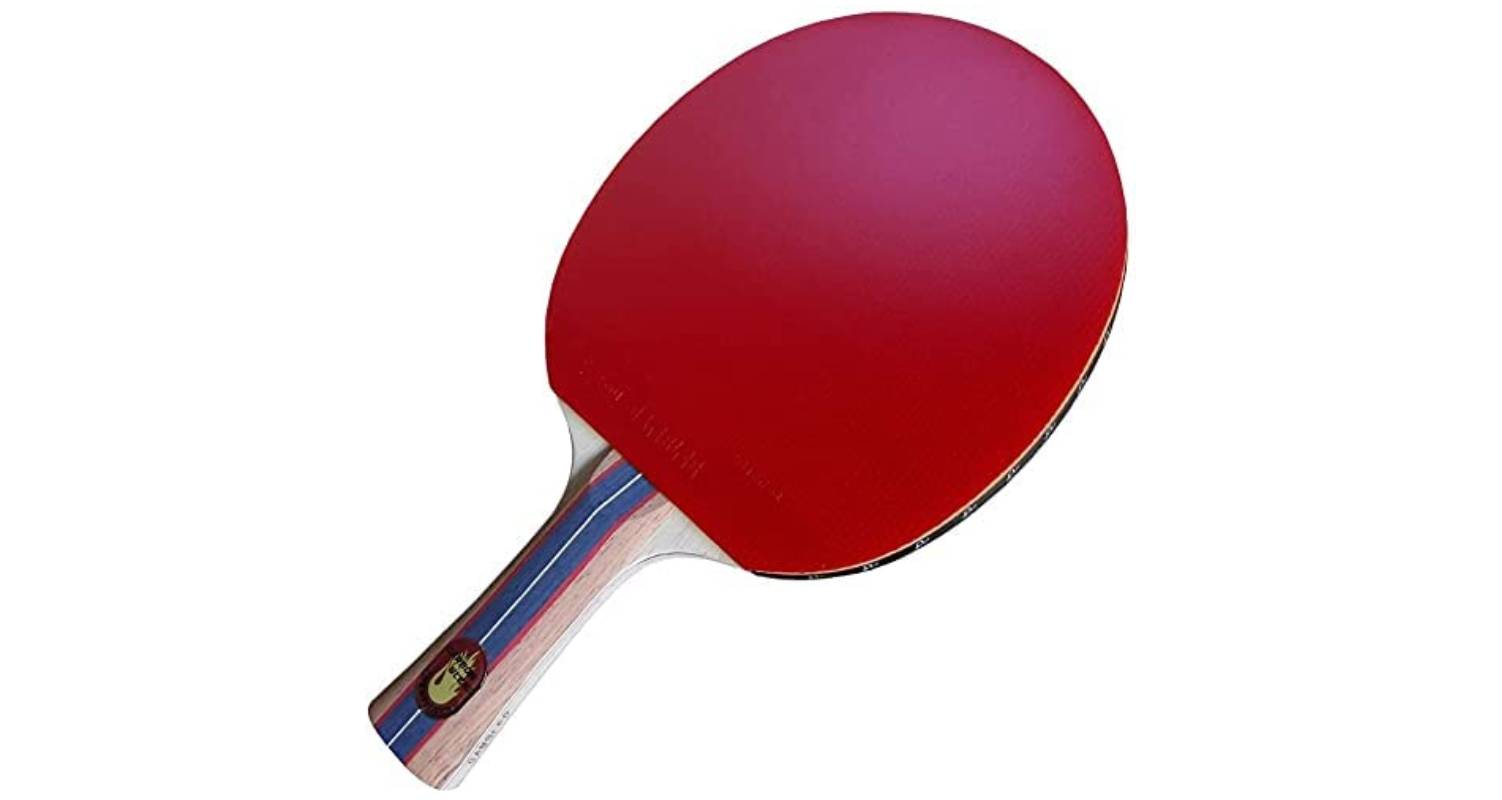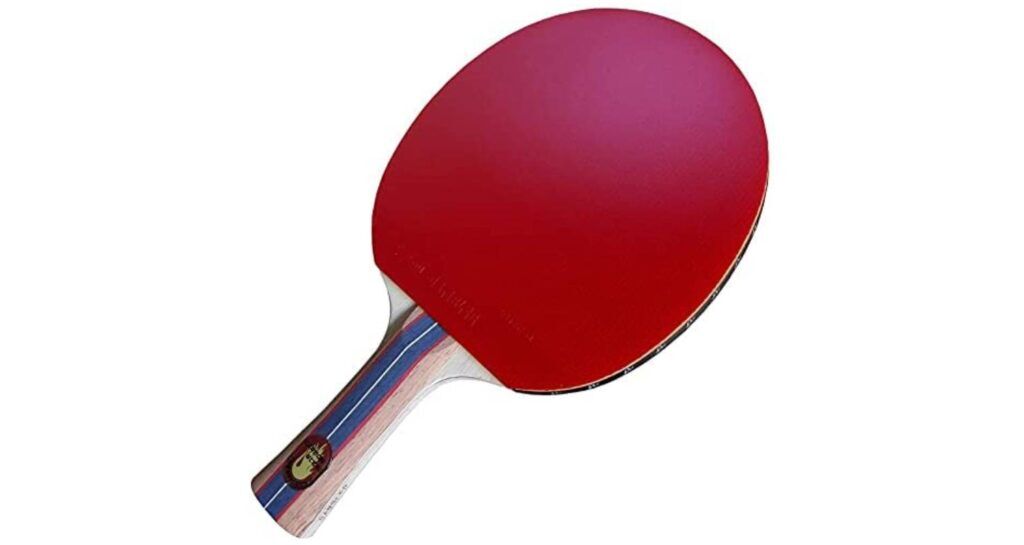 Our Rating: 4.2/5
Grip Type: Shakehand
Price: $
Weight: 6.2 oz / 176 grams
Play Rating
Speed: 8.2/10
Spin: 8.5/10
Control: 8.8/10
Durability: 7.0/10
Materials
Plies: 5 Limba and Kukui wood, 2 carbon layers
Rubbers: Gambler Aces
Sponge: 2mm Pro RS
What to Expect
The Gambler Custom Professional is a fantastic paddle that focuses on bringing all the features of a top-class paddle at an affordable price. Here we explore some of these features and dissect them for your convenience.
High-Quality Handle
This has to be the best feature of the Gambler Custom Professional. The handle is made with such precision and quality, that it feels like it belongs in your hand. It has been crafted with a lot of care and this allows you to hold and play as you please.
The finishing of the handle is polished, so it looks like a high-end paddle, too. Although, the size has fetched some bad reviews.
Hybrid Construction of Blade
The blade of the Gambler Custom is incredible. Made from two different kinds of wood, it is not super light, rather has an optimum weight. The manufacturers have used Kukui wood and mixed it with Limba to create a fantastic blade that ends up being superbly responsive.
At the same time, they have added a range of soft carbon plies that are ideal for speed and stabilization along with extra kick.
Mildly Aggressive Rubber
The rubber, Gambler Aces, used on the Gambler table tennis bat is tacky but not extremely tacky. It provides for a mildly aggressive playing experience. It is obvious that the focus has been on control rather than providing a fast-paced paddle.
Assembly by Hand
Gambler Custom Professional is assembled by hand. Hand-assembled paddles tend to be pretty special and expensive. However, you get the Gambler Custom for a lot less. They use professional glue to hold the plies and rubber, together.
Approved by ITTF
Despite costing peanuts, the Gambler Custom is approved for tournament usage by ITTF and the USATT. This is a huge deal because you can buy tournament-quality paddles for a lot less.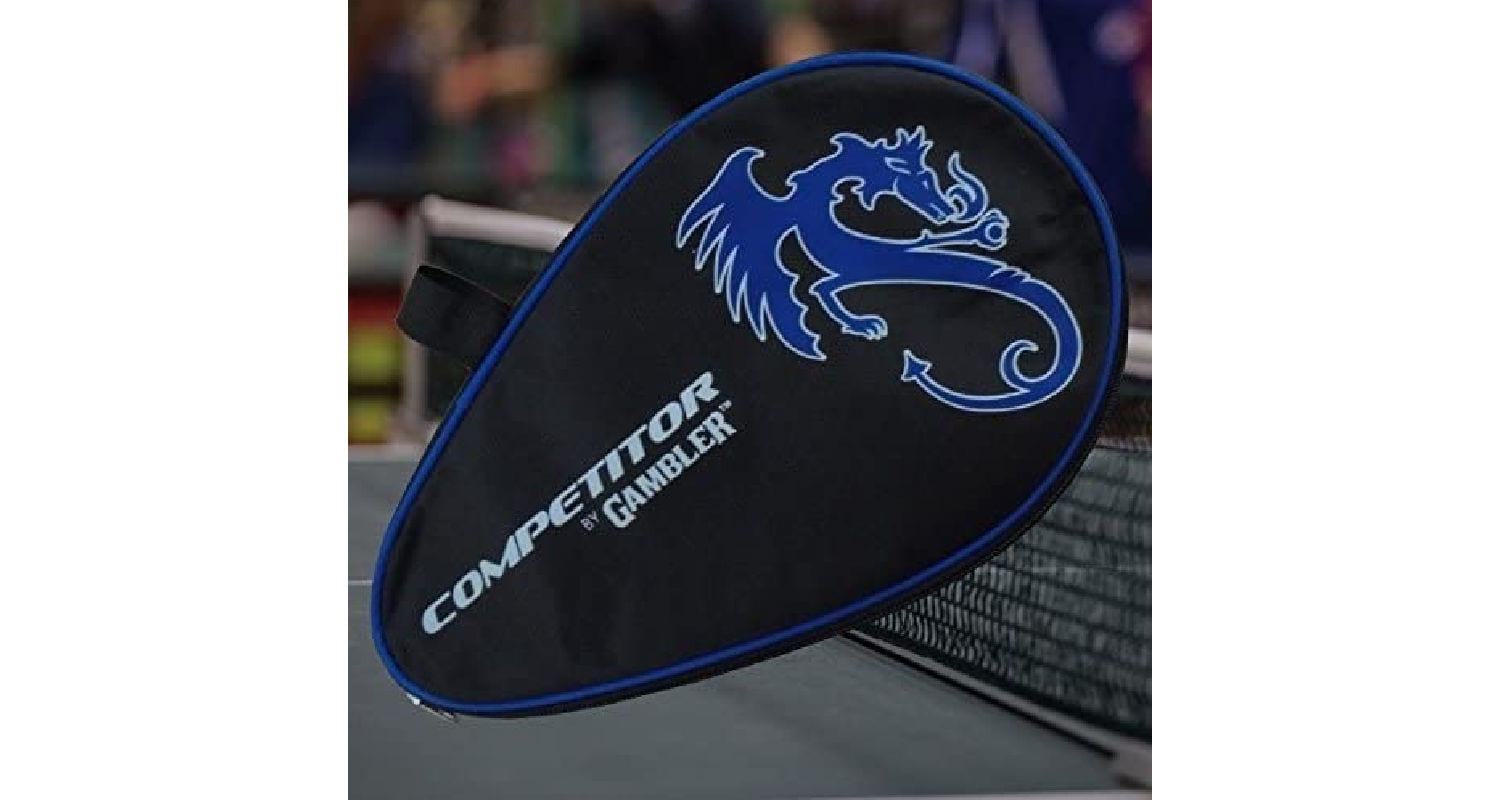 Pros
Increased Control
The Gambler Custom allows you a lot of control over your shots. This is massively down to the rubber, which is not very tacky. Most paddles that have better control tend to sacrifice speed and spin, but that is not the case with the Gambler Custom. This helps you in playing many different kinds of shots.
Comes With Cover
The Gambler Custom is already quite cheap. To think that it is accompanied by a stylish blue Gambler Competitor paddle cover is simply insane! The paddle and the cover, are both a bargain, for sure!
Good Speed
Like mentioned before, the speed of the Gambler Custom is also decent, enough. This is majorly, because of the lightweight construction of the blade. Not to mention the influence of the hybrid styled blade, which involves Kukui wood, as well as, Limba.
Most companies manufacture the blades using balsa wood but turn out the manufacturing in the Gambler Custom has been incredible as it allows for control and speed both.
Spongey Spin
Spin is also added into the mix due to the thick sponge used in Gambler Custom. If you know how to use spin, you can benefit greatly from the Gambler Custom and make sure to keep your opponent guessing your next move.
Highly Affordable
For all the features included in the Gambler Custom Professional, it costs relatively a lot less than any other paddle. The price is a major plus behind the Gambler Custom because anyone can buy it and play with it. This also means that people looking to play recreationally can also buy it and make sure that they train using a good quality paddle.
ITTF/USATT Approved
Gambler Custom Professional is approved for usage in different tournaments by both the governing bodies of the world, ITTF, and the USA, USATT. This gives the Gambler ping pong paddle a pedigree and this has been a big reason for investing in a tournament-grade paddle.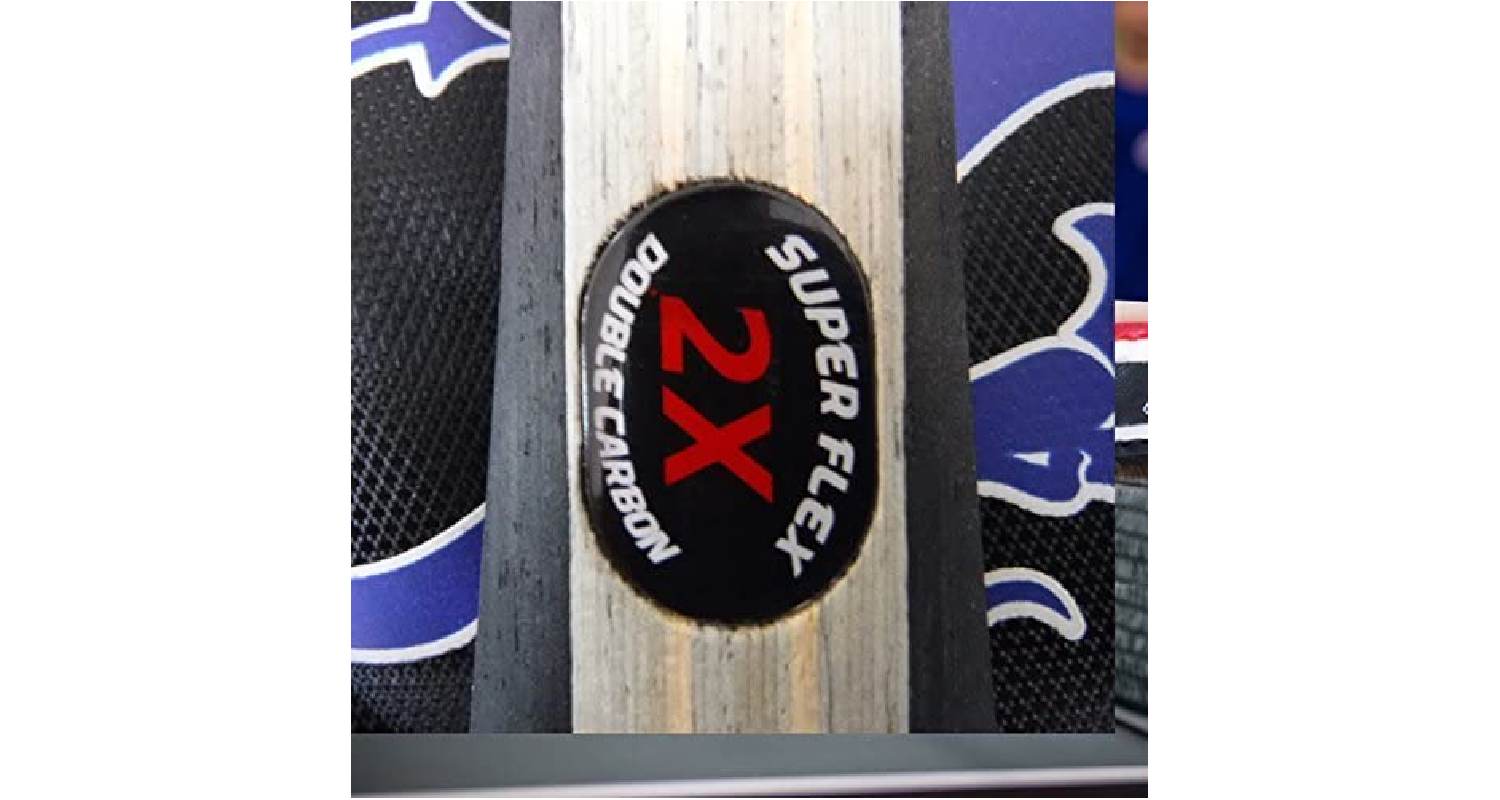 Cons
Slightly Larger Handle
Some people seem to dislike the size of the handle. It is grand, but some believe that it is not suitable for playing for larger amounts of time, as the size takes its toll on the grip. The handle is not too massive, though, and it could be a preference thing.
Less Speed & Spin
The speed and spin generation on the Gambler Custom is a lot less. Especially, if you are used to playing with faster paddles like the STIGA Titan, etc, then you might not like the Gambler Custom, as it prioritizes control. You might need to use more strength to get the shots away, but it is ideal for defensive players.
Not for Pros
The paddle of the Gambler Custom is decent but it is not fit for the usage of professionals. Mostly, the majority of the pros prefer playing with something that has higher spin and speed. Defensive gameplay is something that you can incorporate with skill, but sacrificing speed and spin for a defensive paddle is not ideal for a professional.
Our Rating: 4.2/5
All in all, Gambler Custom Professional is a decent paddle with many features that appeal. It is not possible to get the rating on spin, speed, and control, for a paddle that costs so little. Its affordability has raised its rating and it has a lot of fantastic reviews from all over the world.
There can be improvements, of course, but that would completely change the point of the Gambler Custom. It is made as a budget option and fulfills the part to perfection.
Frequently Asked Questions
Are the pips in or out on the Gambler Custom rubber?
Both the Gambler Custom rubbers are pips in.
Can the Gambler Custom be used for a penhold grip?
Yes, the Gambler Custom can be used for a penhold grip, as well as the shakehand. It might be a little uncomfortable choosing the penhold grip, because it has a massive handle.
Can the Gambler Custom be customized?
If you order directly from Zeropong, they will help you customize and put up the rubbers as per your preference. Ordering from Amazon will not give you the same options.
Conclusion
At the end of the day, there is no other alternative to Gambler Custom. You will not find a paddle with all of these features, that costs as little as the Gambler Custom. Value for money is an understatement, this is a pure bargain!
There is so much to like about it! Gambler Custom Professional's control is ideal for intermediate level, even. You might need some time to get used to how slow it is, but if you are a defensive-minded player, you will love it! There are a few problems, though, especially with the handle, but even that is not a major issue.