JOOLA is a household name when it comes to high-quality ping pong equipment. The company is known for crafting excellent quality ping pong paddles.
One of their most prized and praised creations is the JOOLA Infinity Balance. It is a top-rated ping pong blade and has been a favorite for many since its launch. Made for intermediate players, the paddle promises superior craftsmanship and performance.
It is also ITTF approved and has a warranty of one year. Let's dive into the specifications and see if this paddle is worth the hype.
Joola Infinity Balance Product Specifications
Price: $$$
Rating: 4.8/5.0
Class: All-round
Skill Level: Intermediate
Speed: 9.0
Control: 8.8
Head Size: 157x150mm
Thickness: 5.7mm
Plies: 7
Material: Allwood
Flared Handle Size: 100x25mm
Weight: 167g
Performance: Speed = 92 Spin = 93 Control = 92
What to Expect
The JOOLA Infinity Balance is crafted using various kinds of wooden layers which promise speed, control, and spin. Allwood blades are known for their precision and uniqueness and we have yet to test if this one holds up.
We also expect this paddle to be suitable for intermediate players. This means that it must have excellent control and should be able to deliver perfect shots without the loss of balance.
Coming from JOOLA, a high-end brand, we also expect a good price-quality ratio.
Construction
The Surface
Consisting of a 7-ply real wood combination, the blade has a thickness of 5.7mm, ideal for producing great spin. It comprises four different kinds of woods from West Africa.
Limba wood is used for an enhanced feel, Koto for quick counterattacks, Ayous gives precise control, and Kiri reduces vibration. This combination has been used in other JOOLA blades too, as it produces great results.
Rubber and Sponge
The 2.1mm sponge and Method 38 rubber by JOOLA further add to the blade's premium construction.
Both of these provide more springiness and spin and that's why we consider them one of the most appealing features of the blade. This combination makes Infinity Balance an ideal for all-round to offensive players.
Handle
The Joola Infinity Balance ping pong blade features a classic flared handle which is ideal for someone who uses the shakehand grip. This handle is one of the most widely used handles as it is comfortable and helps improve forehand play.
JOOLA uses this kind of handle the most, since they prioritize both comfort and performance. The handle has two folds so that it lasts over time, regardless of the kind of play.
The combination of quality wood and excellent rubber gives this paddle the right amount of flexibility and provides great spin. The classic handle grip provides comfort, without compromising on performance.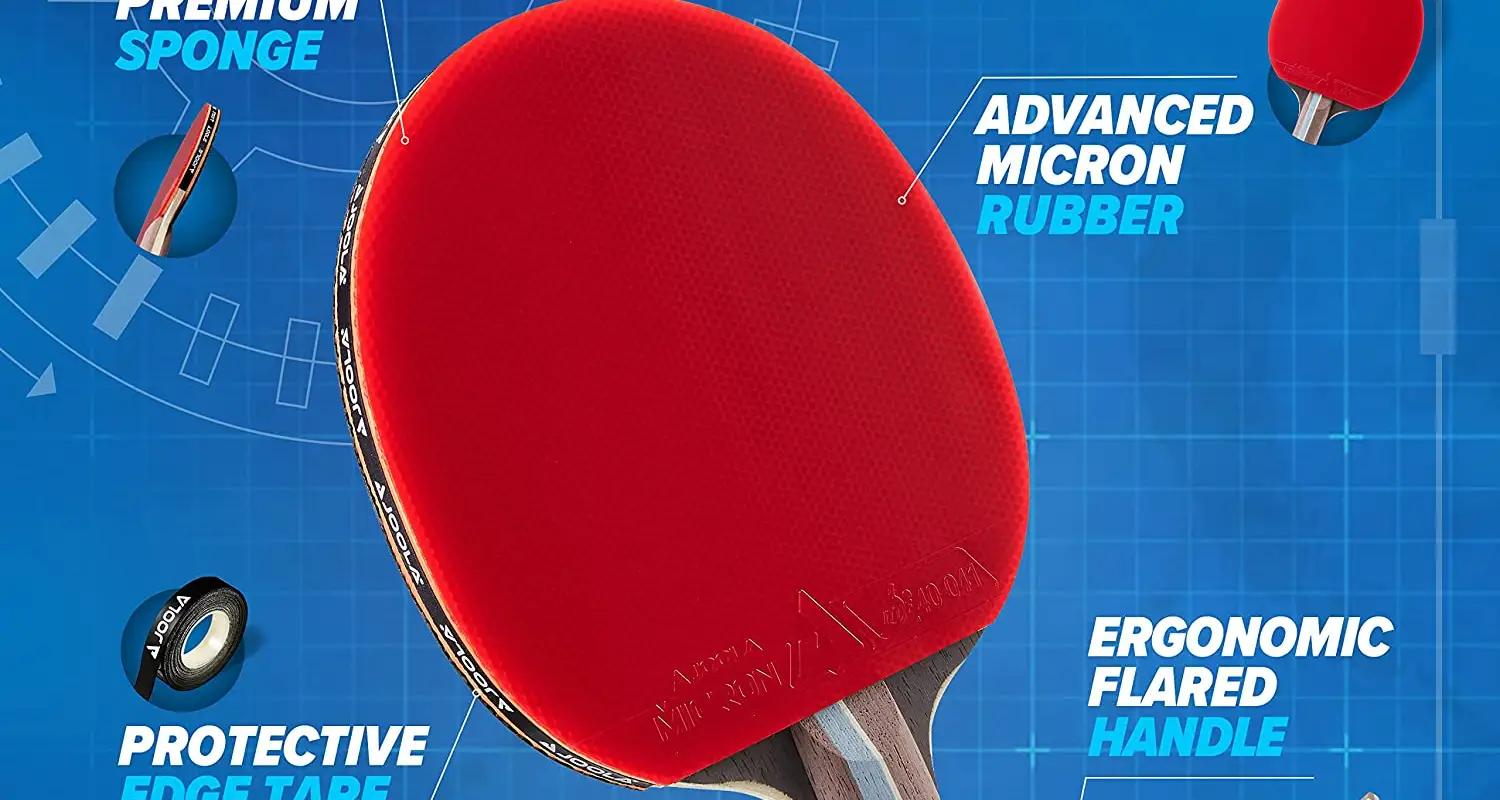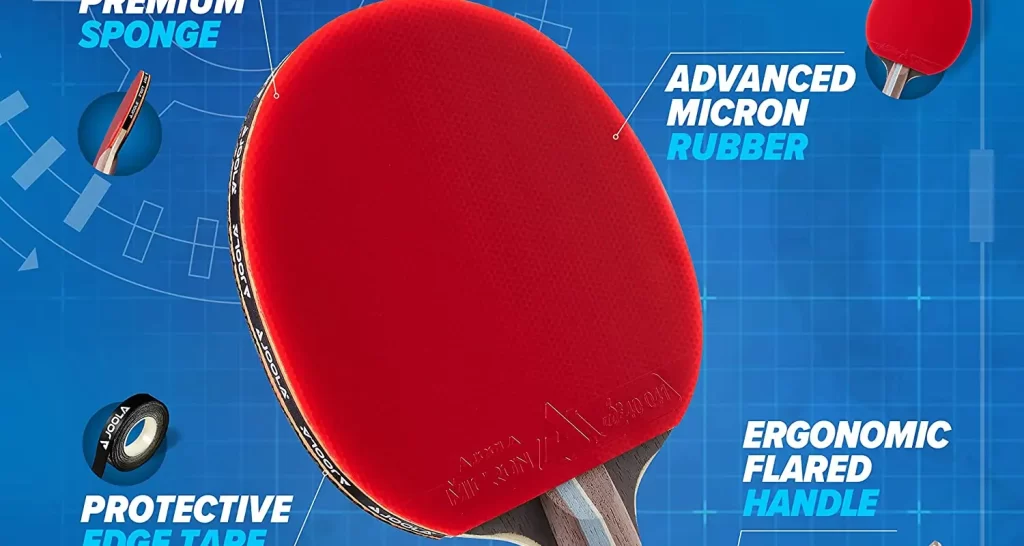 Pros
Speed and Power
JOOLA Infinity Balance features multilayer wood which provides great speed. If you are an offensive player, you will definitely like the speed of this blade, especially with the control and balance it provides.
The power that these layers add in the blade are sure to give you those gratifying offensive shots.
Spin
JOOLA has used the Method 38 rubber on the blade, which provides a tacky surface. Since tackiness is necessary to add more spin, the rubber suits the blade very well.
The sponge is 2.1 mm thick, providing flexibility, which also enhances spin. Both the sponge and the rubber are an ideal combination for greater spin.
Increased Dwell Time
Increased dwell time is one of the most sought-after characteristics of a paddle. And when it comes to Infinity Balance, its structure allows a decent amount of it.
Thick, inverted surface and a tacky rubber allow the ball to stay longer on the paddle. Increased dwell time means more control and spin. This is a treat for defensive players,
Value for Money
Since most tournament-grade blades are very expensive compared to JOOLA Infinity Balance, this paddle features superior construction and great performance at a budget.
It is regulation sized and ITTF approved too, qualities that further add to the blade's appeal. It is no doubt one of the least expensive paddles for this performance in the market.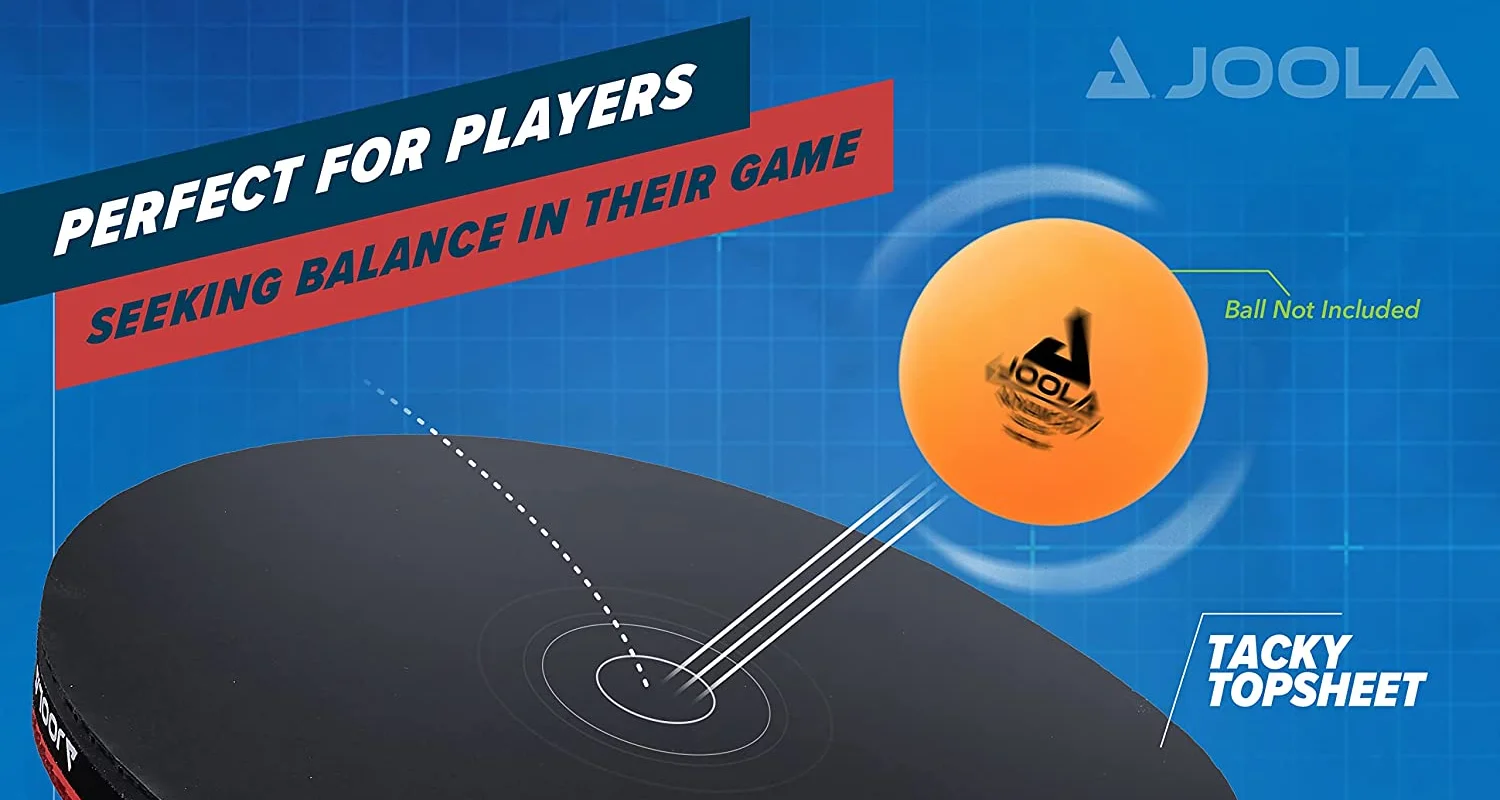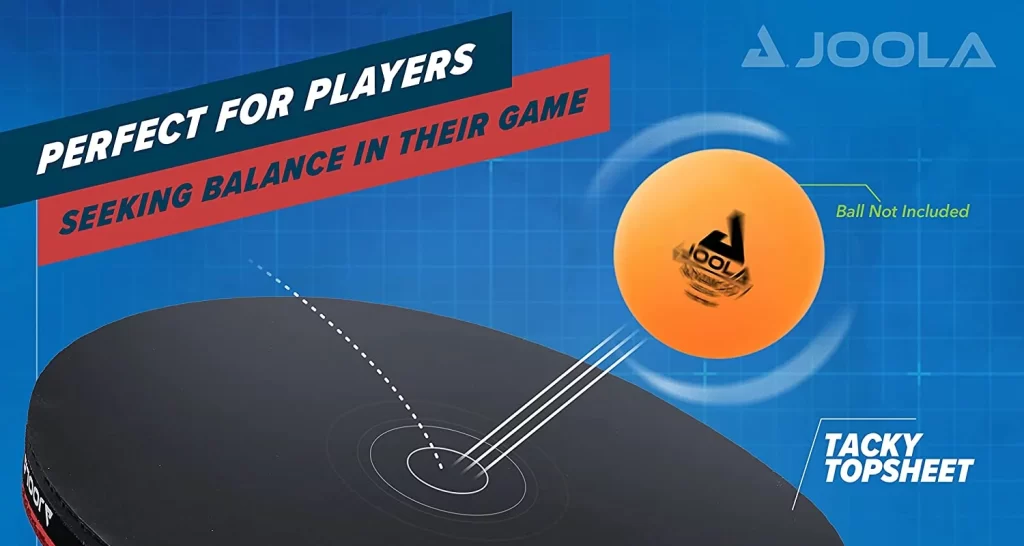 Cons
Heavy Weight
Infinity Balance weighs 167 grams. While some people might see it as an advantage, this might be too heavy for some players.
Weight adds control and balance, but you need to go according to your personal choice. If weight bothers you, this ping pong paddle is not for you.
Not for Beginners
This table tennis paddle features good speed and spin, which might seem overwhelming to novice players. It takes a certain mastery to manage, control, and unleash full potential of this blade.
So, it is not suited for players who are new to table tennis, since it is directed towards intermediate to professional players.
Not So Durable
Even though the paddle features superior construction, it is not that durable. Some customers have reported that the rubber wore off after some uses and the wood underneath showed signs of damage too.
Infinity Balance is not for you if you are looking for the most sturdy, durable, and lasting ping pong blade.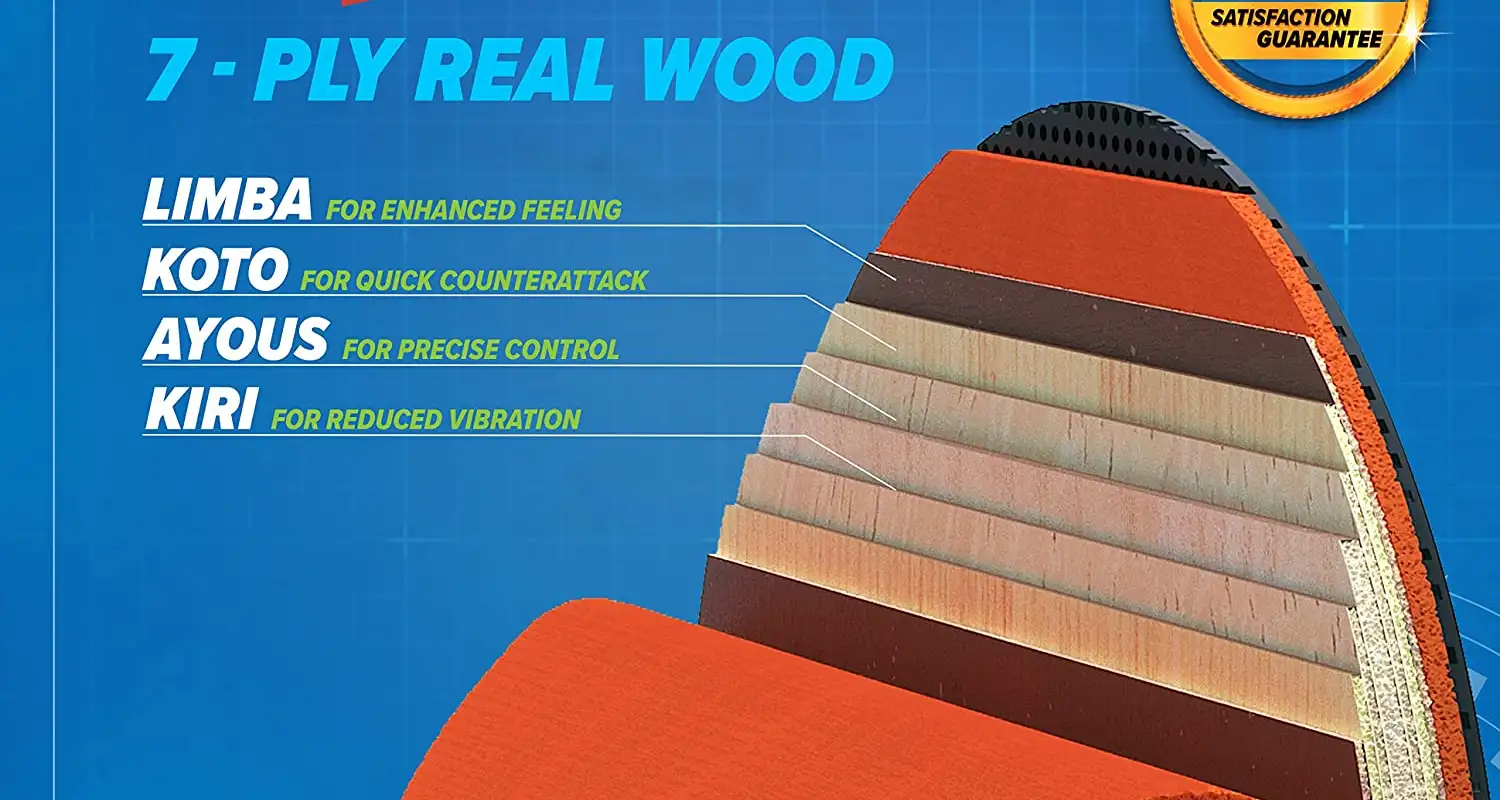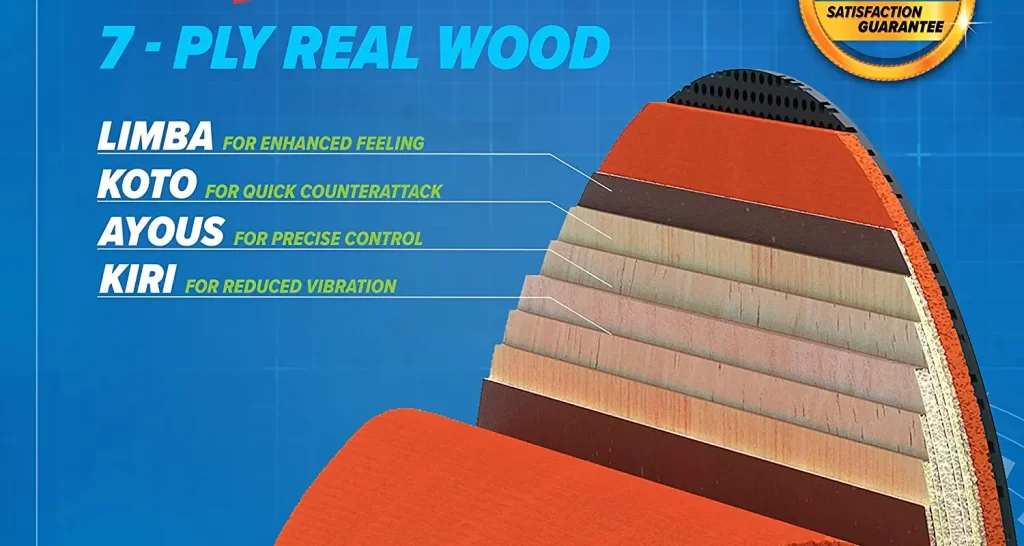 Our Rating: 4.8/5.0
Assembled with a variety of woods and an excellent-quality rubber, JOOLA Infinity Balance has a great price-performance ratio. It features 4 different types of wood, a combination that provides great speed, spin, and balance.
It is tailored to meet the ITTF standard. The smooth inverted surface and the high-quality rubber increase dwell time—adding to spin, the most desired characteristic.
Due to its excellent performance and good price, we recommend it to intermediate players who are looking forward to up their game.
Conclusion
JOOLA Infinity Balance is the most versatile racket, suited for both offensive and defensive players. The combination of four different wood types makes it firm yet handy. It adds to its durability and flexibility, while hindering vibrations.
This construction also helps generate more velocity upon impact, resulting in added speed. It's perfect design with all the elements of a high-end paddle will definitely take your game to the next level.
Some things to consider are the paddle's weight and its use. It weighs a little more than most paddles and is not designed for beginners.