STIGA Pro Carbon is a beast of a paddle that primarily caters to the aggressive playing style of pros and intermediate-level players. It is a thing of beauty and you can take your offensive game up a notch by playing with the STIGA Pro Carbon.
In addition to its raving reviews, the paddle is highly acclaimed, and one of the best sellers of STIGA. We take a closer look at this piece of gold.
STIGA Pro Carbon Paddle Specifications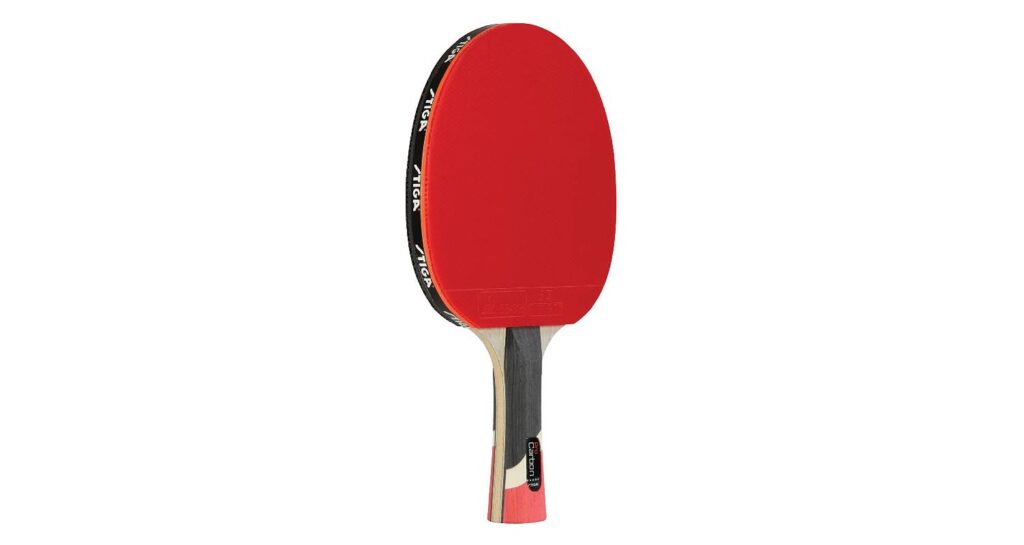 Overview
Our Rating: 4.0/5
Grip Type: Shakehand flared
Price: $$$
Weight: 6.5 oz / 185 grams
Play Rating
Speed: 9.0/10
Spin: 8.7/10
Control: 8.2/10
Durability: 6.0/10
Materials
Plies: 7 (5 wood, 2 carbon)
Rubbers: STIGA S5 Rubber x2
Sponge: 2mm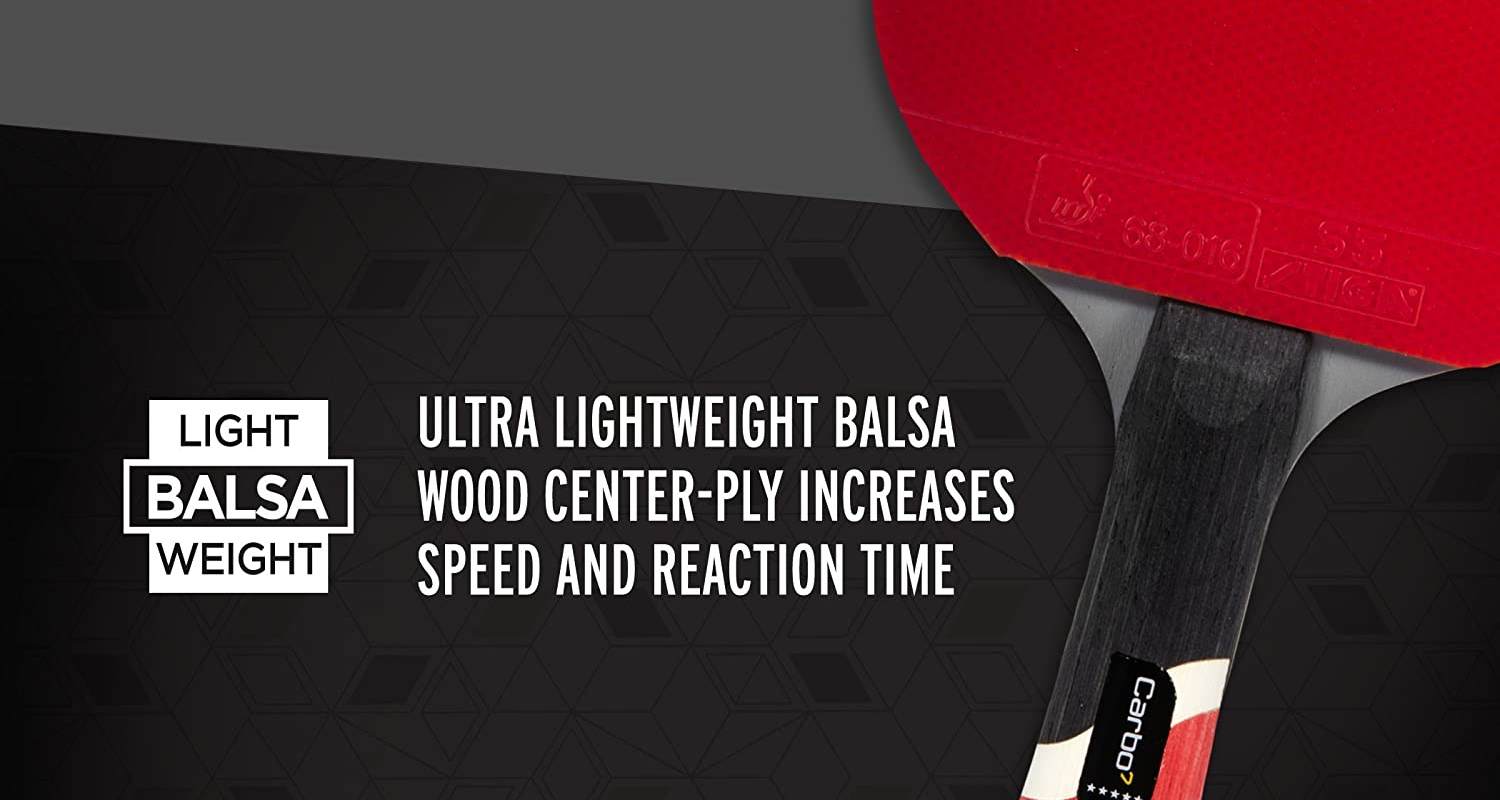 What to Expect
With the STIGA Pro Carbon, you will be getting a top-class paddle that will complement your fast-paced game style. It pairs well with the Stiga Advantage table and STIGA 3-star balls as well. That is the least you can expect from one of the best manufacturers of table tennis goods, internationally. Here are some of its brilliant features.
Exceptional Speed
It should come as no surprise that the biggest selling point of the STIGA Pro Carbon is its speed. The STIGA Pro Carbon is incredibly fast and it will allow you to push your opponent further away from the table. If you can control the STIGA Pro Carbon, you can dominate the game with ease.
Rubber Can Be Replaced
The rubber of the STIGA Pro Carbon can easily be replaced. This makes it a viable option, especially, for the pros. Pros tend to play at a much higher level and their rallies tend to last longer. This has a detrimental effect on the rubber, over time, and the ability to change the rubber, at will, makes it a very important feature.
Handle Adjustment
The handle of STIGA Pro Carbon will require some adjustments if you are using it for the first time. It is slightly heavier than normal paddles and if you are not used to such weight, it might require you some time to get used to it.
Incredible Manufacturing
The manufacturing of the STIGA Pro Carbon is a thing of beauty. Despite having seven plies, the STIGA Pro Carbon is insanely lightweight around its blade. The five balsa wood layers are in addition to the two carbon layers, which not only make the paddle lightweight but also increase the speed.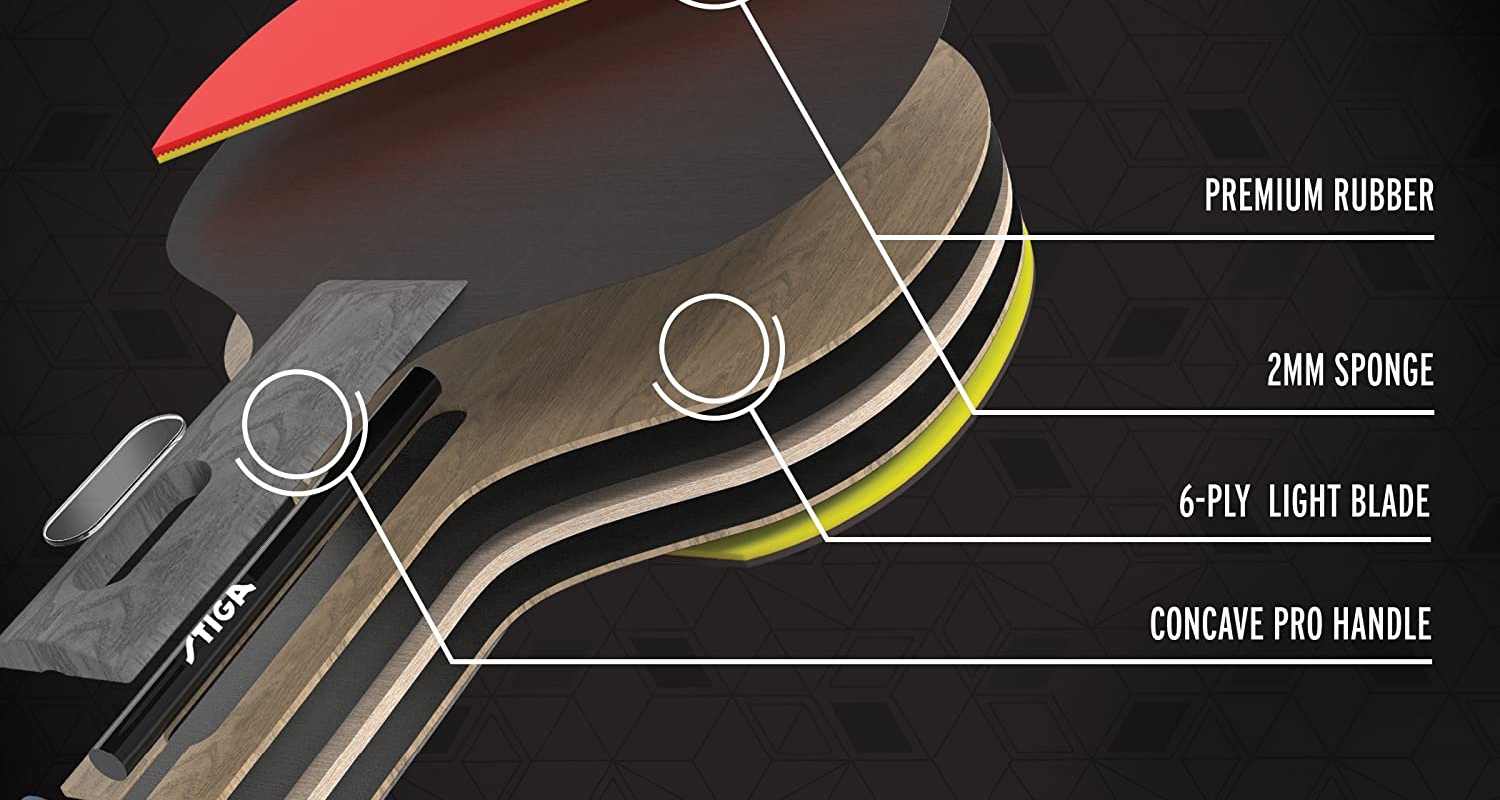 Pros
Swift Power
The STIGA Pro Carbon's construction allows the generation of a lot of speed. This is a big advantage and a major reason why people opt for this paddle. It is the perfect friend of an aggressive player, and we suggest buying it if you like putting in the speed on your shots.
Decent Spin
Despite the extra speed on offer, you can also generate enough spin with this STIGA ping pong paddle. You might not be able to pull off the complex spin shots like backhand chop or backhand loop, but it is more than enough to serve up a crazy spinning shot or even a forehand loop.
Rubbers Made From Modern Technology
Again, it is hardly a surprise that the rubbers on the STIGA Pro Carbon, the STIGA S5, are made from the latest technology. These use the latest Nano Composite and ACS technology which allows for greater control, without sacrificing the weight of the blade.
This crystal technology helps create bonds between the fibers that can include microscopic air pockets, helping you play more controlled shots. Another advantage of the rubber is the elongation of the sweet spot or the point of contact on the paddle that ensures a top-class shot, is much greater than a normal paddle.
Modern Flared Handle
It has a concaved flared grip, that will help you have a stronger grip. Accompanied by the WRB technology, the STIGA Pro Carbon's handle has a hollow tube that runs through the handle to the blade, allowing for a spread out of shock upon contact.
Made by Stiga
We always suggest buying a high-end paddle from an established company in table tennis. This will help you get a better understanding from tens of thousands of people that have already used the product. In this case, STIGA is the perfect option.
They have been around for almost eight decades, now. Their products are unrivaled and the STIGA Pro Carbon is one of their best sellers. It is bound to be a special paddle, giving you the best chance at winning.
Cons
Uncomfortable Handle
It goes without saying that the handle requires a bit of getting used to. It is heavier than others and this can be a major reason why some people have not given it a good review. Some people have also reported the handle being a little too rough.
If that is the case, then sanding will help quite a bit. As for the weight, it should not take you long to get used to it, and if you are looking to improve your aggressive game, then you should get used to it!
Not for Control Oriented Players
You are letting yourself go if you buy the STIGA Pro Carbon. It will mean zero control over your game, even though they have added a wide range of technology to help with control. The problem is that the power and spin are too grand, that it automatically compromises on the control of the paddle.
Poor Packaging
A host of users were unimpressed with the packaging of this STIGA table tennis bat. It is only natural that buyers have high expectations from such a big name in the table tennis industry. However, the packaging could be improved.
Our Rating: 4.0/5
We love everything about the STIGA Pro Carbon. It is ideally made for aggressive players and the carbon plies win it for us. Although, some of us believe that the handle is rather a problem. That, along with the lack of control is one of the reasons why it does not rate above nine in our rating.
All things considered; however, it remains a beautiful paddle, with lots and lots of exciting features! You have to praise STIGA for the hard work, their team has put in. It has a blend of the latest features, which work together, splendidly, creating a beautiful paddle.
Frequently Asked Questions
Is the STIGA Pro Carbon ITTF approved?
The rubbers of the STIGA Pro Carbon are ITTF approved. It has not been used in competition play by professionals that commonly, but it is approved as per ITTF regulations, like most STIGA products.
Where is the STIGA Pro Carbon made?
The manufacturing of the STIGA Pro Carbon takes place in China.
Conclusion
Considering its price, the STIGA Pro Carbon offers many more positives than negatives. This was a major reason behind the appeal for the STIGA Pro Carbon. Generation of that kind of speed and good enough spin is a big reason why it is so highly rated.
You can always change the rubbers, and that is a big advantage for a paddle that is not exactly moderately-priced. Ideal for intermediate players, who are looking to increase their aggressive side of the game. Many pros tend to love the speed and construction of the paddle, as well. All in all, it is a decent investment!