If you are looking for a decent paddle that maximizes control over speed and spin, then you should look no further than the STIGA Titan.
The STIGA Titan is considered to be a decent buy because of its cost-effectiveness and the number of features that come with the STIGA Titan. Ideal for beginners, especially, considering its focus over control, we take a look in detail at what the STIGA Titan brings.
STIGA Titan Paddle Specifications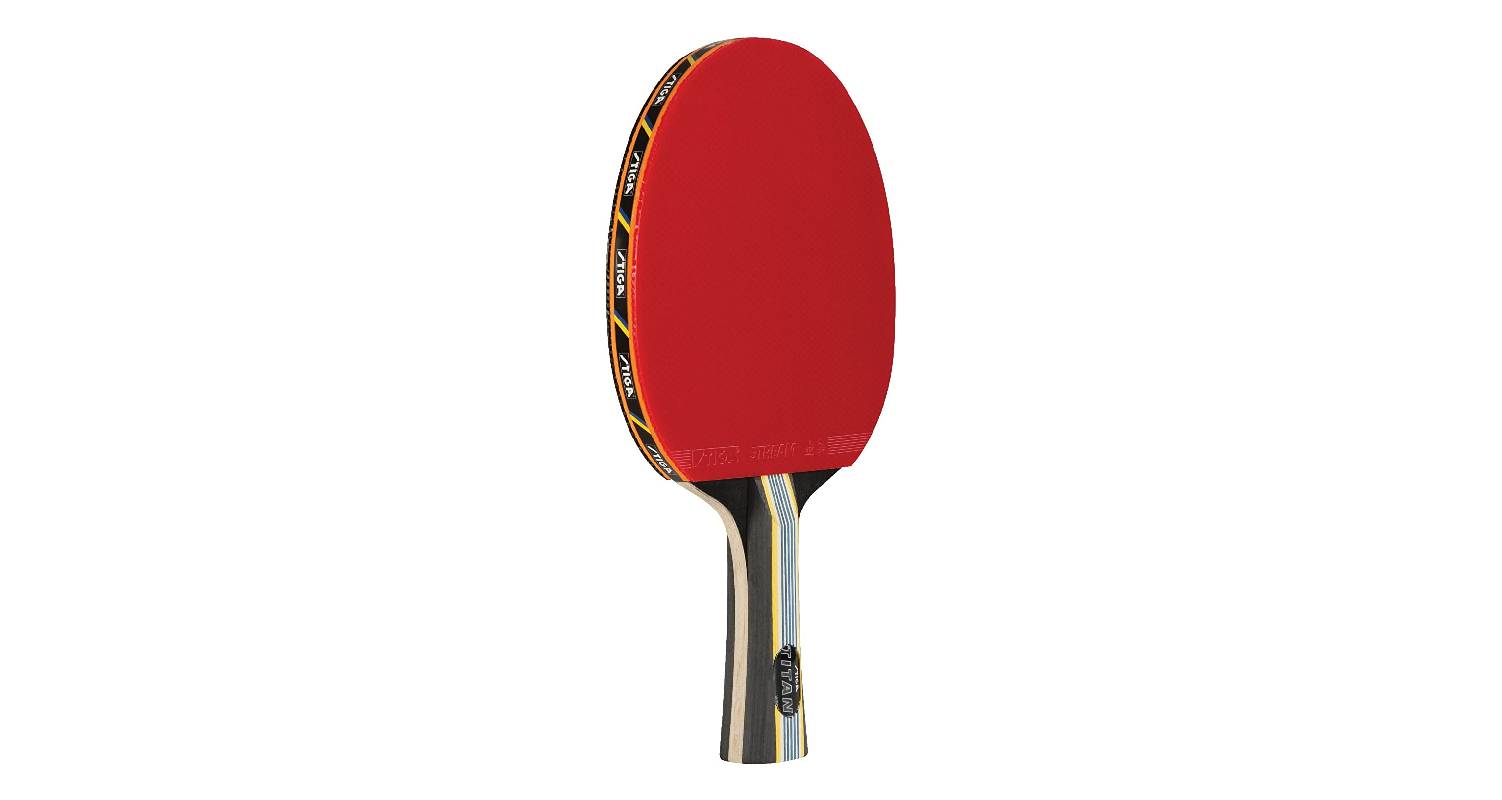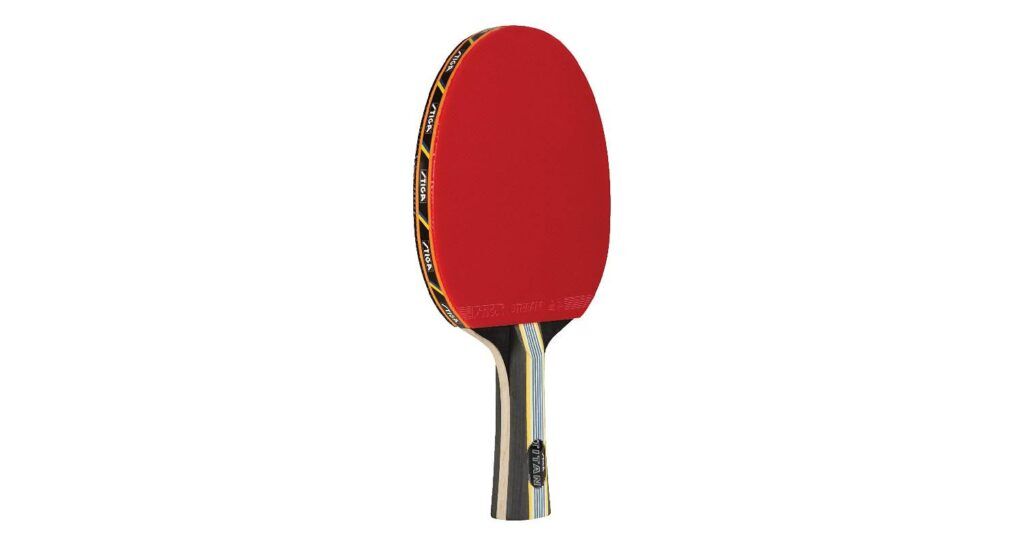 Our Rating: 4.3/5
Grip Type: Shakehand
Price: $
Weight: 5.5 oz / 158 grams
Play Rating
Speed: 5.9/10
Spin: 6.0/10
Control: 8.7/10
Durability: 6.5/10
Materials
Plies: 5 plies (made of balsa wood)
Sponge: 2.0 mm thick
Rubbers: Inverted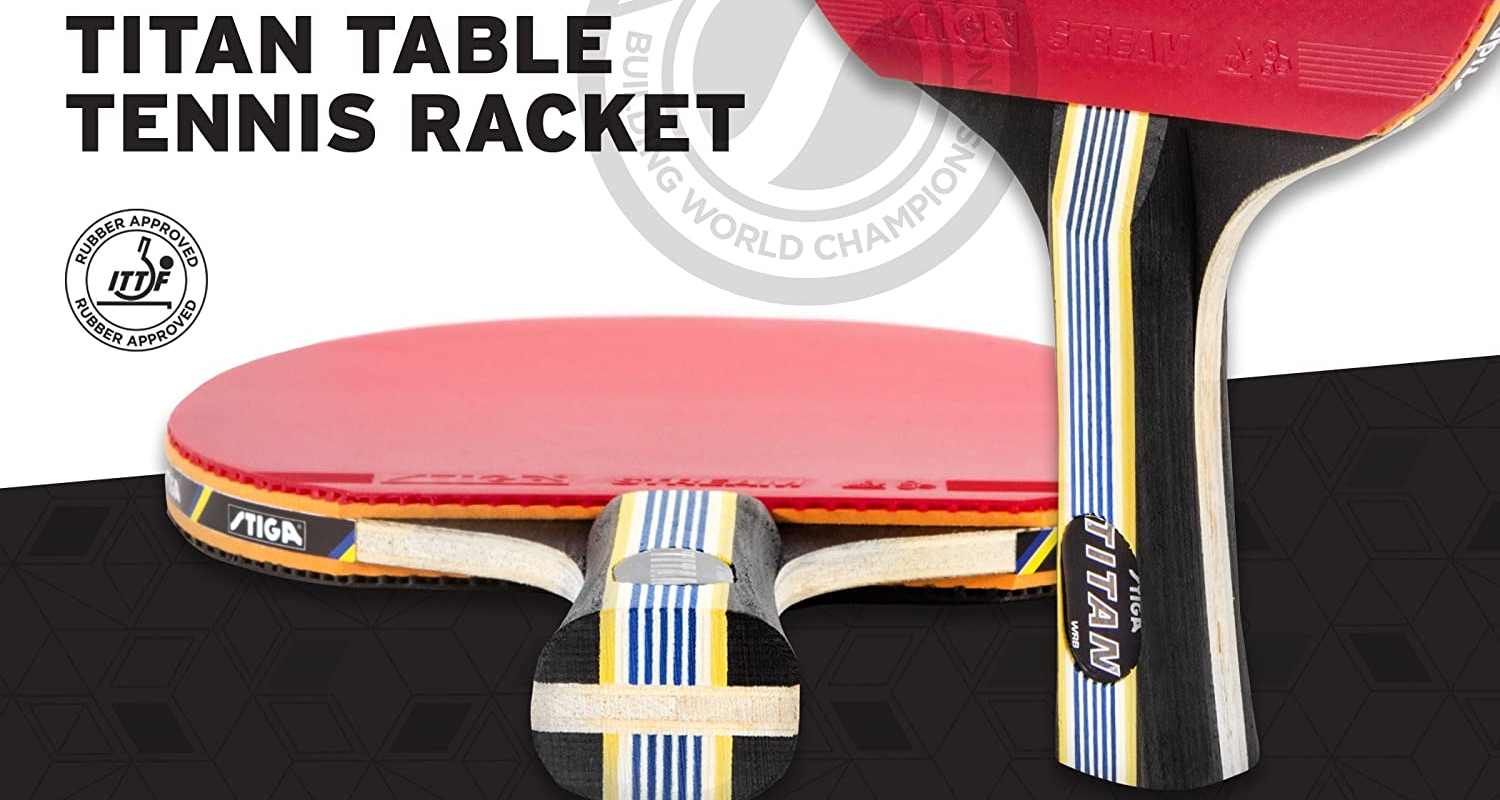 What to Expect?
If you have bought, or are looking to buy the STIGA Titan, you can be sure to expect a paddle that is high in quality and is made for controlled gameplay. Let's dive into its features so that we know what to expect.
Concave Italian Composite Handle
The STIGA Titan has a concave style Italian composite handle which is simply put, sublime! It does not only look beautiful; it is magnificent to hold and very comfortable to play with. This is a big feature as it helps in effectively feeling the force without a high level of vibration.
Inverted Rubbers
There are inverted rubbers on both sides of the STIGA Titan. The quality of the rubbers is not very high but it is enough for a tournament-grade. The same kind of rubber is used on both sides of the paddle.
WRB Technology
WRB technology is something that is commonly used by STIGA in their paddles. This is a feature that allows the changing of the center of gravity by moving it to the center of the blade. As a result, the handle becomes lighter and the blade becomes better suited to playing all kinds of shots.
We love this feature as it balances the blades, improves the recovery rate in all kinds of shots, and, of course, increases ball sensitivity, making you play your shots better.
Lightweight Balsa
Made from balsa wood, the construction of the paddle allows for improved reaction time and also increases the speed of the shots. Balsa wood is the recommended and ideal material for blade construction, and it comes as no surprise that STIGA has used it to make this paddle.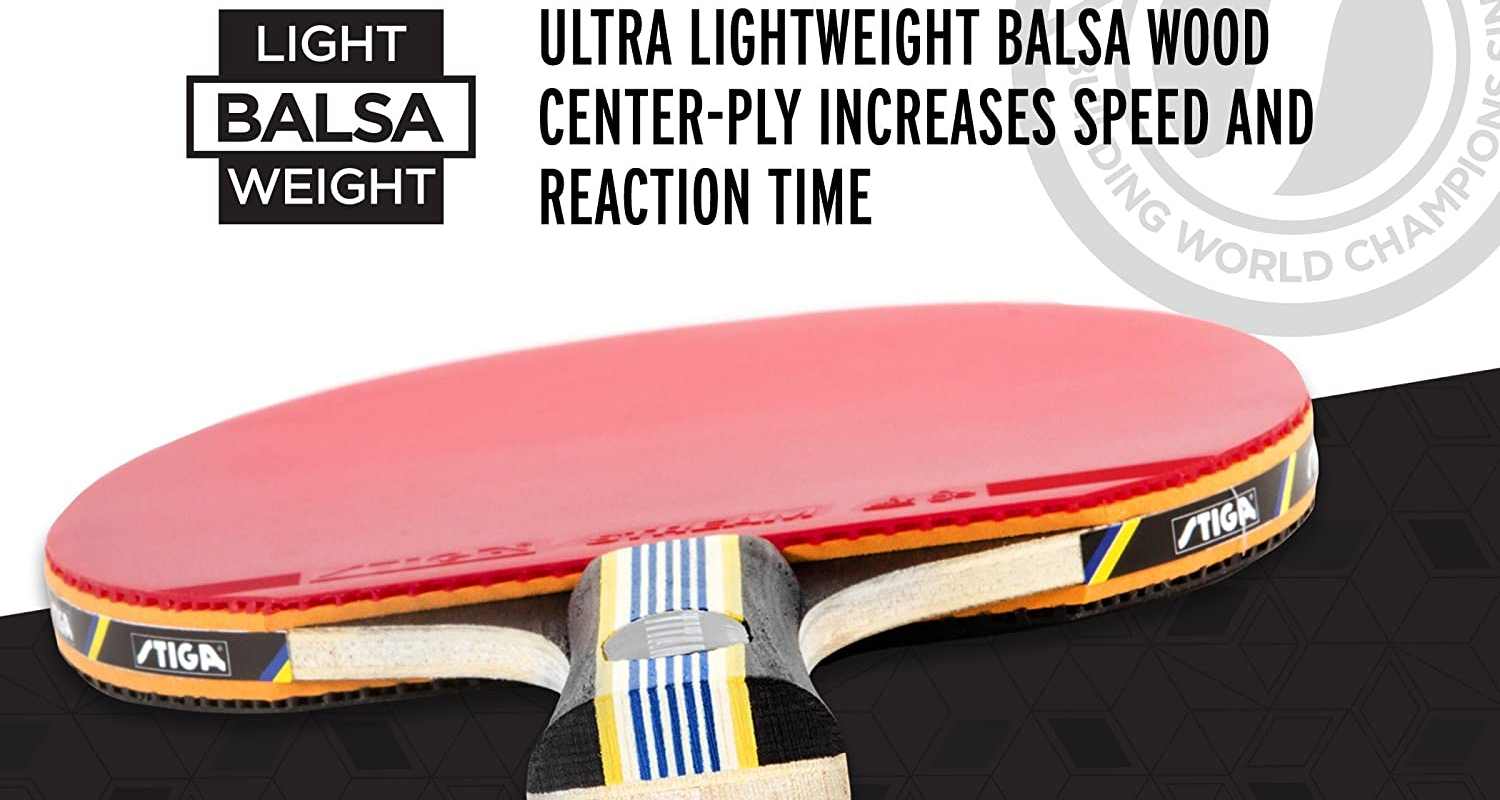 Pros
Affordable Paddle
The STIGA ping pong paddle is an affordable one, making it a useful option for all players. You can get a good deal on Amazon, and buy it at the cheap. It also makes for a pretty fabulous gift for a friend or family member, particularly, if they are looking to start their careers and learn table tennis.
Increased Control
The gameplay of the STIGA Titan is incredibly well suited to beginners. This is thanks to its control feature which allows you to play shots that are well controlled, as opposed to aggressive playing style paddles. For beginners, it is advised that they start playing with slower paddles so that they can learn to play all kinds of shots before they take the leap towards aggressive playing styles.
ITTF Approved
Despite its low price, the STIGA Titan is approved by the ITTF for tournament usage. This serves as a stamp of approval and quality because only the top-class paddles are approved by ITTF. If it is good enough for ITTF, it should be more than enough for you to start your career.
Generates Spin
You can still generate enough spin, although, the priority has been on increasing control. The 2mm thick sponge installed between the woodwork and the rubber is enough to ensure lots and lots of spin.
Durable Construction
STIGA has created a fantastic paddle that is quite durable. This is a huge plus and a major reason why people opt for such paddles. It is also quite important because if you buy a paddle that lasts a long time, it allows you to get used to playing with it, rather than keep changing it.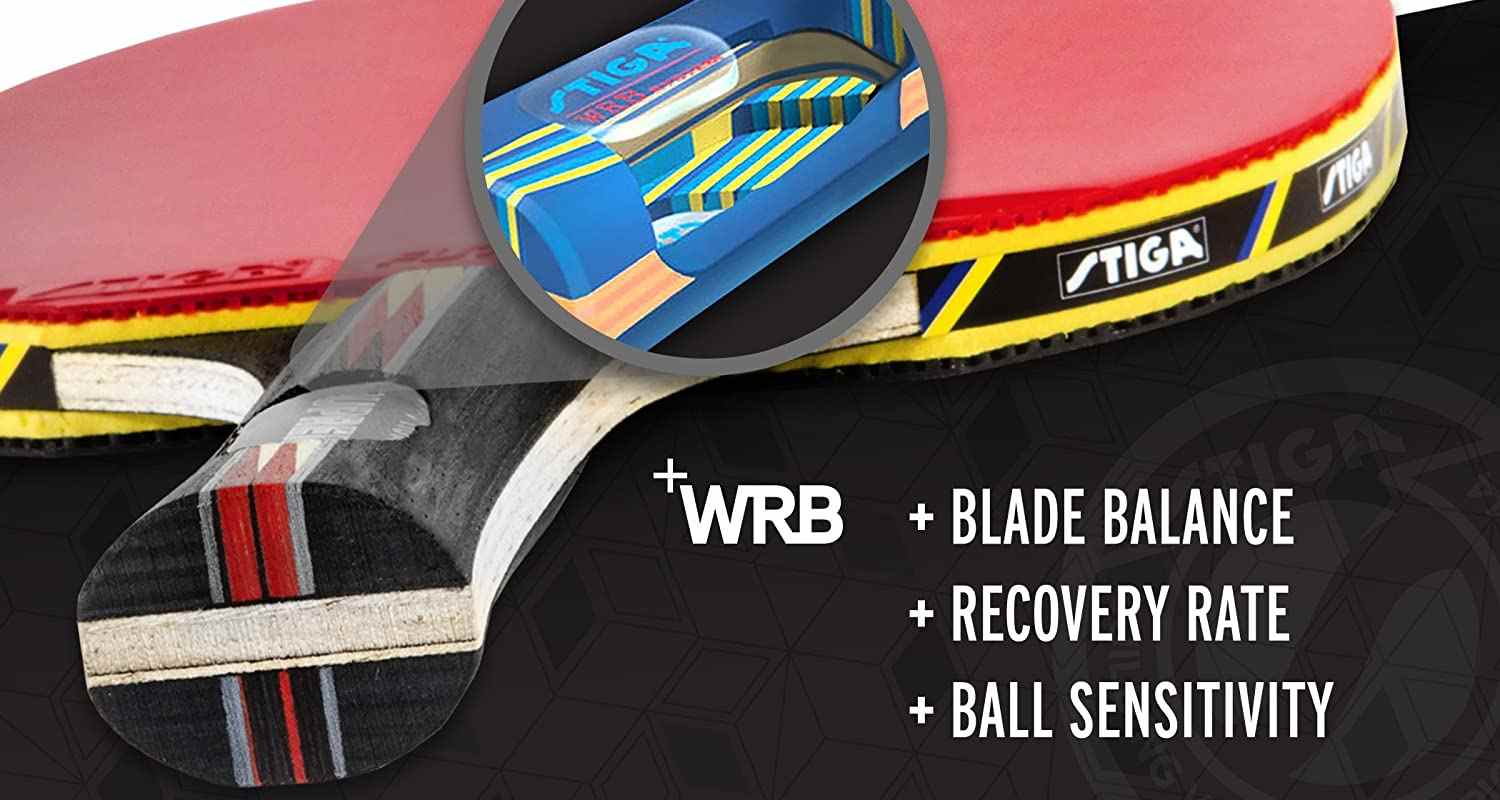 Cons
Poor Quality Rubber
Rubbers of poor quality can take a toll on your playing experience. This is a drawback of the STIGA Titan, however, at the same time, it is crucial to remember that this is a table made only for beginners. It is not ideal for intermediate players or even professionals.
Poor Generation of Power
Even in terms of beginners, this is a paddle that is just not made for generating enough speed and power. If it is a part of your game, you will be disappointed with how the STIGA table tennis bat plays out. Plus, even in the slowest of games, you need a bit of spark and this paddle will not be able to provide it.
If you are used to smashes and your gameplay involves putting the ball away, then you should not invest in the STIGA Titan. This is built around slow, controlled gameplay with lots of spins.
Our Rating: 4.3/5
The STIGA Titan is more of a leisurely option. It is not ideal for any kind of competitive play, and it makes no sense to buy a paddle that will only serve you in the capacity of a beginner.
However, it is not too hard to see the appeal behind buying the STIGA Titan, especially, if you want to become a defensive player.
After all, it is a good enough paddle for control and this could be a big positive if one can learn all the basics with the Titan. It is very much affordable, and for its cost, it worth the money. Although, there are multiple other options available in a similar price range, maybe the WBR technology and the beautiful handle might tilt the scales in the favor of the Titan.
Frequently Asked Questions
How does the STIGA Titan compare with Butterfly Timo Boll and Killerspin JET 200?
The Titan is a lot lighter in weight as compared to the other two. Titan also generates as much, if not more power than Timo Boll and JET 200 but lacks in the spin department. The Killerspin is more of an offensive paddle, but the Titan is not. Check out the JET 800 for a more improved version of the 200 model.
How durable is the STIGA Titan?
STIGA Titan is quite durable. It has fantastic reviews all over the Internet and one of the major compliments paid to the Titan is regarding its durability. It rates 6.5/10 on the durability scale.
Conclusion
Conclusively, the STIGA Titan is a good option for beginners. Getting a racket that is too fast and too tacky is one of the worst mistakes a beginner can make when choosing his first paddle. So, I would even say, that buying STIGA Titan is a decent idea when it comes to beginners.
On the other hand, there are several issues with the Titan. It is slow and it lacks in speed, too. This is a drawback, as players can become quite used to playing in a certain way. Overly defensive players tend to struggle later on in their careers as they have no release shots. So, while it is important to practice with a slower paddle, you should have another one for aggressive play and learn to mix your game around the two.