If you are looking for a solid option that covers all the basics well enough, then you should look no further than the Newgy Robo-Pong 2040+.
It is the upgraded version of the series and is the best differential option out there. If you stay with us for the next few minutes, you can decide whether or not the Newgy Robo-Pong 2040+ is your cup of tea.
Product Specifications
Our Rating: 4.5/5
Price: $$
Controls: Analog Control Box
Oscillator Positions: 8
Pre-Programmed Drills: 0
Ball Capacity: 120+
Weight: 16 lbs / 7.3 kgs
Size: 18 x 60 x 32 inches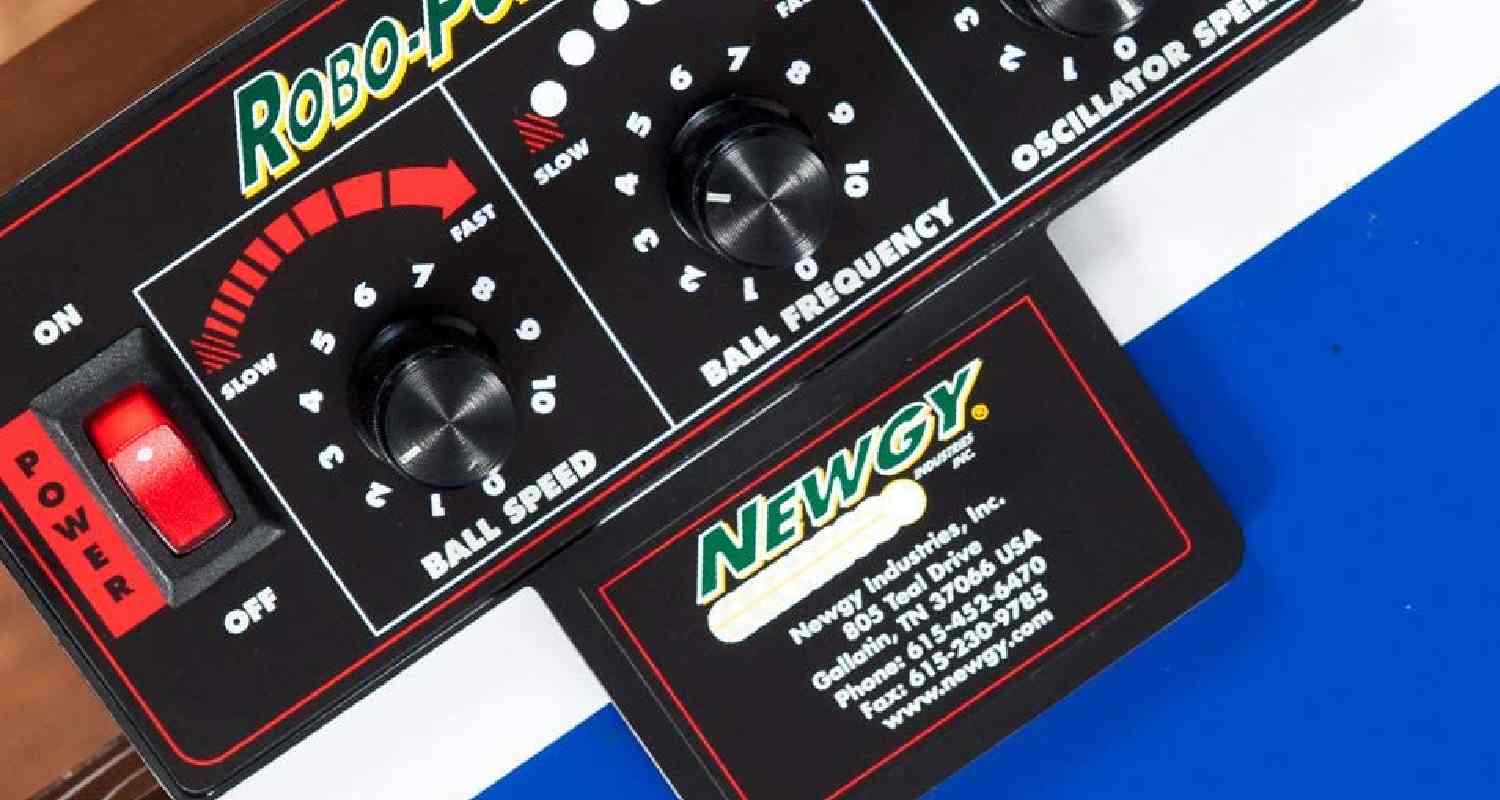 What to Expect?
If you want to buy the Newgy Robo-Pong 2040+, you are investing quite a bit of money in the table tennis robot. For that kind of investment, you deserve to know what is in store for you, and for your convenience, we have jotted it all down.
Ball Thrower
The ball thrower in the Newgy Robo-Pong 2040+ is an incredible piece of engineering. It comes with the feature of oscillation that allows you to mix up the balls that come towards you, making it a challenge for you to play.
Recycling Net
There is, of course, the recycling net system attached with the Newgy Robo-Pong 2040+ that not only saves you a lot of time but allows you to keep practicing with a large number of balls. This will help you stay in a rhythm and help you concentrate as you practice to take your game to the next level.
Many Spins Available
The Newgy Robo-Pong 2040+ has a rich variety of spins on offer. It is unlike the simpler robots that simply throw the ball back at you, instead, you can play with a lot of spins that keeps you on your toes. Topspin, backspin, left sidespin, right sidespin and a combination of spins are all available for you, and assist you.
Shot Selection
You can also customize the Newgy Robo-Pong 2040+ to play against a large variation of shots. These shots range from the normal push, chop, serve, and lob to counter and fast loop, making sure that you do not get used to the same sequence over and over again.
Easy to Use Analog System
The Newgy Robo-Pong 2040+ comes with an analog system that is quite easy to use. Once you get the hang of it, which will probably take a couple of days, you will be able to get the maximum out of your investment.
Pros
Here are some of the reasons why we believe you should invest in the Newgy Robo-Pong 2040+.
Ideal for Amateurs
If you have been playing table tennis for a while, now, and you want to take your game to the next level, this is the best option in the market for you. Unlike the other expensive and high-end options in the market, we believe the Newgy Robo-Pong 2040+ is tailor-made for amateurs.
Although, it largely depends on your appetite for table tennis and whether or not you like to play it, religiously. The features of the Newgy Robo-Pong 2040+ are not too complex and you can get the maximum out of it, even as a semi-pro.
Save Time
Some of the options available for amateurs in the market are based on robots that simply shoot balls at various speeds. The Newgy Robo-Pong 2040+ has more features than just shooting balls, and one of the best features has to be the recycling net system.
This is a great addition to the robot and you can focus more time on your training or workout session instead of chasing ping pong balls around the room.
It is a lot easier to set up as compared to the complex options. You can plug it into a switch and it will be ready to go. So, that is another way, you can save time and not worry about the complexities and being technologically challenged.
Customize According to Need
The variety and customization, of the Newgy Robo-Pong 2040+ on offer, is simply incredible. You can change the speed, frequency, height, angle, spin, and oscillation for different kinds of challenges in your training sessions.
From playing on the backfoot to making sure your backhand shots fall inside the court, you can switch between different training drills and improve your game within a few weeks. While the Newgy Robo-Pong 2040+ is a great training device, it does require a lot of commitment to ensure that you see the difference in your game.
For Standard Size Tables
You do not have to worry about the Newgy Robo-Pong 2040+ fitting your table. If you have any standard-sized table, you should be good to go. The standard size of a ping pong table according to the International Table Tennis Federation (ITTF) is 9×5 ft.
Most of the tables available are of standard size, so it should not be an issue for you to get your robot fixed on your table. However, for confirmation, do check before you place the order to buy. This will avoid any kind of confusion or inconvenience that could potentially arise.
1-Year Limited Warranty
Newgy offers a year-long warranty on the Robo-Pong 2040+. While the robot is not as expensive as the other high-end options, this is still a big deal and a difference-maker as people look to invest in it.
There's even better news for people living in the US, as they get a 30-day money-back guarantee on their purchase of the Robo-Pong 2040+. In addition, they also receive a 5-year service policy, which is a great gesture.
Robo-Balls and Pong-Pal (US Only)
For the people living in the US, Newgy offers two additional things, 48 Robo-Balls sized 40mm+ and a Pong-Pal free of charge. The Pong-Pal helps you pick up the balls quickly, and saves you lots of time.
Durable
One of the guaranteed things you get from the purchase of the Newgy Robo-Pong 2040+ is durability. That being said, rough usage can shorten the lifespan of your robot, but if you take care of it, there is a good chance that the Robo-Pong 2040+ gives you a good return on your investment.
Cons
No Random Mode
This is one of the few flaws in the Newgy Robo-Pong 2040+ as it does not come with a random mode. A random mode could have made this product a very solid option as amateurs and young professionals could do with unpredictable returns. Either way, there are options to mix things up but the lack of a random mode makes it slightly predictable.
Not for Pros
If you are used to playing at a higher level, then this is not the product for you. It is ideal for young professionals and amateurs, but for professionals, the ideal option is going for an advanced option.
Expensive
While the Newgy Robo-Pong 2040+ is not priced, exorbitantly, it remains an expensive purchase. The warranty helps but people are reluctant to spend such a high amount of money on a robot that does not have similar variations to the higher-end robots.
Our Rating: 4.5/5
If you are an amateur looking to improve your game further, we suggest buying the Robo-Pong 2040+, as soon as possible. This is the ideal purchase for that level of play and it has several fantastic features that will help you improve your gameplay.
From playing with various amounts of spin and shots to making sure you do not have to chase a ball around the room. It is also an alternative option for people that tend to struggle with digital controls. The Newgy Robo-Pong 2040+ is operational thanks to analogs that you can change easily and still get the required speed and control you want.
You can easily set up your Newgy Robo-Pong 2040+ on any table that you like and this is a major reason why people prefer this to other complex options in the market.
Frequently Asked Questions
What Sized balls Can Be Used in the Newgy Robo-Pong 2040+?
You can use the 40+ sized balls as the name suggests. However, if you have the 40-size balls, they will also work.
How is the Newgy Robo-Pong 2040+ Better Than the 1040+?
The Newgy Robo-Pong 2040+ has a built-in Recycling Net Upgrade System. This system allows the constant recycling of the balls, so you only need to stop if you hit the balls out of the net system or if you are ready for a rest.
Conclusion
All things considered, the Newgy Robo 2040+ is a decent option, even at the price that it comes. It lacks the random mode, which could have been a great addition, but it is still a great robot. But it has several top-class features which make it a no-brainer decision.
From mixing up the game with a large variety of features to ensuring that you do not waste time fetching the balls, there is a lot to like about the Newgy Robo 2040+. It is a durable product, which will last you a long time, and if you have any issues, you can always use the one-year warranty it comes with.
So, now that you know everything that you should about the Newgy robo 2040+ table tennis robot, you are in a much better position to make an informed decision about whether or not this robot is worth your money.