Fan Zhendong has several feathers in his cap including being the youngest member of the Chinese table tennis team, the youngest ITTF World Tour Champion, the youngest World Table Tennis Champion, and most recently, the current No. 1. Fan has so far won 7 gold medals in ITTF World Tour Men's singles.
At the age of 25 only, he is considered to be one of the world's top table tennis players. Let's see this great player's ping pong journey that led to his rise to glory and know more about him.
Quick Stats on Fan Zhendong
Date of Birth: January 22, 1997
Nationality: China
Nicknames: Xiao Pang (Little Fatty), Dong Ge
Playing Style: Offensive with Hurricane Footwork
Current ITTF Ranking: 1
Hand: Right-handed
Blade: Butterfly Viscaria ALC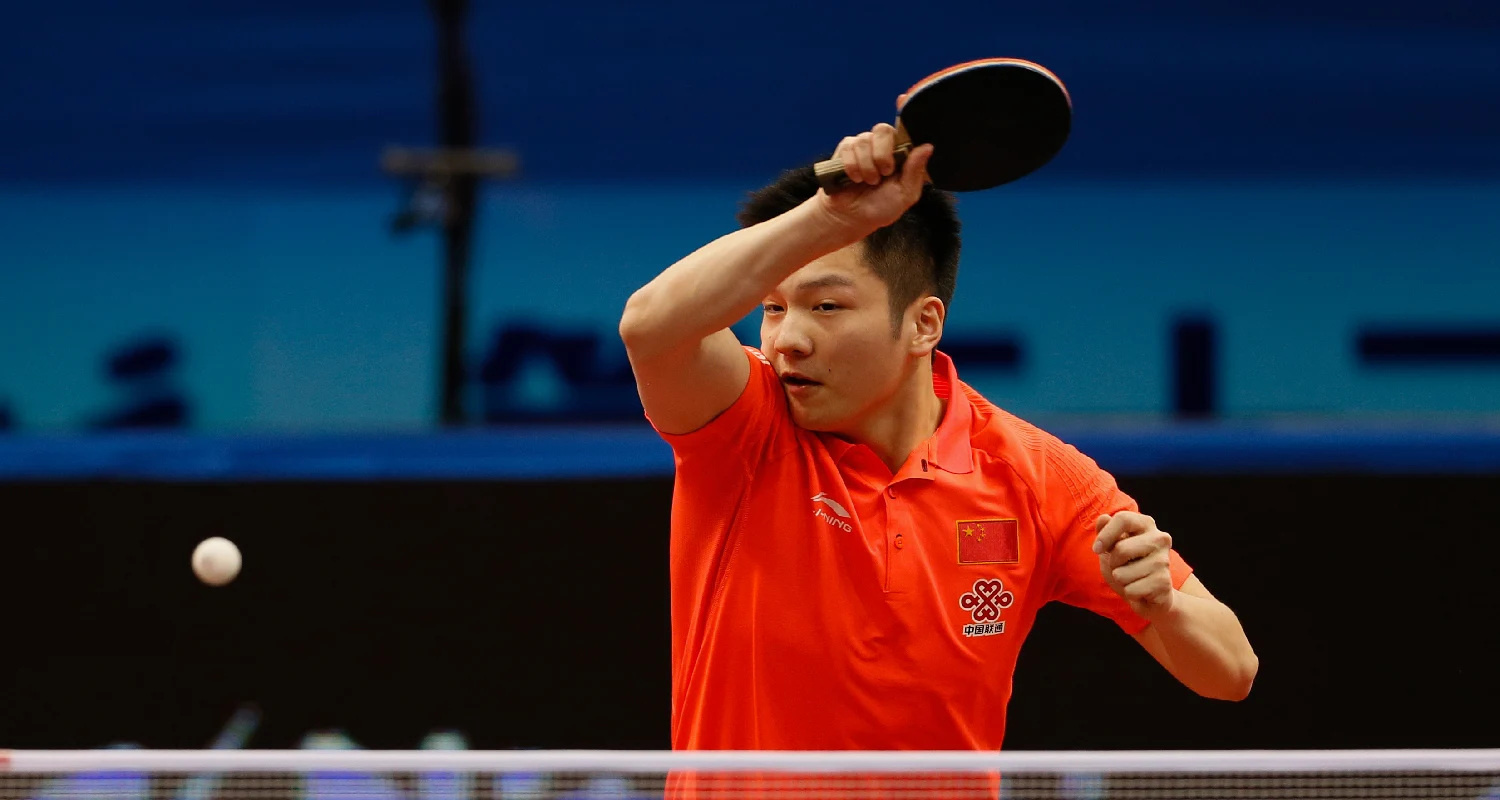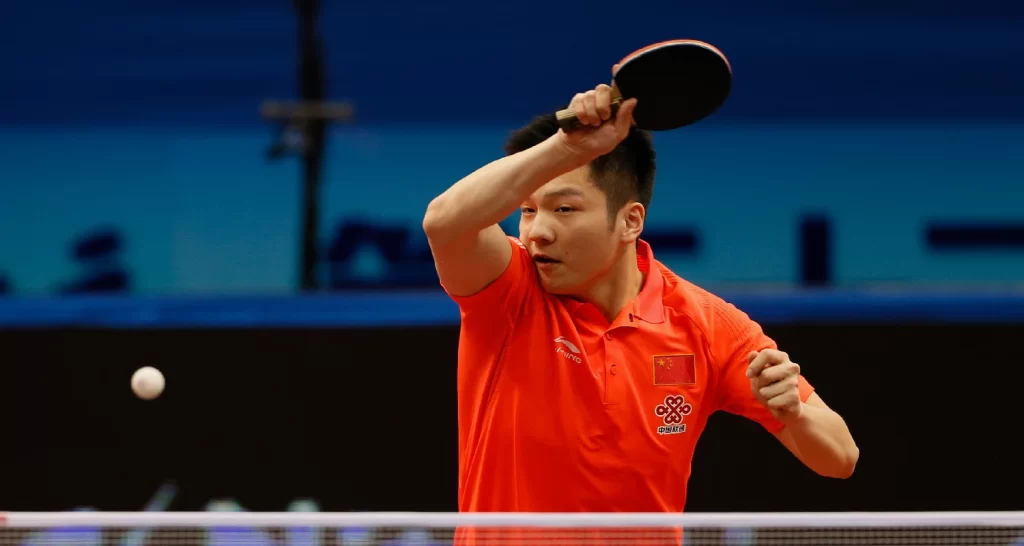 Origin, Background, and Career
Fan Zhendong was born in Guangzhou city, Guangdong province, on January 22, 1997. His family hails from China's Hunan province originally but his parents relocated to the province of Guangdong for work. Fan demonstrated incredible talent for table tennis as a child when he started playing the sport because of his parents.
Fan participated in the Guangzhou City Men's Table Tennis competition when he was just seven years old, and he took first place! Following his impressive victory, Fan continued his training at a specialist sports school to develop his abilities.
With the help of his coaches, he further polished his skills and by the age of 11, he had won several championships in the Youth World Table Tennis.
In 2012, Fan joined the Chinese National A team where he won three times in the singles, mixed, and team competitions and was a runner-up in the doubles. Fan was destined for stardom after his career's first major victory when he defeated Wang Liqin, one of the greatest table tennis players of all time, in the National Championships in 2012.
He soon started taking home significant victories and earned the top spot in the men's singles titles at the German Open and Polish Open.
Achievements and World Championships
For such a young table tennis player, Fan Zhendong has accomplished a lot and holds a number of records in addition to his many titles. He was the team's youngest member when he joined the Chinese National Team in 2012.
Fan's achievement of earning the top spot in the ITTF rankings is astounding. He has worked valiantly to keep the status ever since he initially got it in April 2018, and he only let it slip for a brief period (to Xu Xin) before regaining it.
He has been the top player in table tennis for 42 months running as of September 2021. Here are a few of Fan Zhendong's noteworthy accomplishments:
World Table Tennis Championships
In 2014 and 2016, Fan grabbed the spotlight by showcasing his talents in the World Team Table Tennis Championship where he led his team to victory. He won this title again in 2016. The next year, he got to play in World Table Tennis Championship (Doubles) and won again.
Although Fan demonstrated great skills at every World Table Tennis Championship, he didn't win the single's title till 2021, a feat that drew considerable attention to this young player.
Table Tennis World Cup
Fan won his first Table Tennis World Cup Gold medal at the age of 19, in 2016 — won the second gold when he was 21 and then went on to win for three consecutive years. He really stood out when he defended his title by defeating the legend and table tennis GOAT Ma Long in 2020.
He further solidified his position as the best young table tennis player when he defeated the Incredible Harimoto Tomokazu in the 2021 World Cup.
Fan has participated in the Olympics once only, in 2021, where he had a face-off with Ma Long again in the finals. Although he gave his best at the event, he lost to the legend and went home with a silver medal.
However, he was able to secure gold in the men's team match. Here are some other notable titles held by him:
Asia Table Tennis Championships (Singles) 2015 and 2017
Asia Table Tennis Championships (Doubles) 2015 and 2017
Asia Table Tennis Championships (team) 2013, 2017, 2018, and 2019
Asia Table Tennis Championships (Mixed Double) 2015
Asia Cup (Singles) 2018 and 2019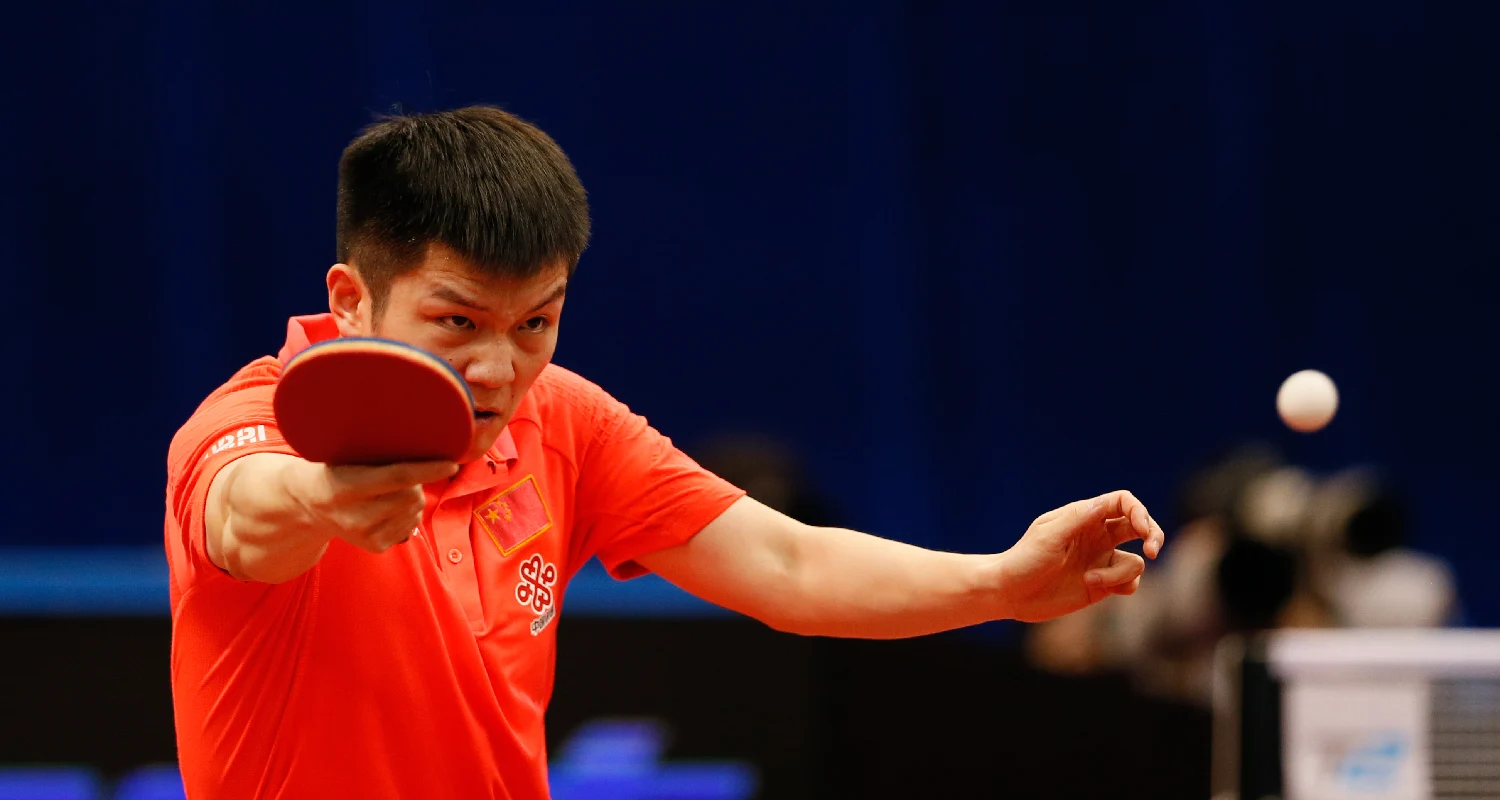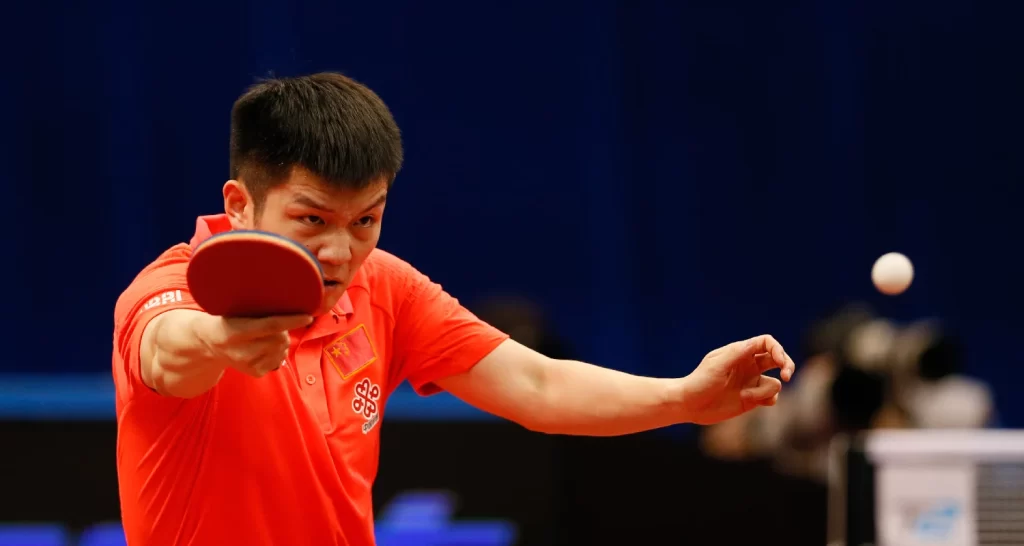 Fan Zhendong's Arch Nemesis: Ma long
Like every rising player, Fan Zhendong was also given a tough time by a competitor who simply wouldn't take a hit. Considered to be the greatest player of all time, Ma Long has been a big hurdle in Fan's table tennis career.
They have faced each other in 28 matches to date and Fan was able to win only 7! He was first defeated by Ma Long in the 2005 World Championship semi-final.
Although Fan defeated Ma at the 2020 Table Tennis World Cup final, the public weighed Ma as better than him when Fan was defeated by Ma Long at the 2017 World Table Tennis Championship final. Fan's 2021 victory at the same event was also considered possible due to Ma Long's absence.
Being the current number 1, it is hard to doubt that Fan's era of dominance has already begun. Moreover, he has secured many gold medals and he is only 25. Ma Long is suspected to retire soon, which also increases the chances of Fan leading the world of table tennis.
Playing Style
Fan Zhendong stands out due to his offensive attacks coupled with swift footwork and lethal forehand loops. His large body is his strongest weapon and he can force opponents to the backcourt with his strong forehand and backhand strike.
Fan brings a new technique to each of his games by creating a perfect blend of offense and defense, although most his attacks are largely offensive-minded.
Reverse Pendulum
Fan's backhand is incredibly deadly, and he makes use of this advantage in his most important matches. His signature technique is a distinctive reverse pendulum serve, with which, he can produce a wide range of spins based on subtle variations in his hand motion.
This technique is quite challenging for his opponents and they have a hard time returning this kind of deadly spin strike.
Equipment
Fan Zhendong is sponsored by Stiga, but he did play with Butterfly Viscaria for a long time. He later exchanged his Viscaria blade for a Stiga Infinity VPS V. Like many members of the Chinese National Team, he plays with a Hurricane 3 National Blue Sponge on his forehand and Tenergy 05 on his backhand.
Fan's Hobbies and Interests
Fan claims that because his life is solely centered around training, it is not exciting. This is quite understandable as being a table tennis player in the world's capital of ping pong, China, you must put in more effort than everybody else if you want to succeed.
By serving as a role model and encouraging others to share his passion for table tennis, he hopes to have a good impact both on and off the court.
Fan enjoys relaxing with his teammates when he has free time to reduce the stress of giving his best effort. On the weekends, he occasionally plays video games as well. He particularly likes Clash of Clans.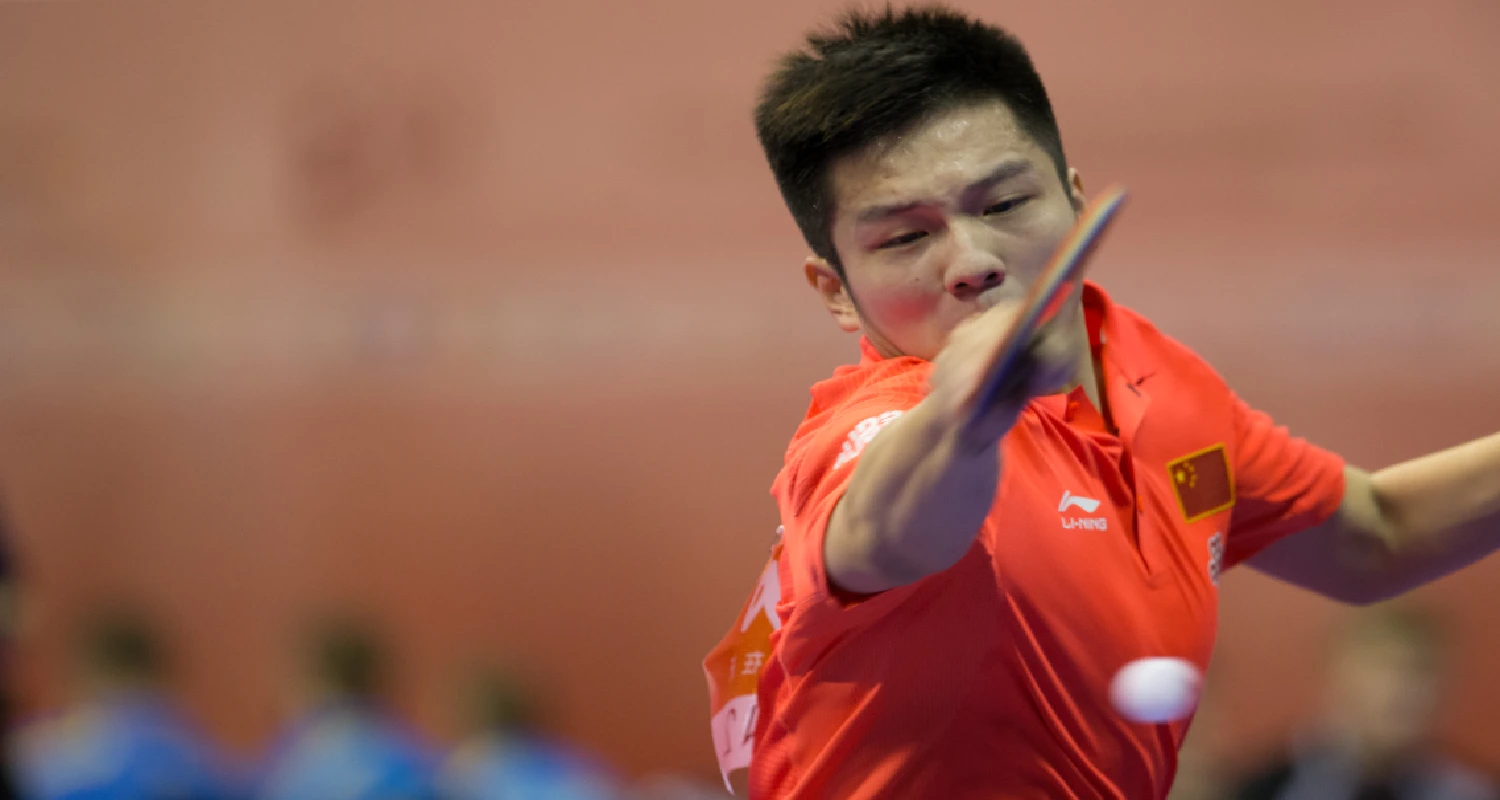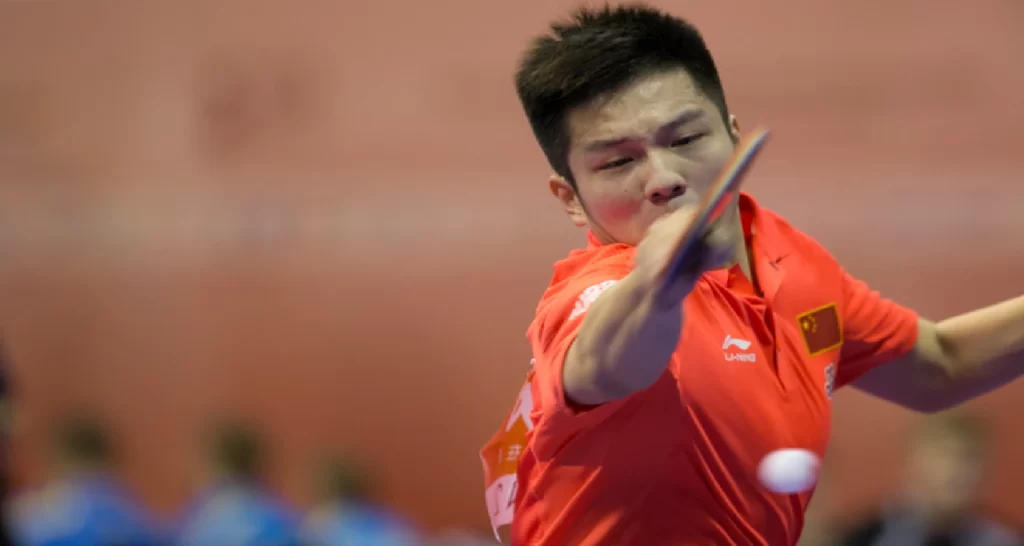 Fan Zhendong's Coaching, Personal Life, and Net Worth
Fan Zhendong's supervisor coach is Wang Hao who was his teammate in the past. It is said that Wang Hao is so dedicated to making Fan Zhendong the best table tennis player that he spends more time with him than with his own family and has left his family business for the athlete too.
In 2020–2022, Fan's net worth increased dramatically due to his continuous victories and is estimated to be around $4 to $5 million. His success as a rising table tennis player is his main source of income.
With more than 500,000 followers on the Chinese social media platform "Weibo", his steady ascent to the top table tennis players in the world has earned him a sizable fan base globally.
He was nominated for the Best Male Star Award every year from 2013 to 2016 before winning the ITTF Star Point Award in 2016 too.
As for Fan Zhendong's dating life, the media doesn't know much about it and he seemingly doesn't have a girlfriend. The media also doesn't have much information on Fan's parents or siblings and it is suspected that his family is an immigrant in China.
Conclusion
At the age of 25 only, it appears that Fan Zhendong's sole remaining accomplishment is an Olympic gold medal. These are a little trickier to obtain because they only become available every four years and with Ma Long not retiring anytime soon, this seems even more difficult to obtain.
Based on his recent victories and many titles, Fan stands a strong chance of defeating any other singles player in the world, including Xu Xin. With Ma, however, it seems like Fan's table tennis dominance will have to wait.