Imagine inviting friends for your birthday party, and, like always, everyone is geared up to play on your pool table, and someone whispers, "How about we play ping pong?".
The idea might sound exciting, but buying a whole ping pong table might not be in your hands. What if you don't need to purchase an entirely new ping pong table and could transform your regular pool table into a top-tier ping pong table? Sounds intriguing?
Ping pong table tops for pool tables work the same way. It is the smartest way to double up the fun without occupying extra space in your room. These table tennis convertible tops seamlessly fit over your pool table, allowing you to quickly switch from playing pool to playing table tennis.
Apart from doubling up your fun, it is budget-friendly and is an ideal option for small or medium-sized rooms.
However, with the myriad options, finding the right choice is like looking for a needle in the hay. Fret not. We have already delved deeper into this part and carefully curated a list of some of the best ping pong conversion tops for pool tables.
Dive in and make your gatherings twice the fun.
Our Top 5 Best Ping Pong Table Conversion Tops
We have handpicked some of the finest ping pong conversion tops based on their quality, functionality, customer feedback, and overall value. Without further ado, let's see what they are!
Our Rating: 4.9/5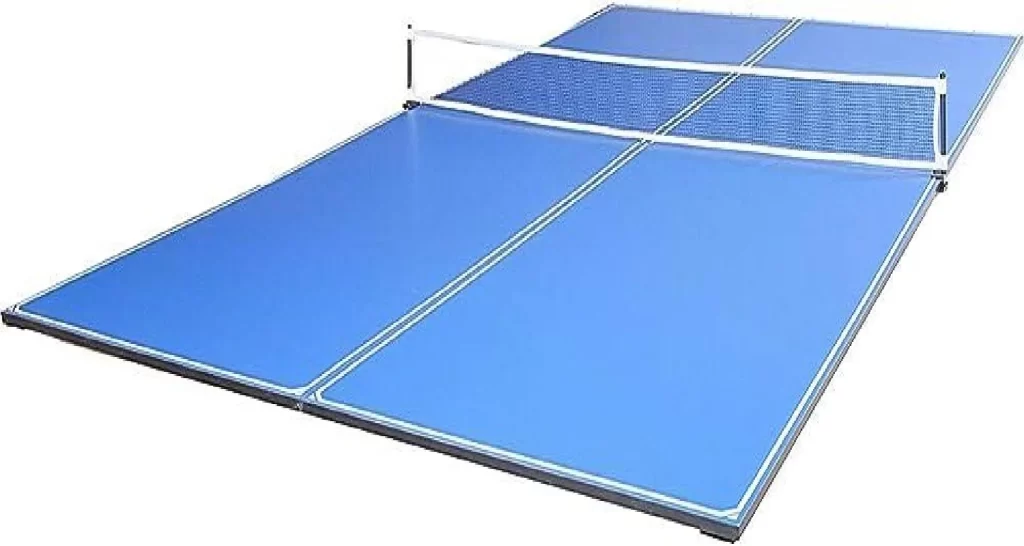 JOOLA Tetra ping pong table conversion top is not just an accessory; it's a perfect blend of design and functionality crafted to seamlessly transform your pool table into a full-size table tennis arena. In other words, it is your golden ticket to back-to-back playtime evenings without needing multiple tables.
With the regulation size of 9 ft. x 5 ft., this table tennis conversion top gives you the real-time experience of playing ping pong on a billiard table. The best thing about this ping pong table conversion top is that it comes with individual two sides combined with a three-hinge system.
This unique design makes it easy to set up and convenient to store in compact spaces such as under the bed or in a closet. When not in use, fold the table halves and store them away without occupying extra space.
One of the most notable features of the JOOLA Tetra table tennis conversion top is its lightweight composition. Weighing up to 85 lbs. only, it is half the weight of your standard ping pong table, ensuring easy setup and maneuverability.
Moreover, its 4-piece hinge design makes the conversion process a breeze.
JOOLA Tetra table tennis conversion top is not only a king of fancy features but prioritizes performance like your personal coach. It comes with a 12mm playing surface and provides exceptional ball bounce to ensure your games are competitive and fun.
Protective foam pads attached beneath the table tennis conversion top aim to protect it from scratches and dents, making it a long-term investment. Its vibrant blue color makes it go well with most of the room's aesthetics.
JOOLA Conversion Table Tennis Top – Best for Professionals
Our Rating: 4.5/5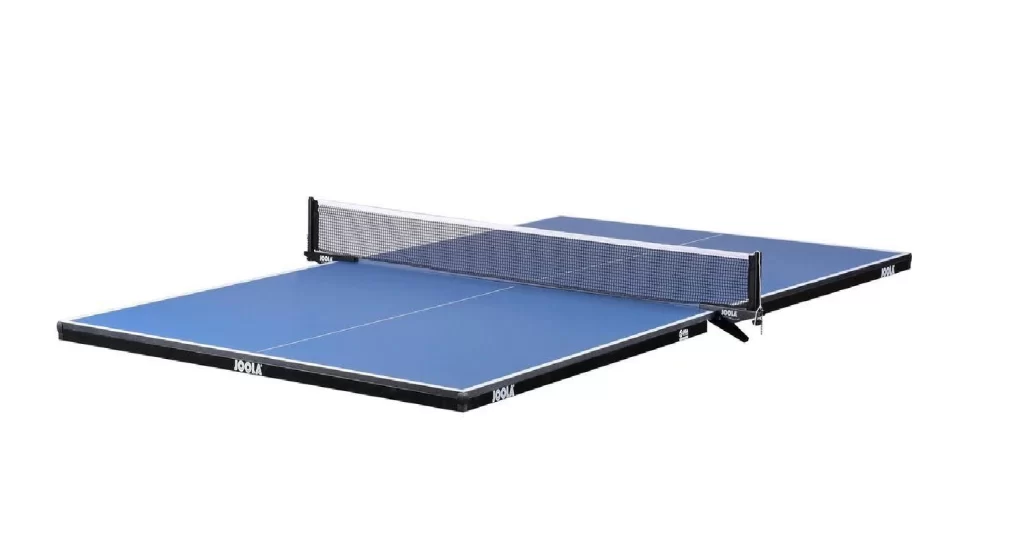 If you are looking for an all-rounder table tennis conversion top combined with spectacular features, JOOLA conversion can be the finest option. It embodies versatility, durability, and performance that can turn any gathering into a table tennis arena in a few minutes.
This premium ping pong table top finely transforms a standard billiard table into a full-fledged, regulation-size table tennis table.
Designed for optimum performance, JOOLA table tennis convertible tops a sleek, multi-layered 15mm, painted, blue playing surface, ensuring that every shot is precise with a crisp and consistent ball bounce. Protective 10EVA foam pads serve as a shock absorber between your table tennis conversion top and pool table.
It not only helps to safeguard your pool table but caters to a smooth transition between the games without worrying about scratches or any other damage.
Providing a uniform playing surface and ensuring longevity, its 1.5-inch heavy-duty metal apron constructed from steel tubes prevents the table tennis conversion top from sagging, especially, if the table is made up of wood.
Furthermore, the ping pong table conversion top is adorned with a black matte powder coating that adds a touch of sophistication and style to your setup. Thanks to the two separate table halves combined with hinge, it provides hassle-free assembly, making you ready for the game in just 5 minutes.
This ping pong table conversion top works best for tables around 8 feet long. If you are a more serious player, this table tennis conversion top is an ideal option for you.
Our Rating: 4.4/5.0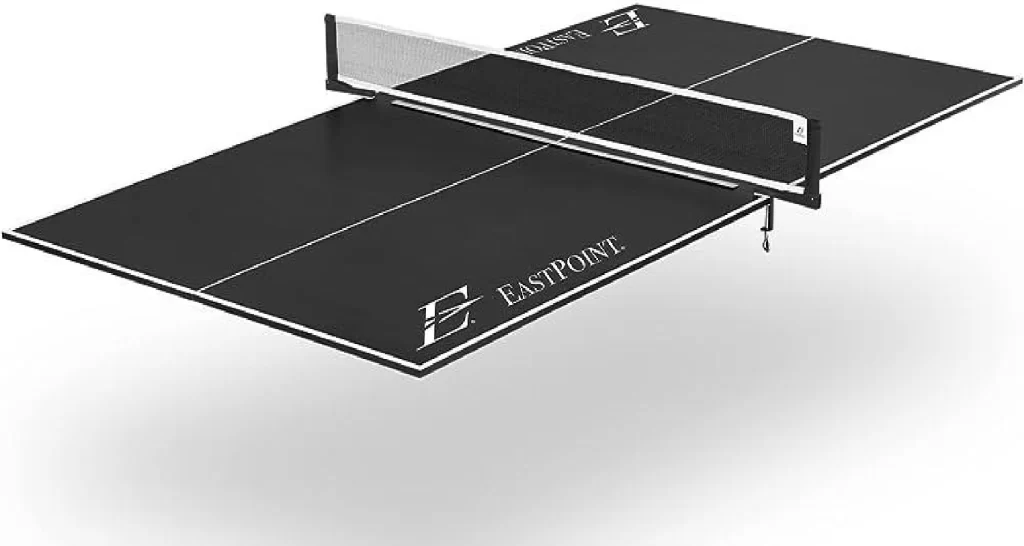 Looking to elevate your recreational space or game room? EastPoint sports table tennis conversion top is the ultimate game changer.
Whether it is a two-player duel or a four-player face-off, this ping pong table conversion top is a true invitation to an intense rivalry, making it a fantastic addition to your family game rooms or other recreational areas, in addition to, chess, pool table, and so many other games.
Spanning 9 feet in length and 5 feet in width, this regulation-size table meets all the professional standards. Its 12mm thick playing surface guarantees a uniform bounce with utmost accuracy. With its included net and post set crafted with durable steel, your weekend is all set for fun. What sets this table tennis conversion top apart from others is its super quick setup.
Get ready to say goodbye to lengthy setups, as this convertible table tennis board requires zero assembly. All you need to do is unbox, unfold, and place it on the top of any table. Be it your pool table, dining table, or any other suitable surface, its convenience will make your life incredibly easy and fun.
The cherry on top is that its storage is effortless, and its innovative four-piece hinge design ensures you can fold it without any hassle once you're done playing ping pong.
With the folded dimensions of 54″ length, 30″ width, and 2.5 inches depth, you can easily place it under the bed or couch or tuck it in a closet. Enhancing the package, East Point Sports ping pong conversion top comes with a huge set of accessories, ensuring you are ready to play ping pong right away.
Rally and Roar Indoor Table Tennis Conversion Top – Budget Friendly
Our Rating: 4.9/5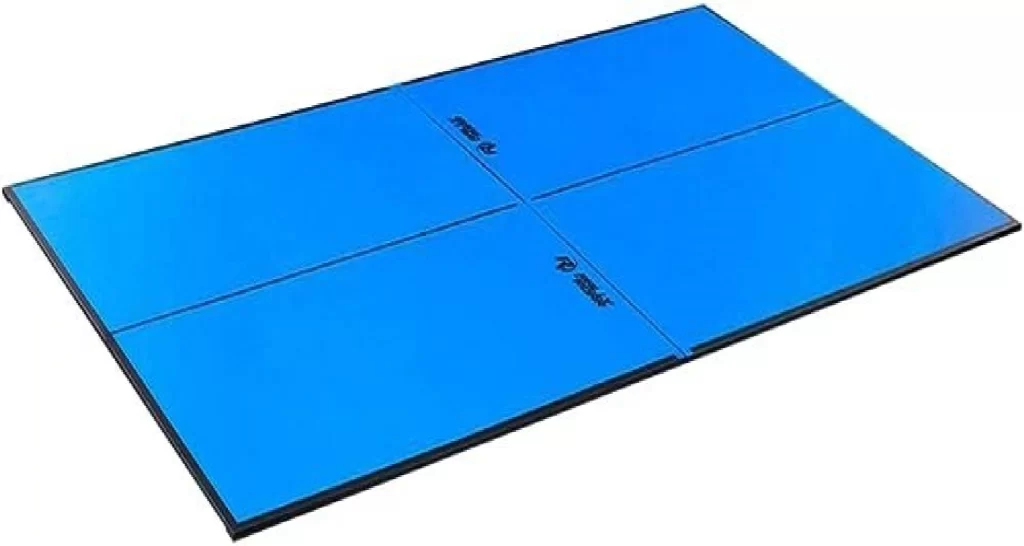 The weekend is here, and you want to have a thrilling table tennis competition with your friends at home? Rally and Roar indoor table tennis conversion top is here to provide an elevated ping pong experience that is the finest blend of convenience and spontaneous fun.
The convertible table top comes with 2 or 4 board designs, which allows you to effortlessly transform your air hockey or pool table into a table tennis table without breaking the bank.
It's easy and quick setup demands you just lay the table top across the table, attach the net posts set, and voila! You are all set for an epic face-off. The table tennis conversion top is crafted with premium quality materials with sleek silk print striping.
Whether you want a 1/2″ playfield in the 4-piece set or a 5/8" thick playfield in the two-pieces variant, both ensure a consistent bounce and top-tier performance.
Rally and Roar indoor table tennis convertible tops are not just about playing table tennis; it's also about safeguarding your interiors and storing the table top smartly.
Moreover, the considerate addition of back-padded 3mm EVA foam pads ensures that your pool table remains unharmed and stays in its original state for a long time. With the size of a regular table tennis table, this table top is designed to provide a real-time experience of playing table tennis in an arena.
Overall, Rally and Roar indoor ping pong conversion top is not just a product; it's an experience – an outstanding blend of convenience, quality, and durability.
Our Rating: 4.4/5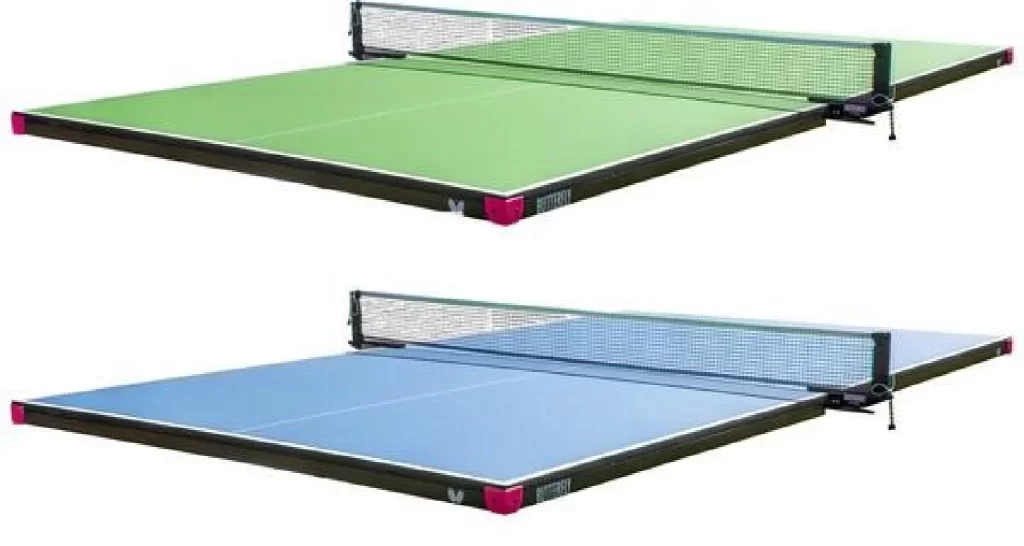 Butterfly pool conversion table top is a revolutionary product that is truly a game changer for enthusiasts seeking a multi-functional game room set up in their homes. Crafted with dedication and accuracy, this Butterfly convertible table tennis top features a 3/4 inches thick surface that promises excellent bounce, turning you into a table tennis maven in no time.
Thanks to its top-notch configuration, this table tennis conversion top provides an unwavering commitment to quality.
Comprising two separate halves, the pool table ping pong top from Butterfly is designed for effortless setup and can be swiftly tucked under the bed or in a closed space. Moreover, this feature makes this table tennis conversion top one of the simplest and quickest additions to your game room.
Further adding to its magic, the ping pong conversion is backed up by full foam padding, which serves a dual purpose. This foam backing helps to protect your pool table from scratches and provides stability to the topper so that it won't be sliding off your pool table during intense matches.
With standard dimensions, this table tennis conversion top makes an excellent choice for both casual and competitive gameplay. One of the best things is that this Butterfly conversion top is not only restricted to pool tables. You can set it up even on your large dining table, making it a delightful addition to your family gatherings.
Butterfly convertible tops are designed keeping in mind various pool table sizes. Typically, it is recommended for 8ft tables. However, you can remove its metal rails to accommodate it into a 9ft table, ensuring a snug fit. It has a user-friendly Butterfly net post set with a clip-on net to make the table transition a breeze.
This table tennis table top comes in vibrant blue and green options. You can choose the one that complements best to your room aesthetics.
Frequently Asked Questions (FAQs)
Can I use table tennis conversion top on different types of tables?
Yes. Ping pong table conversion tops are versatile table tennis boards that can transform not only pool tables but also your dining tables, air hockey tables or any other suitable spaces into full-fledged ping pong tables. A convertible table tennis top is one of the most convenient and versatile solutions that can adapt to various surfaces other than a pool table without breaking the bank.
Are table tennis conversion tops good fit for beginners?
Ping pong table conversion tops not only work great for advanced players but are also a perfect match for beginners and recreational players. They are an excellent way for novice players to practice ping pong and enjoy the game without initially investing in a full-size table. The assembly is super swift and convenient, allowing you to play ping pong right away.
Can table tennis conversion top damage my pool table?
There is no potential danger to your pool table from ping pong conversion top as they are fully backed up with protective EVA foam padding beneath their surface. This foam backing cushions between your existing table and conversion top while protecting the table from scratches and other damage.
How long does it take to switch between pool table and conversion table top?
Setting up the table tennis conversion top on the pool table is a breeze and barely takes you a few minutes to get it done. Once you get accustomed to the process, you can assemble most tables in approximately 5-10 minutes or even less. If you have a conversion top with a clip-on net post set, the assembly time will get shorter.