DHS Hurricane-II paddle is a supremely balanced racket, that has almost no weaknesses and lots of fantastic reviews.
Its rubber was made exclusively for one of the greatest table tennis players, Wang Liqin, back in 2000. This ensures the quality of the highest order, considering the fact, that it was assembled for a top-notch player.
Paddle Specifications
Overview
Our Rating: 4.3/5
Grip Type: Shakehand flared
Price: $$$
Play Rating
Speed: 8.7/10
Spin: 9.4/10
Control: 8.0/10
Durability: 8.5/10
Materials
Weight: 5.9 oz / 167g
Rubbers: Red Pimples In / Black Pimples In
Plies: 5 plywood blades
Sponge: 2.0mm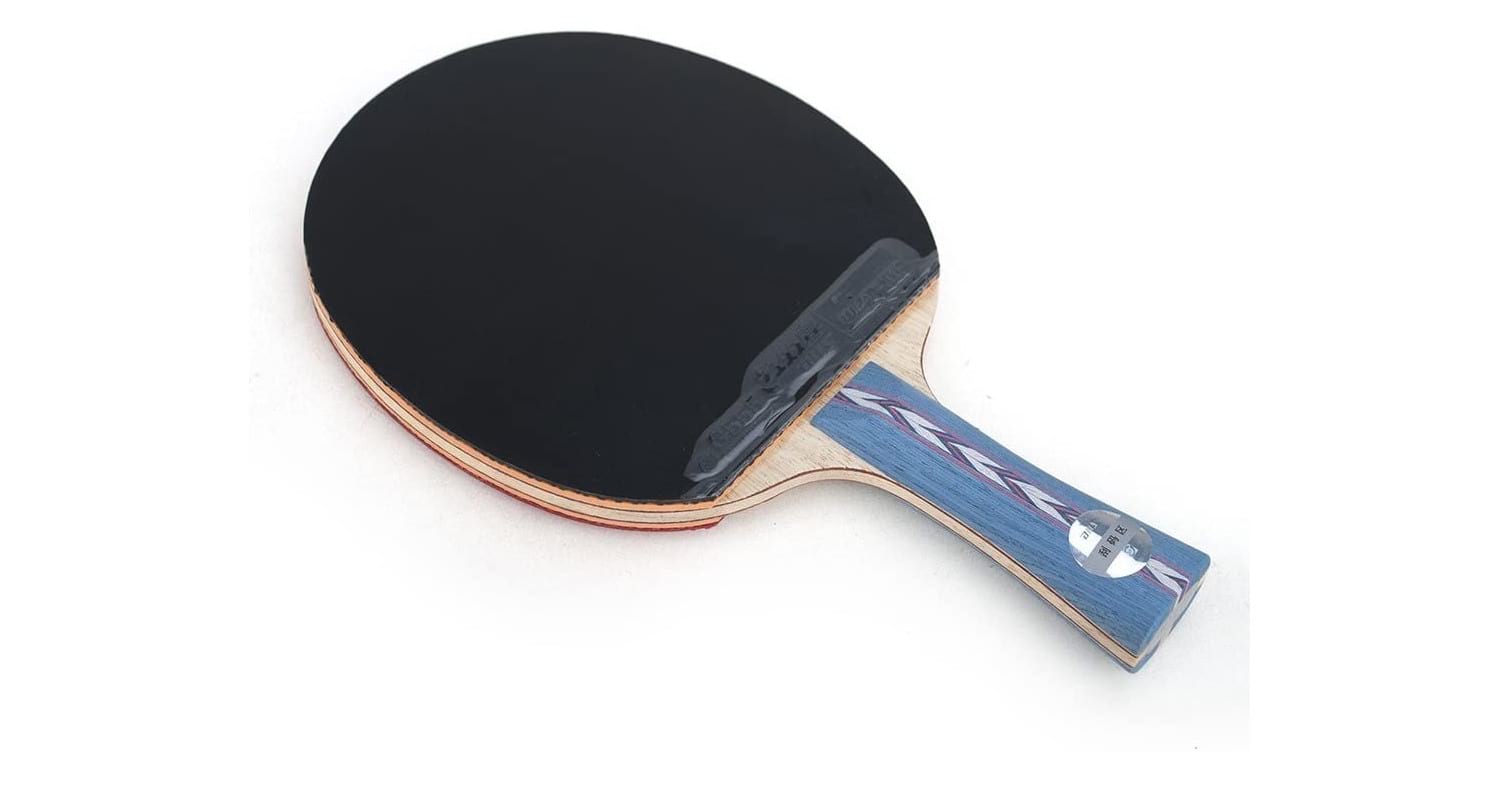 What to Expect?
You can expect a superb paddle that will be more than enough to help you play a fast-paced game. Let us take a closer look at the features of this beauty!
Large Size
The size of the DHS Hurricane II paddle comes as a surprise to people. It is larger than normal paddles, and if you have not used it before, it may take a while to help you adjust. This is a useful feature as it allows you to catch more balls on the return.
Top-Quality Rubber
The best feature of this DHS ping pong paddle is its fantastic rubber.
The rubber is quite tacky, giving you the maximum chance to put as much spin on your shots, as you want. This can be a dangerous weapon if you know how to use it!
Plastic Protection
DHS Hurricane II paddle has a plastic layer that fits over the rubber, which is quite useful in the protection of its rubber. We love this feature as it allows for the longevity of the paddle.
You can take off the plastic every time you play, but do remember to put it back on.
Tournament Grade
You can use the DHS Hurricane II in official tournaments. It was originally made for one of the best players of all time, so it is tournament quality and you can use it to play in different professional tournaments.
Heavy Weight
DHS Hurricane II paddle is quite heavy. This is a huge bonus if you play professionally. Once you get used to the weight, you can use it to add more power on the shots and at the same time get more control on defensive shots.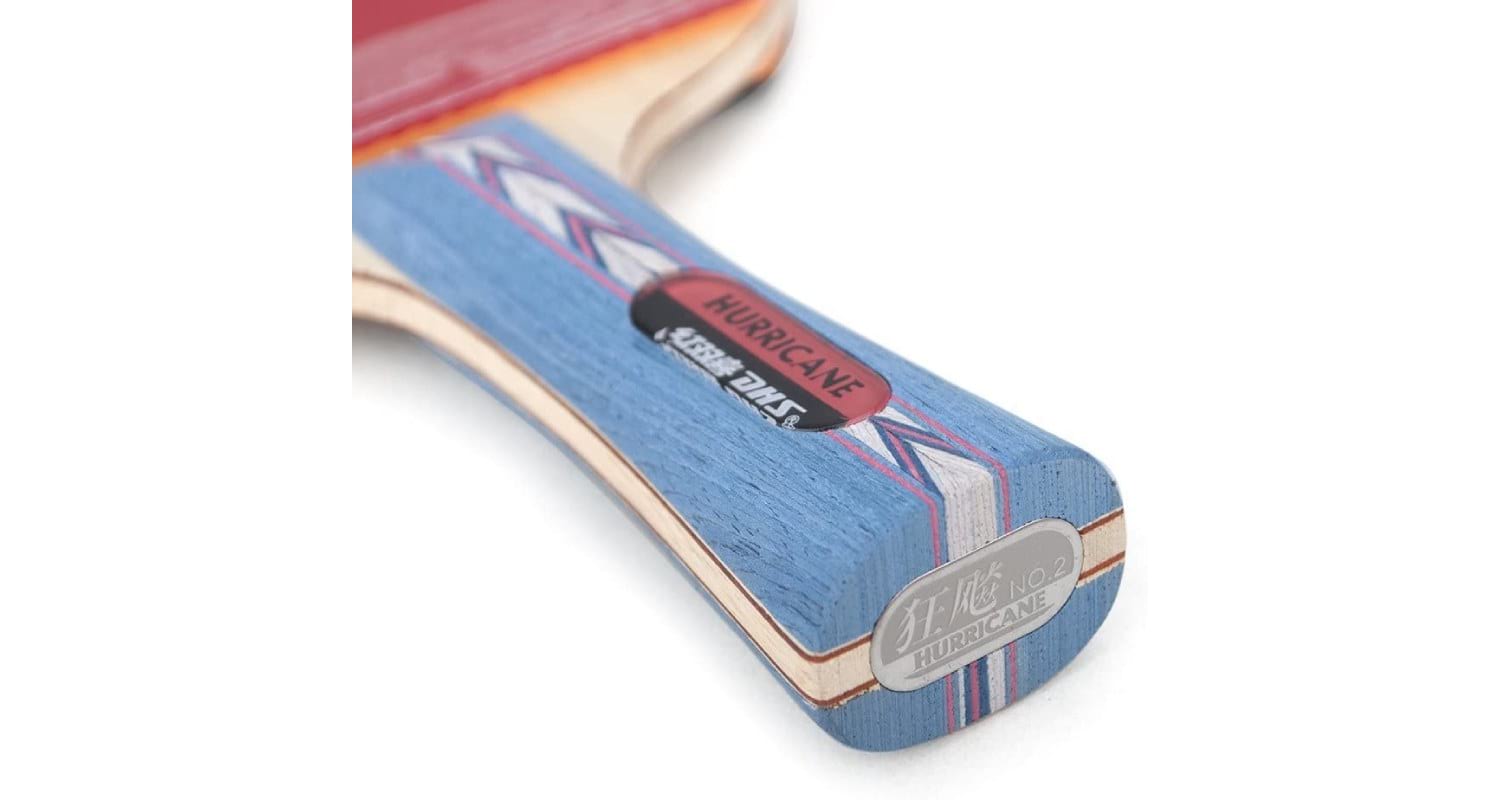 Pros
ITTF Approved
It is important to buy a paddle that is approved by the International Table Tennis Federation.
This will allow you to play using a professional paddle which can be a big help in improving your game over the years.
Speed and Spin
DHS Hurricane II paddle is ideally used by players that have an aggressive playing style. It complements the aggressive player in the best way possible offering a wide range of shots and putting the opponent on the backfoot, from the first shot. You can easily get the ball flying in the lower arc with higher speed, making it annoying for the opponent to get it away.
Very Durable
The DHS Hurricane II is a superb paddle, which is made of quality materials. It requires a bit of upkeep, but if you put in the work, then you can increase its longevity. Any good thing needs looking after and the Hurricane II is not an exception to this rule.
Tacky Rubbers
The best feature of the DHS Hurricane II is the rubbers. These rubbers help generate an insane amount of spin, which you can use to your advantage, be it for defensive purposes or keeping your opponent at bay.
Gears
A good paddle should have above-average gears, like the DHS Hurricane II. The gears help in producing a wide range of different shots that can make your gameplay a lot more unpredictable. You can play the slower shots or the faster shots, dependent on your skillset.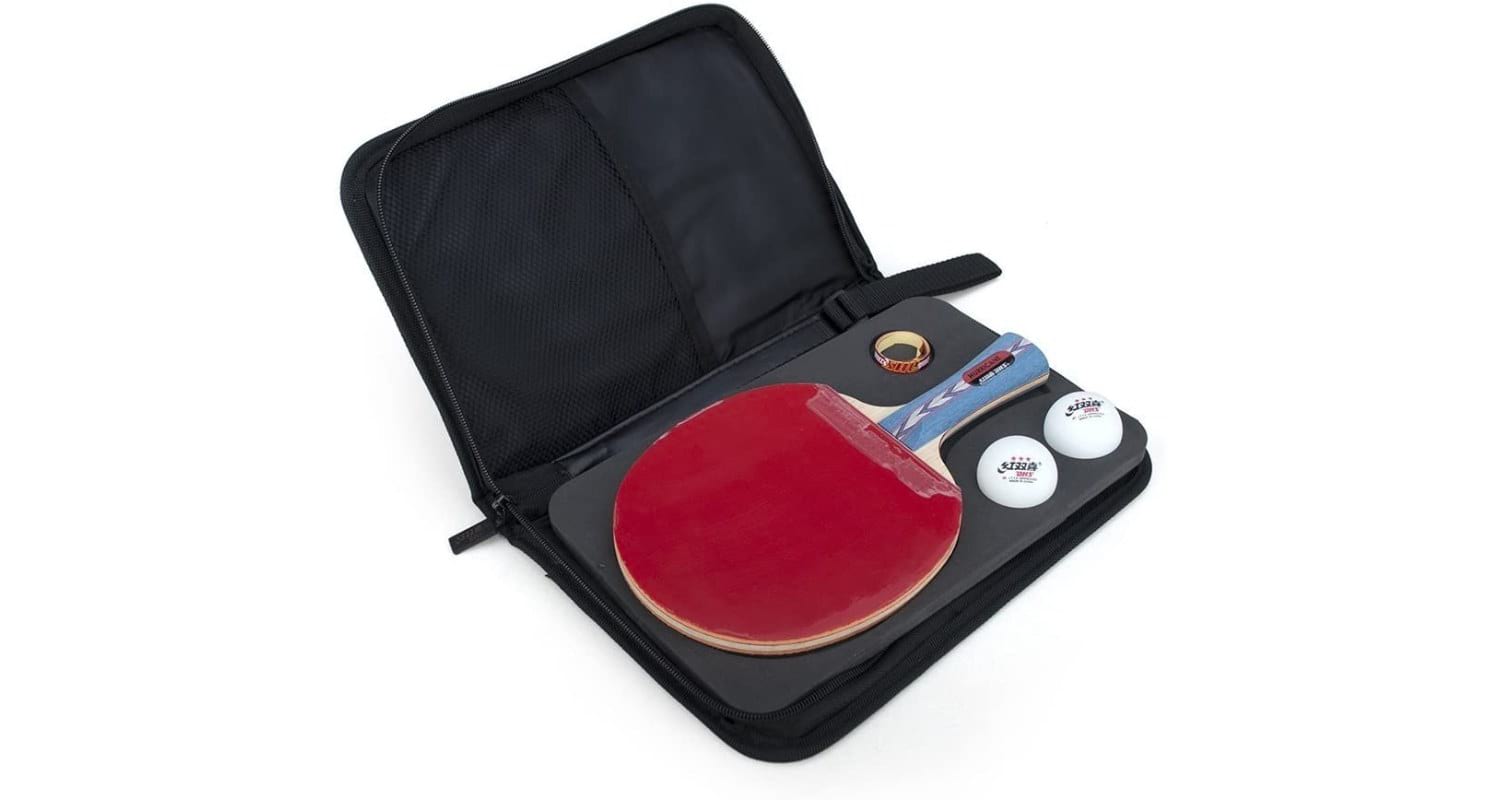 Cons
Quite Expensive
The DHS table tennis bat is quite an expensive option when compared to the other paddles that you can buy for a lot less. There is a debate that the price is justified, and there is no doubt, considering there is a lot of quality. At the same time, though, a lot of people would feel priced out and could opt for other options.
High-Maintenance
Maintaining the DHS Hurricane II is a tough task. It will take up some time from your daily routine, and it is highly recommended that you do your best. If you are spending that much on a quality product, it is better to maintain it, as well. Like we mentioned above, it comes with a plastic sheet that you should put on the paddle every time it is not in use.
Problematic Odor (Isolated)
Some customers have reported a terrible smell coming from their paddles.
This could be a manufacturing fault, but not everyone has faced the same issues. We did not face any such issue, and if you have any problem with the paddle, you can get it replaced if your purchase is from Amazon.
Our Rating: 4.3/5
DHS – Double Happiness, as they are less commonly known, is a reliable brand in table tennis. Their Hurricane II has been one of the game-changers in the industry and it has redefined the aggressive gameplay. We love how well it plays out, especially, if you like to play your shots, then we suggest buying the Hurricane II.
DHS Hurricane II paddle is not the best option for beginners. It lacks control as it is primarily made for aggressive play, and this can be a limitation if you are a beginner. Some people find the larger size a bit uncomfortable, but we thought it was perfect for playing shots, defensive and offensive, both!
Frequently Asked Questions
When should I change the rubber of my DHS Hurricane II?
You should not worry about changing the rubber anytime soon. Professionals and players that have high-quality and intense sessions, need to change after around 75-80 sessions, however, for casual play, you do not need to change until you have used it more than 120 times.
How thick is the sponge of the DHS Hurricane II?
DHS Hurricane II paddle has a 2 mm thick sponge. This is considered to be standard thickness.
Is the DHS Hurricane II heavier than the STIGA Pro Carbon?
No, the STIGA Pro Carbon weighs around 7.2 oz, making it heavier than the DHS Hurricane II, which weighs just under 6 oz.
Conclusion
There was never a question over the quality of DHS Hurricane II paddle. There are fewer paddles that are suited to aggressive playing style, as much as Hurricane II. Once you get used to playing with it, there is no going back, and every other paddle seems good but not quite Hurricane!
Few people have concerns over its price, because it can be a little expensive. However, you could get a band and free balls with the paddle, if you purchase from Amazon. At the same time, the price is justified because of the quality it brings. It is not the perfect option for beginners, but if you like having fun with aggressive shots, then we suggest buying it!
If you only want to buy a paddle for casual play, then there are better options available on the cheap. You can still opt for the DHS Hurricane II paddle if you want to play aggressively and impress your friends.