The DHS Hurricane series is among the most popular table tennis rubbers, as these are used by the Chinese national team members.
The latest addition in the series is the DHS Hurricane 3 National table tennis rubber, which is marketed as the best possible version of the DHS Hurricane rubbers. It promises an even better spin and control than its predecessors.
This rubber is a limited-edition product, promising national team-level quality. It is an allround+ rubber that can be used by offensive players too, especially when combined with an OFF+ blade. Let's see if this rubber exceeds expectations.
DHS Hurricane 3 National Table Tennis Rubber Specifications
Our Rating: 4.5/5
Price: $$
Weight: 68g
Thickness: 2.2 mm
Surface: Pimples-in
Play Rating
Speed: 9.0/10
Spin: 9.5/10
Control: 9.2/10
Sponge Hardness: 7.0/10
Durability: 5.0/10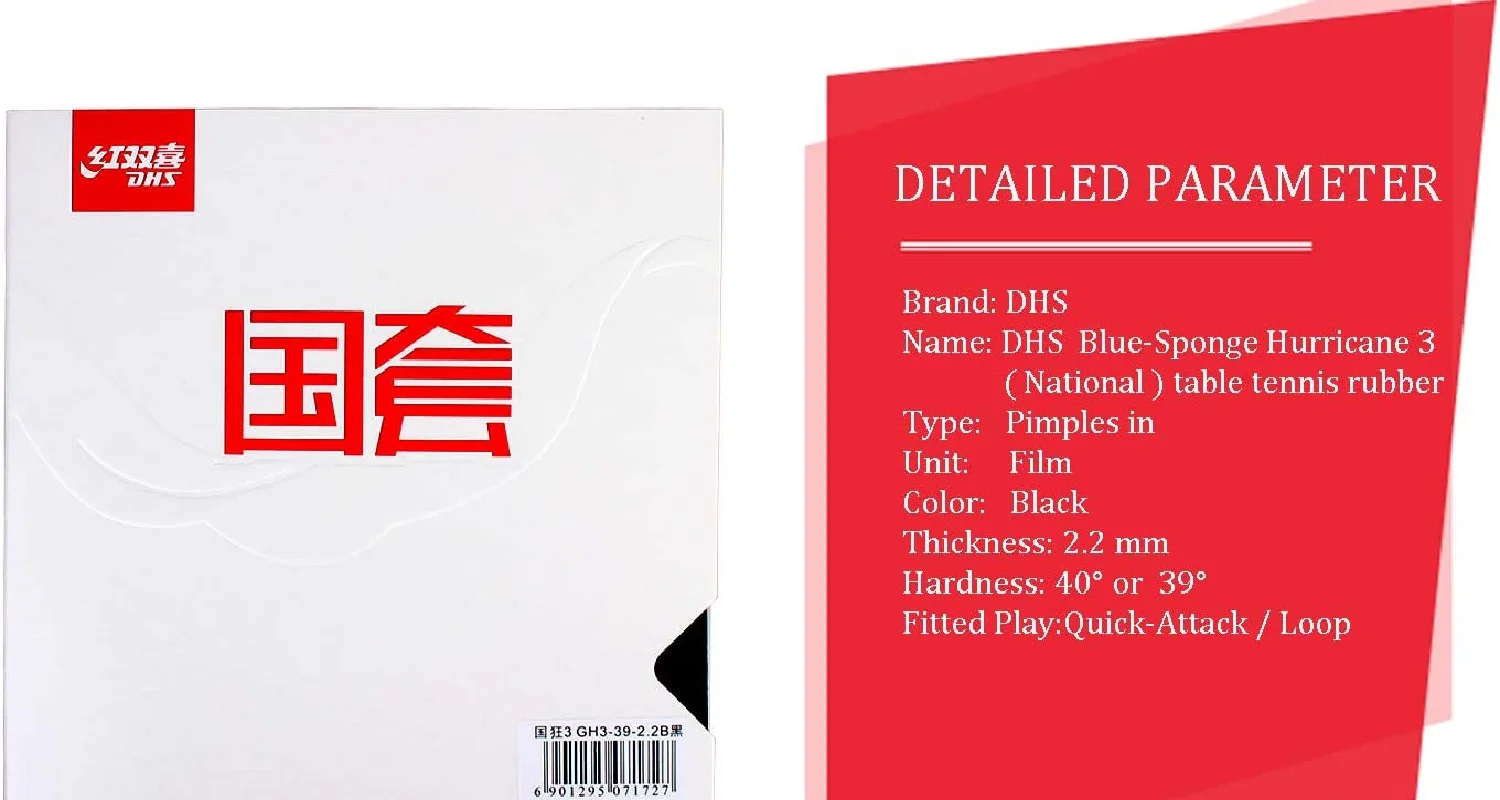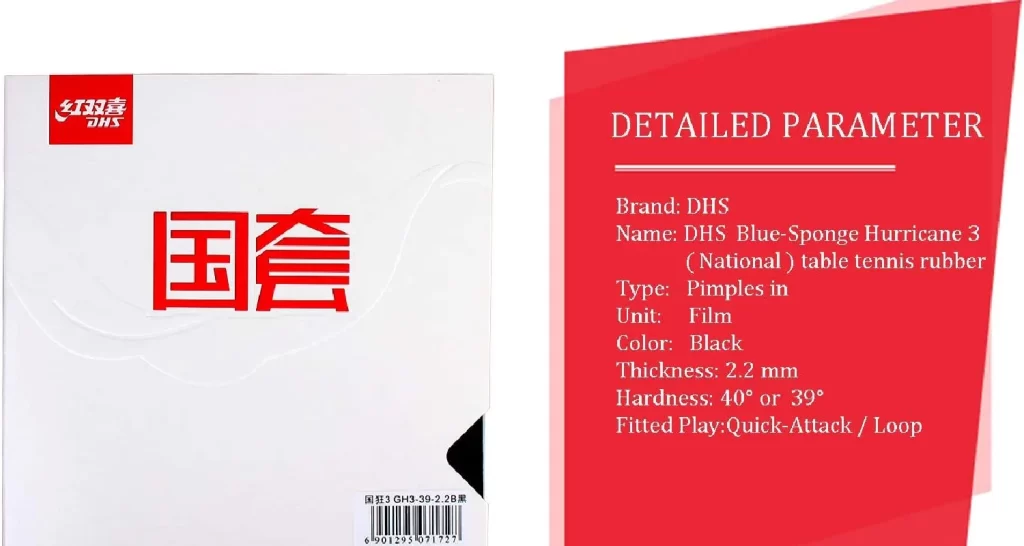 What to Expect?
The Hurricane 3 series is incredibly popular among the top table tennis players in the world, so we expect this version to deliver that tournament-quality performance that it promises.
Since DHS Hurricane 3 rubber is marketed as an all-round rubber that can be used for offensive games too, we expect it to be versatile and suit every style.
This rubber is used by the former world No. 1 table tennis player, Ma Long, so we are looking forward to a tournament-level game with this.
Ideal Blade Combinations
DHS Hurricane 3 National table tennis rubber is very heavy so must be used with lighter or medium-heavy blades. As this is a versatile rubber, you can use it with allwood or ALC blades alike.
Some blades that would pair well are Yasaka Ma Lin Offensive, STIGA Offensive Classic, and Butterfly Timo Boll.
Construction
DHS Hurricane 3 National is among the tackiest we have ever come across. The top sheet is black with a blue sponge. It also comes with factory tuning, which maximizes the speed and spin. You also get a rubber protector film to cover the rubber after you are done playing.
The top sheet has close to 15 pips in the horizontal direction and almost 22 in the vertical direction per 5cm. The sponge is without pores and slightly ripples.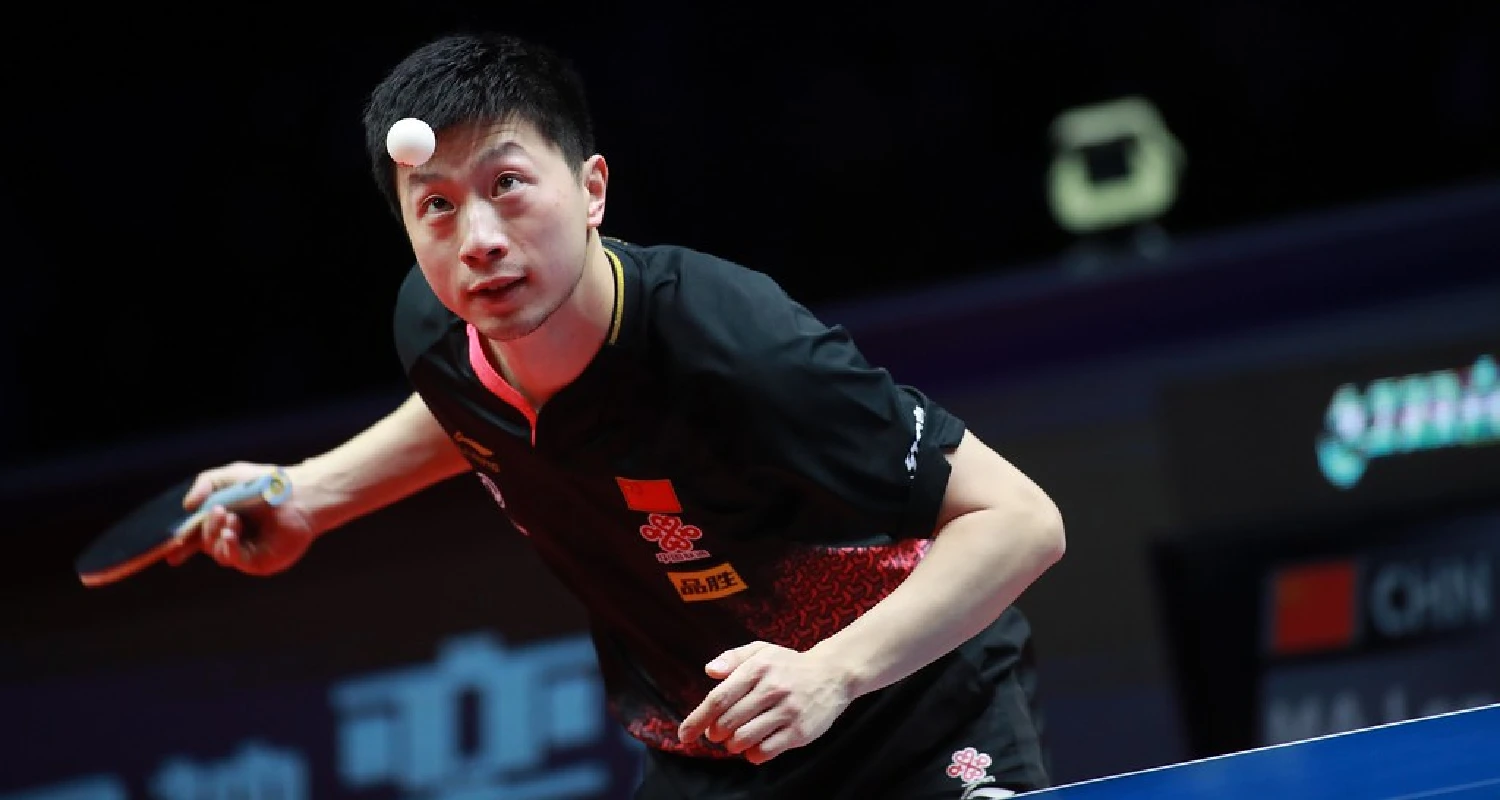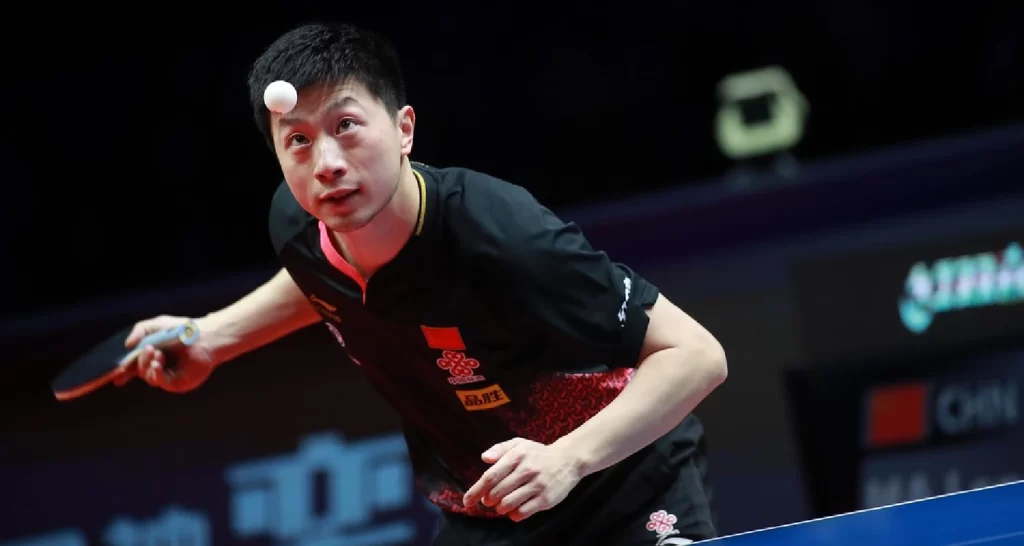 Pros
Spin-Oriented Rubber
DHS National rubber is by far the most spin-oriented rubber in the Hurricane 3 series. The tacky top sheet grips the ball, increasing dwell time and spin capabilities. This quality mirrors the NEO rubber in this sense.
The lower throw angle further proves to be lethal for the opponent. Staying close to the table with this rubber will give you maximum spin abilities. The rubber's tackiness also helps in lifting and flipping the short serves.
Balance of Speed and Control
The speed capabilities of this rubber are ideal for an allround player who wants to experiment with offensive strokes. More force and arm movement lend better speed to your stroke.
Since the focus is to improve control, this rubber offers a balanced speed. Strong, forceful strokes can lend a good speed, but this rubber is slower than mainstream high-end table tennis rubbers, such as Tenergy 05.
This rubber was designed to enable great control, with a great speed for looping, which is ideal for allround players.
Ideal Blocking
As we have mentioned earlier, the DHS Hurricane 3 National is a very tacky rubber.
This makes it very good for blocking since the tackiness increases dwell time, deadening the rubber, resulting in highly controlled and balanced blocks. The low catapult effect further helps in blocking.
Good Price-Performance Ratio
When it comes to price, the DHS Hurricane defeats its competitors by a big margin. It offers excellent performance and quality at a very reasonable price as it is about 30% cheaper than most rubbers in the Tenergy series.
Most players consider Hurricane 3 series a different table tennis rubber than its competitors, as it fits everyone's unique style and allows a wide range of versatile techniques to be played by intermediate and professional players alike, and this one is not an exception.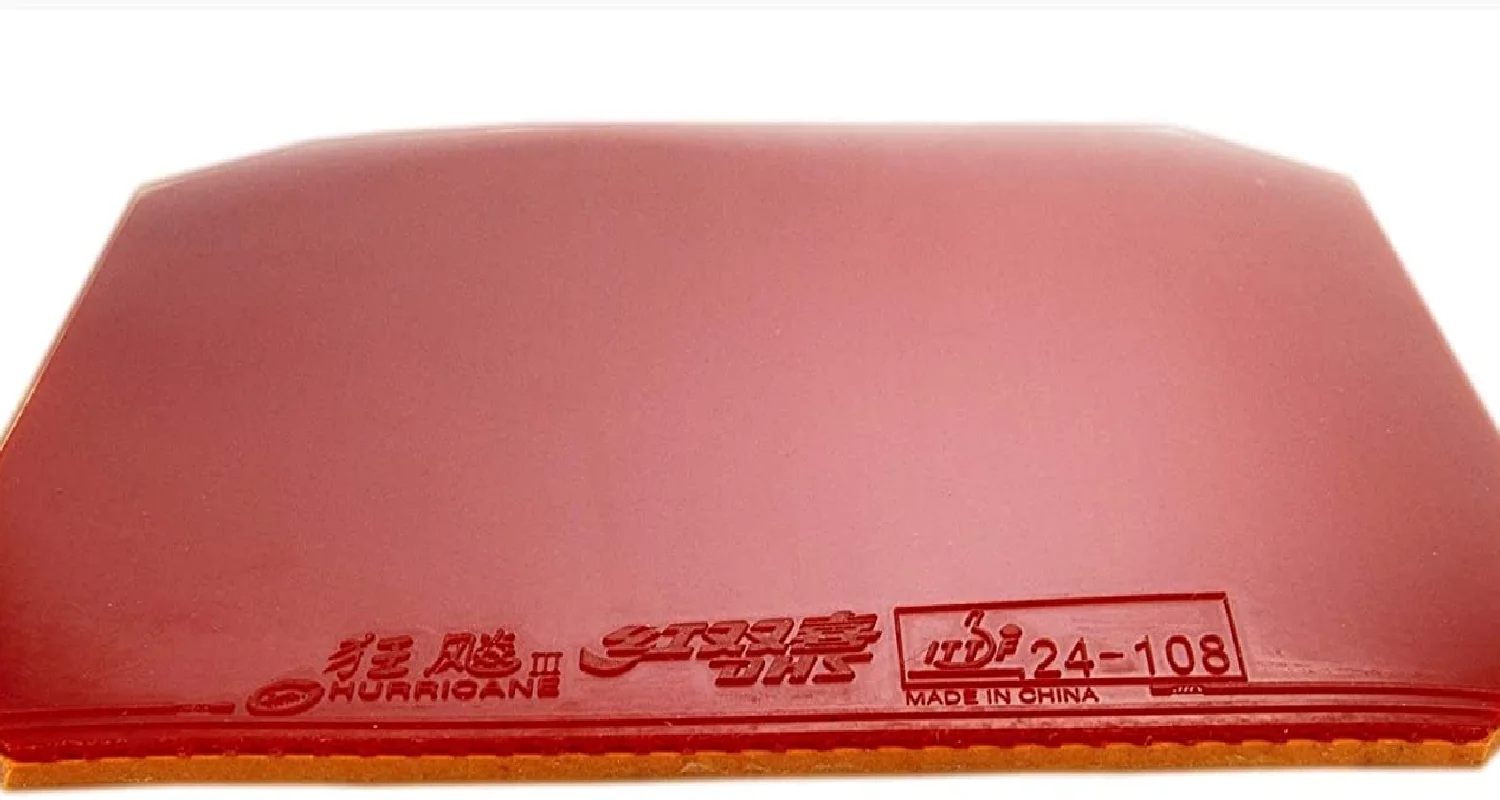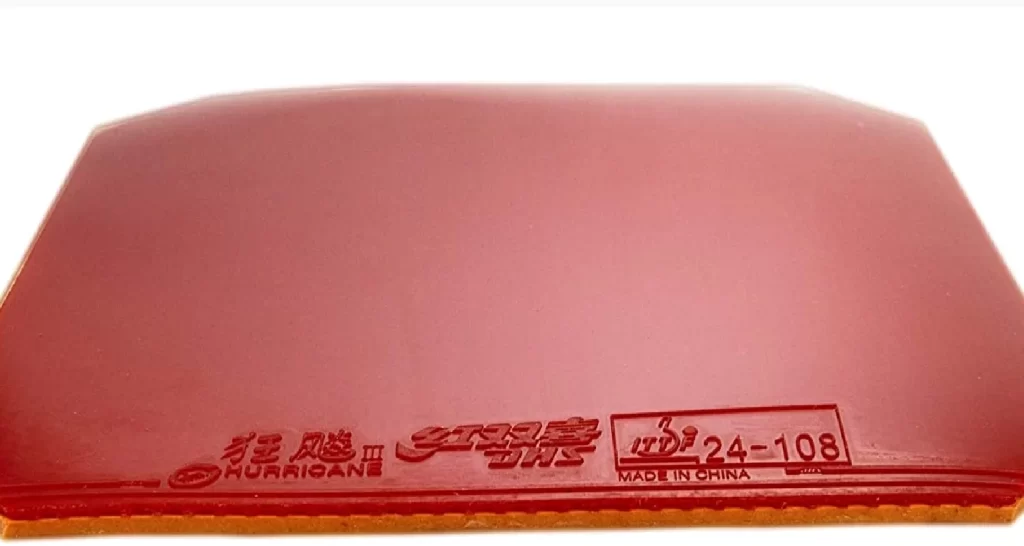 Cons
Less Durable
Generally, the rubber with a tuner has one big issue, which is that the tuner wears off. With DHS Hurricane 3 National, players have reported that it drops off in less than a month.
Moreover, this is a very tacky rubber, which means that dirt and other particles stick to it if not cared for properly. Losing tackiness results in the decreased spin generation and overall performance.
Bad Quality Control
There is so much variation in quality and thickness of this rubber that the customers receive, that most doubt they don't even get the ones used by professional players.
Many customers have reported that the rubber they received has different properties in terms of weight, hardness, thickness, and tackiness than shown. This says a lot about the bad quality control, which can be worrisome for most serious players.
Heavy Weight
This rubber requires a lot of effort to exert the right force due to its weight. It can get very tiring, as you have to be on your toes at all times, to execute the right shot if you are an offensive player.
Heavyweight might add to control but it is exhausting to work with.
Less Forgiving
This rubber is very tacky and spin-sensitive. This means that you need to refine your technique and practice with this rubber a lot to be able to harness its full potential. You'll also have to keep up with paddle maintenance.
You might have to alter your technique to make your looping and smashing count, which also requires a lot of muscle energy. This can be exhausting, leaving you vulnerable in the face of counters.
Our Rating: 4.5/5
DHS Hurricane 3 National table tennis rubber is truly the champion's weapon. It is very different from mainstream rubbers and every serious player must give it a try. The versatility that this rubber allows is beyond comparison.
It also has an excellent price-performance ratio, which leaves the competitors behind. Factory tuning and tackiness make this rubber vulnerable to damage, so it is not that durable. Bad quality control can leave you with a poor batch too.
Conclusion
DHS Hurricane 3 National table tennis rubber allows spin-generation with precise serves and blocks. The ideal tackiness increases spin and control, allowing most levels of table tennis players (above the intermediate level) to refine their technique.
However, heavyweight and spin-sensitivity are not very forgiving and you need to practice a lot to master this rubber.