Butterfly table tennis rubbers proved to be groundbreaking in the ping pong world as they quickly become a favorite among top players. Tenergy 05, especially became a benchmark for best rubbers and is largely undefeated even now.
However, since not everyone is a professional, Butterfly released a new rubber that was aimed at a specific audience: advanced beginners and intermediate players.
Butterfly Rozena table tennis rubber was released in 2017, and it is supposed to have a controlled speed and spin to assist intermediate players.
If you want to experiment with a high-end rubber that doesn't have a killer speed and spin, you might come across Butterfly Rozena. Read on to see if this suits your needs.
Butterfly Rozena Specifications
Our Rating: 4.0/5
Price: $$
Weight: 68g
Thickness: 1.7, 1.9, and 2.1 mm
Surface: Inverted
Play Rating
Speed: 7.0/10
Spin: 6.5/10
Control: 9.0/10
Sponge Hardness: 6.0/10
Durability: 6.0/10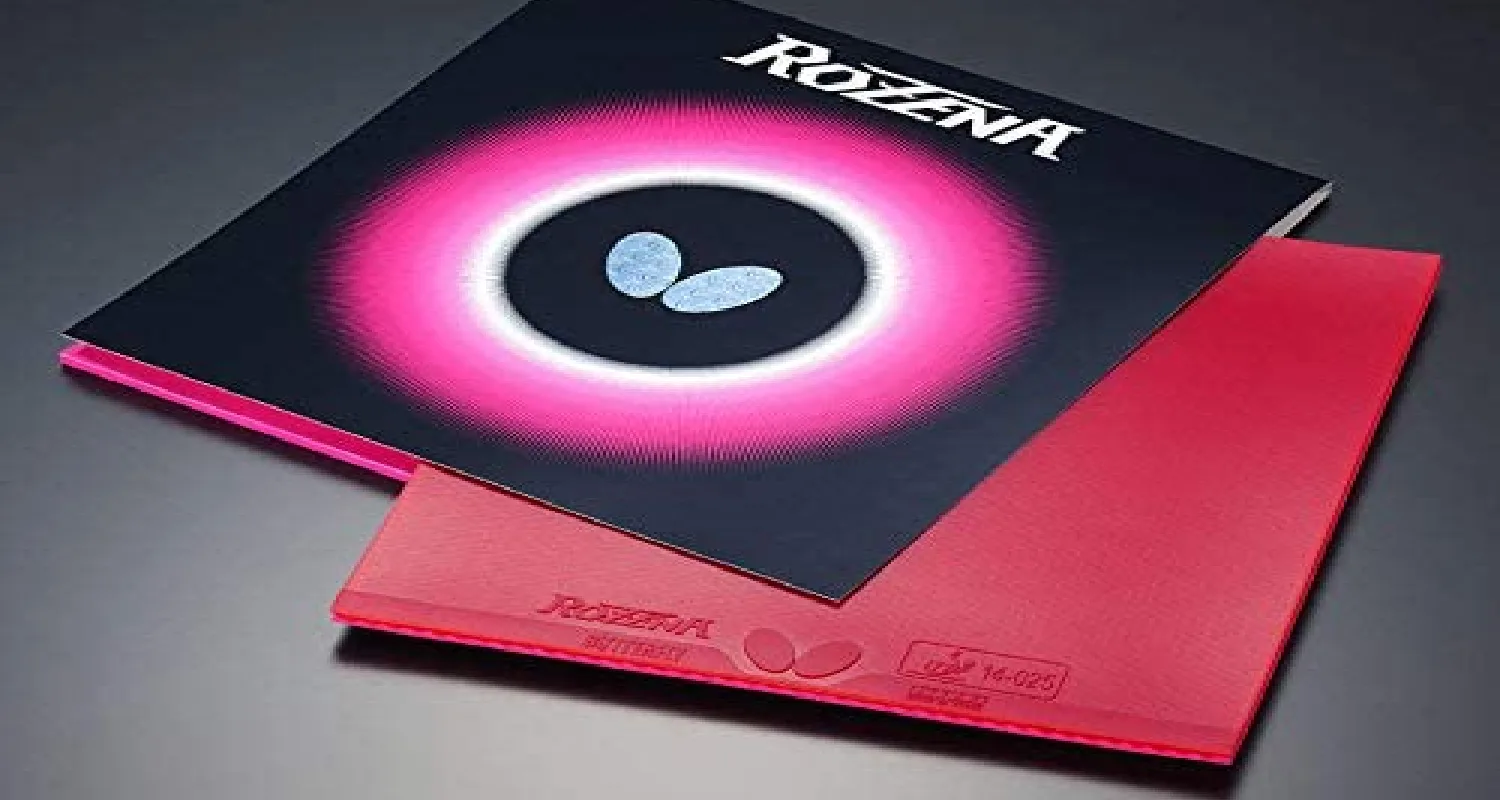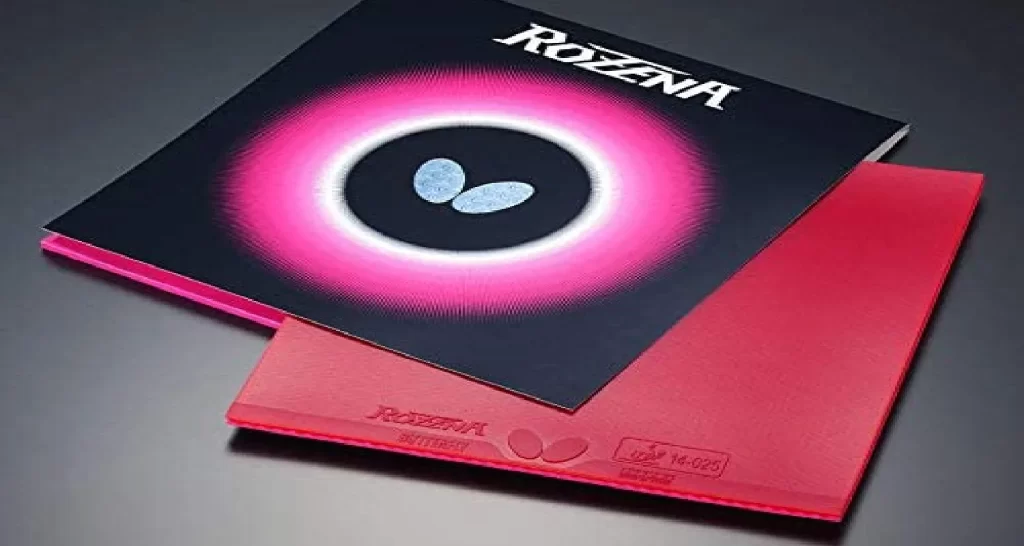 What to Expect?
Butterfly Tenergy and Dignics use the Spring Sponge technology, which set them apart from other table tennis rubbers. We expect that Rozena would retain this feature.
As Butterfly Rozena table tennis rubber is directed towards developing players, we also expect that it would be a good practice rubber, with decent control. Rozena also promises ease of use, helping intermediate players avoid errors and develop their technique.
Ideal Blade Combinations
Butterfly Rozena table tennis rubber is slow with less spin sensitivity, so it would be ideal to use with new arylate carbon blades to make up for speed and spin—if you want an offensive game.
For this purpose, go for Butterfly ALC or Viscaria. If you prefer control over speed and spin, then this rubber pairs well with 5-ply allwood blades too, such as STIGA Offensive Classic and Nittaku Acoustic.
Construction
Butterfly Rozena table tennis rubber features high-tension, pimples-in, inverted top sheet. The sponge is a rose-colored Spring Sponge, that is the hallmark of the latest Butterfly table tennis rubbers. It is made well and made to last.
This rubber is created for intermediate topspin attacking players who are looking for safety and high levels of control in their strokes.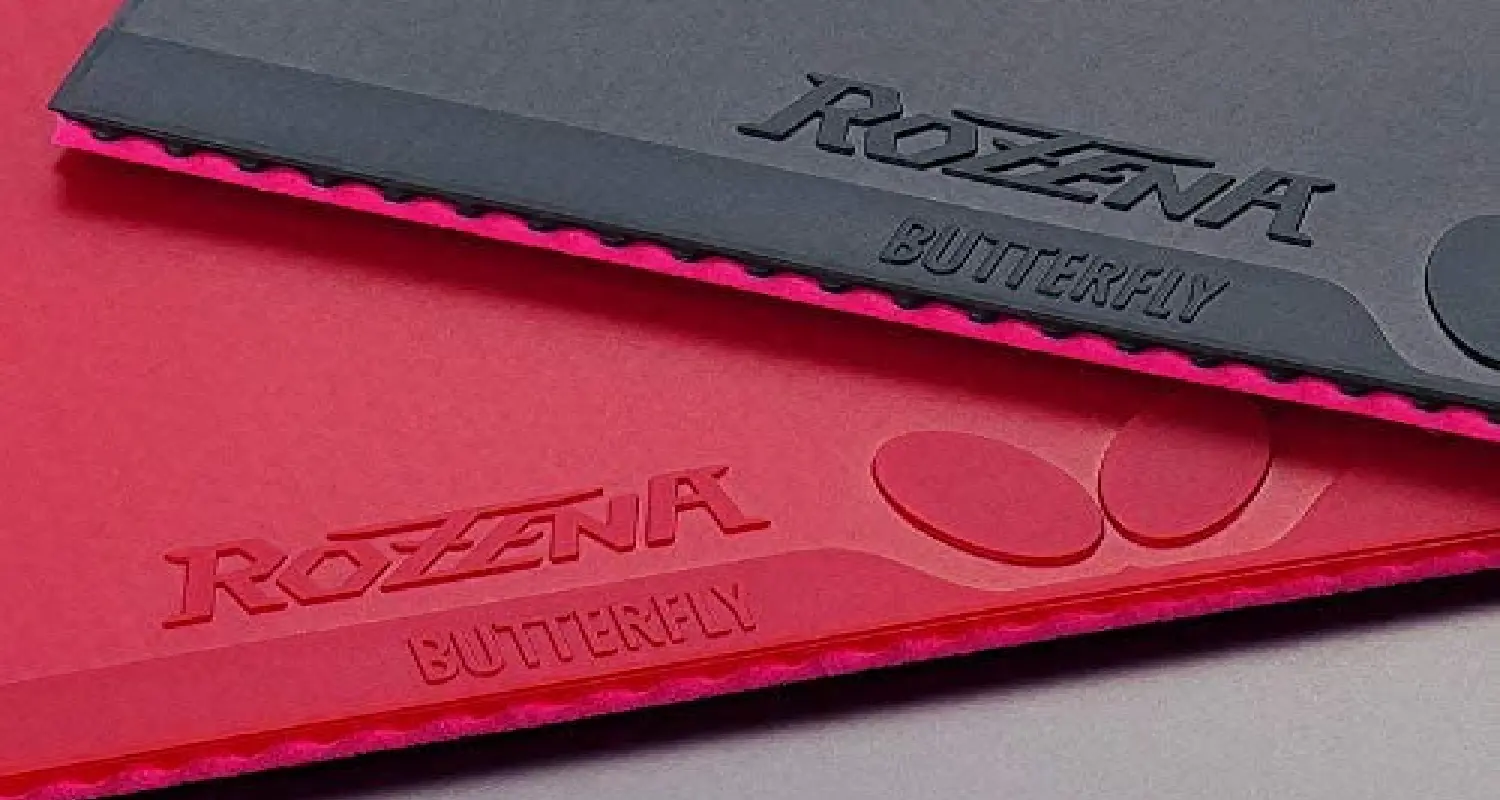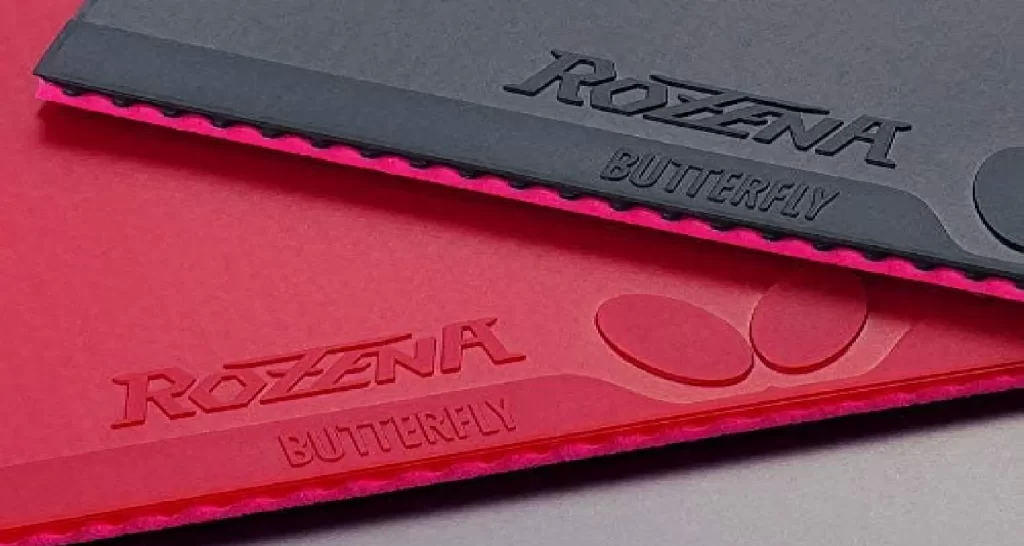 Pros
Ideal for Intermediate Players
Intermediate players, who want to seriously work on their craft, might look for a supreme quality ping pong rubber, that delivers more control with a muted speed and spin capabilities.
Turning to low-end rubbers can be disappointing as they do not have the quality, feel, and ideal catapult effect that is needed in a good rubber. This is where Butterfly Rozena table tennis rubber shines!
It is a high-end yet toned-down table tennis rubber, that is suited to the needs of an intermediate player. This rubber is also insensitive to spin, an ideal trait for intermediate players as blocking with a spinny rubber requires both skill and technique.
Speed
The most promising quality of Butterfly Rozena ping pong rubber is its controlled speed. Most high-end professional rubbers are too fast and might seem overwhelming to novice players.
The rubber, however, does allow speed if you deliver more force. The Spring Sponge has a catapult effect, which can make it very fast with the right technique. As there are three different variations of rubber thickness, you can further customize your needs as thicker rubber means more speed.
Spin
Butterfly Rozena table tennis rubber has a tacky top sheet which increases dwell time, leading to a decent amount of spin. This comes in handy for developing players as they need controlled spin generation.
The rubber is less responsive to incoming spin so it is easy to block and play defensive shots. Increased dwell time and a tacky surface help produce a good backspin.
Control
If there is one characteristic that makes Butterfly Rozena ping pong rubber one of the best table tennis rubbers in the market, it is the maximum levels of control that it offers. According to the official product specifications, Rozena is marketed as a forgiving version of Tenergy, offering security and stability even in an offensive game.
It produces a moderate arc with a medium throw angle. Since this rubber is not sensitive to spin, one can effectively block spins, without making errors.
Value for Money
Butterfly Rozena table tennis rubber is approximately 20% less expensive than the Tenergy series. This price is generally affordable for a high-quality table tennis rubber from the world's top manufacturer.
You also get a decent amount of speed and spin without sacrificing control. We recommend this to develop players who want to have the experience of a high-end rubber, without sacrificing control.
Durability
Butterfly doesn't disappoint even with their affordable creation. Butterfly Rozena ping pong rubber is made to last due to its superior construction and lasts longer than low-end rubbers. Although it's cheaper than Tenergy, when it comes to durability, it seems similar.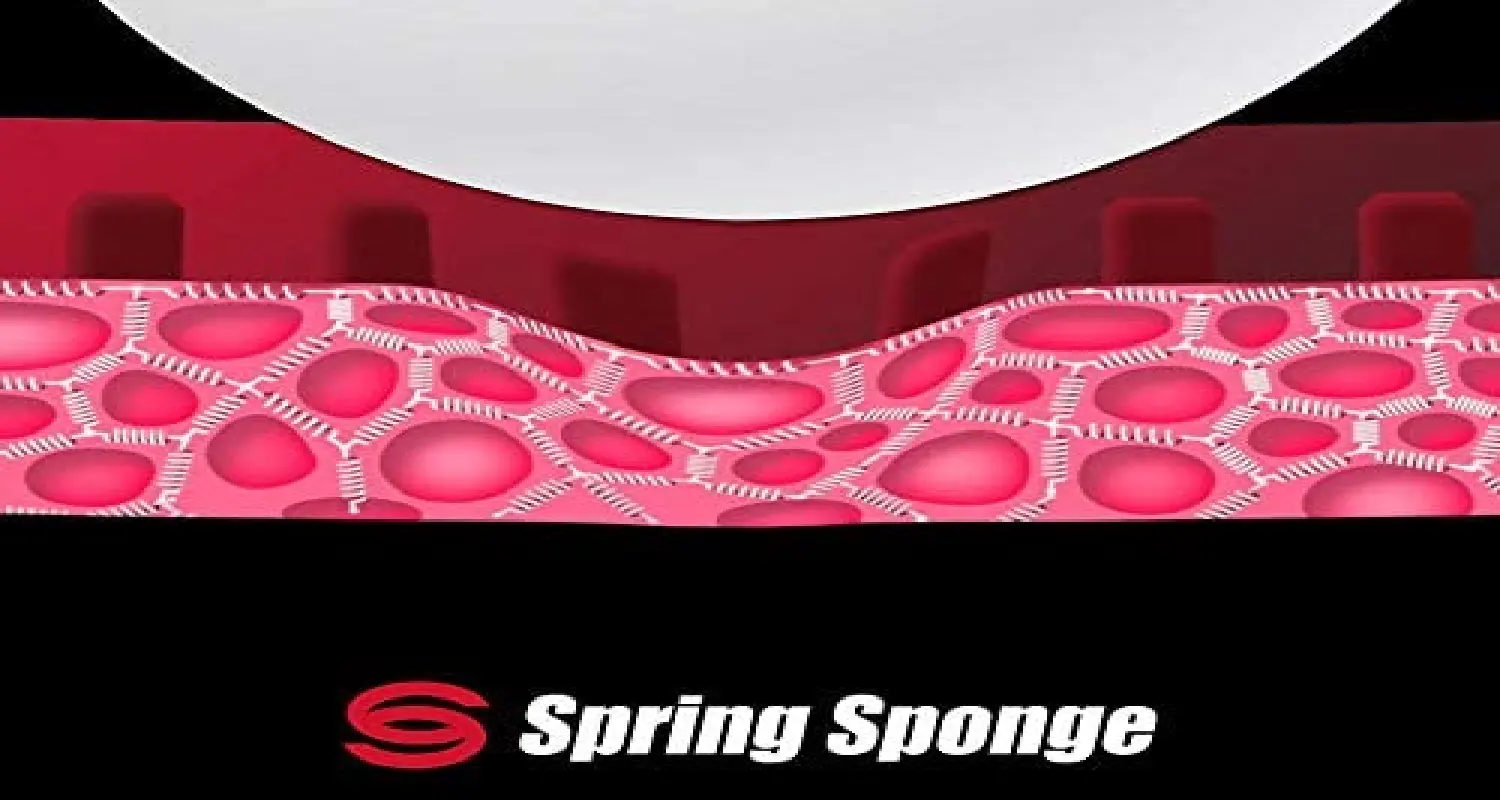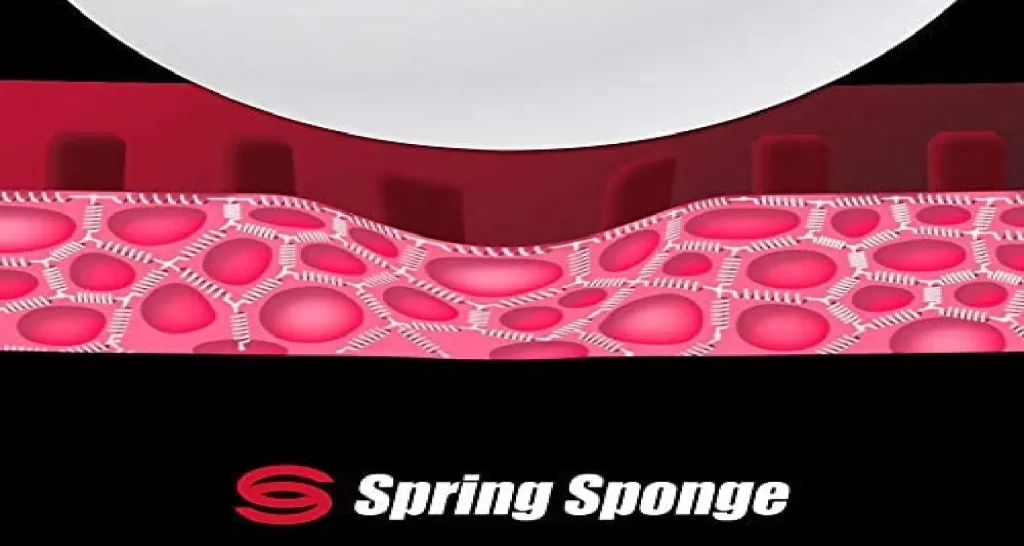 Cons
Not for the Pros
Butterfly Rozena table tennis rubber is specifically targeted toward intermediate players who want to have a less responsive, less spin-sensitive rubber to give them a controlled game. So, it's not suited to a professional player and there are much better, spinnier, and faster alternatives in the market for them.
Less Precision
Although Butterfly Rozena ping pong rubber enables good control, there are some aspects in terms of precision that we found to be problematic. It is difficult to predict or control ball trajectory with this, which creates a margin for error.
Moreover, since it's soft rubber, the catapult effect is a little more than the earlier Tenergy rubbers.
Our Rating: 4.0/5
Overall, we found Butterfly Rozena table tennis rubber ideal for developing players due to being less responsive, a higher degree of control, and an ideal balance of speed and spin. It also allows speed generation with the right skill.
We recommend this for developing players who are looking forward to up their game while maintaining control, safety, and security. This table tennis rubber is not ideal for beginners and professionals.
If you are planning to buy this, be wary of its unpredictable ball trajectory.
Conclusion
If you are a beginner table tennis player, who feels that they need to upgrade their game, but finds high-end professional rubber overwhelming, Butterfly Rozena ping pong rubber would be among our top recommendations.
This table tennis rubber is a springy rubber that allows a good amount of speed and spin. We also found this inexpensive when compared to other high-end rubbers.