For table tennis athletes, the paddle is an extension of their arms. That's why it is hardly surprising that the most important piece of equipment in table tennis is the paddle. There are some fantastic paddles available in the market and every year we are introduced to new editions, as well.
However, nothing beats a trusted and highly liked product and that is the case with the STIGA Evolution. It has been around for nearly a decade and its popularity has only soared in this time. We take a closer look at what the STIGA Evolution has to offer, and whether it is worth the hype or not.
STIGA Evolution Specifications
Overview
Our Rating: 4.7/5.0
Grip Type: Flared – concave
Price: $$$
Weight: 6 oz / 170 grams
Play Rating
Speed: 7.9/10
Spin: 7.9/10
Durability: 9.8/10
Control: 9.6/10
Materials
Plies: Six plies (all wood)
Rubber: STIGA Premium
Sponge: 2.0mm sponge (both sides)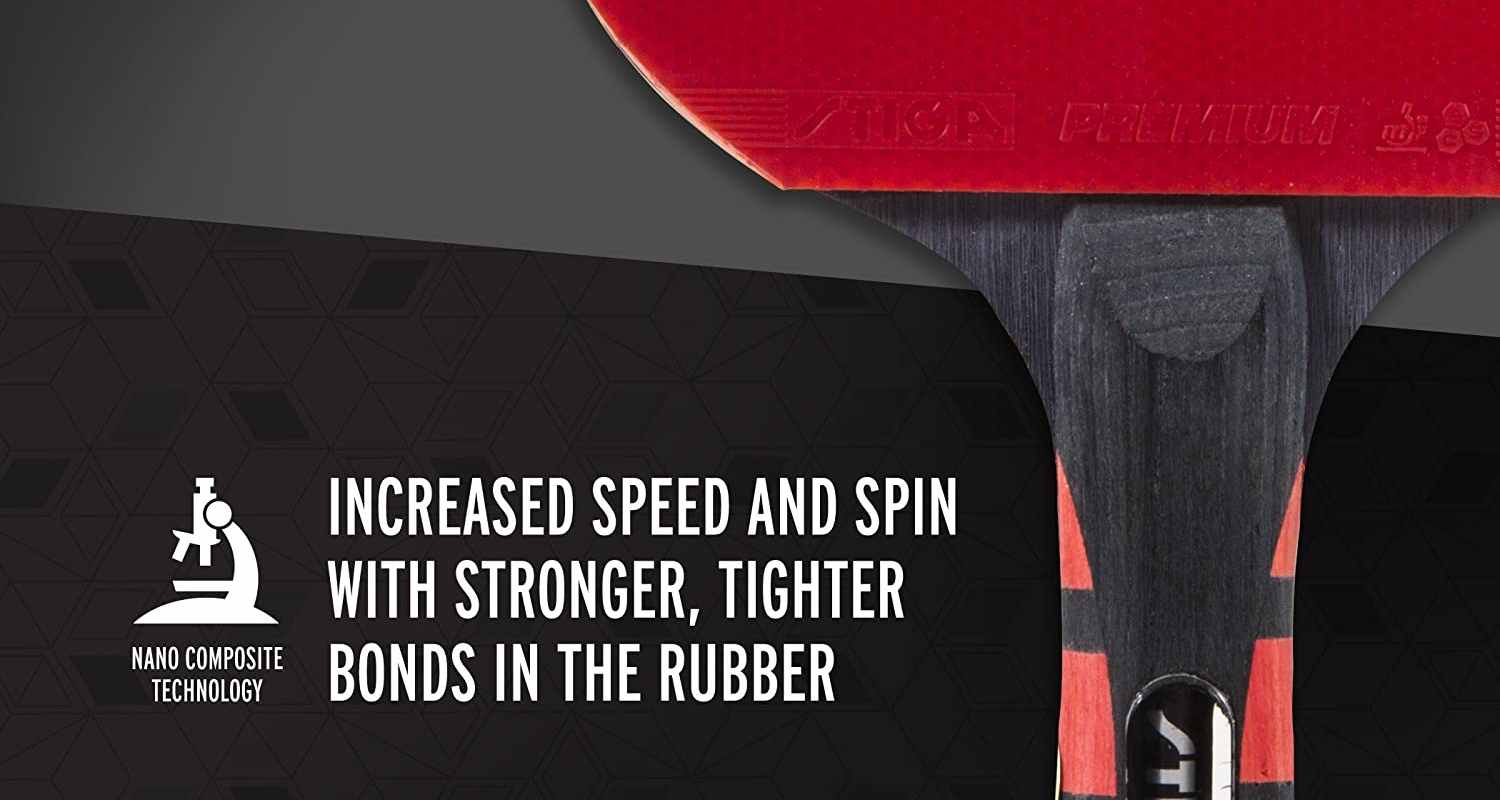 What to Expect?
STIGA has been the favorite brand for ping pong players worldwide for decades. It's been a trusted brand since 1944, given the quality of its products and its excellent customer services.
That is why you can expect another top-quality paddle in the shape of STIGA Evolution.
Top Quality Construction
It won't take you a long time before you awe at the outstanding craftsmanship of Evolution.
The player who likes to land the maximum balls on the table and return most shots will be in love with this paddle. Beautifully built, the racket includes professional quality ultra-light rubber, that will make the paddle feel like a feather.
Shock Dispersion Tube
The handle employs Shock Dispersion Tube technology, which means the handle is hollowed down.
This has the function of absorbing vibrations by impacting the ball and dissipating the shock waves, which result in better control and feeling. Forget feeling the after-effects of dispatching a top-quality winner, you simply move on to the next one, as soon as possible!
ITTF Approved
As you would expect from a paddle made by STIGA, the paddle is approved for usage by ITTF. We recommend using ITTF approved products as they improve your game and keep you adjusted and aligned with the official requirements, especially, if you aim to play the game at the highest level.
Supreme Paddle Head
The six woodpiles in the Evolution are cushioned with a 2 mm thick rubber covering both sides.
The rubber itself has a vast quantity of small air bubbles that retains every particle in one rubber and allows it to fire bullets and preserve the reverberation effects of these shots.
It features a premium rubber grade that is amended to create more spin during play while providing the player with better ball control. This distinguishes not just Evolution from Pro Carbon but also offers it an edge apart from the difference in the quantity of woods used.
Extreme Control
Control plays a key role in its players' performance, like any other sport. The ability to place the ball on the table distinguishes between a victory and a loss. Thankfully, with this particular aim in the mind, the Evolution was designed.
Defensive players like to return balls to the table very precisely, while those who want to develop their technique have greater security without sacrificing too much power. The STIGA Evolution is a friend to both.
Pros
Perfect Handle
It has a concaved flared grip, that will help you have a stronger grip. Accompanied by the WRB technology, the STIGA Evolution's handle has a hollow tube that runs through the handle to the blade, allowing for a spread out of shock upon contact.
High Quality Rubber
It hardly comes as a surprise that the rubbers on the STIGA Evolution, the STIGA Premium, are made from supreme technology.
These use the fantastic ACS technology which allows for greater control, without sacrificing the weight of the blade. This crystal technology helps create bonds between the fibers that can include microscopic air pockets, helping you play more controlled shots.
Ideal Defensive Paddle
It's an excellent defense paddle suitable for players who do not rely on putting away the ball with a lot of power and speed.
You have the maximum amount of control with the STIGA Evolution and you can always rely on slowing things down, whenever you want. Ensure that your opponent makes an error by making him play all kinds of shots.
Very Durable
If you invest in the STIGA Evolution you can be certain that it will be a long-term buddy of yours. Thanks to fantastic construction, it is quite a reliable and durable partner. This durability makes the STIGA Evolution a favorite of many people and they do not mind investing it.
Affordable
The STIGA Evolution is a highly affordable option to go for. Priced at a fair rate, it is a decent option, especially for beginners and amateurs, as they tend not to break the bank by buying expensive paddles.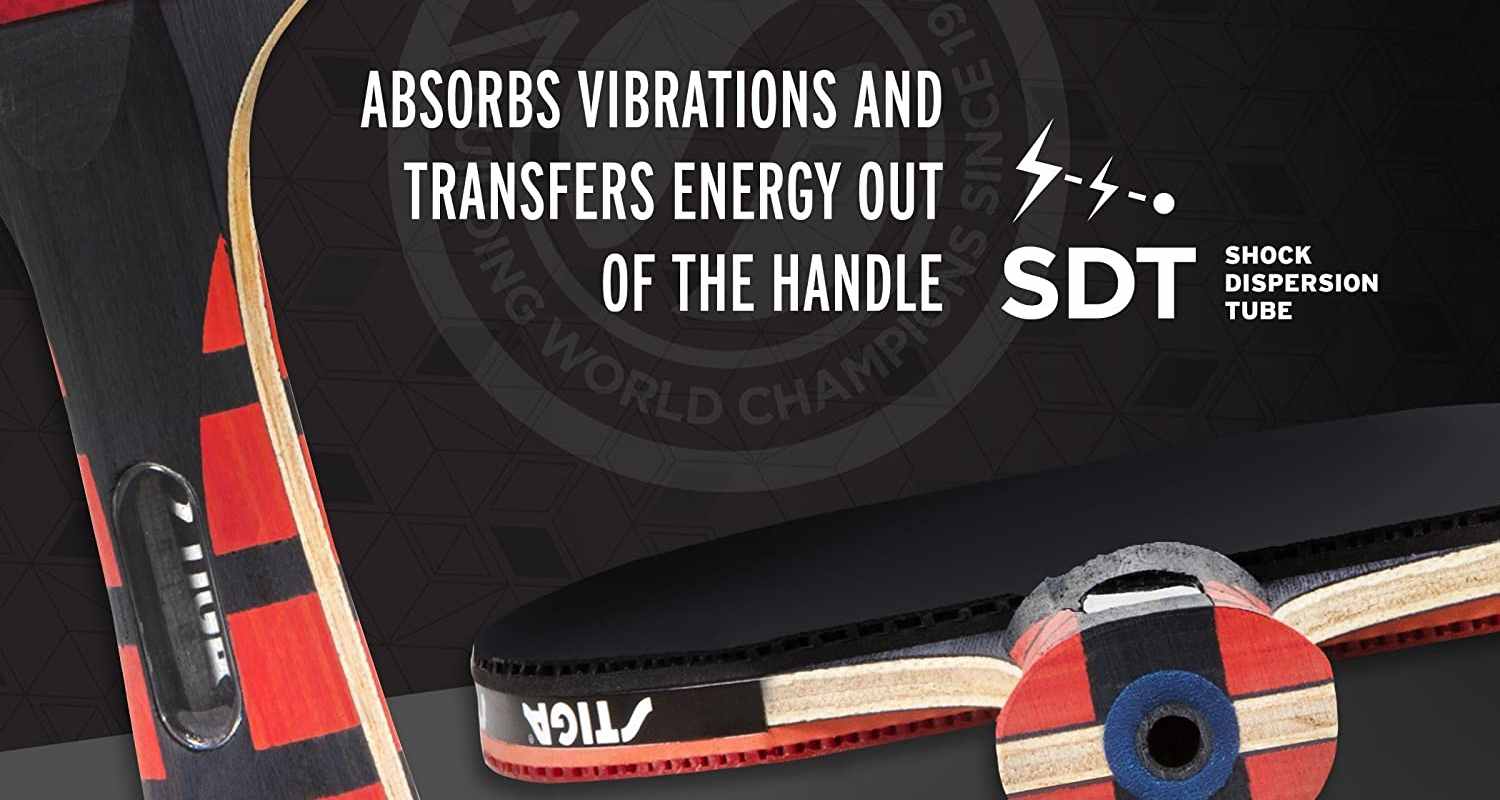 Cons
Uncomfortable Handling
Of course, the handle takes a little bit of practice. It's heavier than other people and it may be a big reason why people haven't reviewed it well. Some customers also said the handle was a bit too harsh.
As for the weight, it should not be an issue because players relying on a slow and controlled game are used to heavier paddles.
Lack of Spin
The lack of spin on the STIGA Evolution can be a major issue. Although it has to be remembered that it was not made with attacking intent, it is a weapon for the defensive players. Even then, the lack of spin is alarming and a player will need to have immense skills to put away the shots from even rallies.
Lack of Power/Speed
The same issue is with the lack of power and speed in the STIGA Evolution. You cannot possibly play at the top level by having such a handicapped paddle.
It makes sense to invest in it, if you are playing at an amateur level and want to maximize your control, however, for the highest level, you cannot rely on the STIGA Evolution.
Our Rating: 4.7/5.0
The STIGA Evolution is quite a balanced paddle that we believe is excellent for a beginner or midsize player who wants to start working on his/her spin and pace but does not lose all of the control. It is a pretty decent paddle and for the price it comes with, it is fantastic.
Conclusion
The STIGA Evolution is one of the most high-quality tennis table rackets for players who wish to enhance the technique of their controlled strokes. It has excellent control skills, but at a price – speed.
The Evolution isn't as powerful as claimed by STIGA, but it was not meant to be so. It was conceived from the beginning to reliably place balls on the table, and that it does, to perfection.
It is highly rated by consumers. Sometimes the product and the user aren't perfectly suited for one other, but in this situation, the advantages outweigh the negatives and it is made ideally for players that prioritize control over a fast and attacking gameplay.
Not to mention the incredibly low price it comes at, making it an even more attractive option.