Donic Bluefire M1 is one of the many contemporary rubbers that have dramatically changed the way table tennis players approach their game.
They have improved the entire game and taken it to the next level, meaning that we have seen new and improved levels of table tennis and the game has maybe improved, too. However, if you have never used one of those rubbers, what can you expect from them?
Donic Bluefire M1 Specifications
Our Rating: 4.7/5.0
Speed: 9.3
Spin: 9.3
Control: 7.6
Gears: 8.3
Consistency: 9.2
Durability: 7.0
Tackiness: 2.6
Weight: 6.1
Sponge Hardness: 7.0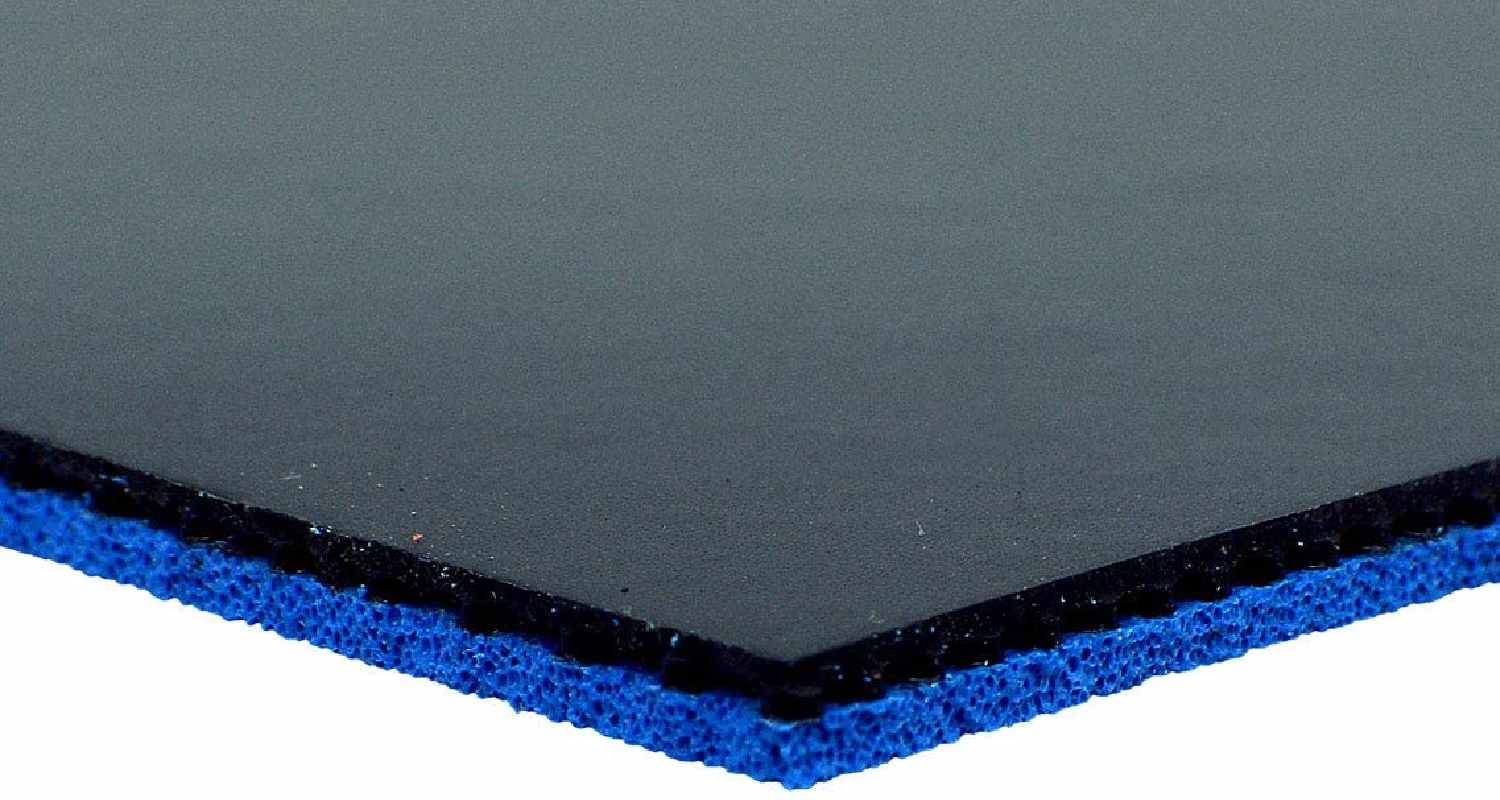 What to Expect?
Donic's Bluefire M series is one of the best table tennis rubbers innovation that provides players with exceptional speed and power. But what else can you expect?
Sponge hardness & playability
When considering sponge hardness and playing skills, the Bluefire M series is a highly linear and easy to play rubber family. M1 is nearly the fastest rubber (M1 Turbo is slightly faster) with the speed and spin characteristics of a current attacking rubber.
The Bluefire offers the game a bit more control and feel, not to mention the sound of the sponge.
Large Pores
The sponge's irregular pore size provides it an 'extra kick.' Even if the rubber is old or 'dead,' meaning the booster has evaporated, you can still feel this kick, which always guarantees you apply enough force for the loop.
This, in a way, increases the longevity of the rubber making it an even more attractive option for players.
Distinct Arc
The ball's arc is distinct since it is not as symmetrical and dome-shaped as Tenergy 05's. Its peak is moreover the opponent's side, not over the net like Tenergy 05, but moreover the middle of the opponent's side or the first third of the table. The ball then crashes to the table with unsettling speed and spin.
Similarly, to looping with any other professional rubber, the ball leaps off the table. This either drives them to go a little further or causes them to miscalculate the ball as a long shot.
FD3 Technology
FD3-technology is a novel high-tech rubber generation created from the combination of a large-pored blue sponge and a hyper spinny top sheet. This is the gift of modern technology that allows players to experience a different level thanks to highly fast sheets.
The top sheet rubber has inverted long pimples for increased flexibility and an amazing feel. Overall, the Bluefire M1 by the German-based Donic provides very rapid speed with a strong topspin throw angle, maximizing your spin power.
General Feel
The first thing to notice is the color of the sheet looks a little more pinkish than the usual bright red seen on most rubbers. The top sheet also has a grippy feel but is not overly grippy.
The M1 is quite different from the usual highly sensitive sheets and looks thicker with a much more different texture. However, the standout feature remains the bright blue sponge with huge pores. The pores are certainly among the biggest we have ever seen on any rubber!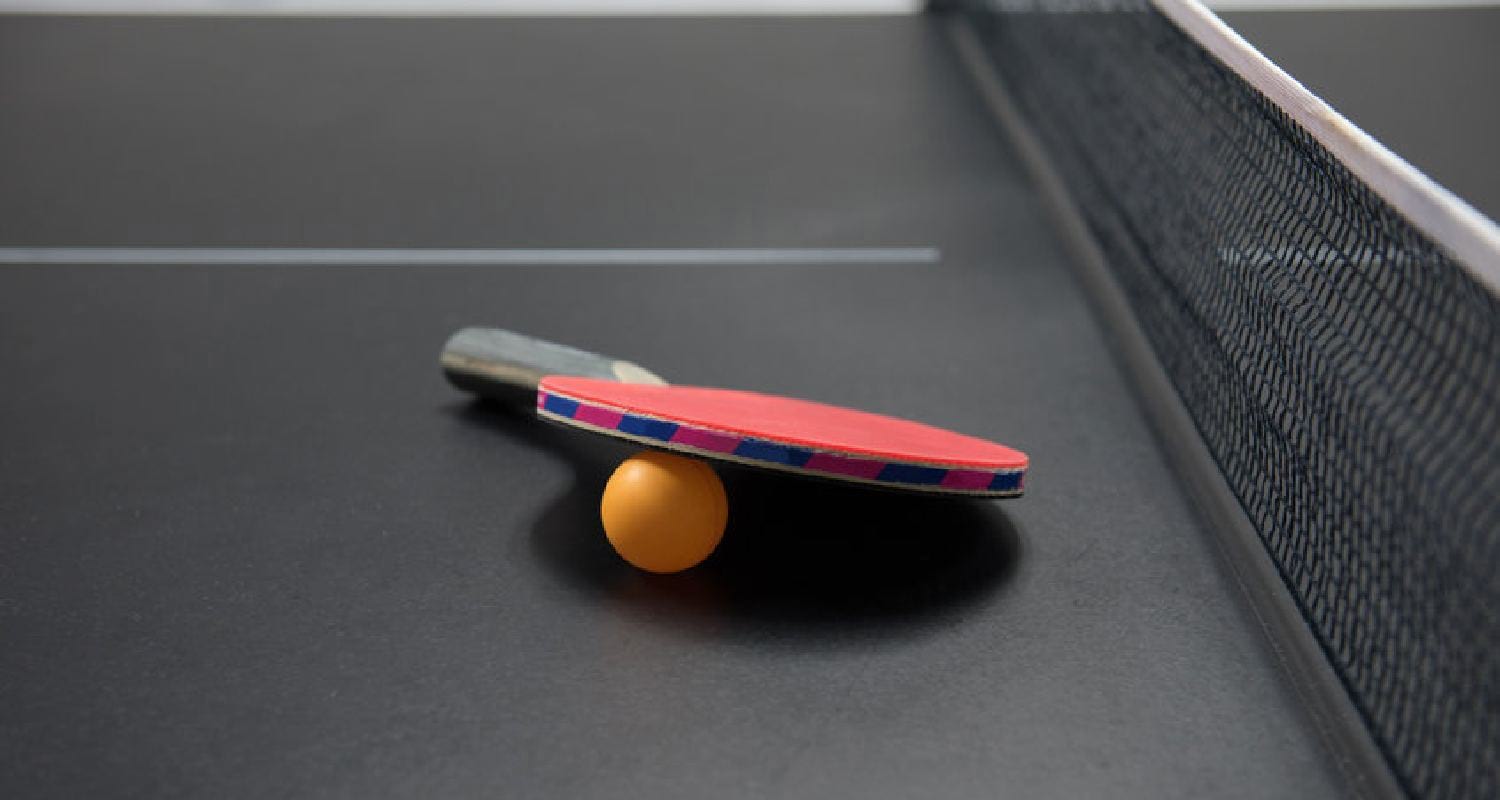 Pros
Exceptional Control
Even though the Donic Bluefire M1 has outstanding controllability, especially for near-table strokes, hitting the table tennis ball effectively requires solid abilities. Furthermore, because it is not a forgiving rubber, excellent technique and stroke are essential.
As a result, it is better suited to professional or expert players than beginners. Donic Bluefire M3 is a preferable alternative if you want a more forgiving or softer rubber.
This rubber excels at flicking and touching the ball near the net, which is pretty amazing for a fast rubber. It enables you to flick the ball over the goal in a beautiful, quick, and accurate motion.
Supreme Spin
As expected, the Donic Bluefire M1 is one of the spiniest rubbers in the world. It has a remarkable degree of spin power that can give you a big advantage against your opponents, particularly with the topspin loop.
The counter loop is quite steady and sturdy, but a good shot requires a bit more work. It has a fantastic catapult effect that allows you to brush the ball beautifully with a long dwell period.
Spectacular Speed
In terms of speed, this is one of the quickest rubbers in the market, today. It moves quickly, especially for a topspin stroke (equivalent to Butterfly Tenergy 05).
The speed and power will show even brighter in close-to-mid-range action. It is a legitimate weapon, but it is more difficult to block and takes some time to get used to, thus it is not advised for novices.
Big Blocker
Another significant characteristic of this rubber is its ability to block the ball. Donic Bluefire M1 has an extremely rapid counter speed when returning an incoming ball.
Furthermore, the rubber itself is not overly sensitive to the oncoming spin ball, which will greatly improve your controllability when stopping the incoming spin ball.
However, its controllability for long-distance play is limited, particularly when incorporated into a hard surface blade. It appears to be tough to manipulate directly from a distance. As a result, it would be preferable to combine with softer blades.
Powerful Loop
This rubber's power loop will assist you in readily creating opportunities to execute a deadly smash. However, because Donic Bluefire M1 is a hard rubber surface, it is less flexible than softer rubber. As a result, accurate execution of the topspin loop may necessitate considerable expertise.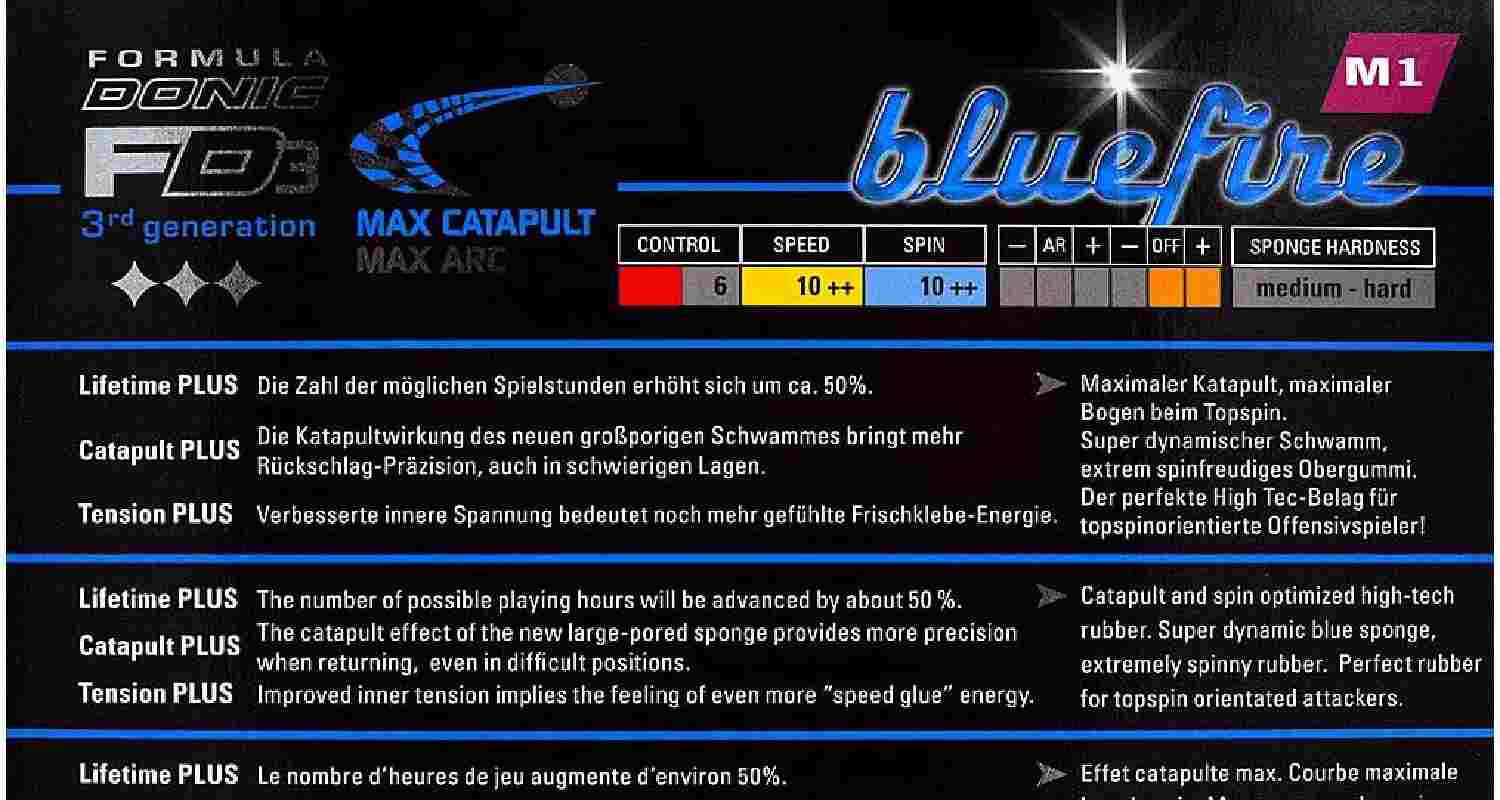 Cons
Take Time in Getting Used to
You may need some time to get used to the rubber because it is a very fast rubber with a lot of spin and these are the new and modern rubbers made from the highest level of technology. Beginners, especially, will struggle with the rubber, but if you persist with it, it can elevate your game to the next level.
Not Worth the Price Tag
It's simple to see the potential, although I believe it's lesser than that of other high-end rubbers. Many other rubbers have more promise especially in striking harder, and the amount of rotation and speed may be compatible and not as good as other options.
It is appropriate for table tennis since it takes away the opponent's time with rallies and repetitive strokes. There is the potential of striking, but the rubber does not compete with the power of the ball, at the end of the day it does not seem to justify its hefty price tag.
Our Rating: 4.7/5.0
According to our rating, it is a top-tier rubber that is bound to take your game to the next level. Like all rubbers, it has some strengths and some drawbacks, but if you like to play shorter rallies and manage to put away shots with ease, then you should opt for the Donic Bluefire M1.
However, there are a few questions over its durability and, of course, a lot of people feel that the price tag is too hefty.
Conclusion
Overall, this rubber is quite important for a high-level aggressive player who is obsessed with speed and spin.
Although it performs admirably for mid-close to the table strokes, its performance for long-distance strokes is a little underwhelming. It is ideal for advanced offensive players that enjoy playing in a small and condensed space.