Joola surely is a top brand when it comes to Table Tennis. Does the Joola Bend ping pong shoes live up to the reputation?
Table tennis is a multi-faceted sport that requires the player to be good in more than one role to become successful. Being just a hard hitter cannot be enough, you need to have game awareness and so many more skills.
One of the most important skills in table tennis is footwork and if you don't like making excuses, then it is important to ensure that your footwork is complimented by wearing decent table tennis shoes.
If you are looking for a top-tier option in table tennis shoes, you have to consider the JOOLA Bend. It is one of the best options around and it is a favorite among the top-level professionals in the sport, too. Let us dissect it and explain why it should be top of your list, as well.
Specifications:
Our Rating: 4.3/5
Price: $$$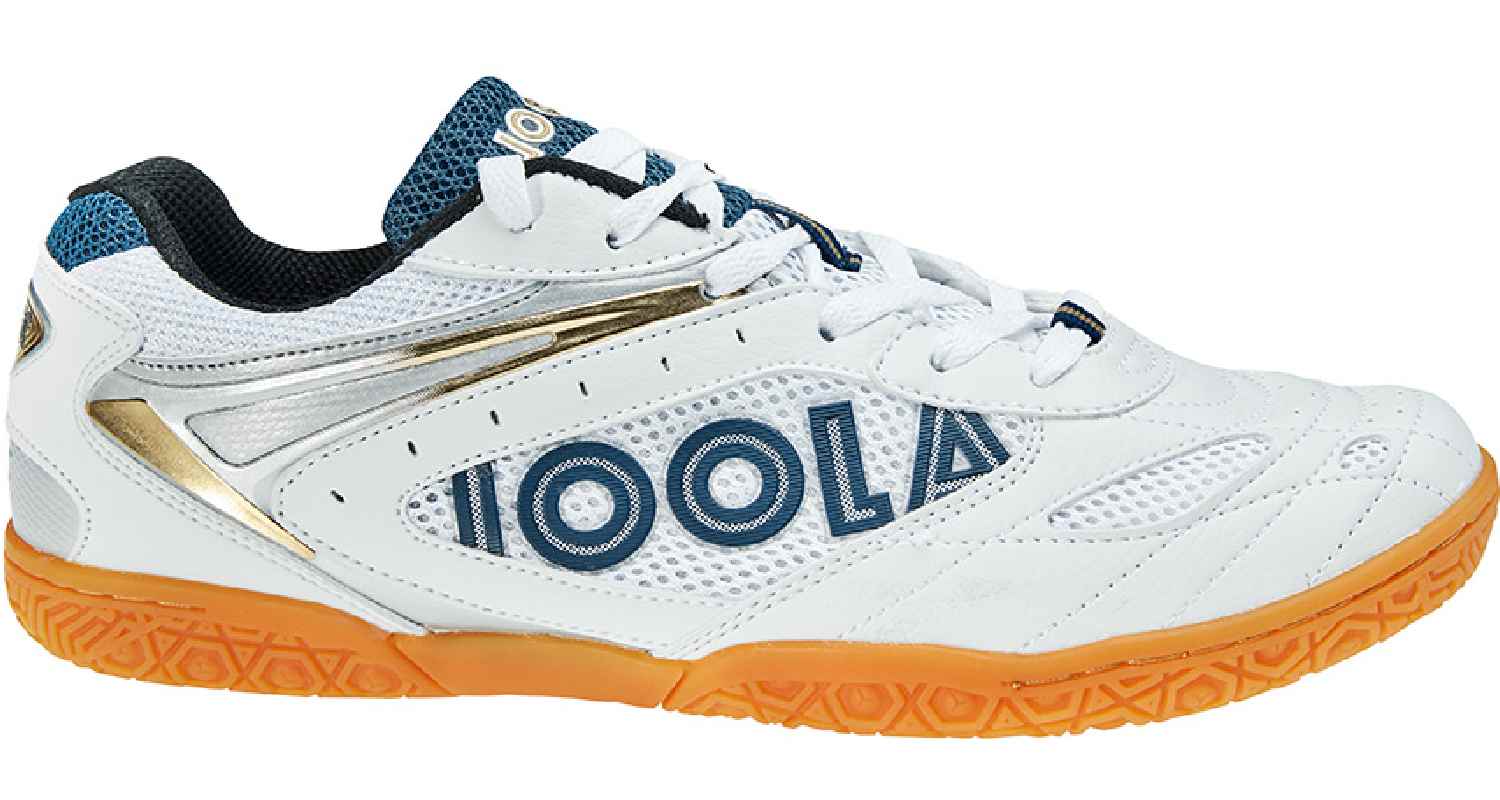 Pros
Ultra Lightweight
Table tennis as a game requires that you reply quickly, uniquely, and exclusively to each point. That is why most professionals prefer playing the game in lightweight shoes. If there ever was a super lightweight table tennis shoe, it would be the JOOLA Bend.
JOOLA Bend is a well-known shoe in the professional circuit because of its great quality, but the main reason people invest in it is its weight of 0.5 lbs. This non-existent weight is achieved thanks to the nano-PU material used in manufacturing.
You don't feel pulled down by the heaviness of the Bend as you may with other table tennis shoes, and it helps you stay on your toes replying to all types of strokes much faster.
Maximum Breathability
You can be certain of an airy feel on your feet if you wear the JOOLA Bend. This is usually a major complaint amongst the players, as they participate in long tiresome rallies and have to wear these shoes for a longer duration.
You can be certain of achieving this breathability if you invest in the JOOLA Bend as they use breathable mesh material to achieve this feat.
This mesh material disperses perspiration at a fast rate and you do not have to worry about getting sweaty on your feet. It is not only annoying but can also cause a serious hindrance in your game and if you are not playing at a top-level, then you are bound to make serious mistakes.
Thanks to the usage of Pylone, as well, JOOLA manufacturers managed to put together a product that ensures optimum comfortability. Most of the manufacturers struggled to create table tennis shoes that would provide a higher level of comfort but also would not increase the weight.
JOOLA solved the puzzle by adding Pylone to the midsole which not only helps with comfort but also with the weight and allows you to get out of the blocks quicker.
Stability & Durability
Another fantastic move on the part of the manufacturers came with the addition of the TPU material. This was something that old manufacturers of table tennis shoes were finding difficult to do, as the question was on the durability and stability of the shoes.
They required a material that would be able to bear the wear and tear of table tennis and remain in decent condition, without having to change shoes now and then.
JOOLA solved this issue by creating built-in shafts, which were made from TPU. These shafts are simply fantastic as they provide the perfect balance, high level of support, and top-quality foot stability that can help you stay on your feet through the toughest rallies.
In addition, the shoes also remain durable and have a longer lifespan thanks to the TPU material.
Non-Slip Feature
JOOLA also added suction cups inside the shoes to ensure that slipping is simply a fear of the past. These suction cups don't only stop you from slipping but also genuinely help you achieve a higher degree of control. It is a fantastic feature that can take your game to the next level with ease.
Cons
Terrible Design
Despite all the glowing reviews and the top-notch features, a major issue with the shoe has to be the design. JOOLA tried doing something similar to the likes of Nike and adidas but failed horribly.
Nike's logo not only looks great on the side of the shoe but has also become a fashion statement and the adidas stripes are also pleasing to the eye.
This is not the case with JOOLA, the design is loose and quite ugly, to be frank. It is, as if, they did not put in enough effort, and that is why they simply wrote JOOLA on the sides, making it look horrible.
Not to mention the blue and yellow combination that looks quite disgusting on the white shoe.
Stiff & Hard Edges
The coating of cushion in the JOOLA Bend does not equate to the normal quantity, despite additional attention on injury protection. This can make your shoe a bit hardened to wear and feel a bit harsh on the edges.
After a few times they become better, but, the early rigidity might put folks off.
Our Rating: 4.3/5
In our opinion, the JOOLA Bend is a great option to invest in. However, the design puts us off a little bit, but if you can look past it, or enjoy it, then you should go for it.
All things considered; it has some top-quality features that can improve your game dramatically. The JOOLA Bend is insanely lightweight, as well, so if you are looking for a lightweight shoe, this should be high up your list.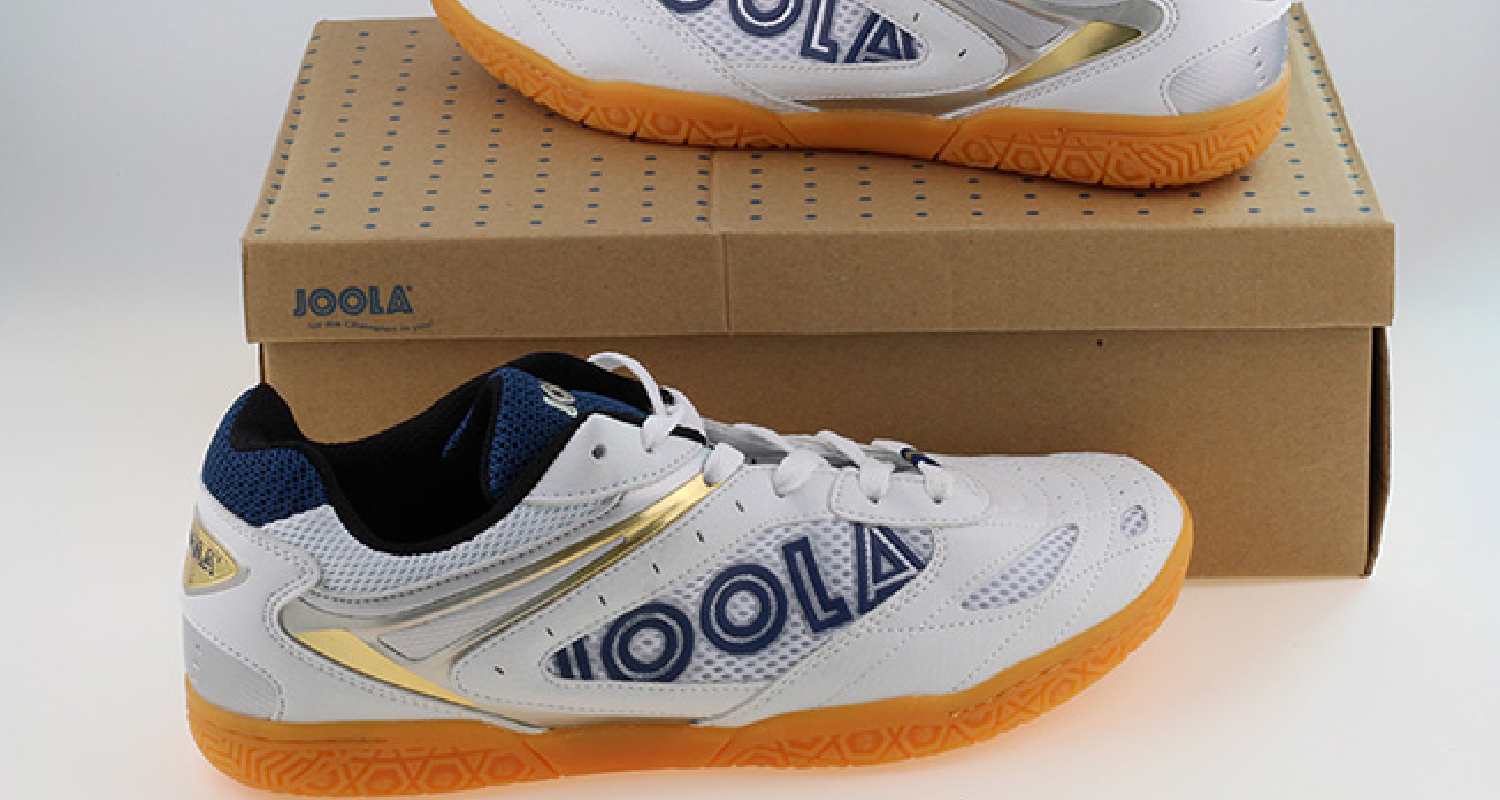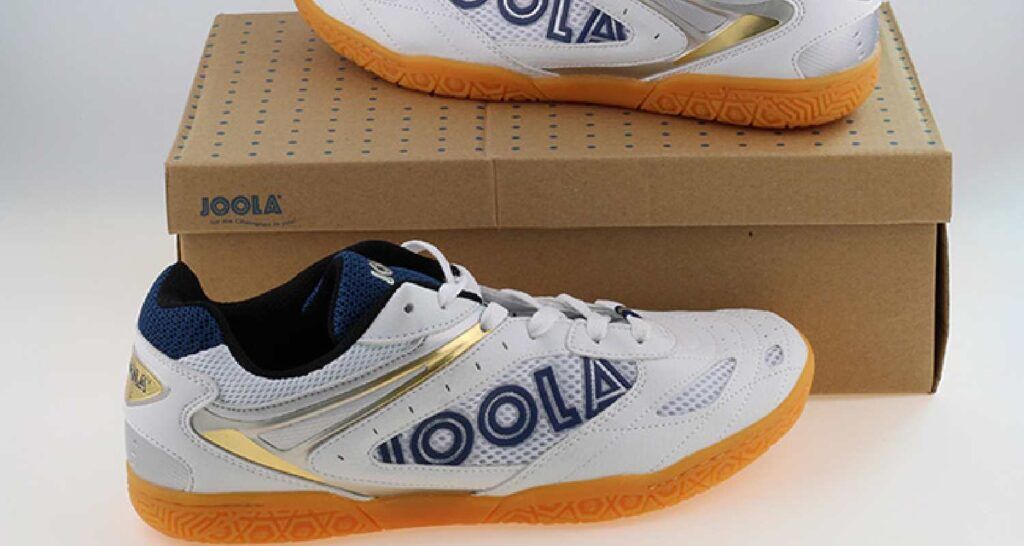 Conclusion
JOOLA BEND is constructed from lightweight Nano-PU material combined with a respiratory mesh that helps to dissipate swelling to keep your feet dry and comfy. The lightweight middle Pylone sole ensures low-weight comfort that helps you to achieve your agility.
The unique TPU built-in shafts offer outstanding foot stability and high wear resistance. The unique design of the sole places certain critical regions that serve as suction cups that provide the finest non-slip characteristics on all flooring, making it a great option for table tennis.