Timo Boll is hands down the greatest German table tennis player of all time. Although table tennis is mostly ruled by Chinese players, Boll secured several titles throughout his career. The two-times World No. 1 is undoubtedly one of the most famous non-Chinese table tennis players.
He has won the World Cup Twice, is a 13-time winner of the German Championship and has been winning the European Championship for the last 8 years. The 40 years old player is currently playing for the Borussia Düsseldorf club and has no plans of retirement so far.
He is very famous in China and speaks fluent Mandarin.
Quick Stats on Timo Boll
Date of Birth: 8th March 1981
Nationality: German
Nicknames: Timo 'Magic' Boll, The Legend
Playing Style: Offensive
Current ITTF Ranking: 10
Hand: Left-handed
Blade: Butterfly Timo Boll ALC with Dignics 09c Rubber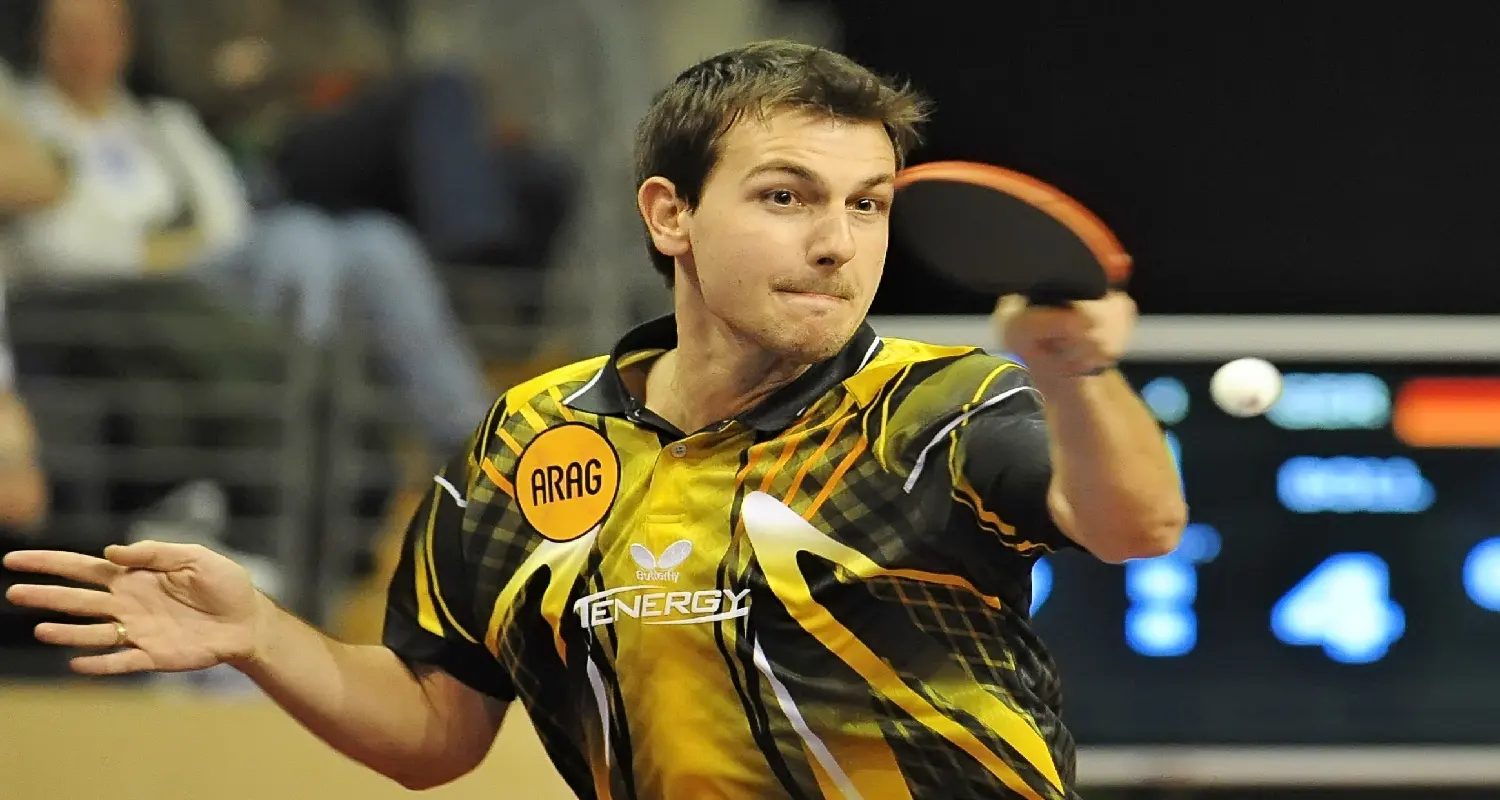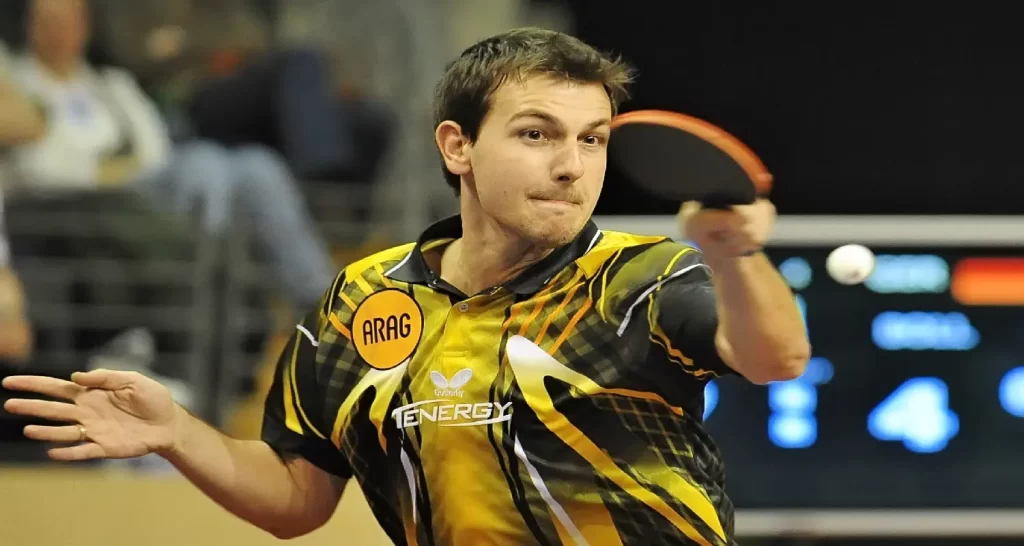 Origin, Background, and Career
Timo Boll was born in Erbach im Odenwald, Hessen on March 8, 1981. Unlike most other table tennis players, he started playing willingly and wasn't pushed into the sport by his parents.
Initially coached by his father, Boll started playing ping pong when he was only 4 years old. At the age of 7, he became a member of a local sports club, TSV Höchst.
Boll demonstrated a remarkable talent for table tennis as a child and was discovered by a trainer when he was 8. This trainer promoted Boll and he started serious training in 1990 when his talent was recognized by official ping pong associations.
He already had his first ping pong title as a teenager: When he was 14, Timo Boll was the youngest ping pong player in the German national league.
Achievements and World Championships
Timo Boll's first international success was winning 3 gold medals at the Table Tennis European Youth Championships in 1995. He also won the single's title in 1997 and 1998 at the same championship.
2002 was truly Boll's year as he won several titles and reigned as a ping pong champion in Europe. Winning the 2002 Europe-Top-12-Tournament was his major success as he was the first German player to have won this title.
Later in 2002, he won the table tennis World Cup defeating seasoned Chinese players like Wang Liqin and Kong Linghui. He was ranked NO. 1 the same year.
Back Problems and Return to Ping Pong
Boll couldn't prepare well for the 2004 Olympics due to back problems which resulted in his defeat by the legend Jan-Ove-Waldner in the quarterfinal. He was defeated by Ma Lin in the semi-final of the Pro Tour the same year.
His back problems persisted in 2005 but he still managed to get several titles including a silver medal in World Championship doubles. He also won the ITTF Fair Play award the same year. He ended the year by winning the World Cup where he defeated three legendary Chinese players.
Boll's Career Takes a Flight (2007 – 2015)
Boll was a 3-time European Champion from years 2006 to 2008, a title that he still holds. He participated in the 2008 Summer Olympics with the German national team.
Although they performed well against several teams including Singapore and Japan, the team lost to China in the semi-finals. Boll stayed world NO. 1 from 2008 to 2011.
He defeated the "GOAT" – Ma Long in the 2008 World Cup Semi-final. The final was won by Wang Hao who also replaced Boll as number 1 the same year. In the Chinese super league, Boll reportedly had a knee injury. Despite this, he performed well and had 7 wins and 5 losses at the event.
Knee Surgery and Continued Success
To pre-empt any serious future injuries, Boll went through a knee surgery that kept him out of action for a long time. After an extended period of rest, he qualified for the 2016 Olympics. Although he performed well at the event, he lost to Nigerian player Quadri Aruna in round 32.
Boll truly gained his form back by qualifying for the 2017 World Cup final where he defeated Lin Gaoyuan and Ma Long but lost the finals to Dimitrij Ovtcharov, his teammate. He again qualified for the World Cup final in 2018 but lost to Fan Zhendong.
2021 Olympics and Other Games
In the year 2021, Boll defended his European Championship title for the 8th time. He reported having a hip injury just two weeks before the Olympics the same year and lost to Jeoung Youngsik in round 16 in men's singles. Boll led his team to the final of the same event where China won by 3-0.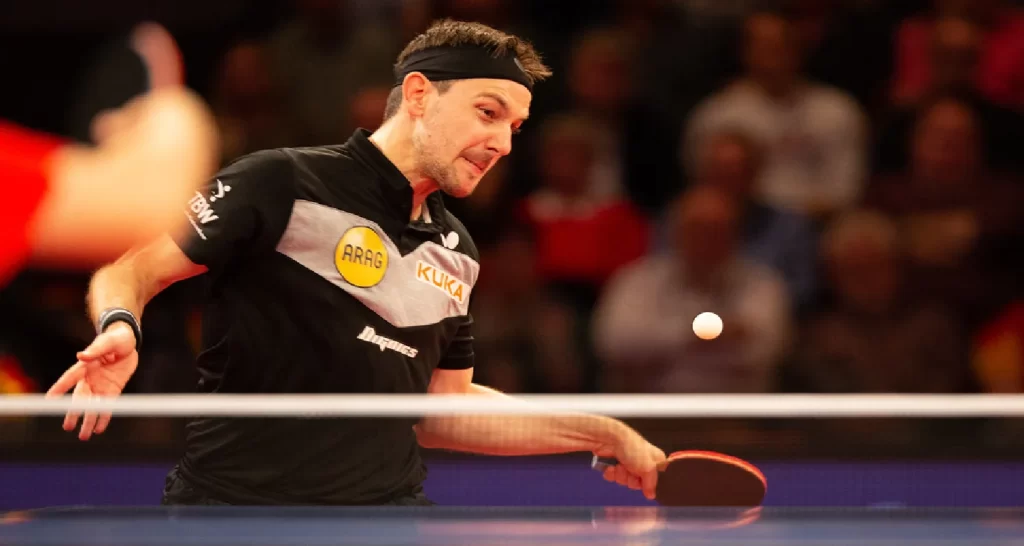 Timo Boll's Playing Style, Coaching, and Equipment
Timo Boll is a two-winged looper who mainly uses offensive topspin drive and is considered the best left-handed player in the world. His swift backhand loops and spin-blocks are considered deadly. His low stance, swift acceleration, and highly calculated use of wrist movement are his biggest allies.
Timo Boll is best known for generating elevated amounts of spin, which helped him a lot when the celluloid ball was used in table tennis. The new plastic ball is unable to produce the killer spin of the celluloid ball, so Boll had to change his technique over the years.
He has been coached by the current German National Team Sports Director, Richard Prause, for many years. Prause is a former German champion and had a ranking of 53.
Being a Butterfly-sponsored athlete, Timo Boll has used various custom-made Butterfly Blades over the year. He first used the Timo Boll Spirit, then Viscaria, but later found his best weapon in Timo Boll ALC, which he still uses. He used Tenergy 05 on both sides for a long time before switching to Dignics 09C.
Timo Boll's Personal Life and Net Worth
Timo Boll is married to his girlfriend Rodelia Jacobi. They got married on 31st December 2002 and have a daughter named Zoey Malaya who was born on 4th December 2013.
The two-times World Table Tennis Champion has a net worth of $7 million. Most of his income comes from his table tennis career, endorsement deals, and some from his acting. He has appeared as himself in many German movies.
He is also the second richest table tennis player in the world and the richest player in Europe.
Timo Boll's Arch Nemesis
Several players have given Boll a tough time throughout his career. The first of these is the evergreen Swedish legend Jan-Ove Waldner. Boll has had 8 victories against the legend and has lost only two matches.
He has also struggled against Ma Long. The two have had 26 matches from which Boll won only 6. His toughest competitor is the current NO. 1 Fan Zhendong, the two have played 11 matches and Boll has not won even a single one.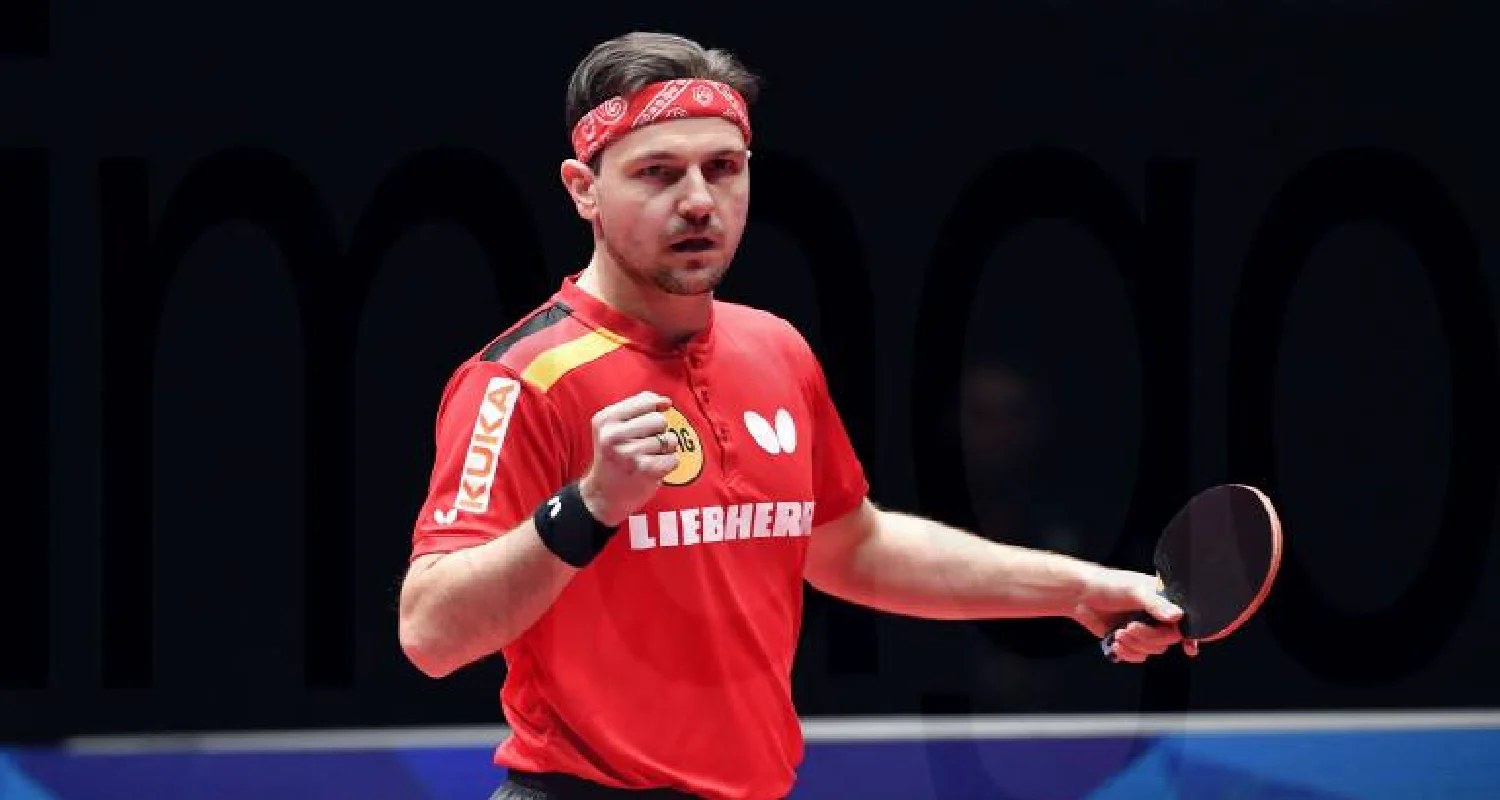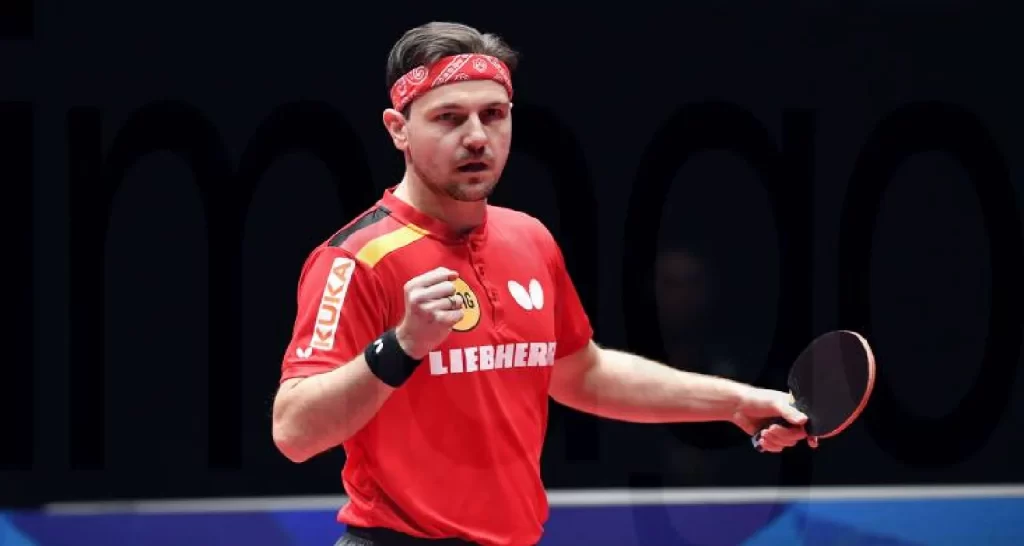 Where is Timo Boll's Ping Pong Career Headed?
At 40, Timo Boll is the oldest table tennis player right now. He fears retirement as he has known ping pong all his life. The player is still delivering first-class performances, having recently won his 8th European World Championship.
He has suffered several injuries in the past, but we hope the people's player can keep up and deliver several delightful performances for years to come. He loved to play golf in his free time but had to quit. Who knows we might see him as the next golf champion after he retires!