When we talk about having a good rubber to use, we have to mention some top options and Yasaka Mark V is one of those options.
The Yasaka Mark V table tennis rubber is one of the best-selling table tennis rubbers of all time, with tens of thousands of players worldwide using it, including Olympic champion Ma Lin.
What makes it so special, and why should you consider using it, if you haven't already?
Yasaka Mark V Specifications
Our Rating: 4.3/5.0
Speed: 7.8
Spin: 8.0
Control: 8.5
Gears: 8.0
Consistency: 9.0
Durability: 8.5
Tackiness: 2.9
Weight: 4.0
Sponge Hardness: 4.5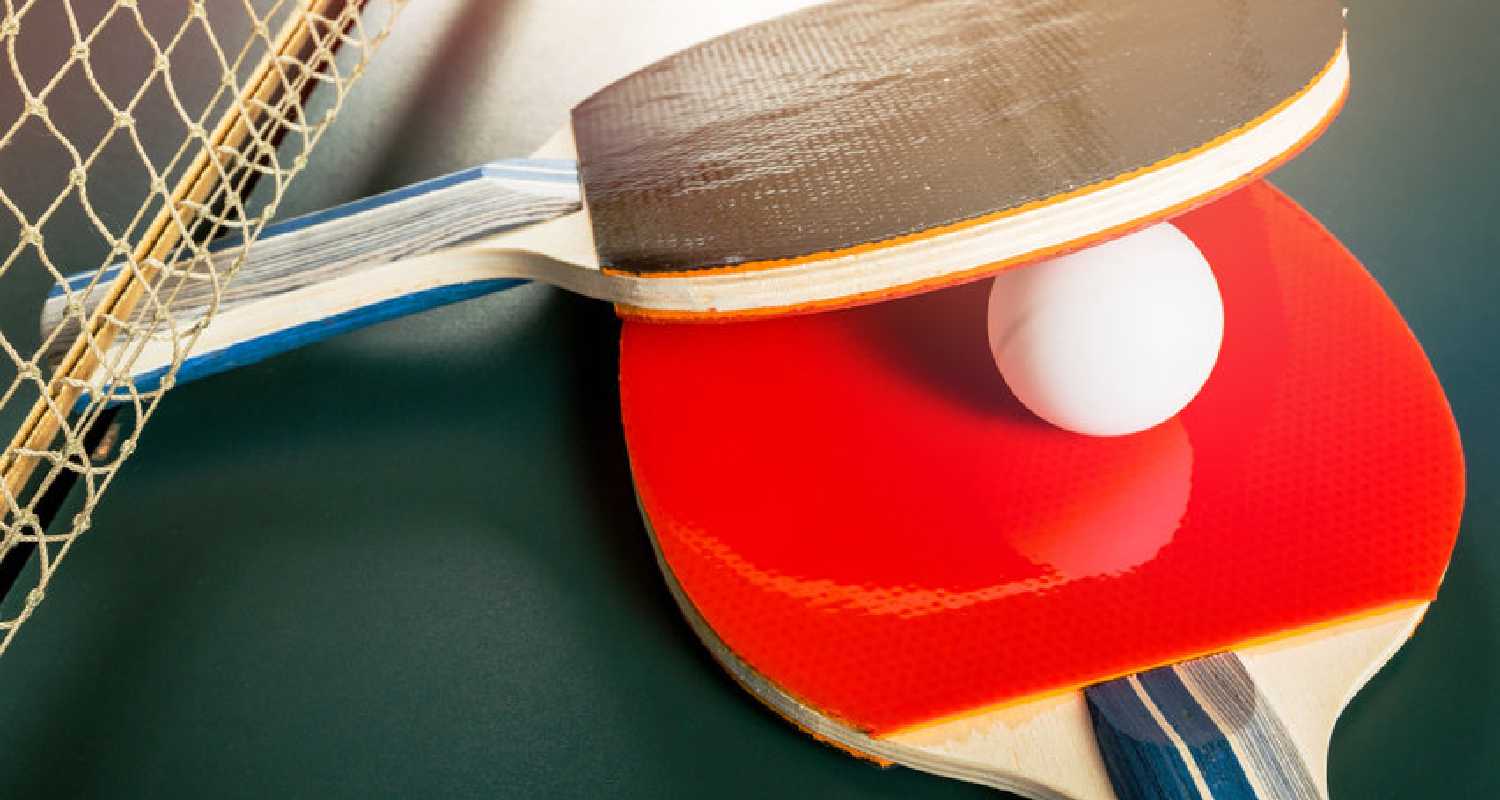 What to Expect?
As it is one of the best-sellers in the world of table tennis, it is only natural that we a lot of people are, at all times, looking forward to reading the reviews on the Yasaka Mark V.
It is also not surprising that Yasaka has managed to produce not one but multiple A-grade playing rubbers, so what can you expect from their Mark V?
Thickness
When it comes to rubber thickness, many individuals are unsure which one is best for them. If you have this confusion, the Mark V rubber was created to answer your dilemma, since it comes in a variety of thicknesses to provide players with varying amounts of control, speed, and spin.
As a rule of thumb, 1.5mm is a generally good thickness for rubber that will not provide you with extremely rapid speed but will provide you with greater control over the ball, making it suitable for beginners. While 1.8mm is quicker, it can provide a good mix of control and speed.
So, if you want the rubber to be thicker, it is better to place 1.8mm on both sides of the blade, as it will give you a uniform experience. If you want to increase your speed, 2.0mm is the way to go and can be a step forward for players looking to jump to the next level.
Paired with Hard Carbon
As the Mark V is a touch soft yet has good control, it is frequently combined with a hard surface carbon blade to boost its power. Yasaka Mark V was one of the first rubbers to combine natural rubber with synthetic rubbers.
With its dynamic speed and spin, this rubber has been a powerful weapon at the highest level of play for more than two decades.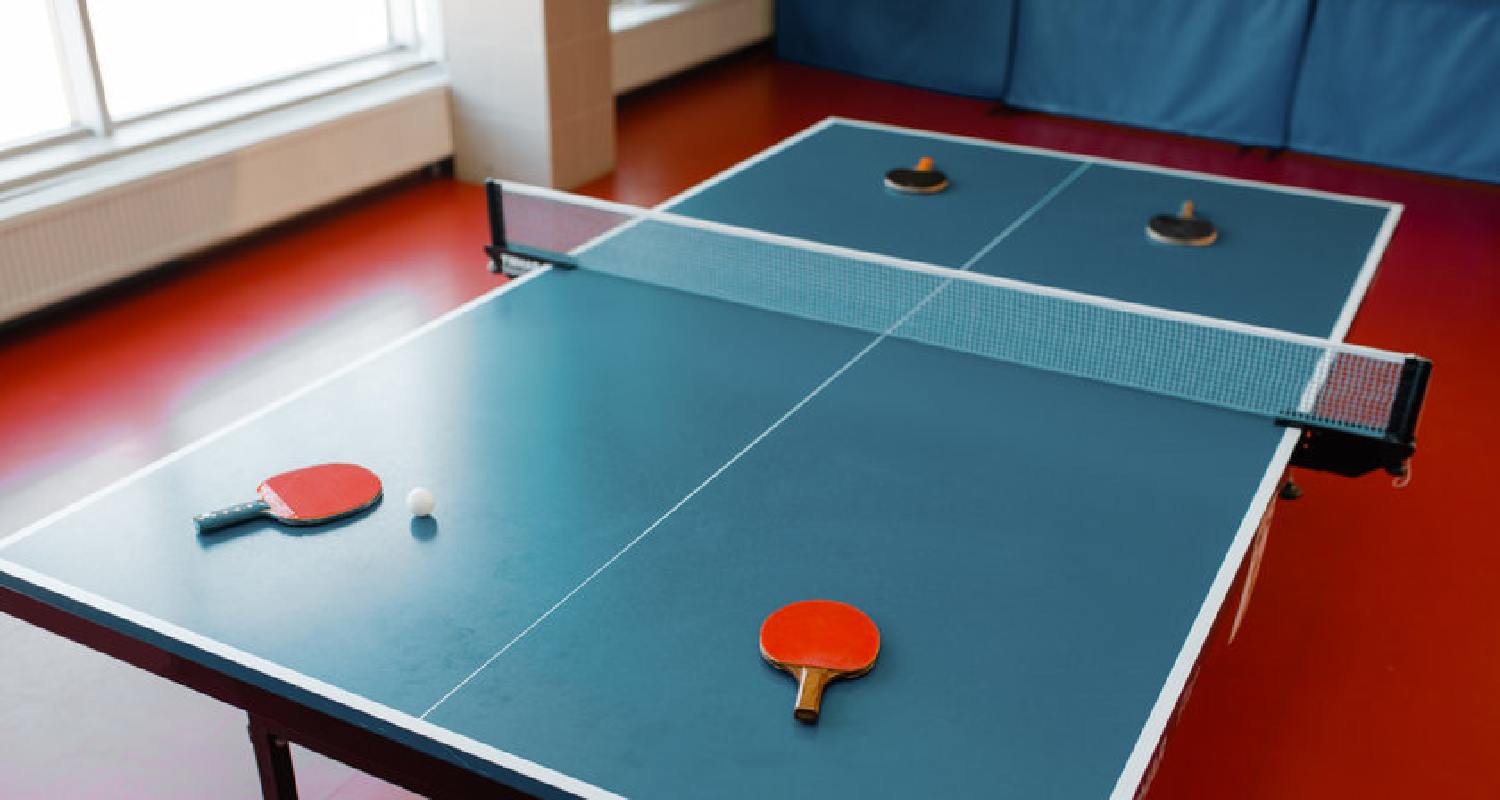 Pros
Maximum Versatility
Mark V is extremely flexible, allowing you to play whatever shot you choose. With this rubber, blocking becomes simple, as you can execute good control for blocking and counter-hitting.
As you get the option of increasing the thickness to maximize speed and spin and allows you to have enough control, too, it serves as one of the few options being a highly versatile rubber.
Spin & Playability
On topspin, the rubber provides an excellent combination of control and power, similar to the Hurricane 3. It may provide you with a good spin and make it reasonably easy for you to position the ball. Furthermore, you will be able to serve with substantial control. It features a soft-top sheet with a highly spongy surface.
The rubber sponge is neither smooth nor firm. Even if you don't get a nice loop, it's still good enough to keep you in the game.
The serve you produce may generate a lot of spins. It's also a fantastic rubber for slicing and chopping. When my opponents' shots have a lot of pace and spin, I can chop the ball very effectively. It provides me with a effective chop.
Quite Durable
The durability of Yasaka products is rarely in question. You can expect the same with the Yasaka Mark V, as it will easily give you more than a year, and even more, if you can take care of the rubber, effectively.
This showcases the hard work that has gone into the creation of the rubber and how it has gone on to become a favorite of all-rounders, in particular.
Very Affordable
It's one of the most affordable rubbers on the market, far less expensive than competitors like DONIC, and only slightly more expensive than its main rival, Butterfly Sriver and in sharp contrast to the likes of Butterfly Tenergy 05 which is extremely expensive.
Nonetheless, its quality is on par with, if not greater than, those, and all-rounders that have used the Yasaka Mark V love it quite a bit. All things considered, it also offers maximum durability, and mixed with versatility, you realize that the Mark V is a top-class option.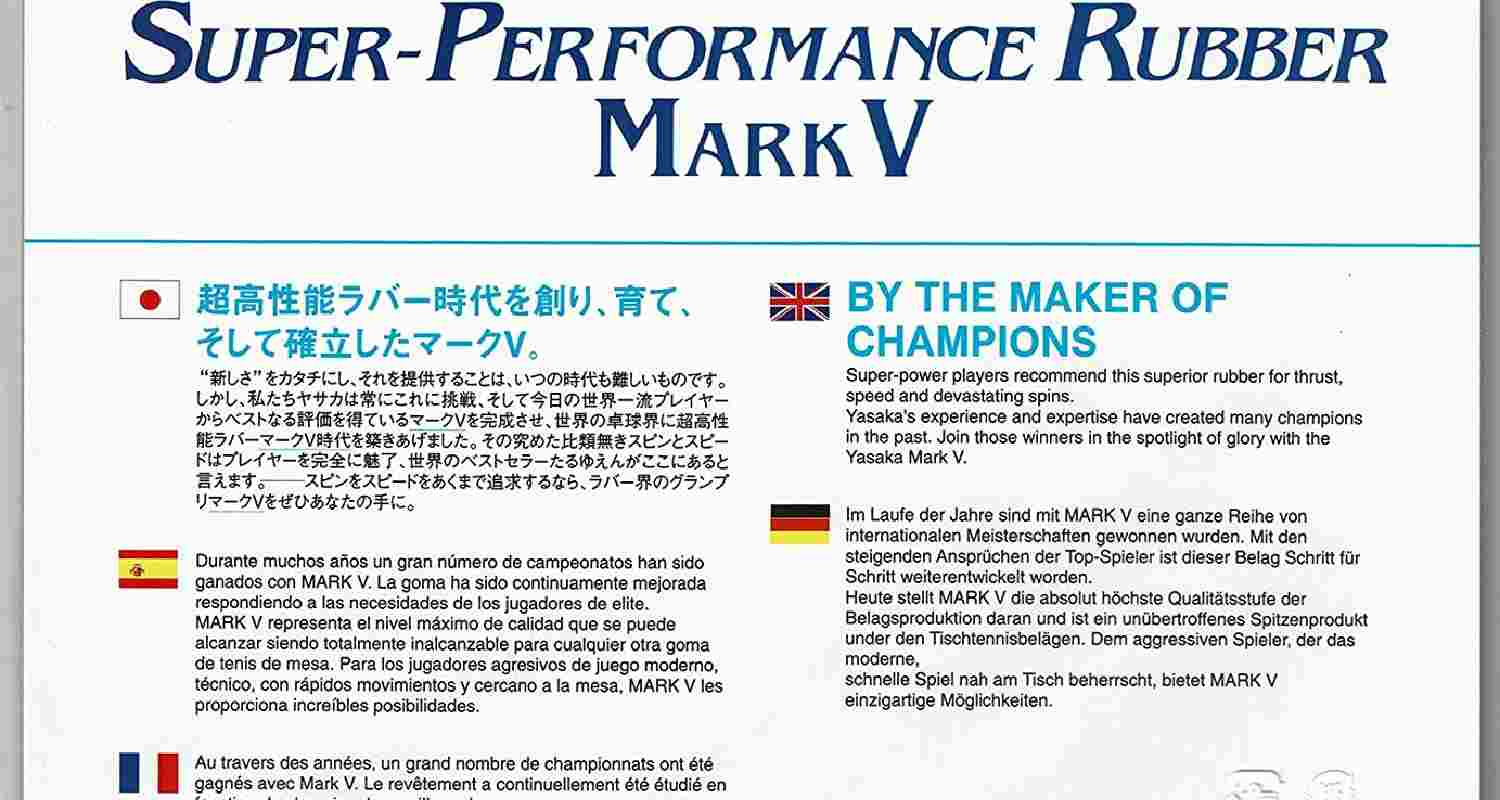 Cons
Requires Adjusting
You may need some time to acclimate to the rubber because it is a very quick rubber that can give you a lot of spins. In particular, the beginners will struggle with the rubber, but if you stick with it, it can take your game to the next level.
You can always decide to switch to a slightly thinner Mark V option, as it will allow you to maximize control over your shots.
Decreased Tackiness
As a balanced all-rounder, the Yasaka Mark V does not have a lot of tackiness. Yes, we realize it shouldn't be too tacky, but this can be a bit too much. Especially, if you haven't played with these rubbers previously, they may limit your game and take you a lot of time getting used to them.
Impact of Speed Glue
At the time, a speed-glued sheet of Mark V was a weapon of virtually unrivaled dimensions that nevertheless retained incredible control. It may be enhanced in the contemporary period to give it more power and a better sensation.
But, in the end, the Mark V has been employed for its adaptability and control, regardless of era or decade. As a result, it is many people's first pick for a growing player.
Our Rating: 4.3/5.0
The Yasaka Mark V has aided many professional table tennis players in their pursuit of various titles throughout the years. It is the market leader in rubber profiles and offers the highest-grade rubber.
It was one of the first to combine natural and synthetic rubbers. So, what more can we say about the brilliance of this rubber?
We believe that too many players, particularly emerging or new players, overlook this rubber in favor of the newest rubbers, at the expense of their game.
As a developing player, I have seen some players utilize this rubber in conjunction with a 5 Ply All+ blade, and it aided in the development of my strokes and laid a good basis for future development.
This rubber provides incredible control and consistency, as well as adequate speed and spin for most recreational players.
Conclusion
MARK V rubber generates a lot of spins due to its excellent sticky surface. It significantly increases the rubber's spin ability and power stability due to the newly created micro-adhesive surface, along with the capacity to increase elasticity and spin (DATSYSTEM).
Even though it is neither the fastest nor spiniest, it provides an excellent blend of speed, spin, and great control. Furthermore, because it is ultimately a forgiving rubber, you may still return a good ball even if your technique or stroke is weak.
It is advantageous for intermediate and even advanced players to do loop, backspin, and block. Mark V is a very consistent and long-lasting rubber, that is lighter on the pocket if you want to replace the rubber on your current table tennis paddle.