Ping pong is a game that can be a recreation for some people, while some hold a profound attachment to it. For those who are serious about the game and are seeking to play ping pong at higher levels, investing in a good quality table can make all the difference.
You will find plenty of affordable options out there; however, if you want to go a little extra mild and are willing to splurge on the most expensive ping pong tables, you have just come to the right place.
In this article, you'll explore why people are willing to spend a fortune on quality high-end table tennis tables and encounter some of the lavish options to choose from.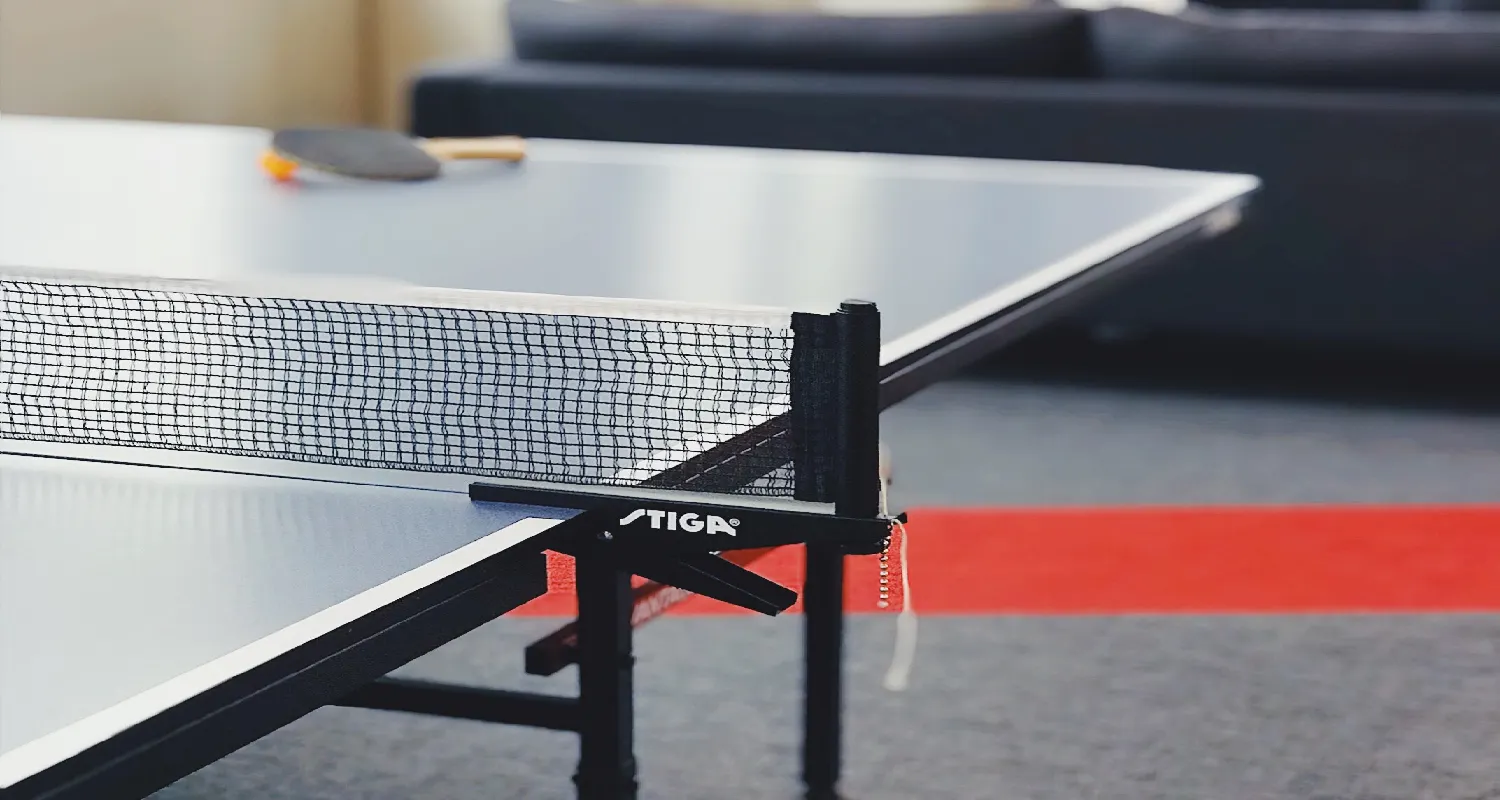 3 of the Most Expensive Ping Pong Tables on Earth
After careful consideration and detailed analysis, we have come up with some of the most outrageously expensive tables that will make you drool over them. Let's have a look at them.
Butterfly Centrefold 25 Table Tennis Table
Approximate price: $2,500
Top features: ITTF-approved nets and posts, foldable design, adjustable feet, 25mm thick playing surface, 5 years warranty, steel frame
When it comes to the most expensive ping pong tables, Butterfly Centrefold 25 can be a perfect table to start from.
This staggering table stands out for its 1-inch thick table top designed to provide unparalleled bounce and consistency in the game. Equipped with ITTF-approved net and posts, the table has passed the higher standards of professional tournaments.
This Butterfly table has a steel-crafted frame provides ultimate stability and durability, making it able to withstand the most intense matches.
On top of that, adjustable feet allow you to adjust the height as per your preference to ensure that your table won't wobble even on uneven surfaces. Lastly, its foldable design allows you to store it in compact spaces without any worries.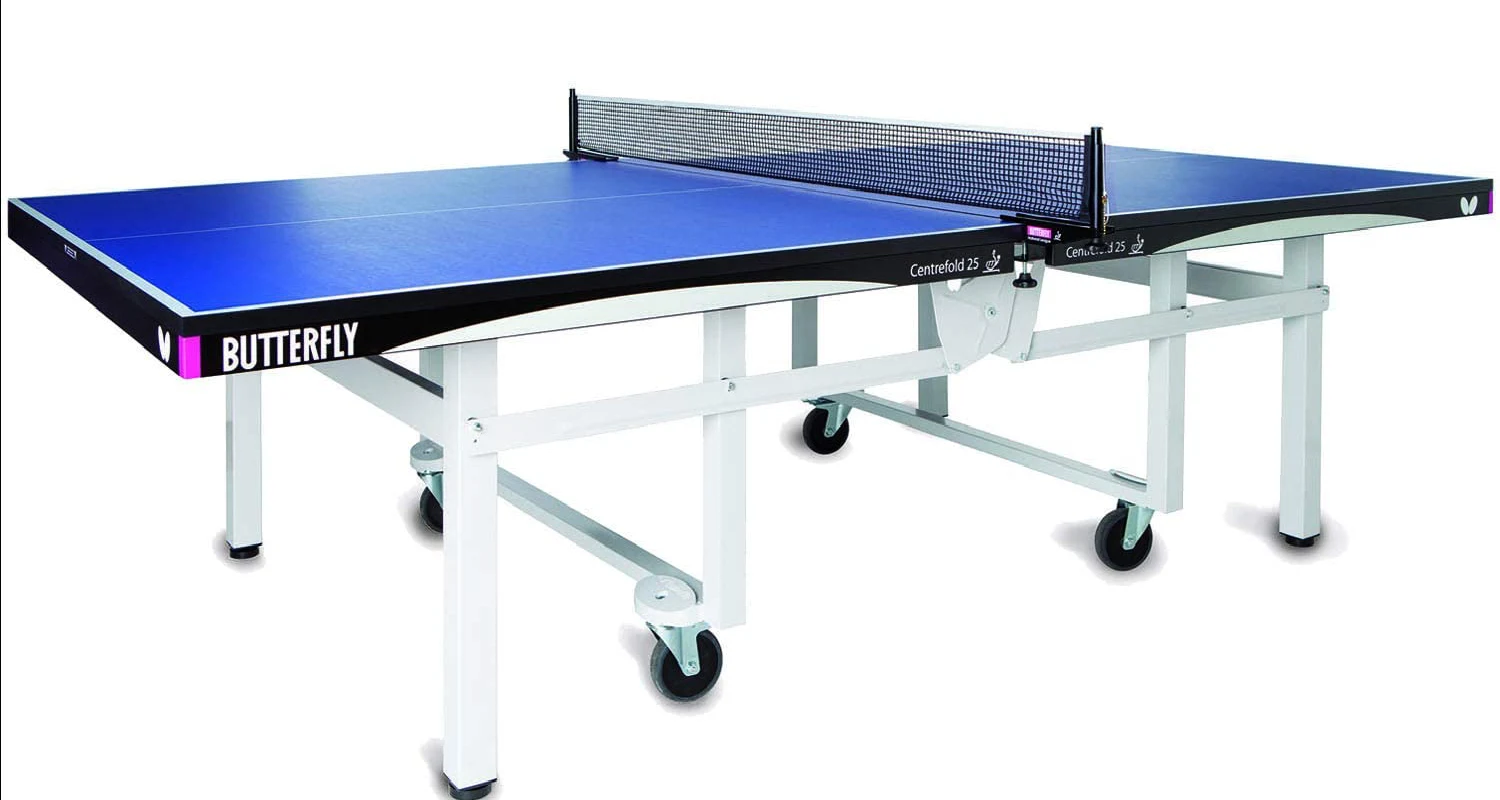 Killerspin Revolution SVR Black Steel Ping Pong Table
Approximate price: $4,299
Top features: 25mm thick playing surface, 1-year warranty, glare-reducing coating, standard size, adjustable feet
Killerspin Revolution SVR black steel is that top-of-the-line table option that exudes luxury and quality. It boasts a striking matte black color with silver accents, making it the centerpiece of any game room.
The table is crafted with high-quality MDF and is finished with a scratch-resistant coating. The coating is applied using the Repeat Roller Coating process, which provides optimal glare reduction, catering to an exceptionally smooth and consistent bounce.
At each end, a built-in drawer provides ample storage for balls and table tennis paddles. In addition, the table features a two-piece design with four drop-down wheeled legs that allow for effortless maneuverability and easy setup.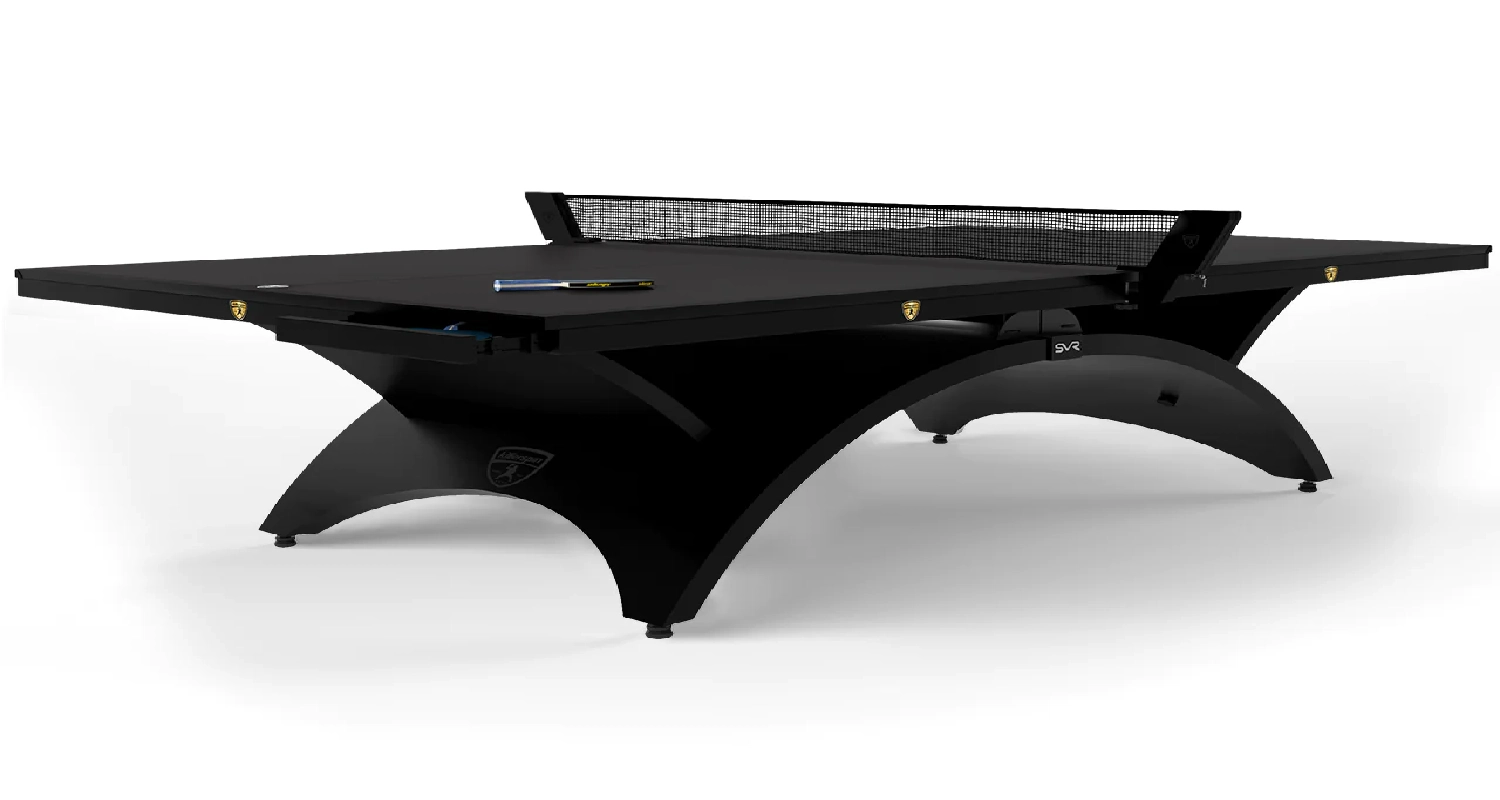 11 Ravens Stealth Ping Pong Table
Approximate price: $70,000
Top features: Handcrafted from carbon fiber and aircraft-grade aluminum, built-in LED lights, integrated scorekeeping system, minimalistic design, motorized retractable net
If you are looking for a table ultimate in luxury, the 11 Ravens Stealth ping pong table is sure to catch your eye. This elegant table is handcrafted from top-tier materials, including carbon fiber and aircraft-grade aluminum.
This table radiates unparalleled aesthetics with a fantastic black finish and the finest lines. Its integrated scorekeeping system allows you to keep track of your points, while the addition of LED lights adds a futuristic touch to the playing experience.
11 Ravens allow you to incorporate a personal touch to the table with your brand and logo. Plus, the motorized net and post allow you to set up and take down the table easily.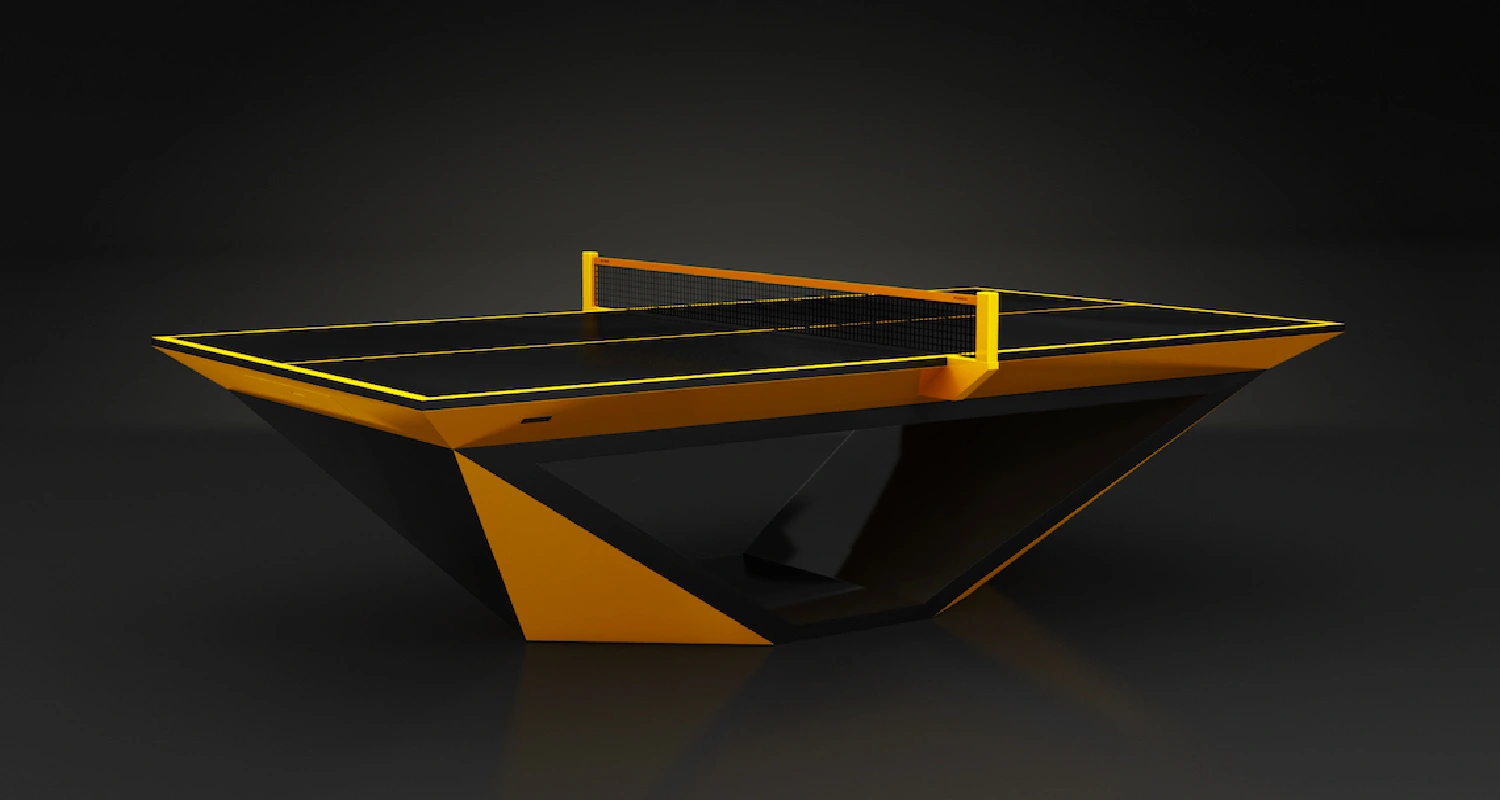 What is the Most Expensive Ping Pong Table in the World?
It's no secret that even the most expensive ping pong tables come in various options that can overwhelm you for a while. Therefore, it is important to consider your needs and preferences before purchasing any table.
However, in our quest for the most expensive tables, we found Avettore by 11 Ravens the most exquisite and high-end option in the market.
Inspired by supersonic jets, its aero dynamism and minimalistic design make this table a true work of art that the players can't take their eyes off. The table provides unparalleled customization, including various colors, materials, and finishes to suit every taste.
Despite having a hefty price tag of up to $26,000 to $48,000, this table is a worthwhile investment for those who want to add a touch of sophistication and luxury to their homes.
What Makes Some Ping Pong Tables So Pricey?
There are several factors that contribute to the high price of table tennis tables.
Quality
The quality of the table material is the significant factor that decides the price of the table. For instance, high-end tables are often constructed with premium materials such as high-density fiberboard and aircraft-grade aluminum that drive up the price of the table.
Design
Compared to the cheap ping pong tables produced in bulk by machines, high-end tables are often crafted by hand. Artisans spend a significant amount of time and effort while ensuring that every detail is perfect. This way, the price of the table deserves to be high.
Marketing
Some of the most expensive ping pong tables are marketed as luxury items with eye-catching designs. These prestigious tables may be associated with certain brands and designers that reflect their exclusivity.
Customization
Customization also plays a vital role in the cost of ping pong tables. Some brands offer their customers a wide range of customization, from colors to materials and everything in between that add to their cost.
How Much Does an Olympic Ping Pong Table Cost?
The cost of an Olympic table can vary based on the quality, brand, and features of the table. Typically, these tables are likely to range from $500 to over $3000.
However, it is important to understand that Olympic tables must adhere to specific requirements and regulations, which can increase the cost. Moreover, the Olympic tables used in professional tournaments may have higher durability demands and quality standards that can cause the cost to go up.
Conclusion
Hopefully, this article about the most expensive ping pong tables has helped you determine your ideal pick. However, these tables might not be a practical option for everyone.
They can be a worthwhile option for people looking to add a luxury touch to their homes and serious players seeking to upgrade their equipment.
Therefore, it is recommended to do detailed research and familiarize yourself with different types of tables based on your needs and budget to find an expensive and ideal table offering the perfect balance of quality, price, and functionality.